It's been an exciting two weeks here in Jackson, Mississippi, as 119 dancers from 19 countries have competed for medals, monetary awards, scholarships and company contracts at the USA International Ballet Competition. But the IBC has offered more than prizes—dancers have also been networking and taking master classes, including a fascinating lecture demonstration series with choreographer Alexei Ratmansky that included learning Petipa's original choreography from Stepanov notations.
This week, 32 finalists performed two classical variations and one contemporary piece over the course of three nights. Meanwhile, semi-finalists worked intensely with choreographer Matthew Neenan on an original work, which they performed at last night's Blue Cross & Blue Shield of Mississippi Awards Gala. Audiences also had one last chance to see select finalists perform, before the jury (led by chairman John Meehan) joined them onstage to present the medals.
So without further ado, here are the USA IBC winners!
---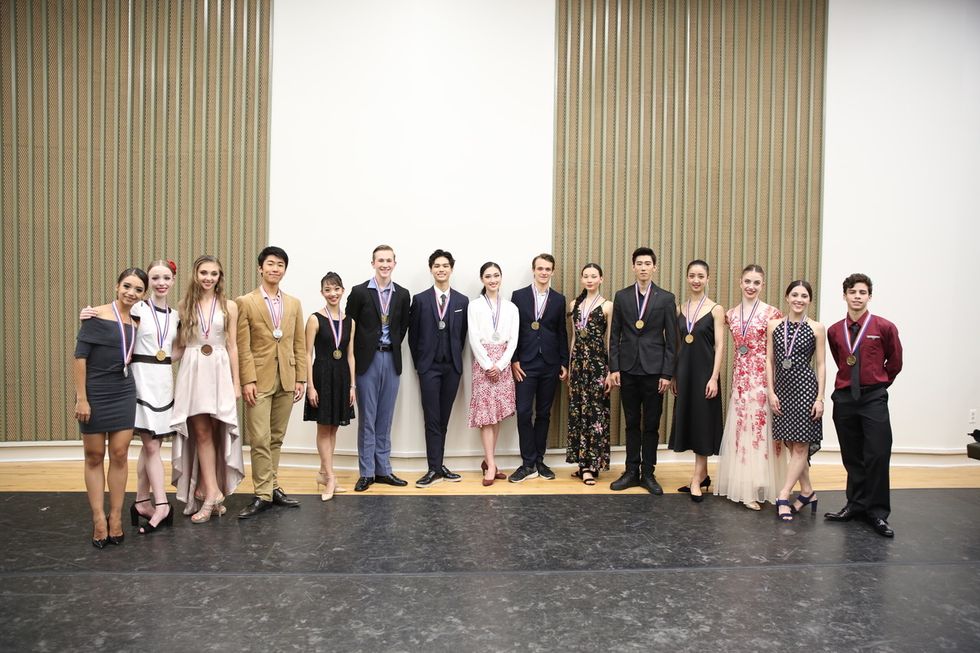 From left: Carolyn Galvao, Elisabeth Beyer, Tia Wenkman, Hyuma Kiyosawa, Chisako Oga, Joseph Markey, Sangmin Lee, Soobin Lee, David Schrenk, Rheya Chano, Sicong Wu, Yungting Qiu, Julia Rust, Katherine Barkman, Harold Mendez. Photo by Todd Lechtick, Courtesy USA IBC.
Senior Women

Gold medal: Yunting Qiu (China)

Silver medal (2): Katherine Barkman (USA), Soobin Lee (Republic of Korea)

Bronze medal: Chisako Oga (USA)

Senior Men
Gold medal: Sicong Wu (China)

Silver medal: Sangmin Lee (Republic of Korea)

Bronze medal: David Schrenk (USA)

Junior Women
Gold medal: Elisabeth Beyer (USA)
Silver medal (2): Carolyne Galvao (Brazil), Julia Rust (USA)

Bronze medal (2): Rheya Chano (USA), Tia Wenkman (USA)

Junior Men
Gold medal: Not awarded

Silver medal: Hyuma Kiyosawa (Japan)
Bronze medal (2): Joseph Markey (USA), Harold Mendez (USA)

Additional Awards
Best Couple: Sangmin Lee and Soobin Lee (Republic of Korea)
Jury Award of Encouragement (3): Razmik Marukyan (Armenia), Veronica Atienza (Philippines), Nicole Barroso (Philippines)
Robert Joffrey Award of Merit: Mya Kresnyak (Canada)
Project Tutu Scholarship: Alexa Torres (Dominican Republic)
Choreography Award (2): Zhang Disha for "Sad Birds" (China), Fei Bo for "Permanent Yesterday" (China)

Afterwards I had a chance to speak with several of the dancers. Senior gold medalists Yungting Qiu and Sicong Wu, a principal and soloist with the National Ballet of China, said that they felt as if they were dreaming. "All the dancers are very good here, so seeing them makes us want to improve ourselves," says Sicong. Silver medalist Katherine Barkman, a resident principal with Ballet Manila, is about to embark on an international guest artist career and says that the visibility the IBC has given her will help better achieve that goal. "It's a big leap forward from where I was a year ago," she says, "and I think what it means now is hopefully more opportunities to dance, and I hope I've reached a bigger audience. I hope it will bring me to more stages."
Cincinnati Ballet principal Chisako Oga, 21, felt relieved. "It's a big pressure off my shoulders," she says, laughing. "I'm hoping that this experience will help me grow as an artist. Being in a new environment away from what I'm used to was definitely something that I needed. Everyone here is so different, yet we're all artists in our own way—it's so amazing to get to see that and to see what other people value in their dancing."