As I watched Helen Pickett rehearse her new work Tilt for Pennsylvania Ballet last week, there was no doubt in my mind that she's a natural leader. Hovering closely around young corps dancer Jack Thomas during a run through, she pushed him to carve more space through the air with his upper body. "Use those hands, do not stop," she said emphatically during a particularly tiring section, at once firm and encouraging. "It should feel like you're eating a meal rather than grazing." Yet earlier, Pickett had admitted to me that when she was first approached by a major company to create a ballet 12 years ago, she questioned her ability to lead. Despite growing up in a feminist household, being surrounded by strong female role models throughout her dancing and acting career, and learning the craft of choreography from William Forsythe at Ballet Frankfurt, she says, "I still gave more credence to male voices than female voices."
Her realization is one component of a bigger issue in the dance world: that for all of the droves of women and girls who flock to ballet classes and pursue performance careers, the majority of leadership positions—be it directing, curating or choreographing—are held by men. To help illuminate the topic in advance of Pickett's world premiere November 9–12 , last week Pennsylvania Ballet partnered with Philadelphia's FringeArts to present "Challenges, Chances, Changes: Gender Equity in Concert Dance," a round table discussion among six women leaders in the industry. Joining Pickett was Dance Theatre of Harlem artistic director Virginia Johnson; BalletX executive and artistic director Christine Cox; Big Dance Theater choreographer and co-director Annie-B Parson; Philadelphia Dance Projects executive director Terry Fox; and choreographer Francesca Harper, artistic director of the Francesca Harper Project.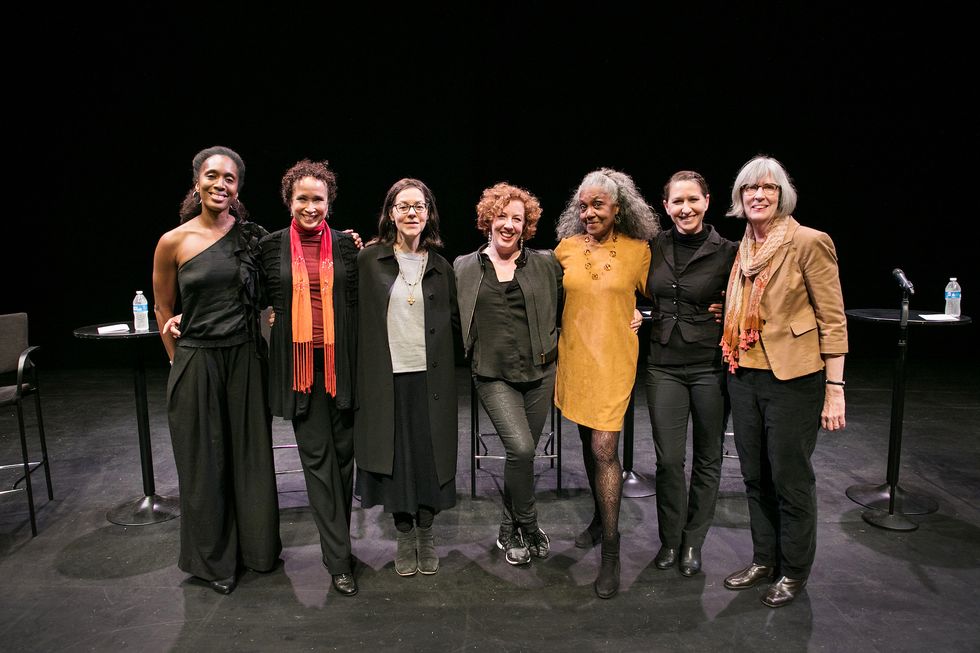 From left: Francesca Harper, Virginia Johnson, Annie-B Parson, Helen Pickett, Brenda Dixon-Gottschild, Christine Cox and Terry Fox. Photo by Chris Kendig, Courtesy Pennsylvania Ballet.
---
Brenda Dixon-Gottschild, professor emerita of dance studies at Temple University and author of The Black Dancing Body, led the discussion and chose its title. Beforehand, she asked each participant to discuss a challenge, chance or change that proved a pivotal moment in her career, within an eight-minute time frame. The resulting discussion proved enlightening, troubling and hopeful.
For some, a traditional ballet company environment didn't offer enough opportunities for analytical thought. Johnson, who danced for 28 years as a principal at DTH, admitted that it wasn't until she retired and became the founding editor of Pointe that she started to learn how to trust her vision (as a former dancer and Pointe's current editor, I could relate). "I suddenly needed to question and observe for myself," she says, adding that through running a magazine and serving as its creative visionary, she found her voice—something that's proved useful since taking the helm of DTH in 2009. For Harper, who also began her career at DTH, moving to Europe to work with Forsythe at Ballet Frankfurt "was the most exceptional experience of my life." She found both empowerment and equity through Forsythe's creative process and the company's collaborative environment. "Everyone there had something to say." Now in her own work, she says, "the thing that drives me is how do we empower each other and create more equity?"
Cox talked candidly about why she once saw her more curvaceous body as a curse (one artistic director even told her to get a breast reduction). She suspected it cost her a position at Pennsylvania Ballet when she was 17, although she eventually joined the company later in her career. She also opened up about the intensity of running BalletX on her own after her co-founder, Matthew Neenan, stepped down to focus on choreography. "People had a lot of doubts," she says. Even now, she notices that Neenan is sometimes given more attention in the press, even though Cox serves as BalletX's artistic and executive director.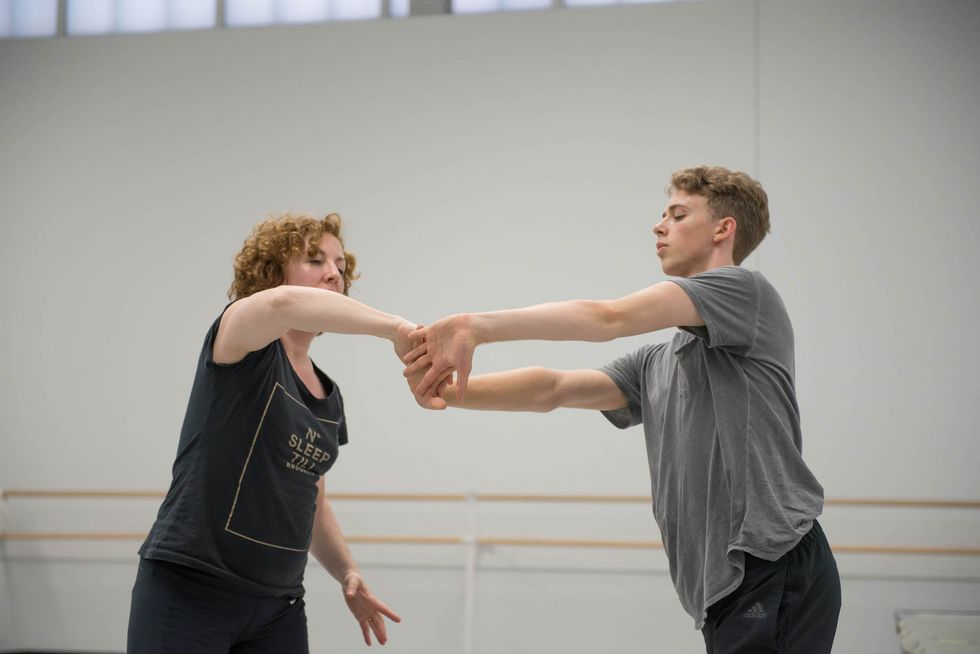 Pickett rehearses corps de ballet dancer Jack Thomas for the world premiere of "Tilt." Photo by Arian Molina Soca, Courtesy Pennsylvania Ballet.
While many consider the modern dance world to have a better track record of gender equity, Annie-B Parson and Terry Fox could relate to their fellow panelists. Parson echoed Cox's experience, noting that in a recent article her dances were mentioned three times, yet her name was not. "Another time I was described as somebody's wife," she says (Parson co-directs Big Dance Theater with her husband, Paul Lazar). Parson said she personally sent choreographer Alexei Ratmansky a letter suggesting he attend a diversity-training course after he downplayed the lack of women choreographers in the New York Times last spring (though she says he didn't reply). Fox, meanwhile, said that she had a difficult time being taken seriously as an artist at the forefront of the improvisational dance movement, and that she was one of the only female curators in New York City's downtown dance scene as managing/artistic director of the Dancespace Project. "I think there's danger thinking that women have to be of a different vision," she says, "in asking that the one woman in the room represent all women."

Many of the panelists admitted how easy it is to perpetuate the status quo, and acknowledged their responsibility as leaders to create change. "I only realized last year that I was not reaching out to ballet companies [about commissions] besides DTH—I was almost discriminating in my own way," says Harper.
Cox and Johnson agreed that as directors, they need to be vigilant about equity in programming. "The change that needs to happen is in female hands," says Johnson. "We get to change it, and that is awesome."
Pickett hopes to inspire more women to lead by example, and to mentor young people though her Choreographic Essentials workshops. "We must encourage women and men to be part of the conversation, without being vitriolic," she says. "Because the world is much better when we can all sit at the table and have a discussion as equals."