Photo by Christian Peacock, modeled by Carmela Mayo
Whether you're aiming for effortless pirouettes onstage or trying not to bump into furniture while training at home, we all want sailing, suspended turns. While many components go into a controlled pirouette—a powerful preparation, a balanced relevé, a stable core and well-placed arms—your whole body must be a strong, solid unit to maintain your position against gravitational and centrifugal forces as you turn.
Kendall Alway, PT, DPT, a former professional dancer and owner of SF Performing Arts Physical Therapy, which treats dancers from San Francisco Ballet and Alonzo King LINES Ballet, says she usually spots weakness in dancers' cores and then upper bodies. "If your upper body is not strong enough—around your scapular stabilizers, around your shoulder blades and your upper back—then you can't really stay sufficiently in one piece to do the turn," she says. The domino effect follows: "If you don't have sufficient strength to counterbalance the weight of the arms, then you're more likely to collapse in the lower and upper back. When you collapse that way, then your pelvis tilts."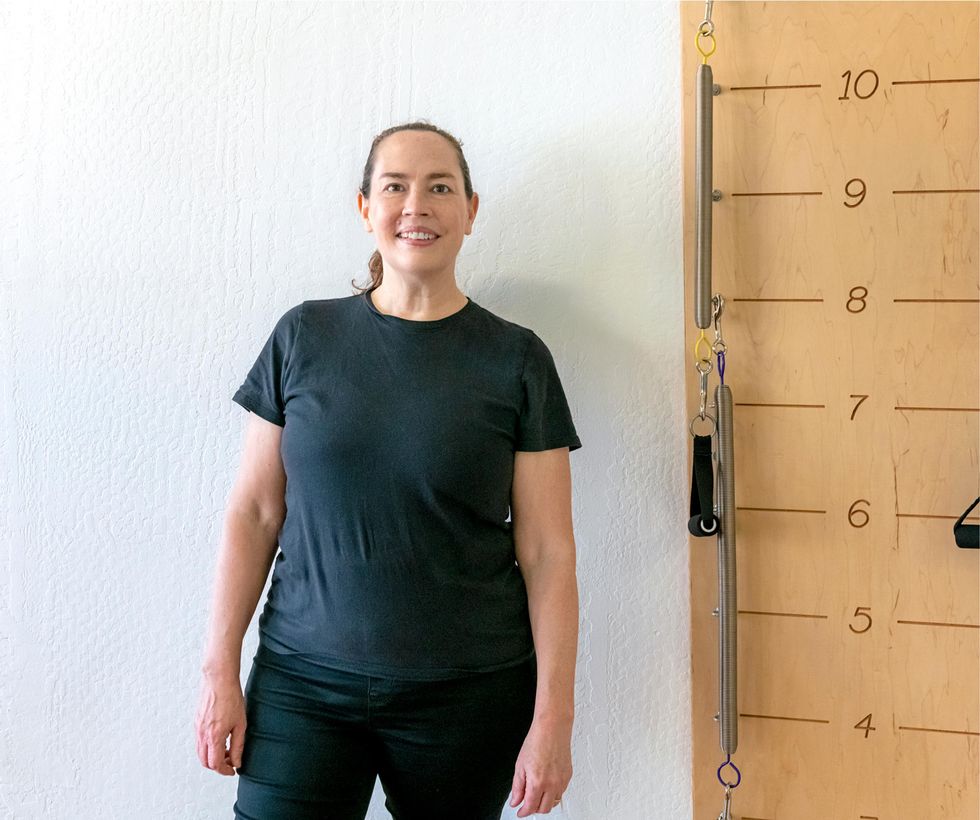 Kendall Alway, PT, DPT
Photo by Christian Peacock
Alway recommends the following conditioning exercises for better pirouettes. They can be done at home or in the studio, and target multiple muscle groups at once. "None of these exercises isolate," says Alway. "They really force you to bring your whole body into alignment, and that's the important thing for the pirouette."
Pirouette Perfecter
What it works: This full-body strengthener targets the deep hip rotators, psoas, obliques, hamstrings, glutes and scapular stabilizers to promote stability while you're spinning.
What you need: Foam roller, or another item that is approximately 6 inches tall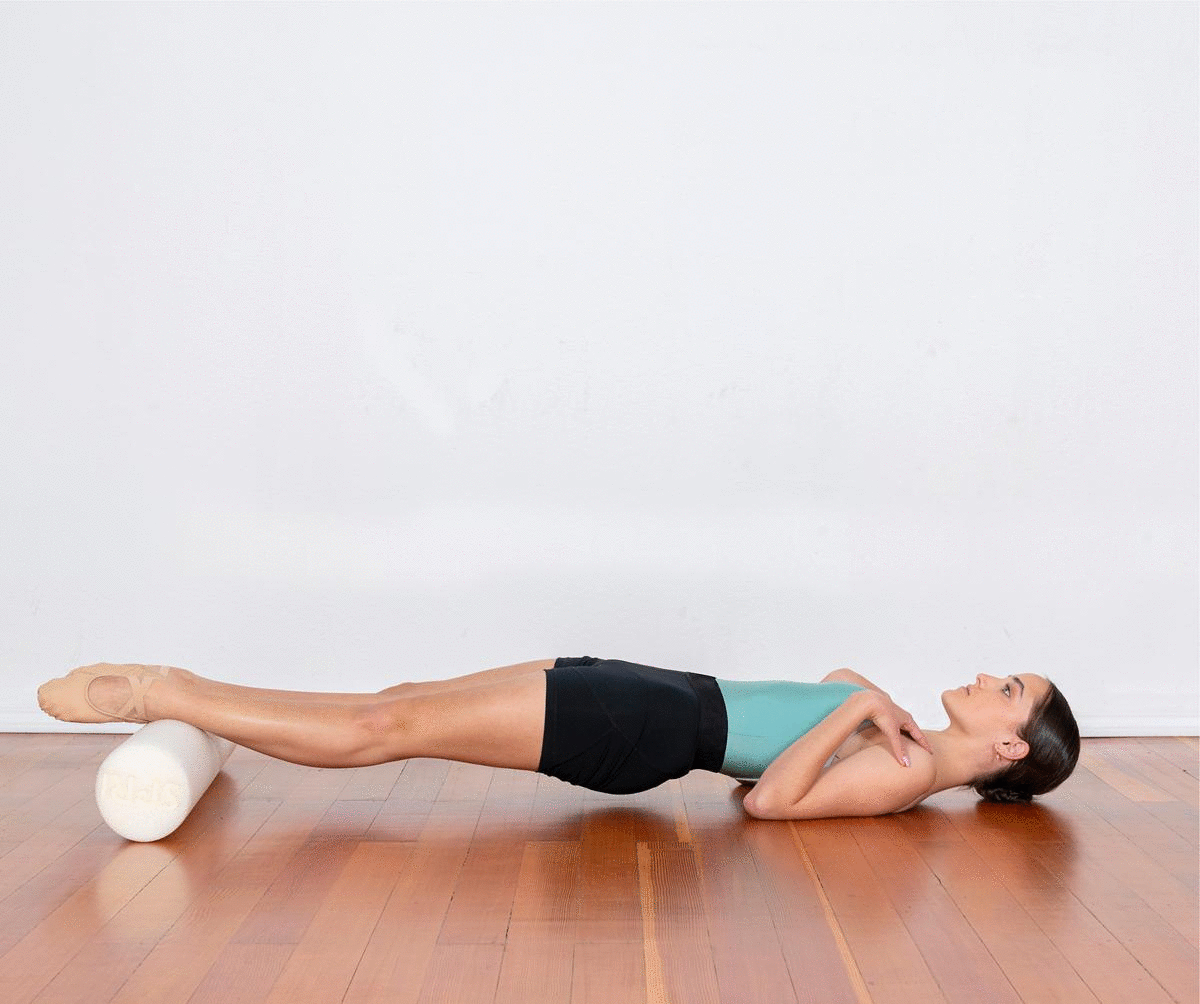 Photos by Christian Peacock, modeled by Carmela Mayo
Part 1: From Devant
Starting position: Lie on your back and put your ankles on top of the foam roller, positioned horizontally. Legs should be straight and gently turned out, while your hands rest on your shoulders with your elbows near your waist.
Bridge your hips up so that your pelvis is lifted off the ground and your body is in a straight line, taut like an arrow.
Lift your right leg up 90 degrees towards the ceiling, maintaining the lift of the hips.
Keeping the right leg pointing to the ceiling and your hips lifted, rotate the body in one piece to the left so that you are facing the side wall and your leg is now in an à la seconde position. With the hips and core lifted off the ground to maintain the straight line of the body and leg on the roller, your left shoulder will be taking weight while the left hand stays tucked into the body out of the way. The right palm can come across the body to the floor to help stabilize. (While changing facings, imagine that a string from the ceiling holds your raised foot in one place while you rotate it within your hip socket to face the wall.)
From that position, complete the next series of slow, controlled movements: Enveloppé the right leg into a turned-out passé, then turn the passé in, turn it out again, and développé back out so the right leg is in à la seconde once more.
Keeping your hips lifted, return in one piece to your back so that the leg is devant again and both arms are tucked into the starting position. Lower the right leg back to the foam roller, then lower the hips.
Repeat on the left side. Do 2 sets on each side.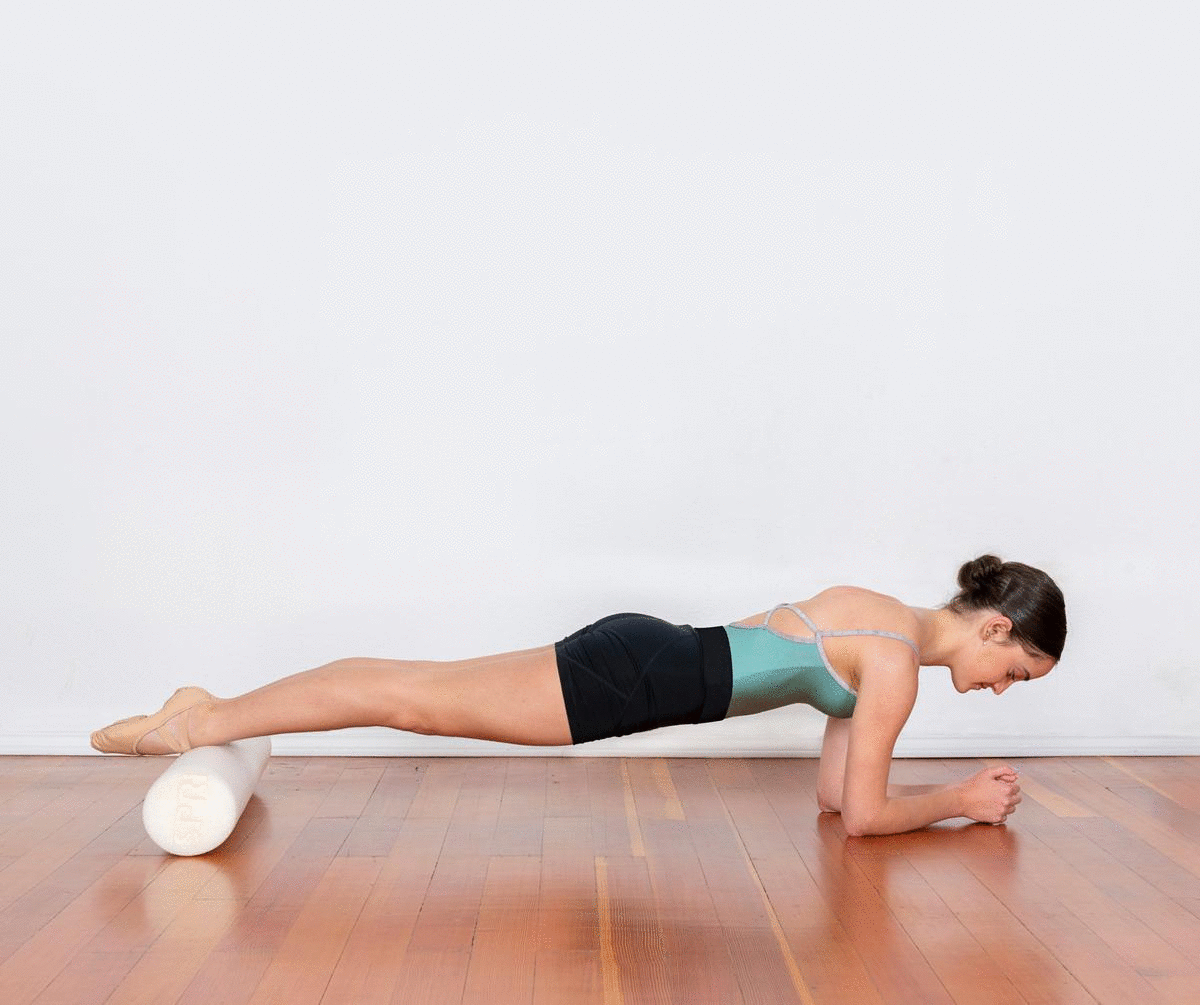 Photos by Christian Peacock, modeled by Carmela Mayo
Part 2: From Derrière
Starting position: Lie on your stomach with your ankles on the foam roller. Transition into a plank position on your elbows. Make sure the hips, shoulders and ankles are in one line. (Avoid lifting the hips too high—you shouldn't be in a pike position.)
Lift the right leg into arabesque. In derrière, Alway says, the arabesque likely won't lift 90 degrees to the ceiling behind you, but keep it as high as possible.
Keeping the hips lifted, rotate your body in one piece, moving from arabesque to à la seconde. The left arm maintains the low plank on the elbow, while the right arm can stay across your body with the fingertips lightly on the floor to help stabilize you. For a greater challenge, you can raise the right arm to the ceiling as you would in a side plank.
Rotate back to arabesque. Lower the right leg back to the foam roller, then lower the hips.
Repeat on the left side. Do 2 sets on each side.
Shoulder Stabilizer
What it works: This exercise strengthens the shoulders' rotator cuffs, your lats and scapular stabilizers, strengthening the carriage of the arms in a turn so that they don't throw you out of alignment.
What you need: Medium-weight resistance band
Starting position: Stand in parallel. Holding both ends of the band, bring your arms up to a Y position overhead. (Your hands should be about 2 feet apart.)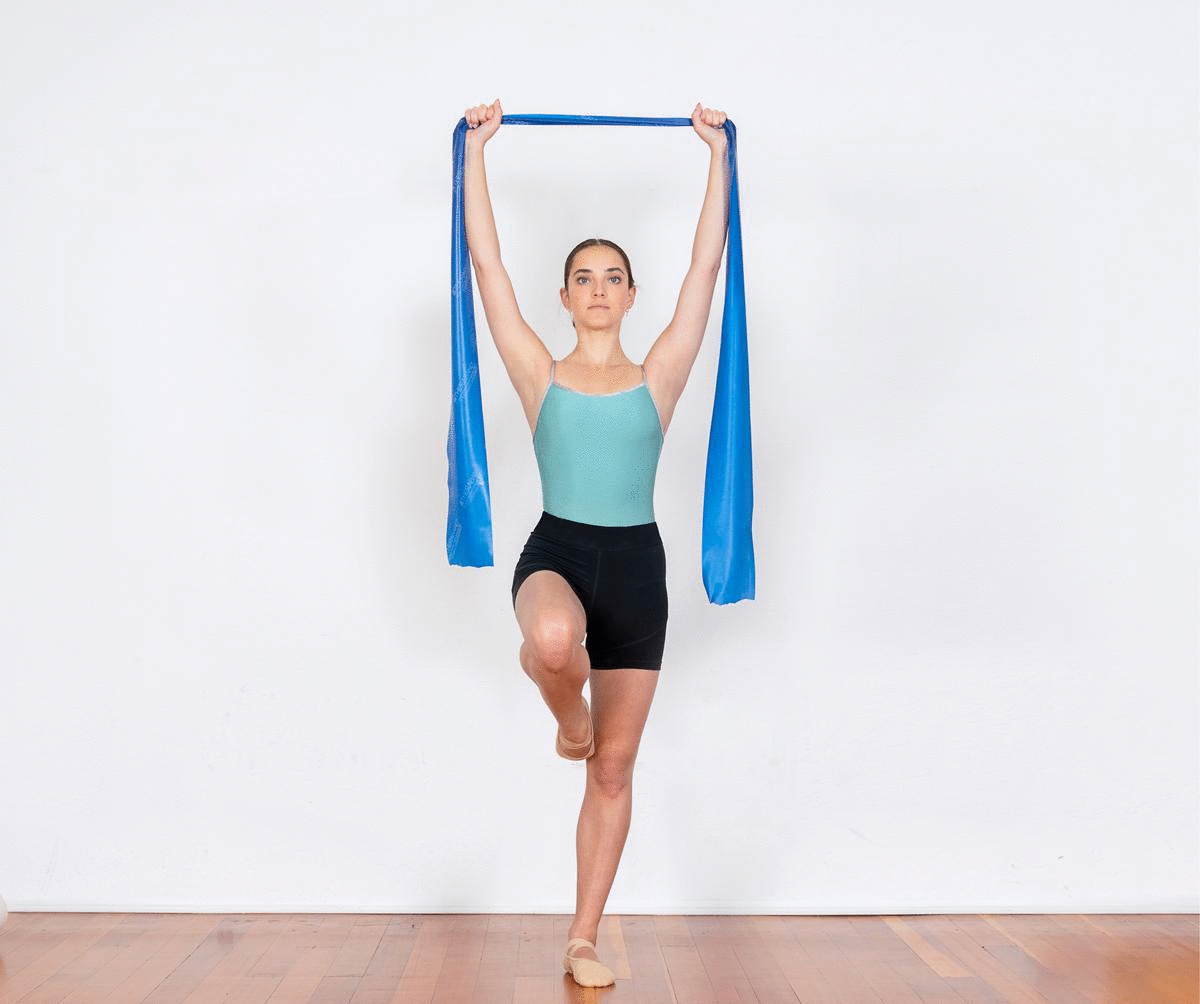 Photos by Christian Peacock, modeled by Carmela Mayo
Lift the right leg into a parallel coupé or passé so that you're balanced on the left leg.
Keeping both arms straight and the arm of the standing leg pointing towards the ceiling, pull the right arm down toward the side of your body against the band's resistance so that it's parallel to the floor. Bring the band in front of your face as you lower it, and your arm should be slightly in front of your body as well, as an arm in a classically placed second position would be.
Slowly return to the Y position.
As you lower and raise the arm, keep a buttoned-up feeling between your ribs and core. Alway says it's crucial that the back doesn't arch and the ribs don't splay outward. If you're struggling to keep the body in one piece, don't lower your arm as far.
Do 10–15 reps, balancing on the left leg the whole time, then switch to the other lifted leg and working arm.
Tendus Against Resistance
What it works: This exercise teaches you to engage your psoas, deep hip rotators and anterior and oblique abs to better position and stabilize the pelvis, which are necessary when pushing off for turns and maintaining a high relevé throughout.

What you need: Medium-weight resistance band
Starting position: With a resistance band tied in a circle around something stable, like a couch leg or with the knot closed in a doorway, loop the band around the right ankle and stand in first position, facing away from the anchored end of the band. This attachment point should be directly behind you, centered between the two legs, and the band should be taut.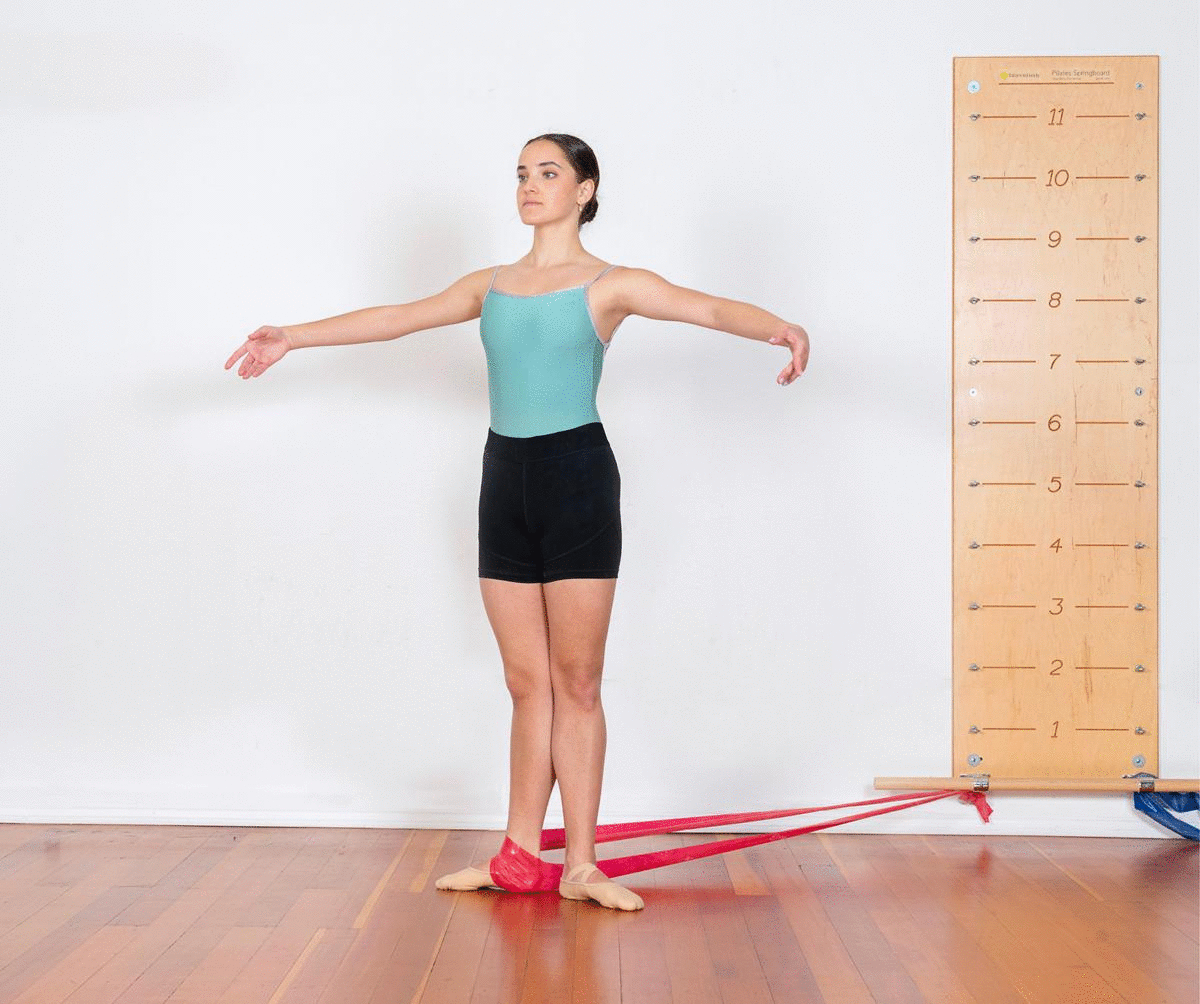 Photos by Christian Peacock, modeled by Carmela Mayo
In slow, controlled movements, complete a series of tendus with the right leg en croix—front, side, back, side—working against the resistance. (In tendu derrière, the resistance will be on the way in, not out.)
While completing the tendus, note how easy it is for the body to sway and rotate in reaction to the resistance. Engage your core and stay lifted on top of the standing leg to keep the pelvis still with each movement. Make sure to lift up and work from your turnout muscles.
Do 4 sets, then repeat on the left side.
Try It Out
Follow along as Alway coaches San Francisco Ballet corps member Carmela Mayo through the exercises.
Getty Images
Ballet dancers are known for their empathy and willingness to improve, so it is no surprise that many are educating themselves about the environment and incorporating sustainable habits into their lives. "I recently read that there are more microplastics in our oceans than there are stars in our galaxy. That really hit me," says American Ballet Theatre corps member Scout Forsythe, who has been making an effort to be more environmentally conscious.

Although no one can fix the climate crisis on their own, we can make small, everyday changes to help decrease waste, consumption and emissions. Here are some suggestions for dancers looking to do their part in helping our planet.

Cut down on packaging waste: Forsythe packs a reusable water bottle (with a lot of stickers on it so she won't lose it), reusable baggies and a cutlery kit in her dance bag. "I always have my fork, knife and spoon at the studio," she says. "That way, if you do decide to go out, you already have utensils—those little steps make a big impact." Bringing food in reusable containers like mason jars or Tupperware, and using beeswax wrapping paper instead of plastic wrap, cuts down on packaging waste.
Look into sustainable dancewear: The Royal Ballet first soloist Mayara Magri says she's become more intentional about her wardrobe by wearing more sustainable clothing and dancewear. This inspired her to team up with Imperfect Pointes, which uses materials made from regenerated ocean plastics and landfills, and is the first fully sustainable dance brand in the UK. "Their Instagram page has lots of ideas that challenge the minds of young dancers to think about what we can do," says Magri.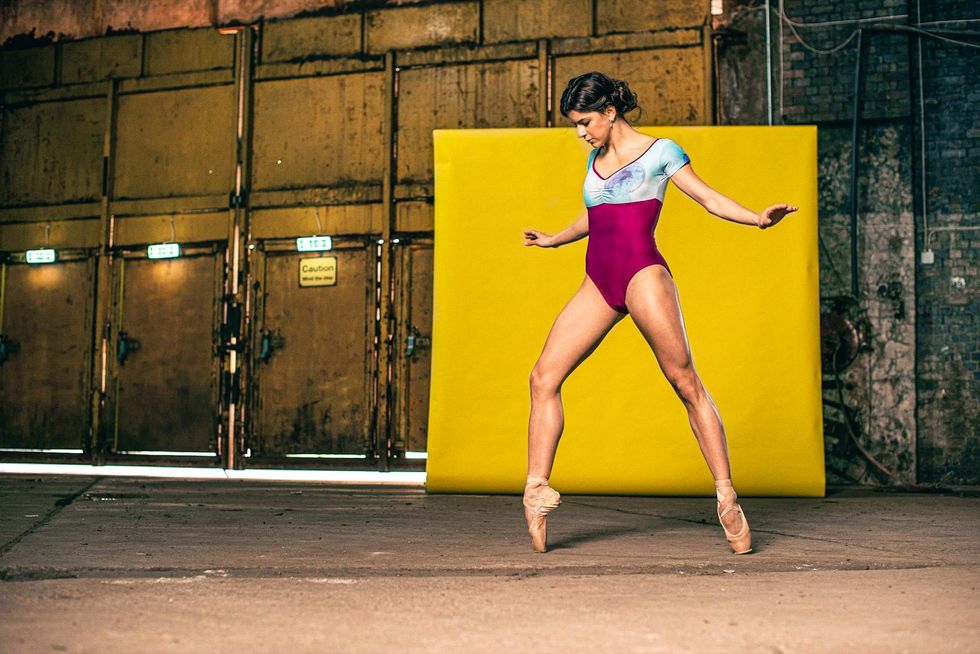 Royal Ballet first soloist Mayara Magri wearing an Imperfect Pointes "Alexandria" leotard, made of sustainable materials.
Courtesy Imperfect Pointes
Consume less, donate and buy used: Magri also tries to buy less and donates old clothing instead of throwing it away. "If you're going to buy something, you should know where it comes from and where it's going," she says. Forsythe recommends thrifting as an alternative to buying new—either in person or digitally, on platforms like Poshmark or Depop.
Consider your toe pads: Dancers on pointe have additional choices to make when it comes to shoe and foot products. Instead of reaching for paper towels, Michelle Lebowski, freelance dancer and creator of Ballerinas of Los Angeles, uses the tips of old socks as toe pads. "I use my dad's old socks because they're a little bit thicker," she says. "They're nice and malleable, but they don't rip."
Smart sewing: Forsythe sews her pointe shoe ribbons and elastics with cotton crochet thread, which is an organic material and can decompose, instead of dental floss, which is made from plastic. She also encourages dancers to ditch plastic lighters and switch to matches to singe the edges of their ribbons—lighters will end up in the landfill.
Reuse your ribbons and elastics: All three dancers say they reuse their ribbons and elastic. They can be washed either on a gentle cycle or by hand, so they can still look new if you choose to reuse.
Compost your pointe shoes: For eco-warriors who compost, try including your pointe shoes! Most are made from natural materials (like satin, burlap and cardboard), so Lebowski had great success composting hers. Originally wanting to repurpose her shoes as flower planters, she left them outside in her garden and soon noticed the worms were breaking them down. Shoes without a plastic shank and made with traditional satin should decompose—just be sure to remove the ribbons and elastic (including any elastic drawstring), and the metal nail from the shank.
Make a Mindset Shift
The most important step to take towards sustainability is changing your mindset. "It's about taking that self-assessment of 'What am I doing and how can I change?' It's not about being perfect, it's about doing better," says Forsythe. Using deodorant in plastic-free packaging or searching for cruelty-free or vegan makeup are examples that dancers might not think about but make an impact.
It's also important to connect with fellow dancers—be vocal and get your school or company involved. Magri shares that at The Royal Ballet, the company chose to stop buying plastic cups, encouraging everyone to bring a reusable bottle. At ABT, the women have a "giveaway box" in their locker room, where they put old dancewear they no longer need but that someone else in the company might want. Carpooling to the studio or theater is a great way to cut emissions, and also allows dancers time to connect with each other. Magri says, "Ballet can be so egocentric, but looking out of your bubble and being more aware of what's going on around you will make you a better dancer."
Left to right: Dance Theatre of Harlem's Daphne Lee, Amanda Smith, Lindsey Donnell and Alexandra Hutchinson in a scene from Dancing Through Harlem. Derek Brockington, Courtesy Dance Theatre of Harlem
Creating dances specifically for film has become one of the most effective ways that ballet companies have connected with audiences and kept dancers employed during the pandemic. Around the world, dance organizations are finding opportunities through digital seasons, whether conceiving cinematic, site-specific pieces or filming works within a traditional theater. And while there is a consistent sentiment that nothing will ever substitute the thrill of a live show, dancers are embracing this new way of performing.
Still, it's been an adjustment. How are dancers developing performance energy? How can artistry best be communicated through the camera? What is the best angle to present technique? Dance Theatre of Harlem's Derek Brockington explains that dancing for film is "about acknowledging that it's not going to be the same experience—it's a different way of dancing." Below, Brockington and several other dancers share their takeaways after a year of dancing on camera.
Adapting to New Spaces and Timelines
Rehearsing in the back of a crowded studio used to seem like a challenge, but since the pandemic began last year Zoom rehearsals became the norm, and gave new perspective to exploring movement in small spaces. Dancing an entirely digital season this year, Jessy Dick, a company apprentice at The Washington Ballet, explains that learning contemporary movement via Zoom last fall was confusing to translate into the body. "It is hard to feel the movement," says Dick. "I never realized how expansive moving in the studio can feel. The walls mess with your head."
Dick had to adapt and develop mind flexibility, which she says later carried over when the company began dancing in site-specific locations and adjusting to the quick pace of a filming day. When shooting Something Human, by TWB artist Andile Ndlovu, last October, considerations such as natural lighting and weather shaped a single day of filming at Maryland's Patapsco Female Institute. There was little time for dancers to acquaint themselves with the space, adapt and, as Dick says, "just go for it." Yet she adds that the challenge of performing outdoors on unfamiliar surfaces and in tennis shoes or bare feet was balanced by the inspiration of dancing with the wind and sunshine. "The location fueled us to be able to turn it on and off quick," she says, especially when doing multiple takes throughout the day.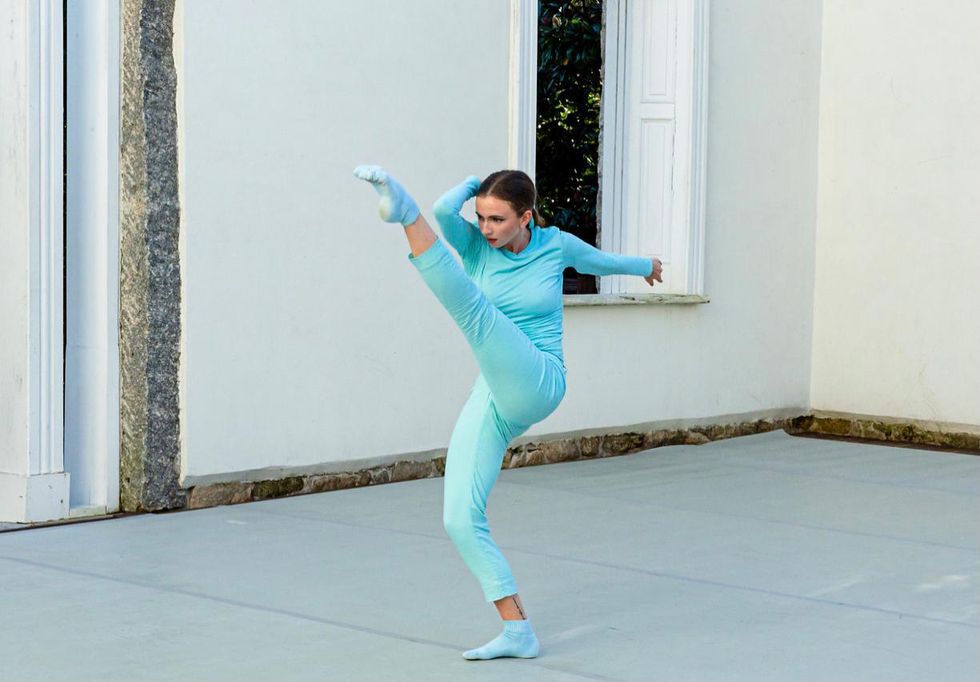 The Washington Ballet's Jessy Dick on the set of Andile Ndlovu's Something Human
Mena Brunette of XMBPhotography, Courtesy TWB
Even when filming in the familiar confines of a theater, the recording experience can be intense. San Francisco Ballet principal Aaron Robison describes recording George Balanchine's Jewels at the War Memorial Opera House in January as "one run-through, notes and then a quick touch-up, and we did it again." While rehearsing his role in "Emeralds" was relatively typical (save Balanchine répétiteur Sandra Jennings coaching via Zoom instead of in the studio), the recording day included two back-to-back run-throughs. When asked how he rallies performance-level energy multiple times in a row, Robison explains that knowing that a performance run is complete in one single day of filming gives him the fortitude to push to his max.
Turning On Performance Mode—Without the Audience
The energy between dancers and audience members during a live performance is hard to replicate digitally. Since films are often shot from different angles, dancers have had to explore how to project through different parts of the body and with specificity, depending on the shot. "It involves more thinking than you normally have to do," says Brockington. He says he has to have keen awareness of where the camera is, while also trying to project beyond it and considering the different angles it is potentially capturing.
While Robison's filming process of Jewels was a straight run-through from one angle, he was still performing to an empty theater. Yet he says he drew energy from "the fact that we haven't been able to perform for all this time, and I felt fortunate in that moment being back on the stage."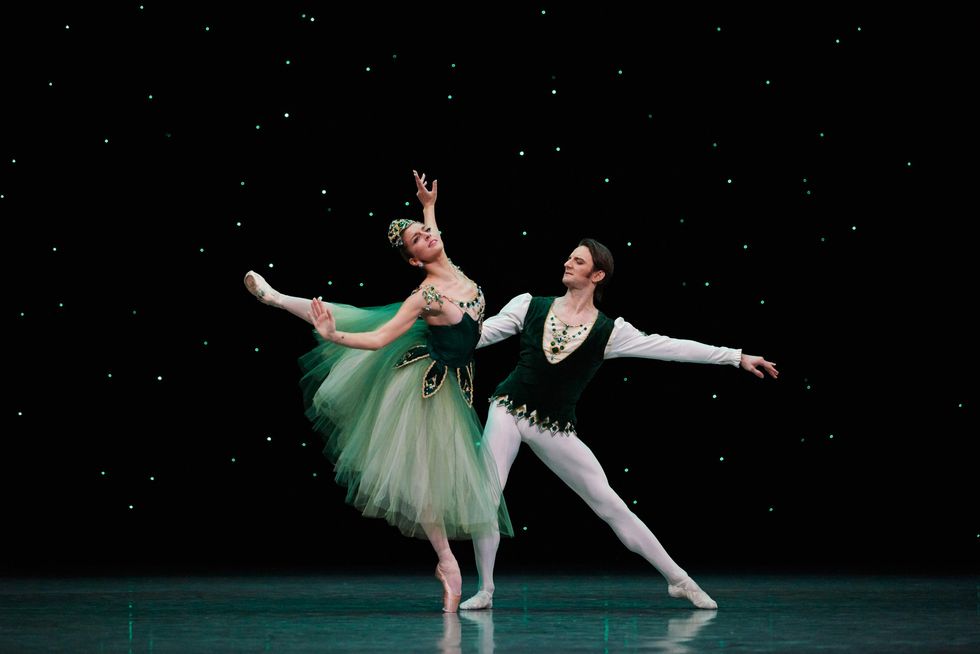 San Francisco Ballet principal Aaron Robison and soloist Sasha Mukhamedov in George Balanchine's "Emeralds"
Erik Tomasson, Courtesy SFB
Regardless of the circumstances, being committed to the moment is imperative for a filmed performance to be effective. Not only do viewers need to feel it, dancers want to do justice to the choreography in a way that stands the test of time. "That's the thing with a film," says Robison. "It stays."
Reaching a Global Audience
One of the major advantages to online performances is that anyone can watch from anywhere in the world. On a personal level, dancers from international backgrounds can share their dancing with family, friends and teachers who supported their training. From a more global perspective, virtual performances allow dancers and companies to share their missions on a broader platform.
When DTH initially created Dancing Through Harlem, a virtual submission for Harlem Week last August, it went viral with over 7.6 million views. Brockington and his roommate, fellow DTH dancer Alexandra Hutchinson, conceived, produced and edited the film—with choreography based on Robert Garland's New Bach and set throughout beautiful spaces in Harlem—over seven days in August using an iPad. Not expecting to reach such a large audience, Brockington says that the video's popularity is why representation matters. "I grew up not seeing many ballet dancers who looked like me." Brockington says he was honored to share his dancing and the stunning architecture of Harlem with the world while representing DTH's mission of inclusivity and accessibility.
Another audience added to the pool of viewers is the dancers themselves. Waiting for a film to debut can produce greater anticipation than pre-performance jitters, especially when you're not sure what the final product will look like. Robison explains that while he knows which takes he felt particularly good about, the chosen cut will be what best represents the entire cast—and that isn't revealed until the film is released.
For dancers, being able to watch the work they were a part of is a reward that is entirely new. "There's nothing that compares to the feeling of performing onstage," says Dick. "But it was beautiful to watch my colleagues blossom in front of the camera."