Peter Mueller, Courtesy Cincinnati Ballet
The corps de ballet make up the backbone of every company. In our Fall 2020 issue, we highlighted 10 ensemble standouts to keep your eye on. Click on their names to learn more!
Quinn Wharton
"I love the feeling and look of effortless fashion," says Angelica Generosa. Preferring a classic style, the Pacific Northwest Ballet soloist keeps her wardrobe stocked with blazers. But they serve a practical purpose, too. "It tends to get chilly in Seattle, so it's the perfect accessory for layering," Generosa explains.
She's also quite fond of designer handbags. "They're my go-to accessory, and they're also my weakness when shopping," she says, naming Chloé, Chanel and Dior as some of her favorite brands. "I really appreciate the craftsmanship it takes to produce one—they're so beautiful and each has its own story, in a way."
In the studio, Generosa prioritizes comfort, and she'll change up her look depending on the repertoire (leotards and tutus for classical works, breathable shirts with workout pants for contemporary). But she always arrives to work in style. "I really love putting together outfits for even just going to the studio," she says. "It's another way of expressing my mood and what kind of vibe I'm going for that day."
The Details: Street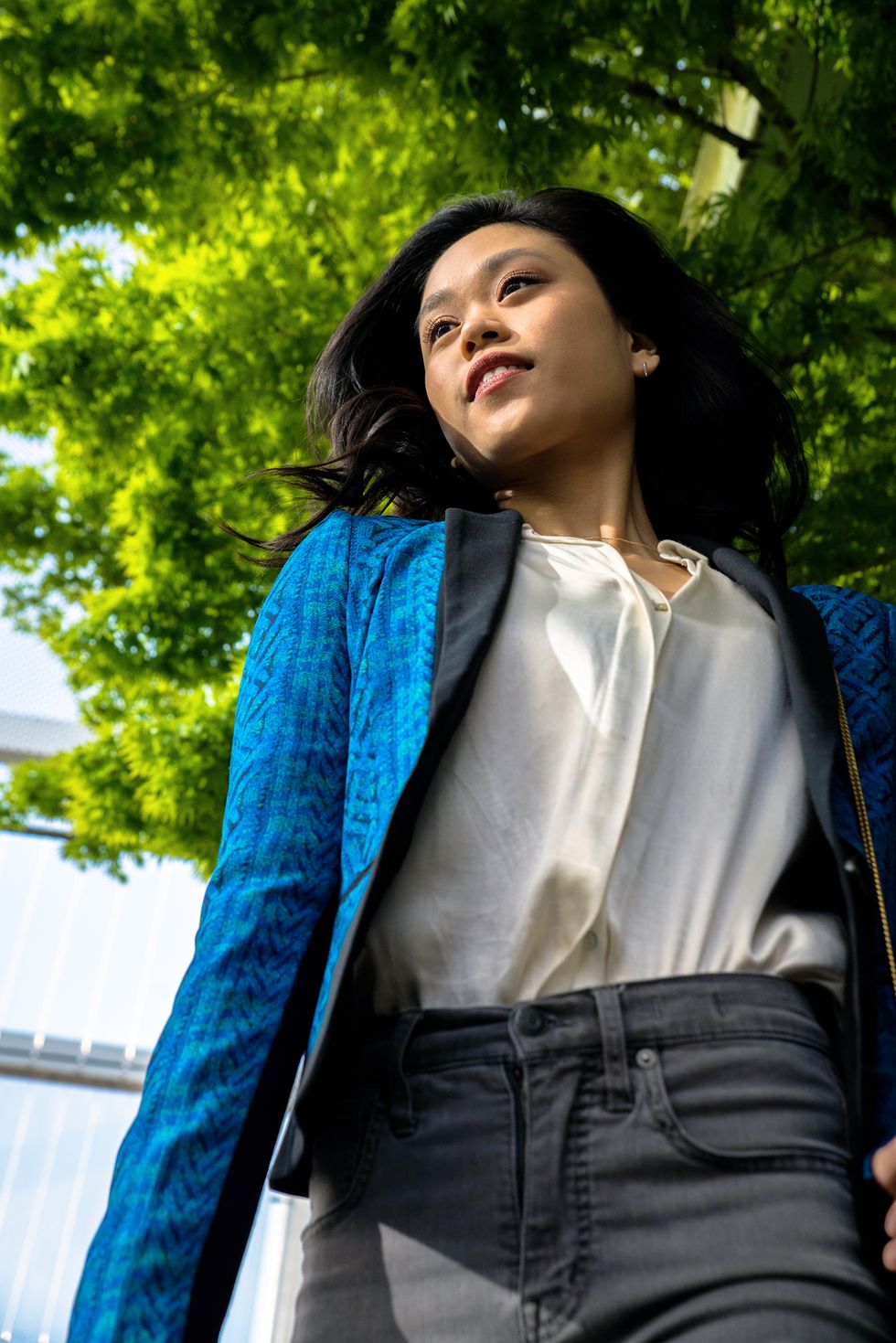 Quinn Wharton
BCBG blazer: "It has some shoulder pads and a really cool pattern," says Generosa. "It reminds me of my mom and '80s fashion."
Zara blouse: She incorporate neutrals, like this white satin button-up, to balance bright pops of colors.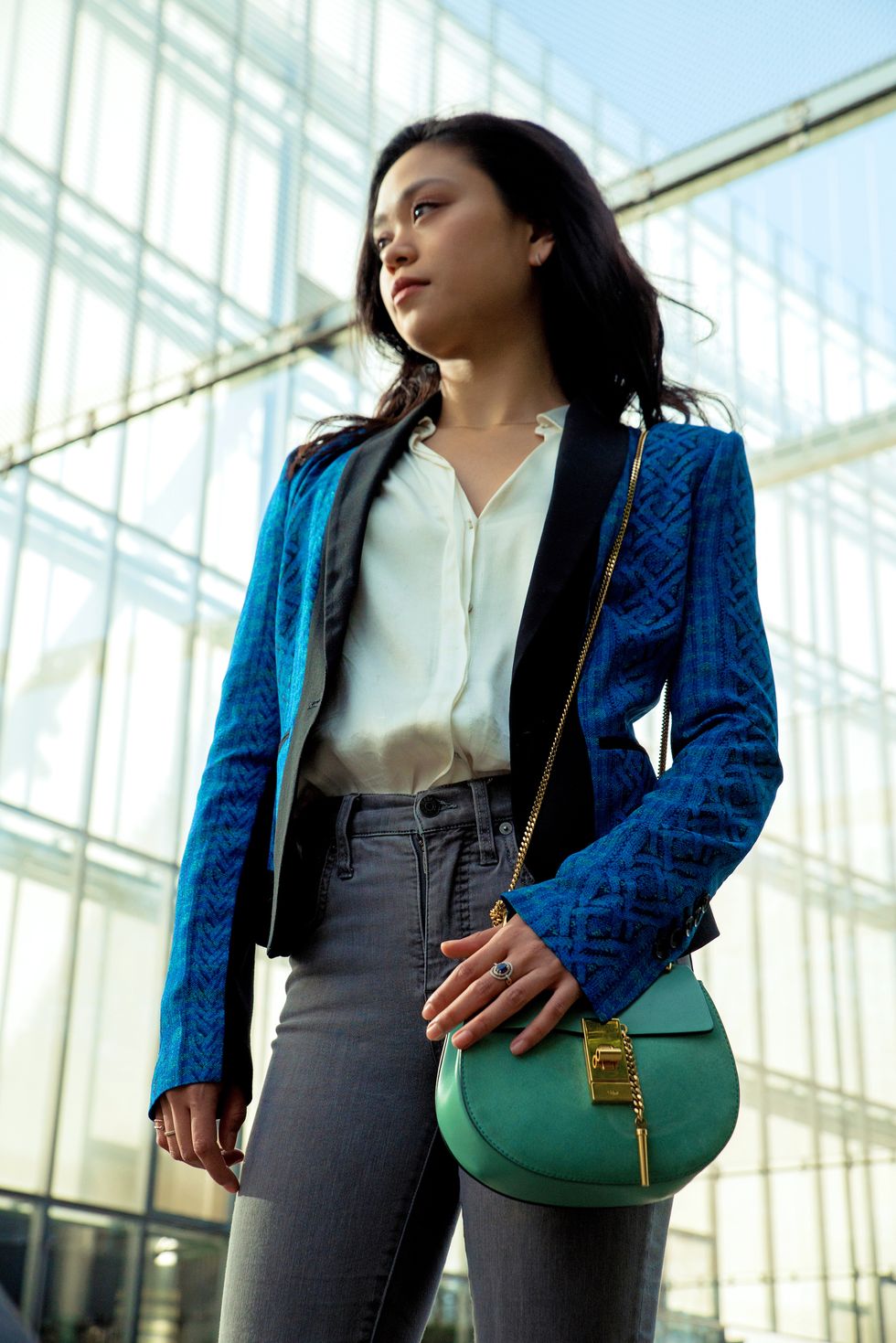 Quinn Wharton
Madewell jeans: Comfort is a major factor for Generosa, who gets her fashion inspiration from her mom, friends and people she comes across day to day.
Chloé bag: "I tend to have smaller purses because I'm quite small. Bigger bags overwhelm me sometimes—unless it's my dance bag, of course!"
The Details: Studio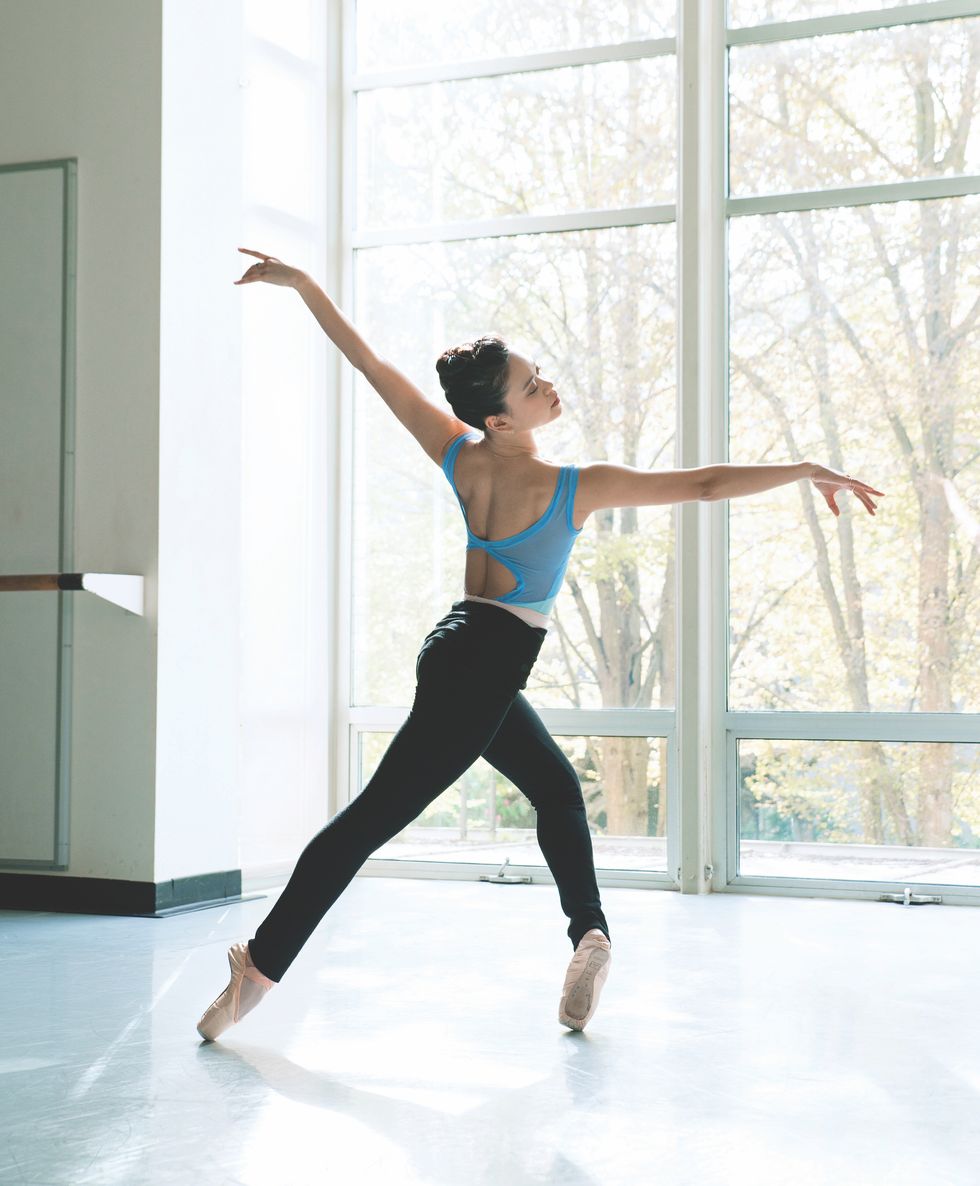 Quinn Wharton
Label Dancewear leotard: "This was designed by my good friend Elizabeth Murphy, a principal dancer here at PNB. Her leotards always fit me really well."
Mirella leggings: "I get cold easily," says Generosa, who wears leggings and vests to stay warm throughout the day.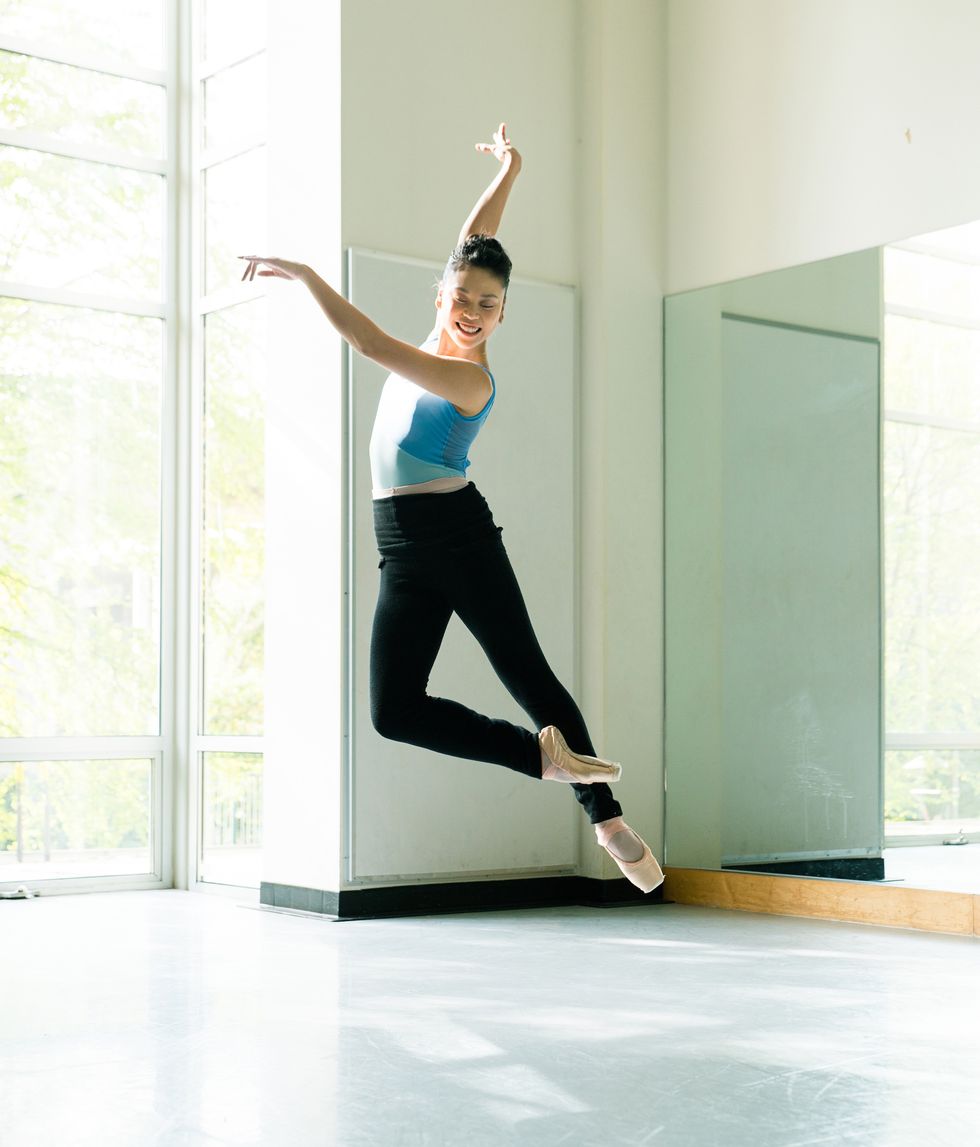 Quinn Wharton
Freed of London pointe shoes: "When sewing them, I crisscross my elastics and use an elasticized ribbon from Body Wrappers," which helps alleviate Achilles tendon issues, she says. She then trims the satin off of the tip of the shoe. "Then I bend the shank a bit to loosen it up and cut a bit off where my arch is."
Getty Images
Despite worldwide theater closures, the Universal Ballet Competition is keeping The Nutcracker tradition alive in 2020 with an online international competition. The event culminates in a streamed, full-length video of The Virtual Nutcracker consisting of winning entries on December 19. The competition is calling on studios, as well as dancers of all ages and levels, to submit videos by November 29 to be considered.
"Nutcracker is a tradition that is ingrained in our hearts," says UBC co-founder Lissette Salgado-Lucas, a former dancer with Royal Winnipeg Ballet and Joffrey Ballet. "We danced it for so long as professionals, we can't wait to pass it along to dancers through this competition."

How It Works
<p>UBC has divided various scenes and divertissements that make up <em>The Nutcracker</em> into categories. (Think Party Scene, Battle Scene, Snow Pas de Deux, etc.) Studios and conservatories, along with individual dancers, are asked to submit footage of these scenes from previous performances or in-studio recordings (though costuming and makeup is encouraged) to UBC through the company's<a href="http://universalballetcompetition.com" target="_blank"> website</a>. The entry fee for each submission is $45, with multiple-entry pricing available.</p><p>The competition will be <a href="https://www.universalballetcompetition.com/virtual-competition-schedule/" target="_blank">livestreamed</a> on December 12, featuring all submissions that make up Act I, and on December 13, featuring all submissions that make up Act II. "We thought it would be cool for parents and directors to see, say, 20 different versions of Mother Ginger for future inspiration," says UBC co-founder David Lucas. "It's a fun way to promote the different studios who are all facing challenges, embrace the season, and learn from one another."</p>

<img lazy-loadable="true" src="https://assets.rebelmouse.io/eyJhbGciOiJIUzI1NiIsInR5cCI6IkpXVCJ9.eyJpbWFnZSI6Imh0dHBzOi8vYXNzZXRzLnJibC5tcy8yNDU2ODk4OS9vcmlnaW4uanBnIiwiZXhwaXJlc19hdCI6MTYwNDMyNTM2Mn0.svuEGNVqisVMYpKWf_cS-uzxskqEOaRTRJPfLhz7F_Q/img.jpg?width=980" id="a22e7" class="rm-shortcode" data-rm-shortcode-id="496d09a5fd9610786f98b53cfed4dd5c" data-rm-shortcode-name="rebelmouse-image" alt="Blurred ballerinas in long white tutus dance on a wooden floor and are viewed from backstage." />

Getty Images

<p>The jurors for the competition include: Pennsylvania Ballet assistant artistic director Samantha Dunster, Kansas City Ballet School director Grace Maduell Holmes, Royal Winnipeg Ballet associate director Tara Birtwhistle, Orlando Ballet School principal teacher Charmaine Hunter and international master teacher Duncan Cooper.</p><p>An online awards ceremony announcing each scene's top three submissions (and their subsequent cast members) will be held on December 14. The first-place clips will then be strung together to create a final cohesive recording of <em>The Virtual Nutcracker</em>, which audiences can stream for free on UBC's website on December 19.</p>

<p>"At this time, the arts have to show we are stronger than COVID-19," Lucas says. "United as a community, we still go on. Dancers, studios and companies cannot survive without performances—let's continue the <em>Nutcracker</em> tradition in a safe environment."</p>

<div style="padding: 20px 0 40px;"> <!--ros_pm_desktop_medrec--> <div class="htl-ad" data-unit="pointe_magazine/pm_desktop_medrec" data-sizes="0x0:|1024x0:300x250" data-prebid="0x0:|1024x0:pm_desktop_medrec" data-refresh="viewable" data-refresh-secs="45" ></div> </div>