This story originally appeared in the October/November 2016 issue of Pointe.
After 40 years in Europe, choreographer William Forsythe recently put down stateside roots as a professor at the University of Southern California's new Glorya Kaufman School of Dance. USC is welcoming him with Fall for Forsythe, a monthlong festival that culminates October 21–23, when Pacific Northwest Ballet, San Francisco Ballet and Houston Ballet perform influential works at The Music Center's Dorothy Chandler Pavilion in Los Angeles.
"I can't wait to see the way each company dances his work," says SFB artistic director Helgi Tomasson, alluding to the unique blend of rigorous classicism and convention-flouting individuality Forsythe cultivates. SFB will perform Pas/Parts 2016, created on Paris Opéra Ballet in 1999 and extensively reworked on SFB's dancers.
---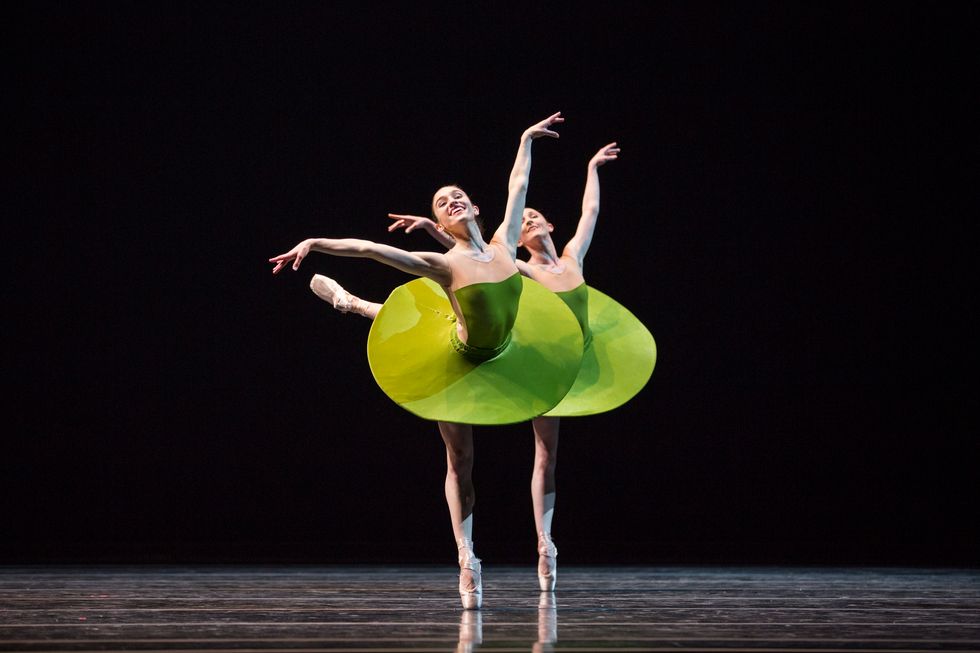 Pacific Northwest Ballet soloists Leta Biasucci and Margaret Mullin in William Forsythe's "The Vertiginous Thrill of Exactitude." Photo by Angela Sterling, Courtesy PNB.
"What is primary in Bill's work is your knowledge of proper classical ballet," says SFB principal Sofiane Sylve, who met Forsythe as a 17-year-old at Dutch National Ballet. Equally essential is a willingness to try anything: "He goes, 'Now I'd like to see it off-balance, backwards and reversed.' All of a sudden, you're learning a new language."

PNB will dance The Vertiginous Thrill of Exactitude; artistic director Peter Boal expects the experience to have lasting impact. "Vertiginous is pure classical technique," he says. Drawing a parallel to the speed and attack required for dancing Balanchine, Boal adds, "They're going to do a better Theme and Variations now. It's that sort of wild daring."
Kathryn Bennetts, 15-year ballet mistress with Forsythe's previous company Ballet Frankfurt, will stage the Houston women in Artifact Suite (Noah Gelber will stage the men). She distills Forsythe's vision, and his artistic impact, down to a love for dance and dancers. "He walks into a studio and just wants to see what's possible," she says. "That's what all dancers want: to be encouraged to go beyond what they think they can do."