Some may consider New York's Symphony Space a smaller theater, but big things were happening inside June 6–10. Just under 200 young dancers from all over the world were testing their luck at the Valentina Kozlova International Ballet Competition in hopes of receiving scholarships, medals and company contracts. Their jury? An international panel of company and school directors, chaired by Andris Liepa, that included State Ballet of Georgia's Nina Ananiashvili, Boston Ballet School's Peter Stark, Dance Theatre of Harlem's Virginia Johnson and Cincinnati Ballet' s Victoria Morgan.
---
After several rounds of classical and contemporary categories, the winners were announced June 10. For the first time in VKIBC's history, it awarded two Grand Prix prizes. Five lucky dancers also were offered company contracts from Boston Ballet, Cincinnati Ballet and Columbia Classical Ballet. A gala performance followed, in which the competition's founder, former Bolshoi and New York City Ballet principal Valentina Kozlova, honored Dance Theatre of Harlem founding artistic director Arthur Mitchell.
Below are highlights of the week's achievements. (There are a lot more! A full list of medalists and scholarship winners can be found here.)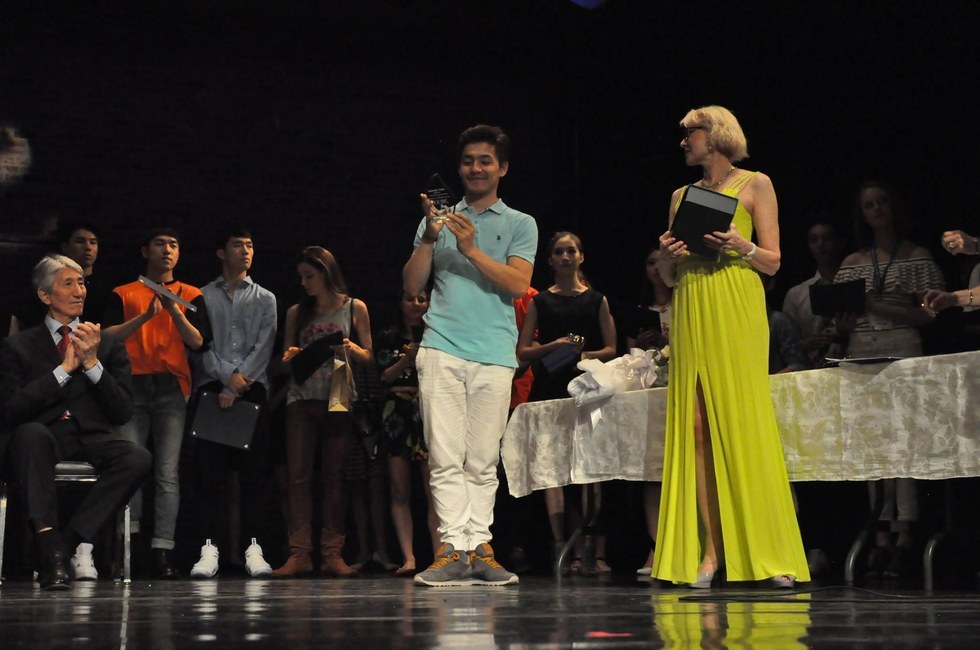 Grand Prix winner Bakhtiyar Adamzham receiving an invitation to perform at the Gala Rudolph Nureyev Moscow March 2017. Photo by Katherine Bibilouri, via VKIBC Facebook.
Grand Prix:
Bakhtiyar Adamzham, Kazakhstan (Classical)
Sungmin Kim, South Korea (Contemporary)
Classical Junior Division (15–17), Female
Gold Medals: Rheya Shano, USA; Yuyu Ichikawa, Belgium
SIlver Medal: Mari Bell, Canada
Bronze Medals: Talia Egge, USA; Madison Holdsworth, USA
Classical Junior Division (15–17), Male
No Gold or Silver medals awarded
Bronze Medals: João Paulo Jezler, Brazil; Marco Marongiu, Italy
Classical Senior Division (Ages 18 - 26), Female
Gold Medal: Yu Jeong Choi, South Korea
Silver Medal: Eunhye Lee, South Korea
Bronze Medal: Francesca Loi, Italy

Classical Senior Division (Ages 18 - 26) Male
Gold Medals: Jinsol Eum, South Korea; Koyo Yanagishima, USA
Silver Medals: Justin Valentine, USA; Jun Kyoung Kim, South Korea
Bronze Medals: Serik Nakyspekov, Kazakhstan; Marcos Silva, Brazil
Contemporary, Division III (Ages 15 - 17), Female
Gold Medal: Nikita Boris, USA
Silver Medal: Yul Ui Kim, South Korea
Bronze Medals: Alexia Duff, USA; Semi Lim, South Korea

Contemporary Division III (Ages 15 - 17), Male
No Gold medal awarded
Silver Medal: Gabriel Barbosa, Brazil
Bronze Medals: Roberto Santos, Brazil; Khevyn Sigismondi, Belgium

Contemporary. Division IV (Ages 18 and Up), Female
Gold Medal: Jooeun Son, South Korea
Silver Medal: Kyungmee Hwang, South Korea; Scarlet Oliveira, Brazil
Bronze Medal: Yasmine Matos, Brazil; Isabella Souza, Brazil

Contemporary Division IV (Ages 18 and Up), Male
Gold Medal: DongHun Go, South Korea; Haneul Jung, South Korea
Silver Medal: Seungmin Choi, South Korea; Justin Valentine, USA
Bronze Medal: In Hyeok Jung, South Korea; Jey Santos, Brazil
Company Contracts:
Boston Ballet: Natasha Snogren, USA
Cincinnati Ballet: Marcos Silva, Brazil
Columbia Classical Ballet: Camila Rodrigues, Brazil; Mari Bell, Canada; Lily Saito, USA