Earlier this year, anticipating the ongoing repercussions of the COVID-19 pandemic, University of North Carolina School of the Arts' interim dean of dance, Jared Redick, started looking ahead to their annual Nutcracker performances. In May, he and the deans of UNCSA's Film, Music, and Design and Production schools started brainstorming on how to maintain some semblance of the holiday tradition safely, while also being instructive for their students and beneficial to the community. They saw a golden opportunity to collaborate on a filmed version of the ballet. With less than three months to plan, a curtailed rehearsal period (UNCSA's semester ended before Thanksgiving) and limited studio capacity, the logistics were daunting. But Redick was still determined to create something special. "We wanted to keep it traditional, but we have all these cool resources at our fingertips," he says. "How could we reimagine the production?"
---
The result is a roughly 30-minute cinematic Nutcracker film with 63 dancers and a full orchestra. Special effects create illusions of real combat in the battle scene and closely swirling snowflakes in the snow scene. UNCSA's wardrobe department enhanced existing costumes with special details for the benefit of close-up shots and created dance-friendly coordinating face coverings for every performer. The film premieres in a livestreamed online scholarship fundraiser on December 12, and will be available for free on demand beginning December 17 on UNCSA's website and social media channels. It will also be broadcast on UNC-TV beginning December 22.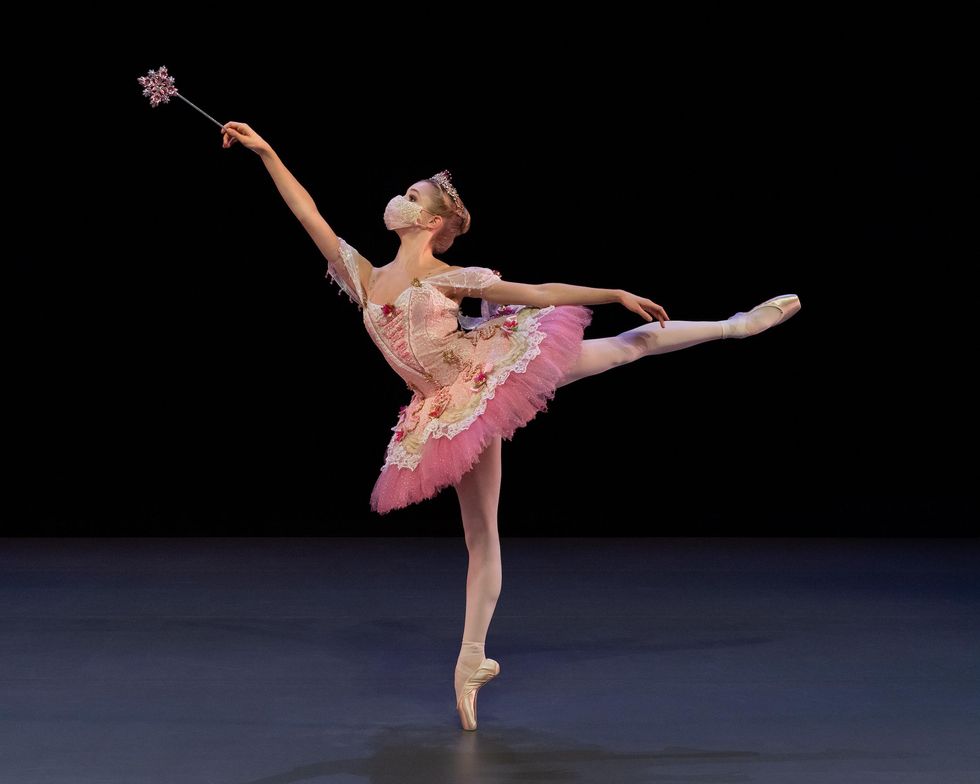 Eleanor Broughton, a junior in UNCSA's high school program, performs as the Sugarplum Fairy.
Peter J. Mueller, Courtesy UNCSA
Rising to the Challenge
While the film is significantly shorter than the typical two-hour ballet, pulling together new choreography and an abridged orchestral score in time for the nine-day filming process was logistically challenging. Redick tapped faculty member Ilya Kozadayev to choreograph the new version. "My first reaction was excitement—I've never choreographed a Nutcracker before— and immediately the wheels started turning," says Kozadayev. "How could we do this with all the limitations of social distancing, not being able to partner and the corps having to be very spaced out?"
Kozadayev first wrote a screenplay outlining each scene, including a narrated prologue to replace the party scene. The battle and snow scenes remain, but the Act II divertissements are truncated, and Mother Ginger, the grand pas de deux and the finale are eliminated. "It became a sort of game for me of how to make sure we have a true beginning, culmination and ending for each segment, both choreographically and musically," Kozadayev says. "It had to feel organic."
Kozadayev edited the score at home on his computer before sending it off to UNCSA's guest conductor, Karin Hendrickson, who created the orchestral arrangement. The UNCSA music students recorded the score section by section (to keep the musicians in small groups), which was then digitally edited into a layered orchestral sound.
New hurdles appeared when it came time for the dancers to rehearse. For safety, most studios had a maximum capacity of 12 dancers. Since regular classes also had to be divided into small groups and spaced throughout the day, studio space was at a premium. "It became like a game of chess," Kozadayev says of pulling together the 12-dancer snow scene. "I had to learn everybody's schedules and try to arrange it so I'd have at least six dancers there, but often I'd only have three or four. When I needed 12, I might get eight or nine. And then I needed to make sure I saw the ones who weren't there at another time that week, so I could teach them their choreography."
This patchwork method meant that each dancer had fewer hours of preparation than usual. "If you were a Flower, you probably rehearsed an hour and a half a week," Kozadayev says. "Normally before production week we'd do run-throughs every day. But none of that happened."
An Unexpected Curriculum
UNCSA's quick pivot from stage to screen gave students an unexpected benefit: a crash course in life as a 21st-century professional dancer—and not just because film and digital media will be an ongoing part of how dance is presented in the future, says Redick. The condensed rehearsal process made it imperative to learn fast, but to also be ready to make quick adjustments, particularly once on the film set. (Filming took place on a soundstage instead of in a theater, and to achieve optimal camera angles the choreography was frequently performed facing multiple directions, or even altered on the spot to fit the space.)
Eleanor Broughton, a junior in UNCSA's high school ballet program who performs Sugarplum in the film, says she had to make time to work on things by herself, like tricky turns and character development, because rehearsal hours were so short. "It was hard—I only rehearsed about twice a week—but I feel this has helped me prepare for professional life. It's another tool that the school has given us, because film is definitely going to be in our future."
Redick wholeheartedly agrees, noting that dancers' ability to take corrections quickly and withstand multiple repetitions of choreography uniquely readies them for film work. "We're having a paradigm shift in how we present our art form," he says. "Dance on film is going to be a main avenue for us to feature dance. So it was really beneficial for our dancers to learn about being on a set, blocking, being in frame, shooting and reshooting."
While the energetic connection with a live audience was missing, Broughton found a similar thrill by being in front of the cameras, performing for the crew and everyone on set. But what was most inspiring was the spirit of collaboration among musicians, filmmakers, designers and dancers. "The coolest thing was watching everyone do their job and us all working together."