Updated 3/24/2021

When the pandemic forced studios around the world to close last March, New York City Ballet's Tiler Peck was quick to adjust. She turned her own daily classes into Instagram Live sessions so that her more than 250 thousand followers could join in from home. But she was also busy planning a project that had already been in the works: her inaugural Tiler Peck Summer Intensive, hosted last July at California Dance Theatre after overcoming several COVID-related obstacles. This year, Peck and CDT are joining forces again from June 14–18 (*note: this is a change from the previously listed dates of June 28 to July 2), and they're still holding auditions (virtually, of course).
---
"I had been wanting to do a summer intensive for a while," Peck tells us over the phone. "Kim Maselli, CDT's artistic director, and I had been planning it for about a year. Then COVID started happening and we had to keep pushing it back. I didn't really want to do it all virtually, so we mapped out a block schedule, following all of the protocols and then some." The dancers took a combination of classes in-studio (with thorough cleaning in between) and on Zoom.
This year's intensive may look similar, says Peck, who shares that details regarding the class schedule and sizes are still being discussed. "We had about 60 students last time, so it's dependent upon our four studios and how many kids can be in the room following COVID protocols." She adds that the studio spaces have garage doors that allow for an outdoor feel.
Peck designed her program to mimic her own versatile training, with a mix of classical ballet and variations, contemporary, jazz, Broadway and hip hop. "Having training in multiple styles really helped me in my career, and so I wanted to give that opportunity to others," she says. "Last summer, we had guest teachers in Broadway and a former Alvin Ailey dancer who taught African dance. It was getting these little ballerinas out of their comfort zone, and I could tell they were all having so much fun."
The NYCB star says she watches every audition video sent in. "The most appealing thing to me is seeing the dancer's personality," she says. "I think that eye contact with whoever is filming you is important because it makes the person who's watching feel like they're in the room with you. Facility is important, but natural ability and dancing is what I look for the most. It's not about how high your extension is or how good your foot is for me."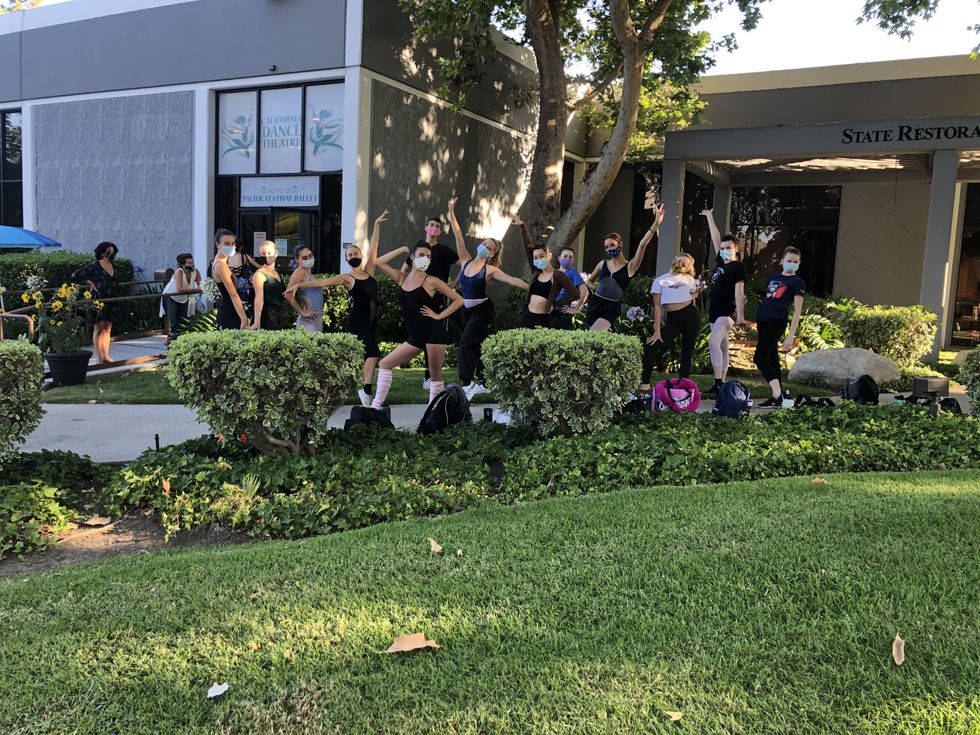 Peck and her 2020 intensive students pose outside California Dance Theatre's studios.
Courtesy Tiler Peck
Peck hopes to make her summer intensive an annual occurrence, possibly with more locations. "I want to make sure this reaches as many dancers as possible, so we don't want it to just be in California—it's easier this way now because of COVID," she says. "But my goal this summer is to find dancers who are looking to improve and expand not only their techniques but their mindset."