Being in the corps can be pretty unforgiving. You dance in nearly every performance, it sometimes feels like you're only onstage to add to the scenery, and you're expected to fit in—while still vying for soloist roles. It's enough to make even the most determined dancer lose steam. Pointe spoke with three corps de ballet dancers about how they use a combination of self-discipline and creativity to keep themselves motivated.
Shine in Class
After a few years, morning class can feel like a chore—especially during heavy rehearsal periods when your body just wants to rest. But rather than viewing it as a drag, try reframing class as a chance to show your best, hardest-working self. For San Francisco Ballet corps member Rebecca Rhodes, class is a time to push harder, not slack off. "It's a great time to be noticed," she says, especially for dancers hoping to be cast in featured roles. "I make sure to do every combination two or three times, and I try not to pick and choose what's comfortable," she says.
---
Pushing yourself is especially important because professionals are expected to be self-reliant. Milwaukee Ballet artist Rachel Malehorn occasionally seeks feedback from peers and ballet masters, but she prefers to use daily class as a way to measure her own progress. "You can cheat through things," she says, "but then you're depriving yourself of an opportunity for growth."
Take Pride in Corps Work…
Tapping into the teamwork aspect of the corps de ballet can help alleviate discouragement. "There's this perception that being in the corps isn't important," Malehorn says. "In fact, you're doing something larger than yourself. It's something powerful that no single person can achieve." She points out that it's natural to feel competitive about rank or casting. But she urges dancers to find fulfillment in working as a group toward a common goal, rather than fixating on being couple number eight, standing in the back.
It's also important to note that making peace with a corps role doesn't mean you have to give up ambitions for a soloist spot. Carolina Ballet corps member Carmen Felder reminds herself that her best bet for future casting is dancing well in the ensemble. "If I'm doing my job in the corps, the right soloist role will come along," she says. "I've had audience members tell me that they enjoy watching me in the corps." Even in a long line of swans, it's possible to be noticed.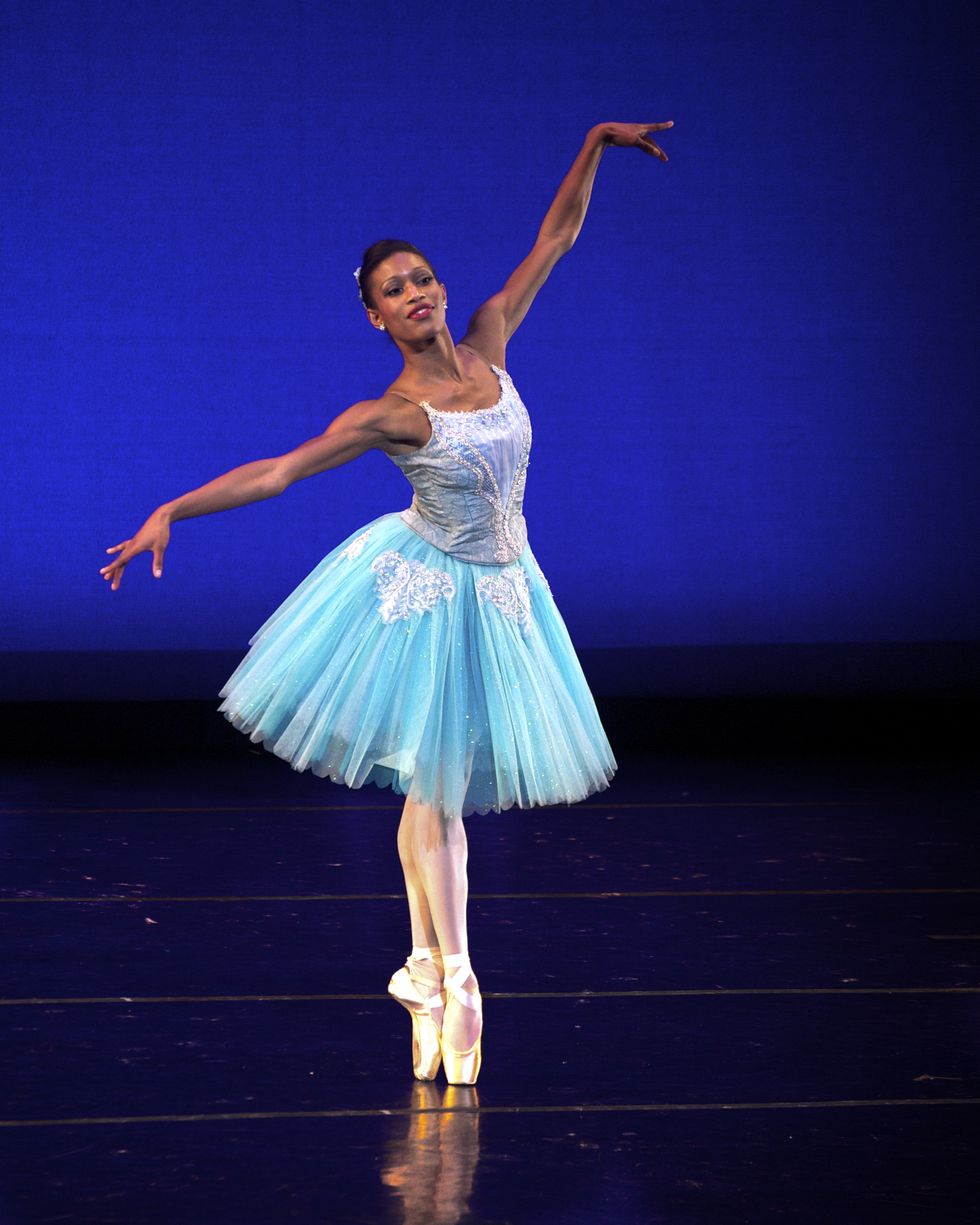 Carmen Felder. Photo by Chris Walt, Courtesy Carolina Ballet.
…And Make the Most of Casting
When soloist opportunities do come along, they might not be what you expect—or even want. But by looking at everything as an opportunity to grow, you might surprise yourself with the results. "When we did Raymonda I wasn't cast in a classical role at all," Malehorn says. "At first I felt really disheartened, but I was cast as the lead couple in the mazurka and I decided to give it 100 percent." When a Milwaukee dance critic reviewed the show, it was Malehorn's performance, rather than any classical role, that received a special mention. She was able to turn a potentially frustrating experience into a triumph.
And while receiving a plum role can be motivating, it can expose areas where dancers need to push themselves. When Rhodes was cast as the Scotch Girl in Balanchine's Scotch Symphony, her coach noted that she was dancing as if she were in the corps. "I had to learn where to embellish and how to have more authority," she says. "Finding that helped me in class and onstage."
Look Within Yourself and Outside the Studio
All three dancers agree that cultivating self esteem,plus having a life outside the studio,is the most effective way to stay motivated in a grueling career. "Once, after visiting an art school, I had a conversation with an artist about line and composition," Malehorn says."The next day in class, I thought about the brush strokes my arms and legs might make while I dance. You have to look for those kinds of opportunities to grow as a human being."
For Rhodes, an open mind and a level head—not to mention her loved ones—have helped her get through tough times, while Felder has found that mentoring students from nearby North Carolina State University recharges her batteries. "Volunteer, make jewelry, find something that sparks your interest," she says. "Being in the studio all the time makes it hard to see the big picture of the world around you."