Atlanta Ballet dancers in rehearsal with Yuri Possokhov. Photo by Kim Kenney, Courtesy Atlanta Ballet.
When Gennadi Nedvigin took over as artistic director of Atlanta Ballet in 2016, one of his first goals was to produce a new Nutcracker; it's been over 20 years since the company's last revamp by former director John McFall. Nedvigin immediately turned to choreographer Yuri Possokhov. "You need to be a really mature choreographer to visualize the whole story," says Nedvigin. Now, two years later, Atlanta Ballet's new Nutcracker will come to life December 8–24.
Yuri Possokhov's "The Nutcracker" www.youtube.com
Keep reading...
Show less
Ashley Wheater rehearsing Antony Tudor's "Lilac Garden." Photo by Cheryl Mann, Courtesy Joffrey Ballet.
The first time Ashley Wheater was courted to be artistic director of the Joffrey Ballet, he said "Thanks, but no thanks"—he was very happy at San Francisco Ballet, where he'd spent eight years as a principal dancer and 10 more on the artistic staff. But a trip to the Windy City for the Chicago Dancing Festival and a visit to Joffrey's studios prompted feelings of nostalgia for Wheater's early years dancing with the company.
He was hired by co-founders Robert Joffrey and Gerald Arpino in 1985, when the company was still based in New York City and under Joffrey's direction. After Joffrey's death, Arpino became artistic director and later moved a struggling Joffrey Ballet to its current home in Chicago in 1995.
When Arpino fell ill and began to look for a successor, the company had lost much of its original adventurous spirit. Remembering its earlier spark, Wheater agreed to apply during that trip to Chicago, and accepted on the spot in 2007 after a weeklong interview process.
As the third artistic director in the company's 62-year history, Wheater has spent the last 10 years rebuilding its national reputation, tackling challenging new repertoire and reimagined classics at a ferocious pace. The rep now includes works by choreographers like Christopher Wheeldon, John Neumeier, Alexander Ekman and Yuri Possokhov. Wheater shelved many of Joffrey's and Arpino's dances to make room for new ones, preferring to honor Robert Joffrey's legacy by taking risks and fostering innovation.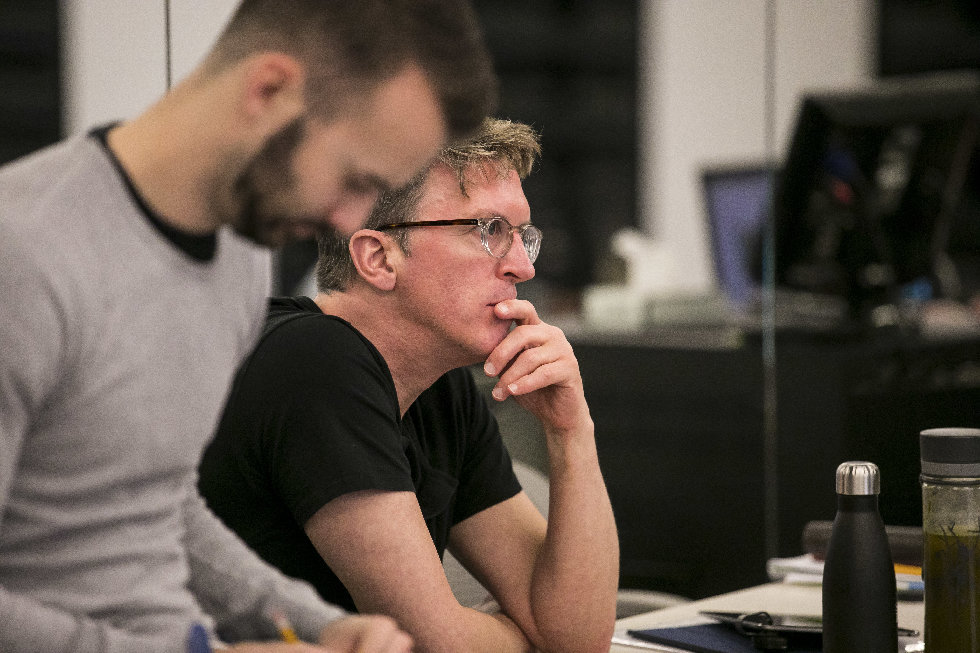 Wheater. Photo by Todd Rosenberg, Courtesy Joffrey Ballet.
Keep reading...
Show less
HM Queen Margrethe II of Denmark and dancer Fenella Cook. Photo courtesy TIVOLI, Copenhagen.
The realms of fairy tale ballets are filled with imaginary queens.
But in Denmark, the nation's real-life, reigning monarch, Queen Margrethe II, fills the stages of fairy tale ballets with her original costume and decor designs. In fact, she's been the in-house set designer for the Pantomime Theatre of Copenhagen's famed Tivoli Gardens since 2001. Her most recent work can be seen in Yuri Possokhov's Cinderella, which runs through August 27 at the Pantomime Theatre. The production is performed by Tivoli's dance company, Tivoli Ballet Theatre, which features an international roster of 18 classically-trained dancers.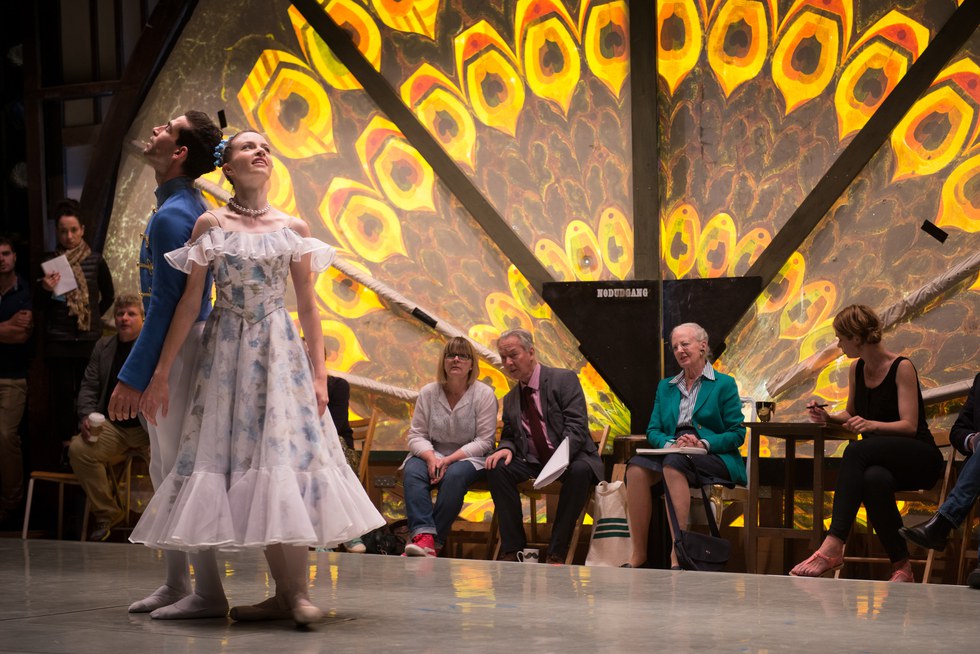 HM Queen Margrethe II of Denmark watching rehearsals of "Cinderella." Photo courtesy TIVOLI, Copenhagen.
The queen is a devoted fan of ballet. She regularly attends performances and has taken lessons as an adult. She's also created artwork for decades and even illustrated the Danish edition of The Lord of the Rings. Her first ballet costume and set designs appeared in the Royal Danish Ballet's 1991 production of Bournonville's A Folk Tale.
Keep reading...
Show less
Oct. 13, 2016 02:57PM EST
Zakharova in "Swan Lake." Photo by B. Stoess, Courtesy Bolshoi.
Mark your calendars! This Sunday, the Bolshoi Ballet, in partnership with Fathom Events, kicks off its 2016-17 Bolshoi Ballet in Cinema Series. Between now and April, seven Bolshoi productions will be high-beamed to movie theaters around the world (400 in the U.S. alone), giving ballet lovers a chance to see the legendary company on the big screen.
In addition to standard classics like The Nutcracker, The Sleeping Beauty and Swan Lake, this season is book-ended by two uniquely Russian ballets not performed by other companies, starting with Yuri Grigorovich's The Golden Age on October 16. Set in a cabaret during the Roaring 20s, The Golden Age is a Soviet love story between Boris, a young fisherman, and Rita, a dancer with connections to a local gangster. Yuri Possokhov's A Hero of Our Time, based on the great Russian literary classic of the same name, closes out the season in April.
In an exclusive interview, Pointe spoke with Bolshoi prima ballerina Svetlana Zakharova about what it's like to perform for the camera.
Keep reading...
Show less
May. 19, 2016 03:18PM EST
Photo via the Bolshoi Theatre.
With its glitz, glamour and funny statues, the Benois de la Danse has a lot in common with the awards show it's often compared to: the Oscars. While we're all for gowns and red carpets, we prefer tutus and opera houses—much like the Bolshoi Theatre where, on Tuesday, Yury Grigorovich announced the jury's winners.
The nominees, hailing from countries and companies worldwide, were recognized for their outstanding achievements in ballet performance and creation. But there could only be a few victors. So, without further ado, the awards for the 2016 Benois de la Danse go to:
Best Female Dancer
Alicia Amatriain of Stuttgart Ballet (Blanche DuBois in A Streetcar named Desire and The Devil in The Soldier's Tale)
Hannah O'Neill of the Paris Opéra Ballet (Title role in Paquita)
O'Neill with Mathias Heymann in La Bayadère . Photo by Little Shao courtesy of POB via Dance Magazine.
Best Male Dancer
Kimin Kim of the Mariinsky Ballet (Solor in La Bayadère at POB)
Best Choreographer
Yuri Possokhov (Hero of Our Time, Bolshoi Ballet)
Johan Inger (Carmen, Compañia Nacional de Danza and One on One, Nederlands Dans Theater)
Benois-Moscow-Massine-Positano Prize
Ekaterina Krysanova of Bolshoi Ballet
Great Partnering Artistry Prize
Oleksandr Ryabko of Hamburg Ballet
Lifetime Achievement Award
John Neumeier, choreographer and Hamburg Ballet artistic director
Edward Watson of The Royal Ballet
Best Scenographer
Ren Dongsheng, (Emperor Yu Li, Beijing Dance Academy)
Possokhov demonstrates a partnering sequence on Bolshoi dancers. Photo by Quinn Wharton via Dance Magazine.
It seems like the jury couldn't pick just one winner for the Best Female Dancer and Best Choreographer categories. (How does one rate different degrees of flawlessness?) The Americans—Amar Ramasar, Sara Mearns and Justin Peck, all nominated for Rodeo: Four Dance Episodes—didn't top the list. But Yuri Possokhov is a bit of a Russian expat in America; he's been San Francisco Ballet's resident choreographer since his retirement from the company in 2006.
With the busy spring performance season well underway, we're already keeping an eye out for potential 2017 standouts.
For more news on all things ballet, don't miss a single issue.
Jan. 29, 2016 04:09PM EST
Smirnova and Igor Tsvirko rehearse A Hero of Our Time. Photo by Quinn Wharton for Pointe.
Olga Smirnova's first three seasons at the Bolshoi Ballet were a whirlwind of debuts and creations, but it all came to a halt in 2014, when a foot injury took the Vaganova-trained prodigy out of action for nearly a year. During her break, Smirnova adopted a new approach to taking care of her body throughout the day, using Pilates and various floor exercises. When she returned to the stage last summer, in Yuri Possokhov's new full-length ballet A Hero of Our Time, it was with a newfound maturity. "Maybe I needed this break to reflect after such an intense period," she says. "I think I grew up more than in the previous three years."
A Hero of Our Time puts a modern twist on a popular 19th-century Russian novel by Mikhail Lermontov and its hero, Pechorin, who encounters a series of women. Pointe went backstage with Smirnova as she worked with Possokhov and theater director Kirill Serebrennikov on the role of Bela. With the help of her coach, Marina Kondratieva, she used her expressive lines and port de bras to lend depth to the character, a proud Circassian princess.
Keep reading...
Show less