News
Jan. 04, 2019 04:51PM EST
Courtesy VAM Productions
Raise your hand if you're excited for competition season! Youth America Grand Prix Regional Semi-Finals are well underway, leading up to the much-awaited New York Finals April 12-19. Even better, they're live-streamed, meaning you now have the perfect excuse to spend your weekend at home, watching ballet (while sewing your pointe shoes and stretching, of course).
This weekend features semi-finals in Seattle, Washington and Tampa, Florida. To see the full schedules and set up streaming, click here. Streaming starts at $13.99. Packages of 2, 4, 6 or 12 total viewing hours are available, and viewers can log in and out as often as they like.
Keep reading...
Show less
ABT Studio Company artistic director Sascha Radetsky in YAGP's "Ask the Experts" series, screenshot via YouTube.
If your goal is to become a professional dancer, you likely have a lot of questions about what you need to do to get there. Last year, Youth America Grand Prix created a Facebook video series called "Ask the Expert," featuring conversations with dance professionals on topics ranging from nutrition to dancing in college to career building. (Good news: They are now available on YAGP's website and YouTube page).
This season, YAGP is expanding the series to include more interviews. The latest video features American Ballet Theatre Studio Company artistic director Sascha Radetsky. The topic? Navigating your first year of professional life, from a director's perspective. Radetsky answers questions about professional etiquette and protocol, navigating company hierarchy and managing conflicts, and offers his tips for a successful career and what qualities stand out to him in dancers.
Keep reading...
Show less
Trending
Aug. 01, 2018 01:27PM EST
Varna IBC competitor Antonio Gameiro Casalinho. Photo by Nina Lokmadzhieva, Courtesy Varna IBC.
Every two years, dancers from all over the world head to the Bulgarian coastal city of Varna to try their luck at the Varna International Ballet competition. Established in 1964, the competition famously takes place at a leafy outdoor theater near the Black Sea, and its roster of past winners (Sylvie Guillem, Mikhail Baryshnikov, Natalia Makarova) reads like a who's who of dance history.
This year's IBC, which took place July 15–30, brought together 120 dancers from 34 countries. After the third and final round, the winners were announced over the weekend. Yuan Zhe Zi (Jessica) Xuan, a grand sujet at Dutch National Ballet, won first place in the senior women's category. Sinuo Chang of China took first in the senior men's, while his partner, Siyi Li, placed first in the junior women's category. A few familiar faces from the competition circuit also made the list. Antonio Casolinho, a student at the Academy of Ballet and Dance in Portugal and this year's Junior Grand Prix winner at Youth America Grand Prix, took home the Special Distinction Award, Varna's top prize for juniors. Katherine Barkman, a principal guest artist with Ballet Manila, placed second in the senior women's category, fresh off her silver medal win at June's USA IBC in Jackson.
Read on to see the full list of prizewinners, then head to Varna IBC's Facebook page to catch videos of the competition. Congratulations to all!
Keep reading...
Show less
Photo via World Ballet Competition live stream.
Though the World Ballet Competition based in Orlando, FL, is already under way, it's not too late for for you to start watching from the comfort of your own couch. A live stream of the competition is available through Saturday, June 16, on both the competition's website and Facebook page. Missed the first two days of the competition? You can watch them in full here.
Keep reading...
Show less
Trending
Apr. 20, 2018 07:44PM EST
Elisabeth Beyer. Photo Courtesy VAM Productions.
Congratulations to the 2018 YAGP winners! After months of semi-finals, 1,800 dancers from around the world were chosen to attend a week of finals in New York, competing for ballet scholarships and contracts. We've been following the action all week (you can catch up on our backstage coverage, here). The 2018 competition wrapped up on April 19 with the Stars of Today Meet The Stars of Tomorrow gala which featured performances from pros like American Ballet Theatre's Isabella Boylston and New York City Ballet's Tiler Peck. Following today's awards ceremony, YAGP has just announced this year's winners (aka the dancers you're going to want make note of). Check out the full list and highlights from the competition below.
Senior Women
1st Place: Elisabeth Beyer (15), Ellison Ballet - Professional Training Program, NY, USA

2nd Place: Guo Wen Jin (16), Shanghai Dance School, China

Keep reading...
Show less
Trending
Apr. 19, 2018 11:58AM EST
Olga Smirnova. Photo by Quinn Wharton.
Several weeks ago, Youth America Grand Prix announced that the lineup for tonight's Stars of Today Meet the Stars of Tomorrow gala at Lincoln Center's Koch Theater would include Bolshoi Ballet principal Olga Smirnova and first soloist Jacopo Tissi. But an article in Page Six published last night states that Smirnova and Tissi were denied visas to enter the US.
YAGP organizers "believe the Department of Homeland Security's decision may be motivated by the myriad tensions between the superpowers," says the piece, noting that "Smirnova is so revered in Moscow that her treatment could create a Russian backlash." The Mariinsky Ballet's Kimin Kim did receive a visa and was allowed to perform as scheduled.
Keep reading...
Show less
News
Apr. 16, 2018 05:00PM EST
YAGP 2018 New York Finals Week. Photo by VAM Productions, Courtesy YAGP.
Wonder what's going on in ballet this week? We've pulled together some highlights.
Youth America Grand Prix

After months of semi-finals, the final round of YAGP 2018 is finally here! This week, 1,800 finalists from 30 countries (chosen from the over 10,000 who auditioned) are gathered in New York. On April 18, the competition culminates in the Final Round at the Koch Theater at Lincoln Center, where the most promising participants will compete for scholarships and contracts with ballet schools and companies around the world. April 19 marks YAGP's Stars of Today Meet the Stars of Tomorrow gala, featuring finalists from the competition alongside international ballet stars including Dutch National Ballet principal Sasha Mukhamedov, American Ballet Theatre's Isabella Boylston and Daniil Simkin, and New York City Ballet principal Daniel Ulbricht, among others. YAGP is live-streaming the finals all week—you can check it out on their website. Also, keep an eye on Pointe's social media channels tomorrow, April 17, for an exclusive behind-the-scenes look at the competition.
Competing in YAGP this week? Here's a good luck message from ABT's Stella Abrera.
Keep reading...
Show less
News
Jan. 10, 2018 04:46PM EST
Madison Penney, Youth Grand Prix winner at the YAGP 2017 Finals. Photo by VAM, Courtesy YAGP.
We're in the thick of Youth America Grand Prix regional semi-final season, and the famous competition is now being made available to fans everywhere at the click of a mouse. Here are two ways to keep up with YAGP from wherever you are:
Regional Semi-Finals Live Broadcast

Rooting for a friend competing or just want to keep tabs on the ballet world? A live broadcast of the competition is now available here. This weekend (January 12-14) are the Tampa, Florida and Denver, Colorado semi-finals; packages to watch online start at $13.99. You can choose 2, 4, 6 or 12 total viewing hours, and log in and out of the site at your convenience. YAGP is also broadcasting their "Stars of Today Meet the Stars of Tomorrow" gala in Tampa this Saturday at 8 pm EST. The performance will feature National Ballet of Canada's Evan McKie and Svetlana Lunkina, Ballet West's Beckanne Sisk and Chase O'Connell, New York City Ballet's Ashley Bouder and Daniel Ulbricht and international guest artists Adiarys Almeida and Taras Domitro.
Keep reading...
Show less
News
Apr. 17, 2017 01:57PM EST
Lauren Hunter, here at the Prix de Lausanne, also placed at YAGP. Photo by Gregory Batardon.
The Youth America Grand Prix has a knack for finding ballet's big names of tomorrow, and the latest crop of potential stars has arrived. At the end of last week, the winners of YAGP's New York City finals were announced with many dancers taking home scholarships to schools worldwide.
If you follow the competition circuit, you may be familiar with several of these names, but Pointe readers will definitely recognize Lauren Hunter, who came in third place for females in the senior age division. That's an impressive feat for any young dancer, but it's not the first prize Hunter has taken home this year. In our current April/May issue, we followed her throughout her journey at the Prix de Lausanne in Switzerland, where she advanced to the final round. (Spoiler alert: She won fifth place and a scholarship to The Royal Ballet School.)
Keep reading...
Show less
Michaela De Prince, Photo by Jordi Matas/Polaris/Newscom
It's Youth America Grand Prix time again, and when the competition wraps up this week, we'll meet some of tomorrow's potential stars. YAGP has a track record of predicting some of ballet's biggest names. Take a walk down memory lane with us and see for yourself.
Keep reading...
Show less
Kyle Froman for Dance Magazine.
As told to Madeline Schrock and Nancy Wozny.
We asked five frequent judges for their advice, their pet peeves and their approach to the scoring process.
Peter Stark
Head of the men's program at Boston Ballet School, associate director of Boston Ballet II
Valentina Kozlova IBC, Youth America Grand Prix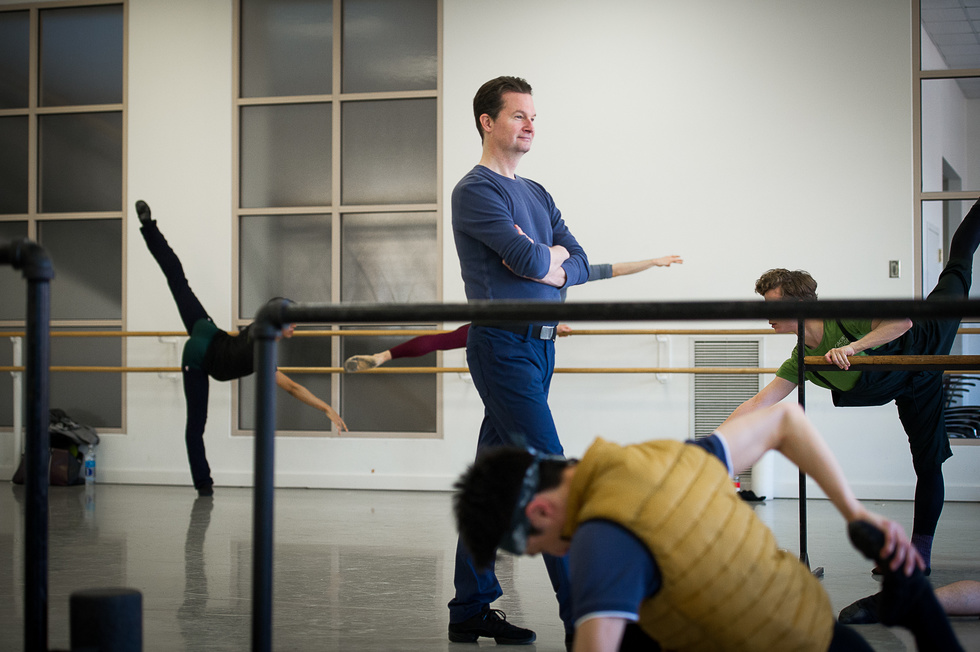 Igor Burlak, Courtesy Boston Ballet.
I am an advocate for competitions. I know there are people who are against them, but dancers can learn a lot when they're working one-to-one versus in a classroom setting. My mentor Bruce Marks, who was chair of the USA International Ballet Competition in Jackson for many years, said, "the process is the prize." It's true. As a coach, I've had dancers win and lose, but I certainly feel like the process of setting a goal and working on something is valuable.
Keep reading...
Show less
News
May. 02, 2016 12:37PM EST
Last week's Youth America Grand Prix Finals was a display of impressive dancing from hugely talented young competitors. Ranging from 9 to 19 years old and hailing from countries as far away as Switzerland and Australia, they gathered in New York City to compete in the senior, junior and pre-competitive age divisions. The awards ceremony was held at the Brooklyn Academy of Music last Friday, and prizes went beyond medals and bragging rights. A number of ballet organizations worldwide, including San Francisco Ballet School and The Royal Ballet School, handed out training scholarships, and companies like Houston Ballet and Dutch National Ballet even awarded some professional contracts. Here are 2016's top YAGP winners:
Grand Prix
Joonhyuk Jun (17)—UK/Korea
Joonhyuk Jun. Photo courtesy of Siggul/VAM Productions.
Senior Women
1st Place: Yu Hang (16)—China
2nd Place: Thays Golz (18)—Brazil
3rd Place: Makensie Henson (15)—Australia
Yu Hang. Photo courtesy of Siggul/VAM Productions.
Senior Men
1st Place: Narcisco Alejandro Medina Arias (17)—Cuba
2nd Place: Stanislaw Wegrzyn (17)—Germany/Poland
3rd Place: Motomi Kiyota (15)—Japan
Youth Grand Prix
Antonio Casalinho (12)—Portugal
Antonio Casalinho. Photo courtesy of Siggul/VAM Productions.
Junior Women
1st Place: Ashley Lew (12)—USA
2nd Place: Eri Shibata (14)—Japan
3rd Place (tie): Brigid Walker (14)—USA
3rd Place (tie): Kotomi Yamada (13)—Japan
Junior Men
1st Place: Itsuku Masuda (12)—Japan
2nd Place (tie): David Perez (12)—Mexico
2nd Place (tie): Samuel Gest (14)—USA
3rd Place (tie): Sheung-Yin Chan (14)—Hong Kong
3rd Place (tie): Yago Guerra (14)—Brazil
Itsuku Masuda. Photo courtesy of Siggul/VAM Productions.
Outstanding Artistry Award
Rafael Valdez Ramirez (18)—Colombia
Natalia Makarova Award
Kenedy Kallas (15)—USA
Shelley King Award for Excellence
Jolie Rose Lombardo (12)—USA
Mary Day Artistry Award
Julia Rose Sherrill (17)—USA
Vincenzo Di Primo (18)—Austria
Hope Award
Madison Penney (11)—USA
Madison Penney. Photo courtesy of Siggul/VAM Productions.
Outstanding Choreographer Award
Garrett Smith
Travis Wall
Guilherme Maciel
Click here for a full list of 2016 YAGP winners.
For more news on all things ballet, don't miss a single issue.
News
Apr. 27, 2016 12:39PM EST
YAGP 2015 SIlver Medalist Rio Anderson of City Ballet School of San Francisco. Photo by VAM, via Facebook
New York City has been taken over by bunheads. After months of regional semi-finals, roughly 1,000 Youth America Grand Prix finalists are here this week vying for scholarships to 30 of the world's leading ballet academies. The most promising will have one last chance to impress the judges in the final round at the Brooklyn Academy of Music tonight. And for the first time, the performances will be live-streamed on YAGP's website from 7:00 – 10:00 pm EST. So whether you're rooting for one of your classmates or simply want to check out ballet's future stars, be sure to tune in here. Winners will be announced Friday.
News
Nov. 11, 2015 05:01PM EST
Theo Pilette performs at the 2015 YAGP Finals. Photo by Taylor Brandt, Courtesy Ellison Ballet
Youth America Grand Prix, the world's largest ballet scholarship competition, is about to get even bigger. The organization is holding its first semi-final in Beijing, China this weekend, and just announced that it is adding a new semi-final location and celebratory gala in Salt Lake City, UT, February 26–28.
Utah's very own Ballet West is hosting the event, where young dancers will have an opportunity to take master classes at the Jessie Eccles Quinney Ballet Centre (the company's new, $33 million state-of-the-art facility) and audition in it's home theater. As an added bonus, YAGP will present a gala performance February 27 featuring an international roster of ballet stars soon to be announced, as well as past and present winners. The evening will also honor the life and career of Bruce Marks, former artistic director of Ballet West and Boston Ballet and former chairman of the USA International Ballet Competition. To register, click here.
Bruce Marks (far right) announcing the winners at YAGP's 2015 semi-final in Tampa. Courtesy YAGP
For more news on all things ballet, don't miss a single issue.
News
Aug. 13, 2014 07:18PM EST
If you're a fan of First Position, you may want to tune in this Friday to "Dance School Diaries" on the DanceOn YouTube channel. The new web-based reality series follows four Southern California students as they prepare for the 2014 Youth America Grand Prix Finals in New York City. Scheduled through mid-October, new episodes air every Friday at 10:00 am PST.
This Friday's show follows Madison Chappell, now 15, a student at the Dmitri Kulev Classical Ballet Academy in Laguna Hills, CA. Chappell only recently started training seriously, and admits that playing catch up has been a frequent source of stress. Pointe spoke with Chappell about her experience filming the show, as well as the challenges of being a late-starter.
How old were you when you started dancing?
I was 12, but I didn't start training seriously until I was 14. I was kind of a tomboy when I was younger, and played sports like soccer and track. But then I started getting bored.
I went to a Thanksgiving party and met a former principal dancer with the Korea National Ballet. She said, "You look like you could be a ballerina. You should try a ballet class." She was so beautiful that I wanted to be just like her. I started taking classes for fun at a studio that wasn't very serious. Then three months in, a Vaganova-trained ballet teacher named Michael Houston came in. He emphasized hard work and discipline, which I loved. Eventually, I wanted a more serious atmosphere, so I transferred to the Dmitri Kulev Classical Ballet Academy last year.
Your teacher, Dmitri Kulev, demands a lot from you on the show.
He creates an amazing atmosphere in class. Everyone in the studio looks up to him and respects him so much. He's not a mean teacher. He just has high expectations for his students and pushes us to get the best out of every single class.
This was you first experience at YAGP. What was it like?
It was very nerve-racking and exciting—especially with the filming, because everything was heightened. I think many dancers put a huge amount of pressure on themselves to live up to their own expectations. There's always something you could've done better, and I think I let that get to me a little. I'd get too impatient and would want to do everything perfectly right away. And that's just not the way ballet works. I also felt pressure because I started later, but want a professional career. So it got to a point where I'd think, "I'm not good enough, I'm not ready yet, I'm not experienced enough."
What was it like having cameras on you all the time? Did that make you more nervous?
The film crew came about three days a week, and then they came a bit more towards the competition. But I think having cameras around helped me be less nervous. Rather than stare at the stage right before going on, I got to talk about my experience and how I was feeling. I didn't have time to really think and let it get to me.
What was your biggest takeaway from the competition?
It's an incredible mix of cultures—you get to see other people's artistry and they get to see yours. You gain exposure you wouldn't get if you stayed in the same place—you see what the entire world is doing in ballet.
The experience also helped reinforce my favorite saying, which I learned in track: "Hard work beats talent when talent doesn't work hard enough." When you want something, you have to go out and get it. Also, I realized that it's not fair to compare yourself to someone else. Don't let the position of others daunt you and make you feel like you can't do something.
To follow Chappell's story--and learn how she fared at YAGP--tune in to DanceOn on Fridays at 10:00 am PST. Click here to catch up on past episodes.
Nov. 29, 2001 07:00PM EST
How do choreographers create a ballet? Youth America Grand Prix invites audiences to take a peek inside the process this Monday, February 4, with a special benefit program called "Creating the Dance with Marcelo Gomes." Although the American Ballet Theatre principal has only recently begun choreographing, a number of his works have been seen at YAGP galas.
Gomes will show how a ballet develops in the studio, using ABT soloists Stella Abrera and Alexandre Hammoudi as guinea pigs. He will also collaborate with a composer and live musicians. The program will be held at New York City Center studios at 6:30 pm. Tickets are $150, and proceeds go to support YAGP's scholarship fund. Find out more at yagp.org.
Nov. 29, 2001 07:00PM EST
Leave it to Nigel to utilize all available outlets in his quest to bring dance to a wider audience. His latest project is Dance School Diaries, a web-based reality series that follows four Southern California dancers as they prepare for Youth America Grand Prix. 
The show will air each Friday, and there will be 14 episodes from July 18 to mid-September. The producers are also planning to release additional content throughout the show's run. 
Though the billing is a bit dramatic—it's unlikely that doing poorly, or just not dancing your best, at YAGP will "break" your career—it's always interesting to get a behind-the-scenes look at any aspect of the ballet world.
See the trailer below.


Get Pointe Magazine in your inbox