News
May. 08, 2019 01:30PM EST
News
Mar. 04, 2019 11:10AM EST
Boston Ballet in rehearsal with William Forsythe. Liza Voll, Courtesy Boston Ballet.
In 2016, Boston Ballet officially brought William Forsythe back to the U.S. after the revolutionary choreographer's four-decade European career. A five-year partnership with the company promises that Forsythe will add at least one piece to its repertoire each year, and it gives him an American home base for creating new work. Boston Ballet's Full on Forsythe program, March 7–17, features the world premiere of Playlist (EP), his first new ballet for an American company in more than two decades, as well as Pas/Parts 2018 and the North American premiere of Blake Works I.

Trending
Feb. 21, 2019 04:37PM EST
Naomi Corti in William Forsythe's "Herman Schmerman." Erin Baiano, Courtesy NYCB.
When audience members opened their programs at New York City Ballet's revival of Herman Schmerman a few weeks ago, one name had everyone buzzing: Naomi Corti. Just an apprentice, she was dancing a featured role alongside principals and soloists in William Forsythe's challenging, go-for-broke choreography. How was this going to go down?
Quite well, actually. Despite a nasty fall at the beginning of the ballet, 18-year-old Corti held her own next to castmates Sara Mearns and Unity Phelan—and didn't hold back during her solos and partnering sections. When she stepped forward to take her bow, the audience cheered wildly; her reaction was a mix of shock and utter joy. Still, we couldn't help but wonder what kind of pressure she must have been under.
NYCB has a history of giving young apprentices big breaks. Current corps members Miriam Miller (as Titania in Balanchine's A Midsummer Night's Dream) and Alston Macgill (in a featured role in Symphony in C) both had opportunities to shine during their apprentice years. So how does it feel to take on a big role so young? We talked to Corti to find out.

Forsythe's in the middle, somewhat elevated uses the battement like an attack. Photo by Alexander Iziliaev, Courtesy Pennsylvania Ballet
Just before retiring in 2015, Sylvie Guillem appeared on "HARDtalk with Zeinab Badawi," the BBC's hard-hitting interview program. Badawi told Guillem,
"Clement Crisp of the Financial Times, 14 years ago, described your dancing as vulgar."
Guillem responded,
"Yeah, well, he said that. But at the same time, when they asked Margot Fonteyn what she thought about lifting the leg like this she said, 'Well, if I could have done it, I would have done it.' "
They were discussing Guillem's signature stroke—her 180-degree leg extension à la seconde. Ballet legs had often flashed about in the higher zones between 135 and 160 degrees before. But it wasn't until the virtuoso French ballerina regularly
extended her leg beside her ear with immaculate poise in the 1980s that leg extensions for ballet dancers in classical roles reached their zenith. Traditionalists like Clement Crisp were not taken with it.
News
Mar. 12, 2018 04:16PM EST
Boston Ballet's Misa Kuranaga and Nelson Madrigal in John Cranko's "Romeo and Juliet." Photo by Rosalie O'Connor, Courtesy Boston Ballet.
From celebrations of Jerome Robbins' centennial to exciting premieres to old classics, this week is jam packed with ballet. We rounded up highlights from eight companies to give you a sense of what's happening onstage this week.
The Washington Ballet
On March 14, The Washington Ballet will present a triptych of new works. Gemma Bond's premiere ties-in to Women's History Month, and she discusses the connection in this video. Also on the bill are creations by celebrated dancers Clifton Brown and Marcelo Gomes. For video teasers of their works, click here.
A scene from Stephen Mill's "Light/The Holocaust & Humanity Project." Photo by Tony Spielberg, Courtesy Ballet Austin.
Ballet excels at defying gravity. Lightness, ethereality, wispiness, symmetry, lineal order, chivalry and blissful endings to well-worn tales bestow on ballet a reputation as an art form that embraces divine beauty and design. But themes of grief, trauma, death, war, annihilation, exploitation, abuse, oppression and genocide do not frequently skim the surface sur la pointe. Bearing weighty burdens has traditionally found a place in the realm of modern dance in works such as Martha Graham's Lamentation, or Paul Taylor's image of Armageddon in Last Look.
But beyond shimmering tutus and pristine arabesques, there are other reasons why heavy issues seldom appear on the ballet stage. Taking on a serious subject requires a serious treatment. A ballet about terrorism could easily trivialize the subject through melodrama or prettification. Classical vocabulary was born from noble demeanor in the royal courts; in the wrong hands, it can seem limited in registering the mood of a sordid subject or for expressing disturbing behavior. Add to that the industry's marketing directors and board members, tempted towards steering directors and choreographers away from challenging ballets for fear of poor ticket sales.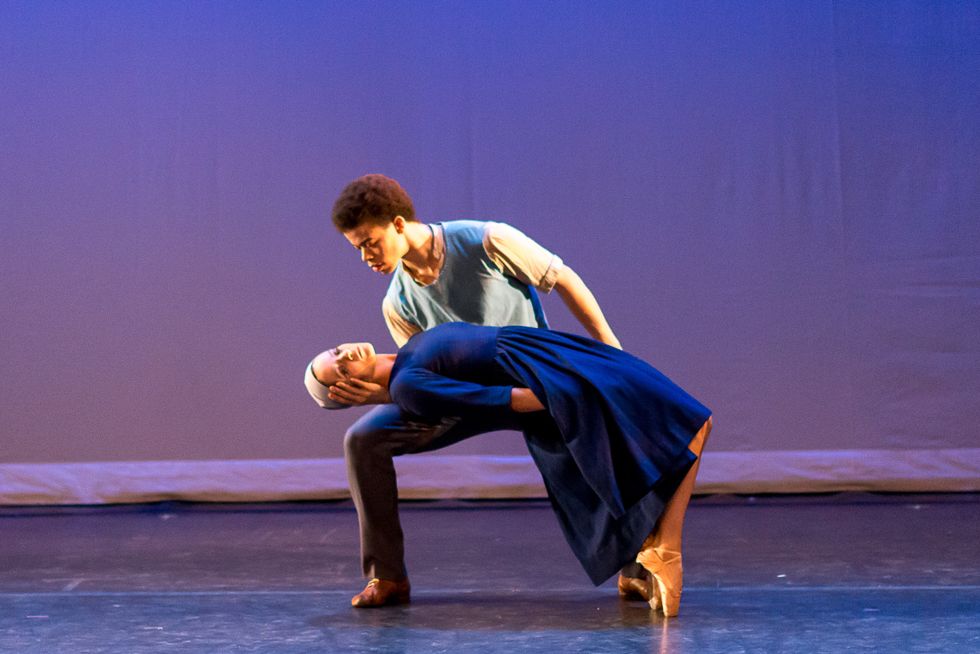 New York Theatre Ballet performs "Dark Elegies." Photo by Darial Sneed, Courtesy New York Theatre Ballet.
popular
Nov. 08, 2017 02:50PM EST
Mayara Pineiro rehearsing with Helen Pickett for the world premiere of Tilt.Photo by Arian Molina Soca, Courtesy Pennsylvania Ballet.
As I watched Helen Pickett rehearse her new work Tilt for Pennsylvania Ballet last week, there was no doubt in my mind that she's a natural leader. Hovering closely around young corps dancer Jack Thomas during a run through, she pushed him to carve more space through the air with his upper body. "Use those hands, do not stop," she said emphatically during a particularly tiring section, at once firm and encouraging. "It should feel like you're eating a meal rather than grazing." Yet earlier, Pickett had admitted to me that when she was first approached by a major company to create a ballet 12 years ago, she questioned her ability to lead. Despite growing up in a feminist household, being surrounded by strong female role models throughout her dancing and acting career, and learning the craft of choreography from William Forsythe at Ballet Frankfurt, she says, "I still gave more credence to male voices than female voices."
Her realization is one component of a bigger issue in the dance world: that for all of the droves of women and girls who flock to ballet classes and pursue performance careers, the majority of leadership positions—be it directing, curating or choreographing—are held by men. To help illuminate the topic in advance of Pickett's world premiere November 9–12 , last week Pennsylvania Ballet partnered with Philadelphia's FringeArts to present "Challenges, Chances, Changes: Gender Equity in Concert Dance," a round table discussion among six women leaders in the industry. Joining Pickett was Dance Theatre of Harlem artistic director Virginia Johnson; BalletX executive and artistic director Christine Cox; Big Dance Theater choreographer and co-director Annie-B Parson; Philadelphia Dance Projects executive director Terry Fox; and choreographer Francesca Harper, artistic director of the Francesca Harper Project.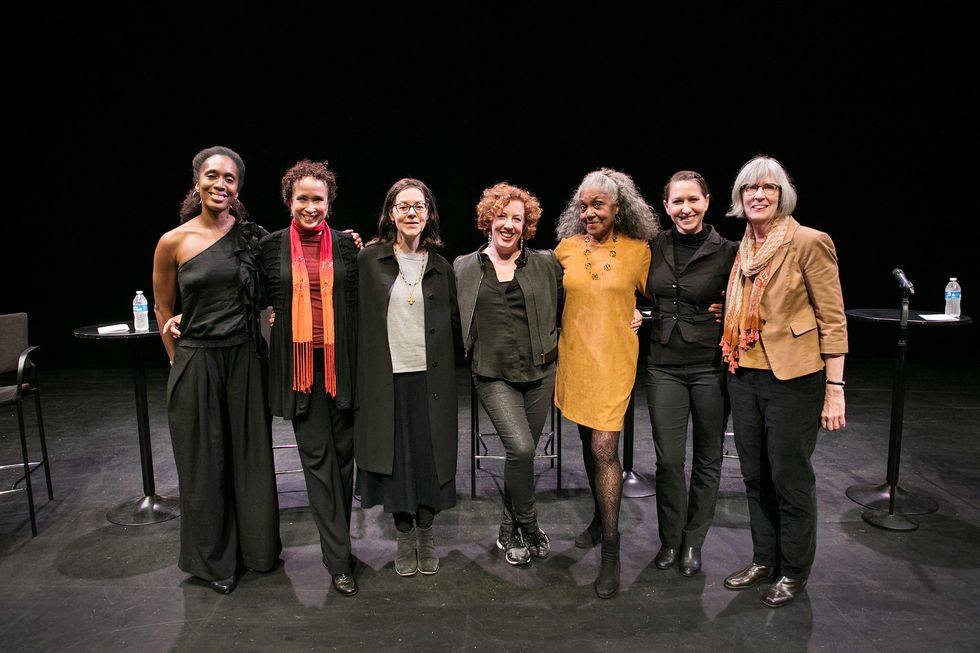 From left: Francesca Harper, Virginia Johnson, Annie-B Parson, Helen Pickett, Brenda Dixon-Gottschild, Christine Cox and Terry Fox. Photo by Chris Kendig, Courtesy Pennsylvania Ballet.
Derek Dunn in William Forsythe's "In the middle, somewhat elevated" at Houston Ballet. Photo by Amitava Sarkar, Courtesy HB.
A year ago, Derek Dunn was one of Houston Ballet's brightest young talents (oh, and he was also gracing Pointe's cover). So some were surprised when he announced that he'd be joining Boston Ballet as a soloist this season. We caught up with Dunn as he prepares for two season-opening premieres November 3–12, to see how he's settling in.
You danced with Houston Ballet for five years. Why did you leave?
It wasn't really about me leaving Houston—it was more me being curious about what else was out there. I got really lucky when I landed that job. I did a competition and afterwards Stanton [Welch, HB's artistic director] asked me to audition for an apprenticeship. I wasn't even necessarily looking for a job at the time; I was only a junior in high school, and I wasn't really sure if I was going to continue training for another year. So Houston Ballet was the only place that I even auditioned for, and really all I knew. After five years, I think it's only natural to be curious about how other places work and what their environments might be like. When I came to Boston to take class last year, I felt an immediate positive energy from everyone. On top of everything else the company has to offer—the rep, the talented dancers, the city—it was hard to pass it up.
What's it like being the new guy at Boston Ballet?
I've been really happy with my decision so far. Of course, joining a new company, you're not really sure what you're going to be thrown into. You have to prove yourself right away. But the amount of opportunities I've gotten already has been incredible and I'm really excited to do everything this season. It's been a really good start so far—very busy, but good.
Dorger in Royal Danish Ballet's production of Giselle . Photo by Costin Radu, courtesy Royal Danish Ballet.
When Holly Dorger arrived in Copenhagen to join the Royal Danish Ballet after graduating from the School of American Ballet, she was shocked by the unfamiliar. "We brought home cat food thinking it was canned tuna," she laughs, recollecting her first weeks among new surroundings. Nine years later, the principal dancer calls Copenhagen home, crediting Denmark and artistic director Nikolaj Hübbe for her success.
European dance companies typically offer secure contracts, better salaries and a varied repertoire. Yet for American dancers, understanding a new culture, adjusting to different company dynamics and getting used to European contemporary work can be challenging. Below, dancers from four European companies weigh in on what they've learned from moving abroad.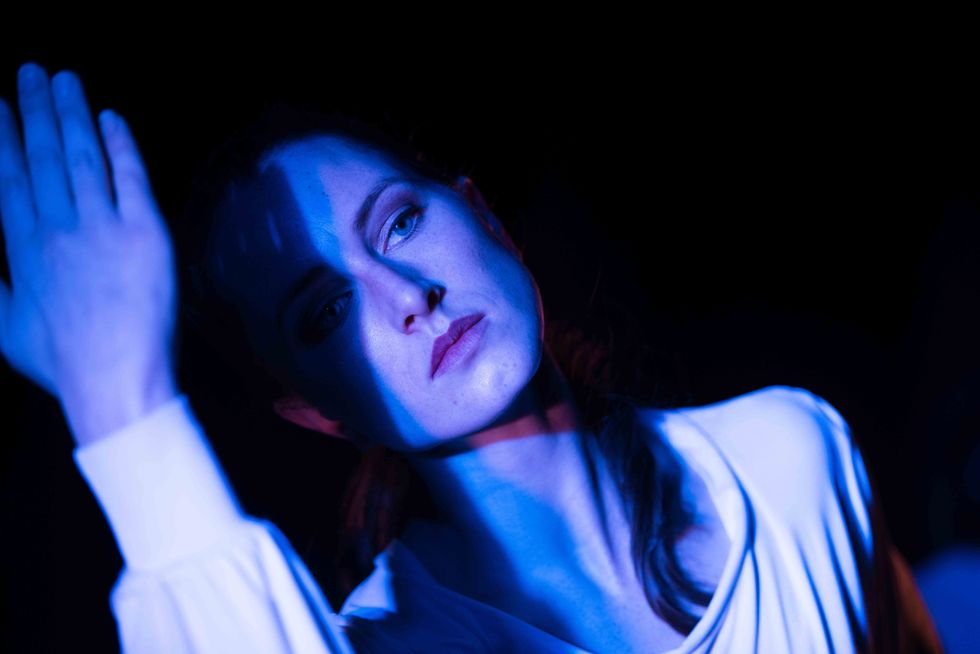 Shelby Williams. Photo Courtesy Royal Ballet of Flanders.
Feb. 23, 2017 02:18PM EST
Leta Biasucci and Margaret Mullin in The Vertiginous Thrill of Exactitude. Photo by Angela Sterling, courtesy PNB.
As told to Amy Brandt by Leta Biasucci

I first saw a video of The Vertiginous Thrill of Exactitude as a student at the San Francisco Ballet School summer program. Then we learned a little bit of it in variations class, and it made such an impression on me. It was unlike anything I had learned in my technique classes. It really opened my eyes, and I was so enchanted by this whole new dimension of ballet.
At 11 minutes long, it's very much a sprint. When you hear the first "da-da-da!" you know how exhausted you're going to feel by the end. But with that feeling of exhaustion comes this great sense of exhilaration—every moment of it is thrilling.
Feb. 17, 2017 02:44PM EST
Misa Kuranaga with Forsythe in the studio. Liza Voll, Courtesy Boston Ballet.
When Boston Ballet announced its partnership with choreographer William Forsythe last year, it named his full-length Artifact as its first new acquisition. Created in 1984, Artifact is considered by many to be Forsythe's greatest masterpiece, yet it has never been performed in its entirety by a U.S. company. Simultaneously abstract and theatrical (two characters—a Person in Historical Costume and a Person with Megaphone—have speaking roles), this large-scale "ballet about ballet" is reverential to the past while taking the boundaries of classical technique into the future.
Boston Ballet dancers have been working closely with Forsythe in preparation for the February 23 premiere. Artistic director Mikko Nissinen talked to me about the production, and why it's so groundbreaking.