Forsythe's in the middle, somewhat elevated uses the battement like an attack. Photo by Alexander Iziliaev, Courtesy Pennsylvania Ballet
Just before retiring in 2015, Sylvie Guillem appeared on "HARDtalk with Zeinab Badawi," the BBC's hard-hitting interview program. Badawi told Guillem,
"Clement Crisp of the Financial Times, 14 years ago, described your dancing as vulgar."
Guillem responded,
"Yeah, well, he said that. But at the same time, when they asked Margot Fonteyn what she thought about lifting the leg like this she said, 'Well, if I could have done it, I would have done it.' "
They were discussing Guillem's signature stroke—her 180-degree leg extension à la seconde. Ballet legs had often flashed about in the higher zones between 135 and 160 degrees before. But it wasn't until the virtuoso French ballerina regularly
extended her leg beside her ear with immaculate poise in the 1980s that leg extensions for ballet dancers in classical roles reached their zenith. Traditionalists like Clement Crisp were not taken with it.
Keep reading...
Show less
News
Mar. 12, 2018 04:16PM EST
Boston Ballet's Misa Kuranaga and Nelson Madrigal in John Cranko's "Romeo and Juliet." Photo by Rosalie O'Connor, Courtesy Boston Ballet.
From celebrations of Jerome Robbins' centennial to exciting premieres to old classics, this week is jam packed with ballet. We rounded up highlights from eight companies to give you a sense of what's happening onstage this week.
The Washington Ballet
On March 14, The Washington Ballet will present a triptych of new works. Gemma Bond's premiere ties-in to Women's History Month, and she discusses the connection in this video. Also on the bill are creations by celebrated dancers Clifton Brown and Marcelo Gomes. For video teasers of their works, click here.
Keep reading...
Show less
A scene from Stephen Mill's "Light/The Holocaust & Humanity Project." Photo by Tony Spielberg, Courtesy Ballet Austin.
Ballet excels at defying gravity. Lightness, ethereality, wispiness, symmetry, lineal order, chivalry and blissful endings to well-worn tales bestow on ballet a reputation as an art form that embraces divine beauty and design. But themes of grief, trauma, death, war, annihilation, exploitation, abuse, oppression and genocide do not frequently skim the surface sur la pointe. Bearing weighty burdens has traditionally found a place in the realm of modern dance in works such as Martha Graham's Lamentation, or Paul Taylor's image of Armageddon in Last Look.
But beyond shimmering tutus and pristine arabesques, there are other reasons why heavy issues seldom appear on the ballet stage. Taking on a serious subject requires a serious treatment. A ballet about terrorism could easily trivialize the subject through melodrama or prettification. Classical vocabulary was born from noble demeanor in the royal courts; in the wrong hands, it can seem limited in registering the mood of a sordid subject or for expressing disturbing behavior. Add to that the industry's marketing directors and board members, tempted towards steering directors and choreographers away from challenging ballets for fear of poor ticket sales.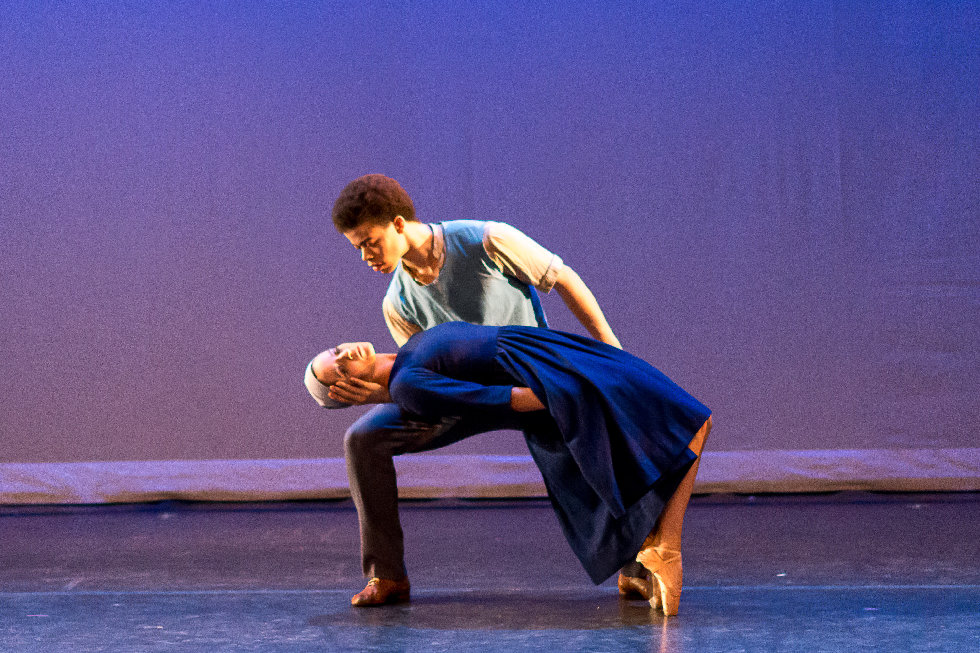 New York Theatre Ballet performs "Dark Elegies." Photo by Darial Sneed, Courtesy New York Theatre Ballet.
Keep reading...
Show less
popular
Nov. 08, 2017 02:50PM EST
Mayara Pineiro rehearsing with Helen Pickett for the world premiere of Tilt.Photo by Arian Molina Soca, Courtesy Pennsylvania Ballet.
As I watched Helen Pickett rehearse her new work Tilt for Pennsylvania Ballet last week, there was no doubt in my mind that she's a natural leader. Hovering closely around young corps dancer Jack Thomas during a run through, she pushed him to carve more space through the air with his upper body. "Use those hands, do not stop," she said emphatically during a particularly tiring section, at once firm and encouraging. "It should feel like you're eating a meal rather than grazing." Yet earlier, Pickett had admitted to me that when she was first approached by a major company to create a ballet 12 years ago, she questioned her ability to lead. Despite growing up in a feminist household, being surrounded by strong female role models throughout her dancing and acting career, and learning the craft of choreography from William Forsythe at Ballet Frankfurt, she says, "I still gave more credence to male voices than female voices."
Her realization is one component of a bigger issue in the dance world: that for all of the droves of women and girls who flock to ballet classes and pursue performance careers, the majority of leadership positions—be it directing, curating or choreographing—are held by men. To help illuminate the topic in advance of Pickett's world premiere November 9–12 , last week Pennsylvania Ballet partnered with Philadelphia's FringeArts to present "Challenges, Chances, Changes: Gender Equity in Concert Dance," a round table discussion among six women leaders in the industry. Joining Pickett was Dance Theatre of Harlem artistic director Virginia Johnson; BalletX executive and artistic director Christine Cox; Big Dance Theater choreographer and co-director Annie-B Parson; Philadelphia Dance Projects executive director Terry Fox; and choreographer Francesca Harper, artistic director of the Francesca Harper Project.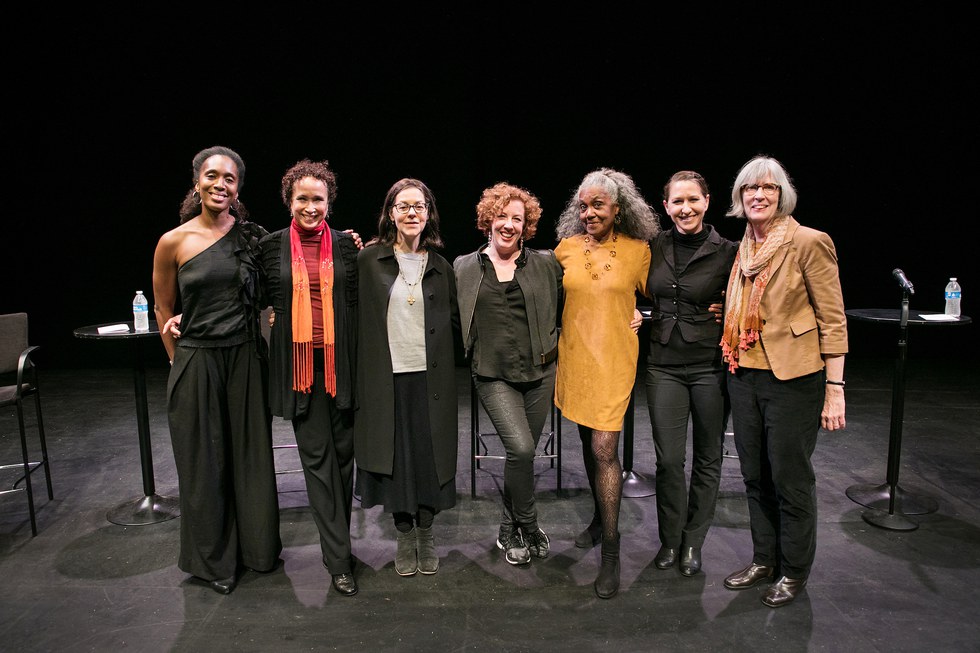 From left: Francesca Harper, Virginia Johnson, Annie-B Parson, Helen Pickett, Brenda Dixon-Gottschild, Christine Cox and Terry Fox. Photo by Chris Kendig, Courtesy Pennsylvania Ballet.
Keep reading...
Show less
Derek Dunn in William Forsythe's "In the middle, somewhat elevated" at Houston Ballet. Photo by Amitava Sarkar, Courtesy HB.
A year ago, Derek Dunn was one of Houston Ballet's brightest young talents (oh, and he was also gracing Pointe's cover). So some were surprised when he announced that he'd be joining Boston Ballet as a soloist this season. We caught up with Dunn as he prepares for two season-opening premieres November 3–12, to see how he's settling in.
You danced with Houston Ballet for five years. Why did you leave?
It wasn't really about me leaving Houston—it was more me being curious about what else was out there. I got really lucky when I landed that job. I did a competition and afterwards Stanton [Welch, HB's artistic director] asked me to audition for an apprenticeship. I wasn't even necessarily looking for a job at the time; I was only a junior in high school, and I wasn't really sure if I was going to continue training for another year. So Houston Ballet was the only place that I even auditioned for, and really all I knew. After five years, I think it's only natural to be curious about how other places work and what their environments might be like. When I came to Boston to take class last year, I felt an immediate positive energy from everyone. On top of everything else the company has to offer—the rep, the talented dancers, the city—it was hard to pass it up.
What's it like being the new guy at Boston Ballet?
I've been really happy with my decision so far. Of course, joining a new company, you're not really sure what you're going to be thrown into. You have to prove yourself right away. But the amount of opportunities I've gotten already has been incredible and I'm really excited to do everything this season. It's been a really good start so far—very busy, but good.
Keep reading...
Show less
Dorger in Royal Danish Ballet's production of Giselle (photo by Costin Radu, courtesy Royal Danish Ballet)
When Holly Dorger arrived in Copenhagen to join the Royal Danish Ballet after graduating from the School of American Ballet, she was shocked by the unfamiliar. "We brought home cat food thinking it was canned tuna," she laughs, recollecting her first weeks among new surroundings. Nine years later, the principal dancer calls Copenhagen home, crediting Denmark and artistic director Nikolaj Hübbe for her success.
European dance companies typically offer secure contracts, better salaries and a varied repertoire. Yet for American dancers, understanding a new culture, adjusting to different company dynamics and getting used to European contemporary work can be challenging. Below, dancers from four European companies weigh in on what they've learned from moving abroad.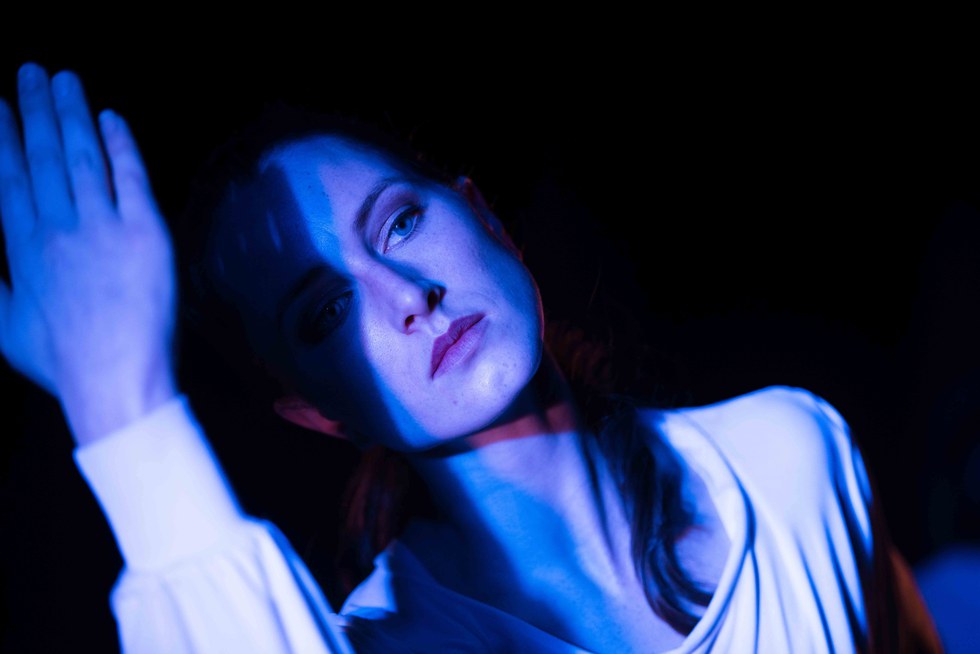 Shelby Williams. Photo Courtesy Royal Ballet of Flanders.
Keep reading...
Show less
Leta Biasucci and Margaret Mullin in The Vertiginous Thrill of Exactitude. Photo by Angela Sterling, courtesy PNB.
As told to Amy Brandt by Leta Biasucci

I first saw a video of The Vertiginous Thrill of Exactitude as a student at the San Francisco Ballet School summer program. Then we learned a little bit of it in variations class, and it made such an impression on me. It was unlike anything I had learned in my technique classes. It really opened my eyes, and I was so enchanted by this whole new dimension of ballet.
At 11 minutes long, it's very much a sprint. When you hear the first "da-da-da!" you know how exhausted you're going to feel by the end. But with that feeling of exhaustion comes this great sense of exhilaration—every moment of it is thrilling.
Keep reading...
Show less
News
Feb. 17, 2017 02:44PM EST
When Boston Ballet announced its partnership with choreographer William Forsythe last year, it named his full-length Artifact as its first new acquisition. Created in 1984, Artifact is considered by many to be Forsythe's greatest masterpiece, yet it has never been performed in its entirety by a U.S. company. Simultaneously abstract and theatrical (two characters—a Person in Historical Costume and a Person with Megaphone—have speaking roles), this large-scale "ballet about ballet" is reverential to the past while taking the boundaries of classical technique into the future.
Boston Ballet dancers have been working closely with Forsythe in preparation for the February 23 premiere. Artistic director Mikko Nissinen talked to me about the production, and why it's so groundbreaking.
(Video by Ernesto Galan, Courtesy Boston Ballet)
This is the first step in Boston Ballet's five-year partnership with Forsythe. Why begin with Artifact?
It's his absolute masterpiece, and it's never been done by a North American company. The work premiered 30 years ago, so Bill is very excited to show it to American audiences. It's huge, it's in four acts, and he's re-choreographing the third act completely and changing the finale. We both felt it was the perfect place to start. The other great thing is that he lived away for 40 years. It's a homecoming for a major American artist.
Several companies in the U.S. have performed the abbreviated version, Artifact Suite. What's different about the full-length piece?
It's mind-bending. So many people have said to me, "This ballet changed my life, it changed how I look at art." I've even heard many dancers say that after dancing it, they were a different human being. I think it has that transformative power that fantastic art can have.
Forsythe with Misa Kuranaga. Photo by Liza Voll, Courtesy Boston Ballet.
Is Artifact an homage to ballet's history?
I don't know if I would use the word "homage"—actually, I think it might be. Bill has tremendous reverence for the art form. All the principals of classical ballet are there, he's just taking it further with the musicality and making sure it's alive and extended. He has this intellectual approach to it and the end result is fascinating. Some people think it's just bang, bang, bang, but that's really far from the truth. [His work] has to be so sensitive and detailed for the qualities to come out of it.
Why is he re-choreographing certain sections?
I'm paraphrasing here, but he said he's a different person than he was 30 years ago. Bill did a lot of theatrical work and for the last 20 years didn't choreograph much ballet. But now he's super-excited about it again and we're so damn lucky with the timing.
So much of the Artifact's power rests in the sheer number of dancers onstage, in unison. I imagine that this is the type of ballet where you wouldn't be disappointed to be cast in the corps.
When I look at some of these en masse sections, the kind of detail and breath he asks for, you usually see a ballerina do that. But when you see the whole ensemble accenting and exaggerating the movement, it's just gorgeous.
Pennsylvania Ballet in Artifact Suite. Photo by Alexander Iziliaev, Courtesy Boston Ballet.
You've said that Forsythe changed you as an artist when you were a dancer with San Francisco Ballet. In what way?
I was working on In the middle, somewhat elevated. One day Bill was flying from Japan to Frankfurt and had a five-hour layover at the San Francisco airport, so he came to our rehearsal. Suddenly there was Bill! I found the work fascinating—and hard—but after just one hour with him he opened it up to me in such ways that it became even more fun, and so much easier. He helped me find a different approach, and guess what? It carried over to all my other dancing.
What are your plans for the partnership going forward?
It's sort of evolving. Next year we're doing Pas/Parts, but it's so spontaneous when we talk about the future. I would like to take some of these works and show them to a wider audience in the United States and beyond. We'll do some fun new stuff as well. I'm not saying no to anything!
For more news on all things ballet, don't miss a single issue.
News
Oct. 21, 2016 05:10PM EST
San Francisco Ballet in Forsythe's "Pas/Parts 2016." Photo by Erik Tomasson, Courtesy SFB.
After 40 years in Europe, choreographer William Forsythe recently put down stateside roots as a professor at the University of Southern California's new Glorya Kaufman School of Dance. USC is welcoming him with Fall for Forsythe, a monthlong festival that culminates October 21–23, when Pacific Northwest Ballet, San Francisco Ballet and Houston Ballet perform influential works at The Music Center's Dorothy Chandler Pavilion in Los Angeles.
"I can't wait to see the way each company dances his work," says SFB artistic director Helgi Tomasson, alluding to the unique blend of rigorous classicism and convention-flouting individuality Forsythe cultivates. SFB will perform Pas/Parts 2016, created on Paris Opéra Ballet in 1999 and extensively reworked on SFB's dancers.
Keep reading...
Show less
News
Aug. 24, 2016 05:48PM EST
This week, there's a whirlwind of dance in the Windy City. The annual Chicago Dancing Festival, celebrating its 10th anniversary this year, opened last night at the Auditorium Theater with glittering performances by the Joffrey Ballet, Martha Graham Dance Company, Pennsylvania Ballet and Daniel Ulbricht's Stars of American Ballet. The festival continues through Saturday, with performances held at multiple theaters and parks across the city. While all shows are free, tickets for indoor performances went on "sale" in late July—and sold out fast.
Lillian Di Piazza and James Ihde in Concerto Barocco. Photo by Alexander Iziliaev, via PA Ballet.
Francesca Hayward as Juliet. Photo by Alice Pennefather, Courtesy ROH.
But don't worry, Chicagoland ballet lovers: No tickets are required for the festival's outdoor Dancing Under the Stars program, held at Jay Pritzker Pavilion in Millennium Park on August 27. The evening includes the Joffrey Ballet in Christopher Wheeldon's After the Rain, Pennsylvania Ballet in George Balanchine's Concerto Barocco and Hubbard Street Dance Chicago in William Forsythe's One Flat Thing. Newly minted Royal Ballet principal Francesca Hayward and soloist Marcelino Sambé will be there, too, dancing the pas de deux from Sir Kenneth MacMillan's Romeo and Juliet (a role Hayward talked about in our February/March cover story). The show also includes Chicago Dancers United, a collective of local dance companies which work in tandem with Dance for Life, to raise funds for critical health issues like HIV and AIDS. They'll be performing in a new work by Chicago-based choreographer Randy Duncan. The festival closes with Rennie Harris' Students of the Asphalt Jungle, performed by his hip hop company, Rennie Harris Pure Movement.
Stake out a spot early—the performance starts at 7:30 pm, but fixed seating at the Pavilion is first come, first serve. There is also lawn seating available. For more information, click here.
For more news on all things ballet, don't miss a single issue.
News
May. 11, 2016 01:36PM EST
Kathleen Breen Combes and Bo Busby in Forsythe's Vertiginous Thrill of Exactitude. Photo by Gene Schiavone, Courtesy Boston Ballet.
If you ask most dancers whose work they hope to perform, William Forsythe is usually at the top of the list. (How many of us have drooled over videos of In the middle, somewhat elevated?) He's also, simply put, a nice guy: When Pointe went behind the scenes with him at Pacific Northwest Ballet last year, he radiated positive energy throughout the rehearsal process.
Well, we're about to see a whole lot more of Forsythe now. Last week, Boston Ballet announced that it is entering a five-year partnership with the internationally renowned choreographer, who is also a dance professor at the University of Southern California. Starting with his full-length Artifact next season, the company will add one Forsythe work to its repertoire each year, creating the richest collection of his ballets nationwide.
The news comes shortly after Forsythe confirmed that he is leaving his post as associate choreographer of the Paris Opéra Ballet—an announcement made on the heels of Benjamin Millepied's resignation as artistic director. But according to The New York Times, Forsythe's partnership with Boston has been several years in the making and is totally unrelated.
In the article, Boston Ballet artistic director Mikko Nissinen says he hopes to acquire ballets that are unfamiliar to North American audiences. As for new ballets? Forsythe alludes to the possibility in the company's statement: "Mikko's support of the work means that the dancers and I can deepen our wonderful relationship and I will have a new home for new ideas."
In the meantime, Boston Ballet dancers are getting better acquainted with his extreme, improvisational style through workshops with Harvard dance professor and former Forsythe dancer Jill Johnson. We can't wait to see the results!
For more news on all things ballet, don't miss a single issue.
Views
Jan. 20, 2016 05:06PM EST
Rebecca Rhodes in Balanchine's The Four Temperaments. Photo by Erik Tomasson, Courtesy SFB.
Most dancers drool over YouTube clips of William Forsythe's choreography, but few are lucky enough to work with him. Corps dancer Rebecca Rhodes had just that opportunity when Forsythe revived his
Pas/Parts 
at San Francisco Ballet. Until now, it has only been performed by the Paris Opéra Ballet. Catch it select dates 
Jan. 24

-

Feb. 5
. For
Pointe
's biweekly
newsletter
, we spoke with Rhodes about the rehearsal process.
How would you describe Pas/Parts?
It's very San Francisco Ballet. Bill really tailored each section to showcase each dancer. Yuan Yuan Tan's pas de deux, for instance, is gooey and seamless. Then the next section is Frances Chung moving super speedy and staccato. It feels like it's almost turned into a new premiere.
What's Forsythe like in the studio?
His ideas are constantly evolving and expanding, and that pushes me. As dancers, we usually know the choreography already and how we want to do it. But with Forsythe, it's different every single time. To this day, he's still changing things. I've learned to never be complacent.
The score, by Thom Willems, doesn't have too much musical structure. Is it tricky to keep track of the timing?
I think the music works well for the movement, but there are some sections where everything cuts outs and it's just noises, such as a piece of paper being crumpled. There are moments where you could get lost, but our ballet masters and mistresses have really broken it down so we can stay together.
What advice would you give those learning a new piece?
Have fun. That's something I've taken away from each rehearsal. We're always laughing, even though there's a very high level demanded of us. It's easy to get focused on technique, counts, artistry and details, but it's been a human experience with Forsythe. I feel privileged to have encountered that.
William Forsythe rehearses Kochetkova and San Francisco Ballet corps member Francisco Mungamba in his Pas/Parts. Photo by Erik Tomasson, Courtesy SFB.
Maria Kochetkova has a voracious appetite for inspiration. A principal dancer with San Francisco Ballet since 2007, she spent the last few years guesting with American Ballet Theatre during their spring season. "ABT is very different from SFB—it has a very different rep, it has very different dancers, incredible dancers you can learn from," says Kochetkova. Last summer, she joined the company as an official principal, taking on a grueling schedule that leaves her shuttling between California and New York.
"I really wanted to learn more and also try to balance my repertoire," she says. "San Francisco Ballet does a lot of new and more contemporary works—we don't always do full-length and classical ballets, which I feel I need. And at ABT, you get the full-length classicals, but not so many contemporary works."
Keep reading...
Show less
Sylvie Guillem in Mats Ek's Bye. Photo by Bill Cooper, Courtesy New York City Center.
Sylvie Guillem once said, "I have a lucky physique." Lucky is an understatement; my adjective of choice would be "perfect." As the Paris Opéra Ballet's youngest ever étoile, Guillem effaced previous technical standards with one whack of her leg in William Forsythe's In the middle, somewhat elevated, which he choreographed for her and fellow POB étoile Laurent Hilaire in 1987. Nearly three decades later, we could call the work a classic, but my awe renews with each viewing. There's plenty of stunning film footage of the two in the piece, but I like this clip for its close-ups. From a distance, the ease with which Guillem raises her legs to her ears almost seems like apathy. But here, as the camera zooms in on her kohl-rimmed eyes and silky smirks, we can see her intensity burning through. Guillem's precision is both steely and lyrical, her connection with Hilaire both cool and sensual—her command in the role still unparalleled.
Keep reading...
Show less
"Twenty, thirty years ago, this work was quite unique," says Forsythe (in foreground) of his evolution as a choreographer. "Now it's been absorbed by new generations, and they expect something like this to come their way." Photo by Angela Sterling for Pointe.
William Forsythe isn't a large man, and he's not particularly flashy. But when he sidled into Pacific Northwest Ballet's rehearsal studio on a bright winter afternoon, the dancers all gravitated to him, like sunflowers stretching to the sun.
"Gather, my dears!" he greeted them, with a huge smile on his face.
Forsythe spent two weeks in residence at PNB last March, putting the finishing touches on the three dances in the first American all-Forsythe program, which included In the middle, somewhat elevated, The Vertiginous Thrill of Exactitude and New Suite.
New Suite, a collection of pas de deux from some of Forsythe's earlier works, had only been performed by one company, the Dresden Semperoper Ballett, prior to its PNB debut.
Keep reading...
Show less
Views
Mar. 11, 2015 03:14PM EST
As Pacific Northwest Ballet revs up for its upcoming triple bill devoted entirely to the works of William Forsythe, the company will live stream a special lecture-demonstration with the groundbreaking choreographer tonight on its website. The evening includes a candid interview of Forsythe by artistic director Peter Boal, an up-close rehearsal with PNB dancers and a Q&A session with audience members. The performances, which run from March 13-22, feature Forsythe classics The Vertiginous Thrill of Exactitude and In the middle, somewhat elevated, as well as his 2012 ballet New Suite, a series of pas de deux that have been individually reworked for PNB. Tune in tonight to PNB.org/Live at 6:30 pm PST. For tickets to see the lecture demonstration in person at Seattle's Marion Oliver McCaw Hall, click here.
News
Aug. 27, 2014 04:54PM EST
Maria Kowrowski and Amar Ramasar in Herman Schmerman, photo by Paul Kolnik
When tickets go on sale for New York City Center's annual Fall for Dance Festival on September 14, you might want to cancel your plans for the day—getting through to the box office can take hours, and before you know it, the shows are sold out! It's no surprise as to why—tickets are a mere $15, with five programs of deliciously eclectic dance companies from around the world to choose from.
Luckily, the festival is offering a free sneak preview on September 12 and 13 at the Delacorte Theater in Central Park. New York City Ballet principals Maria Kowrowski and Amar Ramasar are slated to perform Herman Schmerman, a quirky duet choreographed by William Forsythe to an electronic score by longtime collaborator Thom Willems. Also on the program is Hubbard Street Dance Chicago, performing Nacho Duato's Gnawa; Bend in the Road, a world premiere collaboration by Damian Woetzel and Memphis jookin' extraordinaire Lil Buck; and Bill T. Jones/Arnie Zane Dance Company in D-Man in the Waters (Part I).
While the preview performances are free, you'll still need tickets, which will be distributed two per person at the Delacorte Theatre on the day of the show and through virtual ticketing at shakespeareinthepark.org.
American Dance Festival has traditionally showcased great modern companies. But this year ADF is taking a slightly different tack, exploring the symbiotic relationship between ballet and modern dance with its "Where Ballet and Modern Meet" theme. Many of the modern choreographers whose works will be presented during the Durham-based festival—familiar names like Paul Taylor, Twyla Tharp, Ohad Naharin and Mark Morris—have created works for major ballet companies. ADF will also feature pieces by ballet choreographers like William Forsythe (Aspen Santa Fe Ballet is set to perform his Slingerland Pas de Deux, pictured) who have helped shape the world of modern dance. The festival runs June 11–July 25; www.americandancefestival.org. — MF


Have you ever had a moment of epiphany while watching a dance group perform--a realization that if you were a professional dancer, you'd want to make that company your home? Because that's exactly what happened to me last night at The Joyce Theater. As I witnessed the awesomely versatile members of the Lyon Opera Ballet tackle three wildly different stylistic worlds--those of Merce Cunningham, William Forsythe, and Maguy Marin--I couldn't help but think, I wish I were up there with them.

Actually, the dancers didn't just "tackle" the styles--they conquered them. I was particularly impressed by their rendition of Cunningham's Beach Birds. I've never seen anybody but the Merce Cunningham Dance Company do Cunningham, and yet the LOB dancers totally mastered the technique, in all its weighty, deliberate precision (so difficult for ballet dancers, trained from day one to create the illusion of weightlessness!). Amandine François and the gorgeous Dorothée Delabie seemed equally at home in Forsythe's Duo, luxuriating in its hyperextended, hyperactive take on classical ballet. And then four of the company's women literally let their hair down and threw themselves into Marin's Grosse Fugue, in which passion precluded polish and feet were left deliberately floppy. (OK, that hurt my bunhead soul a little; LOB is definitely a "foot" company, and I wanted them all to show off their glorious arches.)

I was expecting the LOB dancers to have exceptional ballet technique, and they did. (There was a moment in Duo when Delabie paused to perform a perfectly classical, perfectly executed développé à la seconde, and it knocked the wind out of me.) But--surprise!--the LOB dancers were also great stylists. They just got it--whatever technique "it" happened to be. And it looked like they were having so much fun exploring all these sides of their dance personalities! I envied them.

I know that the LOB model--classical dancers performing a repertory that isn't always rooted in classical technique--is very European. But I'm hoping it catches on over here, too. Because what intellectually curious ballerina wouldn't want the chance to do a little of everything? And why shouldn't America's big-company ballet dancers get the chance to try out Cunningham? Bring it on!



--
This interview first appeared in the June 5 Pointe e-newsletter. To sign up for the newsletter, click here.

Pennsylvania Ballet's "Forsythe & Kyliàn" program, which opens next week, includes the company premieres of William Forsythe's Artifact Suite and Jiří Kylián's Forgotten Land--and principal Lauren Fadeley will be dancing in both. Pointe's e-news talked to Fadeley about the two works' different challenges.


This is your first time dancing Kyliàn. How would you describe his style?  
I wouldn't call it simple, but there's no extra frou frou to it. It's pure choreography, very grounded, and frequently dramatic. It feels mature.

You've danced Forsythe's In the middle, somewhat elevated and The Vertiginous Thrill of Exactitude. How is Artifact Suite like and unlike those works?  
Bill was actually here working with us last week, and the way he described it is that works like In the middle are essentially ballet-like, whereas Artifact Suite is aggressively abstract and contemporary. I mean, the full-length Artifact involves text and spoken word and lots of props--it's pretty out there.

What was working with Forsythe like?
It was incredible! He even tweaked a few things in Artifact for me personally, and that was a huge rush. The changes went down in the books, too--the next time someone dances it, that's the way it'll be.

Going from Forgotten Land to Artifact Suite is a pretty big shift.
This morning we had Artifact rehearsal, and this afternoon it was back to Forgotten Land, which is a different world--that definitely challenges you. But it also helps me feel like a more complete dancer. We've been rehearsing The Four Temperaments recently too, because we're about to do it at Ballet Across America. When you get to do Kyliàn and Forsythe and Balanchine all in the same week, it's hard to complain.
Nov. 29, 2001 07:00PM EST
When dancers dream, they imagine having Sylvie Guillem's arched feet, long limbs and impeccable ability to extend, accent and suspend any movement she desires. Her technical mastery and unique sense of artistry make her a choreographer's dream as well. William Forsythe created In the middle, somewhat elevated on the Paris Opéra Ballet, where Guillem was an étiole, in 1987, a time when ballet was just emerging from the classical realm. Since then, dancers are required to be more versatile than ever, using their classical technique to control movement that challenges typical verticality. 
It's difficult to blink during Guillem's solo. She matches Thom Willems' score with a quality that cuts through its punching sound—but still challenges the beat with breathtaking suspensions. Guillem's dancing remains unparalleled. This video stands as proof that ballerinas can do it all. Happy #ThrowbackThursday!


Get Pointe Magazine in your inbox