Photo by Theo Kossenas, Courtesy The Washington Ballet
You made a deal with your mom to take ballet classes in exchange for a ride to tryouts for the football team. How did that work?
I thought that I would take ballet for a couple months, become a master and then leave that alone and concentrate on football. Ballet had other ideas, which perplexed me, and ultimately, I think, made me fall in love with it.
How is The Washington Ballet evolving under Julie Kent's leadership?
It's still early, but I think that the company is growing stronger classically. And we have Julie, Victor Barbee, Xiomara Reyes and Rinat Imaev—a great team of people who are giving their input and expertise, which is quite helpful.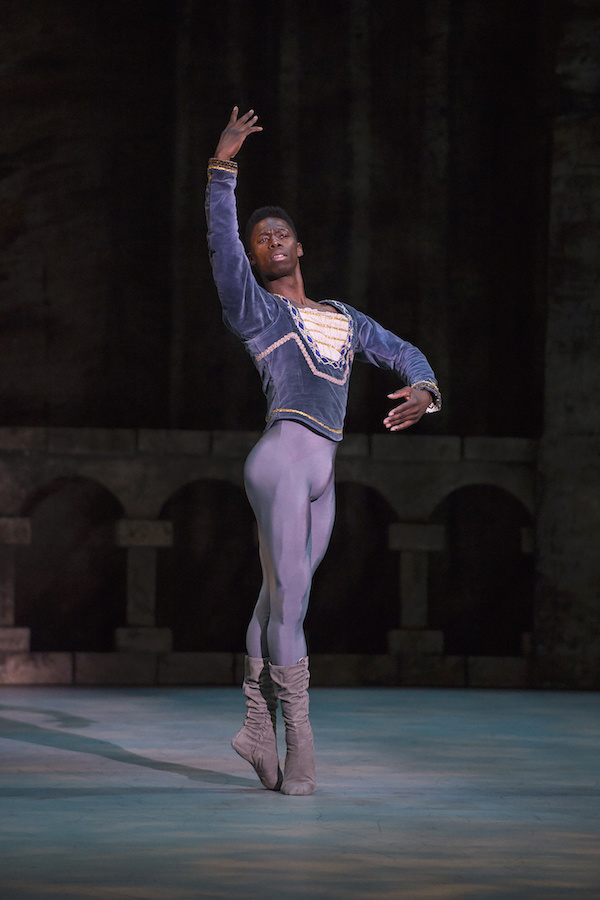 Mack in 'Swan Lake.' Photo by Theo Kossenas
Keep reading...
Show less
New York City Ballet's famous growing tree. Photo by Paul Kolnik, Courtesy NYCB.
Literary Roots

E.T.A. Hoffmann, a German writer, penned the eerie and dark tale "Nutcracker and Mouse King" in 1816. About 30 years later, the French writer Alexandre Dumas took the Nutcracker story into his own hands, lightening things up and softening the character descriptions. Dumas even cheered up the name of the protagonist. "Marie Stahlbaum" (meaning "steel tree," representing the repressive family Marie found herself in, which led her imagination to run wild) became "Clara Silberhaus" (translated to "silver house," a magnificent home filled with shiny magic.)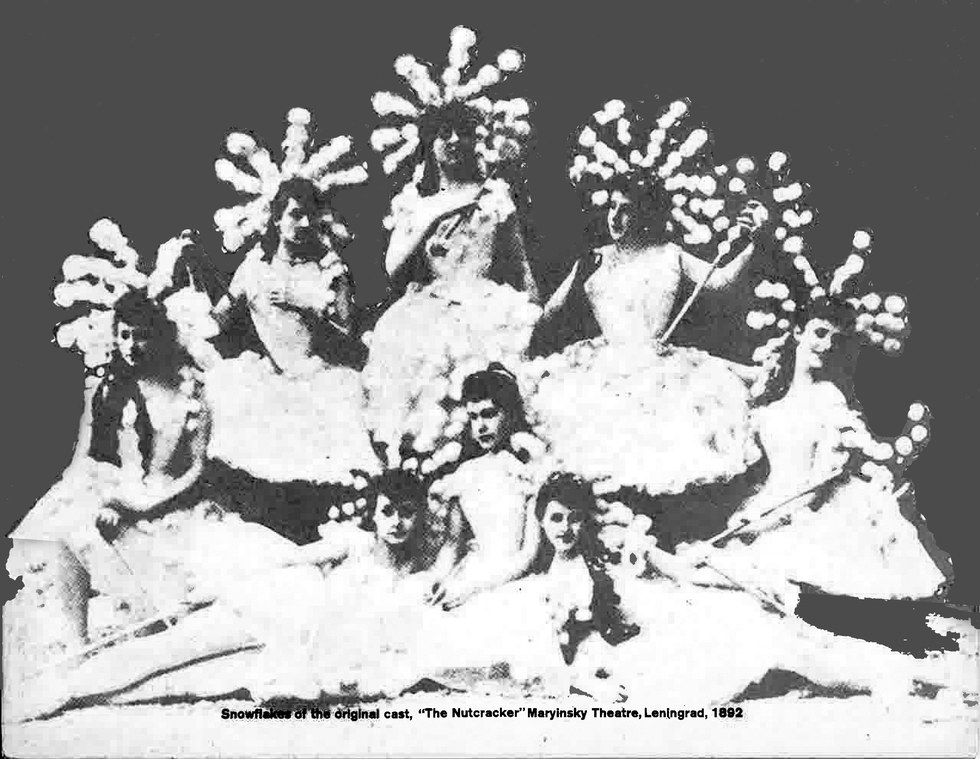 Snowflakes of the original cast, "The Nutcracker" at the Mariinsky Theatre, 1892. Photo by Walter E. Owen, Courtesy Dance Magazine Archives.
From Page to Stage
In 1892 St. Petersburg, choreographer Marius Petipa and composer Pyotr Ilyich Tchaikovsky pulled the story off the page and onto the stage of the Mariinsky Theatre. But Petipa fell ill while choreographing The Nutcracker and handed his duties over to his assistant, Lev Ivanov. Critics at the 1892 premiere were not pleased. Balletomanes felt the work to be uneven, and lamented the lack of a main ballerina in the first act. Many thought that the story was too light compared to historically based stories.
Out of Russia
Despite its initial reception, the ballet survived, partially due to the success of Tchaikovsky's score. Performances were scarce, though, as the Russian Revolution scattered its original dancers. The Nutcracker's first major exposure outside of Russia took place in London in 1934. Former Mariinsky ballet master Nikolas Sergeyev was tasked with staging Petipa's story ballets on the Vic-Wells Ballet (today The Royal Ballet) from the original notation. The notes were incomplete and difficult to read, yet Sergeyev persisted, and The Nutcracker made it to the stage.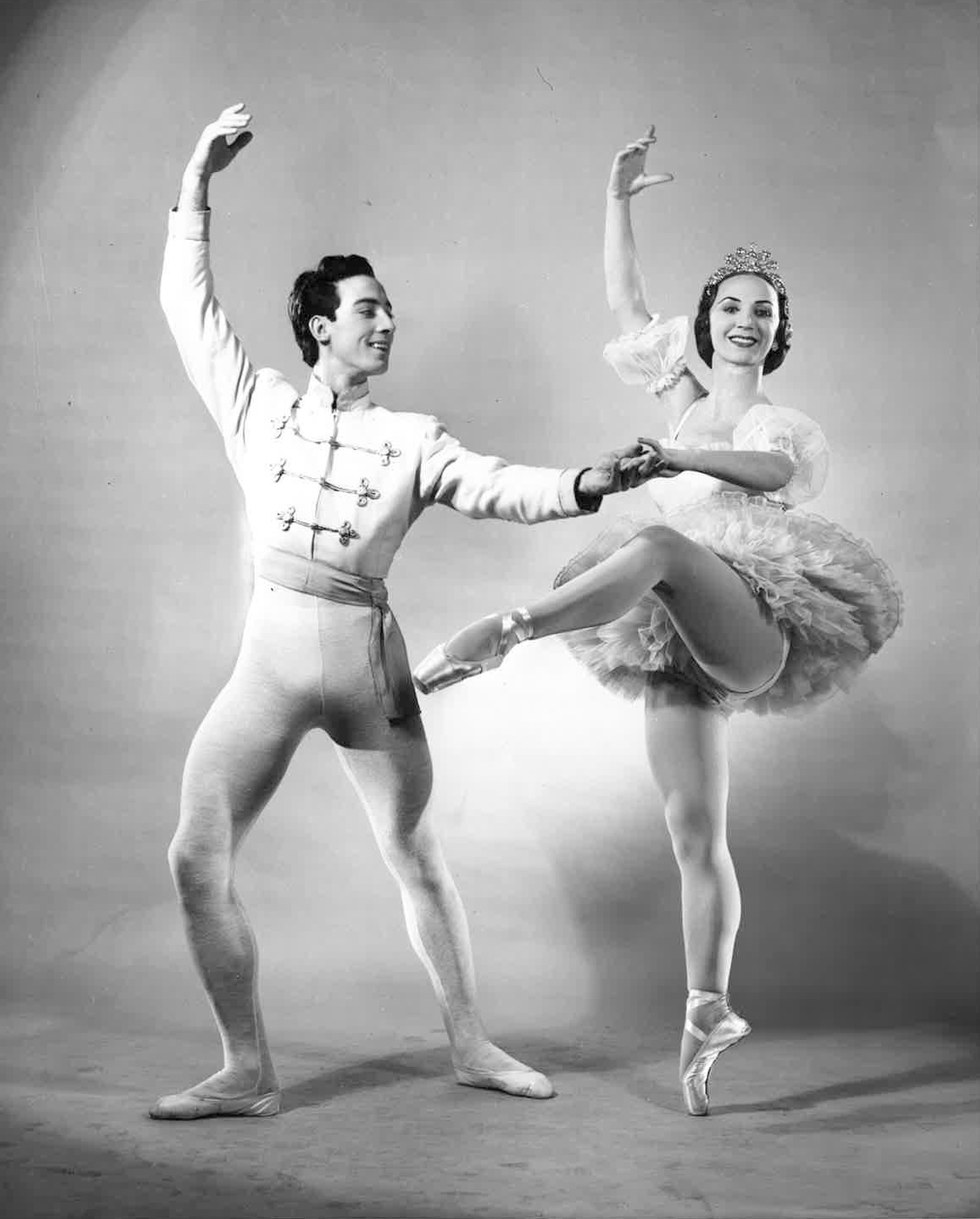 Dancers from ballet Russe de Monte Carlo in "The Nutcracker" pas de deux. Photo Courtesy Dance Magazine Archives.
Keep reading...
Show less
Trending
Nov. 07, 2017 05:23PM EST
Jordan Coutts. Photo via Instagram.
We've turned our clocks back and pulled out our scarves and hats. That can only mean one thing—winter's coming. And with it, the Prix de Lausanne. After carefully viewing video submissions from 380 dancers (297 girls and 83 boys), the Prix's jury of dance world professionals narrowed the pool down to 69 candidates. With the addition of nine candidates preselected at the Youth American Grand Prix in New York, the International Ballet and Choreography Competition in Beijing and the Prix de Lausanne's South American preselection in Montevideo, a total of 78 total candidates will be making their way to Switzerland in January. Get to know the seven U.S. competitors here, and stay tuned for more updates on the Prix in the coming months.

Finnian Carmeci, School of Oregon Ballet Theatre
Get to know 14-year-old Finnian Carmeci in this video interview from his Portland, Oregon–based school. Though Carmeci didn't start dancing until he was 12, he has focused on his technique and strength building and has skyrocketed through his school's curriculum.
Jordan Coutts, V&T Classical Ballet and Dance Academy
Jordan Coutts trains at V&T Classical Ballet and Dance Academy in Laguna Hills, California. Founders Victor and Tatiana Kasatsky teach a classic Vaganova style.
Here's Coutts in a variation from Paquita at the Moscow International Ballet Competition this summer.
Keep reading...
Show less
Journey choreographed by Diane Coburn Bruning in performance with Chamber Dance Project, featuring Luz San Miguel and Davit Hovhannisyan. Photo by Eduardo Patino.
Choreographer Diane Coburn Bruning has a different kind of vision for her Chamber Dance Project. Though she relocated the project-based company from New York City to Washington, DC several years ago, her focus remains on creating collaborations between classically-trained ballet dancers and other contemporary artists to share in intimate venues with live music. This summer, the artistic director brings together dancers from Cincinnati, Kansas City, Milwaukee and Washington Ballets for a condensed period of time. The company's 2017 season show titled Ballet Brass & Song opens this weekend, and features works by Jennifer Archibald, Jorge Amarante, and a world premiere by Coburn Bruning herself. We caught up with her last week to hear more about her company's mission.
Keep reading...
Show less
Ashley Murphy and Oscar Sanchez in The Washington Ballet's Director's Cut. Photo by Theo Kossenas, Courtesy TWB.
Why did you make the move from Dance Theatre of Harlem to The Washington Ballet?

I had been at DTH for 13 years, and I wanted to see what else was out there. I felt like it was time for me to experience other choreography and a bigger company setting.
Has the change helped you grow as a dancer?
Definitely. At DTH, they knew me and trusted me with a lot of principal roles. Here, I had to work my way back up. I'm more of a performer onstage than in the studio, so it was hard for me to show them what I could do. But the people around me were so encouraging, which helped my confidence. As my first year went on, things got better.
Keep reading...
Show less
News
Jun. 16, 2016 03:00PM EST
Photo by Fabrizio Ferri, Courtesy TWB.
Just a year ago, Julie Kent and Xiomara Reyes took their final bows at American Ballet Theatre. Now, the two ABT stars will be working together even more closely. Kent, who was named artistic director of The Washington Ballet in March, announced today that she has appointed Reyes as head of The Washington School of Ballet, effective September 1. Reyes' husband, Rinat Imaev, a company teacher at ABT, will also join TWSB as senior faculty.
Outgoing school director Kee Juan Han announced his retirement in April, prompting a nationwide search. "I've always loved working with Julie at ABT, so I was very excited when she called and asked if we'd be interested in applying," Reyes told Pointe in a phone interview. She and Imaev have been directing IBStage, a summer program in Barcelona, for four years, and the Cuban-born dancer is no stranger to Washington audiences: Last year she danced the role of Katrina Van Tassel  in the world premiere of Septime Webre's Sleepy Hollow. Now, she's getting better acquainted with the school's workings. "Kee Juan has been amazing and very helpful in explaining everything that the position entails."
Reyes and Jared Nelson in TWB's production of Sleepy Hollow. Photo by Theo Kassenas, Courtesy TWB.
As for any major changes, Reyes says that she and Kent want to focus on deepening the school's relationship with TWB, "so that the school can nourish the company and so that the students can be inspired by the dancers." There are no immediate plans to instill ABT's National Training Curriculum. "It's the kind of decision Julie and I need to talk about, because it's a very big decision," says Reyes. She is, however, excited to share aspects of her Cuban training with students. "I'm very influenced by what I call its 'fearless approach,'" she says. "In Cuba, it was a wonderful way of making us work very hard and in friendly competition, but without putting people down. That's one of the things I really cherish and that I look forward to implementing—that security of confidence in a dancer that allows you to be fearless."
Melody Mennite and Connor Walsh in Jiři Kylián's "Petite Mort." Photo by Amitava Sarkar, Courtesy Houston Ballet.


If you're a member of a repertory company, tight rehearsal timelines are often a fact of life. You might have only a few weeks to memorize and master a piece before you take the stage. In that time, you'll need to absorb not only the steps but also the choreographer's particular style—the qualities and quirks that set that choreographer apart. Should the movement be buoyant or grounded, fluid or staccato? Is your port de bras meant to be classical or pedestrian? How should you relate to your fellow dancers, and to the audience? Answering these questions will take your performance to the next level. After all, a ballet is so much more than the sum of its steps.
"The ballet isn't going to be the ballet without the choreographer's intention and style," says Sandra Jennings, a longtime répétiteur for The George Balanchine Trust. "Balanchine had an intent in his choreography that affects how we move, from our musicality to the way we use our feet on the floor and how the man offers his hand to the woman in partnering. Those nuances matter."
Absorbing a ballet's style should be an integral part of the rehearsal process. But it's not always easy, especially if you've trained in a style that's completely different. Here, three dancers share how they adapted to stylistic challenges in their repertoire. Follow their lead the next time you're thrust out of your comfort zone.
Keep reading...
Show less
Nov. 29, 2001 07:00PM EST
On a muggy morning in early July, students in The Washington School of Ballet's level eight class do not get to take it easy. On this day The Washington Ballet's artistic director, Septime Webre, is teaching. He susses out potentials for the Studio Company, while preparing these pre-professional dancers for the stage. "Think glamorous," he says before a tendu combination at the barre. "You are wearing false eyelashes and tiaras with rhinestones." Two dancers from South Africa, one from Japan and one from Argentina will likely join local students to stay the year and train, he says later about the mix of students in the class.
Scenes like this one reveal how Washington, DC and its environs have transformed into a place to which aspiring dancers now flock, not flee. The DC  metropolitan area offers a broad selection of high-caliber and diverse training, along with the world's best companies at The John F. Kennedy Center for the Performing Arts. "Professional dance students used to leave Washington for New York, L.A. or Europe," says Fabian Barnes, founder and artistic director of the Dance Institute of Washington, home of Washington Reflections Dance Company. "Now there are so many more opportunities to train and perform."
The Washington Ballet has been around for more than 30 years; Washington Reflections and The Suzanne Farrell Ballet are more recent additions to the city's cultural panorama. Their rise, coupled with the Kennedy Center's heightened dance presentation, has given local students ample reason to remain in town, infusing the ballet scene with a fresh jolt of energy.
Webre arrived at The Washington Ballet exactly 10 years ago. Since then, the company's budget has exploded from $2.8 million in 1999 to $8.5 million this year. Some of that growth has gone to expand the school. At its main branch, The Washington School of Ballet has 450 students enrolled during the year and 300 in its summer intensive program. It added a second school in Anacostia in Southeastern DC, with 200 school year students and 100 in the summer.
When those students are ready to graduate to the next level, they can now audition for The Washington Ballet's Studio Company. Formed five years ago, it currently employs 8 to 10 dancers who range in age from 18 to 20. They receive weekly stipends and perform in some productions with the main company's 22 dancers. Last season, Studio Company dancers gave 20 performances on their own at colleges and other venues throughout the region. "The Studio Company gives our students a deeper incentive to stay," says Webre. "We used to lose our most talented to places like American Ballet Theatre."
When Fabian Barnes' Dance Institute of Washington moved into its new home in November 2006, another world of dance opened up to area students. The school trains about 125 students a year, with 30 attending its summer intensive. While the emphasis is on Vaganova training, the school also offers classes in modern and jazz. Barnes says a big draw of the Institute is the opportunity for students to be onstage. They perform at least five times a year at various local venues, such as the National Cathedral and Dance Place.
Dance Institute of Washington's professional company, Washington Reflections, arrived on the scene in 2002. As a new company trying to carve out a niche in the African-American community, Reflections has experimented with various styles and signature pieces. This year, the company's six classically trained dancers will perform modern works in New York and Austin, as well as throughout the DC area. The edgy repertoire, choreographed by Barnes and others such as Thaddeus Davis and Christopher Huggins, includes works set to Lauryn Hill, Nine Inch Nails and Duke Ellington.
Many of the dancers are professionals Barnes worked with before and wanted to bring back to the city. "Some of them went to New York, but came back when they couldn't find their fit," says Barnes, who danced with the Dance Theatre of Harlem.
Since 1993 the Kennedy Center has hosted a summer intensive with Balanchine muse Suzanne Farrell. Students from around the world come to train with Farrell during her three-week residency, which culminates in a performance. The 30 or so students ages 14 to 18 take two technique classes a day, six days a week. "I try to keep it relatively small so that they all get attention," says Farrell. "I know their names. If there are 30 students, you can't teach a class—you have to teach 30 ways because they are all at different points in their lives."
The students also get to explore the city's arts and culture scene with trips to museums, historical sites and performances. "She's one of a kind," says Meg Kowalski, the Center's director of dance programming, about Farrell. "She's brought so much artistry and influence to our stages."
Farrell's company at the Kennedy Center dates from 1999, when it debuted as part of the Kennedy Center's Balanchine festival. Last year The Suzanne Farrell Ballet, composed of nine principals and soloists, stepped up its dedication to Balanchine by creating a Preservation Trust to showcase the choreographer's lost or rarely seen works. This year the company kicks off its season at the Kennedy Center with Balanchine's Episodes, Ragtime and Liebeslieder Walzer.
The Kennedy Center has played a key role in all of this dynamic growth. DC's dance scene swirls around the Center's nine stages. It's where most touring companies perform, giving young dancers a chance to see the greatness to which they aspire. Ballet Across America, in June, for example, brought nine companies to the Kennedy Center for three days of performances. That's in addition to a regular season schedule that featured The Royal Ballet, American Ballet Theatre, New York City Ballet, The Kirov and the Bolshoi Ballet.
Besides presenting such companies, the Center also has a strong education component. The Kennedy Center Ballet Class Series gives 20 to 25 local students a once-in-a-lifetime chance to study alongside the world's best dancers. Students—who must audition for the highly competitive spots—get to take class onstage at the Opera House during each visiting company's Kennedy Center run. At press time, the artistic directors of The Joffrey, Kirov and San Francisco Ballet are scheduled to teach. While the series doesn't culminate in a performance, the students get a taste of professional training and a sampling of different company styles. It's a peek into company life and a chance to measure themselves against professionals—just one more reason that the nation's capital is a great place for an aspiring dancer to call home.

Renuka Rayasam is a freelance reporter based in Washington, DC, who has written for U.S. News & World Report and Fortune Magazine. She is trained in ballet, modern and classical Indian dance.
Nov. 29, 2001 07:00PM EST
There's nothing more incredible than seeing a dancer master the artistry of a powerful role like Odette/Odile. But let's face it: We're always thrilled once that Black Swan pas coda arrives. Throwing some triples into its series of 32 fouettés won't make or break a ballerina's performance, but boy, can they dazzle an audience.

The Washington Post asked dancers of The Washington Ballet to show readers their "hardest dance moves"—a sort of ode to how crazily physical ballet truly is. An intimidating-sounding (and looking!) 540 battement en rond? I didn't even know that existed. The Cheshire Cat partnered lift that leaves a dancer in free fall in the air? Kind of terrifying. The butterfly? Not as innocent as it sounds.'
You can find the video on washingtonpost.com.


Get Pointe Magazine in your inbox