News
Oct. 01, 2018 04:55PM EST
Los Angeles Ballet's Tigran Sargsyan and Petra Conti. LAB opens their fall season this week with a mixed bill including two company premieres. Photo by Reed Hutchinson, Courtesy LAB.
Keep reading...
Show less
Rachel Hutsell Photographed for Pointe by Jayme Thornton.
This is Pointe's June/July 2018 Cover Story. You can subscribe to the magazine here, or click here to purchase this issue.
"I'm very cautious by nature," Rachel Hutsell says over herbal tea at Lincoln Center between rehearsals. You wouldn't think so from the way she moves onstage or in the studio. In fact, one of the most noticeable characteristics of Hutsell's dancing is boldness, a result of the intelligence and intention with which she executes each step. (What she calls caution is closer to what most people see as preparedness.) She doesn't approximate—she moves simply and fully, with total confidence. That quality hasn't gone unnoticed.
Keep reading...
Show less
Gianna Reisen in rehearsal with NYCB corps de ballet dancer Ghaleb Kayali. Photo by Erin Baiano, Courtesy NYCB.
This Thursday marks New York City Ballet's annual Fall Gala. Spearheaded by actress and NYCB board member Sarah Jessica Parker, this glamorous event unites the worlds of ballet and fashion by partnering choreographers with top designers to collaborate on new works. This year, alongside premieres by NYCB company members/choreographers Lauren Lovette, Justin Peck and Troy Schumacher, 18-year old School of American Ballet alumna Gianna Reisen will present her first work for the stage at Lincoln Center's David H. Koch Theater.
NYCB Ballet Master in Chief Peter Martins noticed Reisen's work at SAB's Student Choreography Workshop and invited her to create a piece for The New York Choreographic Institute in 2016 before offering her the Fall Gala commission. This opportunity came as part of a whirlwind year for Reisen; after finishing her studies at SAB she was offered an apprenticeship at Dresden Semperoper Ballett late last spring. Reisen spent only three weeks getting settled in Germany before returning to NYC in late August to start rehearsals for the gala.
We caught up with Reisen to hear what it's been like to work alongside such high-caliber artists and to get the inside scoop on her premiere.
Keep reading...
Show less
popular
Aug. 16, 2017 04:54PM EST
Honji Wang and Sara Mearns. Photo by Brooke Trisolini, Courtesy of Jacob's Pillow Dance.
We all know that seeing world class dance is expensive. But for two weeks a year New York City Center offers $15 tickets to their Fall for Dance Festival. This magical unicorn of an experience features five unique programs and will run from October 2-14.
The program includes five world premieres commissioned specifically for the Festival, three of which feature some of our favorite ballet superstars.
Program One (Oct. 2-3) will showcase a new work by choreographer and New York City Ballet soloist Troy Schumacher on 14 dancers from Miami City Ballet. While rehearsals are still in progress, we do know that the piece will be a meditation on childhood set to Francis Poulenc's Concerto for Two Pianos in D Minor.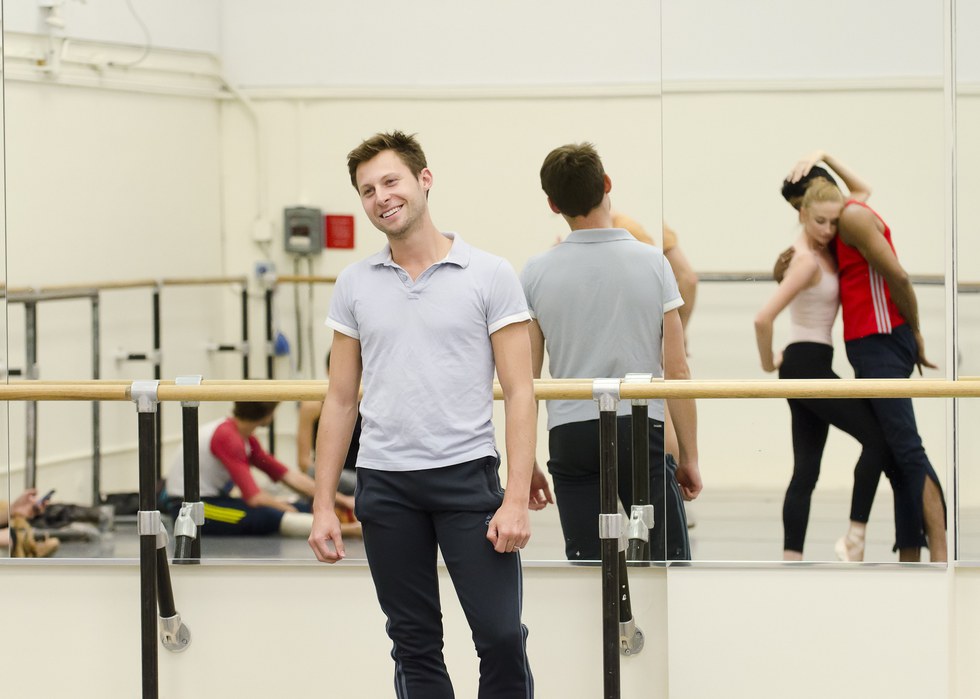 Troy Schumacher in rehearsalPhoto by Kyle Froman for Pointe
Keep reading...
Show less
Lauren Lovette of NYCB as Juliet in Peter Martins' Romeo + Juliet. Photo by Paul Kolnik, Courtesy NYCB.
It's been five years since a female choreographer premiered a work at New York City Ballet. Fortunately the 2016 fall gala on September 20 presents a more gender-diverse choreographic lineup, including company principal Lauren Lovette and independent choreographer Annabelle Lopez Ochoa. The gala program includes premieres by two other NYCB dancers: resident choreographer Justin Peck and corps member Peter Walker, who creates his first ballet for the company.

Keep reading...
Show less
"I am constantly intrigued by individuals and what makes people unique," says Schumacher. "Even when they're dancing together, you see seven very different people doing something." Photo by Kyle Froman for Pointe.
Troy Schumacher has been very busy.
The final days of September saw the New York City Ballet corps member rehearsing for a full slate of performances while simultaneously preparing the premiere of Common Ground, his second ballet for the company.
Schumacher's first work for NYCB, Clearing Dawn, was notable for its athleticism, high energy and refreshing youthfulness. Similarly, Common Ground is profoundly physical, with dancers exploding through the air in bursts of sissonnes and bounding over imaginary puddles with successive grands jetés. But in contrast, "the mood is a little darker, a little more mysterious," says NYCB soloist Ashley Laracey, who is also married to Schumacher.
Keep reading...
Show less
News
Nov. 03, 2015 11:30AM EST
Guillem in Mats Ek's "Bye," photo by Bill Cooper, courtesy New York City Center
November in NYC is rich with stars and shows that can't be missed.
From November 3–8, Wendy Whelan and Jock Soto reunite onstage at the Brooklyn Academy of Music for Hagoromo, a production that uses elements of Japanese Noh theater to tell the story of an angel who falls to earth. Though Whelan will always remain an iconic ballerina, the show will undoubtedly reveal new elements of her artistry by pushing her into uncharted territory.
Troy Schumacher's BalletCollective will have its fall season at the NYU Skirball Center on November 4–5. Invisible Divide will feature two world premieres and two older works. The company includes dancers from New York City Ballet, performing Schumacher's athletic, vibrant choreography. After his second successful premiere for NYCB's fall season, we're all looking forward to what Schumacher will do next.
The legendary Sylvie Guillem will grace the stage in the U.S. for the last time, November 12–14. Her touring show, Life in Progress will stop at the New York City Center and will feature work made especially for Guillem, as well as a tribute to influential choreographer William Forsythe.
For more news on all things ballet, don't miss a single issue.
Views
Oct. 27, 2015 09:31PM EST
BalletCollective recently released a teaser for its latest show, Invisible Divide. The company, helmed by New York City Ballet corps member Troy Schumacher, displays its hip, chic aesthetic in the video.
The teaser is shot in a grainy black and white, which causes the dancers to mysteriously blend into the background—a far cry from Common Ground, his colorful fall premiere at NYCB.
BalletCollective is made up of NYCB dancers Harrison Coll, Lauren King, Claire Kretzschmar, Ashley Laracey, Meagan Mann, David Prottas and our August/September cover star Taylor Stanley. Schumacher has always made a point to collaborate with contemporary composers and the teaser for Invisible Divide features music by Ellis Ludwig-Leone (of the band San Fermin). Ludwig-Leon also composed the score to Common Ground.
(NYCB corps member Claire Kretzschmar, photo via BalletCollective)
The company will present its fall season, including two world premieres, Dear and Blackbirds and All That We See at the NYU Skirball Center, November 4–5.
For more news on all things ballet, don't miss a single issue.
News
Oct. 02, 2015 02:50PM EST
NYCB's Teresa Reichlen in Schumacher's Clearing Dawn. Photo by Paul Kolnik, Courtesy NYCB.
New York City Ballet's fall season is packed with world premieres, including three by choreographers who have never made work for the company.
NYCB resident choreographer Justin Peck and corps member Troy Schumacher will each create a new ballet. Schumacher's second piece for NYCB will feature a commissioned score from Ellis Ludwig-Leone, the music director for Schumacher's Ballet Collective and the frontman of the band San Fermin. Peck's new work will feature Steve Reich's Variations for Vibes, Pianos and Strings.
Keep reading...
Show less
Troy Schumacher feels there's no better education for a choreographer than New York City Ballet. The 27-year-old corps de ballet member has been watching and performing the company's works since he came to New York City in 2002 as a student at the School of American Ballet.
After joining the company in 2005, he became fascinated with the way in which Balanchine and Stravinsky had worked together on Agon. "Both already knew what they were doing," he says, "yet their collaboration forced them each to grow more artistically." It made him wonder, "Why doesn't that happen more?"
Schumacher wants to answer that question in his role as choreographer and artistic director of BalletCollective. Founded in 2010, BalletCollective, which taps many of his NYCB colleagues, reflects Schumacher's commitment to presenting ballets made with the input of a multitude of artists across disciplines. This past August, BalletCollective premiered The Impulse Wants Company to a sold-out house at the Joyce Theater's Ballet v6.0 festival. Schumacher, composer Ellis Ludwig-Leone and poet Cynthia Zarin worked together throughout the creative process. "A lot of people like to talk about collaboration with projects like these, but Troy gives more than just lip service to the term," says Ludwig-Leone. "Rather than just settling on an idea and then letting each member do their own thing, he constantly brings us back together to update and critique each other as we move forward. The result is a thoroughly mixed blend of influences."
Running a successful small company demands a fair amount of administrative work, which Schumacher must do in his limited free time. It also means finding rehearsal time outside the demanding NYCB schedule. Schumacher believes the extra work is worth it: "Choreographing helps me conceive of the whole when I am dancing, and that gives me a better understanding of the ballets I'm in. With 30-second rehearsals in the wings between entrances, I was able to jump in for Sean Suozzi in Concerto DSCH last winter even though I had understudied a completely different part. It was a very liberating experience."
Fun Facts
-Troy's first pair of dance shoes had taps on them.
-His current dream role? The male soloist in Agon.
-If he weren't a dancer he would be a chef.
-Favorite food to cook? Rustic Tuscan fare.
-While cooking he listens to San Fermin, an indie rock band fronted by Ellis Ludwig-Leone, BalletCollective's composer.
"When I'm dancing Troy's work, I am lost in the moment. It's given me the confidence to dance my NYCB roles with more command."
—Ashley Laracey, soloist with NYCB  and BalletCollective member
Georgina Pazcoguin in Jerome Robbins' West Side Story Suite. Photo by Paul Kolnik, Courtesy NYCB.
New York City Ballet's
fall season
launches next Tuesday, September 23, with not one but three world premieres by Liam Scarlett, NYCB resident choreographer and soloist Justin Peck and NYCB corps member Troy Schumacher. For
Pointe'
s bi-weekly newsletter, we spoke with soloist Georgina Pazcoguin about dancing in Schumacher's first work for the company's main stage, and the season ahead.
What's it been like having Schumacher, your fellow company member, as your choreographer?
Of course, there's a level of "I'm the dancer, you're the choreographer." That mutual respect is always there. But Troy and I go back a long time--I met him one of my first summers at the School of American Ballet. I hate to sound hokey, but it really is quite flattering to be one of his inaugural dancers for such a momentous occasion.
Keep reading...
Show less
Nov. 29, 2001 07:00PM EST
In just five short years, New York City Ballet corps member Troy Schumacher has grown BalletCollective from a small side project into a company ready to take the stage at the Vail International Dance Festival. For Pointe's bi-weekly newsletter, we spoke with Schumacher as he prepped his troupe for their debut in the mountains on 

Aug. 2

.
What will BalletCollective be performing at Vail? 
A duet I choreographed called Dear and Blackbirds that premiered last October. It's danced by Harrison Coll and Ashley Laracey and is fairly unique because every element was created for these two dancers. Poet Cynthia Zarin wrote a poem that served as inspiration for the structure and tone for both the music and the choreography.
How would you describe the movement language?
When I chore
ographed the piece, Harrison Coll was just finishing his first year with NYCB as an apprentice, and Ashley is a soloist with NYCB. Her choreography is beautiful, grounded and languid and just very calm and confident. Harrison's is extremely energetic, and he has a wonderfully springy movement quality where everything's kind of fresh. It's about them slowly having their energy dynamics meet somewhere in the middle.
What's it like working with your wife Ashley Laracey on such an intimate project?
All of BalletCollective's works are very dancer specific, and I know Ashley so well. For this duet, there are even certain snippets that I choreographed on the two of us, visualizing Harrison and what he could do. That has
 extra meaning. And last fall Harrison broke his foot, so I ended up dancing the premiere with Ashley.
How does having your own company help you in your work at NYCB?
I've always been really fascinated with how companies work. I think having to start this from the ground up--I do the majority of BalletCollective's administrative work myself--has made me appreciate what everybody on NYCB's administrative side puts into our seasons. I also think that when you start choreographing, you approach dancing in a different way.
For even more interviews, tips, audition info and giveaways, sign up for our FREE e-newsletter.
Above: BalletCollective's Ashley Laracey and Harrison Coll. Photo by Whitney Browne, Courtesy Helene Davis Public Relations.
Nov. 29, 2001 07:00PM EST
Onstage at New York City Ballet, principal Ashley Bouder is known for her explosive jumps and stage presence. Offstage, she's developing directorial skills with The Ashley Bouder Project, a group of fellow NYCB dancers who will perform works by Adriana Pierce, Andrea Schermoly and Joshua Beamish this week. 

For 

Pointe

's bi-weekly newsletter,
 we caught up with Bouder via email before her Project's shows at the Joyce Theater's Ballet Festival, 
Aug. 8-9
.
What inspired you to create The Ashley Bouder Project?

I am from a small town, and ballet gave me a career and a life. If I can travel to other small towns and share my love of dance with new audiences, or reach people on their phones and tablets who don't have dance where they live, then I'm doing my part to share ballet. I think my generation is doing great work to further the potential of what ballet can be and the place the arts have in society.

How do you juggle the roles of dancing and directing for this project?

It can be challenging! In addition to working with the collaborators, I am running to costume fittings, coaching the dancers, creating the new works with the choreographers, and then sitting down to dinner with a supporter. All of this on top of an already demanding schedule with New York City Ballet. But I'm lucky to have a great co-producer, Phil Chan. That allows me the time to really work on the artistic quality for each piece.

Much of what you're presenting at the Joyce showcases the work of female choreographers. Why is this important to you?
There is historically a lack of women in positions of power in ballet--except onstage. If the ballet repertory is the creative soul of a dance company, whose stories are we telling? On a more basic level, it's great to collaborate with a female choreographer who knows the female body inside and out, what is possible on pointe, where my weight is, because they have actually lived it.
For even more interviews, tips, audition info and giveaways, sign up for our FREE e-newsletter.
Above: Bouder with Amar Ramasar in Joshua Beamish's Rouge et Noir. Photo by Rebekah Spurlock, Courtesy The Ashley Bouder Project.