News
Aug. 13, 2018 08:30AM EST
Boston Ballet is bringing Jerome Robbins' Fancy Free to the Tanglewood Music Center in Lenox, MA. Photo by Gene Shiavone, Courtesy Boston Ballet.
Wonder what's going on in ballet this week? We've pulled together some highlights.
Houston Ballet Brings a World Premiere to Jacob's Pillow
August 15-18, for the first time in almost four decades, Houston Ballet is appearing at Jacob's Pillow, the famous summer dance festival in Becket, MA. Headlining the program is Just, a world premiere commissioned by the Pillow and choreographed by HB artistic director Stanton Welch, set to music by contemporary composer David Lang. Also from Welch are Clear, an abstract piece for seven men and seven women, and excerpts from Sons de L'ame, with music by Chopin. The company will also perform In Dreams, choreographed by former Pillow choreographic associate Trey McIntyre.
News
Jun. 25, 2018 03:43PM EST
Jane Cracovaner and Elijah Laurant with MOVETHECOMPANY, which will perform at the Joyce Ballet Festival this week. Photo Craig Foster, Courtesy Joyce Theater.
Wonder what's going on in ballet this week? We've pulled together some highlights.

The Joyce Ballet Festival Is Back
New York City's Joyce Theater kicks off its five-company Ballet Festival June 26-July 7. Showcasing a variety of styles including neoclassical and contemporary dance, the festival prides itself on featuring smaller companies. Below, check out the three companies opening this week. (Feeling festive? Enter our giveaway to win tickets to the Ashley Bouder Project at the Joyce on July 5.)
From left: Jennifer Stahl, Lonnie Weeks and Sasha De Sola in rehearsal for Trey McIntyre's new work. Photo by Christian Peacock for Pointe.
Photography by Christian Peacock

Summer is always a lively time at San Francisco Ballet, as the dancers return from vacation and launch into rehearsals for the upcoming season. But last July through September felt absolutely electric with creativity as the company created 12 world premieres for Unbound: A Festival of New Works, a cutting-edge program that will run April 20–May 6 at the War Memorial Opera House.
Artistic director Helgi Tomasson invited a wish list of international choreographers to participate: David Dawson, Alonzo King, Edwaard Liang, Annabelle Lopez Ochoa, Cathy Marston, Trey McIntyre, Justin Peck, Arthur Pita, Dwight Rhoden, Myles Thatcher, Stanton Welch and Christopher Wheeldon. Each got about 12 dancers, three weeks' studio time and, aside from a few general guidelines, total artistic freedom.
News
Feb. 26, 2018 05:45PM EST
National Ballet of Canada's Skylar Campbell and Elena Lobsanova in "The Dreamers Ever Leave You." Photo by Karolina Kuras, Courtesy NBoC.
This week is bursting at the seams with ballet. Earlier this month multiple companies performed the same ballet (think Romeo and Juliet), but this week brings a truly eclectic mix of new works, company premieres and old classics all around the U.S. and Canada. We've rounded up programs by eight companies—National Ballet of Canada, Royal Winnipeg Ballet, Houston Ballet, American Repertory Ballet, Sarasota Ballet, Ballet Memphis, Texas Ballet Theater and Indianapolis Ballet—to give you a sense of what's happening.
National Ballet of Canada

In honor of Canada's 150th anniversary in 2017, the Toronto-based National Ballet of Canada is presenting a mixed bill February 28–March 4 titled Made in Canada. The program features works made on NBoC by three of Canada's most lauded choreographers: Robert Binet's The Dreamers Ever Leave You, James Kudelka's The Four Seasons and Crystal Pite's Emergence. Check out the preview below.
popular
Jul. 25, 2017 06:23PM EST
Photo by Erik Tomasson, Courtesy SFB.
It may be the middle of summer, but San Francisco Ballet is already rehearsing for its spring season. There's a lot to prepare for—the company's Unbound: A Festival of New Works, which runs April 20–May 6, 2018, will feature 12 new ballets by 12 choreographers. And it's an impressive group of dancemakers: David Dawson, Alonzo King, Edwaard Liang, Annabelle Lopez Ochoa, Cathy Marston, Trey McIntyre, Justin Peck, Arthur Pita, Dwight Rhoden, Myles Thatcher, Stanton Welch and Christopher Wheeldon. That's a lot of choreography to pack in!
Stanton Welch in rehearsal with San Francisco Ballet. Photo by Erik Tomasson, Courtesy SFB.
Luckily, we don't have to wait until spring to get a sneak peek of some of these new works. SFB is kicking off Unbound: LIVE, a series of live-stream events that will take us inside rehearsals. The first one is Wednesday, July 26, at 5:30 pm Pacific Standard Time (8:30 EST). It will highlight rehearsals with Arthur Pita, Edwaard Liang and Stanton Welch. You can expect to see the dancers perform excerpts of their works in progress, as well as interviews with each choreographer.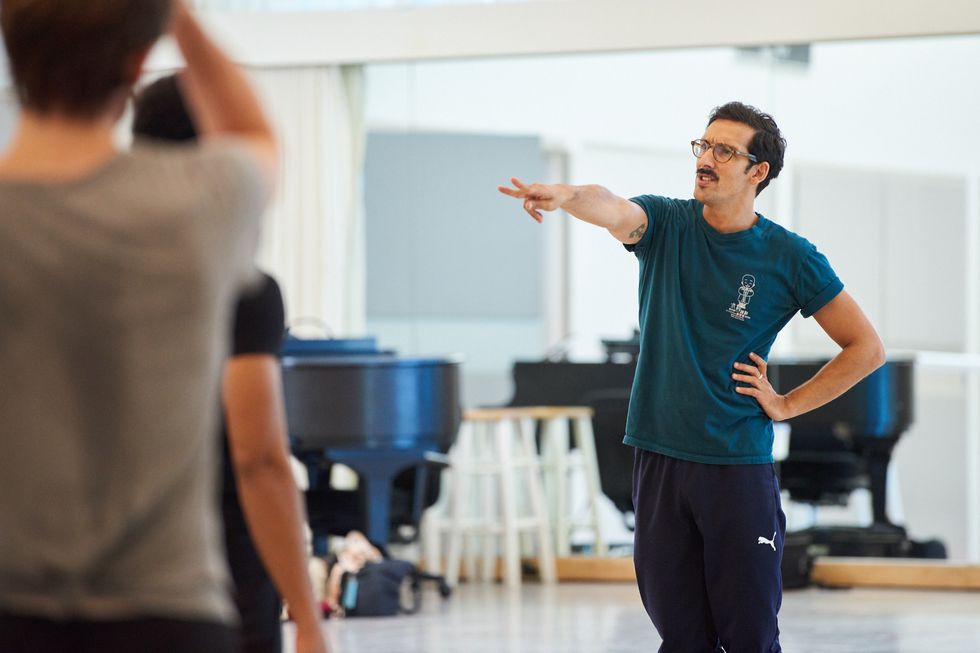 Artur Pita in rehearsal. Photo by Erik Tomasson, Courtesy SFB.
Visit SFB's website or its Facebook page tomorrow night to watch. And if you miss it, no worries—it'll be accessible on the company's site and YouTube channel for 60 days. The other live-stream events have yet to be announced, but we'll be sure to keep you posted!
May. 04, 2016 12:55PM EST
Sona Kharatian. Photo by Theo Kossenas, Courtesy The Washington Ballet
Two beloved icons, David Bowie and Queen, are the inspiration behind The Washington Ballet's latest program. As expected, the double bill features a rocking soundtrack, and it will be a spirited send-off to outgoing artistic director Septime Webre. Pointespoke with TWB dancer Sona Kharatian about the company premieres of Trey McIntyre's Mercury Half-Life and Edwaard Liang's Dancing In the Street.
What's Edwaard Liang like in the studio?
Amazing. He's a very sensitive and spiritual person, so he creates this nurturing atmosphere where you feel like you can be vulnerable and explore things without feeling stupid or insecure. And his partnering choreography is incredible.
These works are a departure from classical ballet. Do you feed off that or is it a challenge?
We do a little bit of everything at The Washington Ballet. I'm just happy that this is the last big program of the season, so we can really dive in and be grounded because we do use different muscles. Trey's ballet, for example, is very, very athletic. We're basically busting it out for 50 minutes.
Tell me about the tap sections in Mercury Half-Life.
We're lucky we have a tapper in the company, Daniel Roberge. It was a nice surprise to see one of my colleagues in a new light. Some of the girls, myself included, do backup dances with him--I'd never tapped in my life! We had a lady come in and teach some of the basic steps. I'm still working on them, but it's fun.
Since David Bowie passed away earlier this year, does the piece take on any extra meaning?
What timing. It's unfortunate about his passing, but I'm happy we're doing it. I feel like I will be giving a tribute, and I'm sure other dancers feel the same way. I grew up listening to Bowie and Queen, so it's pretty special.
Want to see the show on 

May 13

? Click here to enter our ticket giveaway!
For more news on all things ballet, don't miss a single issue.
Dec. 15, 2015 12:09PM EST
Choreographer Trey McIntyre will act as a mentor to the fellow. Photo Courtesy BalletX.
BalletX's new fellowship initiative has chosen its first recipient: New York–based choreographer Yin Yue.

Yue was born and raised in Shanghai, China, and has an MFA from New York University's Tisch School of the Arts. The joint fellowship panel—including BalletX artistic staff, Wendy Whelan, choreographer Trey McIntyre and others—chose her from 50 international applicants. She's choreographed on companies like Northwest Dance Project and shown work at such venues as Jacob's Pillow. Yue will have January and February to create a new piece on BalletX and be mentored by McIntyre, who will create a separate piece during the same period.
Jun. 09, 2014 08:36PM EST
Dominic Walsh, photo by Gabriella Nissen

Running a dance company can be all-consuming, especially when you serve as both its artistic director and principal choreographer. Trey McIntyre, whose Trey McIntyre Project is giving its final performances this month, recently told The Washington Post that the additional fundraising and administrative aspects of his job became too overwhelming, and contributed to his reasons for disbanding the troupe. "I'm really burnt out," he said.
Dominic Walsh—whose company, Dominic Walsh Dance Theater, has brought cutting-edge contemporary ballet to Houston audiences for 12 years—made a similar remark recently. In a statement released Friday, he announced he is taking a sabbatical, suspending the company's 2014-2015 season.
"This decision will allow me to explore other opportunities and interests that I simply have not been free to spend time on with the many obligations I've committed to for these 12 years," Walsh said in a statement. "I look forward to accepting opportunities to create and stage my works, teaching classes as a guest and coaching ballets."
Walsh also notes that the sabbatical will give him more time to support his partner, Domenico Luciano, a former DWDT member now a principal dancer at Colorado Ballet. While he makes no mention of folding the company, his future plans for DWDT remain unclear.
Nov. 29, 2001 07:00PM EST
On a gorgeous afternoon in late August, Trey McIntyre settled himself on a couch-sized rock in the middle of the Jacob's Pillow campus in Becket, Massachusetts, stretched out his long, long legs and mused on what it's like to become a father.
No, the 38-year-old choreographer wasn't talking about changing diapers and setting the alarm for night feedings. McIntyre's baby is his new full-time company of 10 dancers, based in Boise, Idaho. The Trey McIntyre Project has been in existence as a summer pickup troupe since 2005, but this, he says, is different.
"The knowledge that we're doing this for the full year, the weight of this responsibility, feels like parenting," says McIntyre. The new company, fresh from a three-week residency at the White Oak Plantation in Yulee, Florida, had made its debut at the Pillow just a few days before, presenting two world premières: McIntyre's Leatherwing Bat, set to music by Peter, Paul and Mary, and the pas de deux Surrender.
Jacob's Pillow Executive Director Ella Baff has championed TMP since its first summer. "Trey has developed an extensive vocabulary that takes highly trained classical dancers into a very contemporary point of view," she says. "There's a freshness about his work—it's sophisticated but kind of innocent at the same time. He's interested not only in abstract movement but also in character development and staging psychological material. He can manage by turns humor, empathy, darkness and light."
McIntyre says his decision to take TMP full- time was largely based on a desire to "go deeper" with a group of dancers he knows intimately—"people I can trust, with whom I can go to a scarier place in myself." With a full-time group that spends intensive time together year-round, the trust level among company members can grow more quickly than it does in a summer pickup troupe, he says. It's an environment in which McIntyre can relax into a creative process that's very much informed by his personal and artistic connection to his dancers.
He approaches choreography like a Method actor. "There are certain emotional states I've wanted to conjure up in a piece that I've stayed with on my own and brought to the studio," he says. According to company member Virginia Pilgrim, 24, that's one reason why McIntyre is extremely demanding as a choreographer—"but in a great way that makes you feel he's pulling the best out of you," she says. "I love how hard we work and how fulfilling it is when all's said and done. It's not even about the finished product, but each day I go home thinking 'Wow, we really accomplished something today.' He's built the company with an atmosphere for all of us to thrive in, to feel a freedom to do what we do without any reservations or fears, and to know we're doing something important."
McIntyre seems drawn to ever-deepening levels of discovery. "I'm committed to examining, especially institutionally and structurally, the why of the way we do the things we do," he says. To that end, he has assembled a production staff whose strong suit is enthusiasm and out-of-the-box thinking rather than training or experience. Chief among them is John Michael Schert, a 27-year-old dancer with the company who is also its executive director. Schert has no business or management background but has observed the inner workings of dance companies as a member of Alonzo King's LINES Ballet, Lar Lubovitch Dance Company and American Ballet Theatre.
"The driving force behind the business of a dance company has to be, first and foremost, always the art," says Schert. "We're doing the art of Trey McIntyre but we're also doing the art of ourselves—we're working on becoming fuller artists, fuller people. Trey creates the environment for everyone who works in it to become their best selves." McIntyre sees every member of the company—from dancers to administrative staff—as artists of a sort, doing their best to make this project fly. The company operates not so much as a collective, but rather as an informed consensus with McIntyre and Schert making final decisions. As the latter puts it, "There are clear lines of communication and authority but the entire company spends a lot of time illuminating the ethic of the company."
The company's mission—to honor not only McIntyre's vision but also the personal and artistic journey of each dancer (while still making smart business choices)—drives every decision TMP makes, starting with the surprising choice of Boise as its home base. The summer troupe discovered Boise and returned to it often between performances in Vail and Aspen and late-summer engagements at the Pillow.
"It was always one of our favorite stops," says Schert. "We felt an immediate sense of belonging." When it came time to put down roots, "Boise won for the possibilities and potential that exist here," he says. The Idaho capital, population 211,000, has a vigorous, youthful energy that parallels the company's sensibility. "Being here is conducive to the community we seek to create with TMP: process versus product, growth versus attainment," he continues. The city has embraced the company, almost immediately offering TMP several options for its home.
"One of the reasons we moved to Boise was the pervasive feeling of welcome there," Schert says, adding that the company's opening performance was "like a rock concert. The cheers when the lights went down pre-show were almost overwhelming." TMP's relationship with Ballet Idaho (also based in Boise) is a companionable one, Schert maintains. BI presented McIntyre's summer touring company in 2007 and the two companies share studio space and guest teachers and work collaboratively to develop Boise's arts culture and audiences.
Business-wise, Schert sees geography as irrelevant. Building on the appeal and audience support base McIntyre accumulated during his years as resident choreographer for Oregon Ballet Theatre, Ballet Memphis and The Washington Ballet, the company relies on a dedicated core of supporters in Portland, Memphis and Washington, DC, who form the company's national board and its regional Resource Councils in Houston, Milwaukee and Boise. These local support groups host events and fundraisers, bringing new contributors into the fold; donors are invited to sponsor a TMP dancer with a gift that provides half of his or her salary during the year.
The company also raises its visibility with an online presence that includes pages on Facebook and MySpace; video clips on dancemedia.com and YouTube; and free podcasts featuring the company—taped and created by McIntyre—available on iTunes and at TMP's interactive website (www.treymcintyre.com).
"They've engineered a very, very successful approach to staying streamlined and focused," says Baff. "I really appreciate how energetic the whole enterprise is—that kind of energy builds a great base of support that hopefully will be able to sustain them over the years."
The company's $1.5 million operating budget, which allows TMP to pay its dancers competitive salaries and provide full dental and medical benefits, is met nearly equally by donations and earned income. TMP kicked off its inaugural year with a September performance at the 2,000-seat Morrison Center for the Performing Arts on the campus of Boise State University; the company also plans to perform at the university's smaller Special Events Center while exploring several options for a permanent home.
For most of the year, however, TMP will be on the road: A 30-city 2008­–09 tour, capitalizing on the popularity built by its summer tours, includes visits to the Dominican Republic and the Spring Festival in Gyor, Hungary. McIntyre and his dancers will also find time to work on a new piece, A Day in the Life, set to songs by the Beatles, scheduled to premiere in Boise in February. And they'll travel to Montana's Glacier National Park to film footage for a multimedia dance work commissioned by Wolf Trap Foundation for the Performing Arts and the National Park Service.
McIntyre has made more than 75 works for companies around the world, garnering a reputation for choreography that takes ballet in unexpected directions, both artistically and emotionally. His artistry springs from his quest for authenticity and integrity: "Being true to every single moment and holding myself to the criteria of 'Am I speaking the truth, am I revealing myself?'"
As Pilgrim says, "Every time we approach a ballet, he wants us to approach it differently than we did before. He believes you're a new person each day with new experiences behind you. We're not striving for perfection, we're striving for growth."

 
Tresca Weinstein is a freelance writer who covers dance, the visual arts, yoga, travel and home design for national and regional publications.
Nov. 29, 2001 07:00PM EST
Andrew Bartee, a former Pacific Northwest Ballet company member and current dancer with Ballet BC, will premiere his latest work—Dirty Goods—as part of the Wolf Trap Foundation's "Face of America" series on August 27. The piece was commissioned for Wolf Trap Foundation, and utilizes filmed site specific performance in Olympic National Park, music by the Portland-based band The Chromatics and dancers from Pacific Northwest Ballet. Dirty Goods will share the program with Oregon Ballet Theater dancing Trey McIntyre's Robust American Love, along with the Seattle-based indie group Band of Horses. Previous "Face of America" performances have celebrated other national parks through equally outstanding dance. It's great to see something that Bartee has been working on for months come to such beautiful fruition.
Pacific Northwest Ballet dancers Elle Macy and Chelsea Adomaitis (photo by Lindsay Thomas; Courtesy PNB)