News
Oct. 30, 2018 01:13PM EST
Artists of Ballet West in Balanchine's Jewels. Photo by Beau Pearson, Courtesy Ballet West.
Wonder what's going on in ballet this week? In addition to the programs at Pacific Northwest Ballet, The Washington Ballet, Ballet West and City Ballet of San Diego listed below, this week also marks Balanchine: The City Center Years, a five-day extravaganza bringing together eight companies from around the world. You can read more about it here. Also coming up is Boston Ballet's black box show, BB@home: ChoreograpHER, which features six new works by women in the company. Peek inside the budding choreographers' processes here.
Keep reading...
Show less
Just for fun
Oct. 26, 2018 05:23PM EST
Royal Winnipeg Ballet revived Lila York's adaptation of Margaret Atwood's The Handmaid's Tale earlier this month. Photo by David Cooper, Courtesy RWB
When American Ballet Theatre announced yesterday that it would be adding Jane Eyre to its stable of narrative full-lengths, the English nerds in the DM offices (read: most of us) got pretty excited. Cathy Marston's adaptation of Charlotte Brontë's classic novel was created for England's Northern Ballet in 2016, and, based on the clips that have made their way online, it seems like a perfect fit for ABT's Met Opera season.

It also got us thinking about what other classic novels we'd love to see adapted into ballets—but then we realized just how many there already are. From Russian epics to beloved children's books, here are 10 of our favorites that have already made the leap from page to stage. (Special shoutout to Northern Ballet, the undisputed MVP of turning literature into live performance.)
---
Northern Ballet in David Nixon's The Great Gatsby (F. Scott Fitzgerald)
Star-crossed lovers? Check. Wild party scenes? Check. The 1920s aesthetic is just bonus.
Dutch National Ballet in John Cranko's Onegin (Alexander Pushkin)
It's a novel in verse, but it still counts! Cranko's pas de deux work vividly paints the emotional turmoil of Pushkin's characters, such as this sequence in which Tatiana imagines being loved by the haughty Onegin.
The Royal Ballet in Liam Scarlett's Frankenstein (Mary Shelley)
It's spooky, it's sensational, it's a deep meditation on the nature of humanity—oh, and it's alive.
Northern Ballet in David Nixon's The Three Musketeers (Alexandre Dumas)
All for one and one for all! (And we're all in for this epic fight choreography the dancers took to a famous Abbey in their hometown of Leeds, England.)
Charlotte Ballet in Sasha Janes' Wuthering Heights (Emily Brontë)
The Brontë sisters had a knack for writing complex, tempestuous relationships—great fodder for pas de deux like this one.
The Washington Ballet in Septime Webre's Peter Pan (J. M. Barrie)
Sword-fighting, pirates, pixie dust and a ticking crocodile? This one simply flies off the page.
Hamburg Ballet in John Neumeier's Anna Karenina (Leo Tolstoy)
Some would argue that Tolstoy's epic is the greatest literature ever written, but you can't argue with the fact that the titular heroine is a deliciously complex character to tackle.
The Royal Ballet in Christopher Wheeldon's Alice's Adventures in Wonderland (Lewis Carroll)
Why is a raven like a writing desk? We still might not know the answer to Carroll's riddle, but we do know that Wheeldon's blockbuster production is so full of incredible moments (like Steven McRae stealing the show as a tap-dancing Mad Hatter) that we had trouble narrowing it down.
Atlanta Ballet in Michael Pink's Dracula (Bram Stoker)
There's a reason it seemed at one point like every ballet company in America had a production of Dracula in its repertoire.
Northern Ballet in Jonathan Watkins' 1984 (George Orwell)
Just in case the dystopian nightmare conjured by Orwell wasn't vivid enough in your own imagination.
News
Oct. 01, 2018 04:55PM EST
Los Angeles Ballet's Tigran Sargsyan and Petra Conti. LAB opens their fall season this week with a mixed bill including two company premieres. Photo by Reed Hutchinson, Courtesy LAB.
Keep reading...
Show less
News
Sep. 24, 2018 04:42PM EST
Kyle Froman
When it comes to studio attire, The Washington Ballet's Venus Villa loves to have choices. While at home in Washington, DC, her bag usually overflows with skirts and warm-ups in all different colors. "I am more girly than sporty," she says of her style. She's also never without multiple lipsticks, and she selects the right shade to match her leotard each day. On tour in New York City for a Guggenheim Works & Process showing, Villa pared the contents of her dance bag down to the essentials: only one skirt, but still three lipsticks.
Keep reading...
Show less
Photographed by Jayme Thornton for Pointe.
This is Pointe's April/May 2018 Cover Story. You can subscribe to the magazine here, or click here to purchase this issue.

If you are a dance lover in South Korea, EunWon Lee is a household name. The delicate ballerina and former principal at the Korean National Ballet danced every major classical role to critical acclaim, including Odette/Odile, Giselle, Kitri, Nikiya and Gamzatti. Then, at the peak of her career, Lee left it all behind.
In 2016, she moved to Washington, DC, to join The Washington Ballet. The company of 26 is unranked, making Lee simply a dancer—not a soloist, not a principal and not a star, like she was back home.
"I try to challenge myself, and always I had the urge to widen my experience and continue to improve," she says one blustery winter day after company class, still glowing from the exertion of honing, stretching and strengthening. "When I had a chance to work with Julie Kent, I didn't hesitate."
Keep reading...
Show less
News
Mar. 14, 2018 04:25PM EST
Younji-Grace Choi at the 2014 USA IBC. Choi is now a dancer with Cincinnati Ballet and will return to the USA IBC as a senior competitor this summer. Photo by Richard Finkelstein, Courtesy USA IBC.
Exciting news today: the USA International Ballet Competition has just announced its list of invited competitors for the summer 2018 competition. The USA IBC has invited 119 dancers from 19 countries out of over 300 applicants to compete in Jackson, MS June 10-23.
Since the last USA IBC in 2014 the competition has expanded its age limits; the junior category now allows dancers ages 14-18 and the senior category dancers ages 19-28. Of the 119 competitors this year, 53 are juniors and 66 are seniors. The United States has the highest number of competitors invited (52), followed by Japan (23) and South Korea (14). The other countries represented are Armenia, Brazil, Bulgaria, Canada, China, Columbia, Cuba, Dominican Republic, Kyrgyzstan, Latvia, Mexico, Mongolia, Peru, Philippines, Ukraine and the United Kingdom.
Keep reading...
Show less
News
Mar. 12, 2018 04:16PM EST
Boston Ballet's Misa Kuranaga and Nelson Madrigal in John Cranko's "Romeo and Juliet." Photo by Rosalie O'Connor, Courtesy Boston Ballet.
From celebrations of Jerome Robbins' centennial to exciting premieres to old classics, this week is jam packed with ballet. We rounded up highlights from eight companies to give you a sense of what's happening onstage this week.
The Washington Ballet
On March 14, The Washington Ballet will present a triptych of new works. Gemma Bond's premiere ties-in to Women's History Month, and she discusses the connection in this video. Also on the bill are creations by celebrated dancers Clifton Brown and Marcelo Gomes. For video teasers of their works, click here.
Keep reading...
Show less
Clifton Brown. Photo by Andrew Eccles, Courtesy Alvin Ailey American Dance Theater.
On March 14, The Washington Ballet will present a triptych of new works by Marcelo Gomes, Gemma Bond and Clifton Brown. "What I found really interesting with these three is that they're all still performers," says TWB artistic director Julie Kent. "They serve both as muse and as creator."
Though Gomes and Bond share the same American Ballet Theatre genesis as Kent, Brown is best known for his many years with Alvin Ailey American Dance Theater and choreographers Lar Lubovitch and Jessica Lang. Kent and Brown met many years ago while working on a duet by Lang. "I knew that he was interested in choreography," says Kent. "And one of my responsibilities as director is to develop young talent."
Keep reading...
Show less
Nadia Mara (second from left) with Atlanta Ballet patrons. Photo by J. Clemmons, Courtesy Atlanta Ballet.
Ballet companies cannot survive without the financial support of their patrons and donors. In addition to underwriting new buildings and world premieres, and contributing to endowments, individual patrons and corporate donors often sit on the company's board. Many even sponsor the salaries of dancers, or support their side projects.
Yet your ballet training does not prepare you for the formal, sometimes awkward socializing you are asked to do with these VIPs at galas, backstage champagne toasts and other events. Atlanta Ballet dancer Nadia Mara remembers feeling uncomfortable at patron events her first year as a professional. "My English wasn't great," says Mara, who grew up in Uruguay, "and I was unsure of what to do, how to act." Yet she found that as she gained more experience speaking with patrons about where she had come from and her interests, the awkwardness melted away. "We have so much in common. We are passionate about the same things: ballet, art, fitness, culture."
Cultivating strong relationships with donors and patrons often means stepping outside your comfort zone. "Our livelihood depends on them," says Sona Kharatian, a dancer with The Washington Ballet. "It is important that we make them feel included and let them know we know they are doing this for the greater good of culture in their city." Read on for some tips on how to initiate conversation and make some new, supportive friends.
Keep reading...
Show less
Misty Copeland as Juliet with American Ballet Theatre. Photo by Gene Schiavone, Courtesy ABT.
Valentine's Day makes February the perfect month for ballet companies to perform Romeo and Juliet, Shakespeare's famous tale of star-crossed lovers. A few companies presented their versions earlier this month and many are on their way in the next few weeks. We rounded up eight companies including New York City Ballet, American Ballet Theatre, The Washington Ballet, Les Ballet des Monte Carlo, Orlando Ballet, Colorado Ballet, Carolina Ballet and Ballet BC to find out how they're using this classic ballet to celebrate the holiday of love.
New York City Ballet

A 12-performance run of Peter Martins' Romeo + Juliet comes in the middle of New York City Ballet's winter season, spanning from February 13-23 at the Koch Theater in New York City. This year's production marks the debuts of corps dancers Harrison Coll and Peter Walker as Romeo, and former Pointe cover star Indiana Woodward will be making her debut as Juliet. Below, hear Tiler Peck, who will dance Juliet alongside Zachary Catazarro, point out the tricky technical moments in this role and explain what makes it so special to her.
Keep reading...
Show less
Students taking class at the Miami City Ballet School. Photo by Alexander Iziliaev, Courtesy Miami City Ballet.
Growing up in Michigan, Jessy Dick was used to her daily hour-long drives to the Grand Rapids Ballet School, where she trained. But when she started to think about summer intensives, a new problem emerged: Auditions for the schools she was interested in were even farther away, in Chicago or Detroit. "I learned early on that if I wanted to do any summer programs, I'd have to travel at least three hours in order to audition," says Dick, now a member of The Washington Ballet's Studio Company.
Making plans for your summer training is complicated enough, especially with the sheer number of programs to choose between. But students who live far from popular audition hubs face the additional hurdle of organizing, scheduling and budgeting for audition trips. Luckily, with strategic planning, what can feel overwhelming at first can become a rewarding experience.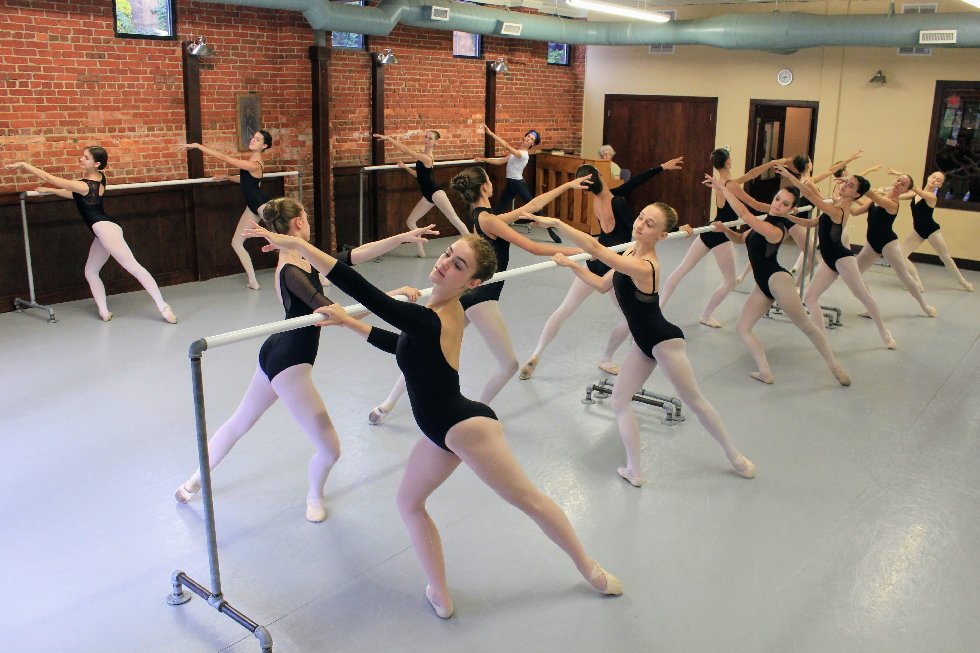 Students at the Ballet Conservatory of Asheville look for weekends when auditions overlap in one city. Photo by Blair Chamberlain, Courtesy Ballet Conservatory of Asheville.
Organize, Prioritize
For dancers without the luxury of an audition city nearby, prioritizing which schools to aim for is crucial. How to decide? Research, research, research. (Pointe's "2018 Summer Intensive Guide" is a good place to start.) Emily McDougall, a 14-year-old student at The School of Oklahoma City Ballet who's made several six-hour drives to auditions in Dallas and Kansas City, does some serious investigating in order to narrow down her choices.
Keep reading...
Show less
popular
Oct. 27, 2017 04:49PM EST
Maria Kochetkova, who will perform at the Chicago Auditorium Theatre. Photo by Erik Tomasson, courtesy Auditorium Theatre.
If you'll be in the Chicago area next month, the historic Auditorium Theatre is putting together a one-night-only performance you don't want to miss. The event is in celebration of the 50th anniversary of the theater's reopening in 1967, which featured a performance of George Balanchine's A Midsummer Night's Dream by former New York City Ballet principals Suzanne Farrell and Edward Villella. With Farrell and Villella returning to the theater as guests, the November 12th program will include a mixed repertory performed by dancers from companies including American Ballet Theatre, New York City Ballet, The Joffrey Ballet, The Washington Ballet, The Suzanne Farrell Ballet, Vienna State Ballet and Dutch National Ballet.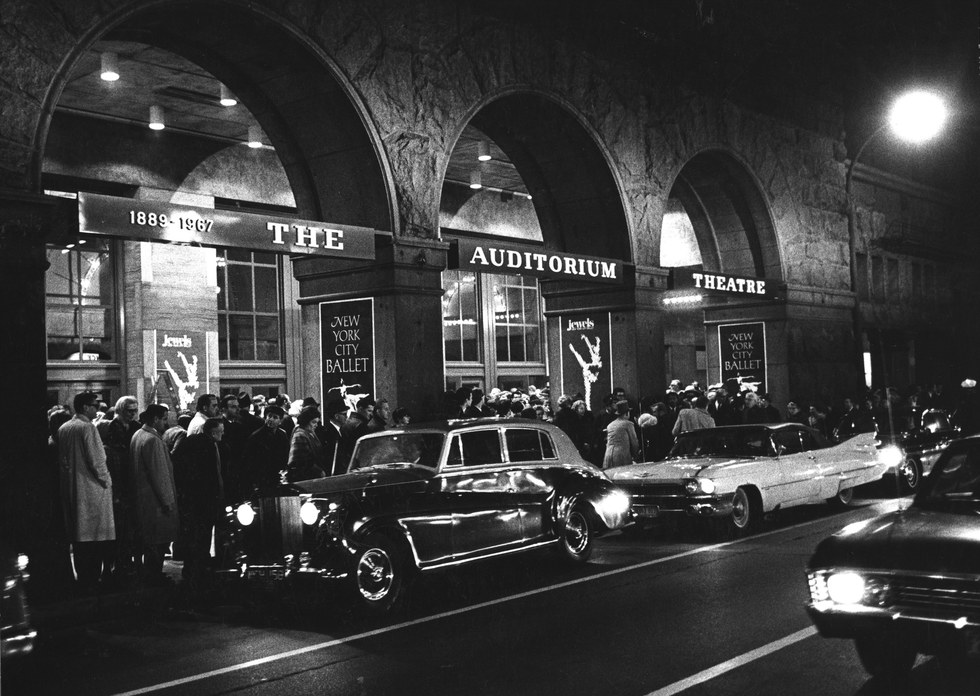 The Auditorium Theatre in Chicago from its 1967 opening. Photo by Richard Nickel, courtesy Auditorium Theatre.
Keep reading...
Show less
popular
Oct. 16, 2017 05:26PM EST
Houston Ballet's Jared Matthews and Sara Webb in"The Sleeping Beauty." Photo by Amitava Sarkar, Courtesy Houston Ballet.
Despite the devastation and pain that Hurricanes Harvey and Irma have left in their wake this fall, it's been encouraging to see dancers step up in aid of their communities: When the future of Houston Ballet's Nutcracker seemed uncertain, venues around the city pulled together to allow the company to produce the show on a "hometown tour." And when Florida ballet companies had to evacuate, Atlanta Ballet and Charlotte Ballet welcomed them with open arms. In addition, New York City-based studio Broadway Dance Center offered community classes in September with proceeds donated to the American Red Cross.
The next in this series of good deeds is Hearts for Houston, a benefit performance bringing dancers from seven major companies together at New York City's Alvin Ailey Citigroup Theater to raise money for the United Way of Greater Houston's Harvey Relief Fund. Scheduled for Sunday, October 22, the evening will feature members of the Houston Ballet, American Ballet Theatre, New York City Ballet, Pennsylvania Ballet, Texas Ballet Theater, The Washington Ballet and Alvin Ailey American Dance Theater. Hearts for Houston is imagined and produced by Houston Ballet principal dancers Yuriko Kajiya and Jared Matthews (both formerly of ABT) and funded by patrons Phoebe and Bobby Tudor and sponsor Neiman Marcus.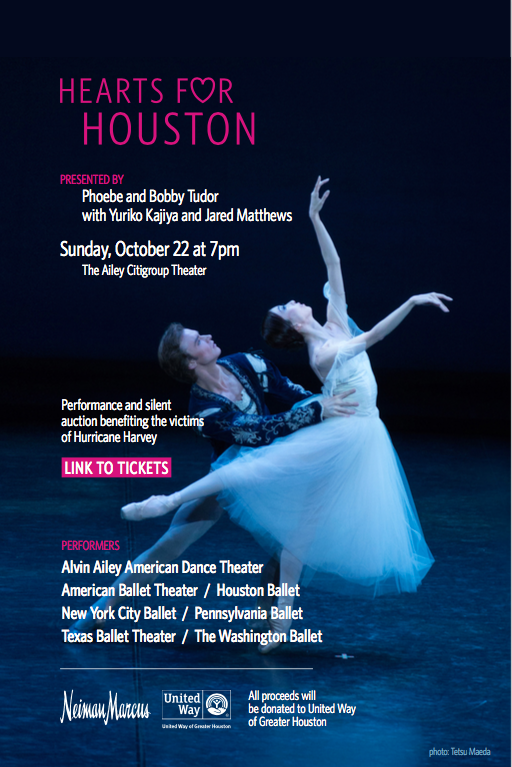 Keep reading...
Show less
Arthur Mitchell. Photo by Eileen Barroso, Courtesy Columbia University.
When American Ballet Theatre soloist Calvin Royal III and New York City Ballet soloist Unity Phelan burst into the opening diagonal of George Balanchine's Agon on Monday, they had reason to be nervous. Sitting in the downstage corner of Columbia University's Miller Theater—precisely where they'd need to spot their pencil turns—was Arthur Mitchell, the Dance Theater of Harlem co-founder and longtime director who originated the male role at NYCB in 1957. It was a rare and exciting moment of the future meeting the past. (Royal later described the experience as "surreal.") The two dancers, who had been coached by former NYCB principal Heather Watts, gave an electric and intense performance. Afterwards, Mitchell turned to the audience from his blue leather chair and smiled. "I would say it's in good hands."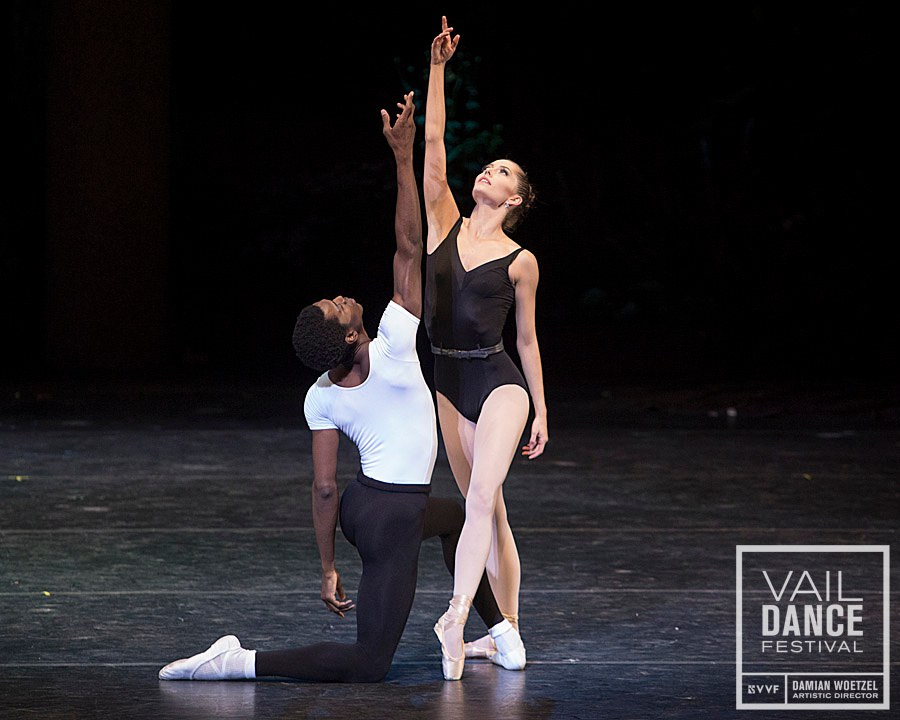 Royal III and Phelan performing "Agon" during the Vail Dance Festival. Photo by Erin Baiano, Courtesy Vail Dance Festival.
Their appearance was part of "An Informal Performance on the Art of Dance," an evening directed by Mitchell to celebrate both his legacy and the Arthur Mitchell archive at Columbia's Rare Book and Manuscript Library. (The first exhibition featuring Mitchell's donated archives will be on display at Columbia's Wallach Art Gallery January 13–March 11, 2018.) A slew of guest artists came together for the program, which included works by Balanchine, Alvin Ailey and Mitchell himself (including his South African Suite and Rythmetron).
Keep reading...
Show less
Photo by Jayme Thornton for Dance Magazine
For former American Ballet Theatre star Julie Kent, this has not only been her first year at The Washington Ballet, but her first year as an artistic director. How has it been going? We caught up with her during the company's run at the Jacob's Pillow Dance Festival last week, its first visit since 1980. "It's a big change," says Kent. "There have been some exciting, wonderful aspects of that change—feeling embraced and excited—and the community is really eager to see what the next chapter for The Washington Ballet is."
"[It's also] my first year in a creative environment with a different group of people than American Ballet Theatre," she continues. This move away from ABT, where Kent was a dancer for 29 years, appears to have been a bigger transition for her than assuming the directorship. Kent, who had been adamant on her retirement from the company that she did not want to leave New York City, surprised all by moving her whole family to Washington, D.C., an area where she had grown up but had not lived in since the age of 16. Her husband, former ABT dancer and associate artistic director Victor Barbee has also joined TWB as associate artistic director, supporting his wife in this new endeavor.
Keep reading...
Show less
popular
Jul. 31, 2017 06:40PM EST
Photo by Chava Lansky, Courtesy of the American Ballet Theatre Archive at the Library of Congress.
Who says dancers don't eat?
In 1979, the corps of American Ballet Theatre went on strike in a fight to increase their wages (starting corps members made a measly $235 a week). "We're underpaid and overworked" said soloist Rebecca Wright in a People magazine article from the time. Though the nearly two-month long labor dispute ultimately gave dancers a 40 percent wage increase and better benefits, the months without work left dancers tightening their belts even further to make ends meet. Their solution? A benefit performance and auction organized by Gelsey Kirkland starring Natalia Makarova and former NYCB dancer Edward Villella, stars who spoke out on behalf of the corps. The benefit brought in $10,000. One of the items auctioned off was Ballet Theatre Belly-Busters, a cookbook compiled by the dancers of their favorite recipes, complete with a hand-drawn cover.
We got our hands on one of these original copies, and were surprised to see what an eclectic mix of delicacies the book contained, from hometown favorites to ballet-themed baked goods.
Keep reading...
Show less
Views
Mar. 02, 2017 05:17PM EST
ent as Giselle, photo by Marty Sohl.
For those who have eagerly followed Julie Kent's illustrious career, all eyes turned to DC when she took the job as The Washington Ballet's new artistic director. This week, audiences are getting a taste of what the company looks like under her leadership, as the spring season begins.
Kent chose to kick off her inaugural season with a restaging of Giselle—a ballet she knows all too well. She danced the role countless times as one of American Ballet Theatre's star ballerinas, and her mastery is evident in this clip of herself and Vladimir Malakhov in performance.
In the Act I scene, Kent captures her character's playfulness, vulnerability and youthful innocence, bringing a sweet and delicate touch to the choreography. Watch the nuances in her facial expression when she lets Albrecht take a seat next to her at 2:20, smiling in anticipation and nervousness as he gets closer, before shyly springing away at the last second. The two barely touch, but the chemistry between them is revealed. As Albrecht, Malakhov gives away his regal background in subtle movements, like the way he carries himself as he walks across the stage.
Malakhov has also dabbled in both dancing and directing: He was a principal at ABT, and directed Staatsballett Berlin until 2014. As for Kent, she's already bringing her invaluable expertise to her new role. Check out this behind-the-scenes clip of rehearsal to glimpse what it was like in the studio as she coached TWB's dancers:
Photo by Jim Lafferty for Pointe.
There's one accessory Brittany Stone doesn't leave home without: her headphones. "I'm always listening to music, usually something from the '90s," she says. "It just makes your day better, especially in the morning when you don't really want to get up and take class." Her playlist is full of "good walking music"—upbeat songs that get her moving and motivated. The rest of her street style is characterized by cozy standbys: T-shirts and jeans, white sweaters, overalls and her favorite shoes, Dr. Martens. "They're basically my staple," she says. "I have three pairs. I wear them all the time, especially in the winter."
In dancewear, Stone's priority is seeing her lines. "My style in the studio is very simple, very classic. I almost always wear pink tights," she says. For essentials like toe pads and tights, she turns to Discount Dance Supply: "A lot of times the girls in the company will coordinate when we need stuff and make a big order, because the shipping's cheaper." Outside the studio, too, Stone notes, shopping is a great way to bond with new friends—something she's been doing a lot of since transitioning from Boston Ballet to The Washington Ballet last fall. "Everyone in the company is so nice and welcoming. It's been really good," she says.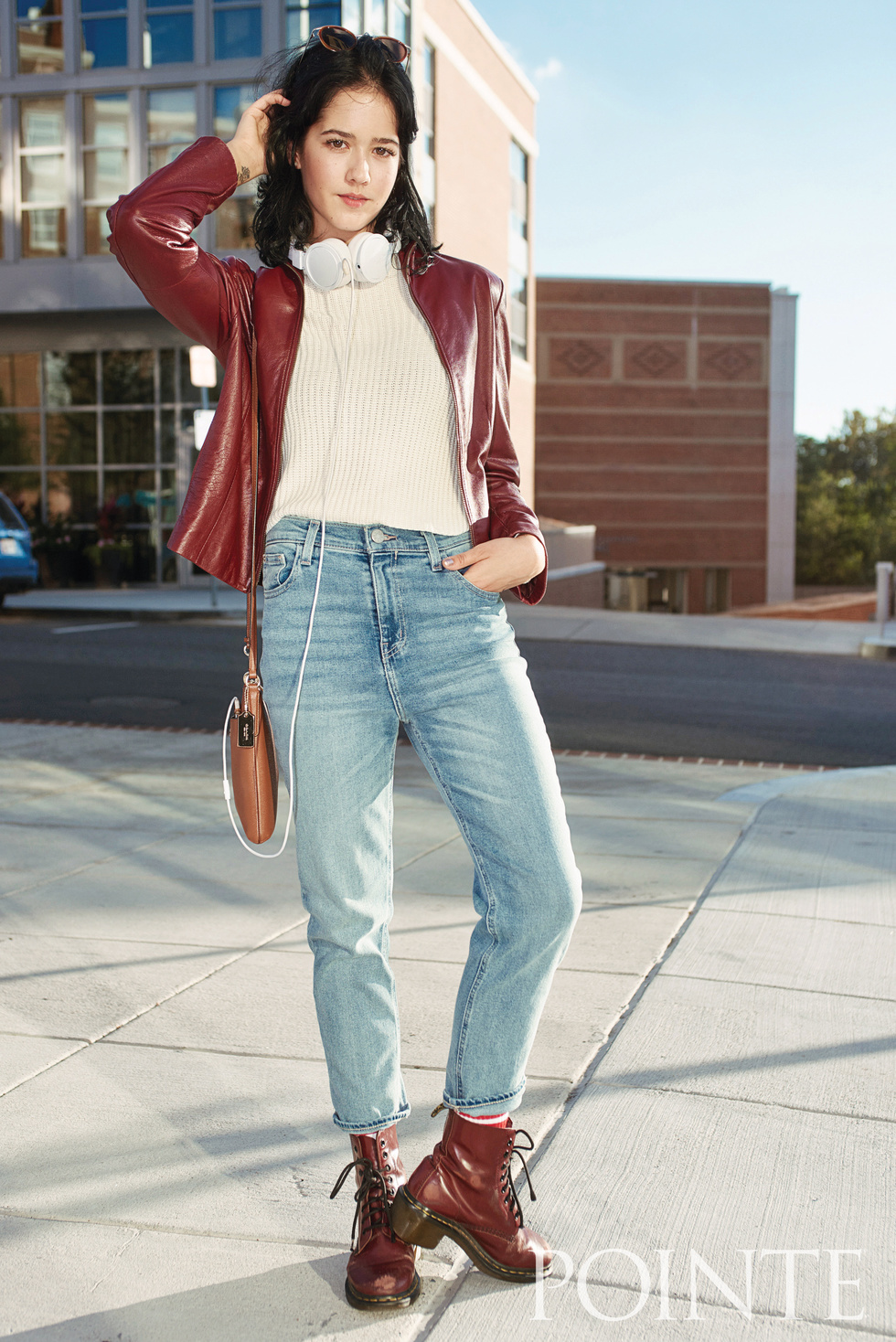 Photo by Jim Lafferty for Pointe.
Keep reading...
Show less
Views
Feb. 22, 2017 05:03PM EST
Ballet dancers have become the go-to for ad campaigns lately—just last month we wrote about PUMA's collaboration with New York City Ballet for the shoe company's "Swan Pack" collection. Now, dancers from The Washington Ballet are getting in on the trend. The company recently teamed up with creative agency Design Army to promote CityCenterDC, the city's newest shopping district. In a wacky, retro–inspired video, the dancers (led by the dashing Daniel Roberge) shimmy, shake and pony step their way through the DC streets.
The two-minute video, choreographed by former TWB artistic director Septime Webre, is part Austin Powers, part West Side Story, with dancers leaping through the shopping complex in colorful street clothes and sneakers. According to the agency, the campaign's tag line, "District of Joy," aims to bring positive morale back to the nation's capital, an area bombarded with daily political upheaval. That may be a tall order for an ad campaign, but these dancers certainly look like they're having fun.
TWB dancers in CityCenter DC's "District of Joy" ad campaign. Photo courtesy CityCenter DC.
For more news on all things ballet, don't miss a single issue.
News
Oct. 25, 2016 04:26PM EST
Photo by Stephen A'Court
Former American Ballet Theatre star Ethan Stiefel will choreograph a new work to complete The Washington Ballet's triple bill in late May. When we first heard about artistic director Julie Kent's 2017 programming, we wondered which choreographer would join the bill alongside Frederick Ashton's The Dream and Antony Tudor's Jardin aux Lilas.
The Washington Post reports that Stiefel's ballet will take inspiration from John F. Kennedy's investment in the U.S. space program and will feature a commissioned score by composer Adam Crystal. The ballet, with the working title Frontier, is set to coincide with the president's centennial.
Keep reading...
Show less
News
Jul. 13, 2016 03:48PM EST
The Washington Ballet, newly helmed by former American Ballet Theatre star Julie Kent, continues to attract top talent. Former Dance Theatre of Harlem member Ashley Murphy joined the company last August (prior to Kent's arrival). Brittany Stone, previously a Boston Ballet corps member, recently came on board. Now Eun Won Lee, a former principal dancer with Korean National Ballet, will join the company.
Although Lee's name might not be familiar to Western audiences, she's a product of rigorous training at the Korean National University of Arts. Lee earned numerous artistic distinctions during her tenure at Korean National Ballet, including The Korea Ballet Association's Prima Ballerina Award. Her competition background is equally notable and includes a Junior Bronze Medal from the Varna International Ballet Competition.
Hye Ju Go, Seung Won Shin and Eun Won Lee in Korean National Ballet's Swan Lake (photo by Sunkyung Reina Jang)
The Washington Ballet has historically performed an eclectic mix of work by of-the-moment choreographers (like Trey McIntyre, Edwaard Liang, David Dawson and Nicolo Fonte), Balanchine ballets and smaller-scale classics (for example, one-act ballets by Antony Tudor and Jerome Robbins). Kent's season announcement, which includes work by William Forsythe and Twyla Tharp, will also introduce choreography by Justin Peck, Frederick Ashton and Alexei Ratmansky to the company. It will be interesting to see if Kent's ABT touch prioritizes classics, and how the members of the non-hierarchical company will be cast in upcoming productions. Dancers used to principal roles, like Murphy and Lee, may be pushed in new directions, while previously lower-ranked dancers like Stone may have new opportunities.
For more news on all things ballet, don't miss a single issue.
News
May. 24, 2016 06:29PM EST
(Brittany Stone, shot for our June/July 2013 cover, photo by Nathan Sayers)
Things are changing at The Washington Ballet! Former American Ballet Theatre star Julie Kent was appointed as the new artistic director in March, and she released a statement during the company's press conference today detailing her first season of programming—which coincides with the company's 40th anniversary. It's a fairly standard mix, though the arrangement suggests a dancer's sensitivity to what might be enjoyable and informative to rehearse and perform at the same time. The season also reflects the expertise she gained as an ABT principal, dancing the company's rich repertoire of classical choreography.
(Photo by Jesse Dittmar/The Washington Post)
The season opens in March, 2017 with Giselle, and then continues into a mixed bill of Jiří Kylián's Petite Mort, Justin Peck's In Creases (a company premiere) and William Forsythe's In the Middle, Somewhat Elevated. In late April, the TWB will dance George Balanchine's Allegro Brillante, Twyla Tharp's Nine Sinatra Songs and Alexei Ratmansky's Seven Sonatas (also a company premiere). In late May, the company will perform Antony Tudor's Jardin aux Lilas, Frederick Ashton's The Dream and a to-be-determined world premiere. We're very curious to find out who Kent chooses to complete such a dazzlingly subtle program, especially since most contemporary ballet choreographers deal in extremes.
New dancers include Boston Ballet's Brittany Stone, Cuban-trained Rolando Sarabia, ABT Studio Company member Adelaide Clauss, who will join as an apprentice, and Stephen Nakagawa, who was promoted from the TWB trainee program to Studio Company member.
Views
May. 04, 2016 12:55PM EST
Sona Kharatian. Photo by Theo Kossenas, Courtesy The Washington Ballet
Two beloved icons, David Bowie and Queen, are the inspiration behind The Washington Ballet's latest program. As expected, the double bill features a rocking soundtrack, and it will be a spirited send-off to outgoing artistic director Septime Webre. Pointespoke with TWB dancer Sona Kharatian about the company premieres of Trey McIntyre's Mercury Half-Life and Edwaard Liang's Dancing In the Street.
What's Edwaard Liang like in the studio?
Amazing. He's a very sensitive and spiritual person, so he creates this nurturing atmosphere where you feel like you can be vulnerable and explore things without feeling stupid or insecure. And his partnering choreography is incredible.
These works are a departure from classical ballet. Do you feed off that or is it a challenge?
We do a little bit of everything at The Washington Ballet. I'm just happy that this is the last big program of the season, so we can really dive in and be grounded because we do use different muscles. Trey's ballet, for example, is very, very athletic. We're basically busting it out for 50 minutes.
Tell me about the tap sections in Mercury Half-Life.
We're lucky we have a tapper in the company, Daniel Roberge. It was a nice surprise to see one of my colleagues in a new light. Some of the girls, myself included, do backup dances with him--I'd never tapped in my life! We had a lady come in and teach some of the basic steps. I'm still working on them, but it's fun.
Since David Bowie passed away earlier this year, does the piece take on any extra meaning?
What timing. It's unfortunate about his passing, but I'm happy we're doing it. I feel like I will be giving a tribute, and I'm sure other dancers feel the same way. I grew up listening to Bowie and Queen, so it's pretty special.
Want to see the show on 

May 13

? Click here to enter our ticket giveaway!
For more news on all things ballet, don't miss a single issue.
BalletX's Caili Quan found value in her early years of career building. Photo by Alexander Izilaev, Courtesy BalletX.
After two years as a trainee and then one as a second company member at Orlando Ballet, 22-year-old Aurélio Guimarães wasn't able to audition much due to an injury. When The Washington Ballet offered him another traineeship, Guimarães debated what to do. He would ultimately be embarking on a fourth year of doing professional work without a livable salary or title. "It was absolutely a hard decision," Guimarães reflects. "But I also had to consider the work that I would be doing." Knowing his traineeship would entail close work with the artistic director, he essentially took a demotion, with the hope that starting over in Washington would yield a paid contract at the end of the year.
In the past, it was common for a year or two of apprenticeship to lead directly to a corps contract. But today's ballet world involves more no- to low-paying rungs at the bottom of the ladder. Many companies now have three gatekeepers: trainee programs that are often the top level of the school and involve corps work with the company; second companies that work independently as well as more intimately with the main company; and apprenticeships, the most entry-level rank inside the professional hierarchy.
Keep reading...
Show less
News
Mar. 08, 2016 04:44PM EST
Julie Kent, who recently retired after an illustrious career with American Ballet Theatre, is the new artistic director of The Washington Ballet. She will assume her position on July 1 and is currently serving as the artistic director of ABT's summer intensive. As artistic director, her duties will include overseeing the school, the main company and its trainee program, and community outreach.
Kent in Ashton's A Month in the Country (photo by Marty Sohl)
Kent's life in ballet includes 29 years at ABT, multiple awards (inlcuding the Erik Bruhn Prize and an honorary doctorate of performing arts from North Carolina School of the Arts) and international appearances. But before all that, Kent trained at the Academy of the Maryland Youth Ballet. Her return to the D.C. area brings her career full-circle.
Her husband and current ABT associate artistic director Victor Barbee will join her at TWB as the company's associate artistic director. Their combined experience and fresh perspectives are sure to bring exciting changes to TWB.
For more news on all things ballet, don't miss a single issue.
News
Feb. 08, 2016 03:56PM EST
Septime Webre, photo by Dean Alexander courtesy of The Washington Ballet.
From Paris to Washington, D.C., there seems to be something in the air affecting ballet directors. On the heels of Benjamin Millepied's startling resignation announcement last week, The Washington Ballet has disclosed the impending departure of Septime Webre; the company's longtime artistic director will step down at the end of the season. "My current contract expires in June," Webre says, "it felt like a 'now or never' moment to take this bold step."
Webre's tenure has left a lasting impact on The Washington Ballet and the city's arts scene. Since taking the helm in 1999, he has increased TWB's budget nearly six fold, expanded the school (which now trains over 1400 students), increased the organization's community outreach, added many works of his own to TWB's repertoire and brought in a number of guest artists. The company has yet to find a replacement director.
TWB dancers in Webre's Alice (in wonderland). Photo by Theo Kossenas courtesy of TWB and Media 4 Artists.
Looking forward, Webre says, "I have been itching to get back to my core skill set: creating new work, coaching and mentoring young dancers and choreographers and advocating for the art of ballet." In addition to new creative endeavors, he plans to stage his ballets for other companies. Already, Webre's Alice (in Wonderland) has appeared in repertoires from Kansas City to Cincinnati.
Companies in Italy and Russia, too, are seeing big changes. Milan's La Scala Ballet announced that choreographer Mauro Bigonzetti will replace Makhar Vasiev, who heads to Moscow in March to lead the Bolshoi Ballet. Bigonzetti was the artistic director of the Italian contemporary ballet company Aterballetto from 1997 to 2008, and he has choreographed for companies like New York City Ballet and Stuttgart Ballet. Given his contemporary background, Bigonzetti's appointment at the large and traditionally classical La Scala has raised some eyebrows.
We'll be keeping our eyes on how the flurry of new directorships develops this year. For more news on all things ballet, don't miss a single issue.
Septime Weber interviewed about his Alice at KCB:
A clip of Bigonzetti's Vespro for New York City Ballet: http://www.nycballet.com/ballets/v/vespro.aspx
La Scala Ballet dancers in Bigonzetti's Cinderella. Photo by Marco Brescia and Rudy Amisano courtesy of Teatro alla Scala.