The Royal Ballet's Vadim Muntagirov and Marianela Nuñez in La Bayadère. Photo by Bill Cooper, Courtesy ROH.
Do you ever wish you could teleport to London and casually stroll into The Royal Opera House to see some of the world's best-loved ballets? Well, we have a solution for you: The Royal Ballet's 2018-19 cinema season.
Whether live or recorded, the seven ballet programs listed below, streaming now through next October, will deliver all of the magic that The Royal Ballet has to offer straight to your local movie theater. Can you smell the popcorn already?
Keep reading...
Show less
The Royal Ballet principal has joined the cast of Universal Pictures and Working Title's film adaptation of the Andrew Lloyd Webber musical Cats. Photo by Nathan Sayers.
The Royal Ballet's Francesca Hayward is no stranger to collaborations outside of the dance world. The principal ballerina has modeled for Vogue (on more than one occasion), created her own clothing line with Lululemon, and up next, she'll star in the film adaptation of the Andrew Lloyd Webber musical, Cats.
Keep reading...
Show less
Just for fun
Oct. 26, 2018 05:23PM EST
Royal Winnipeg Ballet revived Lila York's adaptation of Margaret Atwood's The Handmaid's Tale earlier this month. Photo by David Cooper, Courtesy RWB
When American Ballet Theatre announced yesterday that it would be adding Jane Eyre to its stable of narrative full-lengths, the English nerds in the DM offices (read: most of us) got pretty excited. Cathy Marston's adaptation of Charlotte Brontë's classic novel was created for England's Northern Ballet in 2016, and, based on the clips that have made their way online, it seems like a perfect fit for ABT's Met Opera season.

It also got us thinking about what other classic novels we'd love to see adapted into ballets—but then we realized just how many there already are. From Russian epics to beloved children's books, here are 10 of our favorites that have already made the leap from page to stage. (Special shoutout to Northern Ballet, the undisputed MVP of turning literature into live performance.)
---
Northern Ballet in David Nixon's The Great Gatsby (F. Scott Fitzgerald)
Star-crossed lovers? Check. Wild party scenes? Check. The 1920s aesthetic is just bonus.
Dutch National Ballet in John Cranko's Onegin (Alexander Pushkin)
It's a novel in verse, but it still counts! Cranko's pas de deux work vividly paints the emotional turmoil of Pushkin's characters, such as this sequence in which Tatiana imagines being loved by the haughty Onegin.
The Royal Ballet in Liam Scarlett's Frankenstein (Mary Shelley)
It's spooky, it's sensational, it's a deep meditation on the nature of humanity—oh, and it's alive.
Northern Ballet in David Nixon's The Three Musketeers (Alexandre Dumas)
All for one and one for all! (And we're all in for this epic fight choreography the dancers took to a famous Abbey in their hometown of Leeds, England.)
Charlotte Ballet in Sasha Janes' Wuthering Heights (Emily Brontë)
The Brontë sisters had a knack for writing complex, tempestuous relationships—great fodder for pas de deux like this one.
The Washington Ballet in Septime Webre's Peter Pan (J. M. Barrie)
Sword-fighting, pirates, pixie dust and a ticking crocodile? This one simply flies off the page.
Hamburg Ballet in John Neumeier's Anna Karenina (Leo Tolstoy)
Some would argue that Tolstoy's epic is the greatest literature ever written, but you can't argue with the fact that the titular heroine is a deliciously complex character to tackle.
The Royal Ballet in Christopher Wheeldon's Alice's Adventures in Wonderland (Lewis Carroll)
Why is a raven like a writing desk? We still might not know the answer to Carroll's riddle, but we do know that Wheeldon's blockbuster production is so full of incredible moments (like Steven McRae stealing the show as a tap-dancing Mad Hatter) that we had trouble narrowing it down.
Atlanta Ballet in Michael Pink's Dracula (Bram Stoker)
There's a reason it seemed at one point like every ballet company in America had a production of Dracula in its repertoire.
Northern Ballet in Jonathan Watkins' 1984 (George Orwell)
Just in case the dystopian nightmare conjured by Orwell wasn't vivid enough in your own imagination.
Trending
Oct. 05, 2018 03:58PM EST
Francesca Hayward wears her Lululemon Principal Dancer Golden Lining Bralette and Golden Lining Leggings. Photo via Lululemon
Officially joining the ranks of ballerinas-turned-designers is The Royal Ballet principal dancer Francesca Hayward. Working with Canadian activewear brand Lululemon (whose leggings earned them a cult following), Hayward will be releasing a limited-edition collection on October 9.
"The feel, it's amazing against my skin; the way it fits my body, the position that everything sits at has been especially designed between us," Hayward told ELLE UK. "And I love the colors, too. That was my problem with dancewear before, it wasn't that the fabrics didn't feel good but they just weren't me. They were pink and flowery, and so stereotypical. I just think let's move forward and not be so old fashioned. I don't need to be a pink ballerina," she said.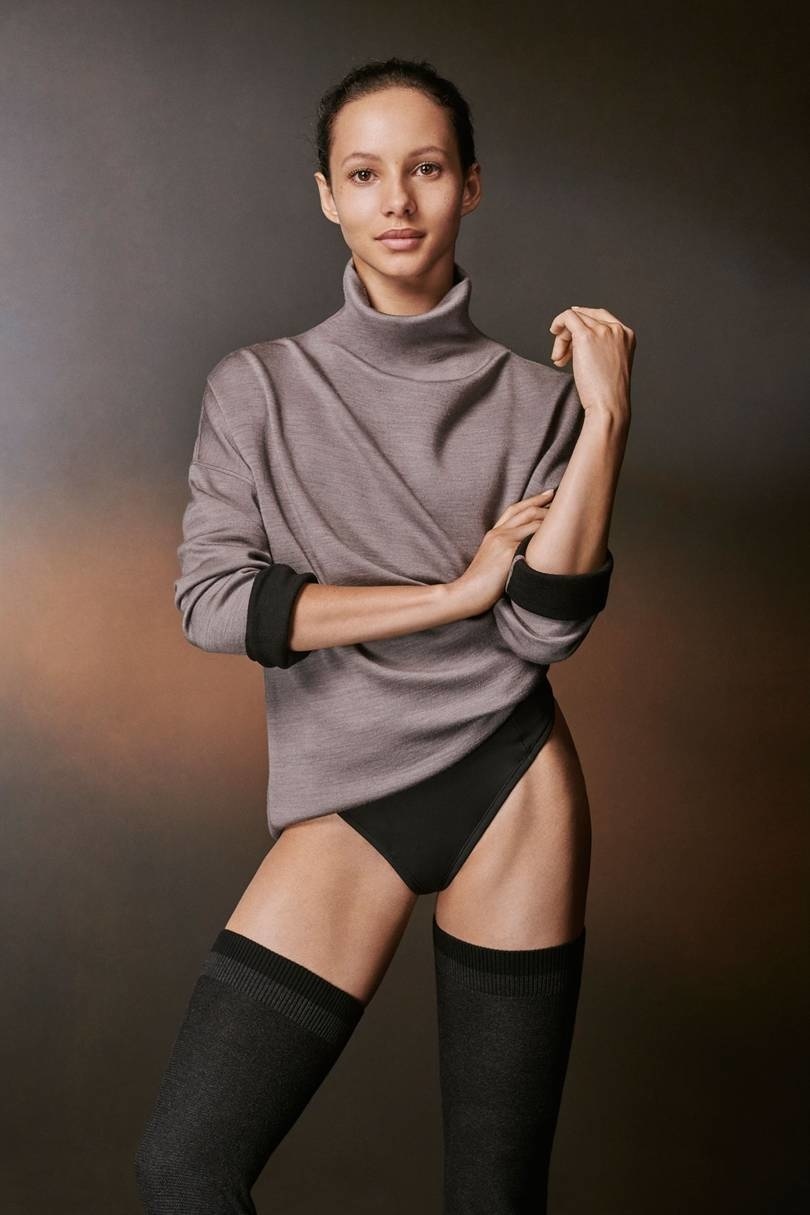 Hayward in her Lululemon collection Principal Dancer Funnel Neck Sweater. Photo via Lululemon.
Keep reading...
Show less
Trending
Oct. 04, 2018 04:07PM EST
San Francisco Ballet in class during World Ballet Day 2016. Photo Courtesy SFB.
Here at Pointe, every day feels like World Ballet Day, though the official 2018 event took place on Tuesday. While WBD is a thrill for any bunhead, it can also be overwhelming. How are you supposed to sit in front of your computer all day when you have class and rehearsal and work and a life? We get it, and we're here to help.
To give you a chance to catch up, we've rounded up WBD videos from 26 companies. So grab some popcorn, a backlog of pointe shoes to sew, and settle in. If you start watching now, you might just be done in time for WBD 2019.
Keep reading...
Show less
Rudolf Nureyev and Margot Fonteyn in "Les Sylphides," via YouTube
When Rudolf Nureyev and Margot Fonteyn began dancing together in the early 1960s, they made an unexpected pair—he was a young, hot-tempered Soviet defector and she was a distinguished prima of The Royal Ballet, 19 years his senior. Yet their partnership (which lasted almost two decades) became one of the most famous in all of ballet. Nureyev said in a documentary about Fonteyn that they danced with "one body, one soul." That connection is evident here in their performance of Michel Fokine's Romantic-style ballet Les Sylphides from a 1963 film.
Keep reading...
Show less
Irek Mukhhamedov and Viviana Durante in "Manon." Image via YouTube.
Sir Kenneth MacMilllan's ballet Manon tells the story of ill-fated lovers Manon and des Grieux, who are torn between worlds of wealth and opulence and the stark misery of poverty. While the characters' circumstances are bleak, their love is the powerful and redeeming force that carries the ballet. In this clip, The Royal Ballet's Viviana Durante and Irek Mukhamedov bring the characters' passion to the forefront. The powerhouse duo, who danced together throughout the 1990s, were renown for their dramatic prowess; their Act III pas de deux in Manon is an exquisite display of raw emotion and refined technique.
Keep reading...
Show less
Just for fun
Aug. 08, 2018 04:43PM EST
Misty Copeland as the Ballerina Princess in The Nutcracker and the Four Realms. Photo Courtesy Disney.
It's August—the sun is shining, summer intensives are winding down, and Nutcracker seems very far away. But this new trailer for Disney's The Nutcracker and the Four Realms is already getting us in the holiday mood. While this modern take on classic holiday story, in theaters November 2, is not a dance film, it does include mega-stars Misty Copeland and Sergei Polunin as the Ballerina Princess and Nutcracker Prince.

Keep reading...
Show less
News
Aug. 08, 2018 04:43PM EST
Misty Copeland as the Ballerina Princess in The Nutcracker and the Four Realms. Photo Courtesy Disney.
It's August—the sun is shining, summer intensives are winding down, and Nutcracker seems very far away. But this new trailer for Disney's The Nutcracker and the Four Realms is already getting us in the holiday mood. While this modern take on the classic holiday story, in theaters November 2, is not a dance film, it does include mega-stars Misty Copeland and Sergei Polunin as the Ballerina Princess and Nutcracker Prince.

Keep reading...
Show less
News
Aug. 07, 2018 01:37PM EST
Natalia Osipova as Isadora with Emily Anderson as Terpsichore. Photo by Doug Gifford, Courtesy Segerstrom Center for the Arts.
Since stepping down as a Bolshoi Ballet principal in 2011, prima ballerina Natalia Osipova, now a principal with The Royal Ballet, has been on a quest to express her own artistic voice. This month she takes another stride on that path by starring in ISADORA, an evening-length narrative work about Isadora Duncan that premieres August 10–12 at the Segerstrom Center for the Arts in Costa Mesa, California.
Keep reading...
Show less
Photo via Instagram.
When you spend as much time on the road as The Royal Ballet's Steven McRae, getting access to a proper gym can be a hassle. To stay fit, the Australian-born principal turns to calisthenics—the old-school art of developing aerobic ability and strength with little to no equipment.
"It's basically just using your own body weight," McRae explains. "In terms of partnering, I'm not going to dance with a ballerina who is bigger than me, so if I can sustain my own body weight, then in my head I should be fine."
Today, McRae shares videos of his workouts on social media (where he has approximately 150,000 Instagram followers). They are often shot in his dressing room, with a chair as the only prop while he does développés from an arched handstand, for instance—a feat of upper-body strength and flexibility.
"I think people are genuinely intrigued and interested in what we do: I get lovely comments offering suggestions to alter the exercise."
Leanne Benjamin and Luke Heydon in "Coppélia," via YouTube.
Dancing with The Royal Ballet from 1992 until 2013, former principal Leanne Benjamin tackled just about every role in the classical gamut, from Juliet to Nikiya to Giselle. As the young and spirited Swanilda in this clip from Coppélia, Benjamin reveals that she has equal talent for the silly as the serious. Her comedic performance in Swanilda's doll dance is this role at its best.
In an effort to trick the scheming Dr. Coppelius and save her beloved Franz, Swanilda pretends she is the doll Coppélia come to life. As she begins to dance, Benjamin is stiff and mechanical one moment and then flopped over like a rag doll the next. Dr. Coppelius, played by character artist Luke Heydon, watches her enthralled and Benjamin's gaze is fixed in a plastic stare. But when the toymaker looks away, Benjamin's Swanilda breaks doll character and frantically tries to figure out an escape. Feebly, Dr. Coppelius tries to keep up with her. Although we feel some sympathy for the delusional old toymaker, we can't help laughing at Swanilda's antics. And that slap at 1:55? Gets us every time. Happy #ThrowbackThursday!

Cuthbertson and Federico Bonelli as Alice and Jack/the Knave of Hearts. Photo by Andrej Uspenski, Courtesy ROH.
As told to Laura Cappelle.

I knew before Christopher Wheeldon even started Alice's Adventures in Wonderland that he wanted me to create the title role. We made Alice together. We feel like she is our girl! She's charming, witty, tough, curious. She's got a very big heart. She's also spontaneous, which helps the show, because you don't have to be calculated the whole time. You can bounce off the characters you come across, because everyone plays them slightly differently.
Keep reading...
Show less
Still via YouTube.
We love seeing dancers pop up in mainstream media, and Royal Ballet principal Francesca Hayward just made the ultimate crossover in British Vogue's "Five Favourite Objects" series. Naturally, most of Hayward's picks are ballet-related (she even still has the Nutcracker VHS her grandparents gave her at three years old!). In between clips of Hayward practicing in the studio, she shares the importance behind each favorite thing, from the obligatory rehearsal tutu and pointe shoes to the less-expected stuffed animal she never travels without.
McNally and Marcelino Sambé in Crystal Pite's harrowing "Flight Pattern." Photo by Tristram Kenton, Courtesy ROH.
Kristen McNally has long been one of the most versatile dramatic talents at The Royal Ballet. Since joining the company in 2002, the Liverpool-born dancer has carved a niche for herself by excelling at both character and contemporary roles, from Carabosse and the Queen in The Sleeping Beauty to work by Javier de Frutos or Hofesh Shechter.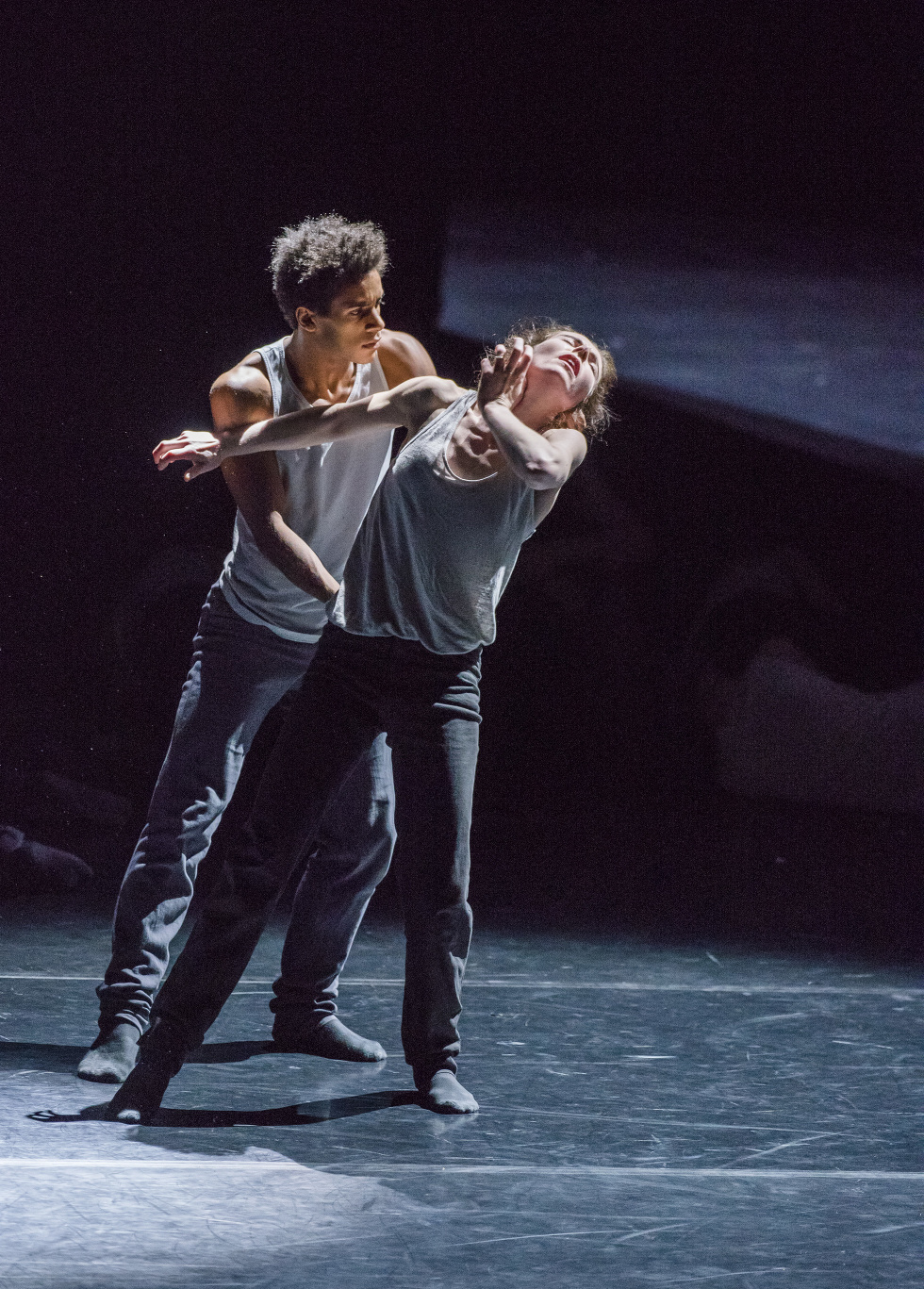 Photo by Tristram Kenton, Courtesy ROH.
Keep reading...
Show less
New York City Ballet's famous growing tree. Photo by Paul Kolnik, Courtesy NYCB.
Literary Roots

E.T.A. Hoffmann, a German writer, penned the eerie and dark tale "Nutcracker and Mouse King" in 1816. About 30 years later, the French writer Alexandre Dumas took the Nutcracker story into his own hands, lightening things up and softening the character descriptions. Dumas even cheered up the name of the protagonist. "Marie Stahlbaum" (meaning "steel tree," representing the repressive family Marie found herself in, which led her imagination to run wild) became "Clara Silberhaus" (translated to "silver house," a magnificent home filled with shiny magic.)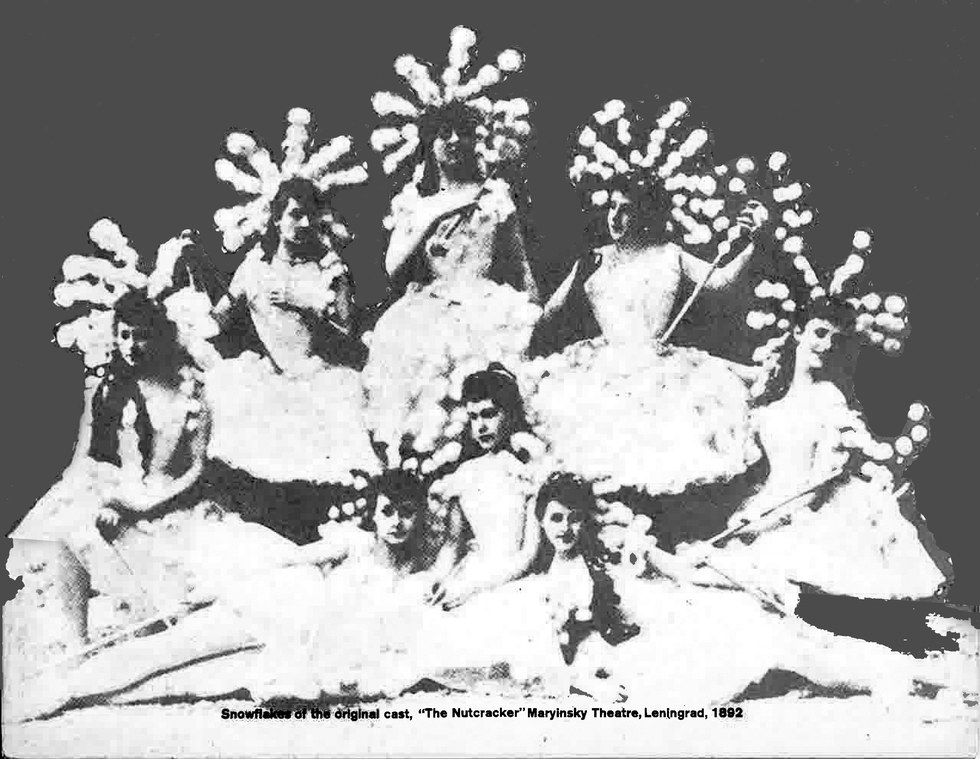 Snowflakes of the original cast, "The Nutcracker" at the Mariinsky Theatre, 1892. Photo by Walter E. Owen, Courtesy Dance Magazine Archives.
From Page to Stage
In 1892 St. Petersburg, choreographer Marius Petipa and composer Pyotr Ilyich Tchaikovsky pulled the story off the page and onto the stage of the Mariinsky Theatre. But Petipa fell ill while choreographing The Nutcracker and handed his duties over to his assistant, Lev Ivanov. Critics at the 1892 premiere were not pleased. Balletomanes felt the work to be uneven, and lamented the lack of a main ballerina in the first act. Many thought that the story was too light compared to historically based stories.
Out of Russia
Despite its initial reception, the ballet survived, partially due to the success of Tchaikovsky's score. Performances were scarce, though, as the Russian Revolution scattered its original dancers. The Nutcracker's first major exposure outside of Russia took place in London in 1934. Former Mariinsky ballet master Nikolas Sergeyev was tasked with staging Petipa's story ballets on the Vic-Wells Ballet (today The Royal Ballet) from the original notation. The notes were incomplete and difficult to read, yet Sergeyev persisted, and The Nutcracker made it to the stage.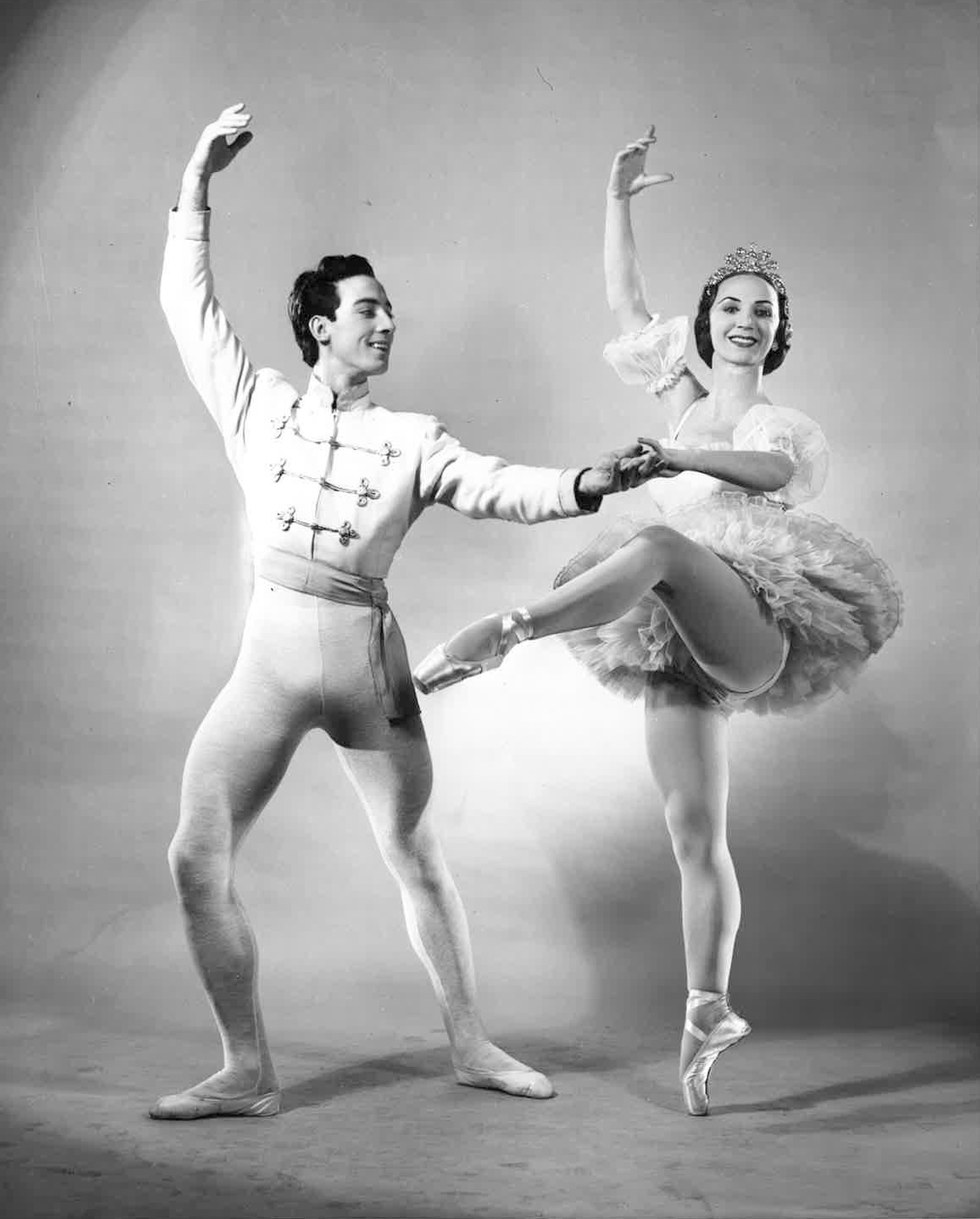 Dancers from ballet Russe de Monte Carlo in "The Nutcracker" pas de deux. Photo Courtesy Dance Magazine Archives.
Keep reading...
Show less
Members of San Francisco Ballet in company class as part of World Ballet Day LIVE 2017. Photo by Erik Tomasson via San Francisco Ballet on Instagram.
Last Thursday was World Ballet Day LIVE, the official 22-hour live-stream relay showcasing companies across the globe. If you were busy (we know that you don't always have the luxury to spend an entire day watching ballet), don't fret. Many of the companies involved recorded their classes, rehearsals and interviews from the day of, and we rounded them up for you to watch at your leisure. Careful, though; there are more than twenty hours of footage included here... make sure you take a break to, you know, sleep.
First up is San Francisco Ballet with a full five hours, including rehearsal for Balanchine's timeless classic, Serenade.
The Royal Ballet's WBD stream is split into three parts. Here's the first chunk, featuring company rehearsals of a few Sir Kenneth MacMillan ballets as well as Christopher Wheeldon's Alice in Wonderland (a measly two hours and 45 minutes). You can find part 2 here and the full company class here. The video also features a quick aerial tour of London from the balcony of the Royal Opera House.
Keep reading...
Show less
Later this month, six dance companies from around the UK will come together to celebrate Sir Kenneth MacMillan's life and works with performances at Covent Garden. As the program highlight, members of five different troupes will perform in the British choreographer's ballet Elite Syncopations. The fanciful and colorful piece set to Scott Joplin's ragtime tunes reveals MacMillan's lighthearted side and delight in the unconventional. In this video, The Royal Ballet's former principal, Darcey Bussell, shows why Elite Syncopations is a favorite among audiences and dancers alike.
Bussell introduces the ballet, followed by clip of her performing a section called "The Bethena Waltz" (1:40) with Gary Avis. The music in this duet has a smooth, loopy quality that the dancers mimic with continuously circulating movement. As Bussell explains in the intro, subtle moments are key–like when Avis emerges from the "scenery" to grab her hand at the start of the duet, or at 3:35 when the dancers undulate through the upper body to resume dance position. These simple details playfully contrast the over the top costumes and wacky lifts. MacMillan also uses extreme extensions to create humor; at 4:12 the dancers are surprised to find Bussell's foot above her head, and when the dancers exit the stage Bussell is flipped over her partner's head in a full split. Of course, she does it all looking sophisticated and elegant, even in a shiny white jumpsuit with two stars printed on her bum. Happy #ThrowbackThursday!

World Ballet Day camera crew at The Australian Ballet. Photo by Kate Longley, Courtesy The Australian Ballet.
For some of us, every day feels like World Ballet Day LIVE. But the official event takes place on Thursday, October 5, with a free 22-hour live-stream relay showcasing The Australian Ballet, Bolshoi Ballet, The Royal Ballet, National Ballet of Canada and San Francisco Ballet. Each will welcome the world into company classes, rehearsals and behind-the-scenes extras.
Keep reading...
Show less
Stella Abrera at the Genée International Ballet Competition in 1995. Photo by Pete Jones, Courtesy Royal Academy of Dance.
On September 7, The Genée International Ballet Competition—the Royal Academy of Dance's flagship event—gets underway in Lisbon, Portugal. Founded in 1931, the Genée recognizes top talent with medals and cash prizes, as well as exposure to company and academy directors. Competitors perform a classical variation, a commissioned piece by an emerging choreographer, and a "Dancer's Own" solo, choreographed by either the competitor, their teacher or a peer.

The 10-day competition, which hosts young dancers trained in the RAD syllabus from around the world, has helped launch the careers of many of today's ballet stars. Just who, exactly? Take a walk down memory lane as we reveal eight familiar faces.
Keep reading...
Show less
Merle Park and Wayne Eagling in "Voices of Spring"
Sir Frederick Ashton first choreographed the Voices of Spring pas de deux on Royal Ballet stars Merle Park and Wayne Eagling in 1977 for a ball scene in Johann Strauss II's operetta Die Fledermaus. The lively duet is a favorite in galas and mixed bills these days, but Park and Eagling's version from this 1983 video is a spectacular, must-see combination of cheek and elegance.
Keep reading...
Show less
Call Board
Aug. 15, 2017 11:04AM EST
Boylston working with choreographer Gemma Bond
With most of American Ballet Theatre's classical repertoire under her belt, principal Isabella Boylston is ready for a new challenge, specifically, launching Ballet Sun Valley, a dance festival with educational outreach in her hometown of Sun Valley, Idaho. "I'm in a place in my career where I can expend a little more creative energy on outside projects," she says. This year, her long-held dream will become reality, with performances on August 22 and 24, and free dance classes on August 23. "Sun Valley has a successful symphony, and a lot of people are interested in the arts," Boylston says. "When I was there three years ago, I realized the Sun Valley Pavilion would be the perfect venue for dance." Hilarie Neely, Boylston's first ballet teacher, put her in touch with a team of executive producers who have assisted with fundraising and technical logistics.
Once Boylston knew the festival was happening, she was faced with the task of creating dynamic programming. "All the dancers I'm inviting are close friends who I've danced with before, and choreographers I have relationships with," she says. Audiences can expect classical repertoire, plus ballets by Justin Peck, Alexei Ratmansky and Pontus Lidberg.
Keep reading...
Show less
Aug. 08, 2017 01:33PM EST
Photo by Emily Gan, Courtesy National Ballet of Canada
If everyone in your ballet class has called out sick on October 5, there's a perfectly good explanation: that's when World Ballet Day LIVE is scheduled to return. In other words, 24 hours of binge-worthy behind-the-scenes footage featuring five of the world's leading ballet companies. Tune in to Facebook Live to watch as The Australian Ballet, Bolshoi Ballet, The Royal Ballet, National Ballet of Canada and San Francisco Ballet take you inside the studio for classes, rehearsals and interviews with your favorite dancers. Details have yet to be released, but we'll be sure to keep you in the loop! In the meantime, mark your calendars, and enjoy some of San Francisco Ballet's highlights from last year's event.
Last week, The Royal Ballet's Zenaida Yanowsky took her final bow at Covent Garden—a stage she called home for 23 years. Beloved by Britain's loyal ballet fans, she captivated audiences throughout her 16 years as a principal dancer. At 5' 9" Yanowsky is regal and striking, breaking the mold of the more traditional, diminutive English ballerina.
Keep reading...
Show less
Lamb with Federico Bonelli in Chroma. Photo by Bill Cooper, courtesy ROH.
In Wayne McGregor's high-octane Chroma, The Royal Ballet's Sarah Lamb finds meditative stillness.
As told to Laura Cappelle
Chroma was the first ballet I worked on with Wayne McGregor, and it was like embarking on a relationship for the first time. There's a heightened energy, an expectation and also the desire to be a vehicle for the choreographer's ideas. The creation process was very easy. Wayne didn't give me any information about my role before we started—he doesn't try to analyze anything before it happens. The whole piece is a painting with people: We're in a monochrome environment, wearing light colors, in a white spot.
The first time I appear onstage is for my pas de deux. It often stands out because it comes after a period of loud, staccato, energetic music, and then there is this calm. It's quiet piano music, very meditative—the composer Joby Talbot's title for this section is "…a yellow disc rising from the sea…" One image that I have in my head is of a pebble being dropped into water, and the circles emanating out from it. There's a stillness, but there is also a continuity of movement, an echo and a reverberation.
Keep reading...
Show less
Views
Mar. 17, 2017 02:58PM EST
We're seeing a lot of Crystal Pite in the ballet world this season—and no one is complaining. Only a few months after debuting a work for the Paris Opéra Ballet, her first creation for The Royal Ballet premiered last night, alongside work by Christopher Wheeldon and David Dawson.
According to The Guardian, the last time a woman choreographed a ballet for the main stage at the Opera House was 18 years ago, and it sounds like this piece pushed limits in other ways too, with its dark and very timely subject matter.
Called Flight Pattern, it features 36 dancers and is set to Henryk Górecki's Symphony of Sorrowful Songs. It takes on the experience of refugees during the current migrant crisis, exploring the pain of displacement and loss.
In our December/January issue, Pite talked about her love of working with classical dancers. But what is it like on the other side of the creation process? In the video above, which was originally livestreamed back in February, Pite and some of the Royal Ballet dancers open up about their experience in the studio. You can also watch Pite coaching them through one section of the piece (this starts about 30 minutes in).
Flight Pattern runs through March 24 at the Royal Opera House.
For more news on all things ballet, don't miss a single issue.
Summer intensive students at the School of American Ballet. Photo by Rosalie O'Conner, Courtesy SAB.
As a young student, Shea McAdoo's classes at the Master Ballet Academy in Scottsdale, Arizona, were "strict, straightforward, very classical and purely Vaganova." She appreciated the Russian rigor and precision, but when she was accepted to the School of American Ballet's summer course at 13, she leapt at the chance to learn something new. The vastly different emphasis on Balanchine technique at SAB was illuminating: "It changed my whole way of thinking about musicality and accents. I'd never known there were so many ways to do a tendu! And the épaulement—I loved how they talked about light hitting your face, tilting your chin to show off your diamond earring."
McAdoo's experience was transformative, even when she returned home. "Of course, I lowered my arms back down in second and didn't cross my wrists," she says, "but there were stylistic choices I brought back with me." Today, as an apprentice with Oregon Ballet Theatre rehearsing Balanchine's Serenade, she credits her ease with the ballet's fluid port de bras to her summer at SAB.
Keep reading...
Show less
Views
Nov. 03, 2016 11:21AM EST
Monica Mason in 1978. Photo by Anthony Crickmay via the Victoria and Albert Musuem.
Dame Monica Mason, The Royal Ballet's former artistic director, has likely stood before a corps of white-tutu−clad dancers thousands of times. In this Giselle clip from a Bavarian State Ballet performance filmed in 1979, she leads the wilis not as their director, but as their queen. Though Mason is a natural Myrta, she offsets her undeniably commanding stage presence with softness. Shaping air with the fullness of her arms, swirling weightlessly in a torrent of tulle, Mason is the perfect reigning figure of her ghostly realm. (And a shout out to the corps and soloist dancers' solid variations and pattern work!)
Mason directed The Royal from 2002−2012, but she's been a figure in English ballet since 1958, when she received her company contract at 16 years old. From originating roles in Kenneth MacMillan's ballets as a dancer to commissioning new choreographers as director (the name Wayne McGregor ring a bell?), Mason has helped shepherd The Royal into the contemporary era. Happy #ThrowbackThursday!
Mason in 2011. Photo by Johan Persson via ROH.
For more news on all things ballet, don't miss a single issue.