ABT in "Swan Lake." Petipa often collaborated with Lev Ivanov, who choreographed this ballet's white acts. Photo by John Grigaitis, Courtesy ABT.
Two hundred is the new 30. Or at least it seems so for Marius Petipa, whose ballets are as active as ever as we celebrate his 200th birthday this year.
Nearly all major ballet companies dance Petipa's iconic ballets, which reflect his prolific creative output. And they are heavy hitters: Swan Lake, La Bayadère, Le Corsaire, Don Quixote, The Nutcracker, Paquita, The Pharaoh's Daughter, Raymonda and The Sleeping Beauty, to name just a few of the 50-plus ballets he choreographed. He also revived and reworked earlier productions of Coppélia, La Fille mal gardée and Giselle. During American Ballet Theatre's 2018 spring season, five out of its eight weeks will be attributable to Petipa, including the debut of artist in residence Alexei Ratmansky's newly reconstructed Harlequinade.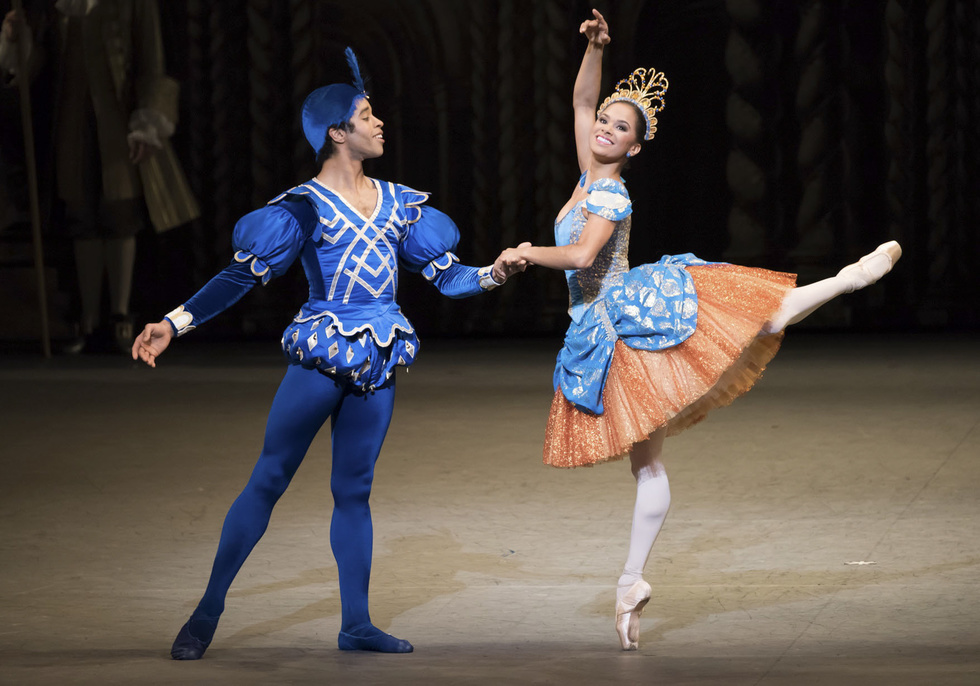 Gabe Stone Shayer and Misty Copeland in "The Sleeping Beauty." Photo by Doug Gifford, Courtesy ABT.
Keep reading...
Show less
Magda Saleh in "La Bayadere." Photo Courtesy Saleh.
When you think of Egypt, you might not immediately associate it with ballet. But during the late 1950s and 1960s, the country worked hard to establish its own world-class ballet company. With the help of the Soviet Union, Egypt's then minister of culture Dr. Tharwat Okasha established Cairo's Higher Institute of Ballet in 1958, bringing in teachers from the Bolshoi Ballet Academy to train the country's first generation of ballet stars. In 1963, five female students from the Institute's inaugural class were invited to finish their training with the Bolshoi in Moscow.
One of them, Magda Saleh, would become Egypt's first prima ballerina, and go on to perform with the Bolshoi and Kirov (now Mariinsky) Ballets as a guest artist during her career. "Young girls in Egypt live a very sheltered life, and even to be studying ballet was exceptional," Saleh said in a phone interview last week. Their time studying abroad in Cold War-era Moscow was "character forming," she says. "Life was tough then for the majority of Russians, but it became very helpful for us during our careers, where we had to overcome many obstacles." In 1966, shortly after the women returned, the Cairo Ballet Company produced its first ballet, Boris Asafiev's Fountain of Bakhchisarai, in which Saleh starred. The performance was enormously successful, and for the next several years the new company enjoyed an exciting golden era.
Keep reading...
Show less
Lauren Grace Onderko. Photo Courtesy Justice.
Can't get enough Nutcracker? Don't fear. Tween clothing brand Justice has just released a web series called "Finding Clara," which follows four young dancers cast as Clara in BalletMet's production of The Nutcracker. The first three episodes are available on YouTube, and the final installment will be released on Friday, December 22. Each video is about 20 minutes long.
Justice is headquartered in Columbus, Ohio, the home of BalletMet, leading to an easy collaboration. The company gave Justice exclusive and uninhibited access to everything behind the scenes, from auditions to rehearsals to performance. Part of Justice's mission is to empower young girls and spread positive messages, and they have a huge video collection. This isn't their first foray into ballet—earlier this fall they created a series of ballet video tutorials. A representative from Justice told us that the goal of the new series is to give "a real-life snapshot of the heart and soul these girls put into their Nutcracker performance—the rehearsals, overcoming challenges, celebrating wins and the bonds of friendships made."
The four Claras—Alaina Kelly, Molly Rainford-Dreibelbis, Lauren Grace Onderko and Isabelle Lapierre—range in age from 10-13, and their positive, excited energy is clear throughout the series. The issues that they deal with such as balancing schoolwork and rehearsal, managing jealousy and competition with their peers, and maintaining a healthy lifestyle despite busy schedules will feel familiar to dancers of all ages. So over your holiday break, cozy up with some hot chocolate and dive into the world of "Finding Clara."
Check out the trailer below, followed by the first three episodes:
Keep reading...
Show less
Houston Ballet's Sara Webb and Chun Wai Chan in "The Nutcracker." Photo by Amitava Sarkar, Courtesy Houston Ballet.
Houston Ballet has a message for Mother Nature: Don't mess with Nutcracker.
After flooding from Hurricane Harvey caused extensive damage to the Wortham Center, Houston ballet's home theater, the company was forced to reschedule and relocate two of its programs this fall. But when the Wortham announced last month that it would be closed for repairs through mid-May, the company faced a bigger, financially scarier problem: cancelling 34 performances of its annual Nutcracker.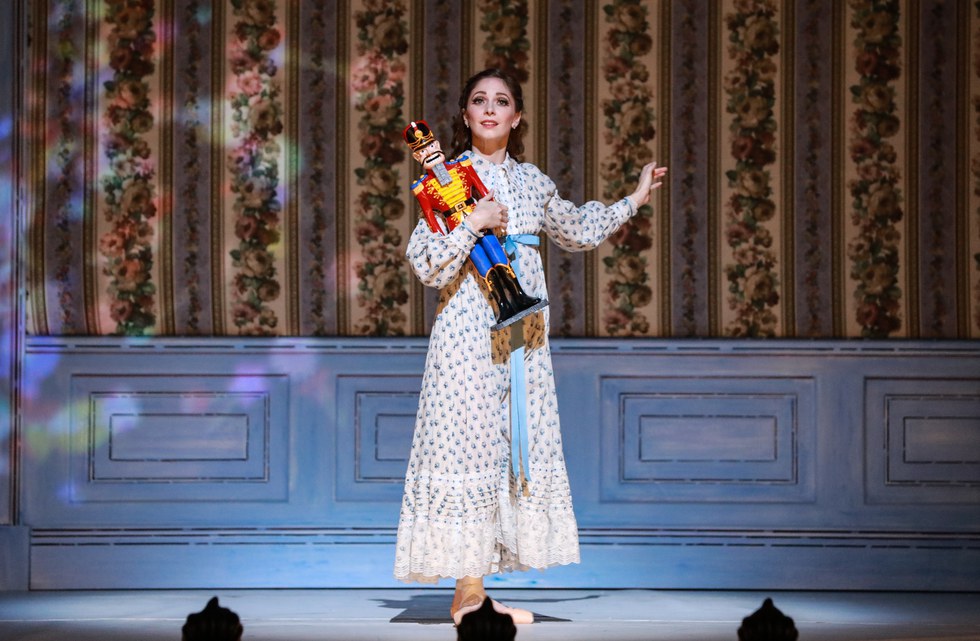 Melody Mennite in "Nutcracker." Photo by Amitava Sarkar, Courtesy Houston Ballet.
But artists are nothing if not resourceful. Yesterday, the company announced that its Nutcracker will be going on a "hometown tour," with 14 performances at the Smart Financial Center in nearby Sugar Land (December 10–23), and 14 performances at the Hobby Center for the Performing Arts (December 30–January 6). The production, choreographed by artistic director Stanton Welch, was new last year, and includes opulent scenic and costume designs by Tim Goodchild. Current ticket holders can click here to reschedule their performances, while tickets will go on sale to the general public on October 14.
Keep reading...
Show less
popular
Sep. 19, 2017 05:51PM EST
The Wortham Theater Center, where Houston Ballet performs, after Hurricane Harvey. Photo by Monica Guerra, Courtesy Guerra.
After Hurricane Harvey flooded Houston Ballet's facilities and damaged its home theater, the Wortham Center, the company wasted no time finding temporary rehearsal space and rescheduling its first two programs of the season at the nearby Hobby Center. But today, the Texas company faced another major blow: The Wortham Center announced that it will be closed for repairs until at least mid-May. That means Houston Ballet now needs to reschedule more than half of its season—including 34 performances of Nutcracker.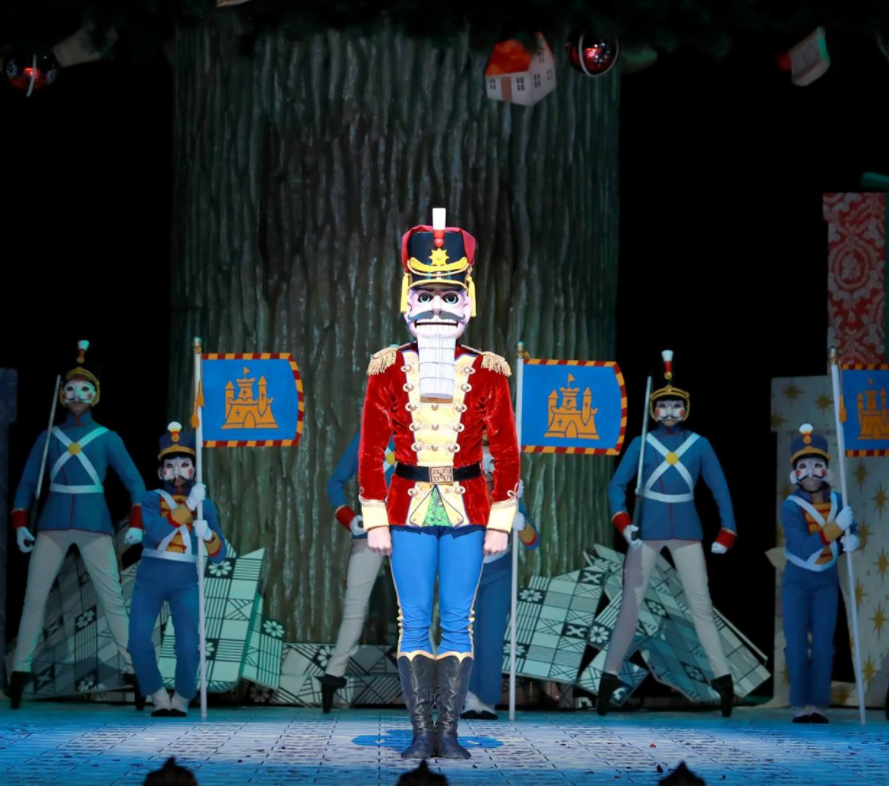 A scene from Stanton Welch's "Nutcracker. Photo via Facebook.
As everyone in the dance world knows, Nutcracker is a major financial lifeline for American ballet companies. Houston's production, choreographed by artistic director Stanton Welch with sets and costumes by Tim Goodchild, was brand-new last year. (Fortunately, the company moved its sets and costumes to a safe location during the storm.) Finding space for a month-long run will surely not be easy, and the Hobby Center looks booked. While there's no news of a backup plan yet, here's hoping Houston Ballet will receive some Nutcracker magic—and be able to find a new home for this year's production. We'll keep you posted once they do.
Views
Oct. 13, 2016 02:57PM EST
Zakharova in "Swan Lake." Photo by B. Stoess, Courtesy Bolshoi.
Mark your calendars! This Sunday, the Bolshoi Ballet, in partnership with Fathom Events, kicks off its 2016-17 Bolshoi Ballet in Cinema Series. Between now and April, seven Bolshoi productions will be high-beamed to movie theaters around the world (400 in the U.S. alone), giving ballet lovers a chance to see the legendary company on the big screen.
In addition to standard classics like The Nutcracker, The Sleeping Beauty and Swan Lake, this season is book-ended by two uniquely Russian ballets not performed by other companies, starting with Yuri Grigorovich's The Golden Age on October 16. Set in a cabaret during the Roaring 20s, The Golden Age is a Soviet love story between Boris, a young fisherman, and Rita, a dancer with connections to a local gangster. Yuri Possokhov's A Hero of Our Time, based on the great Russian literary classic of the same name, closes out the season in April.
In an exclusive interview, Pointe spoke with Bolshoi prima ballerina Svetlana Zakharova about what it's like to perform for the camera.
Keep reading...
Show less
News
Dec. 25, 2015 07:00AM EST
NYCB in George Balanchine's The Nutcracker, photo by Andrea Mohin/The New York Times
For so many dancers, The Nutcracker is how they get their first glimpse of the ballet world. And for audiences who flock to the theater year after year to see their favorite version, it always somehow manages to keep its magical quality.
Today, Lincoln Center will bring a little of that holiday magic to approximately 400,000 members of the U.S. Armed Forces and their families, with a broadcast of New York City Ballet's George Balanchine's The Nutcracker. The production was originally released as part of the new Lincoln Center at the Movies: Great American Dance series (which also brought performances by San Francisco Ballet, Alvin Ailey American Dance Theater and Ballet Hispanico to the big screen this year).
Now, it will be broadcast via the American Forces Network to military bases all over the world—everywhere from Afghanistan and Iraq to the Philippines and Japan—and on Naval ships outside U.S. waters. The film will feature a behind-the-scenes segment and online interactive guide in addition to the performance, and will bring some comfort and seasonal spirit to those who are far away from home.
Sometimes we forget how much our performances mean to people. Next time you feel like you can't possibly dance the snow scene one more time, it's worth thinking about the people you're bringing joy to every time you step onstage. Happy holidays!
For more news on all things ballet, don't miss a single issue.
Cojocaru and ENB first soloist Junor Souza in ENB's Nutcracker. Photo courtesy of John Ross
In this clip from The Royal Ballet's 2000 production of The Nutcracker, a 19-year-old Alina Cojocaru, now a principal with the English National Ballet, does the near impossible: she makes Clara's adoration for a nutty-looking wooden doll appear genuine. Cojocaru aptly navigates the role's acting challenges: Clara must have both girlish innocence and womanly poise. She's old enough to dance with the adults, but her imagination—with its capacity to fall for dolls and later conjure gargantuan trees and exotic lands—is untamed by age. Cojocaru's winsome smiles and earnest expressions, her commitment to the emotional ups and downs (not to mention her already pristinely-polished technique) make for a convincing Clara.
Keep reading...
Show less
Dec. 16, 2015 03:00PM EST
Sarasota Ballet in John Ringling's Circus Nutcracker. Photo by Frank Atura, courtesy Sarasota Ballet.
What do the Nutcracker and the circus have in common? A whole lot if you're a dancer at Sarasota Ballet, where Matthew Hart has reimagined the holiday classic as John Ringling's Circus Nutcracker. The whimsical production, which honors Sarasota as the longtime winter home of the circus, is complete with acrobats, clowns and a tightrope and runs Dec. 18-19. For Pointe's biweekly newsletter, we spoke with corps member Jessica Cohen, who plays Clara.
What makes this Nutcracker unique?
Nutcracker is mainly seen with the Land of Sweets, but because we're in Sarasota and the circus has such a big history here, the story is based around Clara's dream of running away to the circus. All the diverts are related to that.
How so?
Spanish is an equestrian act with three zebras, and Arabian has an enormous elephant that about eight dancers move. Sugar Plum and the Prince are actually world-renowned trapeze artists. Before their pas de deux, they come down on a trapeze.
What happens with Clara?
Clara is usually a bit of a bystander when it comes to the second act. But in this, she's really exploring the circus and is involved with all of the diverts. For example, the Chinese dance has acrobats, and at the end she's in a pyramid standing on their shoulders. I'm constantly a part of the action--or orchestrating it--and that's really fun.
Keep reading...
Show less
Chandra Kuykendall in Colorado Ballet's "The Nutcracker." Photo by Terry Shapiro, Courtesy Colorado Ballet.
Timeless as it may be, The Nutcracker has undergone a number of face-lifts. Yet for all the changes in setting, story and characterizations, the Sugar Plum Fairy variation always looks the same—well, sort of. A loose blueprint of Lev Ivanov's original choreography serves as a go-to model for almost all Sugar Plums (or adult Claras, who sometimes perform the pas). But just as companies tweak their productions, ballerinas often alter the variation to suit their strengths.
Choreography isn't the only variable. Sugar Plum can have different motives depending on the production. She could be the regal queen of the Land of Sweets welcoming Clara to her kingdom, a maternal figure teaching her the beauty of love, or Clara herself showing that she has come of age. In addition to overcoming the difficulty of the choreography, it's up to each dancer to make artistic choices that really bring the steps to life.
Fairy-in-Chief or Ingenue?
Shading your characterization depends on whom you're trying to portray. In traditional productions, the Sugar Plum Fairy performs the variation. "She's queen of the Land of Sweets," says Sandra Brown, who coaches the variation every year as ballet mistress at Colorado Ballet. "She's very regal and authoritative, so really bend and use your port de bras to show that. Dance with maturity and strength to establish her place in the hierarchy."
In other productions, the variation serves as a moment for Clara/Marie to enter adulthood. "You want to show her transition from a wide-eyed, naïve child to a mature human being," Brown says. "Your movements should be grander and more lyrical than earlier in the ballet. Your energy should be more grounded and subtle than that of a giddy child."
Let Technique Be Your Guide
Keep reading...
Show less
Back in St. Petersburg in 1892, when those four courtier-artists (director Vsevolozhsky, composer Tchaikovsky, ballet masters Petipa and Ivanov) were concocting their magical grownup-child ballet The Nutcracker, no one could have dreamed that 100-plus years later Nutcrackers would pop up every Christmas on stages all over the world. And this December, another one pops up in New York, at the Brooklyn Academy of Music. Clara Stahlbaum, naughty little Fritz, their parents, party guests, weird uncle Drosselmeyer, the Nutcracker Prince, the mouse army—all will live again, starting December 23, in American Ballet Theatre's lavish new production.
This new Nutcracker, though, won't be another ritual of sweetness and light—not just "the Sugar Plum Fairy dancing to entertain Clara," in the words of its choreographer Alexei Ratmansky. It will be something that matches the "very enigmatic score," as Ratmansky puts it. "This is music that makes you cry," says the choreographer, who's grown famous for ingeniously emotional responses to a whole range of music. And he's right: If you listen to Tchaikovsky's music with fresh ears, you hear those notes of anguish underneath the familiar themes. Think of the tree-growing music—it's majestic and grand, yet deeply sad. When he wrote it, Tchaikovsky might have sensed how fragile was the cozy Tsarist life he knew. The Mariinsky prima ballerina Gabriela Komleva once refused to dance the role of Clara: She thought the story too light for the anguished music.
But the story itself has dark places. E.T.A. Hoffmann, its German author, was a three-time refugee in Europe's Napoleonic wars; in response, he wrote tales of fantasy and horror. Hoffmann's 1816 Drosselmeyer was a much scarier magician than the figure in the ballet, and his mouse king was nasty: He could turn beautiful people into ugly ones. Even when Tchaikovsky and Petipa lightened the story for the stage, they left in some scary things. Armies of mice taking over your living room at night aren't exactly reassuring.
Ratmansky wants to keep those dark parts of the story in his new production; at the same time, he believes Nutcracker should be family-friendly. "And I still want it to be classical," he adds. "Honestly, I don't have interest in dance without pointe shoes. I don't know of anything more—what's the word—full of opportunities. Pointe gives another dimension to dancing."
A tall order: to make a Nutcracker that's light enough for children and dark enough for adults; pure enough to be classical, surprising enough to be new. But anyone doubting Ratmansky's skill at resolving paradoxes has only to hear him talking. A few months ago, the 42-year-old choreographer sat backstage at New York's Metropolitan Opera House and quietly answered questions about his Nutcracker plans. As he talked, he grew intense; his brown, slightly-pop eyes lit up. He adores the 1954 Balanchine Nutcracker that holds sway every Christmas at Lincoln Center's David H. Koch Theater. His won't be like that, though it's hard for him to describe something that's not finished. But he can explain a few things: His new snow scene won't be the usual wintry benediction, but instead, "a bit dangerous, not sweet." His first-act party scene won't be "all hobbyhorses and frilly petticoats, not quite as warm as usual."
And he wants to deepen the grand pas de deux between the Sugar Plum Fairy and her cavalier that serves as the climax to the ballet's second act. The music for that pas de deux seems to him "strangely unrelated" to the action that comes before. "It adds a lot of dramatic color to quite a light story. For me it sounds like Tchaikovsky's painful look back on the beautiful times of childhood and growing up. Like looking from a distance."
Audiences will get to see Ratmansky's understanding of these complicated emotions, deepened by his two earlier encounters—or half encounters—with the ballet nine years ago. For the infamous revisionist, Mikhail Chemiakin-designed 2001 Nutcracker at the Mariinsky Theatre, the one that dwells on mouse soldiers in Napoleonic retreat, Ratmansky was replaced in mid-choreography, presumably because he didn't see eye to eye with the famous scenic artist. In that same year, he was grabbed by the Royal Danish Ballet to finish a half-choreographed Nutcracker being prepared for Tivoli Gardens ("That was the craziest month in my life," he says).
Now, with many more ballets under his belt, and a stint as director of the mighty Bolshoi, ABT's resident choreographer gets what he didn't have before: time to work and distinguished collaborators. One of these is décor and costume designer Richard Hudson, of The Lion King fame. "He has exquisite taste," says Ratmansky, "a feel of shape and form. I saw he could lead me somewhere I hadn't been yet." If preliminary sketches are right, Hudson has found that balance between traditional and fresh that Ratmansky wants. The waltz flowers have flouncy tutus of intense magenta. The Rat King wears an elegant gray waistcoat, pink baroque shoes and a hat of rat heads.
In the end, though, it's the music that's the key. "It's so rich and deep—every new choreographer can get something out of it." And Ratmansky didn't even like Tchaikovsky's music when he was young. He confesses, "I thought it was too emotional. I much preferred Stravinsky and Prokofiev."
What's changed? "I don't judge anymore," he says quietly. "Tchaikovsky knows how to look into the deepest cores of your soul. I don't want this aspect to be lost behind a toy story. There are things in his music—and I hope in the dancing—that can't be put into words. My main goal with this Nutcracker is never to forget about this side of Tchaikovsky."

Elizabeth Kendall is a dance critic based in New York, at work on Revolution and the Muse, a book about Balanchine's youth in Russia, and his ballerina-classmate, Lidiia Ivanova.
As I stood in Joyce SoHo's rehearsal studio in New York clad in a black robe, cape, skull mask and six-inch platform boots, I tried desperately to steady myself in a wide second position as 12 "ghouls" crawled through my legs. Fighting with the trappings of my outfit, I was teetering like a newborn colt—and swathed in fabric with my vision impaired. We were in rehearsal for Donald Byrd's production of The Harlem Nutcracker and I had been cast as Death, whose job it is to beckon Grandmother Clara to her grave. It wasn't exactly the principal role I had in mind, especially given the costume.
The boots alone were a death trap. When one of the ghouls got entangled in my cape and sent us both toppling to the floor, I had to wonder, "Was this going to become method acting?" I quickly realized that learning how to fall without twisting an ankle was the first order of business.
Through trial and much error, I eventually discovered the secret to staying upright—swooshing the cape to clear a path before moving my feet. A bonus was that my strategy created the grandeur the character demanded. I also found that breathing through my mouth behind a mask amounted to a steam facial.
But while I learned to negotiate my cape, my ego was still ensnared. Though pivotal to the plot, Death is not the sexiest of roles. "What prompted the casting?" I wondered. Previously, Death had always been played by a man. Yet I had to get beyond myself to figure out how to make this character come to life. At a point I realized that it wasn't the role I resented but the costume. If I could have been Death in a couture dress, I would have been all about it!
I started to contemplate all the time I'd spent perfecting my technique at the barre. All the years of pointe shoes and pain had come down to this: murder! Yet early on there had been clues that a career in ballet wasn't all tulle and tiaras.
As a tall 10-year-old, I was cast as a Polichinelle boy in Pennsylvania Ballet's Nutcracker. Rehearsing along with three other prepubescent girls in the studio, we learned to squat-walk sideways as though we were under Mother Ginger's immense hoop skirt. But nothing quite prepared us for the actual experience. When fully costumed (including a Napoleon-style hat), the true dimensions of the heat-trapping skirt proved unexpectedly unnerving. Having to run back under the skirt onstage and get in sync for the exit was traumatizing—there was always a fear of someone not making it or falling over under the skirt. And you know the credo: "Leave no Polichinelle behind!"
I was brought back to my Death rehearsal reality when one of my ghoul spawn in hot pursuit of his prey trampled on my cape. Fortunately, we were soon breaking for 15. Seizing the opportunity to remove my mask and shed my robes, I went to the restroom. As I peered into the mirror, my mind traveled back to high school when for a brief time I performed with a traveling circus. We danced between acts and closed each night with a Vegas-style showgirl number. Choreographically, step-touch-pivot-perch was simple, but the costumes proved spatially challenging. The black sequined headpiece reminded me of Tina Turner's headdress in Mad Max Beyond Thunderdome, only mine exploded in bright yellow plumage. The five-pronged plume that made up my tail was attached to sequin piped trunks. I had never been less self-conscious about my behind, but navigating cramped backstage areas with my Big Bird–like mane and tail was not easy, nor was taking a feather in the eye from another member of the flock.
However, the Universe is all knowing, as this was clearly preparation for my role as a Firebird Maiden with Dance Theatre of Harlem, where an ill-timed tilt of the head could result in Miss Universe–like crowns hooking together, sometimes causing the linked maidens to exit the stage like royal Siamese twins. Once, seconds before an entrance, I got linked to someone else's headpiece. Luckily a flurry of fellow dancers descended from all sides with nimble fingers to set us free in the nick of time.
As I returned to the studio, I started thinking: Maybe there was a method to the madness of the crazy recital costumes of our youth. The bunny ears, cat noses, the flapper feathers left strewn center stage in the wake of a crowd-pleasing tap number were a necessary part of our training. It was all in preparation for…Death. The great irony is that as children we could laugh at ourselves. As adult dancers, we tend to take ourselves too seriously, using levels of angst as a barometer for passion.
While the role of Death was not the most physically demanding, it afforded me great insight. I learned that when faced with cumbersome accoutrements, your attitude can be your biggest asset—or impediment—to mastering a role. An ability to laugh at yourself in the process might be the key to alleviating frustration and finding the solution. Honestly, who trains to pirouette while wearing a headdress? Most choreographers don't expect you to execute with perfection immediately; that is precisely what rehearsals are for. What is called upon is the skill of solving movement problems with ingenuity and professionalism; that is something you are trained for. Sometimes the measure of your artistry has less to do with technique and more with how open you are to new experiences, and a desire to investigate the possibilities.
When rehearsal resumed, we moved into Act II, which is set in a nightclub. Now, as the sassy Cigarette Girl and Sugar Rum Cherry, I was briefly freed from my layers to don heels and a sequined red dress. Instantly my mood improved; there is something about pumps and sequins that can brighten a gal's disposition. Yet it would be short-lived, as I would be back in my murderous togs later to finish Grandmother Clara off, albeit the audience had no idea that beneath her mask, Death was wearing lipgloss.

  
Theresa Ruth Howard is a faculty member at The Ailey School and also a contributing writer for Dance Magazine.
Audiences at Nashville Ballet's new production of The Nutcracker may notice several unexpected guests at Clara's Christmas party this year. Among those in attendance: the turn-of-the-century chancellor of Vanderbilt University and Lucille La Verne, a Nashville native best known for having been the voice of the Wicked Queen in Disney's animated version of Snow White and the Seven Dwarfs. Andrew Jackson even makes a first-act cameo: When the Nutcracker battles the Mouse King, Jackson and the Tennessee Volunteer Army join him on the front lines.
Such striking alterations to the venerable holiday classic are part of Nashville Ballet's ambitious effort to revitalize The Nutcracker—by regionalizing it. Around the country, at least six other companies have taken a similar approach. Their stakeholders contend that regionalizing The Nutcracker—the main source of annual revenue for most companies—invigorates the ballet's traditional audience while enticing newcomers with a production steeped in the familiar.

A Civic Connection
In Charleston Ballet Theatre's Nutcracker, for example, the second act transports Clara not to the Kingdom of the Sweets, but to the Magnolia Plantation, the oldest public gardens in the country.
"From a marketing standpoint, and an artistic standpoint, you have to give your audience members some reason to keep coming back each year—not just for the tradition of going to The Nutcracker the same day that you decorate your Christmas tree, but something that will make your audience excited," says Jill Eathorne Bahr, the company's resident choreographer.
Of course, tweaking tradition can be a gamble. But it has paid off, according to Bahr. Twenty-one years after Charleston's regionally themed Nutcracker debuted, it continues to inspire dancers and audiences, while boosting civic pride.
"When a company decides to produce a new Nutcracker, they're giving something solid back to the community—not just a one-shot repertory piece, but something that represents the community. It's a win-win situation for the balletomanes of the world and the forefathers of the city," says Bahr.

History and Fantasy
Six years after the première of Pittsburgh Ballet Theatre's regionally themed Nutcracker, Terrence Orr vividly recalls the trepidation he felt following in the footsteps of George Balanchine's beloved version.
"I was scared to death—are you kidding?" says the company's artistic director. "But when I arrived here in 1997, they had been doing the same Nutcracker for a long time. I wanted to do something new—something that utilizes the city's rich history. And I do feel like this is still a warm and traditional Nutcracker."
In Orr's production, the proscenium features a replica of the Kaufmann's department store clock, a legendary downtown landmark and meeting place for shoppers. The backdrop of the snow scene is a view from atop Mount Washington looking down on the city's three rivers. The setting of the second act is modeled after a well-known amusement park.
"I think it's wonderful when I have people come three years in a row and say, 'I saw that you added this,'" says Orr. "And I have added a lot of details. Or they will say that this version is shorter than the other one—but it's not by any means. It's just more interesting to them."
It's especially gratifying to Orr when "audience members tell me they want to come back again the next year and bring their neighbors—and not just children between the age of 4 and 8."

Clara on the Midway
Nashville Ballet Artistic Director Paul Vasterling hopes that reaction to his revamped version will be equally enthusiastic. The Nutcracker accounts for 65 percent of the company's income, which puts a lot of pressure on Vasterling's new production.        
"I danced in Nashville's original production in 1989, so the way it was conceived kind of lives with me," he notes. "It was important to me to maintain that heritage—a magical holiday story from a child's point of view, the Sugar Plum Fairy, the toys, the snow scene—while overlaying it with Nashville history."   
"It's scary to do something fresh, and you walk a fine line when you change anything that is tradition," he says. "I would still be worried now, had it not turned out the way it has, which is really grand, really lush and really beautiful, along the lines of the old production."
In the early stages of planning his Nutcracker, Vasterling spent hours at the public library digging through its local archives. When he came across records and sepia-toned photos of Nashville's Centennial Exposition of 1897, he realized that he'd hit on a time and place to ground the ballet.
Descriptions of the Vanity Fair, a midway complete with performers from around the world, read to Vasterling like the ideal setting for The Nutcracker's second act.
Vasterling is quick to point out that the local details he's embedded in the production are not meant to serve as a history lesson. Rather, they're intended as touchstones for loyal Nutcracker-goers and new audiences alike.
"Those of us who are in ballet breathe it and live it, but to most people in Nashville, ballet is quite foreign," he says. "The Nutcracker is the portal to most people's experience with ballet, so you want to make people feel comfortable coming in and seeing it."

A former newspaper reporter, Nicole Peradotto is a longtime arts writer who lives in upstate New York.
This week I got the opportunity to try out a giant chair that is going to be part of the Nutcracker set, which was cool--but also a little scary! When I'm up on the chair there is only room for me to stand in first position. I literally cannot move anywhere else. Also, the platform is slanted, so it is hard to keep my balance. Luckily there's a protective bar around me so I can't hurt myself. When the stage manager told me that I had just 10 seconds to get on the chair before they move it onstage, I got a little nervous. But I think it'll be OK--the stage manager is great, and I trust him.

I am also working on the party scene. We finally got to the moment where I meet Drosselmeyer, and now we're all the way up to the part where he brings in the magical dolls and then gives me the Nutcracker. I have also been working on the battle scene. One of the company members got to try dancing with the new mouse head. He looks amazing--very creepy.
This is truly going to be the best ballet of them all! Can't wait to see it all together. See you next time!
Read the other guest blog posts by JKO School student Catherine Hurlin, who's rehearsing the role of Clara for ABT's new Nutcracker, here, here and here.

Nov. 29, 2001 07:00PM EST
Last night I got to see American Ballet Theatre in Alexei Ratmansky's Nutcracker. I absolutely love this production. The choreography is thrilling, with psychological twists and an epic grand pas de deux. I'll admit it: I even cried at the end.
One of the ballet's biggest highlights is a breakout star who consistently steals the stage: the Little Mouse, played by 12-year-old Justin Souriau-Levine. This kid is 100 percent committed to his role, and is also just plain hysterical. Kate Lydon, Pointe's editor at large and artistic associate of ABT's Studio Company, overheard this on opening night last Friday:
"After the curtain came down, Fritz (who had just made his debut in the role) turned with wide-eyed glee to his friend the Little Mouse (who has performed in the production for three years now) and said, 'Wow! I have never bowed before.' To which Little Mouse replied, 'We're living the dream, Man. Living the dream!' Doesn't get better than that!"