News
Oct. 22, 2018 04:48PM EST
San Francisco Ballet is bringing six works from their Unbound: A Festival of New Works to The Kennedy Center this week. Here, dancers are pictured in Christopher Wheeldon's Bound To. Photo by Erik Tomasson, Courtesy The Kennedy Center.
Wonder what's going on in ballet this week? We've pulled together some highlights.

Members of San Francisco Ballet in Justin Peck's Hurry Up We're Dreaming. Photo by Erick Tommason, Courtesy SFB.
We're giving away a pair of tickets to see San Francisco Ballet's Unbound: A Festival of New Works program at the Kennedy Center on October 26 at 7:30 pm in Washington, DC. Enter now to win!
News
Jul. 30, 2018 05:30PM EST
Patricia Delgado in Pam Tanowitz's "Solo for Patricia 2017." Photo by Erin Baiano, Courtesy Vail Dance Festival.
Wonder what's going on in ballet this week? We've pulled together some highlights.
Vail Dance Fest Enters Its Second Week
With half a month devoted to creating new art in the midst of stunning nature, Vail Dance Festival seems a dancer's paradise. Last week marked American Ballet Theatre's festival debut. The second week of performances, starting July 30, brings even more amazing ballet, with dancers and choreographers presenting a slew of new collaborations and premieres. Get the scoop on each program below.
Alonzo King LINES Ballet Takes the Vail Stage
July 30-31, Alonzo King LINES Ballet presents two different programs. The first performance, is a free, family-friendly event held in the Avon Performance Pavilion. The second, held at the Gerald R. Ford Amphitheater, presents two works by King: Sand, a piece from 2016 set to jazz music, and Biophony, an exploration of the Earth's diverse ecosystems.
News
Jul. 23, 2018 10:42AM EST
Catch Royal Winnipeg Ballet for free this week at Ballet in the Park. Photo by Daniel Crump, Courtesy RWB.
Wonder what's going on in ballet this week? We've pulled together some highlights.
American Ballet Theatre Makes Its Vail Debut

The Vail Dance Festival is best known for bringing together diverse performers to create outside-of-the-box collaborations. This summer, the festival's 30th anniversary, American Ballet Theatre gets added to that mix. July 28–29, 15 company members will dance the festival premieres of Alexei Ratmansky's Souvenir d'un lieu cher and Serenade after Plato's Symposium, as well as Jerome Robbins' Other Dances with New York City Ballet principal Tiler Peck. ABT will also collaborate with tap choreographer Michelle Dorrance. She's creating a trio of new works for ABT this year, coproduced by Vail, the second of which she'll present at the festival. "It always broadens a dancer's perspective to cross-pollinate with their peers," says ABT artistic director Kevin McKenzie. "It gives them an opportunity for independent thinking and self-evaluation." For Vail artistic director Damian Woetzel, incorporating the company into the festival reminds him of the magical sense of camaraderie that he felt as an NYCB principal when running into ABT dancers after their respective Lincoln Center performances. "Vail builds on that," says Woetzel. "We bring dancers together to create our own special community." —Chava Lansky
News
May. 15, 2018 10:14AM EST
Members of the Ballet Nacional de Cuba in "Giselle." Photo by Carlos Quezada, Courtesy The Kennedy Center.
Forty years ago, the Ballet Nacional de Cuba made its U.S. debut at the Kennedy Center in Washington, D.C. Among the performers was its iconic founder, Alicia Alonso, then in her late 50s and already nearly blind. This month the historic company will return for a tour that includes a six-day run at the Kennedy Center as well as stops in Tampa, Chicago and Saratoga Springs, New York. And if her health permits, the now-97-year-old director will also be back.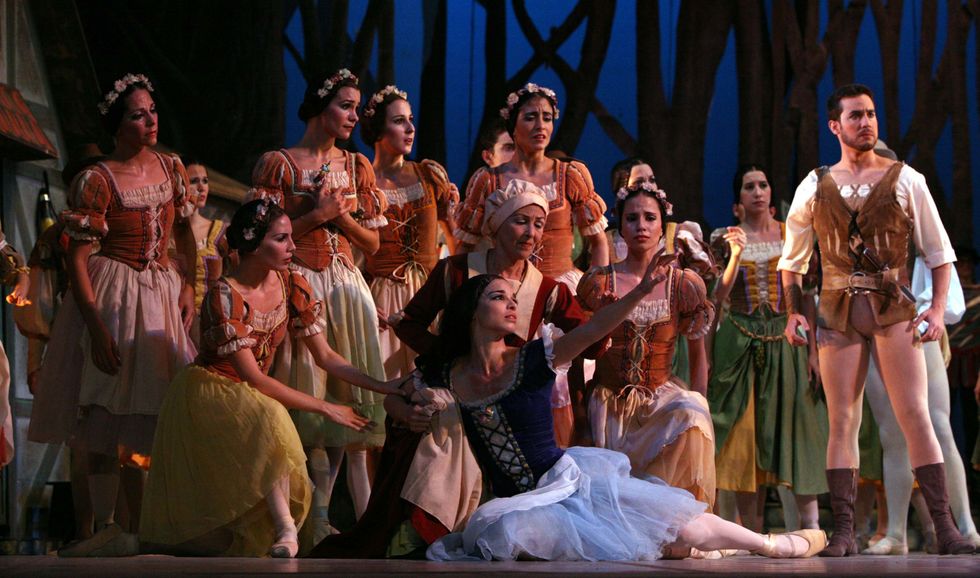 Viengsay Valdés and Ernesto Diaz (right) with the company in "Giselle." Photo by Nancy Reyes, Courtesy The Kennedy Center.
News
Mar. 05, 2018 04:16PM EST
Dancers of Tulsa Ballet. Photo by Francisco Estevez courtesy The Joyce Theater.
From tours to premieres to full-length classics, this is an exciting week in ballet. We've rounded up programs by Tulsa Ballet, BalletNext, National Ballet of Canada, Pennsylvania Ballet, Charlotte Ballet and the Joffrey Ballet, as well as an evening of dance and music curated by Damian Woetzel and featuring some of ballet's biggest stars, to give you a sense of what's happening on ballet stages this week.
Tulsa Ballet
This Oklahoma-based company is heading east for a five-day run at The Joyce Theater in New York City, opening March 6. Their first time at the Joyce in 9 years, the company is bringing a world premiere by resident choreographer Ma Cong as well as works by Annabelle Lopez Ochoa and Helen Pickett. Check out a preview below.
Patricia Delgado. Photo by Gio Alma, Courtesy Delgado.
Patricia Delgado surprised her many fans last March when she announced that she'd be leaving Miami City Ballet after nearly 20 years to move to New York to be closer to her boyfriend, New York City Ballet soloist and resident choreographer Justin Peck. Though she took a risk stepping into the unknown without a sense of where her career would take her, it's paid off: this year we've seen Delgado pop up everywhere from Christopher Wheeldon's concert production of Brigadoon at New York City Center to dancing alongside Peck in a music video for the indie rock band The National.
Trending
Dec. 04, 2017 11:45AM EST
Natalie Magnicaballi and Michael Cook in "Meditation," the first ballet Balanchine created on Farrell. Photo by Teresa Wood, Courtesy The Suzanne Farrell Ballet.
Last fall, the Kennedy Center for the Performing Arts announced that its resident company, The Suzanne Farrell Ballet, would disband following its final performances December 7–9. A wholly unique endeavor, TSFB—of which I was a member for 10 years—would draw dancers from around the country together to work closely with Farrell, one of Balanchine's most celebrated muses. And while contracts were short on weeks, they were long on intensity and inspiration. According to the Kennedy Center, Farrell will transition into a resident teaching artist role as the Center expands its studio space and educational programs, although details are vague. In addition to Balanchine's Meditation (which is exclusive to TSFB), the final program includes Tzigane, Serenade, Chaconne and the rarely seen Gounod Symphony, which the company reconstructed in 2016. I spoke with my former director about her final season, and her reflections on her company.
What has been the most rewarding part of directing your company?
One reason why I thought a company was necessary was that I had been staging Mr. B's ballets all over the world, and that's nice, but you only see the first performance. You don't know how it's going to grow or what future it has. I believed I could do better work if I had my own dancers—that's the atmosphere I grew up in. You can go back to those ballets and become better and discover new things about them.
Another reward is being able to learn all of the parts instead of just my own. I had rarely seen many of these ballets because I was dancing in them. There are multiple layers beyond your own part and they're all connected. Having performed them and having been in the studio when they were created gave me an incredible insight and knowledge about the entire "world" of that ballet, because I was there when it was being born.
Jun. 10, 2016 11:18AM EST
Marie Lindqvist as Juliet's nurse. Photo by Carl Thorborg, Courtesy Royal Swedish Ballet.
In 2013, the Royal Swedish Ballet celebrated its 240th birthday. Never a company to be mired in tradition, RSB commissioned prolific and provocative contemporary choreographer Mats Ek to create a new version of Romeo and Juliet. True to form, Ek turned the ballet on its head, reversing the title, using new music and creating a world of simmering brutality. In recognition of his creativity, the ballet won the 2015 Olivier Award for Best New Dance Production.
Mar. 16, 2016 03:27PM EST
Kathryn Morgan. Photo by Erin Kestenbaum, Courtesy Morgan.
After an illness sidelined her career,Kathryn Morgan transitioned from rising New York City Ballet star to freelancer. Now, the fearless dancer has partnered with outreach organization Ballet in the City to headline her own evening at the Kennedy Center, Mar. 29-30. For Pointe's bi-weekly newsletter, we chatted with Morgan about this special performance.
How involved where you in choosing the program?
It was entirely my decision, which was really fun because you don't get to pick what you dance in a company. Obviously the Romeo and Juliet balcony pas de deux is on there--that's my favorite role. The Don Quixote pas de deux--I've never danced it before but always wanted to. And then some excerpts from Who Cares? to pay homage to my time at City Ballet. There's also a new piece by Jesse Carrey, plus excerpts from To Dance: The Musical and a brand-new The Red Shoes, which is a nine-minute solo choreographed by Donald Garverick.
Morgan in Swan Lake. Photo by Alexis Ziemski, Courtesy Ballet in the City.
Why is it important for you to be a part of Ballet in the City?
Their mission is to present dancers around the country to bring the message of ballet to anybody. And I love that. Especially with my YouTube channel, I try to open the curtain on the ballet world. I think this organization is doing that.
How will you keep your stamina up during such a long program?
For me, it's about breathing. In the dance world, we call it "puffy." Once you get to that point of absolute exhaustion early on, the rest becomes easy. My goal is to be completely worn out by the end of Don Q, which will happen because it's hard. After that, I'll be great for the rest of the evening.
What's next for you?
After the Kennedy Center, I have a couple things in the works, but I'm actually going to start looking back into companies. I'm gonna shop around a bit and see what's out there. We'll see what happens!
Wanna meet Kathryn Morgan? Enter our VIP ticket giveaway here!
For more news on all things ballet, don't miss a single issue.