Photographed for Pointe by Jayme Thornton.
This is Pointe's February/March 2018 Cover Story. You can subscribe to the magazine here, or click here to purchase this issue.
In a polished cast of Sir Frederick Ashton's Symphonic Variations at an American Ballet Theatre performance last October, corps member Betsy McBride shone with a warmth that belied the piece's crystalline, cold precision. Dark-haired with large, light-catching eyes, McBride was more coiled spring than willowy sylph, evident in the way her pliant limbs shot rather than floated to Ashton's prescribed positions. While the choreography's measured steps and lowered legs may seem particularly limiting for someone with McBride's flexibility, she managed to find pockets of expansion in the restricted movement. She lunged a little deeper, sailed on pointe a little longer, her open face lingering in the spotlight until the very last moment.
Symphonic Variations marked McBride's debut in a principal role with ABT, yet it was not the 25-year-old's first taste of the spotlight. She began her career at Texas Ballet Theater at just 15, becoming a principal by 19. Under TBT artistic director Ben Stevenson, she performed roles that most dancers her age still covet—Juliet, Odette/Odile, Aurora—before leaving the company for an ABT corps contract in 2015.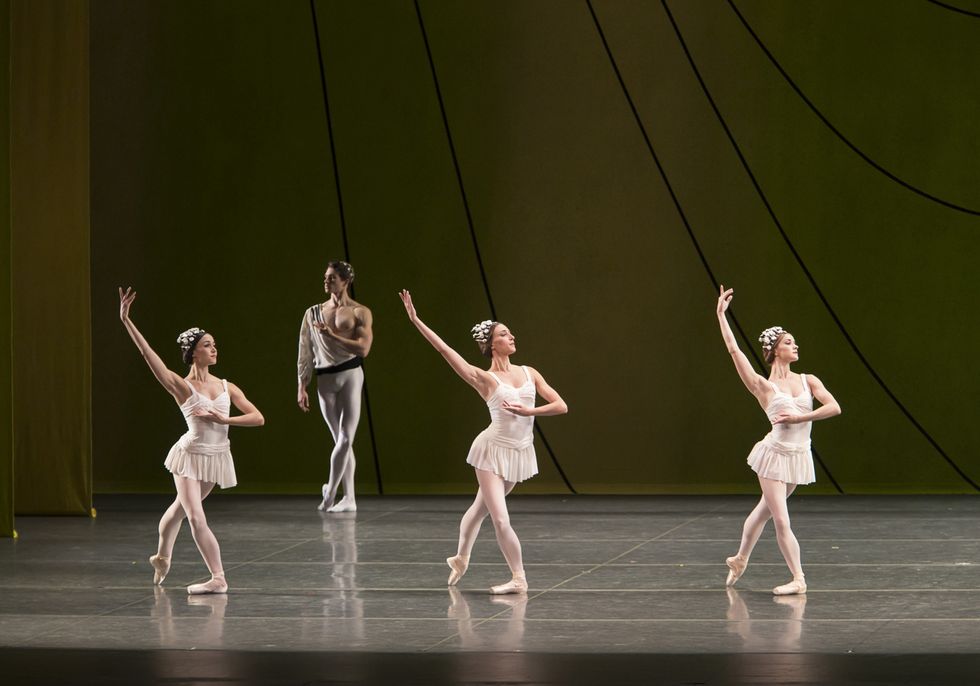 McBride (far left) with Devon Teuscher and Cassandra Trenary in "Symphonic Variations." Photo by Erin Baiano, Courtesy ABT.