Chase Johnsey (second from right) in English National Ballet's production of The Sleeping Beauty. Elliot Franks, Courtesy In The Lights PR.
George Balanchine famously said "Ballet is woman." He should have added that ballet is man, too, because it has long been defined by the traditional male-female binary. A formal challenge to the paradigm was launched in June, when Chase Johnsey was offered the opportunity to dance female corps roles in English National Ballet's The Sleeping Beauty in London.
"I am a classical ballerina," says Johnsey, a freelance dancer who identifies as gender fluid and uses he/him/his pronouns. His ENB performance (in the mazurka and as a marchioness in the hunt scene; he also understudied a nymph) made headlines around the world and turned him into an activist for the cause—not to change classical ballet, but to open its doors to artists across the full spectrum of human gender. By hiring Johnsey, ENB artistic director Tamara Rojo put ballet's gender-exclusiveness on notice. "Our work and our company should reflect the world we live in," she stated via email. "Ballet should have no barriers; it's for everyone, everywhere."
Johnsey isn't alone. Jayna Ledford and Scout Alexander, two young transgender dancers, are training hard to break into the professional ballet world. We spoke with them about the dreams, achievements and challenges of nonbinary artists in the intensely gendered world of ballet.
Keep reading...
Show less
News
Jun. 12, 2018 01:35PM EST
ENB dancer Daniel McCormick, winner of the 2018 Emerging Dancer Award. Photo by Laurent Liotardo, Courtesy ENB.
English National Ballet's Emerging Dancer Award has become a highly anticipated annual event, especially since the company started live-streaming the performance around the world. The competition, which is between six up-and-coming dancers from ENB's junior ranks, is often a good predictor of bigger things to come—past winners include ENB principal Shiori Kasi and first soloist Junor Souza, as well as exiting principal Cesar Corrales, who will join Royal Ballet as a first soloist next season.
This year's competition took place Monday. Finalists Precious Adams, Fernando Carratalá Coloma, Giorgio Garrett, Daniel McCormick, Francesca Velicu and Connie Vowles performed their hearts out for a live audience at the London Colosseum, each dancing a classical pas de deux and variation, as well as a contemporary solo. (Read more about the finalists here).
Keep reading...
Show less
Members of San Francisco Ballet in company class as part of World Ballet Day LIVE 2017. Photo by Erik Tomasson via San Francisco Ballet on Instagram.
Last Thursday was World Ballet Day LIVE, the official 22-hour live-stream relay showcasing companies across the globe. If you were busy (we know that you don't always have the luxury to spend an entire day watching ballet), don't fret. Many of the companies involved recorded their classes, rehearsals and interviews from the day of, and we rounded them up for you to watch at your leisure. Careful, though; there are more than twenty hours of footage included here... make sure you take a break to, you know, sleep.
First up is San Francisco Ballet with a full five hours, including rehearsal for Balanchine's timeless classic, Serenade.
The Royal Ballet's WBD stream is split into three parts. Here's the first chunk, featuring company rehearsals of a few Sir Kenneth MacMillan ballets as well as Christopher Wheeldon's Alice in Wonderland (a measly two hours and 45 minutes). You can find part 2 here and the full company class here. The video also features a quick aerial tour of London from the balcony of the Royal Opera House.
Keep reading...
Show less
Views
Feb. 23, 2017 03:21PM EST
Since 2000, megastars and budding ballet celebrities alike have graced the covers of Pointe. Take a walk with us down memory lane as we recall some of the biggest names from some of our earliest issues. Whether they continue to perform or have transitioned to a position at the front of the studio, these stars have real staying power.
Irina Dvorovenko and Maxim Beloserkovsky (May/June 2001)
Then: Pegged as "Ballet's Hottest Couple" on our cover, the duo had recently joined American Ballet Theatre as principals.
Now: Though both have retired from ABT, they run a summer intensive in New York City, give limited performances as guest artists and have even designed items, like ballet booties, for Bloch. Dvorovenko also had a major role in the Starz's ballet drama "Flesh and Bone."
Svetlana Zakharova (July/August 2001)
Then: Zakharova was a young principal with the Mariinsky Ballet.
Now: She's still tantalizing audiences with her breathtaking performances of ballets like Swan Lake—but with the Bolshoi Ballet. Last year, Zakharova also became a guest artist with Bavarian State Ballet.
Tamara Rojo (November/December 2001)
Then: The Spanish dancer was a leading performer with The Royal Ballet.
Now: If someone can do it all, it's Rojo. She's currently balancing dual roles at English National Ballet as artistic director and principal dancer. Pointe even named her performance with Irek Mukhamedov in Annabelle Lopez Ochoa's Broken Wings one of the Standouts of 2016.
Misty Copeland (February/March 2002)
Then: Way before Misty Copeland became a household name, she scored her first Pointe cover as a promising member of ABT's corps.
Now: As ABT's first female African American principal, she's an all-around ballet superhero. Copeland has catapulted ballet into the mainstream and has championed issues like having a positive body image and diversity in dance.
Jenifer Ringer (April/May 2002)
Then: a leading principal at New York City Ballet
Now: Ringer traded East Coast for West when she became the director of the Colburn Dance Academy in L.A. If you're not one of her lucky students, you can read about her perspective in her memoir, Dancing Through It: My Journey in Ballet. And, just last year, she also spoke to Pointe about how dancers can foster confidence.
Carlos Acosta (August/September 2002)
Then: The international ballet star had loads of fans at The Royal Ballet, but Big Apple audiences were also getting acquainted with him since he'd recently appeared as a guest with ABT.
Now: He's busy leading his own company, Acosta Danza, in his native Cuba.
Paloma Herrera (December 2002/January 2003)
Then: The Argentinian dancer was wowing New York audiences as a principal at ABT.
Now: Earlier this month, Herrera became artistic director of Teatro Colón's ballet company in Buenos Aires. We can't wait to see what she does in her new position.
Ethan Stiefel (February/March 2003)
Then: Though he launched his professional career with NYCB, Stiefel was an ABT principal by the time he appeared on our cover.
Now: Stiefel had a short stint as artistic director of Royal New Zealand Ballet from 2011 to 2014, but now, he's focusing on choreographing. His first major choreographic commission will premiere in May at The Washington Ballet.
For more news on all things ballet, don't miss a single issue.
ABT's Calvin Royal III in Alexei Ratmansky's Serenade after Plato's Symposium. Photo by Rosalie O'Connor, Courtesy ABT.
Miami City Ballet's National Tour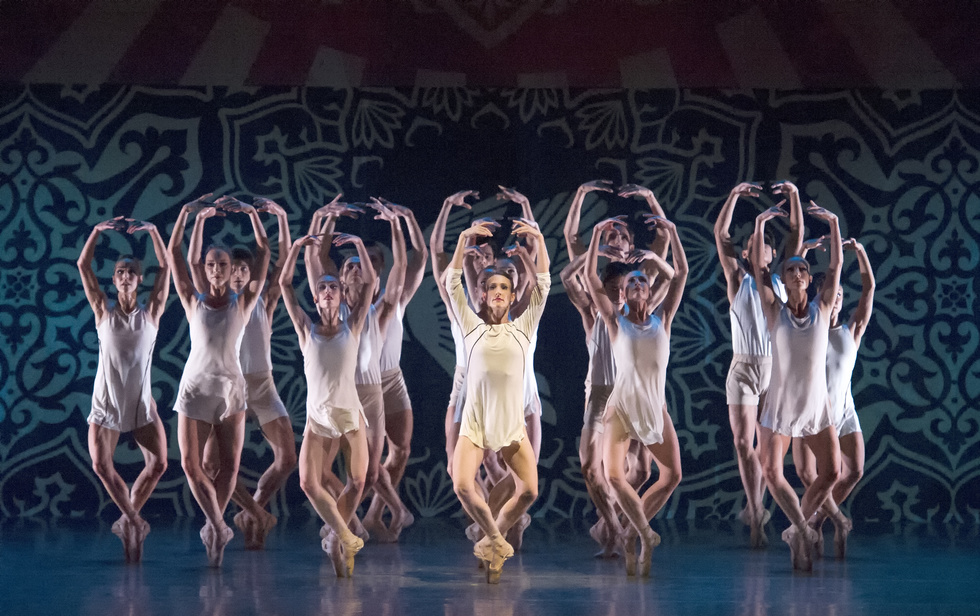 Artists of Miami City Ballet in Justin Peck's Heatscape. Photo by Gene Schiavone, Courtesy Miami City Ballet.
In late April at the Harris Theater, Chicagoans found Miami City Ballet firing on all cylinders, following the company's Lincoln Center debut and an engagement at Northrop in Minneapolis. Stage-filling Balanchine classics like Bourrée Fantasque, Serenade and Symphony in Three Movements struck a perfect balance between relaxed exuberance and clean execution, while seasoned stars like Jeanette Delgado and Renato Penteado shone in contemporary works by Justin Peck (Heatscape) and Liam Scarlett (Viscera), respectively. Most memorably, a dream team of 23 artists—including the irrepressible Nathalia Arja—gave a commanding presentation of Symphonic Dances, created for MCB by Alexei Ratmansky.
Keep reading...
Show less
Views
Jul. 28, 2016 04:54PM EST
Tamara Rojo and Carlos Acosta in Manon. Photo via Pinterest.
Former Royal Ballet principals Tamara Rojo and Carlos Acosta are notably one of the best couples to perform together. In this clip of Manon, it's clear that Rojo and Acosta have an unadulterated chemistry, even with the pas de deux's technically exhaustive demands.
Like Romeo and Juliet, Manon tells the story of star-crossed lovers. Though Manon and Des Grieux are fated from the start, this variation captures their love for each other through stolen glances and heartfelt embraces. Acosta showcases Rojo in every promenade and lift, underscoring his own strength and grace. From the opening saut de chat at 0:10 to the soutenu at 1:08, there is an implicit assuredness between them that makes their performance particularly special.
It's no surprise that both dancers have continued to be leading lights in the dance world. In 2012, Rojo was appointed artistic director of the English National Ballet where she is also its lead principal dancer. Acosta, the first black dancer to become a principal with the Royal Ballet, is following suit. This October, he finishes his A Classical Farewell tour at the Royal Albert Hall before heading back to Cuba to direct his new company, Acosta Danza.
Happy #ThrowbackThursday!
News
May. 16, 2016 03:34PM EST
Jeanette Kakereka competing for last year's Emerging Dancer Award. Photo by ASH via ENB.
It's one thing to receive a nod of approval from your boss, but imagine how special it must feel to be validated by your fellow company members. Tomorrow, six English National Ballet dancers—Isabelle Brouwers, Jeanette Kakereka, Rina Kanehara, Erik Woolhouse, Daniele Silingardi and Cesar Corrales—will compete for the company's seventh annual Emerging Dancer Award. And for the first time, we won't have to await news from attendees across the pond. We can watch the action firsthand from the comfort of our own homes (slash coffee shops, office cubicles and cafeterias) when the event is live streamed Tuesday, May 17.
The Emerging Dancer Competition is a unique opportunity for young ENB dancers, chosen by their colleagues, to take center stage. Unsurprisingly, several past awardees have eventually become principals or soloists. Five of this year's competitors are artists of the company (the equivalent of corps de ballets dancers); Cesar Corrales is a junior soloist. The men and women will each perform a solo and a pas de deux with one of their fellow competitors, with repertoire ranging from classical staples to new contemporary works.
The seven-person judging panel includes ENB artistic director Tamara Rojo, former Royal Ballet ballerina Viviana Durante and innovative British dance maker Sir Matthew Bourne. Additionally, all ENB dancers excluding principals are up for the People's Choice Award, voted by the public throughout the season. Winners will be announced during the live stream.
2016 Emerging Dancer Award competitors. Photo by Laurent Liotardo and Nik Patte via ENB.
In addition to the performances, tomorrow's event promises the kind of backstage, behind-the-scenes footage we can't get enough of. Make sure to account for time zones: 7:30pm in London means 2:30pm for East Coasters, 11:30 Pacific Time. Head to ENB's special webpage to tune in.
For more news on all things ballet, don't miss a single issue.
Hernández and Tamara Rojo rehearsing the Black Swan pas de deux. Photo by Taylor-Ferné Morris.
At 25, Isaac Hernández is entering his prime, and he knows it. This eternally restless dancer, already a veteran of two companies, recently found a home at a third, English National Ballet. There, he has been paired with the eminent ballerinas Tamara Rojo (his boss) and Alina Cojocaru. His has been an impressive ascent for a young man who began his training in the backyard of his house in Guadalajara, standing at a homemade barre alongside 10 brothers and sisters. The Hernández clan's instructor was their father, Hector Hernández, a former dancer for Dance Theatre of Harlem, Houston Ballet and Harkness Ballet. (Isaac's brother Esteban is a dancer at San Francisco Ballet.) But even now, Isaac wants more. Not satisfied to focus solely on his career, Hernández has launched an initiative in Mexico geared toward creating opportunities for young dancers, including a tuition-free ballet school. Pointe caught up with him recently when he was in New York City.
Keep reading...
Show less
Views
Feb. 22, 2016 04:42PM EST
Rojo and Polunin in Marguerite and Armand. Photo by Bill Cooper via The Telegraph.
Whether it's an oh-so fashionably late arrival to a ball or an endless line of impressively in-sync penchés, ballets know the power of a dramatic entrance. (Appropriate, perhaps, that the word "entrance" has a double meaning, depending on how you pronounce it: "an entry" and also "to enthrall.") Take a look at some of our favorite wing-to-stage moments.
Cinderella
Antoinette Sibley, Anthony Dowell, The Royal Ballet (1969)
Clad in a wide, diaphanous cape, Cinderella glides onto the stage and down the stairs during the ball scene of Sir Frederick Ashton's version, as if in a dream.
Odile
Uliana Lopatkina, Bolshoi Ballet (2007)
Odile enters on Rothbart's arm in a flurry of horn blares and a stormy lowering of stage lights (0:50). Intrigued, the Queen acknowledges the late arrival, and Odile casts her spell with a glittering, dark smile.
Kingdom of Shades
Paris Opéra Ballet (2012)
When the first group of eight dancers has zigzagged its way down the ramp in La Bayadère's Kingom of Shades scene, it seems impossible that they just keep coming—and coming and coming. The precision in the adagio section that follows is truly mesmerizing.
Marguerite and Armand
Tamara Rojo and Sergei Polunin, The Royal Ballet (2013)
Again, Ashton proves to be a master of drama. Marguerite, utterly still, watches her clandestine lover enter. So much emotion charged in one stare! This pas de deux is a must-see.
For more news on all things ballet, don't miss a single issue.
Views
Feb. 04, 2016 02:22PM EST
Tamara Rojo in Cinderella--she's the distressed damsel only in fairytales. Photo by Bill Cooper courtesy of The Royal Opera House.
Although it's hard for me to imagine Tamara Rojo, the strong and savvy dancing director of the English National Ballet, as a helpless maiden (or to look away from those steely legs), she wonderfully captures Snow White's sweet charm. This 2006 clip is from the balletic adaptation of the tale directed by Emilio Aragón and Ricardo Cué at the Teatro Arriaga in Spain.
Though the queen's evil huntsmen haven't yet attacked her, you can see how Rojo's Snow White might incite jealousy. She darts out of the wings with an effortless manège and intersperses moments of light, playful footwork with impeccable quadruple pirouettes and picturesque poses. Beguiling and dynamic as always, Rojo commands the stage. Happy #ThrowbackThursday!
For more news on all things ballet, don't miss a single issue.
Tamara Rojo in Swan Lake. Photo by ASH, Courtesy ENB.
While the 20th century brought a number of high-profile dancing directors, from Rudolf Nureyev in Paris to Mikhail Baryshnikov at American Ballet Theatre, most today don't juggle the highly demanding tasks of simultaneously performing and managing a company. Tamara Rojo is one prominent exception: The Spanish ballerina left The Royal Ballet to become director of English National Ballet in 2012—and has been leading the company by example ever since.
A dogged multitasker, Rojo wasted no time revamping the company's image. Often seen as the poor cousin of The Royal Ballet, with limited funding and a mandate to tour widely, ENB struggled to make its presence felt under her predecessor, Wayne Eagling. Rojo has since turned ENB into a resourceful enterprise—from lauded premieres to a new partnership with Sadler's Wells and plans for a shiny new home—alive with the same energy and individuality she is known for onstage.
Keep reading...
Show less
In reaching the top, how much is talent and how much is sweat?
Talent may give you a momentary success, but if you want a sustained career, you have to work very, very hard at it.

Who is your toughest critic?
I am!

Are you superstitious?
Not at all. I once worked with someone who was superstitious, and it seemed to be such a complete waste of time.

What's the toughest part of being a dancer?
Injuries, those unexpected accidents that throw your career into hold. But I've learned a lot from them. They've forced me to
reanalyze my technique, find new teachers who could help me throughand discover alternative approaches to recovery.

And the least glamorous?
When you're traveling the world and you've done a fantastic show and you're laden with flowers, and you walk back to a lonely hotel room, to room service and TV in a language you don't understand. That's a hard comedown.

What's your biggest indulgence?
High-heeled shoes. I just love them. They make legs look amazing, and it's great to step into a room and be so many inches taller than normal.

On a scale of 1 to 10, how nervous are you before a performance?
I'd say I'm a 5; really not too nervous. I rehearse a hell of a lot, and that gives me a certain assurance that I've done everything I possibly can to prepare.

If you weren't dancing what would you like to do?
To write. It's something I dream of.
Nov. 29, 2001 07:00PM EST
For an art form dominated by women, there sure are very few female in top positions in ballet. Actually, Richmond Ballet is hosting "The Glass Slipper Ceiling" focusing on the rarity of female artistic directors just this morning. Panelists include Ballet Memphis' Dorothy Gunther Pugh, Cincinnati Ballet's Victoria Morgan, Smuin Ballet's Celia Fushille and Richmond's own Stoner Winslett along with special guest Suzanne Farrell. Soon, it looks like we might have one more high-powered woman joining their ranks: The Royal Ballet star Tamara Rojo.
Earlier this week, London's The Independent published a feature by Alice Jones about Rojo. In it, Rojo says she's been working towards becoming an artistic director for some time, shadowing National Ballet of Canada's Karen Kain and earning a Master's degree in the performing arts. From what she says, Rojo seems like she would make a fantastic AD: "Ballet has to be not just good, it has to be excellent... When you have...such a big part of your budget guaranteed from the government, I think you do have more of a responsibility to be outrageous and to take risks." Rojo admits she's already eyeing a specific company to take over, but doesn't divulge which one. With a healthy mix of idealism and exacting standards, once she's ready to move on from performing, Rojo might just be the breath of fresh air the ballet world needs.
Nov. 29, 2001 07:00PM EST
English National Ballet has just named Tamara Rojo as it's new artistic director. The 37-year-old Royal Ballet principal will take the reins from Wayne Eagling, who resigned a few weeks ago. Rojo has had her sights set on becoming an artistic director for quite some time—she has a master's degree in scenic arts and has previously shadowed National Ballet of Canada's Karen Kain to gain insight into the position. The task ahead for Rojo won't be easy: ENB has been plagued by challenging finances since before Eagling took the helm in 2005, and it's managing director recently left a few weeks before Eagling. Yet despite the hurdles, the company boasts a packed touring schedule with 170 performances a year (ENB was originally designed as a way to show off fancy guest artists to the English countryside) as well as name dancers like Zdenek Konvalina, Bridgett Zehr and the flashy youngster Vadim Muntagirov. Rojo may be taking over a shaky company, but it's one with serious potential. Beyond the implications for ENB, the appointment spells good news for the ballet world in general: Rojo joins Kain and the recently-announced future Miami City Ballet director Lourdes Lopez as the rare women leading top ballet companies today. See ballet.org.uk. 
We love it when ballet pops up in unexpected places. Our excitement levels nearly went through the roof after stumbling across the new Lexus IS advertisement, "Poise." The ad features the stunning Tamara Rojo, artistic director and lead principal dancer of the English National Ballet, leaping, turning and generally rocking out to a new hip-hop track, Step It Up by Kozmeniuk. The only problem? The commercial was produced by Lexus UK and won't be airing in the States. Still, we love the ad's message: "A stronger body for greater control."
Bonus: an interview with Rojo:
For a dancer so famous for having a distinctly Spanish flair, it may seem ironic that it was her success at a Paris competition that led to recognition as a future ballet star. In 1994, Tamara Rojo—now doing double duty as both a principal dancer and artistic director of English National Ballet—received the gold medal and the Special Jury Prize at the Paris International Dance Competition, in which she performed the sensual piece "Arrayan Daraxa."
Choreographed by Victor Ullate (who also founded the school in Madrid where Rojo completed her pre-professional training), this solo combines technical feats with references to Spanish folklore, giving it an almost flamenco style. Clearly inspired by her native country and ethnic roots, Rojo radiates a stong, defiant personality, whether through her confident hand gestures or her quadruple pirouettes. Watch how she stares down the audience with the poise of a full-blown prima ballerina. From her cat-like entrance to her final pose, Rojo undoubtedly has her audience—and the judges—in the palm of her hand. Happy #ThowbackThursday!
Nov. 29, 2001 07:00PM EST
(Van Le Ngoc's Vue de L'autre, photograph by Tristram Kenton)
The English National Ballet announced on Monday that next year inaugurates a partnership between the company and London's Sadler's Wells Theatre.
ENB has always been England's touring company and has also had a longstanding performance relationship with the London Coliseum. Now, starting in March 2015, ENB will serve as the first associate ballet company at Sadler's Wells and will perform there for two seasons per year.
This partnership will likely change the dance landscape in England. ENB's artistic director, Tamara Rojo, has worked to revitalize the company's repertoire—however, ENB's seasons in large theaters and on extended tours have made it difficult to invest in new, contemporary work. To sell tickets, the company has to rely on the classics. Sadler's Wells has cultivated an audience of dance lovers who might be more open to edgy choreography, affording Rojo and ENB an advantage they didn't have at the Coliseum.
However, the two-season agreement will likely affect ENB's touring schedule (the company will also continue its winter season at the Coliseum for three more years), and it remains to be seen how the company will fulfill its dedication to domestic and international touring.


Get Pointe Magazine in your inbox