Francois Perron teaching class at the French Academie of Ballet. Rachel Neville, Courtesy French Academie of Ballet.
When Katie Spagnoletti was 16, she auditioned for several well-known, company-affiliated summer programs. Although she received some acceptances, the price tags and level of competition felt daunting. She decided to try the relatively smaller Saratoga Summer Dance Intensive instead, and when she walked into orientation her first day, she sensed she'd made the right choice. "Co-director Melinda Roy greeted me—and every other student—by name. It made me feel like the faculty was truly invested in me as a person and a dancer," says Spagnoletti, now a dancer at City Ballet of San Diego. "I had friends who'd gone to some of the big-name schools, so I'd heard about those experiences—and I knew mine was going to be unique."
When planning your summer, it's exciting to think about an intensive at a prestigious pre-professional school—maybe the one attached to your dream company or that all your friends are talking about. But is bigger always better? With a wealth of options for summer study, it's worth looking at the benefits of smaller schools. For many dancers, training in a close-knit atmosphere can outweigh the cachet of a big name.
Keep reading...
Show less
Students in class at the Kirov Academy of Ballet. Photo by Paolo Galli, Courtesy Kirov Academy
It's August, so two things are pretty much guaranteed: 1. It's really hot out. 2. If you're a bunhead, you're nearing the end of your summer intensive.
By now, you've gotten used to the early morning alarm, followed by the inevitable reminder that your muscles are (still) sore as you roll of out bed. But the excitement of arriving at an enticing training destination full of challenging instructors and fellow dancers may have faded. What's left is the hard work in the studio from dawn till dusk.
Keep reading...
Show less
Photo by Natalia Figueredo via Unsplash
The summer I turned 16, my head swirled with "what ifs" as I counted down the days until the start of the Chautauqua intensive. I'd attended the program four years earlier, and the experience had been a harrowing one—my first lesson in the competitive nature of ballet. Leaving the temperate waters of my little pond, I'd found myself a very small, uncoordinated fish in a pool deep with talent. Now, I was going back to test myself again, this time in Chautauqua's top level. Would I be as good as the other dancers? Would the teachers like me? Would I make friends?
Summer intensives are aptly titled. Their extreme demands can cause anxiety, nerves, jealousy and stress. But put down the question marks! Don't let a negative state of mind keep you from soaking up everything your summer has to offer.
Keep reading...
Show less
Summer intensives offer jam-packed days of dancing with little time to warm up for the next class or rehearsal. How can you prepare your body to switch from classical ballet to a modern class or a stop-and-go partnering rehearsal in as little as 10 minutes? Bené Barrera, LAT, ATC, head athletic trainer for Houston Ballet, offers these exercises and tips for building an effective warm-up.
1. Start with a base.
"Dancers like to think of everything as isolated—they work on their ankles, their hips, their neck—but it's really not," says Barrera. Instead, you should warm up with exercises that stabilize your body and involve several areas. This hip series challenges balance, requires arm and core strength to support the body, and warms up the legs. Each begins in an all-fours position.
Keep reading...
Show less
Photo via Pixabay
Summer is supposed to be carefree and fun, but for dancers, the season often marks a transition out of your regular routine and into a new environment. While it's undoubtedly exciting, the summertime shake-up may also trigger feelings of stress and anxiety. We've gathered six of our best tips to help you adjust—and deal with anxiety—whether you're heading to an intensive, on leave for the summer or performing on tour.
Keep reading...
Show less
Advanced girls at the School of American Ballet summer course. Photo by Rosalie O'Connor, Courtesy SAB.
Summer intensives can be a shock. Switching from five classes a week to five a day is a big jump—especially if you spent a month relaxing after the school year ended. "Unfortunately, many students come out of shape, and they suffer because of that," says Pacific Northwest Ballet School principal Abbie Siegel.
To get the most out of an intensive, you need to arrive prepared. Fine-tune your body strategically by taking a play from the sports world: Use periodization, an approach to training and cross-training that relies on defined periods of rest and activity. It helps athletes make sure they're in top form at the height of their season. Megan Richardson, MS, ATC, who works with the Harkness Center for Dance Injuries at New York University Langone Medical Center's Hospital for Joint Diseases, explains: "Periodization is training intensively, taking rest time and then building back up to elite performance level. The cyclical training and cross-training allow the body's tissues to repair and become stronger in a balanced way." By following this timeline, you will reach your peak fitness just in time for your summer program.
Keep reading...
Show less
Summer intensive students at the School of American Ballet. Photo by Rosalie O'Conner, Courtesy SAB.
As a young student, Shea McAdoo's classes at the Master Ballet Academy in Scottsdale, Arizona, were "strict, straightforward, very classical and purely Vaganova." She appreciated the Russian rigor and precision, but when she was accepted to the School of American Ballet's summer course at 13, she leapt at the chance to learn something new. The vastly different emphasis on Balanchine technique at SAB was illuminating: "It changed my whole way of thinking about musicality and accents. I'd never known there were so many ways to do a tendu! And the épaulement—I loved how they talked about light hitting your face, tilting your chin to show off your diamond earring."
McAdoo's experience was transformative, even when she returned home. "Of course, I lowered my arms back down in second and didn't cross my wrists," she says, "but there were stylistic choices I brought back with me." Today, as an apprentice with Oregon Ballet Theatre rehearsing Balanchine's Serenade, she credits her ease with the ballet's fluid port de bras to her summer at SAB.
Keep reading...
Show less
Students at the University of Utah's Department of Ballet summer intensive. Photo by August Miller, Courtesy U of U.
Maura Bell was determined to have a ballet career. But as a high school senior, she didn't feel ready to audition for companies yet. "I knew I had more maturing to do, both technically and as a young woman," she remembers. Bell started researching collegiate options and discovered that Indiana University's ballet department hosted a two-week summer intensive for pre-college students. "The reputation of IU spoke for itself, so I decided to do the summer intensive to get a feel for what it would be like to go there."
The deciding moment came at the end of her second week, when department chair Michael Vernon led her and fellow students on a tour of IU's Musical Arts Center. "I remember standing on that stage—it's the size of the Met— and it just clicked: This was where I wanted to be, my dream school," she recalls. Bell auditioned for the ballet department that fall. Four years later, she credits the training and connections she made at IU with her ultimate post-graduation success: a contract with Saint Louis Ballet.
College summer programs offer students a chance to experience what life would be like as a dance major, and introduce them to a wide range of possibilities for their training and future career. Even those on the fence about going to school could benefit from spending a few weeks on campus—along with the strong focus on individual development, collegiate summer intensives allow students to meet year-round faculty and current dance majors, scope out the dorms and dance facilities, and do some major networking.
Keep reading...
Show less
Thinkstock
Coming home from my summer intensive was such a letdown. How can I carry my summer inspiration into the fall? —Hailey
I remember the feeling, too. After weeks of intense dancing, exciting master teachers and new friends, it can be hard to go back home. You have to channel that inspired energy back into your regular routine. I found it helpful to write down as much as I could remember in a notebook. Give each teacher his or her own page. Include corrections, combinations or exercises that you found particularly helpful, as well as any of their catch phrases or metaphors that brought on an "aha" moment. I even drew stick-person diagrams of one teacher's turnout and arabesque exercises, illustrating all the steps. Refer back to your notebook, applying what you learned over the summer to your fall classes, and make a list of achievable goals that you'd like to reach by December. (By the way, I still have my notebook!)
Keep reading...
Show less
Inside PT
Apr. 01, 2016 05:44PM EST
Getty Images
Is it better to audition for a summer intensive at a small school where I'll get individualized attention, or at a large school where I might have a chance to stay year-round? —Amy
When it comes to auditioning for summer programs, you should go for a range of schools. Not only does that allow you to practice auditioning, but you can better assess what each program offers and which might be the best fit for you. Once you know which intensives you've gotten into, you can make an informed final decision. And in addition to size, you should be keeping other important factors in mind: the faculty, the types of classes offered, performance opportunities and costs.
Keep reading...
Show less
Caitlin Peabody in Pittsburgh Ballet Theatre's In Your Eyes. Photo by Rich Sofranko, Courtesy PBT.
Pittsburgh Ballet Theatre corps member Caitlin Peabody was dancing famously at her small variety-dance school in Derry, New Hampshire, as a young student. She had so much potential that her instructor encouraged her to audition for Boston Ballet's summer intensive, and she was accepted. Months earlier, she had starred as Cinderella in her school's production. But when she reached Boston, the competition was such that she was placed into the program's lowest level. "I was not where I should have been for my age," Peabody says.
Perhaps you've had a great year at your studio. When you rehearse your variation for The Nutcracker, the younger ones sit cross-legged on the floor watching in awe, and you feel the tiniest air of jealousy from your peers. But being at the top of your class back home won't exactly help you improve. For many hometown heroes, assessing the competition at a large summer program can be a bitter reality check. Rather than grow discouraged, here's how to use the experience as an opportunity for growth.
Keep reading...
Show less
Students at the Houston Ballet summer intensive (photo by Cameron D.)
Jane Rehm was a top dancer at her studio in Toledo, Ohio, so it was a shock when she arrived at American Ballet Theatre's summer intensive at 14 and was placed in the lowest level. "I didn't understand it," says Rehm, who dances with Smuin Ballet and Post:Ballet. "I had always been one of the best and all of a sudden I was far, far from it."
Your level placement determines much of the training you'll receive at your summer intensive: the teachers you'll have, the variations you'll learn and the choreography you'll perform at the closing performance. What should you do if you're placed lower than you deserve? As nerve-wracking as it may be, you need to talk to your teacher if you are concerned that it will hold you back.
Are You Really in the Wrong Level?
It's best to take a few classes before speaking up to make sure your emotions aren't getting in the way, as being placed in a lower level can be hard on the ego. Look around you—are the dancers you're with truly below your technical level? If so, did you have a horrible placement class? Are you overcoming an injury?
Houston Ballet Academy director Shelly Power says level placement isn't about your worth as a dancer, but how you match up to that year's applicant pool. "Remember that the auditioner goes out and sees what the level is across the country," she says. "It goes through trends." The talent pool and number of dancers that audition for a program vary each year.
Still, she admits that students sometimes do receive an incorrect placement. "It's inevitable. You see someone for an hour in an audition and sometimes you get it wrong."
Speaking Up
If you've given your level placement some thought and still feel it's incorrect, you should ask to talk with your main teacher within the first week of the program. Power stresses that having an accusing tone—telling the teacher that she put you in the wrong level—will not help. Instead, approach the conversation with an eagerness to improve. I'm surprised that I have been placed in this level. What should I focus on this summer to progress?
You may discover that something very specific is holding you back. For instance, "At The School of Washington Ballet we look at pointework very closely," says school director Kee Juan Han. "To me, pointework is very delicate and it needs to be very carefully formed." If a dancer needs to improve her pointework, Han might place her in a lower level so she can build strength and avoid injury.
Even if the conversation doesn't result in being moved up, letting a teacher know you're worried about your improvement during the program can only benefit you. "It doesn't guarantee that you're going to be moved up," says Power, "but it does give you a little bit more focus from the teacher." Cluing them in to how you feel lets them know that you're ready for a challenge—they might be a little harder on you, give you more corrections or push your technique.
Working Through It
If your level doesn't change, don't let it affect your experience. "Standing out like a sore thumb because you're depressed or mad won't help show that you have the maturity to handle the stress of being in a higher level," says Power. The education you gain at a summer intensive is more than technique alone: It tests the maturity, independence and tenacity that are required to be a professional dancer. "When you're in a company and a choreographer sets a piece, you're going to have days with many of the same feelings you have now," says Power.
Jane Rehm in Michael Smuin's Carmina Burana (photo by Keith Sutter)
Enjoy the perks of being at the top of your class. "If it were me, I would rather be in the top tier than go to another level where I'm struggling to keep up," says Han. You might get more attention from teachers and a chance for bigger roles in the end-of-program performance, leading to more coaching time and attention from the affiliated company's artistic staff. And if the dancing doesn't feel vigorous enough, push yourself to work on the details of your technique and ask your teacher if you can take extra classes with other levels.
Though it may not feel like it now, your placement might be exactly what you need. Rehm attended ABT's summer program again two years later and was placed in the highest level, but she feels that she actually improved more during her year in Level 1. "When you show up to a program, the best mindset you can possibly have is that I'm coming to learn what I don't already know, not to prove what I do know," says Rehm. If you land in a level that's over your head, you'll push through without dancing correctly. "Then you're just a collection of imitations and bad habits."
Erica Lall and Shaakir Muhammad in class at American Ballet Theatre's 2013 New York Summer Intensive. Photo by Rosalie O'Connor, Courtesy ABT.
This story originally appeared in the December 2013/January 2014 issue of Pointe.

When Pacific Northwest Ballet School student Madison Abeo was accepted into San Francisco Ballet School's summer session on a partial scholarship, she was thrilled. But then she added up the remaining cost for the program and realized she didn't have the funds. "I really wanted to go," she says, "but we just couldn't make the other half of it work."

Ballet training is expensive. For many families, a trip to a dream summer intensive simply isn't in the budget. SFB was $2,500 out of Abeo's reach. But she was determined. At the suggestion of her aunt, Abeo created a Facebook fan page where she asked for opportunities to babysit or perform odd jobs, and included a link to a PayPal account where friends and family could make donations. Two local dancewear businesses, Vala Dancewear and Class Act Tutu, offered to outfit her for fundraising photos, which a photographer took for her Facebook page for free. By June, Abeo had raised enough for tuition—plus plenty of pointe shoes.

Affording your dream intensive isn't as difficult as you might think. There are a surprising number of eager dance supporters out there. Case in point: On Kickstarter, dance projects have the highest success rate of any type of campaign, with dancers receiving over $4 million in donations through the site since it began. You can also apply for need- or merit-based grants and scholarships, either through your summer program or an outside foundation. Most dancers who want it badly enough can make it happen.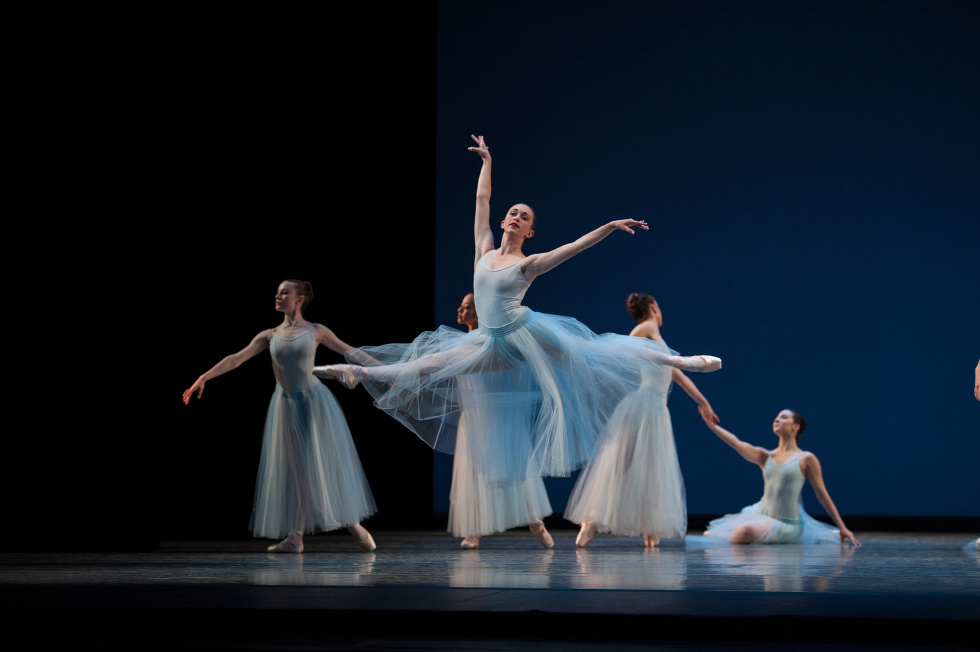 Madison Abeo with other Pacific Northwest Ballet School students in the 2013 School Performance of an excerpt from "Serenade," choreography by George Balanchine. Photo by Rex Tranter, Courtesy Abeo.
Take Your Cause to the (Online) Streets
Keep reading...
Show less
Have a question? Click here to send it to Amy and she might answer it in an upcoming issue!
Help! All of my friends are going to impressive summer intensives, but I didn't get in anywhere fancy. I feel like a total loser because I'm just going to a small school. Any advice? —Heidi, TX
I understand what you're going through—I remember when a girl from my studio received a full scholarship to the Joffrey Ballet School's summer intensive. I couldn't help but feel inferior about the smaller program I was going to. But I ended up having an amazing experience! I had wonderful teachers, made great friends and came back a much stronger dancer.  I'm not the only dancer who has reaped enormous benefits by attending a smaller program. Raychel Weiner, a dancer with Oregon Ballet Theatre, spent two summers at prestigious intensives, but her teacher saw little improvement. "She said, 'You're not getting the individual attention that you need. Why not try a smaller place?' " recalls Weiner. She enrolled at Kansas City Ballet's (now defunct) satellite program in Crested Butte, CO. At 16, she was the oldest of about 20 students. Although she was leery at first, Weiner grew to appreciate the extra attention. "There were more opportunities to ask questions," she says. "It was a far more intimate setting and I responded better to that."
Going to a smaller school can also have professional benefits. "Not everyone gets into American Ballet Theatre or New York City Ballet," explains Weiner. "It's smart to have smaller companies recognize you." She's right—I received my first professional job through Milwaukee Ballet's summer intensive. Try not to compare yourself with your classmates. "This is your time to grow and learn," says Weiner. You have a great opportunity this summer, so make the most of it!
How can I improve my extensions? I can do the splits on both sides, and if I hold my leg, I can get it up. What do I need to do to get it to stay there? —Rebecca, CT
Extension is a combination of flexibility and strength. Luckily, it sounds like you have good flexi­­bility. Now you need to strengthen the proper muscles in order to hold your leg in position. I've always struggled with extensions because I'm terribly inflexible, but once I added core exercises to my stretching routine, I noticed major improvement.
Try taking Pilates mat classes to build strength in your stomach, hip and back muscles. I like doing the Stomach Series before ballet class. Check out The Pilates Body by Brooke Siler, which breaks down each exercise with photos. You can also try a varied series of crunches that target your lower abs and obliques.
A strong supporting leg is also important. As you développé, push down into the floor with the supporting leg to create more stability.
Before class, practice feeling the right muscles. Stretch with your leg on the barre in proper ballet positions—meaning your hips are square and your standing leg is directly underneath you and engaged. Then use your hand to hold your leg in position, such as in a développé devant, à la seconde or arabesque penchée. Test your strength by letting go and seeing how long you can hold it there, and then slowly lower to tendu.
I just found out that I have micro-tears in my right calf muscle. How can I help it heal so that I can keep taking classes and auditioning? How do I stay in shape? —Cherie
I spoke with Michael Leslie, San Francisco Ballet's physical therapist, about your calf. Luckily, he thinks you have a mild injury that should heal quickly if you take care of it properly. Listen to your symptoms and train accordingly.
You shouldn't need to take time off, but Leslie recommends gradually building up to taking an entire ballet class. Start by only taking barre, steering clear of anything that irritates your calf. You can also try non–weight-bearing exercises like floor barre, Pilates or the stationary bike. Over time, slowly incorporate center exercises. "You'll need to be careful during the last 20 minutes of class," says Leslie. "Listen to your body, and don't jump as long as you're in pain." Since you're using pain as your guide, avoid masking it with anti-inflammatories.
Overstretching your calf (especially by using slanted board calf-stretchers) can cause further muscle tears. For a milder stretch, try flexing your foot, using muscles in the front of your shin, with both a bent and straight leg. Leslie also recommends wearing a street shoe with a small, stable heel or using a quarter-inch heel lift to prevent further overstretching. You should feel improvement within a few weeks.


Get Pointe Magazine in your inbox