The Royal Ballet's Vadim Muntagirov and Marianela Nuñez in La Bayadère. Photo by Bill Cooper, Courtesy ROH.
Do you ever wish you could teleport to London and casually stroll into The Royal Opera House to see some of the world's best-loved ballets? Well, we have a solution for you: The Royal Ballet's 2018-19 cinema season.
Whether live or recorded, the seven ballet programs listed below, streaming now through next October, will deliver all of the magic that The Royal Ballet has to offer straight to your local movie theater. Can you smell the popcorn already?
Keep reading...
Show less
Photo via Instagram.
When you spend as much time on the road as The Royal Ballet's Steven McRae, getting access to a proper gym can be a hassle. To stay fit, the Australian-born principal turns to calisthenics—the old-school art of developing aerobic ability and strength with little to no equipment.
"It's basically just using your own body weight," McRae explains. "In terms of partnering, I'm not going to dance with a ballerina who is bigger than me, so if I can sustain my own body weight, then in my head I should be fine."
Today, McRae shares videos of his workouts on social media (where he has approximately 150,000 Instagram followers). They are often shot in his dressing room, with a chair as the only prop while he does développés from an arched handstand, for instance—a feat of upper-body strength and flexibility.
"I think people are genuinely intrigued and interested in what we do: I get lovely comments offering suggestions to alter the exercise."
Steven McRae at the 2003 Prix de Lausanne performing the variation from "Le Corsaire." Photo Courtesy Prix de Lausanne.
This week, young ballet dancers from across the globe have been studying and competing for coveted scholarships at the Prix de Lausanne. This infamous competition has been a launch pad for many of the ballet world's biggest stars. One such star is Royal Ballet principal Steven McRae, who was a prize winner in 2003 with these two outstanding performances in the finals.
While just a lanky 17 year-old in this clip, he nonetheless performs the virtuosic slave variation from Le Corsaire with aplomb. He brings impressive height and length to his jumps and conveys the character's pride and passion with intense eyes and a dramatically arched back in the final pose.
Keep reading...
Show less
Lin Fujimoto, Matthew Maxwell, Harris Beattie, Ryan Felix and Lucy Christodoulou. Photo by Bruno Simao, Courtesy of the Royal Academy of Dance.
Over the past week, 52 dancers from 14 countries trained in the Royal Academy of Dance syllabus flocked to Lisbon, Portugal, for the 2017 Genée International Ballet Competition. After four days of coaching (see highlights on our Instagram), the dancers competed in two days of semi-finals. By Saturday, the pool had been narrowed to just 11 contestants who performed in the finals at Teatro Camões; five lucky dancers took home medals.
The prestigious gold medal (past winners have included ballet stars such as Stella Abrera and Steven McRae) went to 18-year-old British student Harris Beattie. Beattie made Genée history this weekend as the first dancer ever to win all three awards: gold medal, Dame Margot Fonteyn Audience Choice Award and the Choreographic Award, which he received for his Dancer's Own variation entitled Torn, which he co-choreographed with his teacher, Karen Berry. Beattie trains at the Central School of Ballet in London.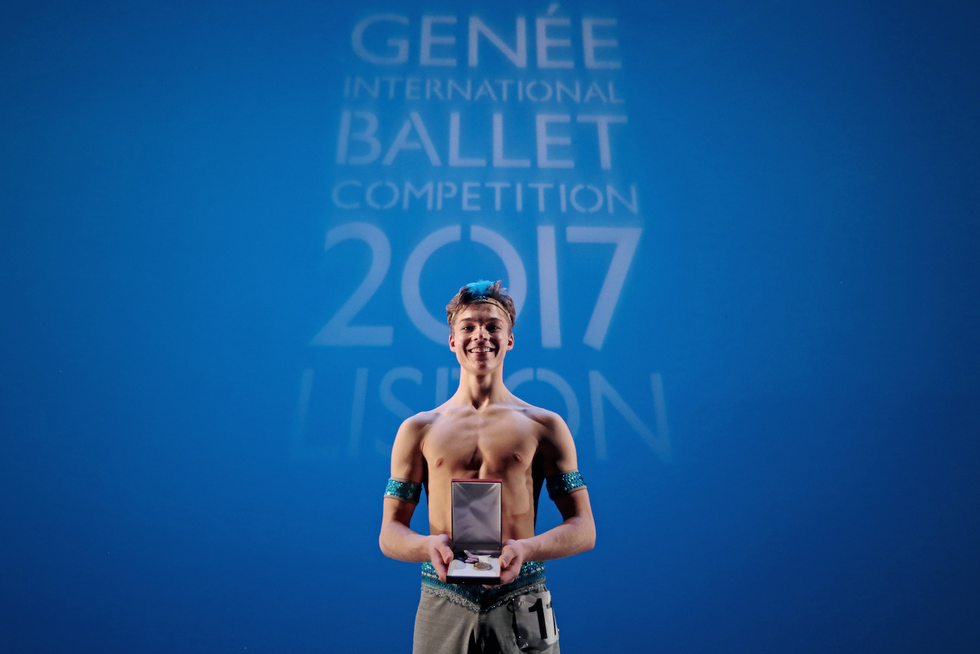 Gold medal, the Dame Margot Fonteyn Audience Choice Award and Choreographic Award winner Harris Beattie. Photo by Bruno Simao, Courtesy of the Royal Academy of Dance.
Keep reading...
Show less
Stella Abrera at the Genée International Ballet Competition in 1995. Photo by Pete Jones, Courtesy Royal Academy of Dance.
On September 7, The Genée International Ballet Competition—the Royal Academy of Dance's flagship event—gets underway in Lisbon, Portugal. Founded in 1931, the Genée recognizes top talent with medals and cash prizes, as well as exposure to company and academy directors. Competitors perform a classical variation, a commissioned piece by an emerging choreographer, and a "Dancer's Own" solo, choreographed by either the competitor, their teacher or a peer.

The 10-day competition, which hosts young dancers trained in the RAD syllabus from around the world, has helped launch the careers of many of today's ballet stars. Just who, exactly? Take a walk down memory lane as we reveal eight familiar faces.
Keep reading...
Show less
popular
Jun. 21, 2017 05:27PM EST
Zenaida Yanowsky and Roberto Bolle in Sir Frederick Ashton's "Marguerite and Armand." Photography by Tristram Kento, Courtesy ROH.
If you, like many of us here at Pointe, wish you could have seen Royal Ballet star Zenaida Yanowsky's retirement performance on June 7, you're in luck. The Royal will screen a recording of it in select movie theaters across the U.S. starting Sunday, June 25. (In many cities, it will be screened on Tuesday, July 11.) The program includes three works by the company's founding choreographer, Sir Frederick Ashton: The Dream, Symphonic Variations and Marguerite and Armand—the latter of which stars Yanowsky and Roberto Bolle. You can also catch other Royal favorites like Marianela Nuñez, Vadim Muntagirov, Steven McRae, Akane Takada and Yasmin Naghdi. Make sure to bring tissues!
To find dates, times and theaters near you, click here.
Views
May. 25, 2016 12:58PM EST
McRae rehearses the role of the Mad Hatter in Wheeldon's Alice's Adventures in Wonderland (photo by Gautier Deblonde)
In the spirit of honesty, we'll just come out and say it: Here at Pointe, we're not exactly tap dance experts. But that doesn't mean we've never taken tap, nor that we're immune to the beauty, technicality and historical importance of tap dance. It's just that the dance world doesn't often see crossover performers showing off both their ballet and tap expertise.
Fortunately, Royal Ballet principal Steven McRae is here to show us what that expertise looks like. McRae was tapped (sorry) to play the Mad Hatter in Christopher Wheeldon's Alice's Adventures in Wonderland—a part that involves seriously fleet footwork. In this video from World Ballet Day 2015, he displays his prowess:
There's a lot going on here: McRae, an Australian, is a principal dancer in the UK's largest ballet company. He's combining a uniquely American dance style with the music and historical mannerisms of a specific Hungarian folk dance—which itself derived from Romani music.
But that's the beauty of dance: Its ability to communicate across languages and cultures—even across time. So from one group of ballet devotees to another: Happy National Tap Dance Day!
For more news on all things ballet, don't miss a single issue.
Views
May. 05, 2016 04:20PM EST
Photo by Nobby Clark/Arena PAL via The Royal Opera House on Flickr.
Sir Frederick Ashton created his 1980 ballet Rhapsody in honor of Elizabeth The Queen Mother (mother of Elizabeth II) for her 80th birthday. I'd say this serene, elegant pas de deux is fit for a queen—and for the strengths of its lead dancers, Mikhail Baryshnikov and Lesley Collier, on whom the roles were created. In her shimmering blush-pink dress, Collier wafts across the stage, feet fluttering to the piano's peaceful notes. With his effortless partnering and her full, graceful port de bras, it seems as if there's no transition from floor to air. My favorite moment is when Collier ducks under each of Baryshnikov's arms and he reacts with a barely-there embrace, eyes gazing outwards. They strike a perfect balance between dancing for themselves, for each other and for us.
Baryshnikov actually requested the commission for Rhapsody. Judging by the thriving success of the Baryshnikov Arts Center, the creation and performance space he founded in New York City 25 years later, he'll continue to be a pioneer in the arts for years to come. Lesley Collier became a widely respected coach and teacher after her retirement from the stage. Below, watch her lead Royal Ballet principals Natalia Osipova and Steven McRae in rehearsals for the sublime ballet she starred in. Happy #FlashBackFriday!
For more news on all things ballet, don't miss a single issue.
McRae in Sir Frederick Ashton's "Rhapsody." Photo by Tristram Kenton, Courtesy ROH.
Steven McRae

The Royal Ballet's Steven McRae danced with a power and speed most people would need figure skates to achieve at Covent Garden in February, but the amplitude of his chaînés, barrel turns and rivoltades was just the icing on the cake during his finely calibrated performance in Sir Frederick Ashton's Rhapsody. Dancing the lead role originally made for Mikhail Baryshnikov, the 28-year-old Aussie also excelled in the small gestures and precise positional details for which Ashton's work is known. McRae says the music, Rachmaninoff's Rhapsody on a Theme of Paganini, is the key to balancing athleticism and artistry in the piece. "It's easy to get caught up in the technical demands of the choreography," he says. "However, when you really listen to the music, something magical starts to happen." The same can be said for the moment when this dynamic and versatile principal takes the stage. —Michael Northrop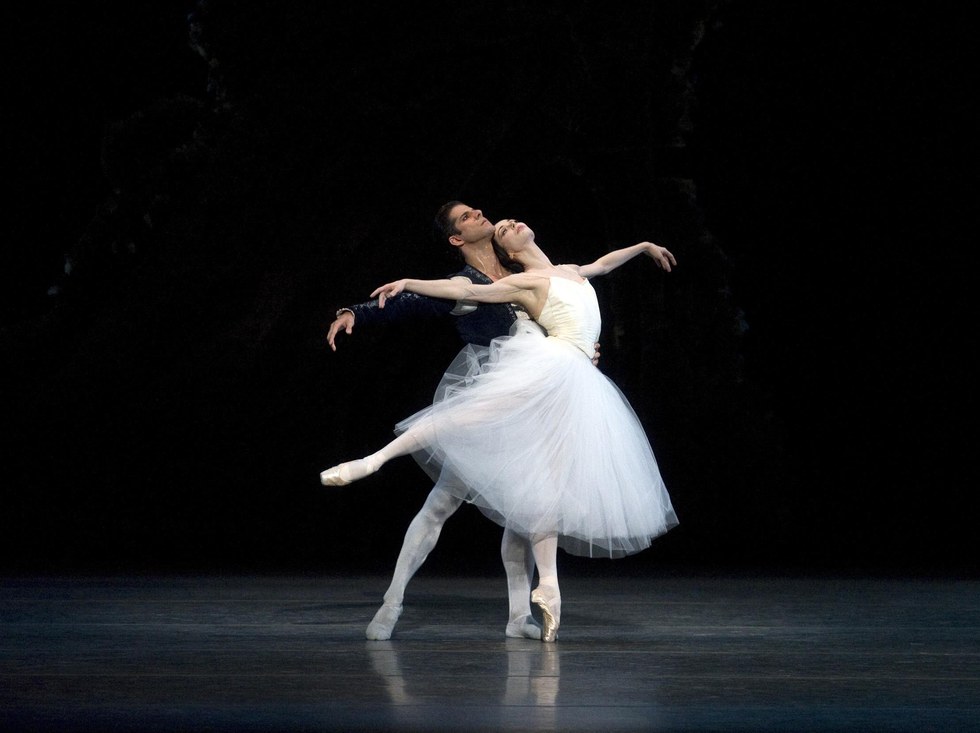 Gomes and Vishneva in "Giselle." Photo by Gene Schiavone, Courtesy ABT.
Diana Vishneva & Marcelo Gomes
One of the biggest thrills of Diana Vishneva and Marcelo Gomes' longtime partnership at American Ballet Theatre is its ability to transcend to greater heights each season. It was ever apparent in their performance of Giselle last June. While they've performed the roles together in years past, familiarity and experience have allowed them to bring deeper richness to their characters. Vishneva's Giselle was shy and vulnerable, coming out of her shell gradually in response to Albrecht's affections until she almost seemed to burst with joy. Meanwhile, Gomes—a cocksure but lovable Albrecht—grew more and more smitten with his conquest. Once his ruse was discovered, you sensed not only Giselle's disbelief but her painfully public humiliation, making her breakdown all the more understandable and heartbreaking. In Act II, Vishneva was otherworldly in her lightness, accentuated further through Gomes' reverential, seamless partnering. Together they drew the audience into their story and held them, spellbound. —Amy Brandt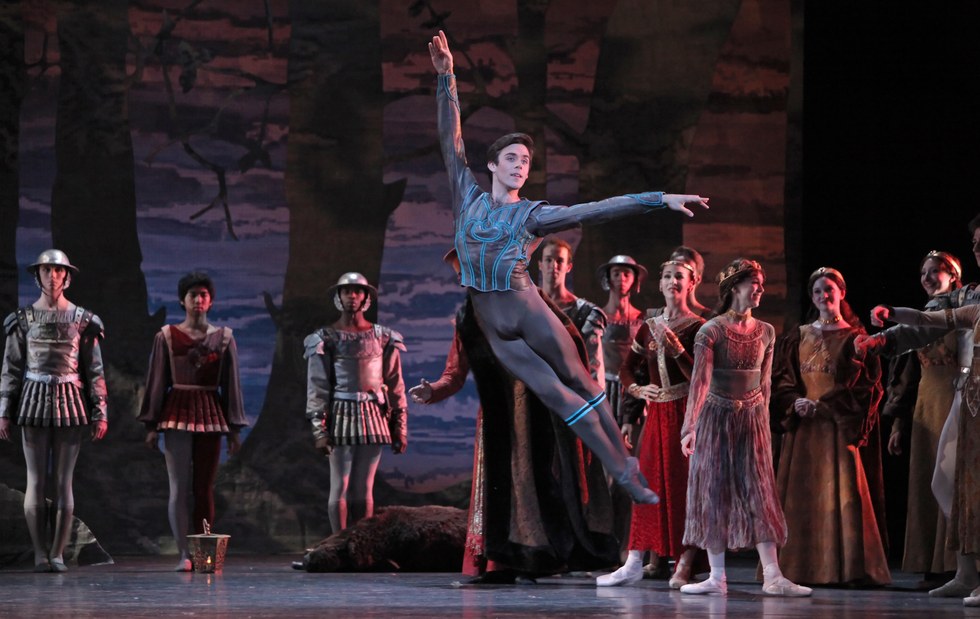 Walsh in "Swan Lake." Photo by Amitava Sarkar, Courtesy Houston Ballet.
Connor Walsh
When Houston Ballet's Connor Walsh first danced Siegfried in the premiere of Stanton Welch's fast-paced, dreamy version of Swan Lake in 2006, he was technically impressive, holding his own with the elegant Barbara Bears. But watching him reprise the role some eight years later, it became clear just how much he has grown. It's as if his edges have become sharper—not just technically but in all aspects of his artistry; he's developed a distinctly refined performance polish. There's ample heart behind his princely swagger now. Walsh's noble command of the stage, solid virtuosity and well-tempered bravado all add up to one convincing prince. His involvement in the ballet's original creation process, along with added years of experience, certainly helped deepen his interpretation. The HB principal is moving into his own, and his performance in Swan Lake provided the evidence. —Nancy Wozny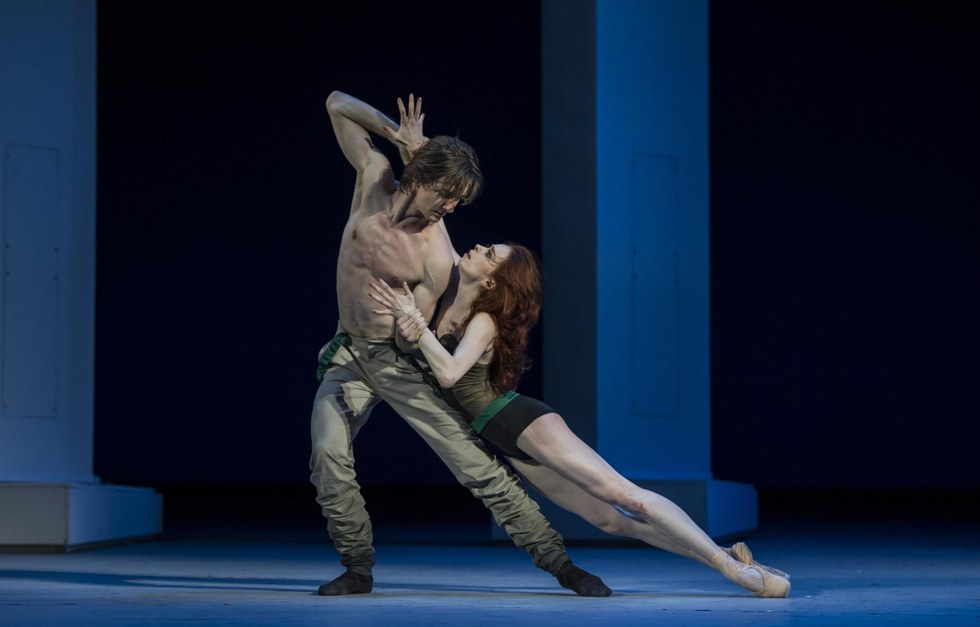 Lantratov and Krysanova in "Taming of the Shrew." Photo by Alice Blangero, Courtesy Bolshoi.
Bolshoi Ballet
It was a gamble on all sides: a new, full-length Taming of the Shrew by a foreign choreographer at the Bolshoi Ballet, just over a year after the acid attack on Sergei Filin. Les Ballets de Monte-Carlo's Jean-Christophe Maillot, who was creating his first ballet for an outside company in two decades, proved undaunted, and the result was a team effort that showed the Bolshoi's young generation in a new light. Each of the 10 soloist roles was choreographed with and for the first cast, from Vladislav Lantratov to Olga Smirnova, Vyacheslav Lopatin and Anna Tikhomirova, channeling their offstage personalities to show a new facet of their talent; their bold classical technique was in evidence throughout yet colored by the spontaneous, naturalistic approach Maillot favors. It was the Bolshoi as the world loves it, with a modern edge—and the Shrew herself, principal Ekaterina Krysanova, led the pack with a nuanced, career-defining performance, her power matched by a new abandon. —Laura Cappelle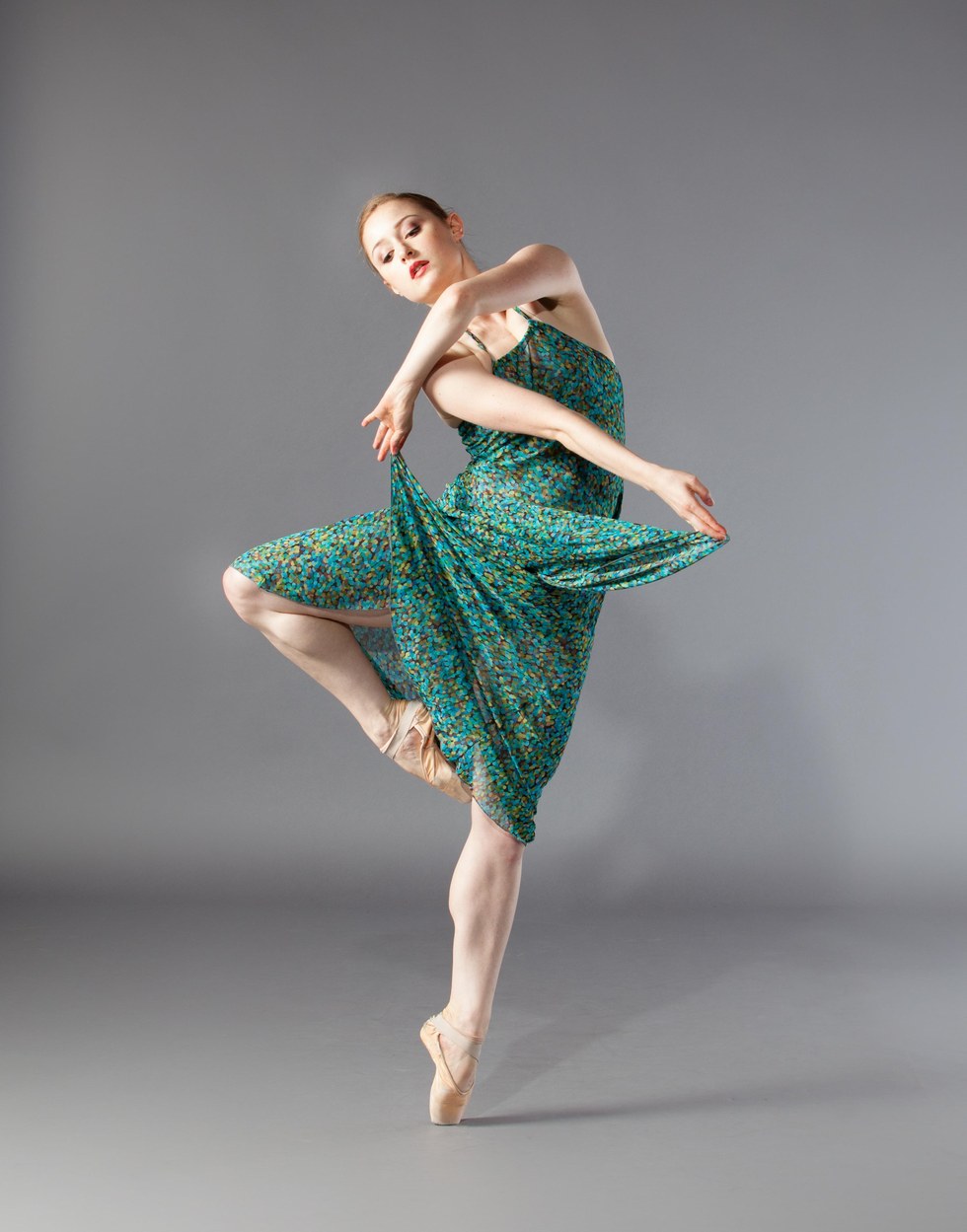 Photo by Alexander Izilaev, Courtesy BalletX.
Chloe Felesina
In the BalletX premiere Sunset, o639 Hours, Chloe Felesina danced front and center, with an abandon, fire and precision that made her riveting. The dreamlike adventure tale, choreographed for 10 dancers by BalletX co-founder Matthew Neenan, was based on the true story of Captain Edwin Musick's ill-fated Honolulu-to-Auckland flight in 1938. As the famous pilot's wife, and in her other roles in the ballet, Felesina's depth of feeling was matched by a robust agility. She shone in scenes portraying the couple's romance, the island life of New Zealand and her solitary bereavement.
Even though her medium height and fine features make her look delicate, she's a powerhouse: at the front of the pack in floor-rolling unisons and sparkling in Neenan's inventive partnering. A full-time company member since 2012, Felesina relishes deciphering each choreographer's intent and seeking more ways to communicate strongly with her audience. In Sunset, o639 Hours, her approach worked: You couldn't take your eyes off her. —Lisa Kraus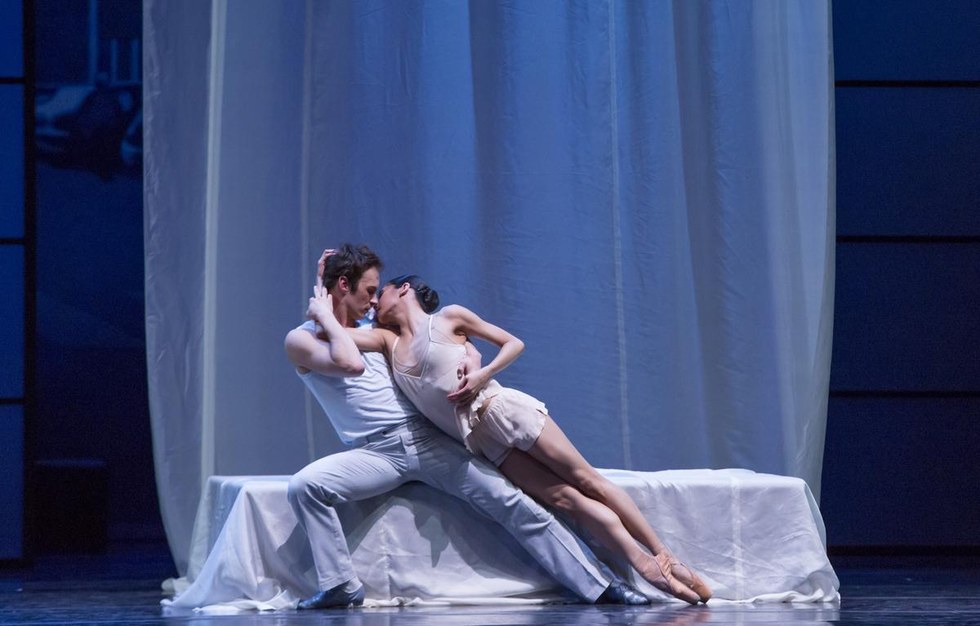 Rocas with Rory Hohenstein in "Romeo & Juliet." Photo by Cheryl Mann, Courtesy Joffrey.
Christine Rocas
A couple of years back, Joffrey Ballet dancer Christine Rocas confessed: "I'm always scared to do modern things…I try to be spontaneous, but I know I look funny at first."
Rocas, 28, definitely didn't look "funny" in her opening night performance of Polish choreographer Krzysztof Pastor's Romeo & Juliet in Chicago this past April. And Pastor's take on the story was supremely contemporary—not at all like the Kenneth MacMillan or John Cranko versions for which Rocas' lyrical, weightlessly lovely style would have been a perfect fit. In fact, as Juliet, Rocas seized hold of Pastor's starkly modern, sweepingly cinematic reinvention, which used 20th-century Italian history as a backdrop. Masterful in her embrace of the ballet's mix of difficult classical and contemporary technique, she revealed a powerful, highly individualistic, surprisingly dramatic talent.
Her performance had genuine star quality, with pristinely beautiful dancing and fiercely honest acting in evidence from the moment, early on, when she simply walked around the perimeter of the stage, quietly fixing her gaze on Romeo. The palpable quickening in Rocas' face and body was a far cry from simple pubescent awakening. This was the dawning of a young woman with a mind of her own. —Hedy Weiss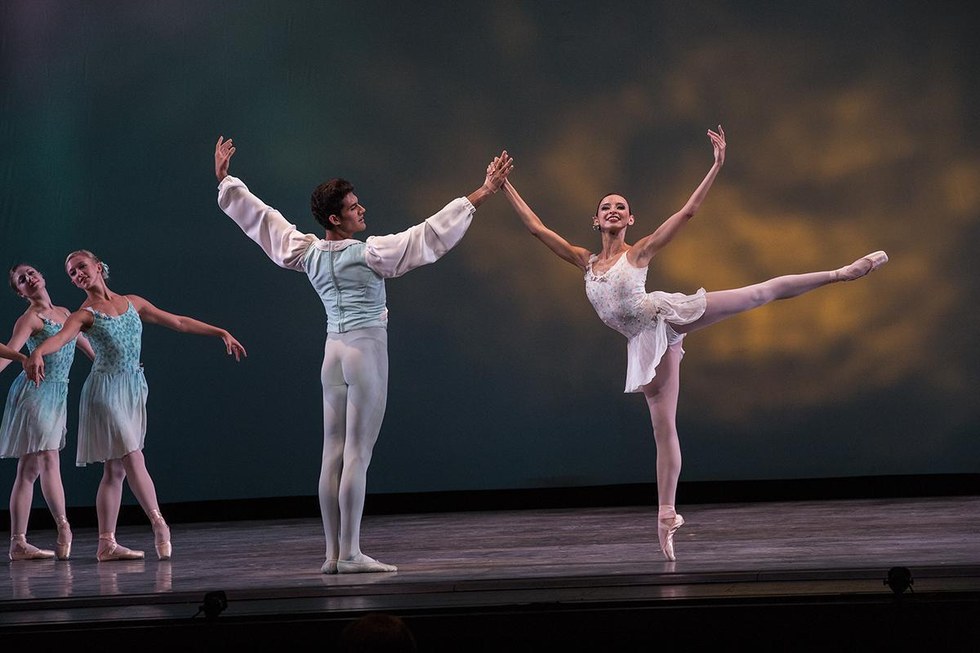 Arja with Renan Cerdeiro in "Ballo della Regina." Photo by Daniel Azoulay, Courtesy Miami City Ballet.
Nathalia Arja
As the recently promoted Miami City Ballet soloist Nathalia Arja can attest, some roles lift dancers to the heights of artistic privilege. While still a corps member last season, Arja—a 21-year-old MCB-school alumna with Rio de Janeiro roots—earned the opportunity to dance the lead in George Balanchine's exquisitely demanding Ballo della Regina. There she was, on opening night no less, fast and fastidious in virtuoso moves: restless changes in direction, riveting hops on pointe, clockwork articulations that teased time itself. "I learned to do what I didn't know I could," says Arja. No small amount of calibration, of course, came from being coached by Merrill Ashley, the New York City Ballet wonder who originated the role. Still, Arja brought strengths she's been honing since dancing the role of Sugar Plum at MCB as a teenager—the verve and knack for detail that also served Alexei Ratmansky when he fashioned a solo on her in Symphonic Dances in 2012. A culmination for many, Ballo figures for Arja as the promise of an ever more thrilling career. —Guillermo Perez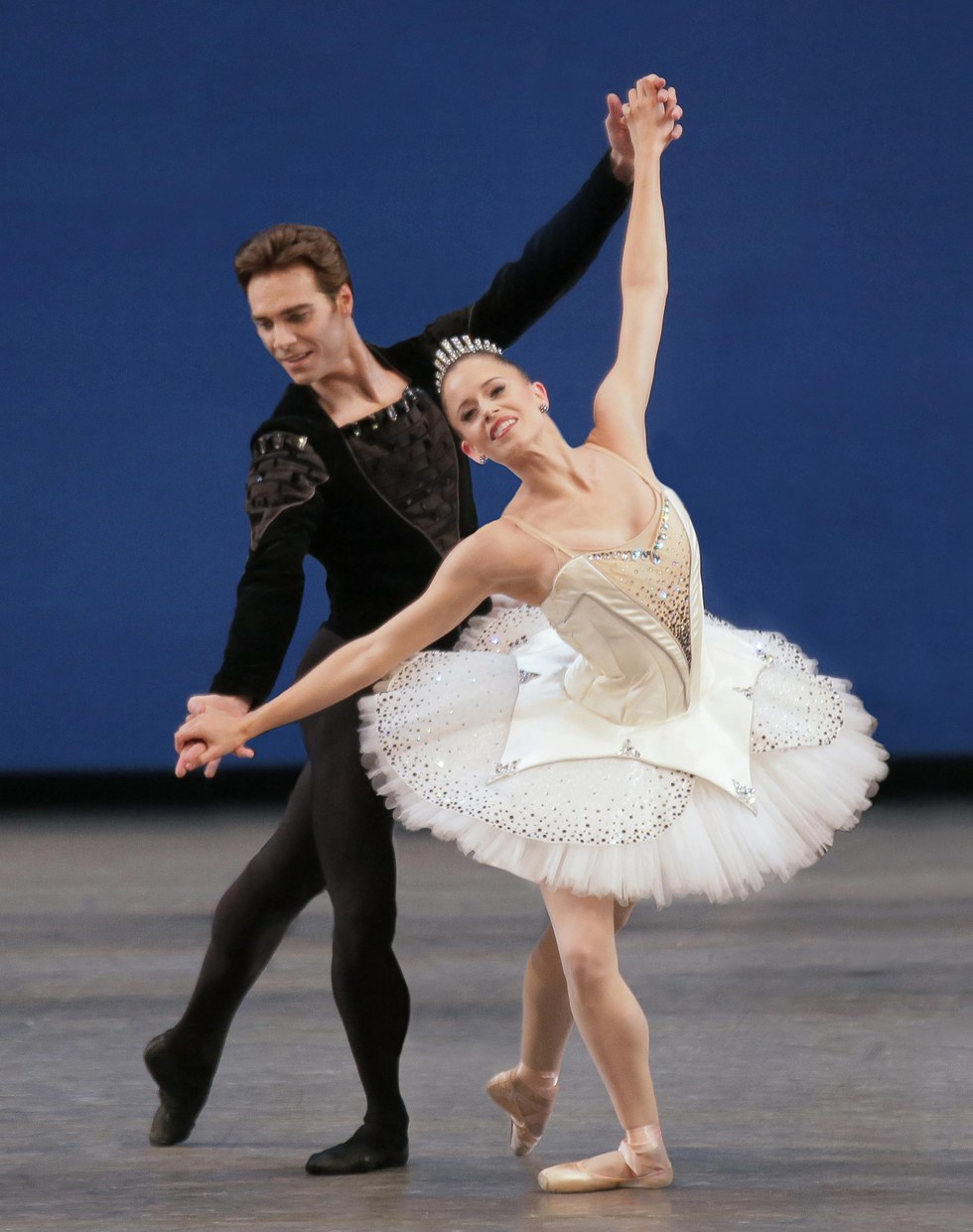 Isaacs with Gonzalo Garcia in "Symphony in C." Photo by Paul Kolnik, Courtesy NYCB.
Ashly Isaacs
In the third movement of Balanchine's Symphony in C, the leads repeatedly charge onto the stage in a series of grands jetés—irrepressibly buoyant, as if they're more at home in the air than on the ground. In a way, that's a fitting metaphor for New York City Ballet corps member Ashly Isaacs' 2014 season, which saw her star on the rise, achieving greater heights with each successive performance. Her debut as the ballerina in that movement of Symphony showed off not only her preternatural ballon, but also her easy command of the stage. In the wrong dancer's hands (and feet) the always-on-the-go choreography can feel bombastic, but Isaacs colored it sensitively, adding subtle shading to its softer moments. For some years this role has been danced brilliantly by Ashley Bouder; it was hard not to notice the similarities between the two. —Margaret Fuhrer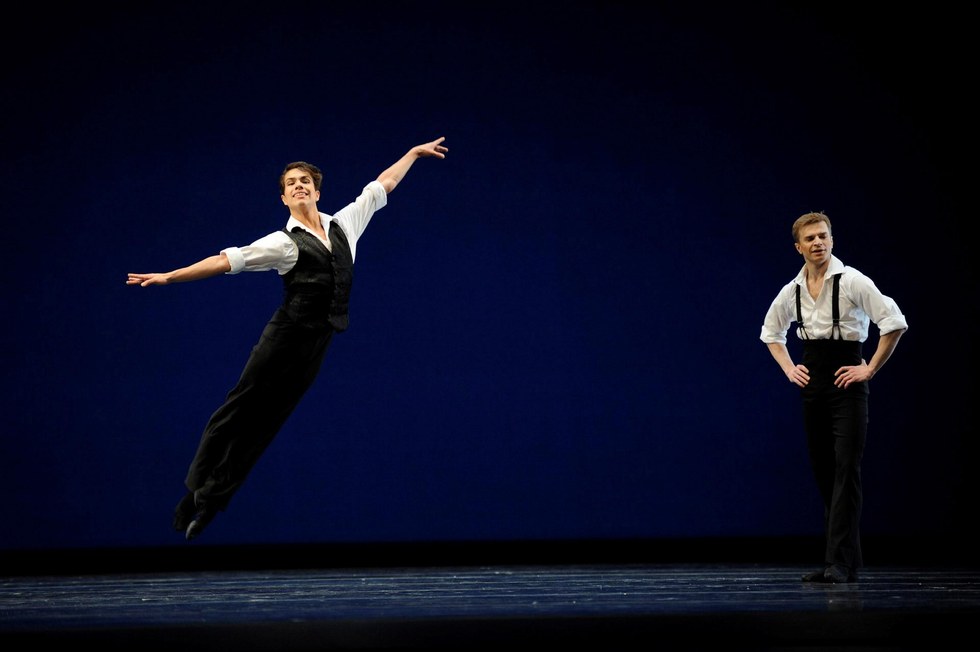 Hernandez with Gennadi Nedvigin in "Les Lutins." Photo by Erik Tomasson, Courtesy SFB.
Esteban Hernandez
Season galas showcase principal dancers at their best, but San Francisco Ballet's 2014 gala also introduced a rising star: Esteban Hernandez. Announced pre-curtain as a replacement for Joan Boada in Johan Kobborg's Les Lutins, the first-year corps member faced high expectations from a demanding audience, who rustled their programs looking for clues about this unfamiliar dancer. But in Lutins, an eight-minute battle of the sexes that requires insouciant charm, clear acting and blistering petit allégro—and falls flat if any one of those is missing—the Mexican-born Hernandez proved his mettle as a Royal Ballet–trained technician and a natural performer, with confidence well beyond his 19 years. Not only did he hold his own opposite Gennadi Nedvigin and soloist Dores André, in those thrilling eight minutes he won 3,500 hearts and became a name to remember. —Claudia Bauer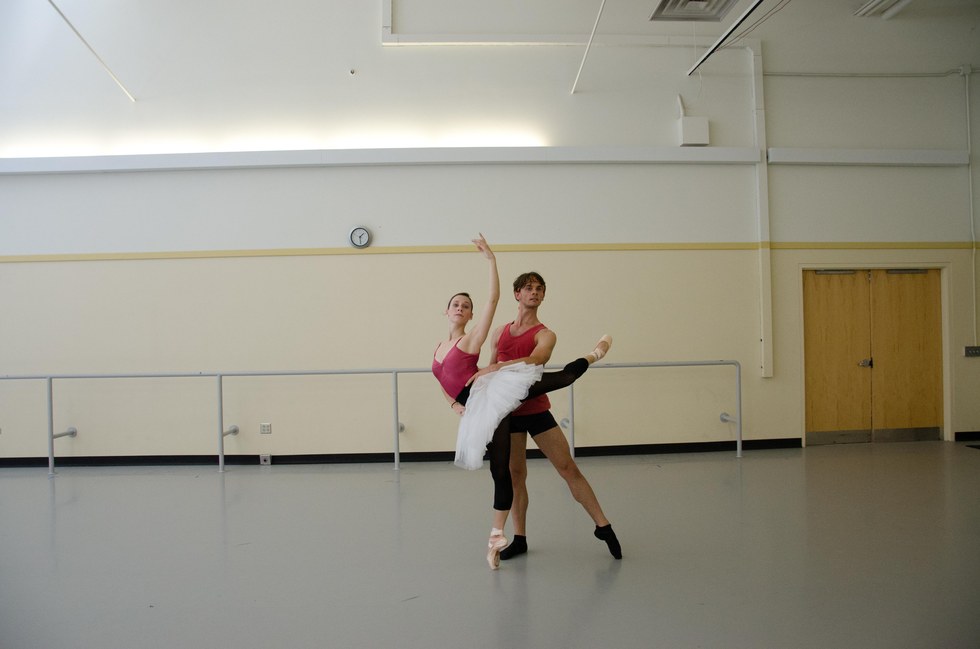 Thurlow and Sbrizzi rehearsing "Don Quixote." Photo by Aimee DiAndrea, Courtesy PBT.
Gabrielle Thurlow & Luca Sbrizzi
When lead casting was announced for Pittsburgh Ballet Theatre's Don Quixote last season, there was a surprising pair included in the mix. While Gabrielle Thurlow and Luca Sbrizzi have long been regarded as cornerstones among PBT's ranks, their star power was relatively untested: Thurlow was a longtime corps member and Sbrizzi, a soloist, had been away from the stage nearly nine months following a career-threatening back injury. But they more than delivered. Thurlow entered the first act as an energetic Kitri, all spry jumps and energetic pas de chevals, while Sbrizzi played an earnest Basilio, his admiration for Kitri present in every carefully finished movement. Later, during their brightly executed grand pas de deux, Thurlow brought playful sharpness, breezy turns and balances that said, "I could stay here all day." Sbrizzi's refined technique and bounding jumps lent his Basilio the elegance of a man in love. Following the performance, Thurlow was promoted to soloist and Sbrizzi cemented his place as a leading man after an uncertain season away from the stage. —Kathleen McGuire
Inside PT
Jan. 19, 2011 07:14PM EST
Ballet and tap seem like polar opposites: one preoccupied with line and form, the other with rhythm and sound. But the two styles have more in common, says The Royal Ballet principal Steven McRae, than you might think.
"Actually, I think tap dance is an ideal companion to classical ballet training," says McRae, who grew up studying tap and jazz in his hometown of Sydney, Australia. "Tap is intensely musical, and it teaches coordination and control of footwork. If you look at all the great Frederick Ashton ballets that The Royal does, or those of Wayne McGregor, it's the speed and little details that are important. And that's what tap picks up on: accuracy and precision at high speeds." (Skeptical? Just watch McRae breeze through Colas' fleet allegro sequences in Ashton's La Fille Mal Gardée.)
Though McRae decided to focus on ballet as a teen, he kept up his tap classes—and he's still tapping. "Whenever I'm in a ballet gala, I'll do the Don Quixote pas in the first half, something really classical, and then come out and do a tap solo in the second," he says, with a laugh. "It keeps things exciting!" And he recommends that all ballet students take a chance on a style like tap. "It's a wise investment," he says. "In today's ballet companies, you need to be able to stick the double tours, yes—but you also need to be able to move." Plus, you never know when those non-ballet classes will come in handy: "Christopher Wheeldon is making his new Alice's Adventures in Wonderland on us right now, and there's been talk of me wearing tap shoes in it," McRae says. "Who would have thought?"