Hyltin in Jerome Robbins' Afternoon of a Faun. Photo by Paul Kolnik, Courtesy NYCB.
New York City Ballet's Robbins 100 Festival last spring included 19 Jerome Robbins ballets performed over the course of two and a half weeks, requiring extreme stamina and versatility from the company's dancers. No one rose higher to the occasion than principal Sterling Hyltin. The festival showcased the breadth of her range, yet Hyltin shone brightest in Robbins' 1953 Afternoon of a Faun. From her first entrance through the door of the gauzy studio set to the end of the 11-minute pas de deux, Hyltin's embodiment of the role was complete; each movement expressed the naiveté and ethereal sensuality of her character. Her leggy, lithe physique is reminiscent of Tanaquil Le Clercq, the NYCB ballerina on whom the work was made and is now dedicated.

Keep reading...
Show less
From left: Peter Walker, Harrison Coll. Photos by Paul Kolnik, Courtesy NYCB.
A company's corps de ballet is rarely the pool from which title roles are plucked. Yet New York City Ballet seems to buck convention, especially for its full-length production of Peter Martins' Romeo + Juliet. When it debuted back in 2007, the ballet featured a cast of untested corps members and apprentices as the eponymous stars. (A School of American Ballet student was originally tapped to dance Juliet, but she wasn't able to perform due to injury.) At the time Martins, who recently retired as NYCB's ballet master in chief, attributed his casting choices to the characters' ages in Shakespeare's play; Juliet and Romeo are 14 and 19, respectively. Also, he remarked, "Never underestimate youth."
This week, two young Romeos are stepping up from the company's corps. Harrison Coll made his debut on February 13, opening night, alongside principal Sterling Hyltin (the original Juliet in the production's opening night performance back in 2007). Peter Walker follows on Friday, February 16.
Keep reading...
Show less
Sterling Hyltin in the first movement of Serenade. Photo by Paul Kolnik, Courtesy New York City Ballet.
I just can't help feeling joy when I dance the Waltz Girl. Afterwards, I feel so at peace and nourished as a ballerina.

I love to scuba dive, and Serenade reminds me of a reef, with schools of fish in all these different groupings, and singular entities darting in and out. Everything is blue, and the sweeping, wavelike movements take me to this happy place of doing something else that I love.
Balanchine didn't give it a story, but there's sort of a skeleton, a whisper of something being there—it's the story that you make it. Technically and emotionally, Serenade feels spiritual. I think that the Waltz Girl's first partner was perhaps a great love in her life, and in the "Elegy" she realizes he's gone and not coming back—the Dark Angel boy represents the spirit of the Waltz Boy.
Keep reading...
Show less
popular
Sep. 11, 2017 04:50PM EST
Fairchild and Sterling Hilton in "Duo Concertant." Photo by Paul Kolnik, Courtesy NYCB.
New York City Ballet announced today that principal dancer Robert Fairchild will give his final performances with the company this October. Since his 2015 leave of absence to make his Broadway debut as Jerry Mulligan in Christopher Wheeldon's An American in Paris, Fairchild's presence on the Koch Theater stage has been rare. A true song-and-dance man, as a child he dreamt of following in the footsteps (or tap shoes) of Gene Kelly. Fairchild leaves the world of ballet to take on the surplus of opportunities in musical theater that have recently come his way.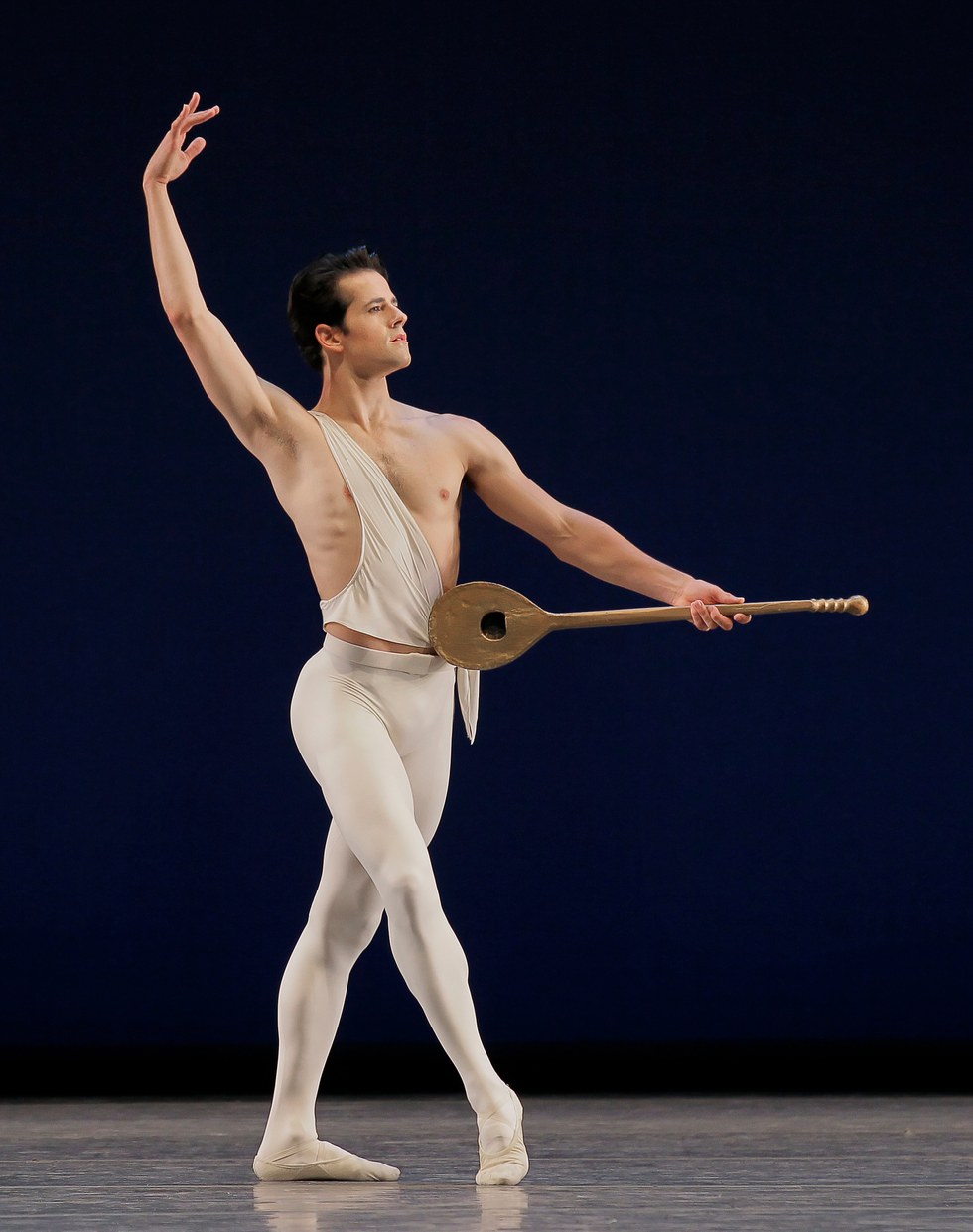 Fairchild in "Apollo." Photo by Paul Kolnik, Courtesy NYCB.
Keep reading...
Show less
News
Feb. 17, 2017 05:15PM EST
Sara Mearns in Walpurgisnacht Ballet. Photo by Paul Kolnik, Courtesy NYCB.
When New York City Ballet went on a three-week tour to Paris last summer, we wished we could tag along. The company presented 20 ballets at the historic Théâtre du Châtelet, including 14 by Balanchine.
Thanks to PBS and their Great Performances series, you can now get a taste of what it was like to be in that audience. The network will air the closing night performance in a two-part broadcast on February 17 (that's tonight!) and February 24, hosted by artistic director Peter Martins.
The lineup features four Balanchine works, all set to the music of French composers—and the casting alone is enough to make you want to tune in.
Keep reading...
Show less
Creating a dialogue with the music: Hyltin in Aurora's Act I solo (photo by Paul Kolnik)
Aurora's Act I solo in The Sleeping Beauty captures the young princess' girlish exuberance. But from a technical standpoint, its four long minutes almost feel like multiple variations. New York City Ballet principal Sterling Hyltin discusses how to master its many moods and tempos.
Calm down
In most productions, Aurora's solo follows the Rose Adagio—one of the most stressful moments in classical ballet. Don't let the residual adrenaline throw you off. "It's helpful that the beginning of the variation is slow and controlled," Hyltin says. "I use the first series of balances in arabesque to pull myself together. You can also channel the energy left over from the Rose Adagio—it can help you project the young Aurora's spirit and eagerness."
Become a part of the onstage world
The variation is easier to get through if you interact with the other dancers onstage. "I like to distract myself by thinking about the fact that I'm socializing at my birthday party," Hyltin says. "In theory, the solo is all about Aurora, but I try to make it all about everyone else. You're surrounded by suitors, and they're all playing out their own little story arcs. Recognize each of them, and feed off their energy."
Allow the music to support you
Creating a dialogue with Tchaikovsky's score is especially helpful during the opening arabesques. "You can play with either the ascent or the descent of each arabesque," Hyltin says. "When you're really on your leg, you can alter your phrasing a little to stretch out that moment on pointe. When things don't work out so well, you can luxuriate in the tombé afterward."
Let the upper body tell the story
Without effective port de bras, the series of hops on pointe on the diagonal can feel overlong. "The footwork there is very simple, so a lot of that moment is about your upper body," Hyltin says. Try gesturing to each of your suitors in turn, or raising first one arm, then the other arm, and finally both to fifth. "Every movement should be elegant and regal, acknowledging your subjects. You want to show that Aurora will be a wonderful queen someday."
Stay on top of the manège
The variation concludes with a challenging manège of rapid coupés jetés and piqué turns, an expression of unbridled joy and energy—which can feel like a shock after the leisurely pace of the preceding sections. "Don't let yourself get behind the music!" Hyltin says. "It's hard because you're exhausted, but if you're trying to catch up going into that last piqué sequence, you'll get way too dizzy. Try to stay slightly ahead of the beat in the coupés jetés." And when you're done, take a deep breath. "After this solo, you almost feel like you're finished with the whole ballet," Hyltin says, laughing. "Some of the hardest parts are right up front. Let yourself relax and enjoy the rest."
Sterling Hyltin photographed for Pointe by Nathan Sayers.
Daylight saving time had been in effect only a few hours last November when New York City Ballet principal Sterling Hyltin entered an NYCB rehearsal studio to recapture history. In Classroom 2 on the seventh floor, the clock had been turned back to 1968, when NYCB premiered Balanchine's La Source, a demanding pas de deux with four solos set to a Léo Delibes score and made on Violette Verdy and John Prinz. The George Balanchine Foundation, which is dedicated to preserving the choreographer's ballets in a state as close to the original as possible, had arranged to tape Hyltin and Gonzalo Garcia in practice clothes performing La Source.
Verdy herself was there as an expert observer and advisor, while Helgi Tomasson, who often performed La Source at New York City Ballet before becoming artistic director of San Francisco Ballet, served as co-critic. Lined up along one mirrored wall of the classroom were an accompanist at a grand piano, a movie cameraman, sound technicians and an assistant responsible for keeping a boom mike hovering out of camera range to catch every word Verdy and Tomasson said to Hyltin and Garcia.
Choosing Hyltin for taping this demanding role would have surprised no one who saw her debut in La Source the last week of the 2010 spring season. She had only one opportunity to achieve its many piquant subtleties, such as the brace of gargouillades that blossom amid a flourish of footwork, and she performed each with the assurance and precision of a veteran. "NYCB ballet master Sally Leland invited me to observe the company rehearse the three casts," Verdy recalls. "Sterling was incredible, with endless arms and legs, and she was always open to criticism. Her dancing has a quality I call 'true from the inside.' "
Keep reading...
Show less
Dancer: Sarah Van Patten
Company: San Francisco Ballet
Ballet: Marius Petipa's Swan Lake

San Francisco Ballet principal Sarah Van Patten always commands the stage in roles that call for dramatic depth and musicality. But because she is not usually thought of as a strong technician, she was a long shot to be cast as Odette/Odile in Swan Lake.
Certainly, her interpretation was the least virtuosic among the six women who performed the role in Helgi Tomasson's new
production—but hers was also the boldest and most touching. Van Patten's phrasing as Odette was lush and aching. Her sexiness as Odile was searing. Portraying the emotions of her characters came naturally, Van Patten says. But she also powered through the fear-inspiring fouettés and worked hard to maintain strong footwork. "I wanted to have a solid base because when you have that, you can give yourself over to the role," she says. Indeed, she achieved the technical strength she needed, but put it in total service to emotional artistry. —Rachel Howard



Dancer: Domenico Luciano
Company: Dominic Walsh Dance Theatre
Ballet: Matthew Bourne's Swan Lake
 
Domenico Luciano knows how to be a he-bird. As the only dancer outside of Matthew Bourne's troupe performing Bourne's all-male Swan Lake pas de deux, Luciano made a statement during his Houston performance last season. At 6' 3" and a dead ringer for Michelangelo's David, Luciano is a mighty presence. He evokes an animal energy with his seemingly endless lines. Bourne's ballet straddles a fine edge between parody and myth, and Luciano luxuriates in that very territory: sensuous, but always masculine. "Bourne's piece feels right for my physicality," says Luciano. "Although I'm so comfortable in the role, there's so much to discover in the character. It's a bit murky in that I am a figment of the prince's imagination. The relationship between the prince and the swan is really deliciously ambiguous." —Nancy Wozny
Dancer: Natalia Osipova
Company: Bolshoi Ballet
Ballet: August Bournonville's La Sylphide
 
In her sensational debut with American Ballet Theatre last June, Bolshoi Ballet principal Natalia Osipova demonstrated the power of a beloved old classroom step: grand jeté. With her impeccable technique and unfailing musicality, she would be the ideal heroine for any ballet, but it was the airy lightness of her grand jeté that made her the perfect choice for the doomed forest sprite in Bournonville's La Sylphide. The three leaps she performed in rapid succession at the end of Act I seemed to require no preparation at all, coming out of nowhere to vanish before our eyes. While tossing off feats of strength, Osipova embodied a fatal fragility. A creature of the air, utterly weightless, she was too delicate to escape the tragic end awaiting her. —Harris Green
Dancer: Alina Cojocaru
Company: The Royal Ballet
Ballet: Marius Petipa's Giselle
 
For almost a decade, Alina Cojocaru had been one of the brightest stars in a sparkling constellation of ballerinas at The Royal Ballet—until a prolapsed disc in her neck threatened to end her career in 2008. After 11 months away from the stage, she returned to the Royal Opera House last April to perform Giselle, her signature role.
Cojocaru always brings exquisite technique and emotional poignancy to this role. But being unable to dance for so long brought her even closer to her character. "The joy of dance made my Giselle and my Alina be one person more than ever," she says. With just five days' rehearsal, she allowed no concessions to her long layoff; her technique was as brilliant as ever and Giselle's adolescent innocence blossomed into a coruscating love that defied the grave. The New York Times' critic Roslyn Sulcas declared it to be "one of the great dance renditions of our time." 
    
At the end of an emotional evening, the ecstatic audience covered the stage in flowers and, as the curtain fell, Cojocaru says she felt that "to lose and then fight for something I love was in my very soul. One battle in my life was won; now I'm ready for whatever else life will bring!" —Graham Watts
Dancer: Riolama Lorenzo
Company: Pennsylvania Ballet
Ballet: Peter Martins' Barber Violin Concerto
Sometimes a smaller company offers just the room for growth that an exceptionally gifted dancer needs to burnish her talent. Riolama Lorenzo danced Peter Martins' Fearful Symmetries while in the corps of New York City Ballet several years ago. Now, after having moved to Pennsylvania Ballet in 2002, and ascending from corps to principal in three short years, she's still dancing Martins' work—sublimely. Her role in his Barber Violin Concerto last season had Lorenzo making a dazzling transition from the ideal
ballerina who seemed to land each jump on a pillow of air, to literally letting her hair down in gutsier action. Cuban-born Lorenzo is beloved by Philadelphia audiences for her daring and her clear attack. Standing 5'8", with exquisitely arched feet and an astonishingly supple spine, her flexibility, precision and range along with a presence that exudes both directness and depth make Riolama Lorenzo shine. —Lisa Kraus
Dancer: Alex Wong
Company: Miami City Ballet
Ballet: Twyla Tharp's In the Upper Room
Few would think of the cheerfully loosey-goosey choreography for the sneaker-clad "stompers" in Twyla Tharp's In the Upper Room as technical. Yet when Miami City Ballet principal soloist Alex Wong blazed through the stompers' bouncy leaps and backward jogs this spring, he epitomized virtuosic technique. Wong's precise classical style and fine-tuned musicality lent the high-speed role—which most dancers are lucky just to survive—polish and panache. And in a work defined by explosive displays of energy, Wong crackled with a singular electricity: His jumps were the most buoyant, his joyful intensity unmatched.
Wong thinks that Tharp's presence in the audience inspired his superhuman performance. "We were pushing as hard as we could for her, trying to fill the entire space," he remembers. "Just thinking about it makes my body start to tingle."  —Margaret Fuhrer
Dancer: Sterling Hyltin
Company: New York City Ballet
Ballet: George Balanchine and Alexandra Danilova's Coppélia
Sterling Hyltin made several outstanding performances at New York City Ballet last winter, and two were as Swanilda in Coppélia. At her first performance, her sunny personality, unfailing musicality, assured technique and buoyant energy proved a perfect fit for the spunky heroine. Less successful was acting that relied on mugging (rolling her eyes, say, to express disdain for her boyfriend, Franz). By her second performance, however, Hyltin had replaced mannerisms with actions; now Swanilda snubbed Franz with a toss of her head or a shrug. It was if she had created a new performance, one that could now reach the audience at the very top of the house through movement alone. Such makeovers are as much a part of Hyltin's dancing as taking class. —Harris Green
Dancer: Kristi Boone
Company: American Ballet Theatre
Ballet: George Balanchine's Prodigal Son
 
Although she's been a soloist since 2007, Kristi Boone has rarely been given the chance to carry a ballet. But during a foray into principal territory last June as the Siren, she looked every inch the part, from the sensuous, exaggerated curves of her legs and feet to her beautiful face, stoic and imposing. It was a dangerous, exciting debut. Her dancing was icy and deliberate—she pulled off the tricky Balanchine choreography with finesse. Boone had been itching to wield the Siren's red cape since ABT's last run of Prodigal in 2000, when she was still with ABT II. She relishes the role as a rare opportunity for a female dancer. "You're usually the damsel in distress," she says. "You never get to have that much power." —Kina Poon
Dancer: Jonathan Porretta
Company: Pacific Northwest Ballet
Ballet: Marius Petipa's Swan Lake
 
Even when the music was soft in PNB's production of the Petipa classic, you couldn't hear Jonathan Porretta land his clean, soaring jumps. You could, however, in an auditorium that seats 2,900, actually hear the beating of his feet.
Over the past few years, working with contemporary choreographers, this magnetic virtuoso has grown into an artist. With his Swan Lake roles—the flashy, character-rich Jester and the gentler, lyrical pas de trois male—he proved himself a sensitive master of classical ballet as well. Porretta is all things to all people, working to fulfill choreographers' visions, embodying composers' music, connecting with fellow dancers, achieving personal satisfaction and conversing with the audience. And what a conversation it is! —Rosie Gaynor
Dancer: Joanna Wozniak
Company: The Joffrey Ballet
Ballet: Vaslav Nijinsky's Rite of Spring
 
Joanna Wozniak danced The Chosen One in Rite of Spring three times during the Joffrey's spring season, and she was perfect from the start—vulnerable, aware, poignant, terrified and noticeably more powerful and ferocious than in her many traditionally lyrical roles. She had dreamed of dancing this role of a human sacrifice ever since joining the company in 2003. And once she learned the part, Wozniak began "thinking about what this young virgin girl was really like, going through all the complex emotions she must have felt knowing she was about to die, and realizing that her family, and all the people she had trusted, had turned against her in a way." The Chosen One's grueling solo lasts only a few minutes, but before the dancer bursts into motion she must stand absolutely still, frozen in fright. "There is a spotlight over you at that point, and everything else seems to disappear into darkness, though you can hear the Elders stomping. And it's at that moment that you really become the character." —Hedy Weiss
Dancer: Marie-Agnès Gillot
Company: Paris Opéra Ballet
Ballet: George Balanchine's Apollo
 
As the first Paris Opéra Ballet dancer promoted to étoile after performing a nonclassical ballet, Marie-Agnès Gillot is the company's contemporary darling. She always looks like she's having an "on" night, so grounded that she can balance at her whim until she chooses to move on to the next step. But what makes her truly unique in modern movement is her ability to imbue even the most abstract works with meaning and personality. Many Balanchine purists were astonished at Gillot's playful, seductive Terpsichore in  Apollo at the Nijinsky Gala in Hamburg last summer. The usually spare, cool neoclassicism became jazzy, with hips jutting from side to side. Her long legs articulated each step with clarity. And her entire body tested the limits of how much she could play with the music, coyly waiting to feel each movement from within before letting it gravitate out to the tips of her pointe shoes. —Jennifer Stahl
Dancer: Ebony Williams
Company: Cedar Lake Contemporary Ballet
Ballet: Sidi Larbi Cherkaoui's Orbo Novo
 
When Cedar Lake Contemporary Ballet's Ebony Williams steps onstage, her presence is sometimes so fierce, it's intimidating just to be in the audience. That presence was most evident this year in Cedar Lake's mysterious, multilayered Orbo Novo by Sidi Larbi Cherkaoui. Williams moved with utter fearlessness, forcefully throwing her body into the movement at one moment, finding a soft, slinky angularity the next. "He choreographed my solo by giving me tasks that would create movement," says Williams. "At first, I had to move like I had balls all over me, then like I was made of fire and at the end I became an animal." Although Williams admits she was nervous about having to come up with her own contemporary movement, she appreciated that the process was a partnership: "He wanted to know how I moved and who I was—and let me show that onstage." —Jennifer Stahl
Honorable Mentions

Kathryn Morgan in The Sleeping Beauty Wedding Pas de Deux, during New York City Ballet's "Dancer's Choice" evening: Simultaneously authoritative and delicate, regal and gentle, the young corps de ballet member breezed through this technically exacting pas de deux, the perfect showcase for her ineffable brand of understated charm.

Maria Riccetto in American Ballet Theatre's Giselle with Herman Cornejo: Usually paired with David Hallberg, Riccetto bloomed dancing with Cornejo, bringing a deep tenderness and vulnerability to the role. Technically flawless, she made Giselle utterly believable, and together she and Cornejo seemed a natural partnership.

Pacific Northwest Ballet's 45-year-old Louise Nadeau in Forsythe's Urlicht at her farewell performance in June: Strength, grace, technique, musicality and personality all combined at peak levels for what was one of her best performances.

Hamburg Ballet principal Hélène Bouchet in Verklungene Feste by John Neumeier: She moved with that ideal combination of strength and abandon that all dancers strive for yet rarely achieve. Over and over, she sent her body flying, then pulled back and found the control to guide her limbs into precise positions.

Robin Mathes in Mauro Bigonzetti's rousing Cantata: Leaving fear in the dust, the Les Grands Ballets Canadiens de Montreal soloist mixed gravitas with abandon, charging head-on into the pathos of the music.

Jazmon Voss and Cira Robinson of the U.K.'s Ballet Black in Antonia Franceschi's intimate Pop8: After a scintillating duet in which Voss and Robinson were vivacious yet sinuous, Voss' jazz-themed solo fused muscular virtuosity with delicate grace and sophistication.


When Ashley Bouder steps on stage at New York City Ballet, you can feel the audience's excitement.

As she whips through a rapid sequence of turns, people literally sit forward in their seats. Often Bouder will hold a balance for a moment where the allegro tempo seemingly doesn't permit even a fraction of a pause, and then she'll break into a delighted grin, as if surprised by her own phrasing. No one would guess that she dances five, sometimes six, physically exhausting roles each week.

NYCB's ballerinas have epitomized the style, look and technical range of classical dancers in the U.S. since Balanchine first launched his school and his company. During his lifetime, Balanchine's dancers always had distinctive personalities, and the company's current roster continues that tradition. But today's NYCB principals need stamina and versatility beyond what was required of their predecessors. Gone are the days when ballerinas performed only two or three times a week in a repertoire that was overwhelmingly the work of two choreographers, Balanchine and Robbins. Nowadays it's not unusual for a NYCB principal to perform nearly every night in a range of work not only by Balanchine, Robbins and Ballet Master in Chief Peter Martins, but also by numerous guest choreographers. The company's 2009 spring season will present 40 ballets, and a total of 56 performances.

"Being a principal dancer today is a very demanding job," says Rosemary Dunleavy, who has been a ballet mistress for NYCB since 1971. "It's harder physically because the company works more than we did in the past. And the dancers must perform all these different styles."

Ashley Bouder, Sara Mearns and Sterling Hyltin all rocketed to principal status early in their careers. All three have already danced full-length dramatic ballets, as well as the company's bread-and-butter neoclassical repertoire. They handle the physical and psychological stresses with aplomb, and their technical prowess and artistic range never seem strained. Yet each of these dancers has developed a distinctive approach to maintaining her energy and each continues to mature as an artist. Here are some of the ways they meet their jobs' ever-growing demands.

ASHLEY BOUDER
"Ashley has a no-fear factor to her dancing," says NYCB's Assistant to the Ballet Master in Chief Sean Lavery. That may be how it looks onstage, but offstage Bouder admits to feeling some anxiety.

"When I got promoted to principal, one of my first thoughts was, 'Oh my god, now I can't afford to have an off performance!' People expect excellence." To handle that pressure, Bouder says that she takes one day at a time. "If things don't go well, it's not the end of the world, just not what I wanted to happen."

Bouder, 25, finds inspiration in watching other dancers. "I spend a lot of time watching old tapes of ballerinas and thinking about what I want to do in each moment." She makes an effort to see dancers and companies outside of NYCB. "I keep my eyes open." Her interest has led her to seek opportunities to perform classics with outside companies, including learning Giselle from legendary ballerina Carla Fracci and performing it at La Scala.

When the company is working, Bouder focuses on eating protein during the day and carbohydrates at night, which she says gives her plenty of stored energy to get through the following day. If she feels like she needs to boost her stamina, she works out on the elliptical machine at the gym. She stays conditioned during NYCB's off weeks by working with the company's director of physical therapy, Marika Molnar.

Darla Hoover, Bouder's teacher when she was at Central Pennsylvania Youth Ballet, says that Bouder "always had a beautiful artistic soul and steely determination. She was someone you could push to her max and she wasn't allergic to that." Even today, Bouder doesn't wait for corrections; she actively hunts down feedback. And not just from her director and ballet masters but from other dancers as well. She mentions fellow principal Jared Angle as someone whose opinion she trusts: "We're always asking each other, 'Did you see anything I should fix?'"

SARA MEARNS
A night off might seem like a rare chance to think about something besides ballet, but Sara Mearns, 22, often spends her downtime watching other dancers perform the roles that are in her repertoire. "I try to find my way of dancing through watching the ballerinas. I don't want to be exactly like them—I don't copy them. But I think that's the best way to get inspiration: Watch someone who has the qualities to which you aspire."

Mearns' movement flows with romantic energy, but in rehearsal she sometimes reins that in. "Technically, I don't like to over-rehearse before I do something. If you over-rehearse, you're going to get bored with it. The main goal is what it's going to look like onstage." 

Like Bouder, Mearns gets a lot from videos of ballerinas from previous eras, especially Natalia Makarova. She also finds visualization useful for preparing for a big new role. She tries to "envision what it's going to feel like, which helps me get into the role."

Mearns sometimes goes to the gym to build extra strength and stamina, and makes sure she drinks enough water to stay hydrated. During a full-length role like Swan Lake, she may drink a few sips of Coke at intermission to keep her energy up for the next act.

She admits that she felt extra pressure once she was promoted to principal. "You feel like you have to go out there and deliver. But if you dance like you did before you were promoted, well, they know what you're going to be like onstage because that's why they promoted you. I don't think about the expectations. I want to keep the fun."

STERLING HYLTIN
Sterling Hyltin, 23, looks like a Celtic princess with her wavy blonde hair and coltish long lines. As Juliet in Peter Martins' new production of the ballet, she seemed to throw herself into the music as much as into Romeo's arms, instinctively knowing the richness in the Prokofiev score. For Hyltin, every role, dramatic or otherwise, is born when she works alone in the studio. "That's where I can find what works, when I can experiment." Lavery says, "Sterling likes to really dissect the part. You can see from day to day she's really thought about it."

Hyltin also uses time in the studio by herself to keep in shape during breaks: "If there's a period when I'm not dancing a lot, I'll take a piece of repertoire that had me in great shape and just run it to keep me going physically and artistically."

When her schedule is especially grueling, she relies on mental rehearsal. "Sometimes you have to save your body," Hyltin says, "so I take time to prep mentally."

She does Pilates three times a week. "I swear by it. It gives me extra core strength and helps me pull up out of my shoes." She also watches her diet carefully. "I try to eat red meat three times a week. It gives me a lot of energy. I try to eat well-balanced meals, and I avoid sugar. I also avoid too much caffeine before a performance. If I have anything it will be a decaf coffee."

As for how she deals with the pressure of being an NYCB principal, Hyltin says, "During a break sometimes, I step outside to get a breath of fresh air. It's important to have a life!"

All three dancers have a passion for continuing to improve from one season to the next. Their hard work, careful rehearsing and healthy routines exist to support that greater goal. As Bouder says, "The things you look to improve get smaller and smaller, but they still matter and they're still there."

Former dancer Leda Meredith is an active choreographer and a professor at Adelphi University.
Nov. 29, 2001 07:00PM EST
Senior editor Jenny Stahl recently called New York City Ballet principal Daniel Ulbricht "Superman," and I can't think of a better way to describe the phenomenally talented dancer and teacher, who seems to be everywhere at once these days. (We recently posted a poll asking who your favorite dancer-teacher was, and Ulbricht cleaned up.)

Now Ulbricht can add humanitarian to his already impressive resume: He and Erin Fogarty are producing "Dance Against Cancer," a benefit for The American Cancer Society, which will take place at Manhattan Movement and Arts Center this Monday, April 25. And you'd be hard-pressed to dream up a better program. Wendy Whelan and Craig Hall performing the gorgeous pas de deux from Christopher Wheeldon's "After the Rain"? Check. A ballet by golden-boy choreographer Benjamin Millepied? Check. Crazy-awesome contemporary troupe Keigwin + Company? Check. "So You Think You Can Dance" phenomenon Alex Wong? Check. A slew of other NYCB principals, including Janie Taylor, Tyler Angle, Robert Fairchild, Sterling Hyltin, Amar Ramasar, Maria Kowroski and, yes, Ulbricht himself? Check, check, check.

For tickets and more information, click here. Then visit cancer.org to learn about the invaluable work done by The American Cancer Society.
Hyltin in Bournonville's La Sylphide. Photo by Paul Kolnik, Courtesy NYCB.
Tomorrow

, New York City Ballet presents the company premiere of the quintessential Bournonville ballet La Sylphide, staged by ballet master in chief Peter Martins

. 
NYCB principal Sterling Hyltin will dance the lead role of the Sylph on opening night. For Pointe's bi-weekly newsletter, we spoke with Hyltin about embodying the timeless classic.
What has embodying the Bournonville style in rehearsal been like? 
It has been wonderful from beginning to end. I admit the first week was really tough, because we're not used to dancing exactly this way. To achieve the airiness, you have to jump without your arms because you're supposed to lift them on the descent. You're really taking it all in the legs.

How would you describe your character of the Sylph? Do you feel like you relate to her in any way? 
The Sylph is innocent and pure. And she's all positivity. In general, I'm a really happy person, so I do relate to her in that sense. But I'm human, I have my bad days, so it's a little bit of mind over matter. You want to think about the positive instead of concentrating on the negative.

What are some of the challenges and hallmarks of the ballet? 
You do need to have an extra awareness of the feet at all times, and always be on your guard about articulation. Something that's been really wonderful is getting to do more pantomime. To concentrate on not just meaning love, but "Do you love me? I need to know." I'm finding little nuances that I can add to my other roles--it will really trickle into all of the repertory.

What advice would you offer to other dancers who are learning a role for the first time? 
My advice, which applies to me as well, is to enjoy every second of it. It's easy to get caught up--you want to do well, you're nervous--but you have to remember that this is why you work so hard every day. This is the fruit. You can't shy away from something you live for. Embrace it and enjoy it.
For even more interviews, tips, audition info and giveaways, sign up for our FREE e-newsletter.



Get Pointe Magazine in your inbox