Bloodgood and Ashley Lynn Sherman in "Giselle." Photo by Tony Spielberg, courtesy Ballet Austin.
Paul Michael Bloodgood, a longtime leading man at Ballet Austin, ends his 19-year career with the company this weekend in Paul Vasterling's Peter Pan. But in between layoffs and after rehearsals, he's been steadily working towards his next phase: creating a full-length feature documentary called Trenches of Rock. The movie, which focuses on his father's Christian heavy metal band and the challenges they faced in the music industry, has been enjoying screenings at film festivals around the world—and winning awards along the way. Pointe spoke with Bloodgood about how he's feeling as he ends his dance career and transitions into filmmaking.
What's on your mind as you wrap up your final performances at Ballet Austin?
I just want to be in the moment as much as I can and savor the time onstage with my coworkers. Upon reflection of the past 20 years, the moments of honest emotion and connection with others are what I will cherish the most. There are so many aspects of humanity to explore, and I am so grateful to have had so much time to cogitate what dance has to offer to the human condition.
News
Apr. 02, 2018 05:01PM EST
Stephen Mills with Ballet Austin dancers in rehearsal for "Exit Wounds." Photo by Anne Marie Bloodgood, Courtesy Ballet Austin.
Ballet Austin artistic director Stephen Mills is not known for shying away from heavy themes; his Light / The Holocaust & Humanity Project has been performed by companies around the country since its inception in 2005, and April 6-8 Ballet Austin presents the world premiere of Exit Wounds. Exit Wounds is about acts of courage big and small, broken down into three chapters, all deeply personal to Mills.
We touched base with Mills about the inspiration behind this monumental work and how to stay upbeat when working with dark subject matter.
A scene from Stephen Mill's "Light/The Holocaust & Humanity Project." Photo by Tony Spielberg, Courtesy Ballet Austin.
Ballet excels at defying gravity. Lightness, ethereality, wispiness, symmetry, lineal order, chivalry and blissful endings to well-worn tales bestow on ballet a reputation as an art form that embraces divine beauty and design. But themes of grief, trauma, death, war, annihilation, exploitation, abuse, oppression and genocide do not frequently skim the surface sur la pointe. Bearing weighty burdens has traditionally found a place in the realm of modern dance in works such as Martha Graham's Lamentation, or Paul Taylor's image of Armageddon in Last Look.
But beyond shimmering tutus and pristine arabesques, there are other reasons why heavy issues seldom appear on the ballet stage. Taking on a serious subject requires a serious treatment. A ballet about terrorism could easily trivialize the subject through melodrama or prettification. Classical vocabulary was born from noble demeanor in the royal courts; in the wrong hands, it can seem limited in registering the mood of a sordid subject or for expressing disturbing behavior. Add to that the industry's marketing directors and board members, tempted towards steering directors and choreographers away from challenging ballets for fear of poor ticket sales.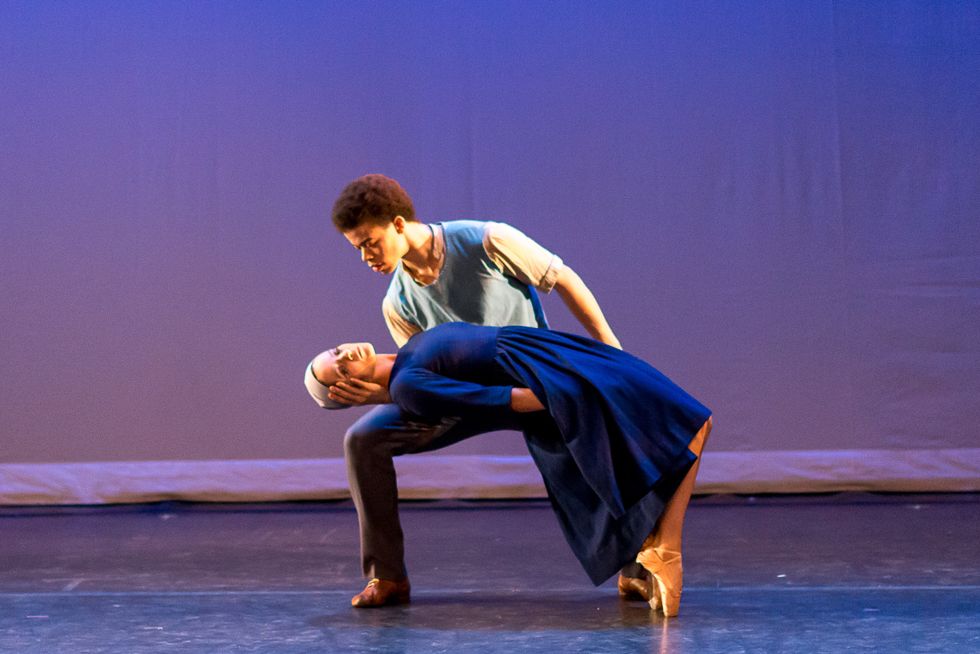 New York Theatre Ballet performs "Dark Elegies." Photo by Darial Sneed, Courtesy New York Theatre Ballet.
Jul. 30, 2010 04:09PM EST
Ballet Austin's Stephen Mills stretches his dancers and his audiences.
On the brink of insanity, Hamlet struggles with three alter-egos in a sequence that blends balletic precision with modern dance elasticity. By fusing the timeless with the contemporary,  Ballet Austin's 2000 production of Shakespeare's classic cemented the company's reputation for bringing form-breaking movement to old-fashioned storytelling. It also put Artistic Director Stephen Mills on the map as both an innovator and a traditionalist.
The two may seem at odds, but they merge in Mills. As a student at Northern Kentucky University, Mills trained in classical ballet but went on to work primarily as a contemporary dancer with The Harkness Ballet and The American Dance Machine. When he became artistic director of Ballet Austin in 2000, after dancing with the company for 12 years, he broadened the repertoire beyond small mixed bills to produce full-length classical and contemporary works.
Mills, now 50, also threw out the ranking system. He wanted to give all the dancers a shot at a wider variety of parts. "Our artists know that if they work hard enough, they can perform principal roles," he says. "It encourages dancers to continue to achieve."
Twelve of Ballet Austin's 20 current dancers have come through Ballet Austin II, a two-year apprentice program for less-experienced artists. The group of 10 dancers performs its own repertoire and augments the main company in larger ballets. "In the apprentice company, they'll have spent time with us, so we know them well," says Mills. "It makes for a good work environment."
Mills is just as mindful of which choreographers will mesh with his dancers. Although the repertoire mainly consists of Mills' own narrative works, he regularly programs Petipa and Balanchine ballets and seeks out artists still building on their initial impact, such as Viktor Kabaneiv and Thaddeus Davis. "Most companies are looking for who's the new hot brand out there," he says. "The mid-career artist gets lost. And my focus has been to expand that repertoire."
To help foster these relationships, Mills developed the New American Talent/Dance Competition in 2006. With funding from the National Endowment for the Arts, the biennial event gives three dancemakers 40 hours with the company to create a 20-minute piece. Ballet Austin dancers perform the pieces before a panel of judges and an audience (both get a say in which choreographers win the prize money). A few of the better-known finalists include Amy Siewart, Thang Dao and Dominic Walsh.
Having a steady stream of visiting choreographers has furthered another of Mills' goals: to stretch his audience's perception of what dance can be. Though the company's hometown has a reputation for welcoming innovation, Mills has been careful to push gradually with the more confrontational pieces, such as his Light: The Holocaust & Humanity Project.
That's not to say Mills plans to stop pushing any time soon, not with his audience and especially not with his dancers. Mills wants to ensure that the company consistently works on new material. "I choose ballets that will expand not just the dancers' bodies, but their intellect as well," says Mills. "Dancers are on their own path, and it's my respon­sibility as a director to mentor them and help them achieve their goals, whether or not those goals are ultimately dancing."
Nov. 29, 2001 07:00PM EST
Long established in Europe, choreography competitions are gaining increasing popularity on this side of the ocean. Here, companies such as Milwaukee Ballet, Ballet Austin, Ballet Nouveau Colorado and Les Grands Ballets Canadiens de Montréal, to name a few, are scheduling these contests as part of their season lineups in the hope of finding ballet's next choreographic triumph.
"In dance," says BA Artistic Director Stephen Mills, "there is so much choreographers need that they can't just readily go out and get themselves. They need a venue, dancers—and an audience." To fulfill those needs, Mills created BA's choreography competition, New American Talent/Dance, which debuted in 2006 and took the stage again last February.
BNC launched its new 21st Century Choreography Competition (now called "dancemakers 2.0") last April, with the similar goal of giving young choreographers a break by providing them with studio time, administrative support and the altogether key ingredient: dancers to create on.
While great choreography is the goal, for the dancers who must flesh out the choreographers' ideas, a choreography competition is a chance to sharpen their craft mentally and physically—and to experience the ultimate perk: being part of the creation of a new work. It can be rewarding to be the first to perform, and in a sense, define a role, yet a competition puts the emphasis on the choreographers. 
"It is always inspiring to know that you are so integral to the final product," says BA dancer Allisyn Paino, "but it definitely challenges a dancer to be able to acclimate to each choreographer as quickly as possible."
Unlike composers or painters, who get to work out their ideas in solitude, choreographers must wait until they can work with their dancers. Face to face in a dance studio, choreographers and dancers know that each relies on the other to turn an idea into a dance. To accomplish this, however, no two choreographers approach the task in the same way.   
"There's a major learning curve for dancers to get to know a new choreographer," says BNC Artistic Director Garrett Ammon. For any new work that is created, the dancers must adapt quickly to each choreographer's movement quality and vocabulary, not to mention personality quirks and rehearsal style. "It can make them a little insecure," says Ammon. 
Ammon and Mills relied on their dancers' professionalism to smooth the adjustment to a new choreographer. Both also knew that despite the contemporary works in their respective repertoires, it can be hard for ballet dancers to feel comfortable with unfamiliar approaches to movement.    
"I had to open my mind to more creativity in terms of the initial choreography," says Paino. "One choreographer may be very specific, coming in and saying, 'I want you to be here and do this.' Then he or she looks at the movement on your body and adjusts it. Another choreographer comes in and says, 'Here's an idea that I am going for; now I want you to take these steps and make them look like this idea.'"
All told, a competition can throw these aspects of making work into uncomfortably high contrast. "The dancers didn't love all the residencies," says Mills, "but it was good for them to have to negotiate everything that goes on in the room. It makes them stronger, better artists and communicators. That's a positive aspect."
As if it's not enough to have to absorb a different way of working along with the steps and musicality of a new work, for both of these competitions, time—or the lack of it—was another factor. BA allotted 40 hours to create a new, less than 20-minute work. BNC's time frame was even shorter: 25 hours to create a ballet of at least 15 to 20 minutes.      
"It was definitely short," says Ammon. "The choreographers came in knowing that it was short. But it also created that extra little bit of pressure that I think pushed them out of their comfort zone."
The choreographers were under the gun to be creative, and the dancers even more so. They knew that, competition or not, their job was to produce a compelling performance of whatever material they were given.
"At first I thought, This is a lot for the choreographers: They only have 25 hours," says BNC dancer Sarah Tallman. "Then, half an hour into the rehearsal I thought, This is a lot for the dancers: We also have 25 hours to convey exactly what they want."
Both Mills and Ammon were sensitive to the demands they were putting on their companies. "The rule was that no dancer could be in more than two ballets," says Mills. It was a practical consideration, one that acknowledges the fact that concentration and endurance are both factors in sustaining good work—and avoiding injury.
At BA, for the creation period (the residencies were in sequence and did not overlap), choreographers had roughly four hours of rehearsal a day for two weeks in addition to the dancers' daily class and other rehearsals. Even for workers used to that kind of concentrated physical effort, the scenario was pretty grueling.
Tallman's survival tactic during BNC's creation period was "lots of water, and lots of rest when we got it," she says. "Usually on a five-minute break, the dancers will hang in the studio and work on some extra things. But by the end of the first week, I just needed to sit and let all of it saturate."
Surprisingly, even though competitions are about winning, Paino, who has participated in both of BA's competitions, doesn't recall that being part of the focus in the studio. "I felt that we were just working," she says.
"I never got the feeling that any of the choreographers were thinking 'I want this to look like this because I want to win.' This is their art. That's what was important to them."
And for the dancers, too, this is their art. Translating ideas into coherent movement is what dancers do every day, as is pushing themselves to be better.           
"It's so important for dancers to be chameleons, especially nowadays," says Paino. "It was very different when ballet companies just did classical ballets, now it seems that every classical ballet company wants to do some contemporary work. It means the dancers have to be more malleable—or, at least, differently malleable."
Choreography competitions may or may not yield the yearned-for triumph, yet regardless of the outcome, they have a lasting impact on a company's dancers. The chance to be in on the creative process is something dancers often dream about. Surviving—and thriving—in the midst of the experience can yield a unique satisfaction and mark a step along the way toward artistic maturity.