From left: ABT principals Isabella Boylston, James Whiteside, Gillian Murphy, Stella Abrera and Cory Stearns with Harvard Business School professor Anita Elberse. Photo Courtesy HBS.
Between long rehearsal days, performances and hectic touring schedules, it can be hard for professional dancers to plan for their post-performance careers while they're still onstage. This fall, that changes for five American Ballet Theatre principals. Stella Abrera, Isabella Boylston, Cory Stearns, James Whiteside and Gillian Murphy have been chosen as the first dancers to participate in Crossover Into Business at Harvard Business School, a semester-long program designed for professional athletes.
Last year, Crossover Into Business program director and HBS professor Anita Elberse was developing a case study on ABT, and reached out to the company executive director Kara Medoff Barnett, an alumna of HBS. "Anita mentioned the Crossover Program as an experience that has been transformative for professional athletes," says Barnett. "We looked at each other and had the same idea: How about inviting the ABT dancers to sit next to the NBA players?"
Keep reading...
Show less
News
Aug. 20, 2018 05:24PM EST
Trending
Jul. 03, 2018 04:10PM EST
Sascha Radetsky. Photo by Renata Pavam, Courtesy ABT.
There aren't many dancers who've had as varied a post-stage career as Sascha Radetsky. Since retiring in 2014, the former American Ballet Theatre soloist and Center Stage star has reprised his role as Charlie in Center Stage: On Pointe; acted in two television programs (Starz network's Flesh and Bone and Hallmark Channel's A Nutcracker Christmas) and choreographed Misty Copeland's famous Under Armour commercial. He's also written articles for Vogue, Playbill and Dance Magazine, and he currently directs the ABT/NYU Master's in Ballet Pedagogy program. Now he has a new title to add to his credentials: artistic director of ABT Studio Company.
Keep reading...
Show less
popular
Apr. 05, 2018 05:30PM EST
Stella Abrera. Photo by Sarah Kehoe, Courtesy Capezio.
In 2014, first-generation Filipina-American ABT principal Stella Abrera traveled to Manila to guest-star with Ballet Philippines in Giselle. The same year, Abrera set up a small charity, Steps Forward for the Philippines, to help a school in nearby Guiuan that had been destroyed in a super typhoon. Now, four years later, Abrera is back in Manila, with a group of eight fellow ABT stars by her side. April 6-7 the group will dance at the Maybank Performance Arts Theater in Bonifacio Global City in a program titled An Intimate Evening with Stella Abrera & American Ballet Stars.
Keep reading...
Show less
Misty Copeland as Juliet with American Ballet Theatre. Photo by Gene Schiavone, Courtesy ABT.
Valentine's Day makes February the perfect month for ballet companies to perform Romeo and Juliet, Shakespeare's famous tale of star-crossed lovers. A few companies presented their versions earlier this month and many are on their way in the next few weeks. We rounded up eight companies including New York City Ballet, American Ballet Theatre, The Washington Ballet, Les Ballet des Monte Carlo, Orlando Ballet, Colorado Ballet, Carolina Ballet and Ballet BC to find out how they're using this classic ballet to celebrate the holiday of love.
New York City Ballet

A 12-performance run of Peter Martins' Romeo + Juliet comes in the middle of New York City Ballet's winter season, spanning from February 13-23 at the Koch Theater in New York City. This year's production marks the debuts of corps dancers Harrison Coll and Peter Walker as Romeo, and former Pointe cover star Indiana Woodward will be making her debut as Juliet. Below, hear Tiler Peck, who will dance Juliet alongside Zachary Catazarro, point out the tricky technical moments in this role and explain what makes it so special to her.
Keep reading...
Show less
Lin Fujimoto, Matthew Maxwell, Harris Beattie, Ryan Felix and Lucy Christodoulou. Photo by Bruno Simao, Courtesy of the Royal Academy of Dance.
Over the past week, 52 dancers from 14 countries trained in the Royal Academy of Dance syllabus flocked to Lisbon, Portugal, for the 2017 Genée International Ballet Competition. After four days of coaching (see highlights on our Instagram), the dancers competed in two days of semi-finals. By Saturday, the pool had been narrowed to just 11 contestants who performed in the finals at Teatro Camões; five lucky dancers took home medals.
The prestigious gold medal (past winners have included ballet stars such as Stella Abrera and Steven McRae) went to 18-year-old British student Harris Beattie. Beattie made Genée history this weekend as the first dancer ever to win all three awards: gold medal, Dame Margot Fonteyn Audience Choice Award and the Choreographic Award, which he received for his Dancer's Own variation entitled Torn, which he co-choreographed with his teacher, Karen Berry. Beattie trains at the Central School of Ballet in London.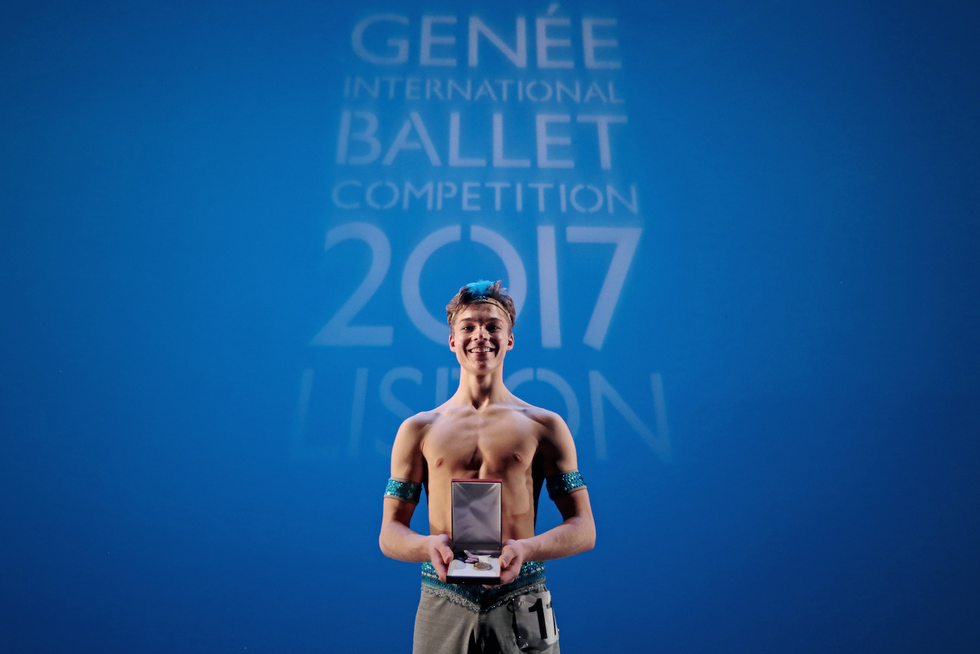 Gold medal, the Dame Margot Fonteyn Audience Choice Award and Choreographic Award winner Harris Beattie. Photo by Bruno Simao, Courtesy of the Royal Academy of Dance.
Keep reading...
Show less
Stella Abrera at the Genée International Ballet Competition in 1995. Photo by Pete Jones, Courtesy Royal Academy of Dance.
On September 7, The Genée International Ballet Competition—the Royal Academy of Dance's flagship event—gets underway in Lisbon, Portugal. Founded in 1931, the Genée recognizes top talent with medals and cash prizes, as well as exposure to company and academy directors. Competitors perform a classical variation, a commissioned piece by an emerging choreographer, and a "Dancer's Own" solo, choreographed by either the competitor, their teacher or a peer.

The 10-day competition, which hosts young dancers trained in the RAD syllabus from around the world, has helped launch the careers of many of today's ballet stars. Just who, exactly? Take a walk down memory lane as we reveal eight familiar faces.
Keep reading...
Show less
Dancers at Ballet Sun Valley marvel at the eclipse. Photo by Gemma Bond via Instagram.
Unless you've been living under a rock, chances are that you experienced the eclipse-mania that took over the country yesterday. Thousands flocked to the 70-mile-wide path of totality (the path of the moon's shadow), which stretched from Oregon to South Carolina. And dancers were no exception. Ballet stars across the country flooded Instagram with their sense of awe over this once-in-a-decade event.
Dancers at Ballet Sun Valley, the two-day festival starting today curated by Isabella Boylston, were lucky enough to be on the path of totality (in fact, Gemma Bond's new ballet for the festival was inspired by the eclipse). We love seeing dancers from different companies hanging out, and Tiler Peck posted this New York City Ballet/American Ballet Theatre crossover moment.

Keep reading...
Show less
Call Board
Aug. 15, 2017 11:04AM EST
Boylston working with choreographer Gemma Bond
With most of American Ballet Theatre's classical repertoire under her belt, principal Isabella Boylston is ready for a new challenge, specifically, launching Ballet Sun Valley, a dance festival with educational outreach in her hometown of Sun Valley, Idaho. "I'm in a place in my career where I can expend a little more creative energy on outside projects," she says. This year, her long-held dream will become reality, with performances on August 22 and 24, and free dance classes on August 23. "Sun Valley has a successful symphony, and a lot of people are interested in the arts," Boylston says. "When I was there three years ago, I realized the Sun Valley Pavilion would be the perfect venue for dance." Hilarie Neely, Boylston's first ballet teacher, put her in touch with a team of executive producers who have assisted with fundraising and technical logistics.
Once Boylston knew the festival was happening, she was faced with the task of creating dynamic programming. "All the dancers I'm inviting are close friends who I've danced with before, and choreographers I have relationships with," she says. Audiences can expect classical repertoire, plus ballets by Justin Peck, Alexei Ratmansky and Pontus Lidberg.
Keep reading...
Show less
One of the many outfits Kansas City Ballet's Kelsey Ivana Hellebuyck sports on her Instagram, @ivanadance.
While we know you practically live in your leos and tights (and a tightly wound bun), summer is the perfect time to literally let your hair down and show off your style outside the studio.
Not sure where to start? Take a page from these pro dancers' ensembles. From classically chic to kooky and daring, these ballerinas know how to express themselves—on and off the stage. The #1 rule? There are no rules.
Keep reading...
Show less
News
Apr. 12, 2017 02:46PM EST
Stella Abrera in "Le Corsaire," Photo by Rosalie O'Connor
Hollywood may have the Oscars, but ballet has the Benois de la Danse. The glamorous awards ceremony, held each year at Moscow's Bolshoi Theatre, recognizes the year's best dancers and choreographers around the globe. The 2017 nominees were announced yesterday, and they include some of our favorite dancers, including two Pointe cover stars!
Two principal ballerinas from U.S. companies, American Ballet Theatre's Stella Abrera and Boston Ballet's Misa Kuranaga, were nominated for best female dancer. Abrera who graced our December/January cover, was nominated for her debut as Aurora in Sleeping Beauty. It's heartening to see this longtime ABT dancer receive the star treatment she deserves since her promotion to principal in 2015. Kuranaga, who was our August/September 2012 cover star, is being recognized for her performances in not one, but two roles: Tatiana in Onegin and Medora in Ivan Liška's Le Corsaire.
Keep reading...
Show less
Photo Galleries
Dec. 01, 2016 05:43PM EST
Stella Abrera photographed by Nathan Sayers for Pointe.
This is Pointe's December 2016/January 2017 Cover Story. You can subscribe to the magazine here, or click here to purchase this issue.
At some point during her long career with American Ballet Theatre, Stella Abrera started to think it would never happen; paradoxically, this gave her a kind of peace. But on the evening of May 23, 2015, there she was, onstage at the Metropolitan Opera House, finally performing one of her dream roles: Giselle. It was a moment that had been long deferred. In 2008, as she was preparing for this same part, she was sidelined by an injury. And it turned out to be a serious one, a herniated disk and trouble with her sciatic nerve, which caused pain and debilitating calf weakness and kept her out of commission for almost two years. When she came back, she felt unsure of her body and her future, unable to do the things she had done before almost without thinking.
Yet seven years later, she got her second chance, filling in for another injured dancer. And a remarkable thing happened: The moment Abrera stepped onstage, responding happily to Albrecht's four taps on her cottage door, it was as if she had been dancing the role her whole life. Her Giselle was sweet without being sappy, trusting without having the word "victim" written across her forehead. The jumps were confident, the turns clean, the arabesques limpid. The transformation from woman to wraith was gradual, the love between her Wili and Albrecht still touchingly human. "Stella allows herself to go as far as she can in a particular direction, without ever going over the line," Kevin McKenzie, ABT's artistic director, explains. "She has the taste to make the judgment call and the ability to know where the line is."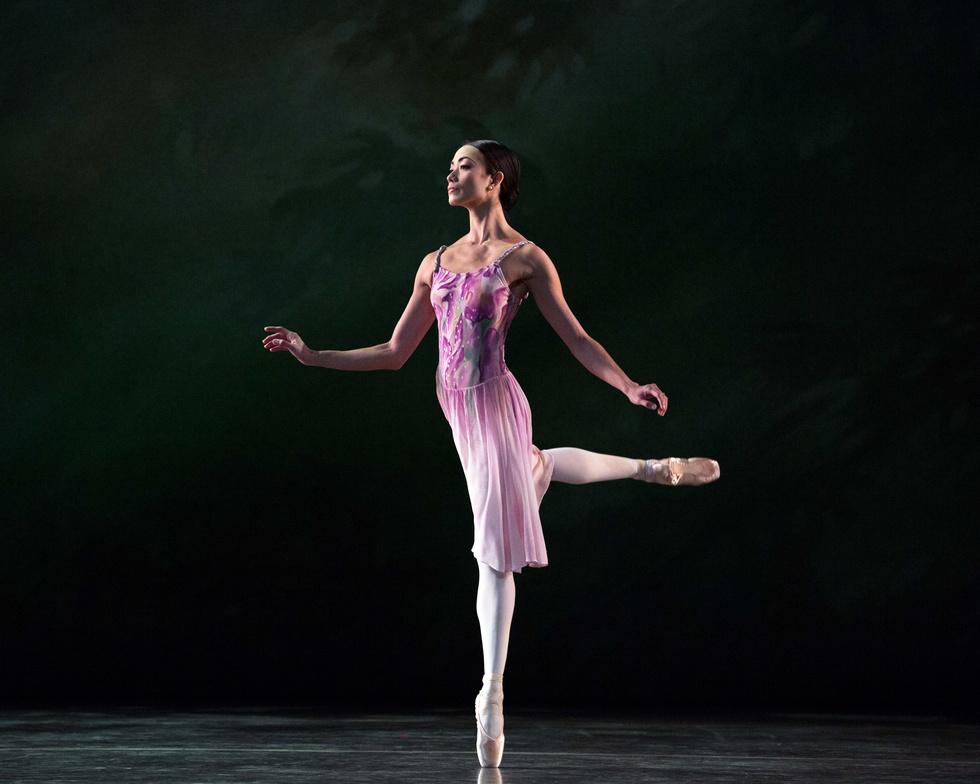 Abrera in "The Leaves Are Fading." Photo by Rosalie O'Connor, Courtesy ABT.
Keep reading...
Show less
Views
Jun. 03, 2016 03:01PM EST
Stella Abrera as Giselle (photo by MIRA, courtesy ABT)
At Pointe, we're always ready to watch a good ballet video, especially one that takes us behind the scenes with some of today's most talented performers. An episode of the series NYC-ARTS, which aired on PBS yesterday, pretty much hits the video jackpot. It profiles not one, but three American Ballet Theatre dancers: corps de ballet member Calvin Royal III, soloist Skylar Brandt and principal Stella Abrera.
The video catches up with the dancers in the midst of ABT's spring season, which opened with a festival celebrating artist-in-residence Alexei Ratmansky, and continues with the much-anticipated U.S. premiere of The Golden Cockerel next week.
Calvin Royal III, photo by Nathan Sayers
There's gorgeous footage of the dancers in class, and rehearsing ballets like Ratmansky's Firebird and Serenade after Plato's Symposium (which had its world premiere this season). But the best part is hearing the dancers reflect on their personal journeys to ABT, and what being in the company means to them now.
Skylar Brandt, photo by Nathan Sayers
Each is at a different stage in their career, and has a unique perspective. Royal talks about getting a late start in ballet (he didn't take his first class until he was accepted to performing arts high school as a teenager), and what he's learned from being in the corps. Brandt shares what it's like to work with Ratmansky in the studio, and talks about performing her first principal role in his Piano Concerto #1. And Abrera reflects on her long career with the company, from struggles with injury to her triumphant promotion to principal last year.
In one of the video's most moving moments (at 9:15), Abrera describes how, as a corps dancer in Swan Lake, she would glance at the "ABT" stamp on the scenery to remind herself how hard she'd worked to get there. "That euphoric feeling of being in the company I dreamed of being in for my whole childhood—that's still in me now," she says.
For more news on all things ballet, don't miss a single issue.
Stella Abrera in Leaves are Fading. Photo by Rosalie O'Connor, Courtesy ABT.
Before your promotion to principal this summer, you were an ABT soloist for 14 years. How did you stay patient when it seemed a promotion was unlikely?

When I was cast to do my first Giselle eight years ago, I was sidelined by an injury for 18 months. I had to find my way again. I've sometimes felt frustrated, but you have to make the best out of every situation. My focus was simple: I still wanted to dance. I was already in my dream company, so why not focus on what roles I was given and be the best I could possibly be? Once I made that shift, it really eased my path.
You finally performed the role of Giselle at ABT last spring. How did you handle the pressure?
I was filling in for an injured dancer and only had 10 days to fine-tune things. It was also an ABT alumni event, so there were 200 ex-dancers in the audience. And part of the reason it was such a dream for me was because the role had slipped through my fingers years ago because of my injury. My brain just went into tunnel-vision mode—I didn't allow myself to think about what it all meant.
Keep reading...
Show less
News
Nov. 09, 2015 05:40PM EST
James Sofranko in Jerome Robbins' The Concert (or, the Perils of Everybody). Photo by Erik Tomasson, courtesy of San Francisco Ballet.
Who says ballet can't cure cancer? DanceFAR or "Dance For a Reason"—the brainchild of San Francisco Ballet soloist James Sofranko and former SFB dancers Garen Scribner and Margaret Karl—raises money for the Cancer Prevention Institute of California. This year's fourth annual star-studded gala takes place tomorrow night at San Francisco's Yerba Buena Center for the Arts and will feature some of the West Coast's biggest names in ballet, including dancers from SFB, Alonzo King LINES Ballet and Ballet Silicon Valley.
The lineup also includes American Ballet Theatre principals Marcelo Gomes and Stella Abrera, who is no nonprofit novice herself. In the aftermath of Super Typhoon Haiyan, which hit the Philippines in November 2013, Abrera formed her disaster relief organization Steps Forward for the Philippines.
Stella Abrera and Marcelo Gomes on the dance floor. Photo by Justin Barbin courtesy of Gillian Murphy via Twitter.
Sofranko and Abrera are just a couple of names on a growing list of dancers who contribute their talents to charitable causes. New York City Ballet principal Daniel Ulbricht's annual "Dance Against Cancer Benefit" has raised hundreds of thousands of dollars for the American Cancer Society, and ballet dancers from all over the globe appear in Dancers Responding to AIDS' annual Fire Island Dance Festival, which had record-breaking fundraising efforts this past summer.
To date, DanceFAR has raised over $300,000, with tomorrow night likely to show a huge increase.
Sarah Van Patten, San Francisco Ballet principal . Photo by Quinn Wharton courtesy of DanceFAR.
News
Jun. 30, 2015 04:42PM EST
Misty Copeland in Le Corsaire. Photo by MIRA, Courtesy ABT.
Today, American Ballet Theatre announced that longtime company soloists Misty Copeland and Stella Abrera have been promoted to principal dancer. San Francisco Ballet star Maria Kochetkova and Royal Danish Ballet principal Alban Lendorf will also join ABT next season as principals (though they will remain principals with their respective companies), and Boston Ballet principal Jeffrey Cirio joins as a soloist. Corps de ballet members Skylar Brandt, Thomas Forster, Luciana Paris, Arron Scott and Cassandra Trenary have been promoted to soloist.
The news follows months of speculation after three of ABT's major stars—Julie Kent, Paloma Herrera and Xiomara Reyes—announced their retirements. The promotion has been a long time coming for Abrera, who has been with the company since 1996 and a soloist since 2001. She made a critically acclaimed debut as Giselle last month. Copeland, who made principal debuts in Romeo and Juliet and Swan Lake this season, makes history as the company's first female African American principal dancer. Congratulations to all!
News
Sep. 10, 2014 01:41PM EST
American Ballet Theatre's Stella Abrera. Photo by Gene Schiavone, Courtesy ABT.
When Super Typhoon Haiyan struck the Phillippines last November, the results were catastrophic: The storm left 6,300 dead and four million people displaced. And while the typhoon is no longer headlining the evening news here, it's still an everyday reality in Guiuan, the area hit hardest by the typhoon, where rebuilding efforts remain slow. As a result, child labor is on the rise as increasing numbers of children leave school to help support their families. Those not in the workforce face overcrowded classrooms in makeshift buildings and a lack of basic supplies.

Keep reading...
Show less
Ballet dancers have nearly 100 percent injury rates. From minor sprained ankles to major bone breaks, nearly everyone faces time away from the stage sooner or later. The good news? Recovering from an injury doesn't have to be a career setback. It can actually make you stronger, as these dancers discovered when they coped with the long, difficult journey back to the stage.
Stella Abrera
American Ballet Theatre soloist

The beginning of my 13th season with American Ballet Theatre marked an exciting time for me artistically. The cherry on top: I was slated to perform my first Giselle during the company's spring Metropolitan Opera House season in New York. Needless to say, I was loving life. Then everything came to a screeching halt.
What began as a simple ache in my left calf quickly deteriorated into debilitating pain. Within a few weeks, I could barely walk, let alone dance. The injury proved to be an overstretched sciatic nerve in my back, but since the pain was in my calf, it went undiagnosed for months.
At first, I kept trying to work through it. I gave up performances reluctantly, little by little, but fought until the bitter end for my Giselle. I surrendered only after the doctors realized that there was nothing they could do for me. "The nerve will just need time to heal," they said. "Maybe a year and a half." Walking into the artistic office to relinquish my debut was devastating. It marked both the end of one struggle and the beginning of another—the long road back to health.
Over the next 12 months, my injury became the center of my world. I started to wonder if I would ever walk again without pain. And I had hundreds of setbacks. There were times when my calf would flare up just from spending too long standing in my apartment and I would need to spend the next three days in bed flat on my back. At my lowest point, grandmas in walkers would pass me on the sidewalk as I shuffled along. Unless I was bedridden, I was diligent about my daily trips to ABT for physical therapy. When seeing the healthy dancers and hearing the music got too intense, I started going to Westside Dance Physical Therapy for a mental reprieve.
Thankfully, I had an amazing support system. My family was wonderful, and as soon as I could, I went to Amsterdam to be with my husband, Sascha Radetsky, who was dancing for Dutch National Ballet at the time. I was completely down in the dumps, but being around Sascha made me feel better. Since he's had three ankle surgeries, he could commiserate, and,­ more importantly, he was a great listener.
When a year had passed, I decided it was time to try dancing again. Back in New York, Craig Salstien, ABT soloist and company teacher, guided me. He taught me a private class every day. Technically we went back to square one—he micromanaged my every movement. Even though progress went at a snail's pace, it worked. In three months, I was back taking company class, and soon after, I eased into rehearsal. Working with Craig, coupled with getting four cortisone shots in my back, had me dancing again.
Supposedly, I am healed now. I'll still get a buzzing feeling in my foot every once in a while or my calf will ache a little, but the sensations are just a shadow of the original pain. Before, I had faith in my body to simply do the movement; now I'm more analytical. My moments of abandon now give me greater joy. It may sound clichéd, but I appreciate dancing more now that I know it can be taken away from me at any moment.
My first show back I performed one of the Odalisques in Le Corsaire. It gave me a sense of achievement that's hard to describe. I was so overwhelmed with emotion because I realized I hadn't let the injury defeat me. While a year-plus might not seem long, when you don't know if you're going to heal, it's an eternity. I know now that, more than anything else, I want to dance. My spirit has been steeled.    
—As told to Kate Lydon


Megan LeCrone
New York City Ballet corps member

For some dancers it might be torture, but watching company performances and rehearsals kept me sane while I was out with a torn FHL tendon. I've danced my whole life; I couldn't be away from it. Sometimes I'd feel angry and frustrated, but that made me more diligent with my physical therapy and more driven to stay in shape. And when you're always dancing you rarely watch from the audience, so I made a point of sitting high up to see the architecture of the ballets. That taught me a lot: The dancers I loved most had no tension in their bodies and their faces were open. Every time I watched someone dance, I remembered what it felt like to perform, and recovery became my life.
Unfortunately, my injuries kept coming. It was the end of my first year as an NYCB company member when I first felt a debilitating pain in my right ankle and foot that turned out to be a tear in my FHL tendon. Coming back from surgery took eight months, but I felt like I had a new foot! I danced in the 2004/2005 season, but then I needed the same surgery on my left foot. Barely a year later I had a bone spur removed from that foot, too.
The first time I came back, it didn't seem like that big a challenge. I felt stronger, and was dancing better than ever. The company even gave me some nice roles, making me feel like I had lost less ground. But the injury cycle continued and staying positive became hard. I don't give up easily, but I felt impatient. Every day I was thankful to still be in the com­pany, but I worried I might be thought of as the girl who was always injured.
With each setback, though, I realized I had become a little stronger emotionally and physically. Now when I'm onstage, I don't worry about little things. I put everything I have into each performance. My injuries put my life into perspective. I know the pain of not being able to dance, so I try to dance each time as if it were my last day.    
—As told to Jen Peters
Chandra Kuykendall
Colorado Ballet principal

I always dreamed of dancing Odette/Odile. Then Swan Lake was scheduled for the fall of my 10th season. But during the Nutcracker run the winter before, my knee started buckling. I had noticed knee pain before but wrote it off and danced through it. During our January layoff I rested, hoping it would get better. It didn't, and I started to worry. I went in for an MRI, but the images showed nothing, so I kept dancing.
But the pain didn't go away. By March I made the difficult decision to have exploratory surgery. The doctors didn't know what they would find. I've never had a major injury before, so I felt scared. Would I regain full mobility in my knee? Would I miss Swan Lake?
The surgery lasted only 18 minutes. They found a small tear in the medial meniscus—a little flap that was successfully removed—as well arthritis on the bottom of my femur bone. They did a chondroplasty for the arthritis, a procedure which roughs up the bone to promote tissue growth. They told me I would have 100 percent recovery.  I made up my mind to come back in time to dance my dream role. I had six months to get into the best shape of my career. I was hard on myself. I wanted progress fast, but the chondroplasty made my recovery take longer. I did physical therapy three times a week, plus Pilates, walking, massage, acupuncture and icing. My husband, Rob, is also a dancer and he helped every step of the way. Another girl in the company had the same surgery on the same day, so it was helpful to talk to her. But I had difficult days when she was able to do more than me, and I felt her recovery was going faster than mine.
The company was off during my first four months out, so I gave myself a modified barre after three months and kept gradually adding on. I felt like I was learning to dance again. As we got closer to Swan Lake, I put more pressure on myself than anyone else did. My mind was absolutely set on getting onstage. I pushed too hard sometimes and the next day my knee pain would flare up and my leg muscles would become tight from compensating. Even through the pain, I never doubted that I would be able to get back in time. And I did. I performed Odette/Odile and didn't miss a single performance. It was really tough some days, but there were performances when I actually forgot I'd had surgery I was so thrilled and thankful to be dancing. —As told to JP
Nov. 29, 2001 07:00PM EST
Marie Claire posted a fun, investigative slideshow earlier this week that compares the fitness levels of five types of athletes. In addition to a biker, a boxer, a yogi and a runner, they put American Ballet Theatre soloist Stella Abrera to the test. The results? Abrera had the strongest core—and unsurprisingly lovely legs.
Nov. 29, 2001 07:00PM EST
What does it take to be a dancer with American Ballet Theatre? The company's dancers and staff tackled that question last night at the Guggenheim Museum's Works & Process program. "ABT dancers need to do it all," said Kevin McKenzie in a video clip. "They need to have the ability to cross the borders of the stylistic demands of contemporary dance and ballet."

After performing a pas de deux from Anthony Tudor's The Leaves are Fading, soloist Stella Abrera spoke about how she uses her body in different ways for contemporary and classical pieces. "In contemporary, there's more room for interpretation," she said. "In classical dance, interpretation is in the expression, in the upper body." Abrera feels that she can really "bare her soul" in contemporary works and revealed that she prepares for a performance of Tharp's In the Upper Room by doing barre to music by Janis Joplin. "I get more nervous for a classical ballet performance," she said. "It is almost an exact science and you get one shot only on stage."

Raymond Lukens, director of ABT's National Training Curriculum, and dancers from ABT's studio company gave a lecture demonstration on ABT's distinct "non-style" of training, which doesn't favor any one method such as Cecchetti or Vaganova.  "It is certainly not just about the number of pirouettes you can do," said ABT ballet mistress Susan Jones—although the studio company dancers all effortlessly performed clean triple pirouettes. Jones wants dancers who have a strong classical foundation, good facilities and coordination. Because ABT has such a diverse repertoire, they need dancers who won't struggle with musicality and can "learn choreography correctly and quickly."

Catch the ABT in performance at the Metropolitan Opera House in New York City, May 13 to July 6.