From left: ABT principals Isabella Boylston, James Whiteside, Gillian Murphy, Stella Abrera and Cory Stearns with Harvard Business School professor Anita Elberse. Photo Courtesy HBS.
Between long rehearsal days, performances and hectic touring schedules, it can be hard for professional dancers to plan for their post-performance careers while they're still onstage. This fall, that changes for five American Ballet Theatre principals. Stella Abrera, Isabella Boylston, Cory Stearns, James Whiteside and Gillian Murphy have been chosen as the first dancers to participate in Crossover Into Business at Harvard Business School, a semester-long program designed for professional athletes.
Last year, Crossover Into Business program director and HBS professor Anita Elberse was developing a case study on ABT, and reached out to the company executive director Kara Medoff Barnett, an alumna of HBS. "Anita mentioned the Crossover Program as an experience that has been transformative for professional athletes," says Barnett. "We looked at each other and had the same idea: How about inviting the ABT dancers to sit next to the NBA players?"
Keep reading...
Show less
News
Aug. 20, 2018 05:24PM EST
Trending
Jul. 03, 2018 04:10PM EST
Sascha Radetsky. Photo by Renata Pavam, Courtesy ABT.
There aren't many dancers who've had as varied a post-stage career as Sascha Radetsky. Since retiring in 2014, the former American Ballet Theatre soloist and Center Stage star has reprised his role as Charlie in Center Stage: On Pointe; acted in two television programs (Starz network's Flesh and Bone and Hallmark Channel's A Nutcracker Christmas) and choreographed Misty Copeland's famous Under Armour commercial. He's also written articles for Vogue, Playbill and Dance Magazine, and he currently directs the ABT/NYU Master's in Ballet Pedagogy program. Now he has a new title to add to his credentials: artistic director of ABT Studio Company.
Keep reading...
Show less
popular
Apr. 05, 2018 05:30PM EST
Stella Abrera. Photo by Sarah Kehoe, Courtesy Capezio.
In 2014, first-generation Filipina-American ABT principal Stella Abrera traveled to Manila to guest-star with Ballet Philippines in Giselle. The same year, Abrera set up a small charity, Steps Forward for the Philippines, to help a school in nearby Guiuan that had been destroyed in a super typhoon. Now, four years later, Abrera is back in Manila, with a group of eight fellow ABT stars by her side. April 6-7 the group will dance at the Maybank Performance Arts Theater in Bonifacio Global City in a program titled An Intimate Evening with Stella Abrera & American Ballet Stars.
Keep reading...
Show less
Misty Copeland as Juliet with American Ballet Theatre. Photo by Gene Schiavone, Courtesy ABT.
Valentine's Day makes February the perfect month for ballet companies to perform Romeo and Juliet, Shakespeare's famous tale of star-crossed lovers. A few companies presented their versions earlier this month and many are on their way in the next few weeks. We rounded up eight companies including New York City Ballet, American Ballet Theatre, The Washington Ballet, Les Ballet des Monte Carlo, Orlando Ballet, Colorado Ballet, Carolina Ballet and Ballet BC to find out how they're using this classic ballet to celebrate the holiday of love.
New York City Ballet

A 12-performance run of Peter Martins' Romeo + Juliet comes in the middle of New York City Ballet's winter season, spanning from February 13-23 at the Koch Theater in New York City. This year's production marks the debuts of corps dancers Harrison Coll and Peter Walker as Romeo, and former Pointe cover star Indiana Woodward will be making her debut as Juliet. Below, hear Tiler Peck, who will dance Juliet alongside Zachary Catazarro, point out the tricky technical moments in this role and explain what makes it so special to her.
Keep reading...
Show less
Lin Fujimoto, Matthew Maxwell, Harris Beattie, Ryan Felix and Lucy Christodoulou. Photo by Bruno Simao, Courtesy of the Royal Academy of Dance.
Over the past week, 52 dancers from 14 countries trained in the Royal Academy of Dance syllabus flocked to Lisbon, Portugal, for the 2017 Genée International Ballet Competition. After four days of coaching (see highlights on our Instagram), the dancers competed in two days of semi-finals. By Saturday, the pool had been narrowed to just 11 contestants who performed in the finals at Teatro Camões; five lucky dancers took home medals.
The prestigious gold medal (past winners have included ballet stars such as Stella Abrera and Steven McRae) went to 18-year-old British student Harris Beattie. Beattie made Genée history this weekend as the first dancer ever to win all three awards: gold medal, Dame Margot Fonteyn Audience Choice Award and the Choreographic Award, which he received for his Dancer's Own variation entitled Torn, which he co-choreographed with his teacher, Karen Berry. Beattie trains at the Central School of Ballet in London.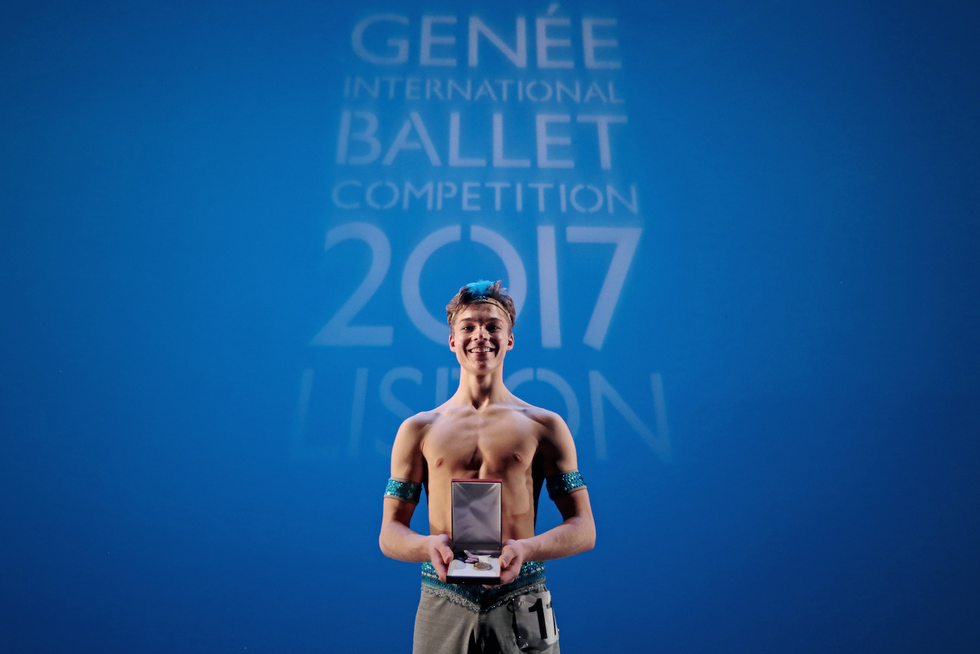 Gold medal, the Dame Margot Fonteyn Audience Choice Award and Choreographic Award winner Harris Beattie. Photo by Bruno Simao, Courtesy of the Royal Academy of Dance.
Keep reading...
Show less
Stella Abrera at the Genée International Ballet Competition in 1995. Photo by Pete Jones, Courtesy Royal Academy of Dance.
On September 7, The Genée International Ballet Competition—the Royal Academy of Dance's flagship event—gets underway in Lisbon, Portugal. Founded in 1931, the Genée recognizes top talent with medals and cash prizes, as well as exposure to company and academy directors. Competitors perform a classical variation, a commissioned piece by an emerging choreographer, and a "Dancer's Own" solo, choreographed by either the competitor, their teacher or a peer.

The 10-day competition, which hosts young dancers trained in the RAD syllabus from around the world, has helped launch the careers of many of today's ballet stars. Just who, exactly? Take a walk down memory lane as we reveal eight familiar faces.
Keep reading...
Show less
Dancers at Ballet Sun Valley marvel at the eclipse. Photo by Gemma Bond via Instagram.
Unless you've been living under a rock, chances are that you experienced the eclipse-mania that took over the country yesterday. Thousands flocked to the 70-mile-wide path of totality (the path of the moon's shadow), which stretched from Oregon to South Carolina. And dancers were no exception. Ballet stars across the country flooded Instagram with their sense of awe over this once-in-a-decade event.
Dancers at Ballet Sun Valley, the two-day festival starting today curated by Isabella Boylston, were lucky enough to be on the path of totality (in fact, Gemma Bond's new ballet for the festival was inspired by the eclipse). We love seeing dancers from different companies hanging out, and Tiler Peck posted this New York City Ballet/American Ballet Theatre crossover moment.

Keep reading...
Show less
Call Board
Aug. 15, 2017 11:04AM EST
Boylston working with choreographer Gemma Bond
With most of American Ballet Theatre's classical repertoire under her belt, principal Isabella Boylston is ready for a new challenge, specifically, launching Ballet Sun Valley, a dance festival with educational outreach in her hometown of Sun Valley, Idaho. "I'm in a place in my career where I can expend a little more creative energy on outside projects," she says. This year, her long-held dream will become reality, with performances on August 22 and 24, and free dance classes on August 23. "Sun Valley has a successful symphony, and a lot of people are interested in the arts," Boylston says. "When I was there three years ago, I realized the Sun Valley Pavilion would be the perfect venue for dance." Hilarie Neely, Boylston's first ballet teacher, put her in touch with a team of executive producers who have assisted with fundraising and technical logistics.
Once Boylston knew the festival was happening, she was faced with the task of creating dynamic programming. "All the dancers I'm inviting are close friends who I've danced with before, and choreographers I have relationships with," she says. Audiences can expect classical repertoire, plus ballets by Justin Peck, Alexei Ratmansky and Pontus Lidberg.
Keep reading...
Show less
One of the many outfits Kansas City Ballet's Kelsey Ivana Hellebuyck sports on her Instagram, @ivanadance.
While we know you practically live in your leos and tights (and a tightly wound bun), summer is the perfect time to literally let your hair down and show off your style outside the studio.
Not sure where to start? Take a page from these pro dancers' ensembles. From classically chic to kooky and daring, these ballerinas know how to express themselves—on and off the stage. The #1 rule? There are no rules.
Keep reading...
Show less
News
Apr. 12, 2017 02:46PM EST
Stella Abrera in "Le Corsaire," Photo by Rosalie O'Connor
Hollywood may have the Oscars, but ballet has the Benois de la Danse. The glamorous awards ceremony, held each year at Moscow's Bolshoi Theatre, recognizes the year's best dancers and choreographers around the globe. The 2017 nominees were announced yesterday, and they include some of our favorite dancers, including two Pointe cover stars!
Two principal ballerinas from U.S. companies, American Ballet Theatre's Stella Abrera and Boston Ballet's Misa Kuranaga, were nominated for best female dancer. Abrera who graced our December/January cover, was nominated for her debut as Aurora in Sleeping Beauty. It's heartening to see this longtime ABT dancer receive the star treatment she deserves since her promotion to principal in 2015. Kuranaga, who was our August/September 2012 cover star, is being recognized for her performances in not one, but two roles: Tatiana in Onegin and Medora in Ivan Liška's Le Corsaire.
Keep reading...
Show less