News
Feb. 19, 2019 05:18PM EST
Iijima with Cuhan Wai Chan in Stanton Welch's Just. Photo by Christopher Duggan, Courtesy Houston Ballet.
Houston Ballet first soloist Nozomi Iijima transformed into a Zen goddess in the pas de deux for Stanton Welch's Just, commissioned specially for Jacob's Pillow Dance Festival in August. Partnered by Chun Wai Chan, Iijima moved as if in a dream state, casting a deliciously hypnotic spell. It was as if she was literally pouring her weight from one movement to another. Welch's sculptural choreography brings out her most mesmerizing abilities. Even though the ballet is completely fluid, tension slowly builds to a crescendo until finally we feel the pain of loss that memory holds. Her stoic but powerful performance held the audience captive—it was the kind of dancing that you don't want to exhale during.

News
Aug. 13, 2018 08:30AM EST
Boston Ballet is bringing Jerome Robbins' Fancy Free to the Tanglewood Music Center in Lenox, MA. Photo by Gene Shiavone, Courtesy Boston Ballet.
Wonder what's going on in ballet this week? We've pulled together some highlights.
Houston Ballet Brings a World Premiere to Jacob's Pillow
August 15-18, for the first time in almost four decades, Houston Ballet is appearing at Jacob's Pillow, the famous summer dance festival in Becket, MA. Headlining the program is Just, a world premiere commissioned by the Pillow and choreographed by HB artistic director Stanton Welch, set to music by contemporary composer David Lang. Also from Welch are Clear, an abstract piece for seven men and seven women, and excerpts from Sons de L'ame, with music by Chopin. The company will also perform In Dreams, choreographed by former Pillow choreographic associate Trey McIntyre.
News
Jun. 04, 2018 05:09PM EST
Costume sketches for Alexei Ratmansky's new "Harlquinade" for ABT. Courtesy ABT.
Wonder what's going on in ballet this week? We've pulled together some highlights.

ABT's New Harlequinade is Finally Here
The long wait for Alexei Ratmansky's Harlequinade for American Ballet Theatre is finally over. June 4-9, catch ABT at the Metropolitan Opera House in this bold and colorful tribute to the Italian commedia dell'arte traditions, based on the archival notes of Marius Petipa. If this trailer by Ezra Hurwitz is any indication, this new story ballet is sure to delight (fingers crossed that those dogs make their way to the stage).
From left: Jennifer Stahl, Lonnie Weeks and Sasha De Sola in rehearsal for Trey McIntyre's new work. Photo by Christian Peacock for Pointe.
Photography by Christian Peacock

Summer is always a lively time at San Francisco Ballet, as the dancers return from vacation and launch into rehearsals for the upcoming season. But last July through September felt absolutely electric with creativity as the company created 12 world premieres for Unbound: A Festival of New Works, a cutting-edge program that will run April 20–May 6 at the War Memorial Opera House.
Artistic director Helgi Tomasson invited a wish list of international choreographers to participate: David Dawson, Alonzo King, Edwaard Liang, Annabelle Lopez Ochoa, Cathy Marston, Trey McIntyre, Justin Peck, Arthur Pita, Dwight Rhoden, Myles Thatcher, Stanton Welch and Christopher Wheeldon. Each got about 12 dancers, three weeks' studio time and, aside from a few general guidelines, total artistic freedom.
News
Feb. 26, 2018 05:45PM EST
National Ballet of Canada's Skylar Campbell and Elena Lobsanova in "The Dreamers Ever Leave You." Photo by Karolina Kuras, Courtesy NBoC.
This week is bursting at the seams with ballet. Earlier this month multiple companies performed the same ballet (think Romeo and Juliet), but this week brings a truly eclectic mix of new works, company premieres and old classics all around the U.S. and Canada. We've rounded up programs by eight companies—National Ballet of Canada, Royal Winnipeg Ballet, Houston Ballet, American Repertory Ballet, Sarasota Ballet, Ballet Memphis, Texas Ballet Theater and Indianapolis Ballet—to give you a sense of what's happening.
National Ballet of Canada

In honor of Canada's 150th anniversary in 2017, the Toronto-based National Ballet of Canada is presenting a mixed bill February 28–March 4 titled Made in Canada. The program features works made on NBoC by three of Canada's most lauded choreographers: Robert Binet's The Dreamers Ever Leave You, James Kudelka's The Four Seasons and Crystal Pite's Emergence. Check out the preview below.
Webb and Jared Matthews in "Sleeping Beauty." Photo by Amitava Sarkar, Courtesy Houston Ballet.
Houston Ballet principal Sara Webb, now celebrating her 20th season, holds the distinct position of being the only ballerina currently in the company who has worked extensively under two Houston Ballet artistic directors: Ben Stevenson (who left in 2003 and now directs Texas Ballet Theatre) and Stanton Welch. Webb was nurtured under Stevenson, who first saw her potential and promoted her to soloist, and she was the very first dancer that Welch promoted to principal. Having danced most major roles since joining the company in 1997, she carries a considerable amount of Houston Ballet history in her body.
With her exquisite technique, gorgeous lines, and her ability to bounce back from having a baby quicker than most celebrities, Webb has always been an audience favorite. She spoke with Nancy Wozny via email about her lengthy career.

Congratulations on 20 years at Houston Ballet. To what do you credit your artistic longevity?
I credit my artistic longevity to my life experiences. From the difficult ones (my husband being deployed to Iraq) to the joyful ones (having my children), those experiences help me bring a wider range of emotions to the stage. Every time I've revisited a role, I've been in a different place in my life, which has allowed me to approach the role in a different way.
News
Dec. 06, 2017 05:11PM EST
Artists of Houston Ballet in Alexander Ekman's "Cacti." Photo by Amitava Sarkar, Courtesy Houston Ballet.
When Hurricane Harvey badly damaged Houston Ballet's Wortham Theater Center this fall, all programming was cancelled and the fate of the company's upcoming season was unclear. Yet over the past few months, the greater performing arts community has pulled together to help the company get its fall season back on its feet. This week Houston Ballet announced new dates and venues for its Spring 2018 Season.
The spring season will continue the company's "Hometown Tour" of Houston theaters that they began for Nutcracker season, switching between the George R. Brown Convention Center's General Assembly Hall and Resilience Theatre (a fitting name, no?), Sarofim Hall at The Hobby Center for the Performing Arts, Jones Hall, and the Moores Opera House at the University of Houston. The company is making light of the situation, titling their two mixed repertoire programs scheduled for the Brown Center "Unconventional Ballets at the Convention Center." (They've also had plenty of fun with wordplay while advertising their productions of The Nutcracker held in Sugar Land, TX, a city just south of Houston.) The season showcases the full diversity of Houston Ballet's offerings, from Alexander Ekman to Don Quixote to a world premiere by artistic director Stanton Welch celebrating Houston's resilience.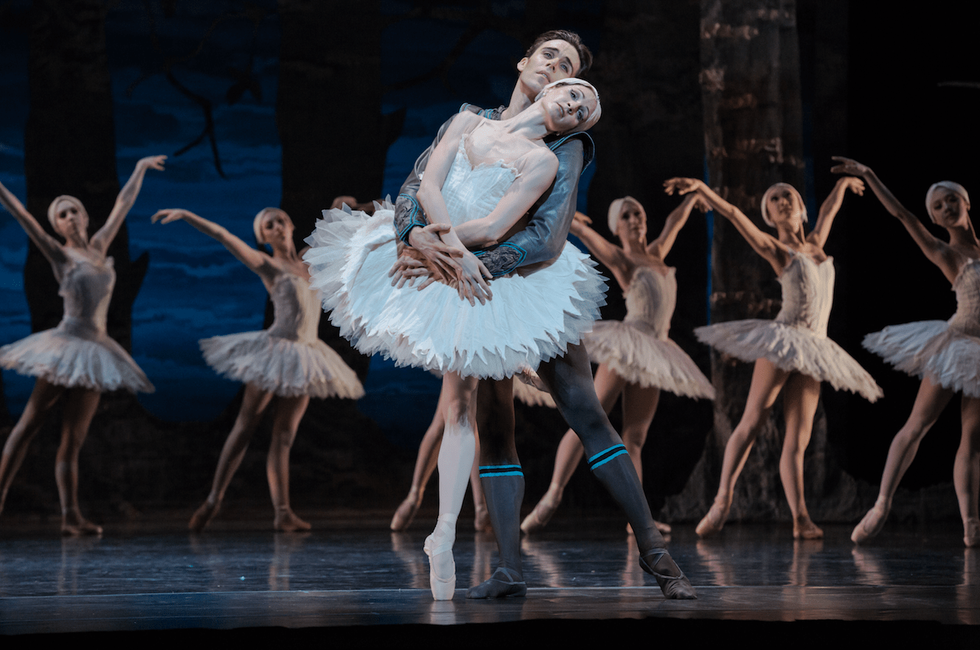 Sara Webb and Connor Walsh with Artists of Houston Ballet in "Swan Lake" choreographed by Stanton Welch. Photo by Amitava Sarkar, Courtesy Houston Ballet.
The company's full list of new dates and venues are listed below:
Houston Ballet's Sara Webb and Chun Wai Chan in "The Nutcracker." Photo by Amitava Sarkar, Courtesy Houston Ballet.
Houston Ballet has a message for Mother Nature: Don't mess with Nutcracker.
After flooding from Hurricane Harvey caused extensive damage to the Wortham Center, Houston ballet's home theater, the company was forced to reschedule and relocate two of its programs this fall. But when the Wortham announced last month that it would be closed for repairs through mid-May, the company faced a bigger, financially scarier problem: cancelling 34 performances of its annual Nutcracker.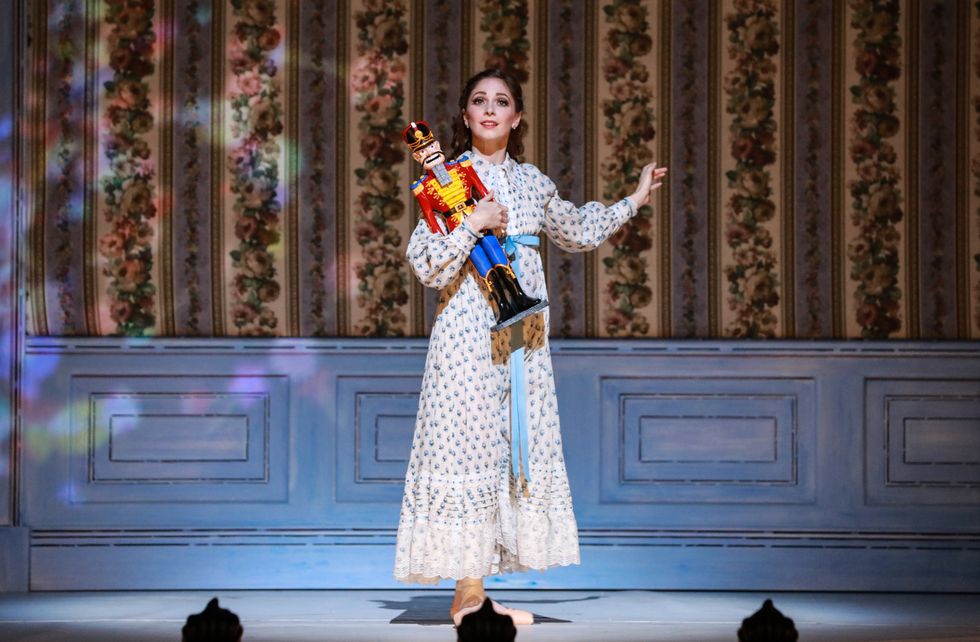 Melody Mennite in "Nutcracker." Photo by Amitava Sarkar, Courtesy Houston Ballet.
But artists are nothing if not resourceful. Yesterday, the company announced that its Nutcracker will be going on a "hometown tour," with 14 performances at the Smart Financial Center in nearby Sugar Land (December 10–23), and 14 performances at the Hobby Center for the Performing Arts (December 30–January 6). The production, choreographed by artistic director Stanton Welch, was new last year, and includes opulent scenic and costume designs by Tim Goodchild. Current ticket holders can click here to reschedule their performances, while tickets will go on sale to the general public on October 14.
News
Sep. 19, 2017 05:51PM EST
The Wortham Theater Center, where Houston Ballet performs, after Hurricane Harvey. Photo by Monica Guerra, Courtesy Guerra.
After Hurricane Harvey flooded Houston Ballet's facilities and damaged its home theater, the Wortham Center, the company wasted no time finding temporary rehearsal space and rescheduling its first two programs of the season at the nearby Hobby Center. But today, the Texas company faced another major blow: The Wortham Center announced that it will be closed for repairs until at least mid-May. That means Houston Ballet now needs to reschedule more than half of its season—including 34 performances of Nutcracker.

As everyone in the dance world knows, Nutcracker is a major financial lifeline for American ballet companies. Houston's production, choreographed by artistic director Stanton Welch with sets and costumes by Tim Goodchild, was brand-new last year. (Fortunately, the company moved its sets and costumes to a safe location during the storm.) Finding space for a month-long run will surely not be easy, and the Hobby Center looks booked. While there's no news of a backup plan yet, here's hoping Houston Ballet will receive some Nutcracker magic—and be able to find a new home for this year's production. We'll keep you posted once they do.
Karina González in "Romeo and Juliet" choreographed by Stanton Welch. Photo by Amitava Sarkar, Courtesy of Houston Ballet.
As told to Julie Diana
Juliet is one of my favorite roles—you go through every emotion in just three acts. I had done different versions of the ballet before, but it was an amazing opportunity when my director Stanton Welch created the role for me. I watched a lot of videos to prepare and struggled at the beginning because I was trying to copy what other ballerinas had done. It took me a while to find my own way. But now, every step comes from deep inside.
I love that Juliet starts as an innocent little girl, playing with the nurse like she's her best friend. When she goes to the ball, she sees this person that moves her world around. I'm married now, and know what it means to give everything to someone and make decisions that will change your life. And because of the love you have for that person, it is worth it.