Nov. 25, 2015 01:49PM EST
NYCB's men in Rodeo: Four Dance Episodes. Photo by Paul Kolnik, Courtesy NYCB.
What left us breathless and wanting more.
Carrie Imler & Jonathan Porretta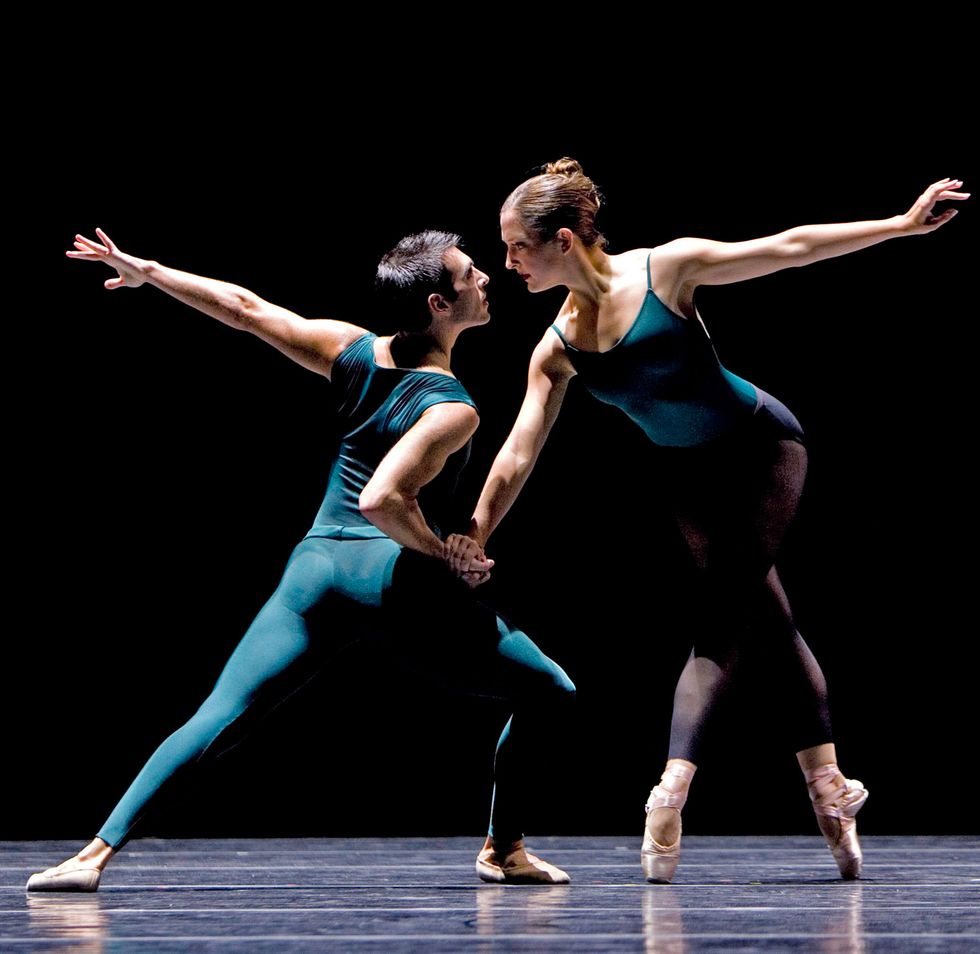 Perfectly matched: Poretta and Imler in Forsythe's In the middle, somewhat elevated. Photo by Angela Sterling, Courtesy Pacific Northwest Ballet.
Whenever Pacific Northwest Ballet principal dancers Carrie Imler and Jonathan Porretta take the stage together, the audience expects a great performance. The veteran company members are longtime friends as well as frequent partners, and their ease with choreography and one another always shows. But their technical confidence and mutual trust reached rarefied heights in PNB's all–William Forsythe program last March.
The duo were paired in all three dances on the bill, and their pas de deux in New Suite, in particular, showcased them at the height of their careers. Imler and Porretta not only handled Forsythe's demanding choreography with ease, but they infused it with an obvious love for the movements, for one another and for the audiences. The joy they brought to the program was contagious, leaving the crowd giddy with excitement as they left the theater. —Marcie Sillman
Alessandra Ferri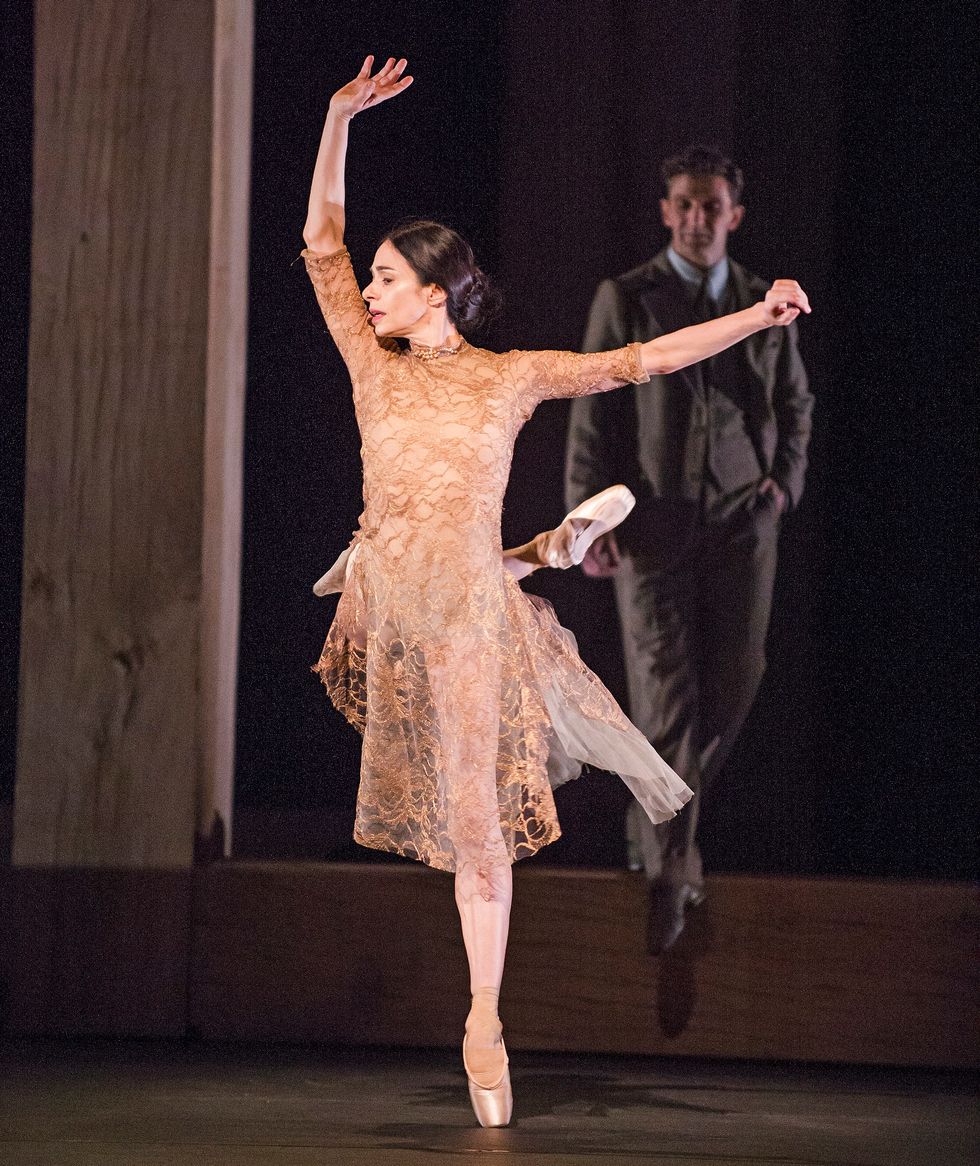 Master of her craft: Ferri in Woolf Works. Photo by Tristram Kenton, Courtesy ROH.
Alessandra Ferri has long transported us in roles of larger-than-life passion. But portraying Virginia Woolf, a woman who writes difficult novels—that's possibly even harder to pull off. For Woolf Works, Wayne McGregor's first full-length for The Royal Ballet, he insisted that Ferri, 52, be his star. And she fulfilled this assignment with flying colors. As she stood behind a scrim of jumbled words, we sensed her alertness to language. When she extended her lower leg toward the floor, it was not to show off her exquisite instep, but to point to something she'd observed with a writer's eye.
In the third act, based on Woolf's novel The Waves, Ferri projected a feeling of being at one with the water. As she partnered with Federico Bonelli, she swirled with a natural ebb and flow, occasionally dragged by an undertow. Although we knew this was her character's chosen way of dying, there was something serene about the way she finally got pulled under. Ferri invited you into the tragedy with a lyrical intensity. —Wendy Perron
Matthew Rich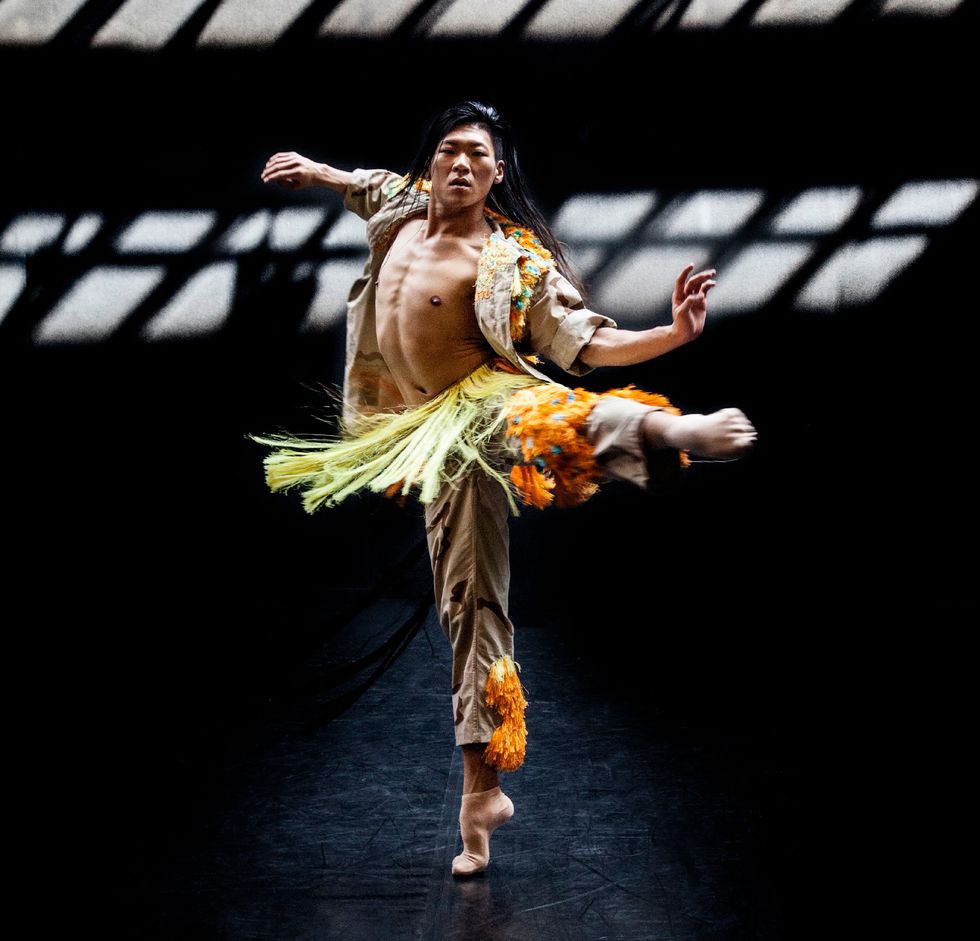 Rich made his last Cedar Lake performance unforgettable. Photo by Shoko Takayasu, Courtesy Jenny Lerner.
The gloomy crowd that shuffled into the Brooklyn Academy of Music in June looked like a funeral procession. They were there to see Cedar Lake Contemporary Ballet's final performances; they were prepared to grieve.
Instead they found joy, of a deliciously campy variety, in Richard Siegal's adrenaline rush of a world premiere, My Generation. And especially in Matthew Rich, the ringleader of its Technicolor circus. Hair whipping, limbs lashing, Rich attacked the choreography with the full-body exuberance that had become his signature during his decade with Cedar Lake. He has the rare ability to be at once arch and earnest, to give us a sly wink even as he's selling the heck out of Siegal's over-the-topness. Somehow, he managed to make lip-synching along to The Who's "My Generation" look, well, cool. It was his party—and nobody was crying. (There's no need for Rich fans to cry now, either: He's taken his considerable talents to BODYTRAFFIC in Los Angeles.) —Margaret Fuhrer
Misty Copeland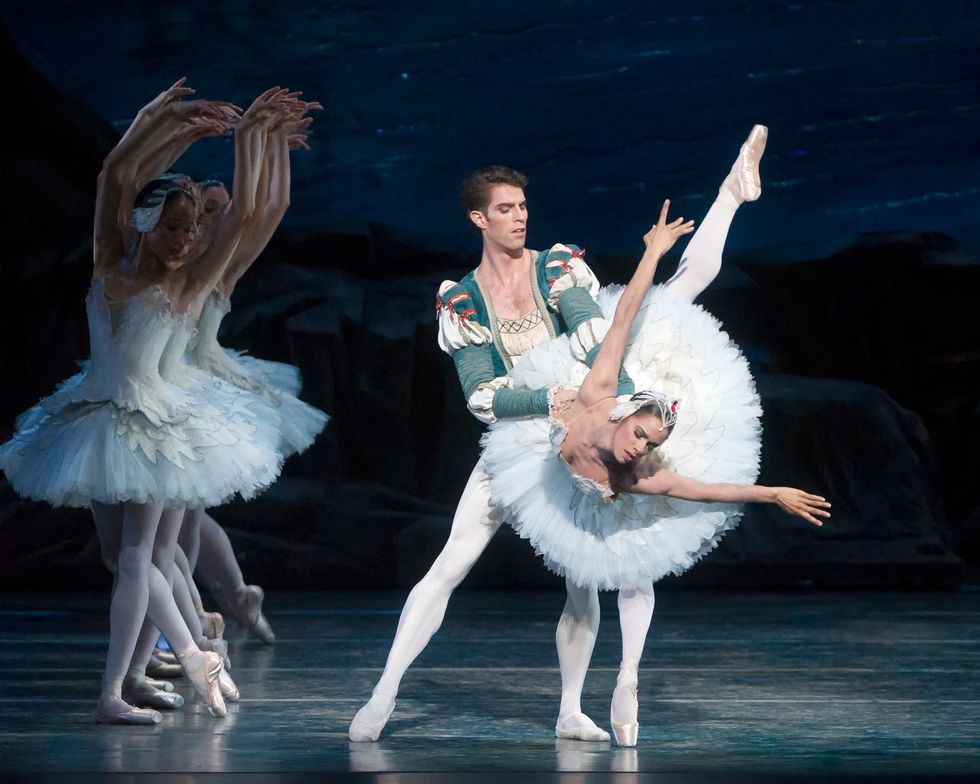 Grace under pressure: Copeland (with James Whiteside) in Swan Lake. Photo by Gene Schiavone, Courtesy ABT.
Fans of American Ballet Theatre's Misty Copeland would have cheered at anything she did, so it was automatic that her first Swan Lake in New York City would get a standing ovation. But Copeland's sold-out debut was also artistically satisfying, especially her Odette. For a dancer who consistently brings fire and joy to the stage, portraying the white swan was a challenge. But coached by ABT ballet master Irina Kolpakova and artistic director Kevin McKenzie, Copeland took her time expressing Odette's sadness of being under a spell. Her long limbs extended into space with pathos, settling into exquisite lines. Her head and neck were beautifully expressive, and she took comfort in her closeness to Prince Siegfried (danced with ardor by James Whiteside). Her magnificent timing allowed us to feel the pull between fear and hope, sorrow and romance.
As Odile, Copeland lost her balance during her fouettés, finishing with pirouettes from fifth—yet she remained unshaken and in character. Her artistry under pressure obliterated any worries about whether she deserved her promotion to principal—the first African American woman at ABT to do so—less than a week later. —Wendy Perron
The Men of Justin Peck's Rodeo: Four Dance Episodes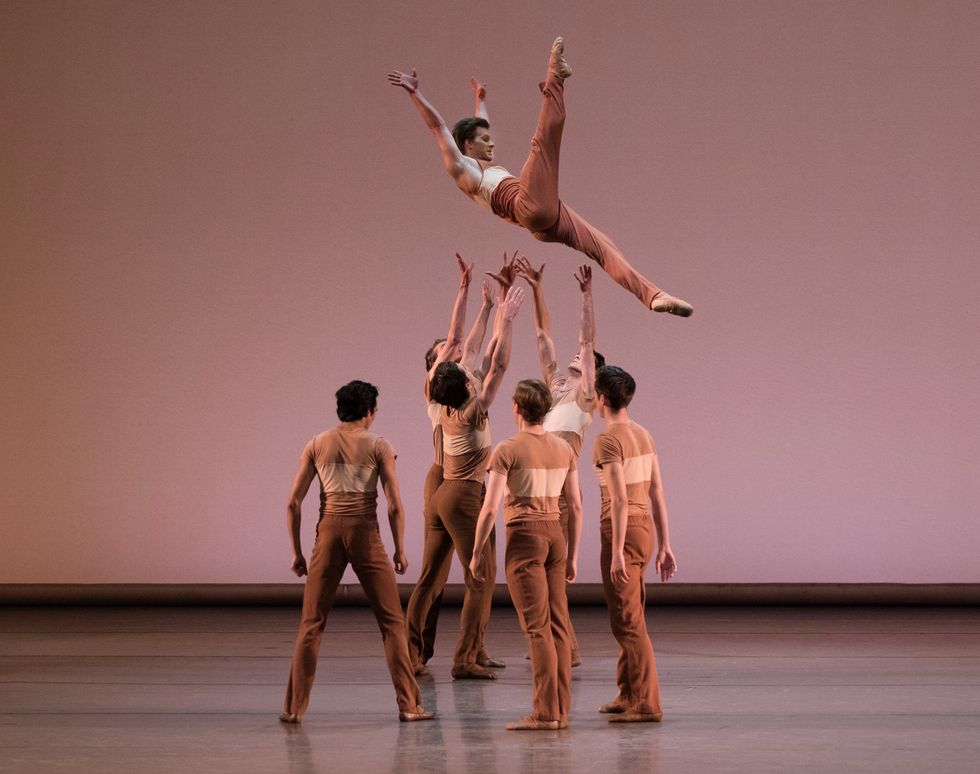 A true band of brothers: NYCB's men in Rodeo: Four Dance Episodes. Photo by Paul Kolnik, Courtesy NYCB.
George Balanchine found rich inspiration in sisterhood, in the strong female communities of Serenade and Concerto Barocco. So when New York City Ballet premiered Justin Peck's Rodeo: Four Dance Episodes—a ballet with a cast of 15 men and a single woman—its band of brothers immediately drew comparisons to Mr. B's women.
But Rodeo, set to Aaron Copland's famous score, is as much a celebration of NYCB's current crop of men as it is a reimagining of the old Balanchinean model. And what men they are! Several principal dancers—including Daniel Ulbricht and Andrew Veyette—lead the pack, bringing sunny energy and powerful athleticism to the first and last episodes. (Ulbricht's series of decelerating turns in the final movement is as funny as it is astonishing.) The heart of the ballet, though, lies in the lyrical second episode, which Peck devotes to a quintet of non-principals: Daniel Applebaum, Craig Hall, Allen Peiffer, Andrew Scordato and Taylor Stanley. These five find poetry in the choreography's gentle rises and falls, tenderness in its velvety partnering. Together, they paint a sensitively shaded portrait of male intimacy. —Margaret Fuhrer
Emily Bromberg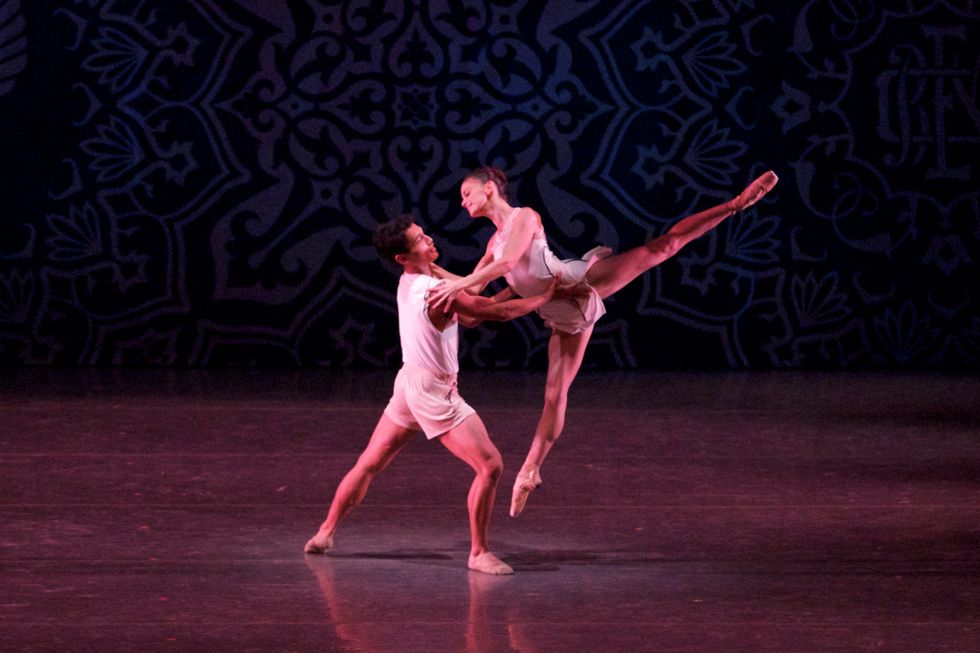 Bromberg with Andrei Chagas in Heatscape. Photo by Leigh-Ann Esty, Courtesy MCB.
Last spring, in the light-pierced kaleidoscope that is Justin Peck's Heatscape, Miami City Ballet's Emily Bromberg, then still a corps member, glowed. As the lead ballerina in the opening movement, she was a convivial member of a streaming-by posse before commanding center stage with her smitten partner—vital for the democratic dynamics of the choreography. Bromberg's speed, sharp transitions and projection (those jumps with her eyes set on heaven!) have been honed in MCB's Balanchine aesthetic. But this recently promoted soloist also draws elegance from her Kirov Academy of Ballet training in Washington, DC. And Heatscape has helped catapult her career. "I gained a sense of freedom from this that I didn't always trust before," she says. Through her poise, agility and emotional translucence, she reached timeless beauty as an artist. —Guillermo Perez
Laura Hecquet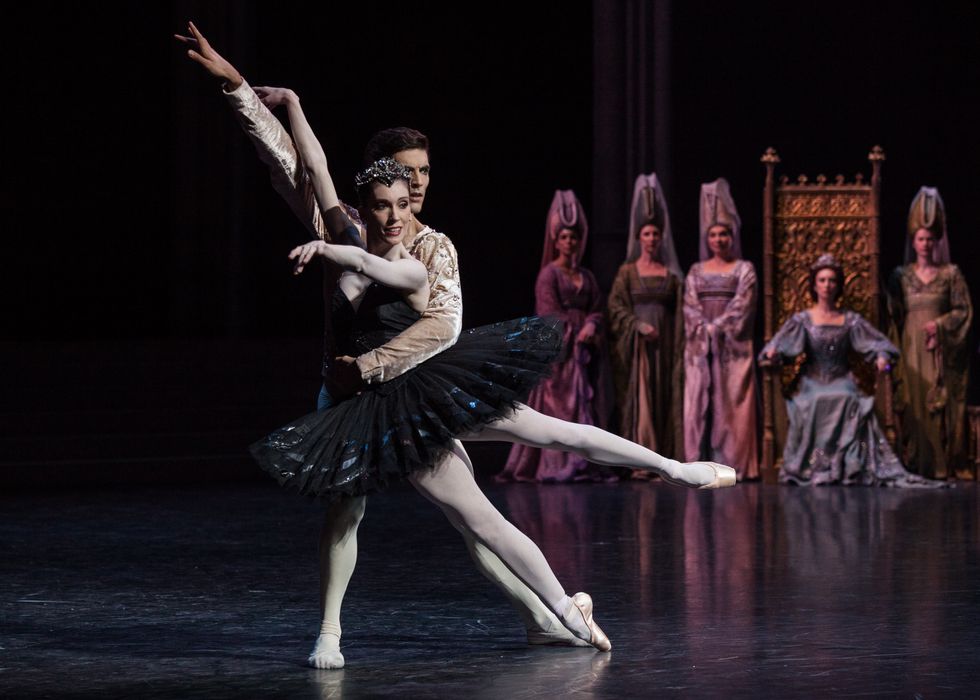 An étoile is born: Hecquet in her Swan Lake debut. Photo by Ann Ray, Courtesy POB.
After dancing many years as an anonymous swan at the Paris Opéra Ballet, there was a sense of vindication to Laura Hecquet's authority as Odette/Odile in Swan Lake last March. At 30, Hecquet proved she is one of the purest exponents of the French school today, all smooth precision, with fouettés like clockwork. And her instinct for tragedy signaled a born principal: Hecquet's Odette understood her fate from the start, and drew the audience in with elegiac adagio work.
Like her classmate, San Francisco Ballet principal Mathilde Froustey, Hecquet was pegged as a future star when she graduated from the POB School in 2002. A decade as a sujet and a serious knee injury later, it seemed like the company would never give her the opportunity to prove herself. Benjamin Millepied promoted her as soon as he was appointed director last year, however, and again to étoile after her Swan Lake debut—overdue recognition for a ballerina who has long been a class act. —Laura Cappelle
Victoria Hulland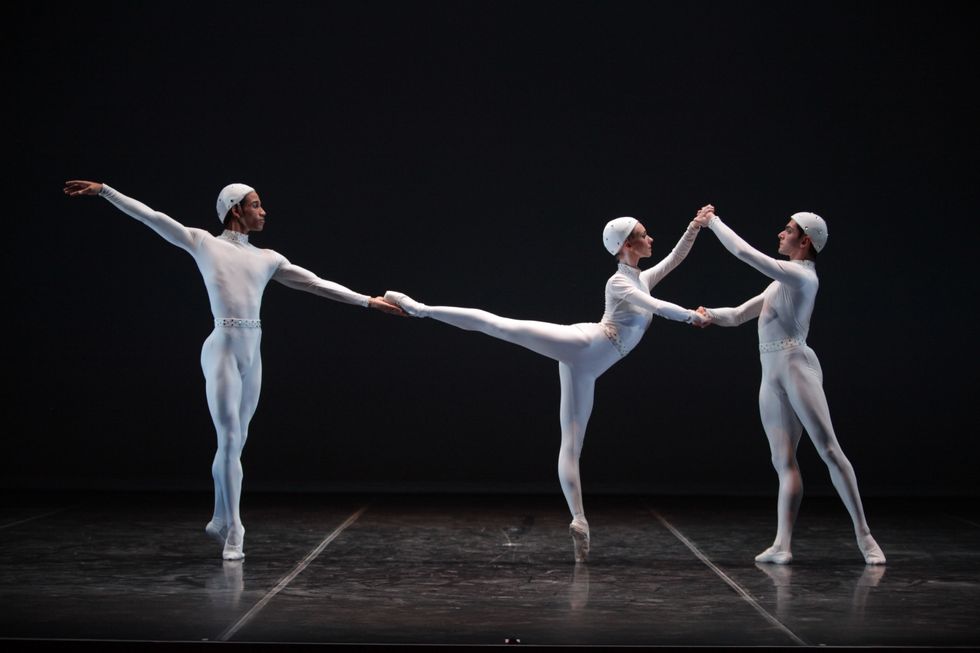 Total focus: Hulland with Ricardo Rhodes (left) and Ricardo Graziano in Monotones II. Photo by Frank Atura, Courtesy Sarasota Ballet.
When The New York Times dance critic Alastair Macaulay named Sir Frederick Ashton the ultimate poet of line in his review of Sarasota Ballet at Jacob's Pillow Dance Festival this summer, he must have been talking about principal dancer Victoria Hulland. As the sole female in the central pas de trois of Ashton's Monotones II, Hulland was a breathtaking study in total concentration. Every second of Ashton's masterwork was performed with equal attention, whether she was reaching for a partner's hand or being lifted from the floor in a dramatic split. And while Ashton's ballet may be spare, it is not cold. Hulland's exactitude and restraint supported the stage's lunar atmosphere with an otherworldly elegance, as if she were an interstellar acrobat from the deep cosmos. She understood Ashton's approach to abstraction, which always feels human, while her musicality mined the wistful, melancholic spaces in Erik Satie's haunting Trois Gymnopédies. —Nancy Wozny
Andreas Kaas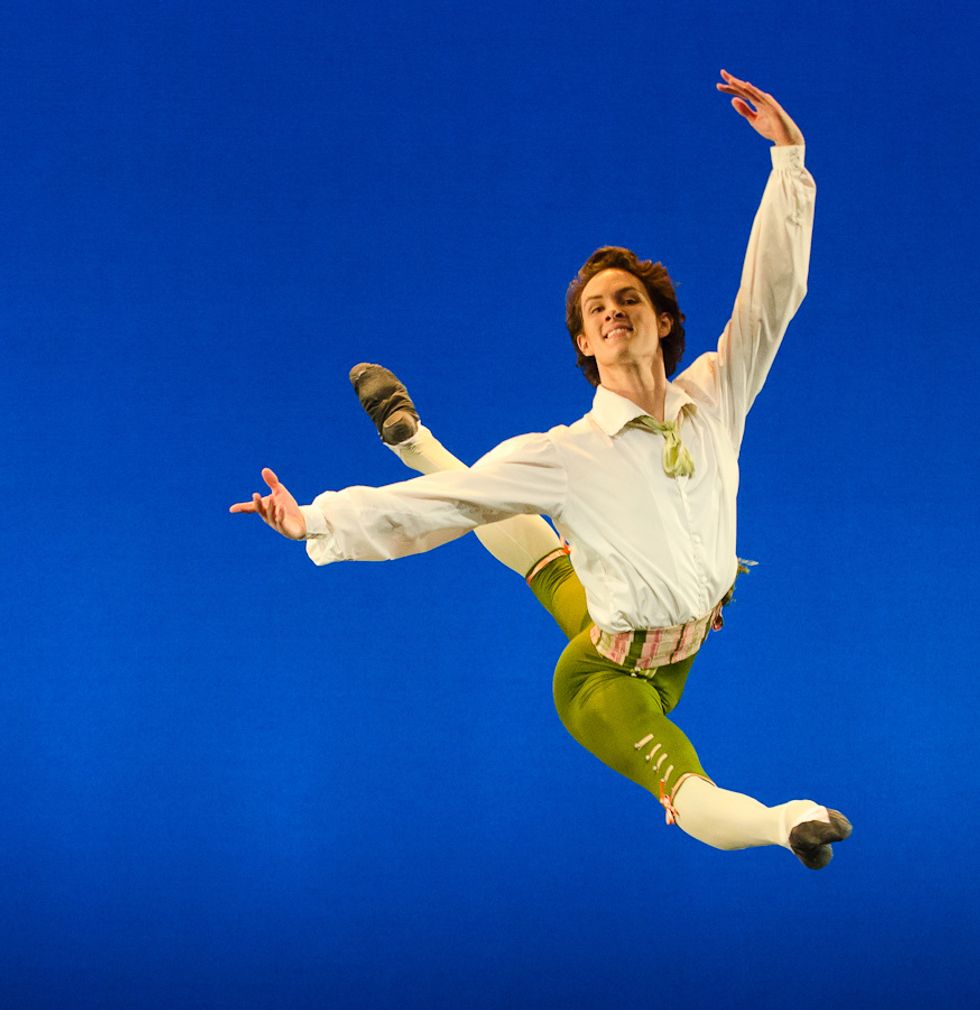 One to watch: Kaas in The Flower Festival in Genzano. Photo by Kyle Froman for Pointe.
When The Royal Danish Ballet: Principals and Soloists brought their self-produced all-Bournonville program to The Joyce Theater last January, they brought along promising corps de ballet dancer Andreas Kaas. And Kaas—who had plenty of featured stage time—more than kept up with his colleagues. A product of the Royal Danish Ballet School, he demonstrated tireless command of Bournonville's vigorous batterie; his explosive jump etched clean lines with diamond-cut precision. But more than that, he was completely invested and alive in whatever role he played. In the pas de deux from The Flower Festival in Genzano, he was sweetly attentive towards his partner (the equally impressive Ida Praetorius), a young lover consumed with affection. He burned with good-humored competition in Bournonville's high-stepping "Jockey Dance," and, later, kicked off the tarantella from Napoli with joyful enthusiasm. In an exuberant program full of company stars, it was apparent that Kaas' own is quickly on the rise. —Amy Brandt
Kara Wilkes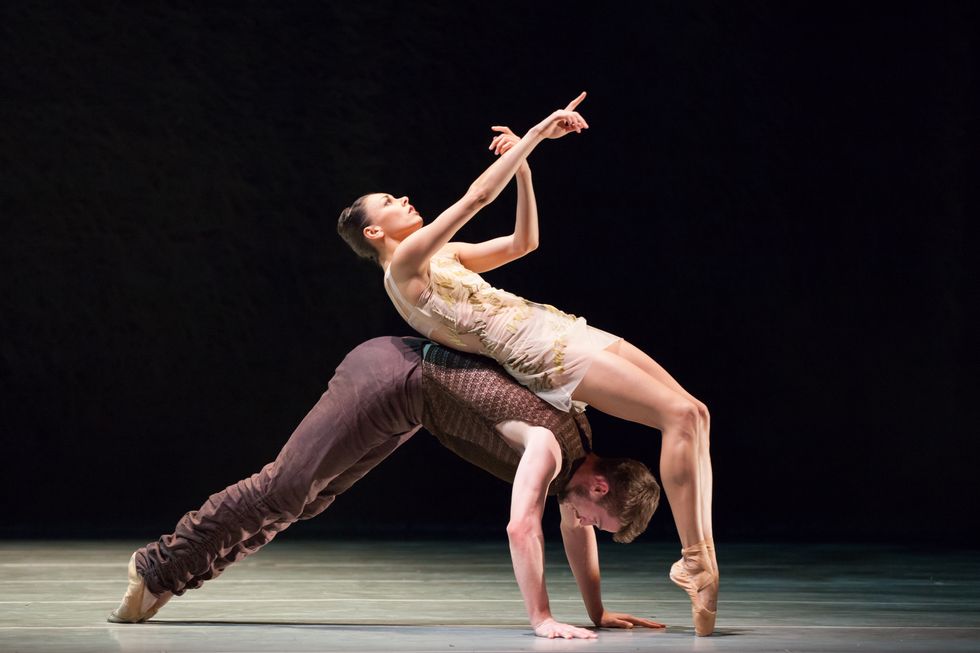 Going all in: Wilkes with Robb Breseford in Writing Ground. Photo by Margo Moritz, Courtesy Alonzo King LINES Ballet.
Few dancers can master the squiggly, daredevil choreography of Alonzo King, including his 2010 ballet Writing Ground. But for Kara Wilkes, a four-and-a-half-year LINES Ballet veteran, the intense emotionality required for the piece's final movement proved more difficult. In it, four men partner (read: pull, lift, prod, catch, support) Wilkes—though it's not often clear if her character is aware of her surroundings. "At its core, the role represents the spectrum of the human experience," Wilkes says. "Sometimes my character is strong and she knows where she's going. Other times she feels tender, vulnerable—even blind."
Wilkes compares the role (which includes laughing onstage and talking to herself) to swimming in the ocean. But there's something extra eerie about watching a ballerina exquisitely extending her leg one second and scribbling imaginary poetry on the ground the next. It takes courage as a performer to lose one's self completely onstage, and Wilkes went all in, shedding her carefully honed technique for moments of utter realness. —Jenny Ouellette
Dana Benton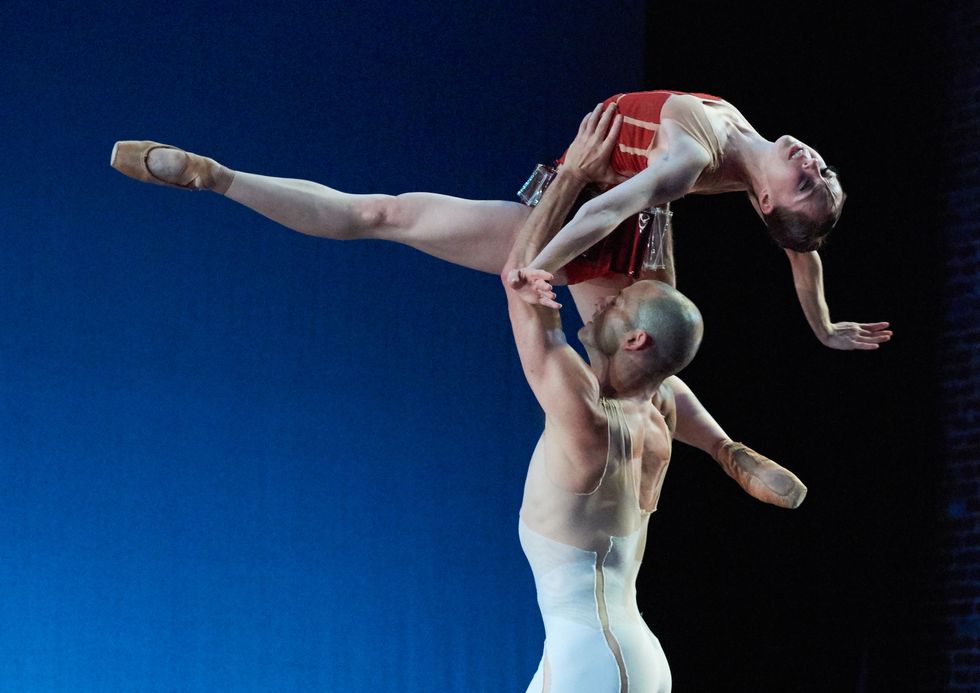 Steely precision: Benton (with Brandon Freeman) in Traveling Alone. Photo by David DeSilva, Courtesy Amy Seiwert's Imagery.
In Amy Seiwert's Traveling Alone, Dana Benton is a force to be reckoned with. The Colorado Ballet principal, who originated the role with CB in 2012, performed as a guest with Amy Seiwert's Imagery during the company's Joyce Theater debut in August. And though she is petite, with textbook-perfect lines, Benton's dancing was anything but small. She was especially thrilling in the solo moments. Benton attacked Seiwert's precise choreography with ownership, slicing through the air with angular arms and legs, dropping through surprising level changes and luxuriating in off-center balances. While many contemporary ballets rely on ultra-pliable ballerinas to create a central pas de deux, Benton's steely soloing was a refreshing show of strength and confidence. —Nicole Loeffler-Gladstone
Dores André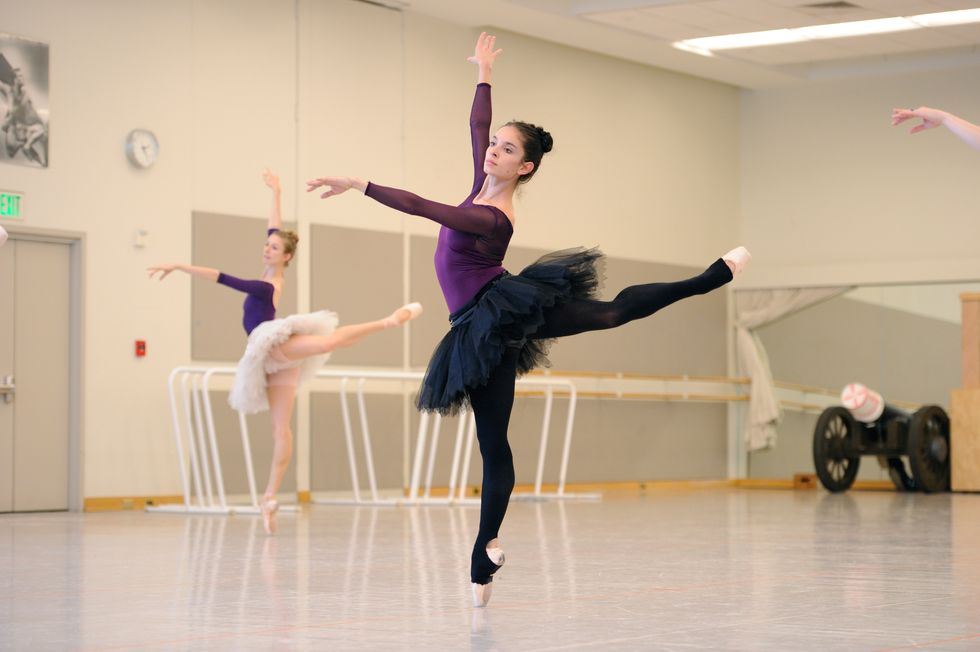 André, shown here in rehearsal, was a musically nuanced Juliet. Photo by Erik Tomasson, Courtesy SFB.
San Francisco Ballet–goers have come to expect fluid, intelligent dancing from Dores André; with her bent for the contemporary, the 11-year veteran has made a mark in dozens of new and neoclassical works. But when she debuted as Juliet, one of her first performances after being told that she would be promoted to principal dancer at the end of last season, the Spanish-born ballerina reintroduced herself as a compelling actress in command of an earthy, expressive musicality. She read Prokofiev's score like a storybook, dancing with a sensitive timing that revealed nuances hidden in its lilting airs and clashing phrases. Immersed in the music, André drew us into Juliet's emotional world, and we hung on her every step—experiencing her star-crossed arc from naiveté to longing to anguished maturity as if for the first time. —Claudia Bauer
Nov. 21, 2014 08:13PM EST
Miami City Ballet's Nathalia Arja with Renan Cerdeiro in Ballo della Regina. Daniel Azoulay, Courtesy MCB.
​Steven McRae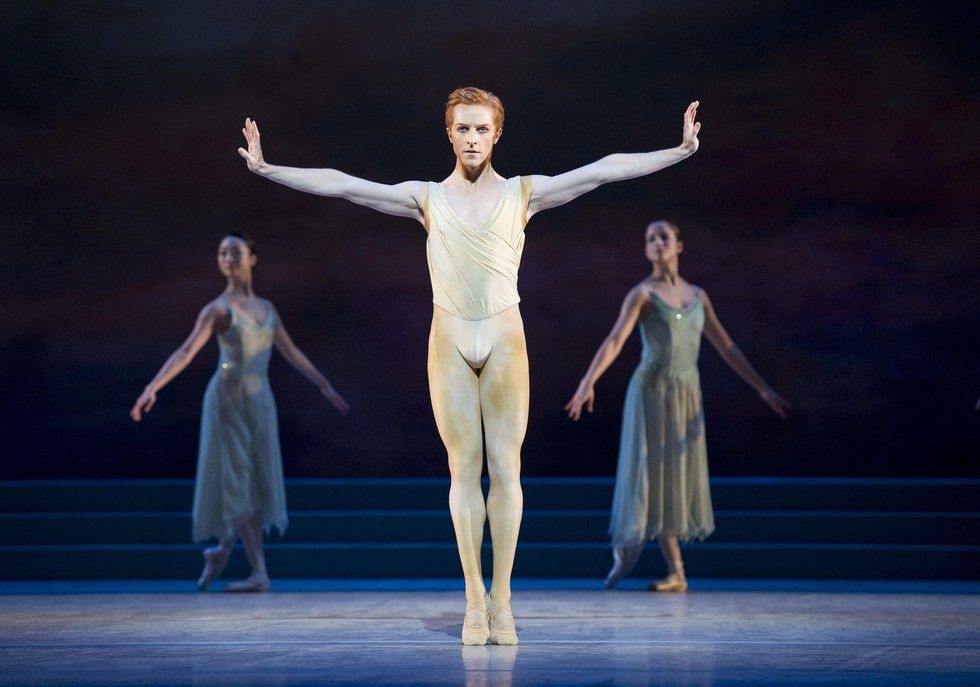 Commanding presence: McRae in Ashton's Rhapsody
Tristan Kenton, Courtesy ROH
The Royal Ballet's Steven McRae danced with a power and speed most people would need figure skates to achieve at Covent Garden in February, but the amplitude of his chaînés, barrel turns and rivoltades was just the icing on the cake during his finely calibrated performance in Sir Frederick Ashton's Rhapsody. Dancing the lead role originally made for Mikhail Baryshnikov, the 28-year-old Aussie also excelled in the small gestures and precise positional details for which Ashton's work is known. McRae says the music, Rachmaninoff's Rhapsody on a Theme of Paganini, is the key to balancing athleticism and artistry in the piece. "It's easy to get caught up in the technical demands of the choreography," he says. "However, when you really listen to the music, something magical starts to happen." The same can be said for the moment when this dynamic and versatile principal takes the stage. —Michael Northrop

​Diana Vishneva & Marcelo Gomes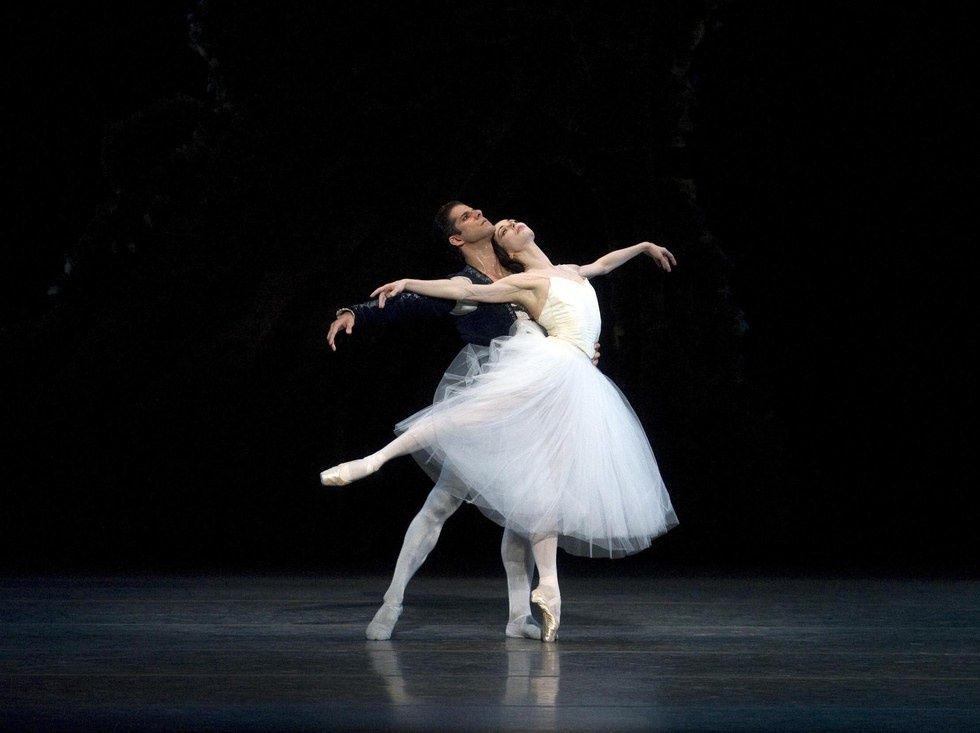 Vishneva and Gomes brought their partnership to greater heights.
Gene Schiavone, Courtesy ABT
One of the biggest thrills of Diana Vishneva and Marcelo Gomes' longtime partnership at American Ballet Theatre is its ability to transcend to greater heights each season. It was ever apparent in their performance of Giselle last June. While they've performed the roles together in years past, familiarity and experience have allowed them to bring deeper richness to their characters. Vishneva's Giselle was shy and vulnerable, coming out of her shell gradually in response to Albrecht's affections until she almost seemed to burst with joy. Meanwhile, Gomes—a cocksure but lovable Albrecht—grew more and more smitten with his conquest. Once his ruse was discovered, you sensed not only Giselle's disbelief but her painfully public humiliation, making her breakdown all the more understandable and heartbreaking. In Act II, Vishneva was otherworldly in her lightness, accentuated further through Gomes' reverential, seamless partnering. Together they drew the audience into their story and held them, spellbound. —Amy Brandt

​Connor Walsh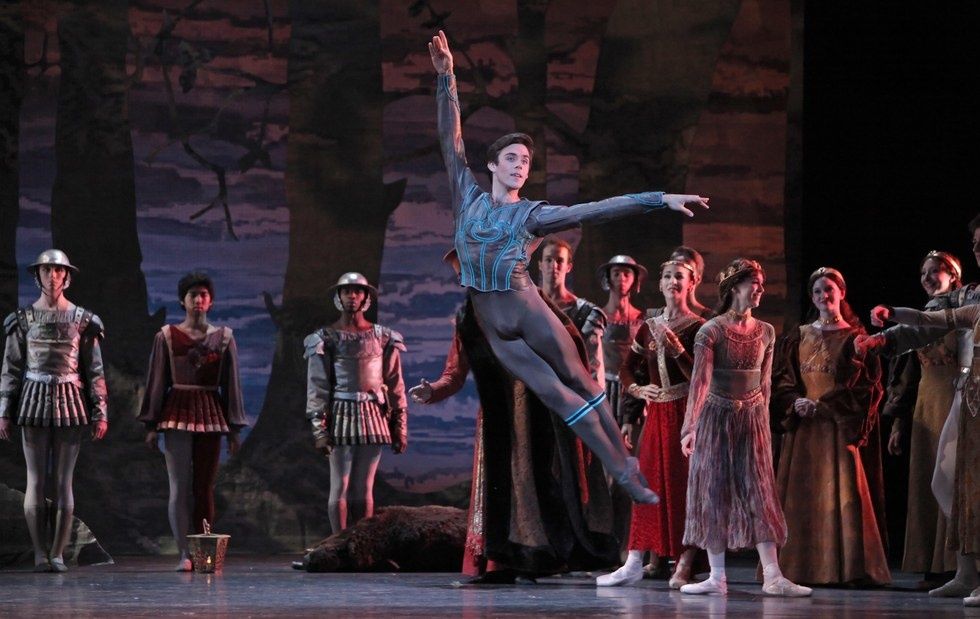 Princely polish: Walsh in Swan Lake
Amitava Sarkar, Courtesy Houston Ballet
When Houston Ballet's Connor Walsh first danced Siegfried in the premiere of Stanton Welch's fast-paced, dreamy version of Swan Lake in 2006, he was technically impressive, holding his own with the elegant Barbara Bears. But watching him reprise the role some eight years later, it became clear just how much he has grown. It's as if his edges have become sharper—not just technically but in all aspects of his artistry; he's developed a distinctly refined performance polish. There's ample heart behind his princely swagger now. Walsh's noble command of the stage, solid virtuosity and well-tempered bravado all add up to one convincing prince. His involvement in the ballet's original creation process, along with added years of experience, certainly helped deepen his interpretation. The HB principal is moving into his own, and his performance in Swan Lake provided the evidence. —Nancy Wozny

​Bolshoi Ballet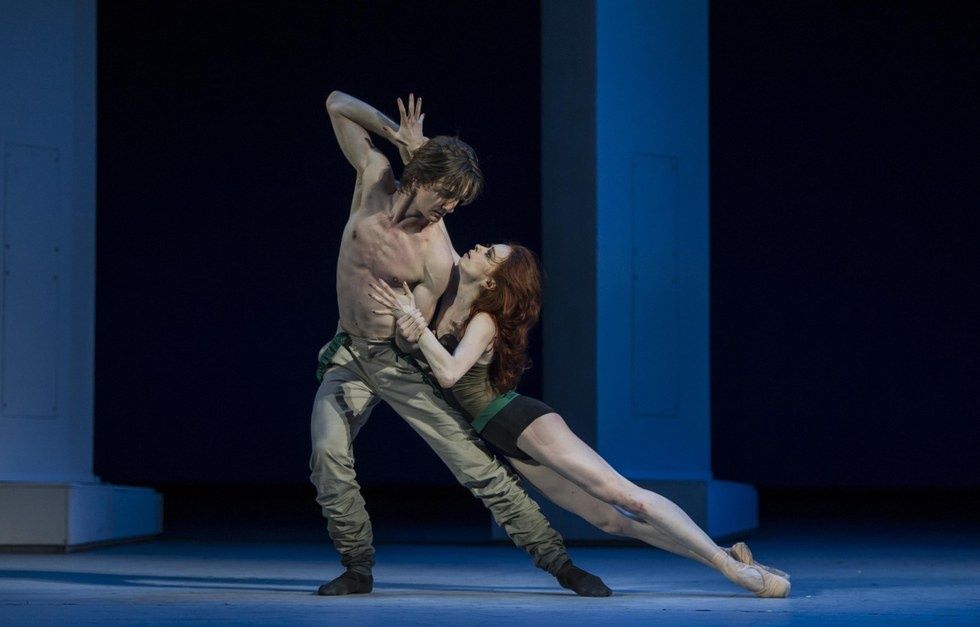 Shakespeare with a modern edge: Lantratov and Krysanova in the Bolshoi's Taming of the Shrew
Alice Blangero, Courtesy Bolshoi Ballet
It was a gamble on all sides: a new, full-length Taming of the Shrew by a foreign choreographer at the Bolshoi Ballet, just over a year after the acid attack on Sergei Filin. Les Ballets de Monte-Carlo's Jean-Christophe Maillot, who was creating his first ballet for an outside company in two decades, proved undaunted, and the result was a team effort that showed the Bolshoi's young generation in a new light. Each of the 10 soloist roles was choreographed with and for the first cast, from Vladislav Lantratov to Olga Smirnova, Vyacheslav Lopatin and Anna Tikhomirova, channeling their offstage personalities to show a new facet of their talent; their bold classical technique was in evidence throughout yet colored by the spontaneous, naturalistic approach Maillot favors. It was the Bolshoi as the world loves it, with a modern edge—and the Shrew herself, principal Ekaterina Krysanova, led the pack with a nuanced, career-defining performance, her power matched by a new abandon. —Laura Cappelle

​Chloe Felesina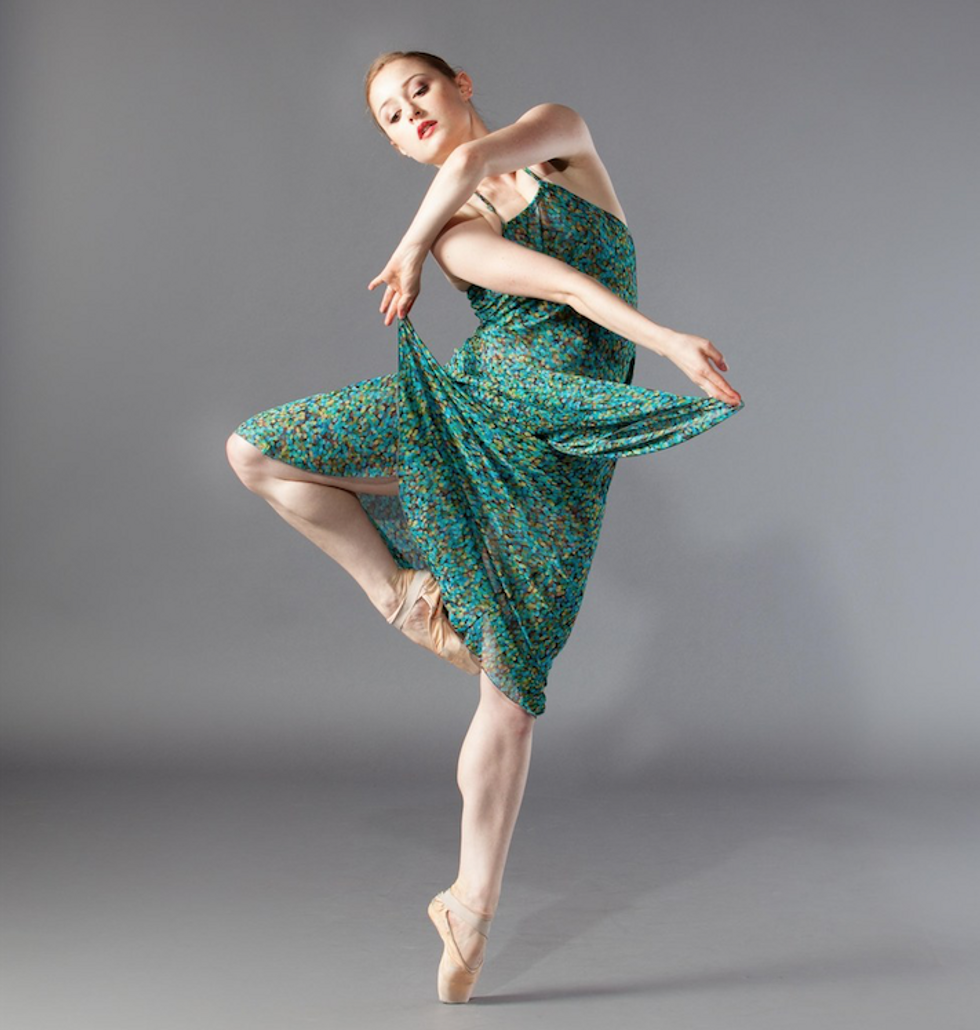 Powerfully nuanced: BalletX's Chloe Felesina
Alexander Iziliaev, Courtesy BalletX
In the BalletX premiere Sunset, o639 Hours, Chloe Felesina danced front and center, with an abandon, fire and precision that made her riveting. The dreamlike adventure tale, choreographed for 10 dancers by BalletX co-founder Matthew Neenan, was based on the true story of Captain Edwin Musick's ill-fated Honolulu-to-Auckland flight in 1938. As the famous pilot's wife, and in her other roles in the ballet, Felesina's depth of feeling was matched by a robust agility. She shone in scenes portraying the couple's romance, the island life of New Zealand and her solitary bereavement.
Even though her medium height and fine features make her look delicate, she's a powerhouse: at the front of the pack in floor-rolling unisons and sparkling in Neenan's inventive partnering. A full-time company member since 2012, Felesina relishes deciphering each choreographer's intent and seeking more ways to communicate strongly with her audience. In Sunset, o639 Hours, her approach worked: You couldn't take your eyes off her. —Lisa Kraus
​Christine Rocas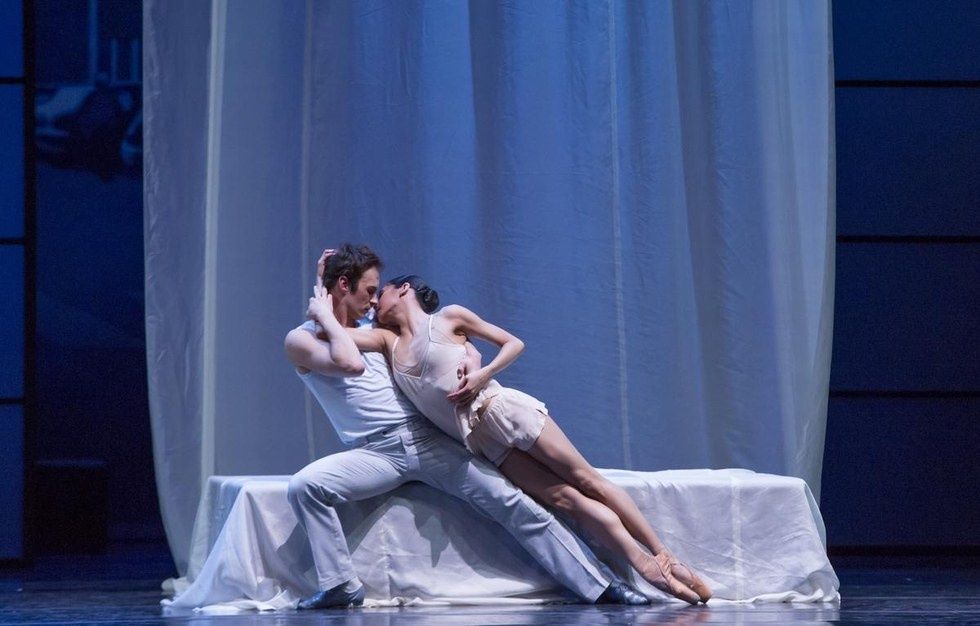 Rocas, with Rory Hohenstein, brought sweeping lyricism and dramatic ingenuity to the role of Juliet.
Cheryl Mann, Courtesy Joffrey Ballet
A couple of years back, Joffrey Ballet dancer Christine Rocas confessed: "I'm always scared to do modern things…I try to be spontaneous, but I know I look funny at first."

Rocas, 28, definitely didn't look "funny" in her opening night performance of Polish choreographer Krzysztof Pastor's Romeo & Juliet in Chicago this past April. And Pastor's take on the story was supremely contemporary—not at all like the Kenneth MacMillan or John Cranko versions for which Rocas' lyrical, weightlessly lovely style would have been a perfect fit. In fact, as Juliet, Rocas seized hold of Pastor's starkly modern, sweepingly cinematic reinvention, which used 20th-century Italian history as a backdrop. Masterful in her embrace of the ballet's mix of difficult classical and contemporary technique, she revealed a powerful, highly individualistic, surprisingly dramatic talent.
Her performance had genuine star quality, with pristinely beautiful dancing and fiercely honest acting in evidence from the moment, early on, when she simply walked around the perimeter of the stage, quietly fixing her gaze on Romeo. The palpable quickening in Rocas' face and body was a far cry from simple pubescent awakening. This was the dawning of a young woman with a mind of her own. —Hedy Weiss
Nathalia Arja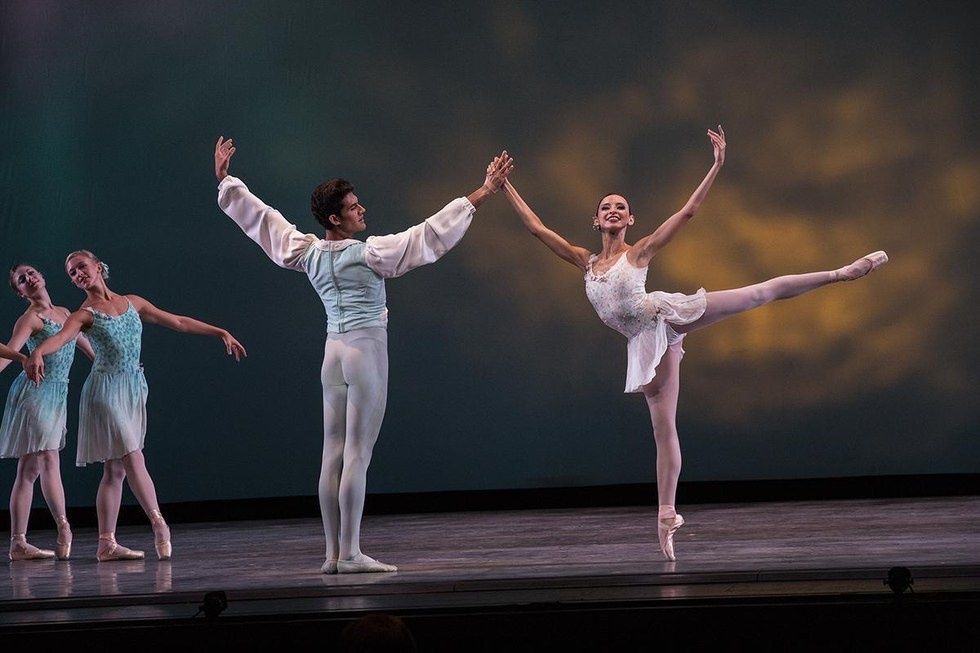 Quicksilver brillance: Arja with Renan Cerdeiro in Ballo della Regina
Daniel Azoulay, Courtesy Miami City Ballet
As the recently promoted Miami City Ballet soloist Nathalia Arja can attest, some roles lift dancers to the heights of artistic privilege. While still a corps member last season, Arja—a 21-year-old MCB-school alumna with Rio de Janeiro roots—earned the opportunity to dance the lead in George Balanchine's exquisitely demanding Ballo della Regina. There she was, on opening night no less, fast and fastidious in virtuoso moves: restless changes in direction, riveting hops on pointe, clockwork articulations that teased time itself. "I learned to do what I didn't know I could," says Arja. No small amount of calibration, of course, came from being coached by Merrill Ashley, the New York City Ballet wonder who originated the role. Still, Arja brought strengths she's been honing since dancing the role of Sugar Plum at MCB as a teenager—the verve and knack for detail that also served Alexei Ratmansky when he fashioned a solo on her in Symphonic Dances in 2012. A culmination for many, Ballo figures for Arja as the promise of an ever more thrilling career. —Guillermo Perez

​Ashly Isaacs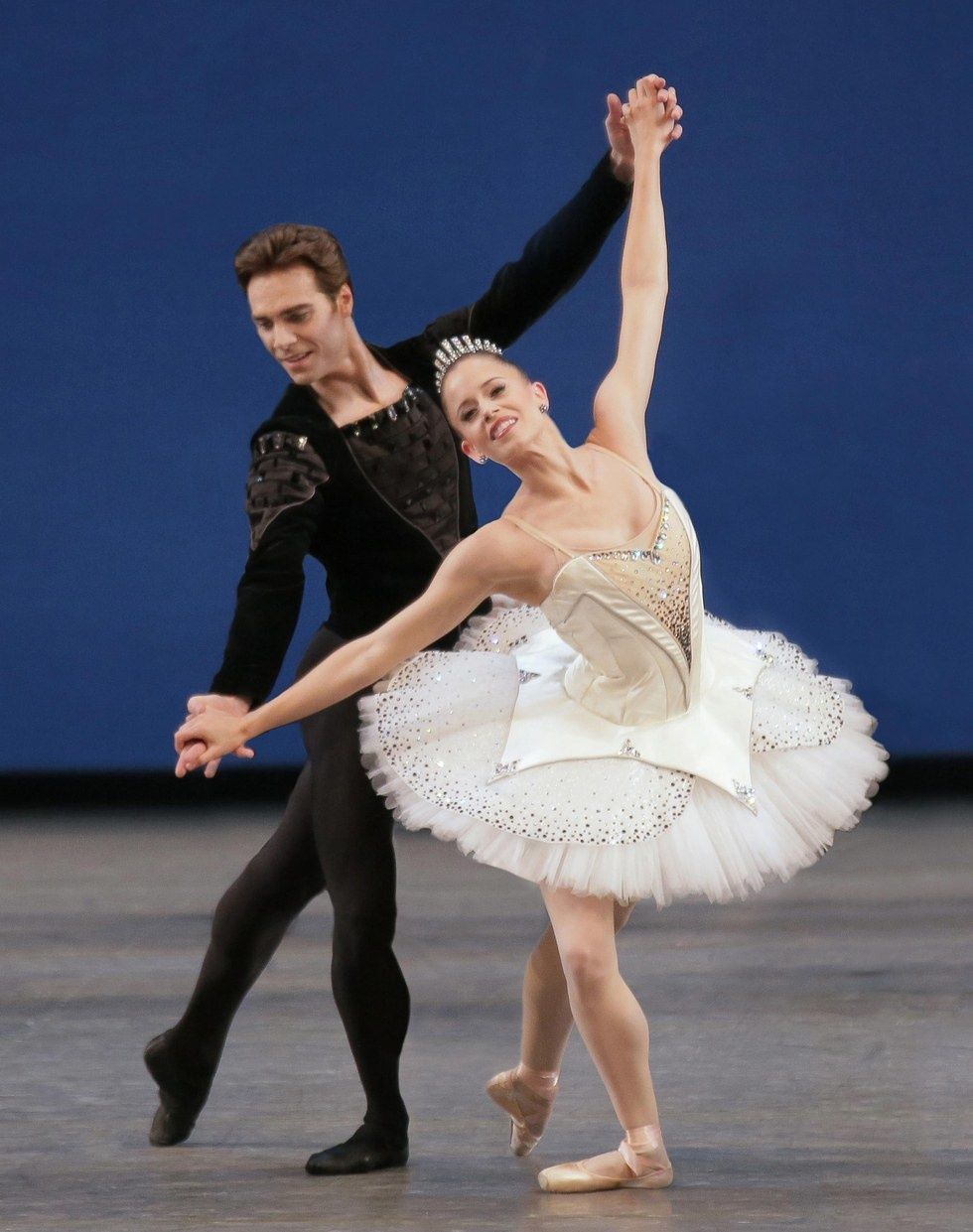 A confident debut: Isaacs with Gonzalo Garcia in Symphony in C
Paul Kolnik, Courtesy NYCB
In the third movement of Balanchine's Symphony in C, the leads repeatedly charge onto the stage in a series of grands jetés—irrepressibly buoyant, as if they're more at home in the air than on the ground. In a way, that's a fitting metaphor for New York City Ballet corps member Ashly Isaacs' 2014 season, which saw her star on the rise, achieving greater heights with each successive performance. Her debut as the ballerina in that movement of Symphony showed off not only her preternatural ballon, but also her easy command of the stage. In the wrong dancer's hands (and feet) the always-on-the-go choreography can feel bombastic, but Isaacs colored it sensitively, adding subtle shading to its softer moments. For some years this role has been danced brilliantly by Ashley Bouder; it was hard not to notice the similarities between the two. —Margaret Fuhrer

​Esteban Hernandez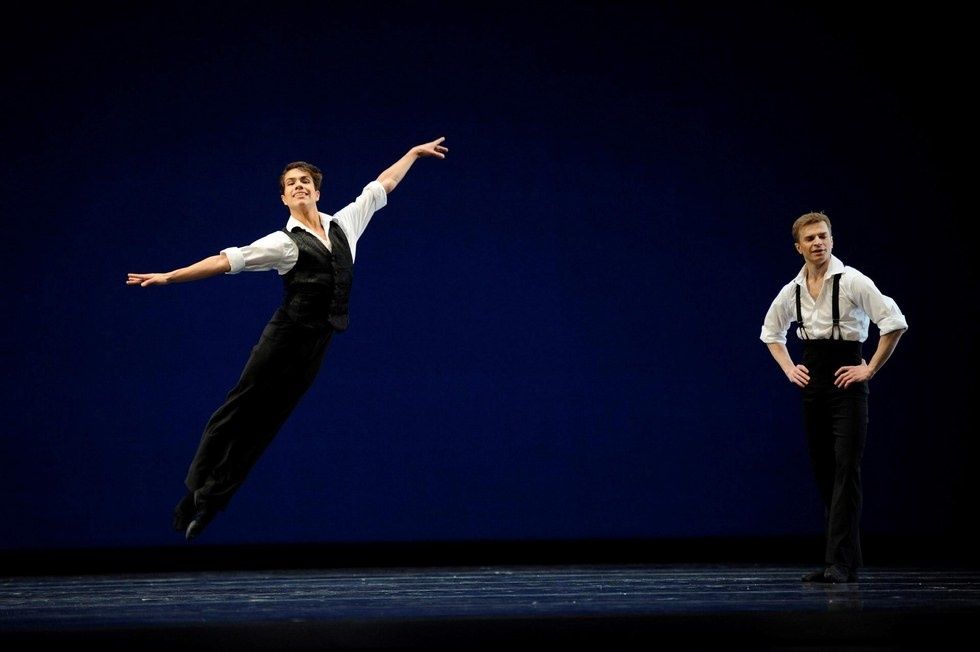 Hernandez (left) stole the spotlight in Les Lutins.
Erik Tomasson, Courtesy SFB
Season galas showcase principal dancers at their best, but San Francisco Ballet's 2014 gala also introduced a rising star: Esteban Hernandez. Announced pre-curtain as a replacement for Joan Boada in Johan Kobborg's Les Lutins, the first-year corps member faced high expectations from a demanding audience, who rustled their programs looking for clues about this unfamiliar dancer. But in Lutins, an eight-minute battle of the sexes that requires insouciant charm, clear acting and blistering petit allégro—and falls flat if any one of those is missing—the Mexican-born Hernandez proved his mettle as a Royal Ballet–trained technician and a natural performer, with confidence well beyond his 19 years. Not only did he hold his own opposite Gennadi Nedvigin and soloist Dores André, in those thrilling eight minutes he won 3,500 hearts and became a name to remember. —Claudia Bauer

​Gabrielle Thurlow & Luca Sbrizzi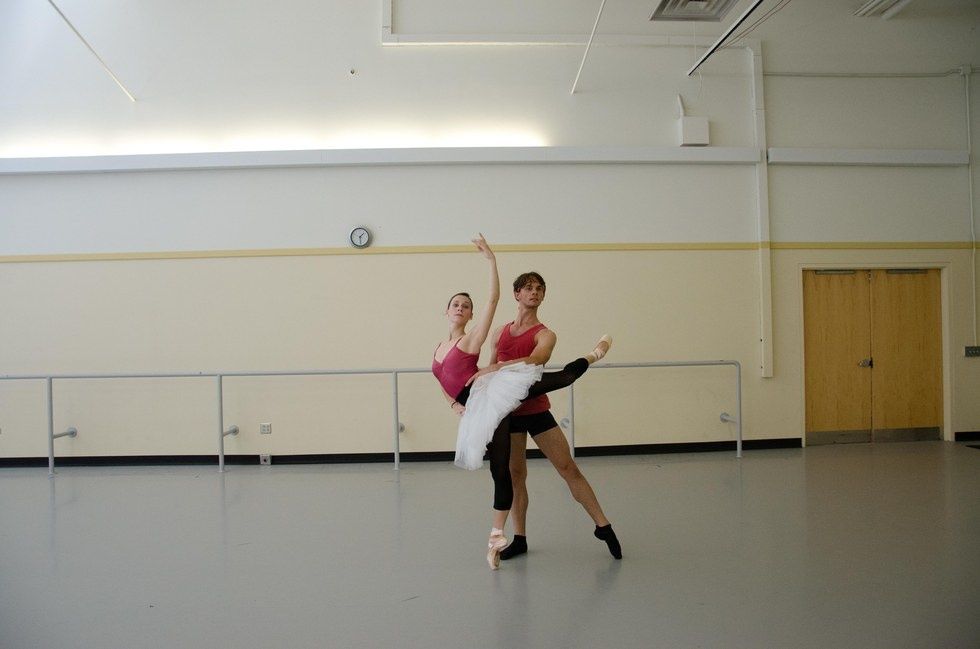 Making their mark: Thurlow and Sbrizzi rehearsing Don Quixote
Aimee DiAndrea, Courtesy PBT
When lead casting was announced for Pittsburgh Ballet Theatre's Don Quixote last season, there was a surprising pair included in the mix. While Gabrielle Thurlow and Luca Sbrizzi have long been regarded as cornerstones among PBT's ranks, their star power was relatively untested: Thurlow was a longtime corps member and Sbrizzi, a soloist, had been away from the stage nearly nine months following a career-threatening back injury. But they more than delivered. Thurlow entered the first act as an energetic Kitri, all spry jumps and energetic pas de chevals, while Sbrizzi played an earnest Basilio, his admiration for Kitri present in every carefully finished movement. Later, during their brightly executed grand pas de deux, Thurlow brought playful sharpness, breezy turns and balances that said, "I could stay here all day." Sbrizzi's refined technique and bounding jumps lent his Basilio the elegance of a man in love. Following the performance, Thurlow was promoted to soloist and Sbrizzi cemented his place as a leading man after an uncertain season away from the stage. —Kathleen McGuire

Nov. 29, 2001 07:00PM EST
Each December, Pointe chooses the top 10 standout ballet performances of the year. We poll our contributors from around the globe about every dancer they've seen, then a team of editors dukes it out to decide the final list. This year's group was a pretty incredible bunch, ranging from the inimitable Sylvie Guillem to up-and-comer Grace Shibley to the historic day-long livestream from The Royal Ballet. But there were plenty more amazing performances we wish we could have highlighted, inluding the following 14 that we'd like to give an honorable mention:
Alicia Amatriain of Stuttgart Ballet in Itzik Galili's Mona Lisa
Jeffrey Cirio of Boston Ballet as Basilio in Rudolf Nureyev's Don Quixote
Bernice Coppetiers of Les Ballets de Monte Carlo in Jean-Christophe Maillot's Altro Canto Part I
April Daly of The Joffrey Ballet in Christopher Wheeldon's After The Rain
Karina Gonzalez of Houston Ballet in the pas de deux of Jorma Elo's ONE/END/ONE
Joseph Gorak of American Ballet Theatre as Lensky in John Cranko's Onegin
David Hallberg of American Ballet Theatre as Kaschei in Alexei Ratmansky's Firebird
Greta Hodgkinson of National Ballet of Canada in Wayne McGregor's Chroma
Maria Kochetkova of San Francisco Ballet in John Cranko's Onegin
Myriam Ould-Braham of Paris Opéra Ballet in Rudolf Nureyev's La Bayadère
Chauncey Parsons of Oregon Ballet Theatre as Albrecht in Marius Petipa's Giselle
Amber Scott of The Australian Ballet in Graeme Murphy's Swan Lake
Eva Trapp of Pittsburgh Ballet Theatre in John Neumeier's A Streetcar Named Desire
Kara Wilkes of Alonzo King LINES Ballet in Alonzo King's Scheherezade