News
Sep. 17, 2018 05:18PM EST
News
Apr. 16, 2018 05:00PM EST
YAGP 2018 New York Finals Week. Photo by VAM Productions, Courtesy YAGP.
Wonder what's going on in ballet this week? We've pulled together some highlights.
Youth America Grand Prix

After months of semi-finals, the final round of YAGP 2018 is finally here! This week, 1,800 finalists from 30 countries (chosen from the over 10,000 who auditioned) are gathered in New York. On April 18, the competition culminates in the Final Round at the Koch Theater at Lincoln Center, where the most promising participants will compete for scholarships and contracts with ballet schools and companies around the world. April 19 marks YAGP's Stars of Today Meet the Stars of Tomorrow gala, featuring finalists from the competition alongside international ballet stars including Dutch National Ballet principal Sasha Mukhamedov, American Ballet Theatre's Isabella Boylston and Daniil Simkin, and New York City Ballet principal Daniel Ulbricht, among others. YAGP is live-streaming the finals all week—you can check it out on their website. Also, keep an eye on Pointe's social media channels tomorrow, April 17, for an exclusive behind-the-scenes look at the competition.
Competing in YAGP this week? Here's a good luck message from ABT's Stella Abrera.
Haskins in Michael Smuin's "The Christmas Ballet." Photo by Keith Sutter, Courtesy Smuin Ballet.
Day in and day out, dancers expect their bodies to perform at the highest level of athletic and artistic achievement. However, some develop chronic medical conditions that prevent them from doing their best consistently. Still, many learn to manage their symptoms while dancing professionally. Pointe spoke with four dancers who haven't let medical problems stop them.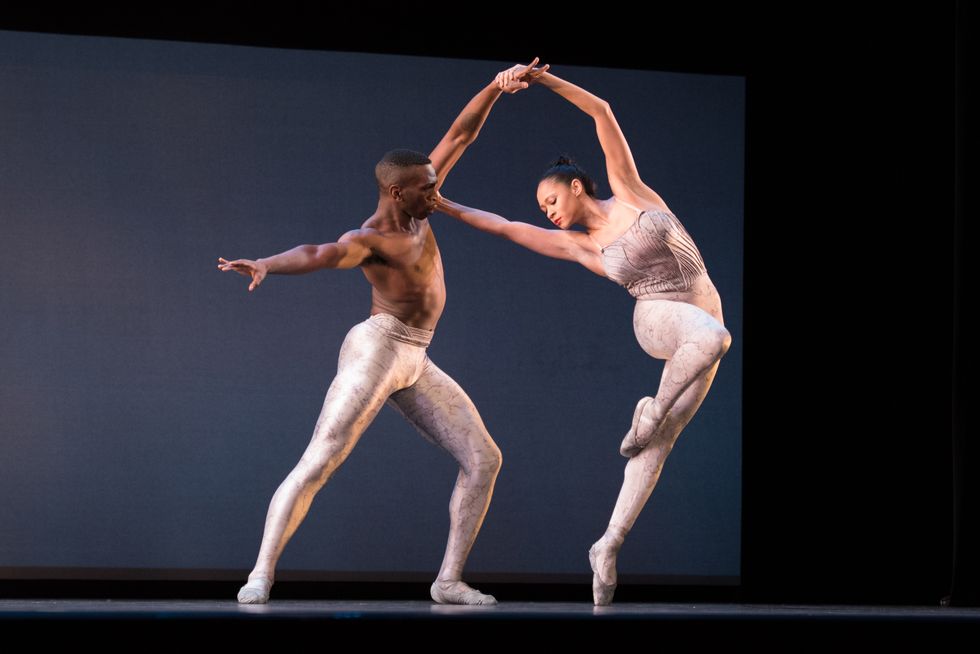 Holloway and Nicholas Rose in Glen Tetley's "Dialogues." Photo by Nan Melville, Courtesy DTH.


Alicia Holloway
At 13, Alicia Holloway almost quit dancing. Her asthma was so bad that she struggled for every breath during rehearsals. However, today the Dance Theatre of Harlem artist maintains a professional rehearsal and performance schedule.
Julia Erickson in William Forsythe's "In the middle, somewhat elevated." Photo by Rich Sofranko, Courtesy Pittsburgh Ballet Theatre.
Julia Erickson grew up training at the Pacific Northwest Ballet School. Once she'd spent some time in the professional division, she started feeling like a member of the company. She performed with PNB extensively, even touring with them to London, Scotland, Alaska and Hong Kong. So when contracts were offered her final year, she was disheartened not to receive one, especially because she had given up other opportunities to stay there. "It was hard not to take it personally," says Erickson, now a longtime principal dancer at Pittsburgh Ballet Theatre.
Rejection does tend to feel deeply personal, especially as you start auditioning for companies. But don't let disappointments take the wind out of your sails. In truth, the audition process is the first of many challenges, such as casting and contract renewals, that you will face as a professional dancer. But by looking at the big picture, making a strategic plan and trusting the process, you can learn to take rejections less personally and keep moving forward.
Smuin Ballet dancers Erica Felsch, Rex Wheeler, Mengjun Chen and Tessa Barbour in "White Christmas," choreographed by dancers Ben Needham-Wood and Michael Smuin. Photo by Keith Sutter, Courtesy Smuin Ballet.
Nutcracker-ed out? Or just can't get enough holiday ballets? These unique Nutcracker interpretations and non-Nutcracker productions will make your season bright.
The Hip Hop Nutcracker
Through December 30
Tchaikovsky's masterful Nutcracker score isn't just for classical ballet…
Hip Hop + a live DJ + an electric violinist unite in The Hip Hop Nutcracker, currently touring the U.S.
Familiar characters such Drosselmeyer, the Nutcracker, Mouse King and Marie (here called Maria-Clara) dance through an updated New York City storyline with choreography by Jennifer Weber, artistic director of the Brooklyn-based theatrical hip hop company Decadancetheatre.
Premiered in 2014, The Hip Hop Nutcracker is produced by New Jersey Performing Arts Center.
Amy Seiwert in rehearsal. Photo by Scot Goodman, Courtesy Seiwert.
When Sacramento Ballet's board announced that it would not be renewing the contract of longtime co-directors Ron Cunningham and Carinne Binda after the 2017–18 season, the news upset many in both the Sacramento community and the dance world. The husband and wife duo, who have run the company for 30 years, told the Sacramento Bee that they were being let go unwillingly, while several company members publicly criticized the board's decision. In a move that would give them greater protection, the dancers voted to join the American Guild of Musical Artists in March.
Last week, Sacramento Ballet announced that choreographer Amy Seiwert, a former company member, will become the company's new artistic director in 2018. And it seems to be smart move. Seiwert, who directs the San Francisco–based contemporary ballet troupe Imagery, danced for eight seasons under Cunningham and Binda. "One of the reasons I decided to go for this was to honor the legacy of Ron and Carinne," Seiwert said in a recent phone interview. "They are in my artistic DNA. My choreography, when you look at my aesthetic choices, when you look at my approach to technique, that comes from them. It's a position I want, but not the situation I want it in, because there's a lot of heartbreak."
Dec. 01, 2016 04:03PM EST
From left: Ashley Wheater, Anastacia Holden, Christopher Wheeldon and Joan Sebastián Zamora rehearse The Nutcracker (photo by Todd Rosenberg, courtesy Joffrey Ballet)
It's a truth universally acknowledged that any ballet company worth its sugar plums must have a production of Nutcracker as part of its holiday season repertoire. And for nearly three decades, through its final performance at Chicago's Auditorium Theatre in December 2015, the Joffrey Ballet was well served by its uniquely Victorian-American setting of the classic. It was choreographed by founding artistic director Robert Joffrey shortly before his death, and featured major contributions from Gerald Arpino.

Now the Joffrey is about to get a brand-new $4 million version of the ballet, choreographed by Christopher Wheeldon. He has assembled a stellar team of collaborators, including set and costume designer Julian Crouch, author and illustrator Brian Selznick, puppeteer Basil Twist, lighting designer Natasha Katz and projection designer Benjamin Pearcy. And while the production will retain the Tchaikovsky score, and many of the ballet's classic elements, the story will be reimagined with a distinctly Chicago backdrop.
Jun. 06, 2016 03:10PM EST
Maybe it's a stretch to call the Oakland Ballet Company a phoenix rising from Silicon Valley Ballet's ashes, but there is some uplifting news coming from California's regional dance scene. Since his appointment in 2010, Oakland Ballet artistic director Graham Lustig has been splitting his time between helming the Bay Area company and his own Lustig Dance Theatre in New Jersey. In September, he'll make the permanent move from the East Coast to the East Bay to direct Oakland Ballet full-time.
The company is a mere 11 miles away from its internationally renowned neighbor. San Francisco Ballet has a diverse repertoire, routinely presenting classical favorites alongside innovate premieres—which might leave little room for a small company to gain a foothold. Smuin Ballet already works in the contemporary niche and, in light of SVB's recent closure, the question arises: Can the region support another ballet company?
Rudy Candia with Mirai Noda. Photo by Quinn Wharton Photography via Silicon Valley Ballet.
Well, maybe. Oakland Ballet Company has actually been around for 51 years. Though it's faced several hiatuses since the 90s, SF Gate reports that Lustig and the board are focusing on a "slow-and-grow" philosophy to build back up to its former success. A combination of experimental repertoire and homegrown talent has proven useful. Oakland Ballet's 12-person roster has plenty of Californians as well as international members. Cuban-born Rudy Candia, a former dancer with Silicon Valley Ballet, fits into both categories. Having trained at the national ballet schools of Cuba and Uruguay, Candia joined SVB (then Ballet San Jose) in 2005. When the company closed this year, he joined Oakland Ballet's ranks.
The fact that Oakland Ballet can now bring on its artistic director full-time bodes well. And with all of his time and energy focused on one company, it seems likely Lustig will be able to continue the company's growth.
Already, he's focused on collaboration and inspiring the next generation. In April, Oakland Ballet hosted East Bay DANCES Festival, which brought together companies such as Diablo Ballet, AXIS Dance Company (known for its mixed roster of performers with and without physical disabilities) and a Chinese folk dance troupe for a diverse showcase. In its outreach program, Oakland Ballet brings performances and workshops to local schools. With these community-based initiatives, we hope that Lustig will be able to build Candia and others a long-time home.
Coral Martin (center) and Rudy Candia in Graham Lustig's Stone of Hope. Photo by John Hefti via SF Gate.
For more news on all things ballet, don't miss a single issue.
Jun. 01, 2016 07:03AM EST
Smuin Ballet's Terez Dean. Photo by Lois Greenfield, Courtesy Smuin Ballet
From the outside, one might assume that the stars onstage are leaders offstage, too. It might be so, but life in a company is usually more complex. Opportunities to volunteer, teach or represent fellow colleagues allow dancers at any rank to develop important skills and make their voices heard. Others take the lead simply by lifting company morale or setting a good example in the studio. In fact, leadership takes many forms—and you don't have to be a principal ballerina to be an influential company member whom others look up to. For these three dancers, stepping into leadership roles has given greater meaning and fulfillment to their careers.
Nov. 21, 2014 05:20PM EST
Susan Roemer. Photo by Lois Greenfield, Courtesy Smuin Ballet.
Looking around Susan Roemer's San Francisco apartment, you'd never know she's a ballerina. There are no performance mementos on the walls, no basket of unsewn pointe shoes hinting at her role as one of Smuin Ballet's most versatile dancers. Hailed for the edgy sensibility she brings to contemporary work like Trey McIntyre's Oh, Inverted World, she's also beloved for the endearing charm she exudes in character-based pieces like Amy Seiwert's Dear Miss Cline.
What you do learn, pretty quickly, is that she's a costume designer. The hall closet is stacked floor to ceiling with storage tubs full of fabrics and patterns. Her studio consists of a clothing rack, a worktable and four sewing machines stationed a few feet from her bed. Roemer literally lives, sleeps and dreams costumes.
Nov. 29, 2001 07:00PM EST
Smuin Ballet reached its 20th Anniversary this season. True to form, the company wrapped up its birthday with an eccentric program featuring Dancin' With Gershwin, a Michael Smuin work, the world premiere of resident choreographer Amy Seiwert's But now I must rest and the world premeire of Val Caniparoli's Tutto Eccetto il Lavandino.
The chamber company began to include the work of multiple choreographers shortly before Michael Smuin's death in 2007. Now, Smuin Ballet's repertoire is wide ranging and eclectic, and includes work by Trey McIntyre, Helen Pickett and Jiří Kylián. In addition to big-name choreographers, the company has always championed artists living and working in the Bay Area.
As it looks toward another twenty years, the company's plans for the future include a permanent home and a school offering versatile training for young dancers.
Susan Roemer and Joshua Reynolds in But now I must rest
(Photo by Chris Hardy/Smuin Ballet)