Danielle Brown and Jamie Carter in Ashton's Les Patineurs . Photo by Frank Atura, Courtesy Sarasota Ballet.
Enter now to win a pair of tickets to Sarasota Ballet's Victorian Winters program, featuring Sir Frederick Ashton's Les Patineurs and Enigma Variations and Georgia Balanchine's Diamonds on December 14 at 7:30 pm at the Van Wezel Performing Arts Hall in Sarasota, FL.
Keep reading...
Show less
News
Oct. 22, 2018 04:48PM EST
San Francisco Ballet is bringing six works from their Unbound: A Festival of New Works to The Kennedy Center this week. Here, dancers are pictured in Christopher Wheeldon's Bound To. Photo by Erik Tomasson, Courtesy The Kennedy Center.
Wonder what's going on in ballet this week? We've pulled together some highlights.

Keep reading...
Show less
Trending
Sep. 28, 2018 05:42PM EST
The author with Sarasota Ballet corpyhée Weslley Carvalho. Photo Courtesy Madeleine Purcell
When you graduate from student to professional dancer, you still need to take daily class. But while the structure of class is the same, I've found the mindset to be drastically different. My first job post-graduation was with the Sarasota Ballet, and the last thing I wanted to do was look like a student. I knew wearing a black leotard and pink tights without warm-ups could be a dead giveaway, but all another new company member had to say was "Why are you wearing your tights under your leotard? You look like a kid," and I hurried to the dressing room to change! Beyond the way I dress as a professional, my class philosophy also changed. Here are four things I've noticed:
Keep reading...
Show less
News
Feb. 26, 2018 05:45PM EST
National Ballet of Canada's Skylar Campbell and Elena Lobsanova in "The Dreamers Ever Leave You." Photo by Karolina Kuras, Courtesy NBoC.
This week is bursting at the seams with ballet. Earlier this month multiple companies performed the same ballet (think Romeo and Juliet), but this week brings a truly eclectic mix of new works, company premieres and old classics all around the U.S. and Canada. We've rounded up programs by eight companies—National Ballet of Canada, Royal Winnipeg Ballet, Houston Ballet, American Repertory Ballet, Sarasota Ballet, Ballet Memphis, Texas Ballet Theater and Indianapolis Ballet—to give you a sense of what's happening.
National Ballet of Canada

In honor of Canada's 150th anniversary in 2017, the Toronto-based National Ballet of Canada is presenting a mixed bill February 28–March 4 titled Made in Canada. The program features works made on NBoC by three of Canada's most lauded choreographers: Robert Binet's The Dreamers Ever Leave You, James Kudelka's The Four Seasons and Crystal Pite's Emergence. Check out the preview below.
Keep reading...
Show less
News
Nov. 27, 2017 05:17PM EST
Marcelo Gomes and dancers of Sarasota Ballet in Ashton's "The Two Pigeons." Photo by Frank Atura, Courtesy Sarasota Ballet.
American Ballet Theatre principal Marcelo Gomes heads south this winter to create a piece on Sarasota Ballet to premiere December 1 at the Sarasota Opera House. Following the success of his 2015 ABT main-stage production AfterEffect, the burgeoning choreographer is looking forward to continuing to create outside of New York City. "We all know the big companies, but there are some really beautiful groups all throughout the U.S. that deserve just as much praise, and I'm really looking forward to spreading my work to them," he says.
Gomes comes to Sarasota Ballet from a place of familiarity. After following Gomes' career for years, director Iain Webb invited him to guest star in Sir Frederick Ashton's The Two Pigeons for a company gala last season. "He seemed to fit like a glove with us down here," says Webb about the experience. He commissioned this premiere soon after. Gomes' work will be featured on the company's Metropolitan program alongside Balanchine's Theme and Variations and Ashton's Illuminations. When asked how it feels to be grouped in with these masters, Gomes broke into laughter. "It's intimidating. It takes a lot of courage for directors to take a chance on young choreographers. But I'm humbled and honored to be next to those geniuses of ballet."
Keep reading...
Show less
popular
Sep. 15, 2017 03:08PM EST
Miami City Ballet prepares for Hurricane Irma. Photo via Twitter.
As Hurricane Irma made its way through the Caribbean last week, Sarasota Ballet principal Ellen Overstreet was closely following the news. Tracking its progress, she made plans with fellow company members Asia Bui and Madysen Felber: "Wednesday was the most stressful day. We went to five different grocery stores. There was no gas; there was no water. Our plan was to stock up one of our apartments and sleep over all together."
By Friday night, however, the storm had shifted west, its radius enveloping Sarasota and prompting many company members (those who hadn't already booked flights out) to evacuate. In a last-minute decision, Overstreet, Bui and Felber packed up a car and drove to Tampa, where they spent the night safely. Yet the storm progressed, and in another night flight they headed for Orlando to stay with Overstreet's friend's family. The central Floridian city saw flooding damage, downed awnings, and power outages like much of the state, but Overstreet says that she was in "a strong house and felt secure" while hunkering down to wait out the storm.
Few things are more terrifying than the prospect of 170+ mile per hour winds literally chasing you upstate. But the anticipation for Irma intensified sharply in Hurricane Harvey's aftermath. Last week, we reported that the Houston Ballet Center for Dance and its home theater sustained serious flooding damage. The company's first program has been postponed, to be performed at a later date in a back-up venue.

We checked in with some of Florida's ballet companies to see how they weathered this most recent storm.
Keep reading...
Show less
Getty Images
Dancers are famously resourceful and particular when it comes to the products that they keep around to get them through the day. And we all know where those items live: the dance bag. While most dance bags are filled with basics like leotards, pointe shoes, Therabands and granola bars, we rounded up some of the quirkier items that dancers carry with them to provide comfort, inspiration and organization.
These snippets come from longer stories on the contents of each ballerina's dance bag—click on each dancer's name for more.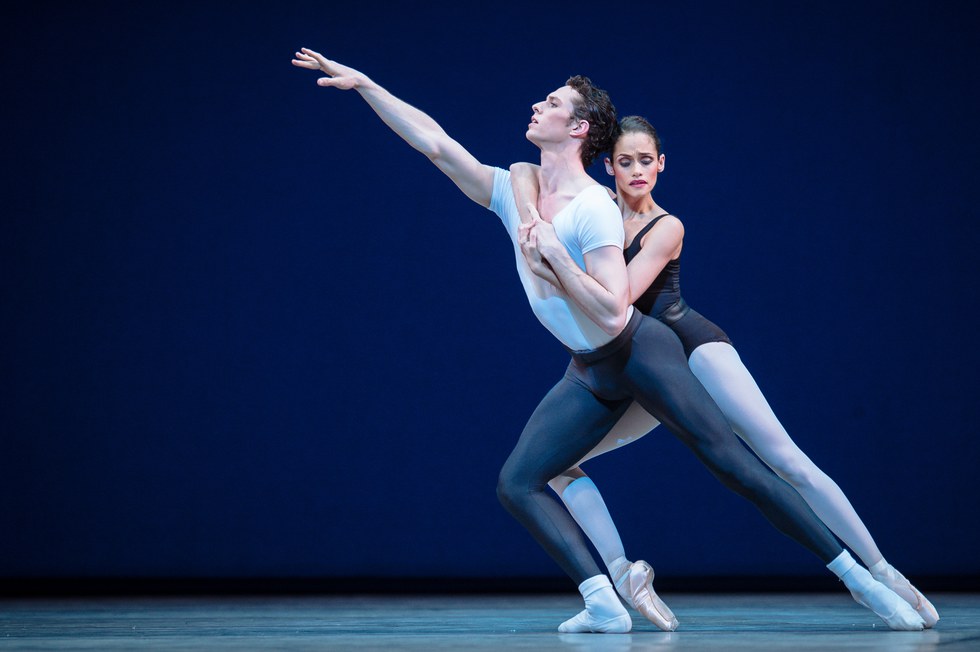 Howard with Christopher Gerty in Balanchine's "The Four Temperaments," Photo by Edwin Luk, Courtesy National Ballet of Canada
This National Ballet of Canada first soloist keeps a hand-carved wooden ballerina with her that her husband made in his high school woodworking class. After they married, Howard added her own little touch—a little rhinestone stuck onto the figurine's finger to mimic a ring. "They had to pick characters out of a book, and he chose the ballerina," she says. "It was so serendipitous! When I see this, I think about how that was years before we even met."
Keep reading...
Show less
Feb. 24, 2017 01:42PM EST
Vutti Photography
You could say that Victoria Hulland is Sarasota Ballet's resident corn pad dealer. The principal dancer keeps her bag stocked with special, extra-thick pads, which she uses between her toes. "A lot of the girls come to me if they have really bad corns," she says. "You can't buy these from CVS." Since she gets them from a podiatrist back home in New York, she either stocks up when visiting or employs her father to pick up multiple packs and send them down to Florida.
Keep reading...
Show less
Nov. 23, 2016 02:45PM EST
Summer intensive students at the School of American Ballet. Photo by Rosalie O'Conner, Courtesy SAB.
As a young student, Shea McAdoo's classes at the Master Ballet Academy in Scottsdale, Arizona, were "strict, straightforward, very classical and purely Vaganova." She appreciated the Russian rigor and precision, but when she was accepted to the School of American Ballet's summer course at 13, she leapt at the chance to learn something new. The vastly different emphasis on Balanchine technique at SAB was illuminating: "It changed my whole way of thinking about musicality and accents. I'd never known there were so many ways to do a tendu! And the épaulement—I loved how they talked about light hitting your face, tilting your chin to show off your diamond earring."
McAdoo's experience was transformative, even when she returned home. "Of course, I lowered my arms back down in second and didn't cross my wrists," she says, "but there were stylistic choices I brought back with me." Today, as an apprentice with Oregon Ballet Theatre rehearsing Balanchine's Serenade, she credits her ease with the ballet's fluid port de bras to her summer at SAB.
Keep reading...
Show less
Apr. 15, 2016 11:07AM EST
Iain Webb rehearses Victoria Hulland in Sir Fredrick Ashton's The Two Pigeons. Photo Courtesy Sarasota Ballet.
Sarasota Ballet artistic director Iain Webb approached Tony Dyson—owner of Sir Frederick Ashton's Enigma Variations—about obtaining choreographic rights without knowing the historic 1968 ballet had only ever been performed by The Royal Ballet and Birmingham Royal Ballet.
Keep reading...
Show less
Apr. 07, 2016 01:05PM EST
ABT Celebrates Ratmansky
Alexei Ratmansky works through Firebird with ABT dancers (photo by Gene Schiavone, courtesy ABT)
American Ballet Theatre's Ratmansky Festival is the centerpiece of the company's spring season at Lincoln Center's Metropolitan Opera House. Since festivals and celebrations usually come later in a choreographer's career, it provides an unusual opportunity to see how ABT has adapted to and absorbed Alexei Ratmansky's approach since he became artist in residence seven years ago. "The last seven years of Alexei's creative process with us was an exploration of the company's depth," says ABT artistic director Kevin McKenzie. "I think it's always good to take another look at what is, in fact, still new to us."
The festival kicks off with two mixed bills: the three-part Shostakovich Trilogy, and a program featuring a world premiere to Leonard Bernstein's "Serenade (After Plato's Symposium)" as well as Seven Sonatas and Firebird. Later will come the American premiere of The Golden Cockerel, a two-act ballet that Ratmansky made for the Royal Danish Ballet in 2012. ABT will also bring back Ratmansky's staging of The Sleeping Beauty, which the company unveiled last year.
McKenzie notes that Golden Cockerel shows a different facet of Ratmansky's work. "It taps the humorous side of Alexei's vision while adhering to his interest in historic works," he says. Originally staged by Michel Fokine to a score by Nikolay Rimsky-Korsakov for Diaghilev's Ballets Russes, the ballet takes its inspiration from a folktale by Pushkin. In it, the tsar of a distant land is given a magical golden cockerel that warns him when his kingdom is in danger.
"I can't wait to embody my character and experiment with it," says soloist Skylar Brandt, who dances the title role on opening night, and has watched videos and read the story to prepare for the role. Brandt looks forward to working again with Ratmansky in the studio. "I have observed that dancers who trust Alexei excel in his movement," she says. "When he says, 'Good,' it's a big compliment." —Hanna Rubin
An American First
Sarasota Ballet artistic director Iain Webb approached Tony Dyson—owner of Sir Frederick Ashton's Enigma Variations—about obtaining choreographic rights without knowing the historic 1968 ballet had only ever been performed by The Royal Ballet and Birmingham Royal Ballet.
Fortunately, the request occurred during the May 2014 Sir Frederick Ashton Festival in Sarasota, at which Dyson watched Webb's dancers perform 14 Ashton works. "I think it gave him the trust to give the ballet to us," Webb says. "He knew we'd respect it." Webb was, in fact, a protégé of Ashton's, and Sarasota Ballet is noted as the preeminent American expositor of the choreographer's work.
Thus the April 8 premiere of Enigma, staged by British dance notator Patricia Tierney, will be the first time an American company performs the work, set to a score by Edward Elgar. —Carrie Seidman
Liam Scarlett Faces Frankenstein
Yuan Yuan Tan, Liam Scarlett and Carlo Di Lanno rehearse Scarlett's Fearful Symmetries
(photo by Erik Tomasson, courtesy SFB)
Royal Ballet artist in residence Liam Scarlett is noted for the psychological themes of his one-act ballets, like 2014's The Age of Anxiety. On May 4, he'll push those themes further with the premiere of Frankenstein—his first full-length work for The Royal Ballet's main stage. Frankenstein marks a first-time collaboration between Scarlett and composer Lowell Liebermann, and is co-produced with San Francisco Ballet, which will give the U.S. premiere in 2017. Pointe spoke with the choreographer about his process and why he thinks Mary Shelley's novel is "perfection in literature."
Why were you drawn to Frankenstein?
I first read Frankenstein as a child. Now, it's less a tale of gothic horror and more a story of love: innocent love, the lack of love for oneself, betrayed and jealous love, and the desperate need to be loved by another. Every great story ballet has love at its center.
How do you work in the studio?
I don't like to impose preconceived ideas on the talent in front of me. I prefer to mold the dancers and listen to what they have to say. I'm very fortunate to have both The Royal Ballet and SFB on board.
Can you talk about the characters?
Victor (Frankenstein) and Elizabeth (Victor's betrothed) provide a pivotal central couple. The Creature adds a third role into the love triangle, as he struggles to gain acceptance from Victor and eventually takes revenge on him. The story has sympathy for all three characters—incredible actors are key for this ballet.
Will the ballet hew closely to the format of the book?
Shelley wrote in a three-person narrative form and created a pyramid structure that sets up tension and suspense perfectly. There's been some editing to make it suitable for performance, but I've tried to stay true to the relationships between characters. —Nicole Loeffler-Gladstone
Carolina Ballet Tackles Macbeth
To commemorate 400 years since Shakespeare's death, Carolina Ballet will perform three ballets dedicated to the Bard, crowned by the April 14 premiere of artistic director Robert Weiss' Macbeth. The ballet will have costumes by David Heuvel and scenery designs by Jeff A.R. Jones, while J. Mark Scearce will compose the commissioned score.
Despite Macbeth's rarity in the classical canon, Weiss believes the story lends itself well to dance. "It's about the psychological interdependence between a husband and wife," he says, "which makes for great pas de deux and the heart of the ballet. And, of course, the witches are a great excuse for dancing." —NLG
Atlanta Ballet's Uncharted Territory
Atlanta Ballet has a diverse repertoire, but the company's May 20 premiere by choreographer Andrea Miller—founder of Brooklyn-based Gallim Dance—marks a signifcant departure. Miller is a graduate of The Juilliard School and a former member of Batsheva's Young Ensemble, which works in Gaga, Israeli choreographer Ohad Naharin's unpredictable movement language.
Miller's choreography is rife with physicality so extreme it looks reckless. It's hard to imagine her work transitioning into a ballet studio. Artistic director John McFall contacted Miller about creating a new work after seeing Gallim perform in Atlanta.
Miller has never choreographed on a classical ballet company and acknowledges her different approach. "I see dancers as individuals. We work together by talking and using imagery," she says. She's excited about dancers with such a different, and specific, background performing her work. "Figuring out how to communicate my values is the beauty of the process." —NLG