Joel Prouty (far right) trains professional dancers such as James Whiteside, Katherine Williams, Lloyd Knight and Lauren Post. Photo courtesy Prouty
A good personal trainer can coach you through a challenging, safe workout. A great one understands the unique demands dance places on your body and helps you correct specific weaknesses to make you an even stronger performer. Enter Joel Prouty.
Before his passion for fitness took over, he was a member of the Royal Winnipeg Ballet, Houston Ballet and Boston Ballet, toured with Twyla Tharp and performed in Broadway's Come Fly Away. When he retired from the stage in 2010, he dove into exercise physiology courses at New York University, captivated by the idea of dancers as athletes. "My main focus and obsession was how to train like an athlete—strong, powerful, quick and resilient—while still maintaining the long, lean aesthetic required to be a dancer, and perhaps more specifically a classical ballet dancer."
Keep reading...
Show less
Trending
Nov. 06, 2018 05:08PM EST
Sara Mearns and Joshua Bergasse said "I do" in a beachside ceremony on November 3. Photo by Perry Vaile Photography, Courtesy of Brides.
If you follow New York City Ballet principal Sara Mearns on Instagram, you'll have noticed that for the past several months, her feed has included wedding prep pics in addition to her usual performance posts and cross-training clips. This past weekend, the big day finally arrived, and Mearns married Broadway and television choreographer Joshua Bergasse in a dreamy beach ceremony in North Carolina.
And if you were hoping Mearns' wedding day would include a bit of ballet, she didn't disappoint. Not only were some familiar NYCB faces in the bridal party and at the reception, but Mearns made sure to include a nod or two to her career. Luckily, Mearns also spent the day with Brides magazine, letting them in on the ceremony and the reception to exclusively capture all of the best moments.
Keep reading...
Show less
News
Oct. 09, 2018 02:17PM EST
Sara Mearns giving her acceptance speech at The Bessies on October 8. Photo by AK47 Division, Courtesy The Bessies.
Imagine The Oscars, but for dance. Sound too good to be true? The New York Dance & Performance Awards, commonly known as The Bessies, are about as close as the dance world gets to award show glamour. October 8 marked the 2018 Bessies, the one night of the year when members of the New York City dance community spanning genres and generations came together to acknowledge outstanding artists in the field. While The Bessies usually focus on independent or downtown dance artists rather than ballet (the last members of the ballet world to win awards were Justin Peck, Alexei Ratmansky and Amar Ramasar in 2015), one of the four 2018 Outstanding Performer awards went to New York City Ballet principal Sara Mearns for her sustained achievement with NYCB and accomplishments in works by Isadora Duncan, Jodi Melnick, Wang Ramirez and Matthew Bourne over the past year.
Keep reading...
Show less
News
Oct. 01, 2018 04:55PM EST
Los Angeles Ballet's Tigran Sargsyan and Petra Conti. LAB opens their fall season this week with a mixed bill including two company premieres. Photo by Reed Hutchinson, Courtesy LAB.
Keep reading...
Show less
Just for fun
Aug. 24, 2018 12:50PM EST
Gillian Murphy spent some time in Canada this summer. Image via Instagram
@gillianemurphy
We'll admit it: As excited as we are for fall performance season to start, we are in deep, deep denial that the end of summer is in sight. And we're also experiencing some serious FOMO looking at the vacation photos flooding our Instagram feeds from some of our favorite dancers and choreographers. So where in the world do they go to unwind before gifting us with yet another season of incredible dance?
Keep reading...
Show less
popular
May. 04, 2018 11:46AM EST
As dancers, we know why we love ballet—but for a new audience member, our beautiful, silent art form may seem like a mystery. Enter Celestial Bodies: How to Look at Ballet. Written by celebrated dance critic Laura Jacobs, this new book (available May 8 from Basic Books) offers insights on how burgeoning ballet fans can better understand and appreciate the choreographic language they're watching onstage. But it's also a compelling read for dancers and experienced dance lovers.
Keep reading...
Show less
Houston Ballet principal Connor Walsh getting early practice as a leading man. Photo courtesy Connor Walsh
It's that time of year again—recital season! And not so long ago, some of your favorite ballet dancers were having their own recital experiences: dancing, discovering, bowing, laughing, receiving after-show flowers, making memories, and, of course, having their pictures taken! For this week's #TBT, we gathered recital photos—and the stories behind them—from five of our favorite dancers.
Gillian Murphy, American Ballet Theatre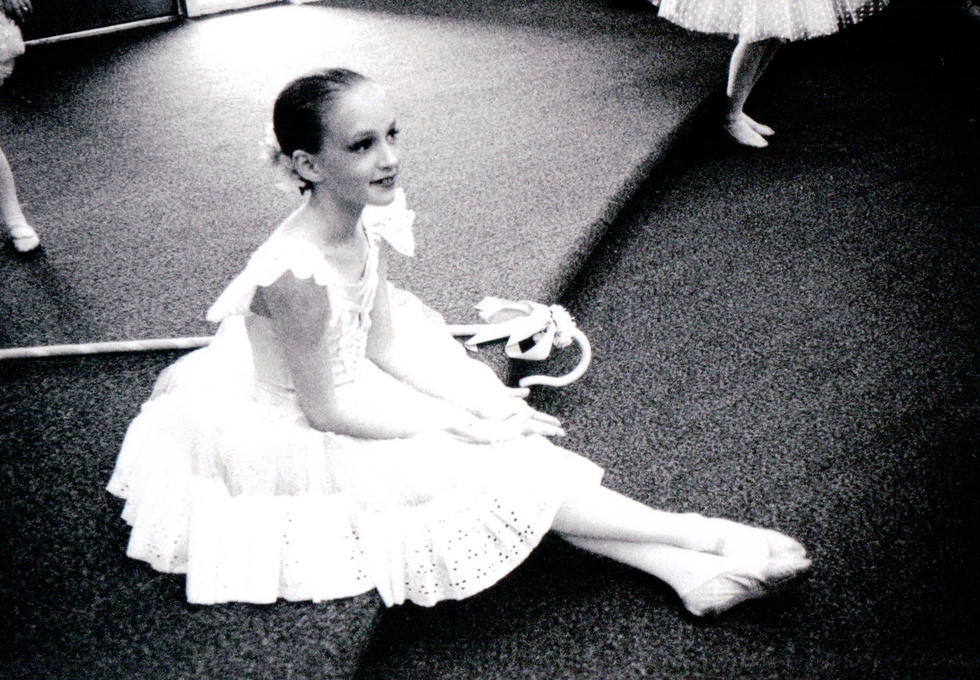 Murphy gets ready for her role as "Mary Had a Little Lamb." Photo courtesy Gillian Murphy.
"This photo was taken by my mom when I was 11, waiting in the dressing room (the band room of West Florence High School in South Carolina) before I went onstage as 'Mary' for a recital piece featuring 3-year-olds as little lambs.I had so much fun being the teacher's assistant in the baby ballet class each week, particularly because my little sister Tessa [pictured below] was one of the 3-year-olds. I remember feeling quite grown up at the time because I was dancing in the older kids' recital piece later in the program, but in this moment I was just looking forward to leading my little lambs onstage in their number."
Keep reading...
Show less
Because who doesn't want their feet to look as gorgeous as Sara's? (Photo by Christopher Lane)
Ah, the quest for the perfect, foot-flattering, technique-enhancing pointe shoe: It can feel like a never-ending saga. Still on the hunt for that ideal pair? Then you won't want to miss The School at Steps' annual Pointe Shoe Workshop and Fair, happening this Sunday, April 22nd, at 6:30 pm in NYC.
As always, the event—which is sponsored by Pointe—will feature an impressive panel of experts. This year's lineup includes orthopedist Dr. Andrew Price, professional fitter Mary Carpenter, master teacher Linda Gelinas, Pointe style editor Marissa DeSantis, and New York City Ballet star Sara Mearns (eee!).
via YouTube
Given her fierce personality on stage, and collaborations with brands like Cole Haan, it goes without saying that a dancewear line designed by New York City Ballet principal Sara Mearns is going to be pretty major. After Mearns officially shared the first look at her collection with Só Dança, we can confirm, you're going to want to make room in your leo drawer immediately.
Though just over a minute long, the video shows us plenty of details on what we can expect. First, she wears a quilted vest (which the below video shows is in purple, Mearns' favorite color). And, more interestingly, quilted legwarmers—a unique design she told Dance Magazine all about earlier this summer. Another cool piece to make note of? Mearns' leotard, which includes mesh insert detailing in the front and back to liven up your everyday studio look.
The Sara Mearns x Só Dança collection will make its debut online and in your local dance stores in January. Until then, we're keeping our eyes on Mearns' Instagram account for more sneak peeks—and the Só Dança YouTube channel for more insider videos like this shop local clip.
Moira Shearer and Robert Helpmann in "The Red Shoes."
Black Swan wasn't the film industry's first ballet-themed psychological drama. In The Red Shoes (1948), theater and life conflate, with tragic results for the dancer caught in the middle. Unlike Black Swan, however, The Red Shoes starred a real life ballerina. Moira Shearer, then a leading dancer with Sadler's Wells Ballet (now The Royal Ballet) plays Victoria Page, a young prodigy who catches a Russian impresario's eye, joins his company and stars in a new ballet based on the Hans Christian Andersen fairy tale, The Red Shoes.
In this clip from the dance sequences, the ballet character sees the infamous shoes at a carnival booth and immediately covets them. Shearer's skill as a dancer and actress are evident. Each twirl, reach and penché evokes her desperate longing. The shoemaker, danced with incredible precision by famous choreographer Léonide Massine, taunts the girl. When she finally leaps into the red shoes (with kitschy film effects), she forgets her partner completely. She dances with bounding energy, depicted by Shearer's crisp, light petit allégro. Later, it becomes clear that the shoes have a fatal sort of magic, both onstage and off.

Keep reading...
Show less
Ashley Shaw as Victoria Page. Photo by Johan Persson.
This fall, Matthew Bourne's New Adventures presents the U.S. premiere of a fresh take on an old classic. The Red Shoes, based on a Hans Christian Andersen fairy tale and an Academy Award–winning film, tells the story of Victoria Page, a dancer obsessed with passion and ambition who winds up in a triangle involving two men invested in her career.
Keep reading...
Show less
popular
Aug. 16, 2017 04:54PM EST
Honji Wang and Sara Mearns. Photo by Brooke Trisolini, Courtesy of Jacob's Pillow Dance.
We all know that seeing world class dance is expensive. But for two weeks a year New York City Center offers $15 tickets to their Fall for Dance Festival. This magical unicorn of an experience features five unique programs and will run from October 2-14.
The program includes five world premieres commissioned specifically for the Festival, three of which feature some of our favorite ballet superstars.
Program One (Oct. 2-3) will showcase a new work by choreographer and New York City Ballet soloist Troy Schumacher on 14 dancers from Miami City Ballet. While rehearsals are still in progress, we do know that the piece will be a meditation on childhood set to Francis Poulenc's Concerto for Two Pianos in D Minor.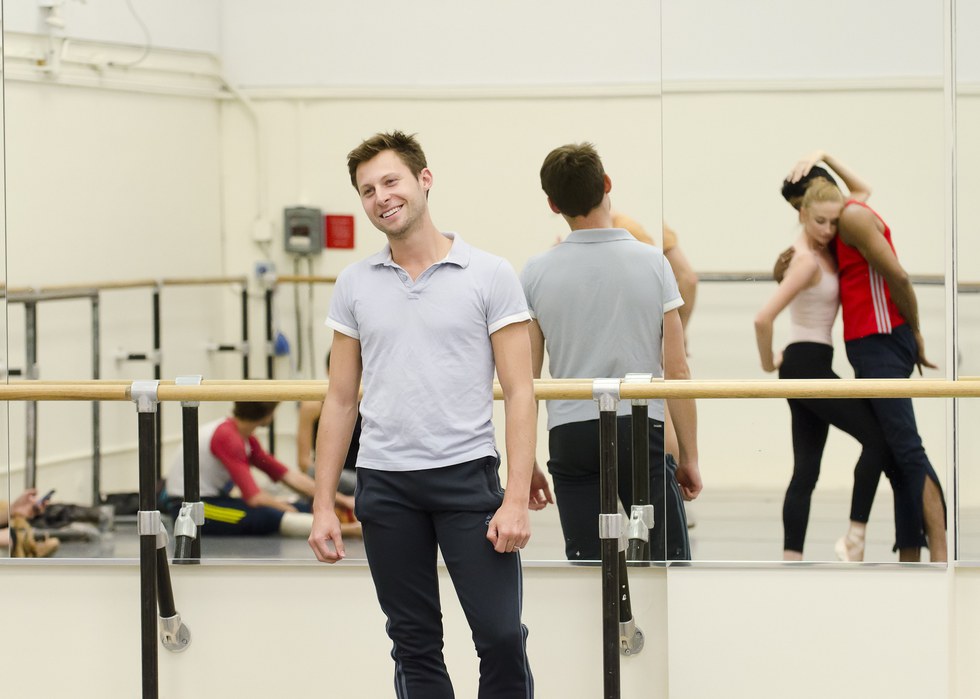 Troy Schumacher in rehearsalPhoto by Kyle Froman for Pointe
Keep reading...
Show less
Photo by Paul Kolnik, Courtesy NYCB
George Balanchine's glamorous three-act Jewels celebrates its 50th anniversary this year. Three New York City Ballet stars share their insights on their signature roles in "Emeralds," "Rubies," and "Diamonds." Here's Sara Mearns on "Diamonds."
I had grown up watching Kyra Nichols and Wendy Whelan dancing "Diamonds," and it was my absolute dream to dance it, too. I immediately connected to "Diamonds." It's big, dramatic movement, nothing small, and I don't think there's anything small about my dancing. I have to reach deep down in my soul to do this ballet, to rise to the level of the choreography, the costumes..."Diamonds" is just on another level from anything else I've done. It takes everything out of you, if you're willing to put that much into it.
Keep reading...
Show less
May. 18, 2017 02:59PM EST
Olga Smirnova and Semyon Chudin in "Diamonds." Photo by E. Fetisova, Courtesy Bolshoi Ballet
In November, Lincoln Center announced that three of the world's biggest companies—New York City Ballet, Paris Opéra Ballet and the Bolshoi Ballet—would present a collaborative performance of George Balanchine's Jewels July 20–23 in honor of the ballet's 50th anniversary. Each company will take an act, with the Paris Opéra performing "Emeralds" and NYCB and the Bolshoi alternating performances of "Rubies" and "Diamonds." Yesterday, Lincoln Center finally announced what we've all been waiting for: the all-star cast list. (As well as rising stars–Alena Kovaleva and Jacopo Tissi, two young Bolshoi corps members, are slated to dance the leads in "Diamonds" for one performance.) Check out the list below this trailer!
Keep reading...
Show less
News
Feb. 17, 2017 05:15PM EST
Sara Mearns in Walpurgisnacht Ballet. Photo by Paul Kolnik, Courtesy NYCB.
When New York City Ballet went on a three-week tour to Paris last summer, we wished we could tag along. The company presented 20 ballets at the historic Théâtre du Châtelet, including 14 by Balanchine.
Thanks to PBS and their Great Performances series, you can now get a taste of what it was like to be in that audience. The network will air the closing night performance in a two-part broadcast on February 17 (that's tonight!) and February 24, hosted by artistic director Peter Martins.
The lineup features four Balanchine works, all set to the music of French composers—and the casting alone is enough to make you want to tune in.
Keep reading...
Show less
News
Nov. 11, 2016 05:33PM EST
Sara Mearns with Raushan Mitchell and Jodi Melnick at Dancespace Project. Photo Courtesy Melncik.
The best artists never stop exploring. Lately, world-class ballet dancers have been pushing their limits with new styles and collaborators from outside the classical ballet world. There was Wendy Whelan's Restless Creature project. There's Natalia Osipova and Sergei Polunin, who are performing a program of contemporary work at New York City Center this week. And there are the many ballet dancers dazzling audiences on Broadway stages, in shows like On the Town, An American in Paris and CATS.
The latest ballerina to embark on an out-of-the-box collaboration is New York City Ballet's Sara Mearns. Last fall, she approached choreographer and dancer Jodi Melnick, a legend of New York's downtown dance scene, about working together. The two had originally met at Dancespace Project's "Platform 2015: Dancers, Buildings and People in the Streets," a project that brought NYCB dancers and downtown contemporary dancers together.
Keep reading...
Show less
News
Oct. 07, 2016 02:41PM EST
Sarah Lane as Aurora in ABT's Sleeping Beauty. Photo by Rosalie O'Connor, Courtesy ABT.
Lately, it seems like mentorship is having something of a moment: Many pro dancers are coming up with creative ways to give back to the dance community and act as a resource for young students striving to reach the top. Take Kathryn Morgan, who started her own blog and YouTube channel to pull back the curtain on the ballet world, and writes an advice column for Dance Spirit. Or David Hallberg, who's opened up about the challenges of being a young male ballet dancer, and worked to mentor boys at American Ballet Theatre's Jacqueline Kennedy Onassis School. Or New York City Ballet principal Megan Fairchild, who shares advice in her "Ask Megan!" podcast.
Keep reading...
Show less
Harper Watters with Houston Ballet in Stanton Welch's Young Person's Guide to the Orchestra. Photo by Amitava Sarkar, Courtesy HB.
Deciding to pursue a career in dance is huge. But even with your eyes firmly on your goal, figuring out the best track to get you there can be confusing and stressful. What school to go to, which teacher to follow, and when or whether to leave home are questions all ambitious dancers face, and there's no right answer for everyone. Behind every successful dancer lies a path riddled with difficult decisions and moments of doubt. Often, coming to a fork in the road means making a realistic assessment of what your needs truly are. These three dancers faced tough choices at crucial moments in their training years, but pushed outside their comfort zones and took risks that ultimately paid off.
Keep reading...
Show less
Views
Feb. 20, 2015 04:31PM EST
It's no secret that as mainstream newspapers have folded or cut costs in recent years, dance criticism has taken a major hit. And while some dancers may have adverse feelings towards critics (especially if they've been on the receiving end of a bad review), criticism is nonetheless a vital facet of arts coverage, one that sparks debate and conversation about a performance and draws interest to the company in question. "Reading good dance criticism teaches you how to watch dance, and how to look past flawless facility and fierce technique to something deeper," says New York Post dance writer Leigh Witchel. "It teaches you to search for context." But without support from media outlets, Witchel fears that arts criticism is now being turned into a hobby.
Enter The Barre Flies. Launched by Eliza Minden, co-founder and head designer of Gaynor Minden, the website offers a platform for some of New York City's most respected dance critics, including Witchel. "Informed, lively discussion is essential to the vitality of an art," says Minden. "I wanted to promote a discussion about dance but in a modern format with the look and feel of today's social media."
Unlike conventional publications or dance blogs, The Barre Flies recruits several critics, an experienced audience member and a dancer to review the same production so that readers can access a variety of perspectives in one place—with intriguing results. "There are too many moving parts to a dance performance for any one critic to see it all," says Barre Flies contributor Laura Jacobs, who also writes for The New Criterion, Vanity Fair and Pointe. "And critics have different areas of expertise."
The latest installment covers Rodeo: Four Dance Episodes, Justin Peck's latest world premiere for New York City Ballet. And the results could not be more mixed—some see it as a welcome alternative to Agnes DeMille's 1942 Rodeo, while others feel Peck missed the mark. In addition, Sara Mearns, who plays the principal woman in the ballet, gives the inside scoop on what it's like working with Peck. It just goes to show how beautifully subjective our art form is. To read the reviews, click here.
Still via YouTube
Recently retired Miami City Ballet dancer Ezra Hurwitz has found a second calling as a filmmaker. His latest is a peek into the life, or maybe the mind, of New York City Ballet principal Sara Mearns.
Mearns is well known as a dazzling, glamorous and dramatic ballerina. Hurwitz's lovely film, which shows her day as largely self directed and solitary, confirms her star status. Rather than letting the camera exalt Mearns' physical capabilities, Hurwitz uses a restrained, almost secretive approach. The result lends a dream-like quality to the film—echoed by Mearns' statement that she never thought she would be where she is. "I still can't believe I'm doing the roles that I am, today," she says. It turns out that even the most confident onstage performers have a chaotic inner monolgoue of doubt, incredulity, gratitude and determination.
Keep reading...
Show less
Inside PT
Jun. 06, 2013 02:41PM EST
How does this New York City Ballet principal describe her style? "I recently met Drew Barrymore, and she was like, 'You have such a rock star vibe—not at all what I'd expect of a ballerina!' " Mearns says. Black dominates, even in the summer. "Once it gets hot, I only wear dresses, but nothing too girly or colorful." She spices up a muted ensemble with statement pieces, like an Alexander McQueen skull scarf or an oversized ring from Swarovski—she treats herself to a piece from the store at the end of every season. "I'm obsessed with sparkle," she says. "Even my leg warmers have sequins."


The Details—Studio
Purple scarf: "I always wear this for class. I like to feel bundled up."
Freed of London pointe shoes, T maker: "I went through 250 pairs last year, second most in the company."
American Apparel leotard: "The nylon fabric breathes better than cotton, and it has a low front, which looks nicer on my shorter neck."


The Details—Street
Wedged sneakers from Target: "My mom buys a lot of my shoes, usually from Target. Recently, though, she got me my first pair of Louboutins: purple ankle booties."
Black jeans: "Dark colors are more slimming on my legs. My best fashion investment was a pair of black leather pants from Ralph Lauren; they're the warmest things ever."
Cole Haan purse: "I use it as my dance bag and my everyday bag—it's big enough for my shoes, and has shiny gold horsehair on the side."
Jacket from H&M in Germany: "Yes, it's missing a button. So me."
Nov. 29, 2001 07:00PM EST
When Ashley Bouder steps on stage at New York City Ballet, you can feel the audience's excitement.

As she whips through a rapid sequence of turns, people literally sit forward in their seats. Often Bouder will hold a balance for a moment where the allegro tempo seemingly doesn't permit even a fraction of a pause, and then she'll break into a delighted grin, as if surprised by her own phrasing. No one would guess that she dances five, sometimes six, physically exhausting roles each week.

NYCB's ballerinas have epitomized the style, look and technical range of classical dancers in the U.S. since Balanchine first launched his school and his company. During his lifetime, Balanchine's dancers always had distinctive personalities, and the company's current roster continues that tradition. But today's NYCB principals need stamina and versatility beyond what was required of their predecessors. Gone are the days when ballerinas performed only two or three times a week in a repertoire that was overwhelmingly the work of two choreographers, Balanchine and Robbins. Nowadays it's not unusual for a NYCB principal to perform nearly every night in a range of work not only by Balanchine, Robbins and Ballet Master in Chief Peter Martins, but also by numerous guest choreographers. The company's 2009 spring season will present 40 ballets, and a total of 56 performances.

"Being a principal dancer today is a very demanding job," says Rosemary Dunleavy, who has been a ballet mistress for NYCB since 1971. "It's harder physically because the company works more than we did in the past. And the dancers must perform all these different styles."

Ashley Bouder, Sara Mearns and Sterling Hyltin all rocketed to principal status early in their careers. All three have already danced full-length dramatic ballets, as well as the company's bread-and-butter neoclassical repertoire. They handle the physical and psychological stresses with aplomb, and their technical prowess and artistic range never seem strained. Yet each of these dancers has developed a distinctive approach to maintaining her energy and each continues to mature as an artist. Here are some of the ways they meet their jobs' ever-growing demands.

ASHLEY BOUDER
"Ashley has a no-fear factor to her dancing," says NYCB's Assistant to the Ballet Master in Chief Sean Lavery. That may be how it looks onstage, but offstage Bouder admits to feeling some anxiety.

"When I got promoted to principal, one of my first thoughts was, 'Oh my god, now I can't afford to have an off performance!' People expect excellence." To handle that pressure, Bouder says that she takes one day at a time. "If things don't go well, it's not the end of the world, just not what I wanted to happen."

Bouder, 25, finds inspiration in watching other dancers. "I spend a lot of time watching old tapes of ballerinas and thinking about what I want to do in each moment." She makes an effort to see dancers and companies outside of NYCB. "I keep my eyes open." Her interest has led her to seek opportunities to perform classics with outside companies, including learning Giselle from legendary ballerina Carla Fracci and performing it at La Scala.

When the company is working, Bouder focuses on eating protein during the day and carbohydrates at night, which she says gives her plenty of stored energy to get through the following day. If she feels like she needs to boost her stamina, she works out on the elliptical machine at the gym. She stays conditioned during NYCB's off weeks by working with the company's director of physical therapy, Marika Molnar.

Darla Hoover, Bouder's teacher when she was at Central Pennsylvania Youth Ballet, says that Bouder "always had a beautiful artistic soul and steely determination. She was someone you could push to her max and she wasn't allergic to that." Even today, Bouder doesn't wait for corrections; she actively hunts down feedback. And not just from her director and ballet masters but from other dancers as well. She mentions fellow principal Jared Angle as someone whose opinion she trusts: "We're always asking each other, 'Did you see anything I should fix?'"

SARA MEARNS
A night off might seem like a rare chance to think about something besides ballet, but Sara Mearns, 22, often spends her downtime watching other dancers perform the roles that are in her repertoire. "I try to find my way of dancing through watching the ballerinas. I don't want to be exactly like them—I don't copy them. But I think that's the best way to get inspiration: Watch someone who has the qualities to which you aspire."

Mearns' movement flows with romantic energy, but in rehearsal she sometimes reins that in. "Technically, I don't like to over-rehearse before I do something. If you over-rehearse, you're going to get bored with it. The main goal is what it's going to look like onstage." 

Like Bouder, Mearns gets a lot from videos of ballerinas from previous eras, especially Natalia Makarova. She also finds visualization useful for preparing for a big new role. She tries to "envision what it's going to feel like, which helps me get into the role."

Mearns sometimes goes to the gym to build extra strength and stamina, and makes sure she drinks enough water to stay hydrated. During a full-length role like Swan Lake, she may drink a few sips of Coke at intermission to keep her energy up for the next act.

She admits that she felt extra pressure once she was promoted to principal. "You feel like you have to go out there and deliver. But if you dance like you did before you were promoted, well, they know what you're going to be like onstage because that's why they promoted you. I don't think about the expectations. I want to keep the fun."

STERLING HYLTIN
Sterling Hyltin, 23, looks like a Celtic princess with her wavy blonde hair and coltish long lines. As Juliet in Peter Martins' new production of the ballet, she seemed to throw herself into the music as much as into Romeo's arms, instinctively knowing the richness in the Prokofiev score. For Hyltin, every role, dramatic or otherwise, is born when she works alone in the studio. "That's where I can find what works, when I can experiment." Lavery says, "Sterling likes to really dissect the part. You can see from day to day she's really thought about it."

Hyltin also uses time in the studio by herself to keep in shape during breaks: "If there's a period when I'm not dancing a lot, I'll take a piece of repertoire that had me in great shape and just run it to keep me going physically and artistically."

When her schedule is especially grueling, she relies on mental rehearsal. "Sometimes you have to save your body," Hyltin says, "so I take time to prep mentally."

She does Pilates three times a week. "I swear by it. It gives me extra core strength and helps me pull up out of my shoes." She also watches her diet carefully. "I try to eat red meat three times a week. It gives me a lot of energy. I try to eat well-balanced meals, and I avoid sugar. I also avoid too much caffeine before a performance. If I have anything it will be a decaf coffee."

As for how she deals with the pressure of being an NYCB principal, Hyltin says, "During a break sometimes, I step outside to get a breath of fresh air. It's important to have a life!"

All three dancers have a passion for continuing to improve from one season to the next. Their hard work, careful rehearsing and healthy routines exist to support that greater goal. As Bouder says, "The things you look to improve get smaller and smaller, but they still matter and they're still there."

Former dancer Leda Meredith is an active choreographer and a professor at Adelphi University.
Nov. 29, 2001 07:00PM EST
International ballet competitions are designed to showcase a dancer's talent and performance skill—which also happen to be the two aims of Victor Gsovsky's Grand Pas Classique. The female variation consists of steps that align with the music, supporting dancers through difficult moves and reinforcing their musicality. In 2001, Sara Mearns competed in Youth America Grand Prix with this virtuosic variation. Now a principal with New York City Ballet, she had already begun to develop the fiery conviction that has become the trademark to her dancing. 
Despite any stumble or awkward transition, her final ballonnés define what it means to be "on your leg." Watch to see how Mearns' attitude and confidence would launch her to a fulfilling career. Happy #ThrowbackThursday!


Get Pointe Magazine in your inbox