Christopher Duggan for Pointe
While dancing excerpts of August Bournonville's Napoli this summer at the Massachusetts-based Jacob's Pillow Dance Festival, the artists of the Royal Danish Ballet were in perfect sync. The dancers exuded pure cheer, from their buoyant, clear footwork to the precise angle of their épaulement. This seemed fitting for a national company where most members train in the Danish style from age 7 and feed in from the school. Yet three of the principals onstage—Amy Watson, J'aime Crandall and Holly Jean Dorger—are in fact American.
Keep reading...
Show less
From Broadway's Billy Elliot to Bournonville, Redhead performs with effortless charisma. Photo by Klaus Vedfelt, Courtesy Royal Danish Ballet.
The Royal Danish Ballet's Ballet Festival in Copenhagen this June could have doubled as a showcase for corps dancer Liam Redhead, 23. On opening night, Redhead demonstrated his Bournonville mettle with a floating ballon and effortless charisma in Napoli's Act I ballabile. Then he delivered dazzling jumps as the Jester in artistic director Nikolaj Hübbe's Swan Lake, and later unleashed visceral power in Akram Khan's Vertical Road.
Keep reading...
Show less
Trending
Oct. 04, 2018 04:07PM EST
San Francisco Ballet in class during World Ballet Day 2016. Photo Courtesy SFB.
Here at Pointe, every day feels like World Ballet Day, though the official 2018 event took place on Tuesday. While WBD is a thrill for any bunhead, it can also be overwhelming. How are you supposed to sit in front of your computer all day when you have class and rehearsal and work and a life? We get it, and we're here to help.
To give you a chance to catch up, we've rounded up WBD videos from 26 companies. So grab some popcorn, a backlog of pointe shoes to sew, and settle in. If you start watching now, you might just be done in time for WBD 2019.
Keep reading...
Show less
Film still courtesy Silva.
It goes without saying: We love dance films. Particularly when their creation is inspired by dancers themselves. When Royal Danish Ballet soloist Magnus Christoffersen, currently with Los Angeles Ballet, approached filmmaker Jason Silva with an idea in mind, Silva knew this project was meant to be. They brought in Los Angeles Ballet principal Tigran Sargsyan to choreograph. The trio's dream-like, atmospheric collaboration, titled The Dancer, is set to a sweeping score by Ludovico Enaudi and focuses in on one dancer's experience, a bit reminiscent of Sergei Polunin in the now viral video "Take Me to Church."
While many moments in the film are deeply emotive, we particularly love 2:50, when Christoffersen leaps off the stage as if it can't contain his energy any longer, expanding our view of the space. For someone alternating between dancing on carpet and concrete, we're pretty impressed by his many virtuosic jumps and turns (though we don't recommend trying that at home.)
Keep reading...
Show less
News
Jun. 19, 2018 10:55AM EST
Ulrik Birkkjaer and Susanne Grinder in Bournonville's Napoli." Photo by Costin Radu, Courtesy Jacob's Pillow Dance.
On June 20, Royal Danish Ballet will open the Jacob's Pillow Dance Festival with a weeklong run in the historic Ted Shawn Theatre. The celebrated relationship between the Copenhagen-based company and the Pillow dates back to 1954, when leading RDB soloist Inge Sand stepped in to replace a dancer from another company at the last minute, resulting in her U.S. debut. Her popularity led to the company's inaugural U.S. performance at the festival the next summer. According to the Pillow's director of preservation, Norton Owen, this was also the first time that works by August Bournonville, the famed 19th-century Danish choreographer, were seen in this country. Following its success at Jacob's Pillow, RDB made its New York City debut at the Metropolitan Opera House in 1956, and in 1957 the King of Denmark knighted Jacob's Pillow founder Ted Shawn for his role in bringing Danish ballet to America. Over the next 20 years, soloists from RDB returned to the Berkshires frequently to great acclaim; their most recent visit was in 2007.
Keep reading...
Show less
News
Jun. 18, 2018 01:29PM EST
Sara Webb and Connor Walsh with Artists of Houston Ballet in "Swan Lake" choreographed by Stanton Welch. Photo by Amitava Sarkar, Courtesy Houston Ballet.
Wonder what's going on in ballet this week? We've pulled together some highlights.
The Australian Ballet's Triple Bill, Verve, Includes New Work by Company Dancer Alice Topp
Verve, a triple-bill program from The Australian Ballet running June 21-30 in Melbourne, will host revivals of works from resident choreographers Stephen Baynes and Tim Harbour, as well as a world premiere from company coryphée Alice Topp. Topp's Aurum is inspired by kintsugi, a Japanese art in which broken ceramics are mended using lacquer colored with silver or gold, so that the cracks are emphasized, instead of hidden. In Aurum, Topp applies that philosophy to the human ability to find beauty in vulnerability and imperfections. Completing the bill are Baynes's Constant Variants, which pairs neo-classical ballet with a Tchaikovsky score, and Harbour's Filigree and Shadow, a contemporary ballet featuring striking set and lighting design.
Keep reading...
Show less
Lendorf in Don Quixote. Photo by Rosalie O'Connor, courtesy ABT.
What do you enjoy most: performing, or being in the studio?
The moment right after performing. It's never a perfect show, but however you feel about it, there is a satisfaction, a sense of fulfillment.
What qualities do you admire most in other dancers?
Openness. We're all afraid of being ourselves: Like actors and singers, you're being judged all the time, and you know you're being judged. You need to let go and try to be honest with yourself, because that's what appeals most to the audience and other dancers.
Keep reading...
Show less
From left: Erin Arbuckle in rehearsal for a new work by Richard Isaac. Photo by Paul B. Goode, courtesy Arbuckle; running the 2015 NYC Marathon. Photo by MarathonFoto, courtesy Arbuckle.
When Erin Arbuckle takes ballet class wearing her New York City Marathon shirt, teachers often ask her, "You didn't actually run that, did you?" She did, twice, and she's running again this year on November 5.
Arbuckle, 28, a graduate of School of American Ballet and a freelance dancer who has performed with Ballet Next and Emery LeCrone Dance among others, is a rare ballerina who not only runs but has taken on the challenge of a marathon.
"If I can run 26 miles, I can handle a two-minute variation," she says.
Ballet dancers are taught to save their bodies for dance and avoid injury from other activities. While low-impact cross-training like swimming is encouraged, running is generally considered too high impact.
"I was told it would give me huge calves and thighs and damage my knees," Arbuckle says.
Her two foot surgeries were from dance injuries though, not running, and her body is holding up well despite what she was told to expect.
Marika Molnar, director of physical therapy at New York City Ballet, generally advises dancers to run only as a warm up. "Running for 5 to 10 minutes before ballet class to move the large muscles of the body is useful," she said. "Beyond that, you start to have risks."
Keep reading...
Show less
HM Queen Margrethe II of Denmark and dancer Fenella Cook. Photo courtesy TIVOLI, Copenhagen.
The realms of fairy tale ballets are filled with imaginary queens.
But in Denmark, the nation's real-life, reigning monarch, Queen Margrethe II, fills the stages of fairy tale ballets with her original costume and decor designs. In fact, she's been the in-house set designer for the Pantomime Theatre of Copenhagen's famed Tivoli Gardens since 2001. Her most recent work can be seen in Yuri Possokhov's Cinderella, which runs through August 27 at the Pantomime Theatre. The production is performed by Tivoli's dance company, Tivoli Ballet Theatre, which features an international roster of 18 classically-trained dancers.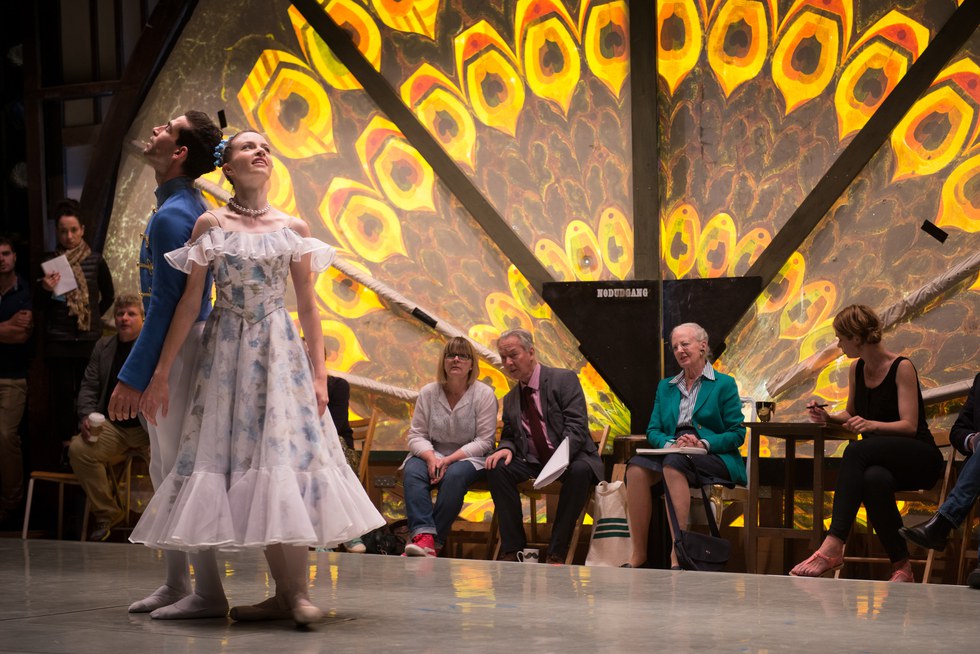 HM Queen Margrethe II of Denmark watching rehearsals of "Cinderella." Photo courtesy TIVOLI, Copenhagen.
The queen is a devoted fan of ballet. She regularly attends performances and has taken lessons as an adult. She's also created artwork for decades and even illustrated the Danish edition of The Lord of the Rings. Her first ballet costume and set designs appeared in the Royal Danish Ballet's 1991 production of Bournonville's A Folk Tale.
Keep reading...
Show less
Call Board
Aug. 15, 2017 11:04AM EST
Boylston working with choreographer Gemma Bond
With most of American Ballet Theatre's classical repertoire under her belt, principal Isabella Boylston is ready for a new challenge, specifically, launching Ballet Sun Valley, a dance festival with educational outreach in her hometown of Sun Valley, Idaho. "I'm in a place in my career where I can expend a little more creative energy on outside projects," she says. This year, her long-held dream will become reality, with performances on August 22 and 24, and free dance classes on August 23. "Sun Valley has a successful symphony, and a lot of people are interested in the arts," Boylston says. "When I was there three years ago, I realized the Sun Valley Pavilion would be the perfect venue for dance." Hilarie Neely, Boylston's first ballet teacher, put her in touch with a team of executive producers who have assisted with fundraising and technical logistics.
Once Boylston knew the festival was happening, she was faced with the task of creating dynamic programming. "All the dancers I'm inviting are close friends who I've danced with before, and choreographers I have relationships with," she says. Audiences can expect classical repertoire, plus ballets by Justin Peck, Alexei Ratmansky and Pontus Lidberg.
Keep reading...
Show less
Alicia Alonso in "Giselle." Photo by Frank Alvarez, Courtesy Dance Magazine Archives.
Over the years, many companies have premiered works or made their U.S. debut at the Jacob's Pillow Dance Festival, and some of the world's most famous ballet dancers have performed there. This week I will give some more insights from the Pillow's extensive archives into the dancers that have graced this world famous festival's stage. Click on the links below to watch video footage of their performances.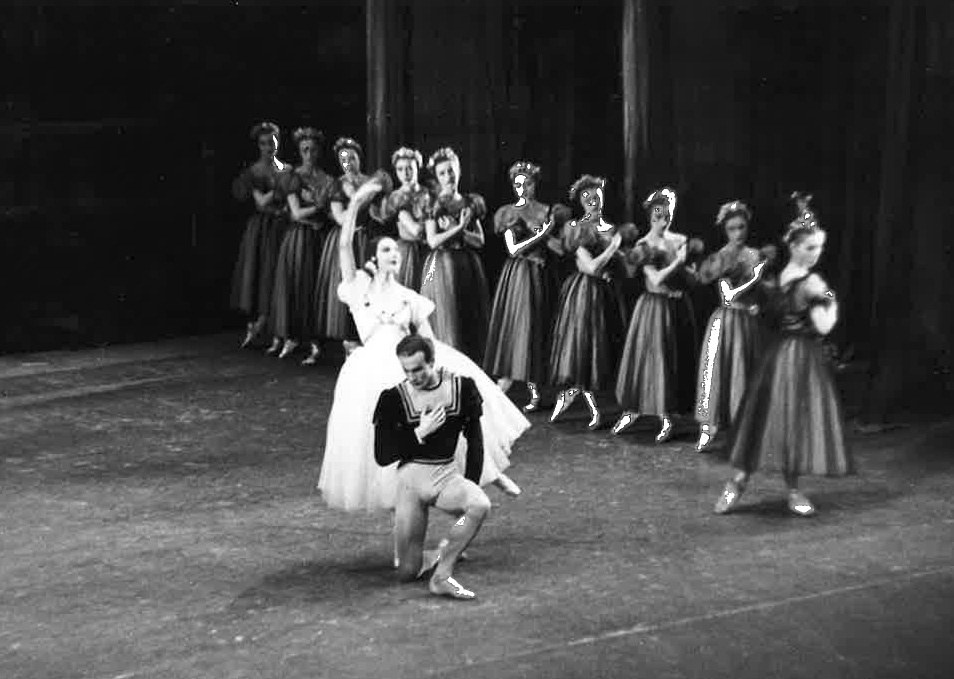 Alonso and Bruhn performing "Giselle" in 1955. Photo Courtesy Dance Magazine Archives.
Keep reading...
Show less
Dorger in Royal Danish Ballet's production of Giselle (photo by Costin Radu, courtesy Royal Danish Ballet)
When Holly Dorger arrived in Copenhagen to join the Royal Danish Ballet after graduating from the School of American Ballet, she was shocked by the unfamiliar. "We brought home cat food thinking it was canned tuna," she laughs, recollecting her first weeks among new surroundings. Nine years later, the principal dancer calls Copenhagen home, crediting Denmark and artistic director Nikolaj Hübbe for her success.
European dance companies typically offer secure contracts, better salaries and a varied repertoire. Yet for American dancers, understanding a new culture, adjusting to different company dynamics and getting used to European contemporary work can be challenging. Below, dancers from four European companies weigh in on what they've learned from moving abroad.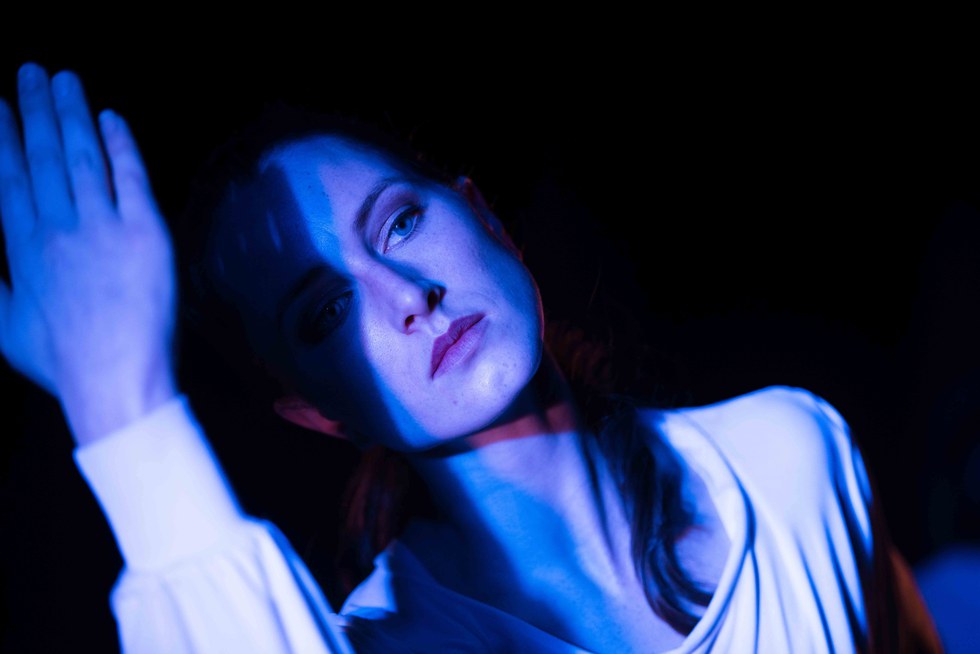 Shelby Williams. Photo Courtesy Royal Ballet of Flanders.
Keep reading...
Show less
News
Oct. 21, 2016 01:16PM EST
Imagine learning a 150-year-old ballet with nothing more than the choreographer's yellowed, handwritten notes and an unfamiliar score to go on. Now, imagine that choreographer is none other than August Bournonville. For the last month, that's exactly what the dancers at Royal Swedish Ballet have been up to as they prepare for the October 21 premiere of Ponte Molle, lovingly reconstructed by a team of Danish Bournonville experts.
Nathalie Nordquist in Ponte Molle. Photo by Markus Gårder, Courtesy Royal Swedish Ballet.
There likely isn't a person alive today who's seen the complete Ponte Molle. Choreographed in 1866 for the Royal Danish Ballet (where Bournonville was director), it was last performed in its entirety in 1911. The score, by four different composers, has been stored in the basement of a library since. The two-act ballet centers on a Danish painter named Alfred, who, along with two other artists, rents a room from a widow in Rome. When the landlady's daughters are unable to marry their impoverished suitors, Alfred devises a plan to help them out. "It's kind of a vaudeville ballet," says Bournonville producer Frank Andersen, who along with Dinna Bjørn, Eva Kloborg and Anne Marie Vessel Schlüter, helped piece the ballet back together. "The first act is mostly mime. The second act is a huge celebration, with lots and lots of dancing."
August Bournonville's handwritten notations for Ponte Molle, from 1866. Photo Courtesy Dinna Bjørn and Frank Andersen.
Reconstructing the ballet from scratch has been a painstaking process. Yet the team has one major advantage: Bournonville's own handwritten notations. Bjørn inherited them, along with those of several other ballets, from her father Niels Bjørn Larsen, a former director of the Royal Danish Ballet. But while the legs and the floor patterns were recorded, the port de bras was not. "That's where the four of us, who have been dancing Bournonville for 40 years, can add our expertise," Andersen says. "We know that if a step is like this, the head and arms will probably be like that." The dancers, too, have been allowed to offer their input in rehearsals. "It's been an exciting ping-pong process—they see it coming alive."
Bournonville's notations include spatial patterns and steps for the legs, but not port de bras. Photo courtesy Bjørn and Andersen.
In an effort to prevent Ponte Molle from looking like a museum piece, the Danish team has updated it to allow today's technical standards to shine through. For instance, pointework as we understand it today did not exist in 1866 Denmark. "It was just quickly up-down, up-down," says Andersen. Most of the women's choreography, therefore, was on demi-pointe. "But we will of course dance this on pointe today." Spotting technique, too, hadn't been developed; as a result, Bournonville's dancers typically sailed around for one or two pirouettes. Obviously, this would not fly with a modern audience's expectations, so the choreography has been adjusted to allow for multiple rotations. "But everything will be done exactly in the Bournonville style," says Andersen.
The reconstructed ballet will not be an exact replica, but there's no questioning the importance of keeping Bournonville's rarely seen works alive. Kudos to the Royal Swedish Ballet for commissioning this reconstruction, and for preventing Ponte Molle from slipping through the cracks. I, for one, hope we get to see this dusted-off gem the next time they tour to the U.S. In the meantime, check out the trailer below.
For more news on all things ballet, don't miss another issue.
ABT principal Veronika Part and Gary Chryst rehearsing The Golden Cockerel. Photo by Kyle Froman for Pointe.
Choreographer Alexei Ratmansky is passionate about promoting the splendor of early Russian ballet and has, over the last few years, mounted a string of reinterpretations of iconic works. This June his re-choreographed version of The Golden Cockerel, first mounted for the Royal Danish Ballet in 2012, will have its U.S. premiere at American Ballet Theatre, where he is artist in residence. The Golden Cockerel, which was first staged in 1914 by Sergei Diaghilev's Ballets Russes in Paris, is the epitome of Russian art, music, folklore and dance. It follows the exploits of the foolish King Dodon, the powerful Queen of Shemakhan (who has eyes on his kingdom) and the cunning Astrologer, who gives the king a magical golden cockerel to warn him of danger.

While unfamiliar to American audiences, The Golden Cockerel has a rich history. Here is a timeline of this comedic ballet's many reincarnations.
1914 Choreographer Michel Fokine had been toying with the idea of a ballet set to Nikolai Rimsky-Korsakov's opera, based on the poem The Tale of the Golden Cockerel by Alexander Pushkin, for several years. He wanted to try combining ballet and opera completely. The resulting production of The Golden Cockerel had the opera singers seated on either side of the stage while the ballet dancers performed. Tamara Karsavina danced the role of the Queen of Shemakhan, and Italian ballet master Enrico Cecchetti played the Astrologer, but the role of the Cockerel was simply a prop.
The opera/ballet was considered an unqualified triumph. But due to the large scale of its staging and the onset of World War I, it quickly fell from the repertoire.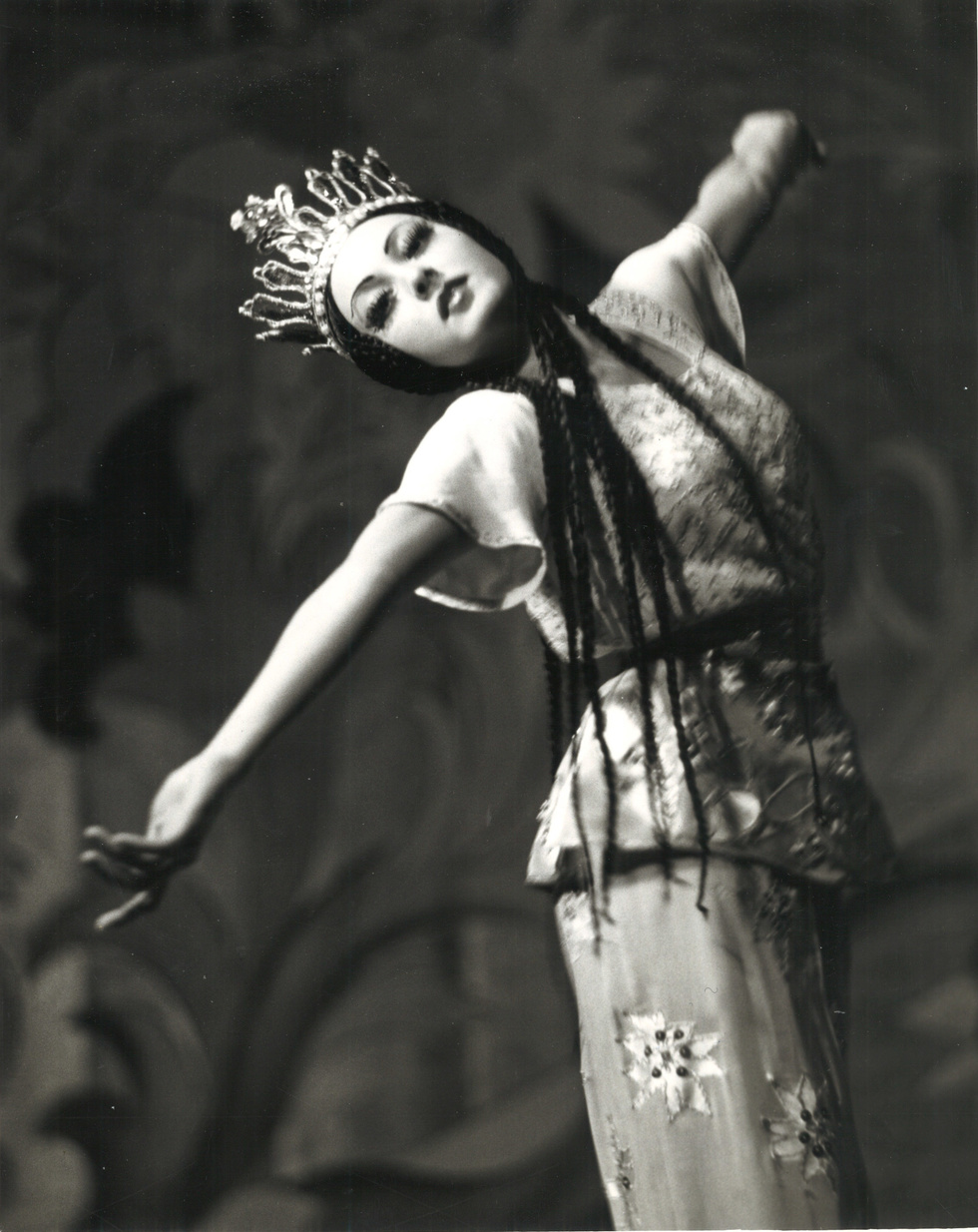 Irina Baronova as the Queen of Shemakhan. Photo Barron Studios, Courtesy Dance Magazine Archives.
1937 Colonel Wassily de Basil and the Ballet Russe de Monte Carlo decided to remount Fokine's opera/ballet in 1937. Upon revisiting the work, Fokine chose to create a purely balletic version with musical instruments taking the places of voices. He also changed the Golden Cockerel into a role for a female dancer. Tatiana Riabouchinska and Irina Baronova (who was only 18 at the time) danced the roles of the Golden Cockerel and the Queen of Shemakhan, respectively.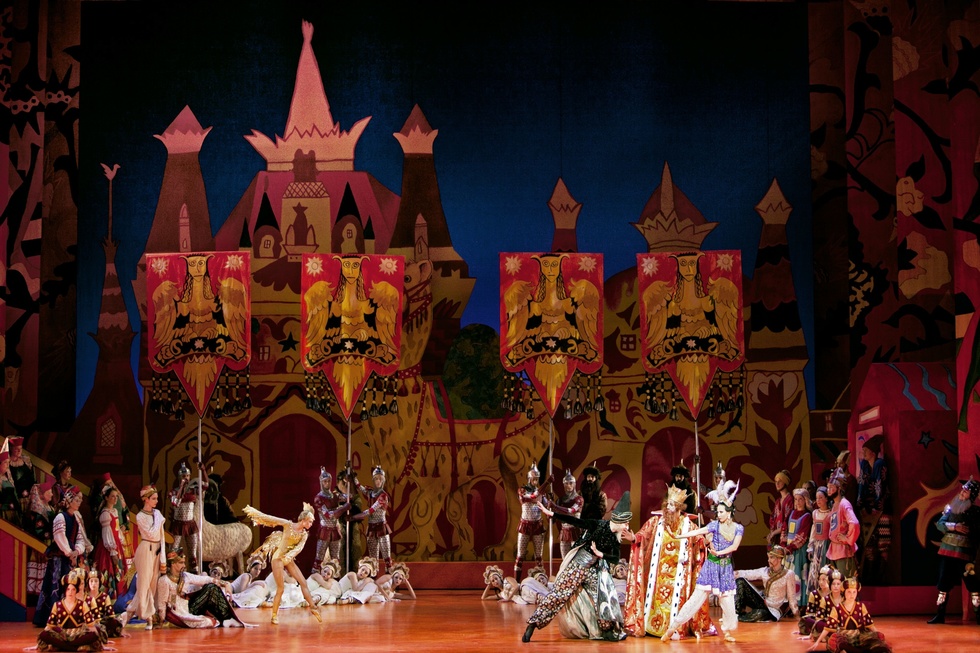 Richard Hudson's costumes and sets build on Natalia Goncharova's original design. Photo by Per Mortensen Abrahamsen, Courtesy Royal Danish Ballet.
2012 Ratmansky, drawn to what Fokine had described as his best ballet, chose to revisit the work for the Royal Danish Ballet, using elements from both the 1914 and 1937 productions. The resulting ballet, while containing references to its history and moral story, portrays the Russian fairy tale in a bright, swirling kaleidoscope of color. Ratmansky lengthened the 45-minute 1937 version to create a new two-act ballet by including music from the original opera. RDB soloist Lena-Maria Gruber created the role of the majestic Cockerel. "I turn quite diabolical in the end," Gruber says.
2016 In remounting The Golden Cockerel for ABT, Ratmansky has added and changed steps and built in more details. "ABT has different strengths to the Royal Danish Ballet, which I have taken into consideration," Ratmansky explains. ABT principal dancer Stella Abrera has been cast as the Queen of Shemakhan, whom she describes as "an overtly sensual figure" who relishes her position of authority. "This gal is the whole package," she says. "The deeper we plunged into the ballet and the better I understood why the original libretto was controversial—powerful women and foolish rulers—I knew The Golden Cockerel was going to be a lot of fun!"
Ratmansky coaches Part and Chryst, who play the Queen of Shemakhan and King Dodon, through a comedic scene. Photos by Kyle Froman for Pointe.
Re-creating a World of Color
Tony Award-winning designer Richard Hudson based the costumes and sets on the original 1914 and 1937 designs by avant-garde artist Natalia Goncharova. According to Ballets Russes dancer Lydia Sokolova, Sergei Diaghilev found Goncharova in Moscow "painting pictures on the foreheads of people in cafés." Her colorful designs, however, perfectly encapsulated Russian folk culture and fairy tale.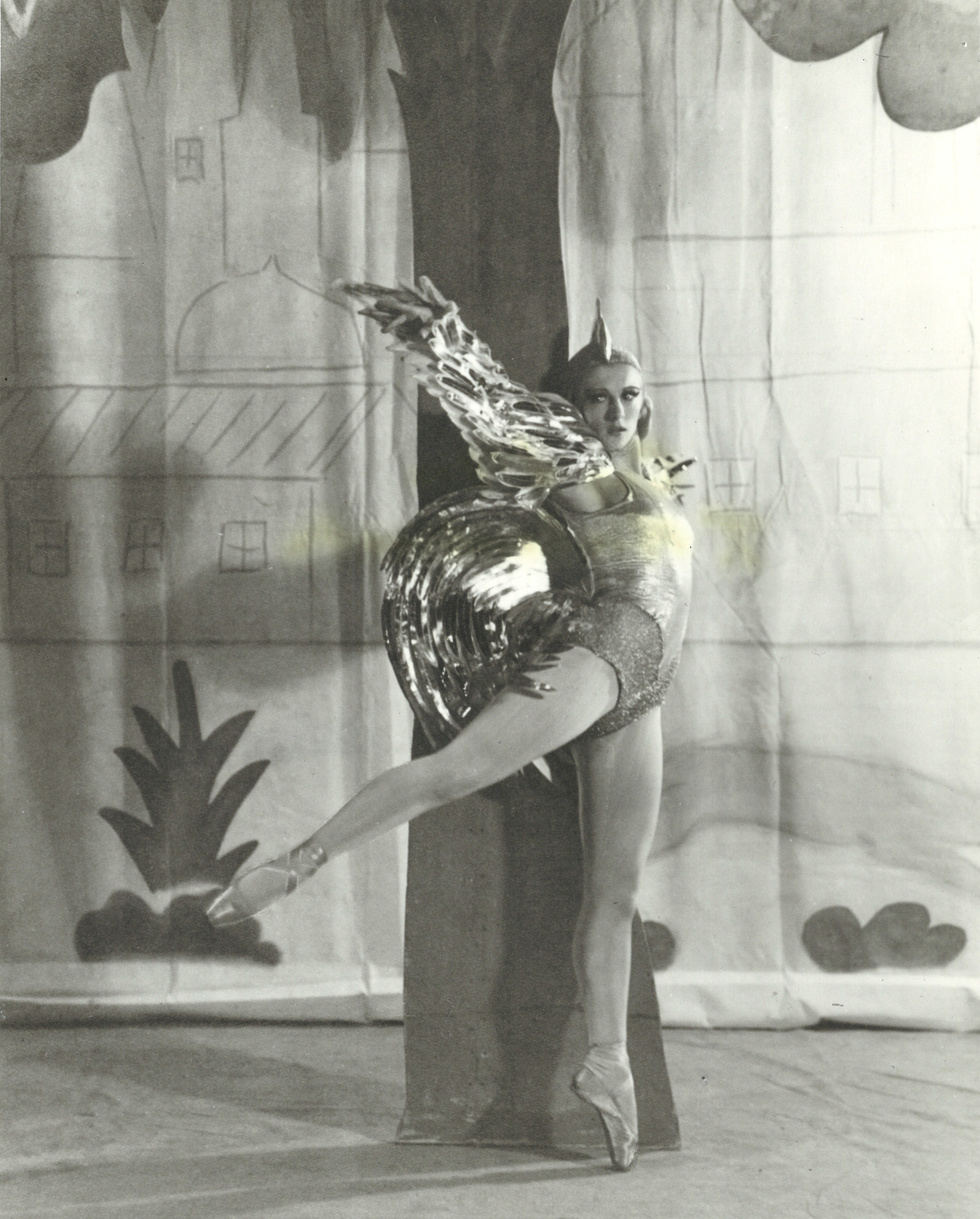 Tatiana Riabouchinska. Photo Courtesy Dance Magazine Archives.
When Goncharova redesigned the ballet in 1937, the costumes were made in the London workshop of Barbara Karinska. (Karinska later developed a close collaboration with George Balanchine and New York City Ballet.) Covered in hand painting, stenciling, embroidery and appli­qué, her costumes were works of art but time-consuming to make. Irina Baronova recalled sitting in her dressing room opening night with nothing to wear. Suddenly the sound of sirens was heard by the stage door, and out of two ambulances burst Karinska, her seamstresses and the costumes. After a 50-minute intermission, with many of the dancers pinned into their garments, the curtain finally went up on the ballet.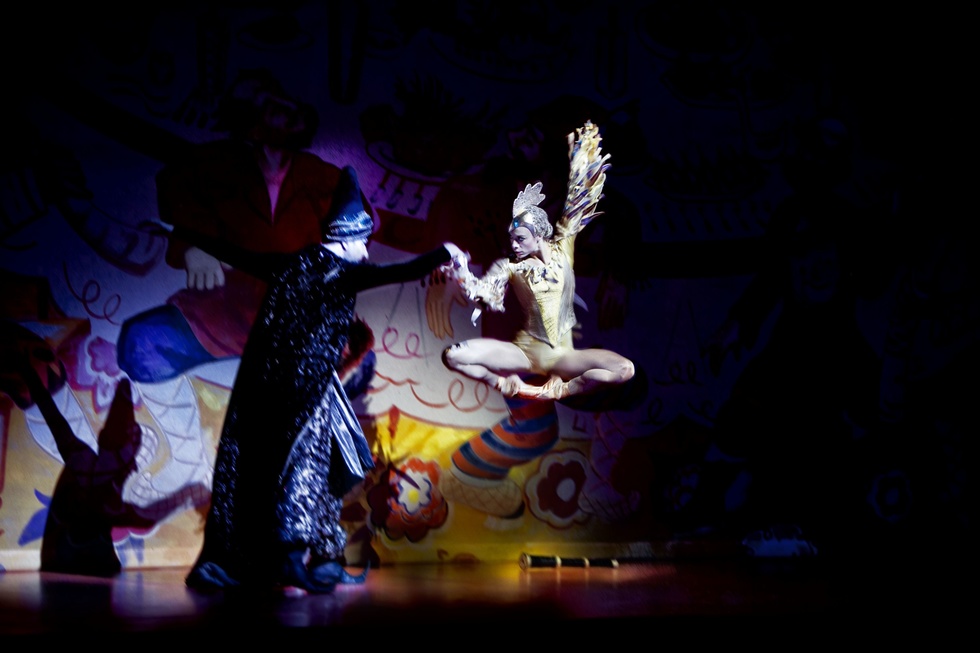 Lena-Maria Gruber as the Golden Cockerel in the Royal Danish Ballet production. Photo by Per Mortensen Abrahamsen, Courtesy RDB.
For Hudson, reinterpreting the production was daunting: "Working with such a huge palette of colors was difficult to start with, but then liberating, once I understood that anything goes—almost!" He changed the costumes' proportions, he says, "because contemporary dancers are so different in physique." RDB soloist Lena-Maria Gruber, who created the role of the Cockerel, had to adjust to the weight shift created by the elaborate tail. "But it was a lot of fun to be covered in gold head to toe!" she says.
Harper Watters with Houston Ballet in Stanton Welch's Young Person's Guide to the Orchestra. Photo by Amitava Sarkar, Courtesy HB.
Deciding to pursue a career in dance is huge. But even with your eyes firmly on your goal, figuring out the best track to get you there can be confusing and stressful. What school to go to, which teacher to follow, and when or whether to leave home are questions all ambitious dancers face, and there's no right answer for everyone. Behind every successful dancer lies a path riddled with difficult decisions and moments of doubt. Often, coming to a fork in the road means making a realistic assessment of what your needs truly are. These three dancers faced tough choices at crucial moments in their training years, but pushed outside their comfort zones and took risks that ultimately paid off.
Keep reading...
Show less
Let's face it—ballet has a lot of death. There's Odette and Siegfried's double suicide, Giselle's famous collapse (not to mention the Willis' revenge on poor Hilarion) and don't even get me started on the body count that Romeo and Juliet's love leaves in its wake. Dramatic death scenes require some serious acting skills, which Italian prima ballerina Carla Fracci delivers in this clip of La Sylphide, filmed for television in 1962. Fracci enacts the Sylph's demise with poetic grace. When James, danced by Danish ballet star Erik Bruhn, wraps the cursed scarf around the Sylph, death comes upon her gently, dawning rather than striking. Her diaphanous wings drop one by one and, with a furrowed brow, she gestures longingly towards the heavens that she'll never fly towards again.
When I first saw the ballet as a child, I viewed the tragic ending as a natural consequence of James' infidelity. As a teenager—with a mother who aimed to raise strong independent daughters—I extracted a different lesson: never sacrifice your (metaphorical) wings for a man who doesn't deserve you. These days, I admire different ballerinas' unique interpretations. What do you make of this transcendent romantic ballet? Happy #TBT!
Keep reading...
Show less
Photo by Kyle Froman for Pointe
Royal Danish Ballet principal Gudrun Bojesen isn't afraid of a DIY project. To keep her legs and ankles extra toasty, Bojesen cut out the sleeves of an old down parka and sewed them to the inside of her legwarmers. "The calves are the most important part for a Bournonville dancer to keep warm," says Bojesen, referencing the 19th-century choreographer's petit allégro–heavy repertoire. "It really works! I can't dance without them."
With all that jumping, she makes sure to take care of her feet, too. In addition to rolling them out with a golf ball, she stands on Yamuna Foot Savers (rubbery half-spheres) to help work out tension in her arches and metatarsals. And her pointe shoe ribbons are actually lingerie elastics from Paris, which help relieve pressure on her Achilles tendons. "They give every time you have movement," says Bojesen. "A lot of Paris Opéra dancers wear them, but the trend is starting to spread."
Keep reading...
Show less
News
Aug. 18, 2015 09:14PM EST
Royal Danish Ballet star Amy Watson will perform as a guest artist in Oregon Ballet Theatre's fall production of Amore Italiano, which will include Act III of the Bournonville ballet Napoli, and the world premiere of Sub Rosa by James Kudelka.
OBT has gone to great lengths to study the Bournonville style in preparation for this production. Frank Anderson, a Bournonville expert and the former artistic director of the RDB, set Napoli on the company and helped organize a sponsored trip for six OBT dancers to study at the Bournonville Summer Academy in Copenhagen. The dancers spent a week intensively studying Bournonville repertoire and technique.
This year alone, New York City Ballet premiered its production of La Sylphide and Bournonville Divertissments, Ballet Arizona performed Napoli in its entirety (a rarity) and principals and soloists of the Royal Danish Ballet toured to the Joyce Theater in NYC. It's safe to say the U.S. is experiencing a Bournonville boom, with dancers dedicated to studying the master's subtle and buoyant style.
Corps member Andreas Kaas and soloist Ida Praetorius rehearsing The Flower Festival in Ganzano. Photo by Kyle Froman for Pointe.
Before Balanchine and Petipa, there was Bournonville. A key figure of ballet's Romantic era, August Bournonville directed the Royal Danish Ballet for 43 years during the 19th century, choreographing around 50 ballets. After his death, his successors codified his teachings into a formal pedagogical method that's still used at the Royal Danish Ballet School today. Bournonville's distinct style—highly intricate petit allégro, low and rounded port de bras, a head that follows the leading leg—aligns with his credo, in which he states that "the height of artistic skill is to know how to conceal the mechanical effort and strain beneath harmonious calm."
Keep reading...
Show less
News
Nov. 21, 2014 12:37PM EST
Susanne Grinder and Ulrik Birkkjær in Napoli . Photo by Costin Radu, Courtesy RDB.
The Royal Danish Ballet will perform a program featuring excerpts from August Bournonville's Napoli and La Sylphide, among other pieces, at the Joyce Theater January 13 through 18. The performances mark the 60th anniversary of the company's U.S. debut. The tour, consisting of only principals and soloists, was organized by the dancers themselves—with the blessing of artistic director Nikolaj Hübbe. Pointe spoke with principal dancer and tour coordinator Ulrik Birkkjær to find out what to expect.

What prompted the tour?
I organized our tour to Jacob's Pillow in 2007, and during our time there David Howard suggested that we perform at the Joyce Theater in New York. Since it's an anniversary year, it felt like the right moment.
Keep reading...
Show less
Ida Praetorius photographed by Nathan Sayers.
This is Pointe's February/March 2014 Cover Story. You can subscribe to the magazine here.
It's 10 am on a cool fall morning in a Royal Danish Ballet studio, and only one dancer is wearing pointe shoes at the barre as company class starts: Ida Praetorius. The 20-year-old performs tiny, fast ronds de jambe and expansive fondus with rapt, relentless dedication. At the end, barely pausing for breath, she squeezes a few more minutes in the studio and throws herself full-out into Balanchine's fouettés for Dewdrop, which she will dance in the company's upcoming production of his Nutcracker. It's October and the rehearsals are still some time away, but she is visibly itching to tackle the role.

A product of the Royal Danish Ballet School, Praetorius joined RDB when she was 16. Four years later she has already become one of its major faces under Nikolaj Hübbe, who returned to his alma mater as artistic director in 2009. Her breakthrough came in 2011, when she was still an apprentice, in a dark Danish classic, Flemming Flindt's macabre The Lesson. Her debut as the Student and subsequent performances showed raw talent, her sunny exuberance and coltish limbs an ideal match for the role of the pert young girl at first eager, then terrified by her ballet teacher. "It was perfect because she was really a teenager," says Hübbe. "She was like a spring flower, excited and bubbly, and it made the story immediately tragic."

Three years later, Praetorius has proved that it wasn't beginner's luck. Aided by the work ethic she displays in the studio, she looks poised to break the mold of the traditional Danish ballerina. Blessed with a slender frame and long legs, she seems the opposite of the compact body type and quicksilver footwork demanded by Bournonville, and far from merely pretty. Just as Hübbe is opening up the RDB with quirky productions of the classics, new work and imports from abroad (including a number of American dancers), his protégée's uncanny ability to make characters seem modern and real stands out. Vivid and instinctive as she plays the awkward Student or falls on the stairs on her way to the ball as John Neumeier's Juliet, she has poured her vitality into strikingly natural performances.

Keep reading...
Show less
On a stage filled with dainty Danish dancers, Shelby Elsbree looks very American: spunky, playful and a little bit feisty. Even in the prim, polite confines of Bournonville choreography, this 20-year-old Royal Danish Ballet corps member moves with a sense of bubbly abandon.
As a student, Elsbree never imagined she would begin her career in such an old-fashioned European company. Born in Sarasota, Florida, she started ballet at a local Vaganova studio at 9 after breaking her arm in gymnastics. She quickly grew serious, and at 13 moved to New York to train at the School of American Ballet. "Balanchine technique felt like a breath of fresh air to me," she says. "I loved it."
In 2007, Elsbree was one of four students chosen to be Peter Martins' choreographic muses for the heroine of New York City Ballet's new Romeo + Juliet. Although Martins eventually cast company dancers to perform the role, Elsbree relished being part of the choreographic process. "As a 16-year-old student," she says, "it was life-changing to work directly with Peter Martins and professional dancers."
Dancing the role of Friar Lawrence was Nikolaj Hübbe, then a principal at NYCB. He recognized Elsbree two years later when she arrived in Copenhagen to take a company class audition for the Royal Danish Ballet, where Hübbe had since become artistic director.
"Before my last year at SAB, Aaron Watkin, director of Dresden Semperoper Ballet, saw me at Pacific Northwest Ballet's summer intensive and offered me a job," she says. "Before that, I'd only ever wanted to dance in New York, but suddenly my eyes opened up to Europe." As long as she was crossing the Atlantic to check out Dresden, Elsbree decided to audition for other European companies that intrigued her as well. She researched repertoires, asked older friends for suggestions, then mapped out a strategic itinerary. After eight days and five companies in five different countries, Elsbree was offered four corps contracts. "I chose Royal Danish Ballet because I knew Nikolaj and was excited for the Balanchine rep he'd bring in," says Elsbree. "Plus, everyone here speaks flawless English."
Even though the company has over 100 dancers, Elsbree isn't getting lost in the corps. She joined in March 2009, and by that September, she was dancing alongside principals and soloists as the Blue Girl in Jerome Robbins' Dances at a Gathering. "Shelby is very precise, but dances with a wonderful freedom," says Hübbe. "I like her superb willingness."
So far, the biggest challenge for Elsbree has been mastering the Bournonville style—especially the arms. "When I get excited, it's easy to let my arms get carried away," she says. "I have to keep that extra sense of control."
She's also had to acclimate to the mellower work ethic in Denmark. "Everyone here works very hard, but not in a competitive way against their peers," says Elsbree. "Sometimes you feel like you don't have to fight as much, which can be good and bad." Although the camaraderie is refreshing, she has to push herself to keep the same drive she had in New York.
She keeps friends and family back home updated through her blog, tutusandtea.wordpress.com, where she chronicles her ballet life—and her baking. "One thing I miss is the Food Network," she admits. "Every free evening, you'll find me in my happy place with a fabulous cookbook, my camera (nicknamed "Little Chef") to take photos for my blog and plenty of flour and butter."
Although she misses home, Elsbree says Europe has expanded her view of the ballet world. "I used to be narrowly focused on one or two companies, but there are so many more opportunities—companies, choreographers, styles—than I ever realized," she says. "My tunnel vision has completely opened up."
at a glance
Name: Shelby Elsbree
Age: 20
Company: Royal Danish Ballet
Training: School of American Ballet
Favorite role: Blue Girl in Jerome Robbins' Dances at a Gathering
Dream roles: Giselle and Juliet
"I have accomplished something and enjoyed my artistic career," wrote the great Danish choreographer August Bournonville in the introduction to his memoir, My Theatre Life. The year was 1846, and he had been choreographing and directing the Royal Danish Ballet since 1829, but was retiring from dancing at age 41. "Now, since I have passed the halfway mark in my journey through life, I find my footprints so faint I fear they will soon disappear…. What a cruel thing it is to be forgotten!"
He needn't have worried. This year, the 200th anniversary of his birth, the Royal Danish Ballet is presenting its third Bournonville Festival, June 3-11, in Copenhagen. Events include performances of nine of the master's ballets, a closing-night gala, demonstrations of the six daily classes (which will be made available for the first time on DVD during the festival) and exhibitions in museums and libraries.
This year's festival is an opportunity to show off what the company is famous for, but it's also a chance for RDB Artistic Director Frank Andersen to prove that the company is back on track after a period in the '90s when the company endured a succession of artistic directors. 
"It has been of immense importance that we could devote two seasons to really get into our ballet's father's soul," says Andersen. "It was a necessity to use some time to concentrate on his style—the ballets, steps and classes—and on the way he is taught and rehearsed, as well as on the way he is performed. To really dig into it and have every single dancer in the company feel him, feel the hardness of his steps, the difficulty of his combinations. All of their calves are hurting, but we have begun to know him.
"I'm happy that I am having the opportunity to do this because I love Bournonville. It is in my heart. For me, it's not so much a matter of whether the tradition will go forward. I think it's more about where ballet will go," he adds, noting that Bournonville's works should not be frozen in time, but should speak to succeeding generations.
This is an important moment for the RDB. These days, the company employs dancers from many countries, and its rep includes works by 20th- and 21st-century choreographers as well as Bournonville. For Andersen, maintaining tradition means keeping alive a particularly Danish way of working. Bournonville ballets have an emphasis on humanity that puts a great deal of responsibility on the individual dancers to keep the work pure.
"You can talk about it in different ways," says principal dancer Thomas Lund. "But what Bournonville was most interested in was being honest about what you do in everything. You have to have clean work in the legs to show the musicality, and you have to have easy, very held arms on the top. That kind of technique also shapes the way you interpret your part onstage."
The Bournonville style is all about a simplicity of presentation that doesn't let the performer hide behind grandiose gestures.
"I think that what is so special here is not just Bournonville," says dancer Silja Schandorff, a principal since 1992. "You have this special feeling about all of the ballets, because you have seen them and you have been a part of them since you were so young. You begin as one of the little girls and then you are one of the corps and you keep going up. It is your home, your history."
It is not so unusual to begin at the bottom and work your way up in a ballet company—the difference in Denmark may be how early a dancer gets started on that journey. Bournonville himself began dancing as a child at the Royal Theatre (his father, Antoine, was director there). And still today, most dancers in the company enter the Royal Danish Ballet School as children. In the first act of Napoli, one of Bournonville's most famous works, the stage bursts with human vitality. The scene is a village square in Italy where suitors vie for the hand of Teresina, the village beauty; old people warm themselves in the sun and children play. Many company members began their careers as those children.
"When I was 6 years old, and I stood on the bridge [in the first act of Napoli], I looked down and I saw [the ballerina] dancing Teresina," says principal dancer Gitte Lindstrøm "I could never imagine being down there." Now, she's the one that the little ones look to with stars in their eyes.
In Napoli, a tale of the triumph of good over evil, Teresina, drowns in a storm at sea, is held captive by the sea spirit Golfo and his nymphs, but is finally saved by the faith of her true love.
"Bournonville's ballets reflect the human story of being trapped between the mundane and the world of our dreams—our yearning for the unattainable and for pure, exalted love," says Andersen. He encourages the dancers to aim to be "the best company in the world telling stories." Students in the school are given mime classes, but once in the company, they receive guidance from "character dancers." (At the RDB, selected dancers over the required retirement age of 40 remain to perform the mime roles that are in every Bournonville ballet.)
"A lot of tips and traditions get passed on that way from people like [former RDB ballerina] Kirsten Simone," says principal dancer Caroline Cavallo, who joined the RDB in 1989 and is one of several Americans in the company. "[One of them will] pull you aside and help you out a little bit. 'Know what you are saying,' they'll remind you, 'have it in your head as a sentence.'"
But it's not just the mime that makes the storytelling work. Because their bodies have grown up in the choreography, the dancers are free to focus on what the story is about.
"For each of us, there is a core moment," says Gudrun Bojeson, who was promoted to principal in 2001. We build up to it and explain that more clearly. "For me in Napoli, it's when Teresina listens to Gennaro's [her true love's] heart in the second act."  (In Act II, the drowned Teresina has been turned into a Naïad, one of Golfo's nymphs; Gennaro has come to rescue her, but she does not remember him.) "I was told that Naïads don't have hearts, so I think that when she hears that his heart is beating, she realizes that she must be one of his kind."
Whether it's through the work of Bournonville, or choreographers like Alexei Ratmansky or John Neumeier, who recently created a full-length Little Mermaid for the company, telling stories that reveal that we are all of the same kind—that's what the RDB is really about. The festival, Andersen promises, will show that the Danish master's footprints are clearly etched in everyone's minds. "The thing that is important for the
people who come," says Andersen, "is that they can see that we are taking care of Bournonville and that he is alive and kicking in his own house at the Royal Theatre here in Copenhagen."
For more information on the festival, including programming, performance schedule, as well as other events, go to www.bournonvillefestival.com.
What Is Bournonville?

August Bournonville (1805-1879), Danish dancer, choreographer and former director of the Royal Danish Ballet, created a style of dancing ballet that endures to the present. A virtuoso dancer at a time when the male dancer's role was being reduced to just supporting the ballerina, he created parts for men that equaled those of the women.
"The whole essence of Bournonville style should be the joy of movement," says Anne Marie Vessel Schlüter, director of the Royal Danish Ballet School. "The stream of a movement never stops. I call it filigree—the feet do beats and a lot of small things, and on top are beautiful easygoing arms. It should look light, not exaggerated in any way."
While it should look easy, it is in fact extremely difficult. To preserve Bournonville's style, one of his successors, Hans Beck, assembled six classes, one for each day of the week except Sunday, from Bournonville's teaching and choreography. Until 1932, these classes were used for daily training in the Royal Danish Ballet School. Now daily class is comprised of some Bournonville mixed in with the Russian/Anglo/English classes brought in by Vera Volkova in the 1950s.
Nov. 29, 2001 07:00PM EST
Bournonville training creates some of the most elegant male dancers in the ballet world. Their upper bodies seem to move with poise, ease and a mix of strength and lightness, no matter what sort of footwork is going on underneath. This was especially evident last night at the Royal Danish Ballet's performance in Lincoln Center, when a couple dozen or so of the company's men danced Bournonville Variations, a mash-up of traditional classroom exercises created by the other Mr. B. All of those jumps with the arms en bas in class must train the body to move up into the air without help of the propelling force of the arms. Bournonville's men's chests don't buck back and forth—the way too many ballet boys' do—but seem to simply float upwards. 
What's odd, however, is how the Bournonville technique doesn't seem to train the women's bodies in the same way. The female dancers arms often look weak and stiff, like they're not necessarily attached to their bodies. I noticed this both last night and in March when I saw advanced students from the school at the "Proteges" program at the Kennedy Center. Sometimes it almost looks like there are two different companies up there onstage—the men's and the women's. I don't know why there's such a disparity between the sexes. But as most people agree the Nikolaj Hübbe is doing great things at RDB, the women's technique might be something for him to take a second look at.  
Nikiya's forbidden love is taken to a whole different level in the Royal Danish Ballet's new production of La Bayadère. At the Guggenheim's Works and Process showing, artistic director Nikolaj Hubbe spoke about RDB's restaging, and his dancers performed excerpts wearing costumes by Richard Hudson (who also designed costumes for The Lion King).
RDB's version, choreographed by Hubbe and Eva Draw after Petipa, takes place during the British occupation of India, and some of the major roles have new names and ethnicities: Solor is now a British lieutenant named Sir William, Gamzatti becomes Lady Emma and the Raja is the Viceroy. In the Pas d' Action in Act II, the choreographers added a solo for Sir William (Solor) and incorporate children from the RDB school to dance a Peacock mating dance (originally the Parrot dance). But the Kingdom of the Shades? Too iconic to mess with. "The first arabesque and its repetition signify the clarity and aesthetic value of hard core classical ballet. It is staggeringly beautiful cause it is so simple," explained Hubbe. The fourth act with the revenge of the gods and the destruction of the temple is eliminated, but the Bronze Idol variation remains—except, the idol is now blue and called The Blue God. According to Hubbe, the restyling of the role is his salute to Nijinsky, and Hudson also noted that the change adheres more to the god Shiva in Indian culture who is also blue.
Watch the event for yourself here. The full ballet will premiere on November 10 in Copenhagen.
Nov. 29, 2001 07:00PM EST
American Ballet Theatre just announced an intriguing transatlantic dancer swap. Royal Ballet principal Steven McRae will come to New York to perform in ABT's Le Corsaire this June and Royal Danish Ballet principal Alban Lendorf will dance with the company in Sleeping Beauty this July. In exchange, ABT will lend principal Cory Stearns to The Royal Ballet in December and soloist Isabella Boylston to the Royal Danish Ballet for their Nutcracker. The plan should be a boon to both the dancers involved and local audiences who don't normally get to see them perform.
Bugge's take on the Royal Danish Ballet in La Bayadére
The best ballet photographers have the intuition of a dancer. They know exactly how to catch the greatest height of a jump or the top of an arabesque. But form aside, very few can translate the thrill and emotion of live performance. Photographer Ingrid Bugge spent two years following the Royal Danish Ballet to try and truly capture movement in pictures. With a little help from technology, she layered her images to give the viewer a feeling of depth. Sure, there are some less than ideal claw hands and bent legs in these transitional moments, but if you step back and take in the whole frame, it really does capture something that a still of a perfectly arched foot can't.
Check out her photos
on her website, as well as a great video that shows the photos being layered, one frame at a time.


Get Pointe Magazine in your inbox