Thinkstock
Five years ago, an idea popped into the head of longtime Ballet West patron and practicing psychologist Dr. Aharon Shulimson: "Do ballet dancers' brains function differently than the rest of us?" Shulimson and his wife Julie Terry, president of the Ballet West Guild and Shulimson's clinic's technician, had recently conducted a study on ultra-marathon runners using a specialized brain imaging technique called Quantitative Electroencephalography, and were eager to try it out on dancers. Shulimson describes QEEG as the "human equivalent of taking your car into the shop and plugging it into the computer to see how it works." The test allows Shulimson to compare an individual's brain wave activity to statistical norms to see how it's functioning. He stresses that the test isn't designed as a means of diagnosis, but rather "to understand the neurological underpinnings of things like ADHD and anxiety."
Last year Ballet West director Adam Sklute gave Shulimson and Terry permission to recruit dancers; 26 volunteered. For principal dancer Adrian Fry, the experiment gave him a chance to "enter a different world." "People find dancers very fascinating," says Fry. "I wanted to see if there was real evidence behind that."
"We really had no idea what to expect," says Shulimson. "There was no previous research to go on." Shulimson does point out that the results certainly couldn't be bad, as whatever's going on in these dancers has enabled them to become successful in an incredibly competitive field.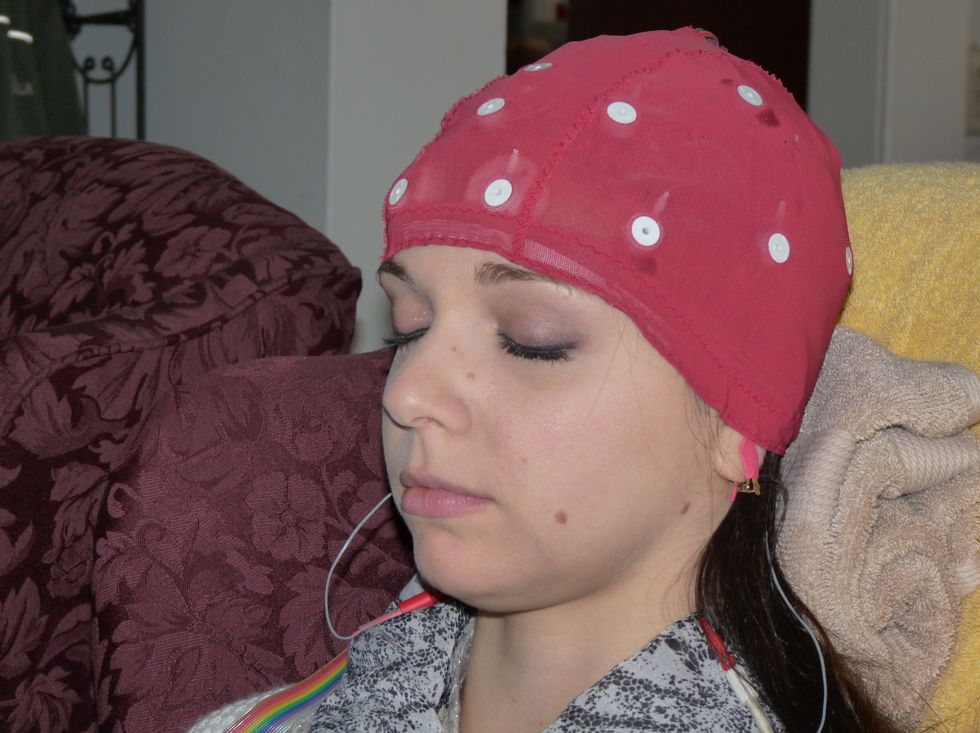 Retired Ballet West first soloist Elizabeth McGrath wearing an EEG electrode cap and ear electrodes for the study. Photo Courtesy of Aharon Shulimson.
The Results