Josephine Lee exploring Oklahoma. Photo Courtesy Lee.
Earlier this summer, we followed master pointe shoe fitter Josephine Lee of the California-based The Pointe Shop as she made her on a pointe shoe fitting tour around the West Coast and California. Now she's back, this time on a 45-day tour from California to Chicago, educating students on all things pointe shoes and helping them to find their perfect fit. Lee's making stops at top ballet companies and academies across the country, interviewing school directors and chatting with professional ballerinas to find out how they customize and break in their pointe shoes. Below, check out Lee's stop at Oklahoma City Ballet. She touches base with company soloist Amanda Popejoy and school director Penny Askew. Stay tuned for more!
Keep reading...
Show less
Photo by Matthew Henry via Burst
Your feet may be the envy of your studio, but having flexible feet and ankles isn't always easy. Master pointe shoe fitter Josephine Lee outlines the risks of hypermobility and how to combat them.
For the pros and cons of inflexible feet and ankles, click here.
Trending
Jul. 27, 2018 12:54PM EST
From left: Misty Copeland, Ebony Williams and Ashley Murphy in pancaked shoes. Photo by Nathan Sayers for Pointe.
No two pairs of pointe shoes are the same, from their shanks to their boxes, their color to their shine. To make an array of shoes more uniform or to get them to a shade closer to your skin tone, dance teachers might ask that you "pancake" your pointe shoes before going onstage. But what does that entail, exactly? We're here to show you.
Keep reading...
Show less
Trending
Jul. 20, 2018 12:55PM EST
Trending
Jul. 06, 2018 01:19PM EST
Photo by Jess Watters on Unsplash
Depending on your level of training or what you're doing on pointe, you might need a different strength shank. Hard shanks last longer and give you more support, but they make it more difficult to roll through; soft shanks make you stronger, faster, but they're not always the right fit for weaker ankles. Master pointe shoe fitter Josephine Lee unpacks the pros and cons of each in the below videos.
Keep reading...
Show less
Trending
Jun. 22, 2018 12:00PM EST
Photo by Lambtron, via Wikimedia Commons
When it comes to comfort, well-worn pointe shoes beat a new pair. A fresh pair can feel constricting, while an old one molds to your feet and bends just the way you like. Not to mention, new shoes take time and effort to break in, and think of all the money spent on them throughout a dancer's training and career. So surely it makes sense to use your old pointe shoes as long as you possibly can.

A new study suggests: Don't do it.
Keep reading...
Show less
Josephine Lee on the road. Photo Courtesy Lee.
Master pointe shoe fitter Josephine Lee of the California-based The Pointe Shop is taking her wares on a tour of the West Coast: California, Oregon, Washington, Idaho, Utah and Nevada. Lee is visiting dance schools along the way in her mobile pointe shoe van to fit ballet students. Check out her first five vlogs from the road, filled with picturesque scenery, fun facts and fitting tips—and stay tuned for the next round.
Among the attractions in Salinas that Lee points out is the childhood home of famous novelist John Steinbeck.
Keep reading...
Show less
popular
May. 11, 2018 10:27AM EST
Thinkstock.
Finding the right pointe shoe is hard enough. But as any serious ballet dancer can tell you, it's only half the battle. The padding you pair with your pointe shoes plays a big role in your ability to stay on your toes pain-free (or close to it) through classes and rehearsals. When Second Skin squares alone won't cut it, there's a new generation of toe pads to provide relief.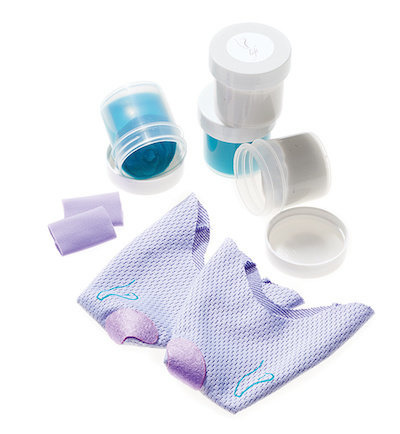 Photo by Nathan Sayers
Chances are you've seen these pads (and the telltale blue putty that comes with them) on your Instagram feed. The completely genius PerfectFit inserts are actually customized molds that fill any spaces between your toes and your shoe vamp, and help reduce pressure on commonly irritated spots like bunions. Though they've only been around for a few years, PerfectFit pads have already gained a huge pro following, including New York City Ballet's Sara Mearns, Royal Danish Ballet's Holly Dorger and Los Angeles Ballet's Bianca Bulle.
Keep reading...
Show less
Thinkstock.
Whether you're new to pointe or looking for an added boost of strength and stability to make it through performance season, these 5 resistance band exercises will show big results—and fast. Master pointe shoe fitter Josephine Lee demonstrates a series of exercises for toes, feet and ankles, as well as lateral and vertical control, all the way up to relevé.
Because who doesn't want their feet to look as gorgeous as Sara's? (Photo by Christopher Lane)
Ah, the quest for the perfect, foot-flattering, technique-enhancing pointe shoe: It can feel like a never-ending saga. Still on the hunt for that ideal pair? Then you won't want to miss The School at Steps' annual Pointe Shoe Workshop and Fair, happening this Sunday, April 22nd, at 6:30 pm in NYC.
As always, the event—which is sponsored by Pointe—will feature an impressive panel of experts. This year's lineup includes orthopedist Dr. Andrew Price, professional fitter Mary Carpenter, master teacher Linda Gelinas, Pointe style editor Marissa DeSantis, and New York City Ballet star Sara Mearns (eee!).
New York City Ballet's shoe room. Photo by Tess Mayer.
Deep in the basement of Lincoln Center's David H. Koch Theater is a small, windowless space that's home to nearly 6,000 pairs of pointe shoes, neatly stacked on shelves that reach to the ceiling. It's New York City Ballet's shoe room, and for company members, it's one of the most important places in the world. Dancers frequently stop by to search for the ideal pair for a special performance, or to tweak their custom pointe shoe orders, trying to get that elusive perfect fit. "If the shoe isn't right, the dancer can't do her job," says shoe room supervisor and former Pacific Northwest Ballet principal Linnette Roe. We talked to Roe and NYCB soloist Emilie Gerrity about some of the most interesting—and surprising—secrets of the shoe room.
The NYCB dancers go through 9,000 to 11,000 pairs of shoes each year, including flat shoes, sneakers, jazz shoes, and character shoes. The company has an annual shoe budget of about $780,000.
Thinkstock.
Let's say you find the perfect pointe shoes, but right before Nutcracker season they go out of stock; or worse, get discontinued. What do you do? Master pointe shoe fitter Josephine Lee of the California-based The Pointe Shop explains how to find another shoe that works for you.
Hupoy (right, as Alla Snizova) and Laszlo Major in "Le Corsaire." Photo by Zoren Jelenic, Courtesy Ballets de Trockadero de Monte Carlo.
One of the highlights of New York City's Fall for Dance Festival this year was an appearance by the Ballets Trockadéro de Monte Carlo, a company of men who dance on pointe with as much panache and style as any prima ballerina. Their performance of Paquita was funny, of course—they specialize in comic renditions of classical ballets— but also bracingly well executed. The star of the evening, Carlos Hopuy, aka Alla Snizova, was simply astonishing. His pointework sparkled, his hops on pointe were clean and strong, and he looked like he could have balanced in attitude forever. There was something deeply exciting about the way he combined delicacy and control with the explosive power and steel of a man's physique.
Hopuy, who was born in Havana, Cuba, and trained at the country's famed National Ballet School, has been with the company since 2012. Like all the Trocks, he has both a female and a male alter-ego: when he's not portraying Alla Snizova, he's Innokenti Smoktumuchsky, a dopey cavalier. He is also one of the dancers featured in the upcoming documentary Rebels on Pointe, which will have its theatrical release November 15 (click here for theaters and dates near you). I recently caught up with Hopuy, who, when he's not on tour, lives in Orlando with his husband Paolo Cervellera, a former Trock. We spoke by phone, in Spanish.
Did you always want to dance?
I always liked ballet. My mother, Norma Hopuy, was a principal with the Ballet de Camagüey. I used to hang around the rehearsals. She started giving me lessons at home. Then, when I was nine, I auditioned for the National Ballet School. I had the choice between that and gymnastics and I chose ballet.
When did you start going on pointe?
When I was 11. I would ask my classmates for their old pointe shoes and would try them on at home. When my mother realized that I liked to go on pointe, she started training me and bought me my own pair.
Keep reading...
Show less
Pacific Northwest ballet principal Lindsi Dec tapes her toes to protect them from blisters. Photo by Lindsay Thomas.
Sally Turkel never had a problem with her feet. Tape on her big and little toes was all she needed before slipping on her pointe shoes. But when she joined Colorado Ballet as a young dancer, the new demands of company life took a toll, and blisters became a constant enemy. "I wasn't prepared for it," says Turkel, now a principal with Ballet San Antonio. "I became known as the one who always had terrible feet issues." It took a few years of experience and tips passed down from senior company members to learn how to avoid blisters.
"A blister is a sign from your body that it's time to take a step back," says Monara Dini, a podiatrist and assistant clinical professor at the University of California, San Francisco. "Ignoring it for too long can lead to infection, and a breakdown of the skin and wounds that ultimately take a long time to heal." Fortunately, the right foot care can help dancers speed healing, minimize pain and even avoid blisters in the first place.
Keep reading...
Show less
Josephine Lee, Photo via The Pointe Shop
Master pointe shoe fitter Josephine Lee of the California-based The Pointe Shop encourages dancers, if possible, to get a professional pointe shoe fitting. But just making an appointment isn't enough—you have to come prepared!
Photo by Quinn Wharton for Pointe.
Why darn your pointe shoes? The Joffrey Ballet's Victoria Jaiani finds that darning gives her shoes a slightly bigger platform and harder tip, and helps them last longer through demanding ballets. We asked her to share her secrets with us.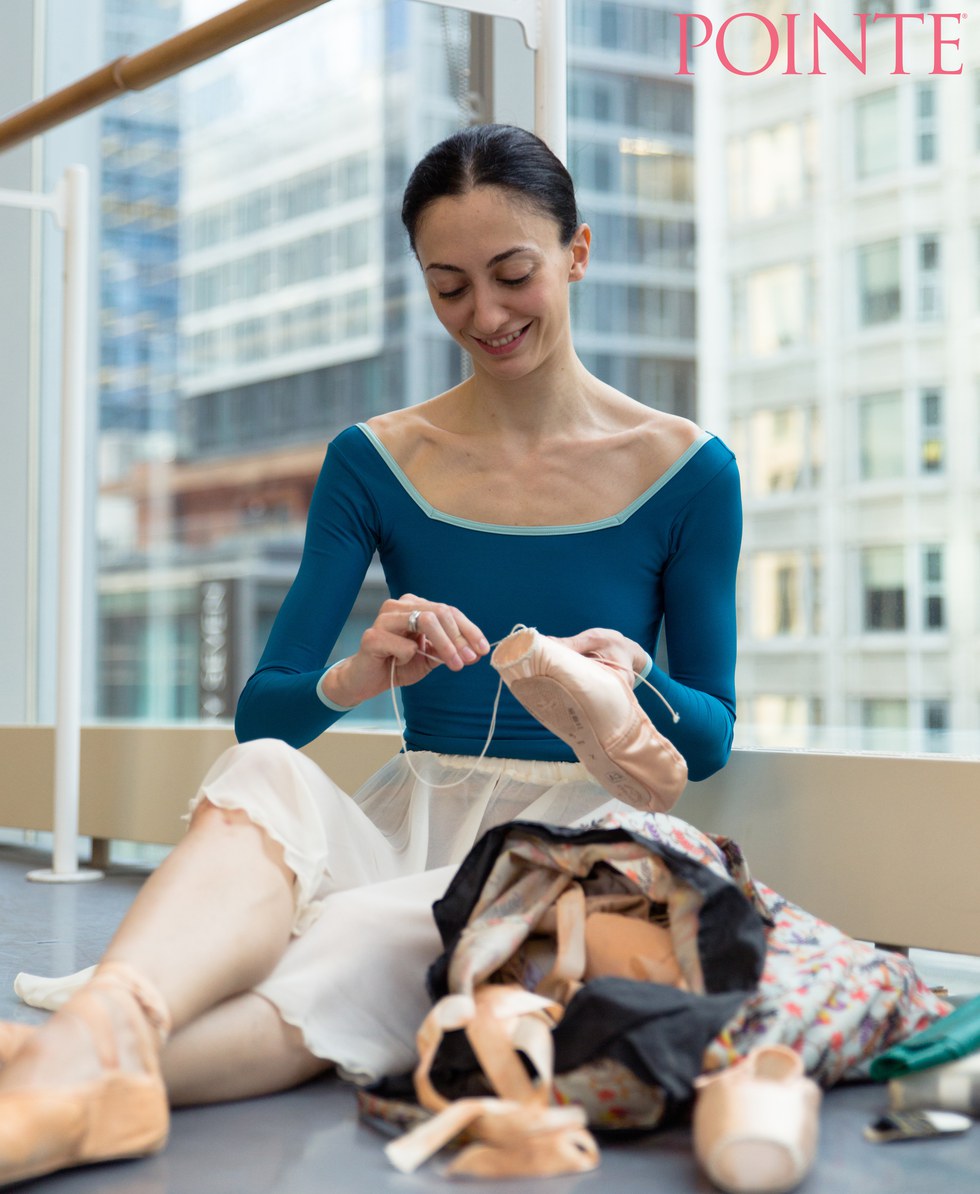 Photo by Quinn Wharton for Pointe.
Keep reading...
Show less
Master pointe shoe fitter Josephine Lee shares advice on five common yet dangerous mistakes that she sees dancers make while on pointe from curling their toes inside their shoes to the ever-controversial hyperextension.
Trending
Jul. 02, 2017 11:00AM EST
Do you think that stronger feet need stronger shoes? Or that dancing on pointe is going to ruin your feet forever? Josephine Lee of the California based The Pointe Shop is back to explain (and debunk) five of the most common pointe shoe myths out there.
From left: Hayden Stark, Derek Dunn and Daniel Durrett
When we chose Houston Ballet soloist Derek Dunn as our October/November cover star last year, we knew he could do just about everything. But what we didn't know is that he—along with his fellow HB chums Hayden Stark and Daniel Durrett—can also kill it in pointe shoes! Apparently while the company was preparing for La Bayadère earlier this month, Dunn, Durrett and Stark got inspired to tackle the three Shades' variations from Act III. And they do not disappoint. From Stark's rock-solid relevés in arabesque to Dunn's near-silent footwork to Durrett's super-controlled ballonnés, these three pretty much nail their variations with both grace and aplomb. And, you know, with some double cabrioles and saut de basques thrown in.

This isn't the first time "sur les pointes" for Dunn (who announced on Instagram that he's leaving Houston Ballet for a yet-undisclosed company) or for Stark. Both were required to wear pointe shoes as the evil stepsisters in Stanton Welch's Cinderella in March. Still, knowing how many years it took me to perfect my pointework, I can't help but feel a little jealous of these guys.
News
Apr. 14, 2017 02:38PM EST
Tiler Peck in Balanchine's Ballo della Regina. Photo by Paul Kolnik, Courtesy NYCB.
Even if you've been wearing pointe shoes for years, chances are you have some questions. There are so many variables at play when it comes to finding the right shoe and making sure you're training safely.
And these panelists know their stuff: They include New York City Ballet principal Tiler Peck, podiatrist Dr. John Brummer, professional fitter Mary Carpenter, master teacher Gretchen Gunther, and Pointe's own editor-in-chief, Amy Brandt.
Keep reading...
Show less
Thinkstock
When I'm on pointe, the spot where my shank breaks in demi-pointe "bubbles" and pulls me off my box. Help! —Abigail
It's hard to know what's wrong without actually seeing your feet, so I consulted with Mary Carpenter, a professional fitter whose popular YouTube channel, DancewithmaryNYC, offers advice on common pointe shoe problems. Carpenter notes that shoes often bubble or bow back simply due to too much wear. But if the bubbling happens when your shoe is relatively new, evaluate whether the shank and/or vamp is supportive enough.
Keep reading...
Show less
Thinkstock
Coming home from my summer intensive was such a letdown. How can I carry my summer inspiration into the fall? —Hailey
I remember the feeling, too. After weeks of intense dancing, exciting master teachers and new friends, it can be hard to go back home. You have to channel that inspired energy back into your regular routine. I found it helpful to write down as much as I could remember in a notebook. Give each teacher his or her own page. Include corrections, combinations or exercises that you found particularly helpful, as well as any of their catch phrases or metaphors that brought on an "aha" moment. I even drew stick-person diagrams of one teacher's turnout and arabesque exercises, illustrating all the steps. Refer back to your notebook, applying what you learned over the summer to your fall classes, and make a list of achievable goals that you'd like to reach by December. (By the way, I still have my notebook!)
Keep reading...
Show less
Nadia Randall performing a pointe shoe fitting at The Shoe Room. Photo by Sonja Seiler, Courtesy Randall.
For many dancers, the quest for the perfect pointe shoe is a long one, littered with years' worth of rejected makes and models. With countless options out there, how should you navigate the many brands and trends to find your ideal pair? We spoke with Nadia Randall, general manager and fitting specialist at The Shoe Room—the official store of Canada's National Ballet School—about everything from online ordering to DIY customization.
What are some of the top mistakes dancers make in finding the right shoe?
Prioritizing the aesthetic of the pointe shoe over the functionality. The shoe's support should be foremost. Dancers may disagree, especially when they have been told by teachers that the shoes should look a certain way. But an ill-fitting shoe will look worse on a dancer's foot as she breaks it in incorrectly. It's about making your feet look the best that they can based on their shape. You can't change anatomy.
Keep reading...
Show less
As a pre-professional dancer, you need training that will help you transition as smoothly as possible into the rigorous environment of a professional ballet company. Among other considerations, that means developing strong and seamless pointework. Chances are, you're spending a lot of your classes and rehearsal time in pointe shoes right now.
That said, there are real philosophies behind the role that pointework plays in class. You may be required to wear pointe shoes throughout all of your regular technique classes; or perhaps your studio prefers you to wear flat shoes for barre before putting pointe shoes on for center, or to spend the entire class in ballet slippers, offering separate pointe classes instead. With such differences in training methods, you may feel that you're missing out on something. Luckily, each of these approaches is designed to strengthen you as a dancer—they just accomplish that goal in different ways. Pointe spoke to faculty members at four prestigious ballet academies for added insight into each philosophy.
Save Pointe Shoes for Pointe Class
At Central Pennsylvania Youth Ballet in Carlisle, Pennsylvania, advanced students wear slippers throughout their technique classes. But CPYB school principal Alecia Good-Boresow notes that students are still getting plenty of pointework. "They're in a separate pointe class six days a week," she says. "Then, they'll often have several hours of rehearsal. On Saturdays, they might spend three to five hours in pointe shoes."
So why not wear pointe shoes in technique class? "We want our students to really feel the floor in flat slippers, especially in center exercises," says Good-Boresow. "When you're jumping, you need to learn how to land quietly, rolling through your toes, the ball of your foot and then the heel, while still getting the maximum height of the jump. Also, jumping in pointe shoes can shorten the depth of your plié, and we want dancers to experience the full extent of their demi-plié."
Most of CPYB's pointe classes take place immediately following technique class, so students are already warm. "We believe that putting on pointe shoes with fully warmed-up feet, calves and Achilles tendons helps our students sustain their bodies," Good-Boresow explains. After about a half hour of standard pointe exercises like relevés and échappés at the barre and in the center, the remainder of class is spent doing dancier phrases. "We want students to be able to do anything they'd do in their ballet slippers on pointe."
Technique Class On Pointe
On the opposite end of the spectrum, the School of American Ballet in New York City has students in its advanced level—generally age 15 and up—wear pointe shoes in every technique class, including at the barre. It's a tradition that comes from George Balanchine himself. "Mr. Balanchine wanted our pointe shoes to feel like a second skin," says Kay Mazzo, co-chairman of faculty at SAB and a graduate of the school. "Dancing in them should never feel foreign."
Wearing pointe shoes from the start of class pushes students to develop the same facility they'd have in their flat shoes. That facility is vital when performing Balanchine's repertoire, which is known for its fast, articulate footwork. "To dance Balanchine's ballets, students have to learn how to use their toes and roll through their feet in pointe shoes," Mazzo explains. "We work on gently caressing the floor rather than letting the shoe hit the floor with a bang."
It's important to note that wearing pointe shoes for technique class is not the same as taking a pointe class. Barre exercises at SAB are designed to warm dancers' feet up, rather than to force them into weight-bearing pointework before they're ready. "From the start—tendus, jetés, ronds de jambe—we're working the feet," Mazzo says. Because of this extensive warm-up, she feels that Balanchine training can help students build strength and avoid injury. "Dancing in pointe shoes forces you to pull up and find your balance, even standing on flat," she says. "From barre onward, you're getting stronger and stronger."
The Middle Ground
There's quite a bit of gray area between these two philosophies. At the Kirov Academy of Ballet in Washington, DC, pre-professional students will often change into pointe shoes for center exercises in addition to their separate pointe classes. "I don't have them on pointe at the beginning of class because they need to warm up every muscle first," says Irina Vakhromeeva, a classical ballet instructor at the school. "The whole body should be ready to go on pointe—not just the feet."
She adds that on certain days, she might not have students wear pointe shoes for center at all. Her decision might depend on the repertoire they're currently rehearsing, as well as on any technique concerns she wants to address, such as rolling in. "If we put our feet in first position, all five toes must be on the floor. Sometimes in pointe shoes it can be hard to feel this." Students are still in pointe shoes for several hours a day, so Vakhromeeva doesn't feel anything is lost by having them take class in slippers.
At Ballet Academy East in New York City, whether or not advanced dancers wear pointe shoes for technique class is often left to the teacher's discretion. "If they don't have a pointe class that day because of rehearsals, we might focus on pointework in center," says Cheryl Yeager, a senior faculty member. "On an individual basis, I might tell a dancer to put her pointe shoes on for center—or to leave them off, if I want to work on something like higher jumps. We don't have a set policy. In general, our advanced dancers know when they should be wearing pointe shoes and when they should take a break. It's fluid, rather than black and white."
ABT's New West Coast School
The Segerstrom Center for the Arts in Costa Mesa, California, and American Ballet Theatre have announced the instatement of a joint year-round training facility, the American Ballet Theatre William J. Gillespie School. Scheduled to open at the Center in September, the school will offer a 36-week program for students ages 3 to 14. At the helm is Alaine Haubert, a former dancer and ballet mistress with ABT who trained with George Balanchine at the School of American Ballet. Under her leadership, students will receive professional training from teachers certified in ABT's National Training Curriculum, as well as access to special audition opportunities for ABT performances at the Center, ABT master classes and other special events. Preceding the school's official opening is the new ABT Junior Associates Program, which consists of monthly intensive class sessions for intermediate and advanced dancers from January to June, as well as other benefits similar to the year-round program. The school will offer a select number of scholarships and a series of free classes aimed at making dance more accessible to the community. —Meggie Hermanson
Technique Tip
"During my first few years with Houston Ballet II, my teachers emphasized making the core the root of everything. I try to always activate my lower abdominal muscles first, then visualize my spine as rooted into the ground with a lengthening sensation from the back of my neck. Ballet is such a visual art form, but if you visualize what you want your body to look like and work toward that image in your mind, you will become that image. When I am dancing, especially classical ballet technique, I try to imagine that my spine is like a candy cane, constantly spiraling upward."
—Katlyn Addison, Ballet West
Have a question? Click here to send it to Amy and she might answer it in an upcoming issue!
It seems as if all dancers at major companies have gone to a year-round company school like SAB. Do I have a chance of a successful career without going away? —Hayley
Dancers take many different paths, so don't get discouraged if leaving home isn't an option. My parents wouldn't let me move away when I was in high school, so I trained year-round at my local studio and only entered Milwaukee Ballet's trainee program after graduating. And I'm doing just fine!
The advantage of going to a year-round conservatory or company school is that you can fully focus on your dance training. Company schools also give directors a chance to groom dancers in their particular style, so attending one can increase your chances of getting hired. "Artistic directors like when dancers have spent some time at their school because they get to know the dancers and see how they work with the company," says Denise Bolstad, Pacific Northwest Ballet School's administrative director.
Your career isn't ruined if you can't leave home at 15 or 16—it just might start a little later. Many companies offer preprofessional programs, like a trainee division or a second company, that last one to two years. Some dancers even go to college first (see "College Before Career?", October/November 2010). "It's okay if you're 18 or 19. You're not over the hill," says Bolstad, who adds that several older students are enrolled in PNB School's Professional Division. But do your research—some of the bigger companies only hire from within their schools. If you have your heart set on one of them, audition for the school's summer course and inquire about age requirements for the year-round program.
The past three pairs of pointe shoes I've worn have given me bruised toenails. Is there something wrong with my technique? Or is there padding I can use to prevent this? —Sharon
It sounds like you need to investigate your shoes. If you're constantly getting bruised toenails, you're probably wearing the wrong size. Shoes that are too short or too narrow put added pressure on the toes. Or if your shoes are too wide, your toes will shift inside the box every time you relevé. I wore the wrong size shoe for a while, and the results were not pretty. I thought people were crazy when they suggested going narrower, but I haven't had any major toenail problems since! Have a professional pointe shoe fitter take a look at your current shoes, and if they don't fit, try different sizes and styles.
To help prevent further bruising, keep your nails trimmed on the shorter side, and experiment with different types of toe pads until you find a brand that protects your toes without adding too much pressure on the nails. Gel or foam toe caps, available in online dancewear stores, can help cushion bruised toenails. I've also applied an over-the-counter anesthetic (like Oragel or Anbesol) to the nail and surrounding skin for temporary pain relief. And keep your toenails clean to avoid infection; if redness and swelling develops, see your doctor.
My teachers are always telling me to use more épaulement, but I feel weird overdoing it. What if I accidentally do too much and look stupid? How do I know when it's enough? —Aria
Trust me—if your teachers have to remind you regularly to use your épaulement, you're not "overdoing" anything. Our épaulement, or upper-body expression, is just as important as our legs and feet—it's the heart and soul of our dancing, our personal signature. It's what gives Giselle her fragile lyricism and Kitri her feisty flair. Otherwise we're just executing steps. By withholding your épaulement, you're withholding your artistry and only dancing at half your capacity.
Try to break through your self-consciousness by practicing your épaulement in front of the mirror at home. Once you reach a position, go for more—grow taller, reach your arms further, stretch your neck and focus your eyes. Notice how much more confident and alive you look. In the studio, try not worry about what your classmates think; if anything, they'll agree that your dancing has improved. And if you accidentally use too much épaulement, so what? You'll find that it's much easier to pull back than to dig deeper.
Have a question? Click here to send it to Amy and she might answer it in an upcoming issue!
I've been wearing the same brand of pointe shoes ever since I started four years ago. I know feet change. Should I be trying different kinds of shoes? –Amelia
You're right—feet do change over time, especially after years of pointework. They often grow wider, particularly around the bunion joint. How do you know if it's time to make a switch? "If your mind is distracted by your shoes too often, then something is off," says Marie Johansson, a professional pointe shoe specialist for Freed of London. "They should feel like a glove, and then you can forget about them." I wore shoes with a very broad, square box for two years. While I liked the way they looked, my toenails were always bruising. I decided to get professionally fitted, and realized that not only were my shoes too wide, they were the wrong shape for my foot. I switched to a narrower size and a more tapered box. I haven't had a bruised big toenail since—and my feet look a lot better.
Your shoe needs will change as your training progresses, too. As a beginning pointe student, you probably needed stronger shoes to help support your feet and ankles, but as you strengthen you should become less dependent on your shoes to stay on pointe. "The shoe is there to support you, yes," says Johansson, "But you should also be able to articulate your feet and hold yourself up. As our technique moves forward we may need less support and a lighter shoe."
If you're not sure whether you should try something different, ask your teacher for her honest opinion about what you're currently wearing. Ask her to accompany you to a pointe shoe fitting if possible. "When looking for pointe shoes, look at the function of the shoe first: the block, platform and insole," says Johansson. "Then look at the aesthetic and the measurements." When all the ingredients come together—the fit, the appropriate support and, of course, the look—you'll know you've found the right shoe.


Get Pointe Magazine in your inbox