Site Network
Jan. 14, 2019 09:46AM EST
Aurelie Dupont explained she did not share Polunin's values. Photo via
Instagram
Sergei Polunin, whose recent homophobic and sexist Instagram posts have sparked international outrage, will not be appearing with the Paris Opéra Ballet as previously announced.
POB artistic director Aurélie Dupont sent an internal email to company staff and dancers on Sunday, explaining that she did not share Polunin's values and that the Russian-based dancer would not be guesting with the company during the upcoming run of Rudolf Nureyev's Swan Lake in February.
Keep reading...
Show less
Site Network
Jan. 10, 2019 02:27PM EST
Photos via Polunin's Instagram
If you follow Sergei Polunin on Instagram, you've probably noticed that lately something has been...off.

Though Polunin has long had a reputation for behaving inappropriately, in the last month his posts have been somewhat unhinged. In one, Polunin, who is Ukrainian, shows off his new tattoo of Vladimir Putin:
Keep reading...
Show less
Photo captured via YouTube.
The ballet Don Quixote offers its principal ballerina the unique chance to play two different characters in one role: there's Kitri herself, a vivacious village girl, and then Dulcinea, Don Quixote's idealized love, who takes on the form of Kitri in his dream. The Paris Opéra Ballet's Aurélie Dupont, a former étoile and now the company's artistic director, creates distinct personas for each incarnation of her character. In this clip from a 2002 performance, Dupont dances Dulcinea's variation with serene precision, embodying the mystical beauty of Don Quixote's imagination.
Aurelie Dupont - Dulcinea www.youtube.com
Keep reading...
Show less
Trending
Oct. 04, 2018 04:07PM EST
San Francisco Ballet in class during World Ballet Day 2016. Photo Courtesy SFB.
Here at Pointe, every day feels like World Ballet Day, though the official 2018 event took place on Tuesday. While WBD is a thrill for any bunhead, it can also be overwhelming. How are you supposed to sit in front of your computer all day when you have class and rehearsal and work and a life? We get it, and we're here to help.
To give you a chance to catch up, we've rounded up WBD videos from 26 companies. So grab some popcorn, a backlog of pointe shoes to sew, and settle in. If you start watching now, you might just be done in time for WBD 2019.
Keep reading...
Show less
Trending
Aug. 01, 2018 01:27PM EST
Varna IBC competitor Antonio Gameiro Casalinho. Photo by Nina Lokmadzhieva, Courtesy Varna IBC.
Every two years, dancers from all over the world head to the Bulgarian coastal city of Varna to try their luck at the Varna International Ballet competition. Established in 1964, the competition famously takes place at a leafy outdoor theater near the Black Sea, and its roster of past winners (Sylvie Guillem, Mikhail Baryshnikov, Natalia Makarova) reads like a who's who of dance history.
This year's IBC, which took place July 15–30, brought together 120 dancers from 34 countries. After the third and final round, the winners were announced over the weekend. Yuan Zhe Zi (Jessica) Xuan, a grand sujet at Dutch National Ballet, won first place in the senior women's category. Sinuo Chang of China took first in the senior men's, while his partner, Siyi Li, placed first in the junior women's category. A few familiar faces from the competition circuit also made the list. Antonio Casolinho, a student at the Academy of Ballet and Dance in Portugal and this year's Junior Grand Prix winner at Youth America Grand Prix, took home the Special Distinction Award, Varna's top prize for juniors. Katherine Barkman, a principal guest artist with Ballet Manila, placed second in the senior women's category, fresh off her silver medal win at June's USA IBC in Jackson.
Read on to see the full list of prizewinners, then head to Varna IBC's Facebook page to catch videos of the competition. Congratulations to all!
Keep reading...
Show less
News
Jul. 19, 2018 10:05AM EST
The Paris Opéra Ballet has remained mostly silent in response to the dancers' calls for reform. Photo courtesy Zipporah Films
You'd think the Paris Opéra Ballet would be in damage-control mode after a leaked dancers' survey, in April, brought up worrying reports of harassment and mismanagement. But instead of addressing these issues internally, the French company is suing one of its own dancers in order to strip him of his union representative status and subsequently be free to fire him.
Dalloz Actualité, a French online magazine specializing in legal matters, elaborated on the lawsuit in an article published last week. The corps de ballet dancer taken to court, whom we'll call "S." to protect his identity, wasn't actually a member of the Commission for Artistic Expression, the elected group of dancers who put together the survey. He is described as a "geek" who provided technical support to ensure the validity of the results.
Keep reading...
Show less
Paris Opéra Ballet étoile Dorothée Gilbert. Photo by Kyle Froman for Pointe.
You might be used to throwing on a leotard, tights and warm-ups each day, but now it's summer, and your schedule is different. Whether you're trying to dress to impress for a day off at your intensive or you're packing for a much-needed vacation during your company's summer break, the idea of wearing "real clothes" can leave you feeling paralyzed. Never fear! We've pulled some of our favorite dancers' street styles from past issues of Pointe to give you the summer style inspiration that you're looking for.
Keep reading...
Show less
Photo Courtesy Elliott Arkin.
You can find Tiler Peck just about anywhere these days—onstage at New York City Ballet, in commercials, on "The Ellen Degeneres Show." And let's not forget starring in 2014's Little Dancer, a musical that followed the creation of Edgar Degas' famous sculpture, "Little Dancer Aged 14." Peck played Marie van Goethem, the young Paris Opéra Ballet School student who modeled for Degas. Now, she's reprising the role—er, her likeness is—for a good cause. Visual artist Elliott Arkin has created a series of limited edition sculptures of Peck as the Little Dancer. Proceeds will go to Dance Against Cancer, the annual benefit concert for the American Cancer Society produced by NYCB principal Daniel Ulbricht and Manhattan Youth Ballet programming director Erin Fogarty (both of whom lost a parent to the disease). Peck will also be part of the event's star-studded cast; all of the dancers donate their time, and most perform in memory of a loved one.
Keep reading...
Show less
José Martinez and Marie-Agnes Gillot in "Sylvia," via YouTube.
Is there anything more heart-wrenching than a tale of doomed lovers? It's no wonder that so many enduring ballets don't end in happy embraces. John Neumeier's modern Sylvia plumbs the depths of the story for its most melancholy notes. Paris Opéra Ballet étoiles, who make up the ballet's original cast, are masterful storytellers in the emotionally charged ballet.
In this clip from a DVD released in 2006, Marie-Agnès Gillot plays the huntress Diana. Her love faces a fate even more dispiriting than death: Endymion, danced by José Martínez, is doomed to eternal sleep. She dances in memory, a passionate pas de deux with a partner who cannot reciprocate. Diana's inescapable loneliness is etched on Gillot's features: the strong huntress at her most vulnerable.
Keep reading...
Show less
Throughout the year, ballet companies are celebrating what would be Jerome Robbins's 100th birthday. One of America's most prolific and versatile dancemakers, Robbins is often remembered for his choreography for Broadway musicals like West Side Story and Fiddler on the Roof. However, his ballets, from Fancy Free to Afternoon of a Faun, are equally iconic. One of his best-loved pieces, among dancers and audiences alike, is Dances at a Gathering, a lyrical ballet inspired by Chopin's piano compositions. The hour-long piece features 10 dancers, all dressed in different colors, who move in and out of solos, duets and group dances; it's a staple in company repertories around the world.
Keep reading...
Show less
Studio to Street
Dec. 01, 2017 10:31AM EST
Photo by Kyle Froman
Dorothée Gilbert doesn't subscribe to a single sartorial look. "I love to wear a beautiful dress or something very sophisticated for a night out or a party after a show," the Paris Opéra Ballet étoile explains during a tour to New York City. "But for a casual day, I have more of a boyish style, like jeans with a beautiful jacket." Gilbert likes to pair online finds with pieces she collects while traveling or shopping at Parisian vintage stores.
She even finds inspiration from designers that she works with through POB, like Balmain's Olivier Rousteing, who created costumes this past spring for Sébastien Bertaud's new work, Renaissance. "We wore these beautiful jackets with diamonds and pearls for the ballet," Gilbert says. "But I also love Olivier's everyday designs."
Gilbert's twist on classic style translates to her studio look as well, where she adds fun warm-ups to her traditional rehearsal wear. "I prefer leotards—or tunics, as we call them in French—because they're easier for partnering," she says. Another staple? Her black knit pants with a multicolored print down the right leg. "I always wear them before a performance, especially on tour."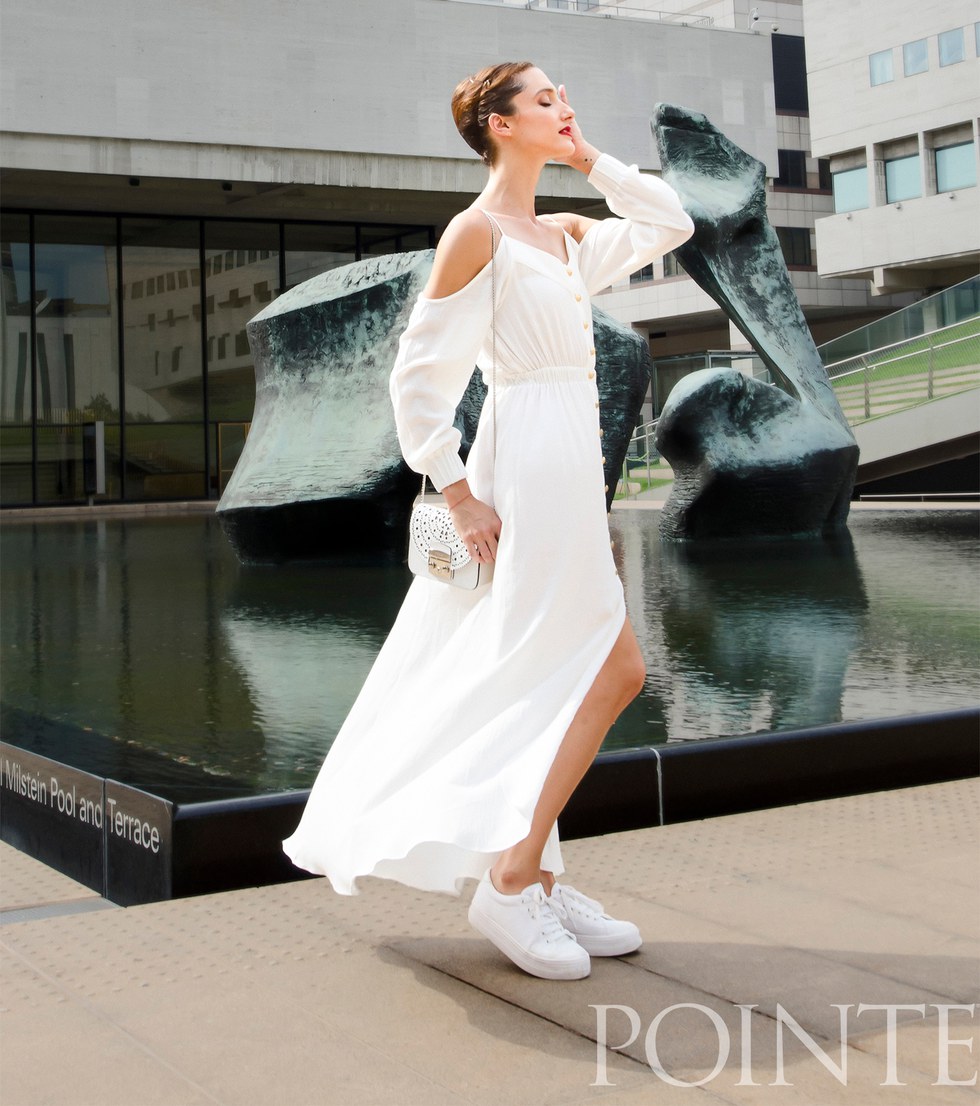 Photo by Kyle Froman
Keep reading...
Show less
When La Sylphide premiered at the Paris Opéra Ballet in 1832, it was an instant hit, establishing the romantic aesthetic and ushering in a golden age of French ballet. La Sylphide's legacy is part of the fabric of the Paris Opéra Ballet—as is Aurélie Dupont, the company's current artistic director and former étoile of 17 years. As the Sylph in Pierre Lacotte's version of the ballet, based on Filippo Taglioni's 1830s original, Dupont breathes fresh life into the traditional romantic style.
In this variation, Dupont dances with inward focus, creating an intimate scene of the Sylph alone in the forest. The long tutu highlights her precise footwork; each point of her foot is a supple articulation, harkening to the romantic era when pointe shoes were little more than ballet slippers with a bit of darning. She invokes an ethereal character without looking fragile. Instead, she floats through each movement with gentle, sustained energy. Even during her bow, Dupont embodies the sophistication and purity that make this art form timeless. Happy #ThrowbackThursday!
From Polina to Anatomy of a Male Ballet Dancer, there are plenty of ballet-themed films hitting movie theaters this month. But if you're looking for something to share with the ballet-loving youngster in your life (or just want to channel your inner dance-happy tween), Leap! might be for you. Released in France in 2016 under the title Ballerina, this animated film tells the story of Félicie (Elle Fanning), an 11-year-old French orphan who arrives in Paris with her best friend, fellow orphan and aspiring inventor Victor, during the height of the Belle Époque. Félicie dreams of becoming a ballerina at the Paris Opéra Ballet. Penniless and with nothing to lose, Félicie finds guidance in POB theater caretaker Odette (played by pop singer Carly Rae Jepsen) and "borrows" the identity of a spoiled brat in order to enter the Opera Ballet School.
While training at the school, Félicie comes up against mean girl Camille, voiced by "Dance Moms" star Maddie Ziegler. In a classic Center Stage-style plot, Camille is pushed by her mother to dance without truly loving it, whereas Félicie dances from a true sense of passion. In order to make the film's dancing look realistic, directors Eric Summer and Éric Warin used keyframe animation of POB artistic director Aurélie Dupont and étoile Jérémie Bélingard's dancing. It's always nice to see real dancers consulted when dance is represented in the realm of pop-culture, and from what we've seen the animated characters' technique looks spot-on (er, with some flying feats thrown in.)
Keep reading...
Show less
Former Pacific Northwest Ballet corps de ballet dancer Chelsea Adomaitis with Company dancers in Jerome Robbins' The Concert. Photo © Angela Sterling.
Reuniting with Chelsea Adomaitis in Paris was like a little taste of home. Old friends and former corps members of the Pacific Northwest Ballet, we had both moved to Europe last summer. Over brunch she' d share the story that brought her abroad.
As a little girl, Chelsea Adomaitis dreamed of dancing for the Paris Opéra Ballet, but as most do, she dismissed it as just that: a dream. Beginning her training in Boston with her mom, a former dancer, she later enrolled at the Harid Conservatory. It wasn't until she attended Pacific Northwest Ballet School's summer program, at age 16, that she discovered Balanchine, and it was love at first step. After two years in the school she was hired as an apprentice.
Her first few years in the company were full of growing pains. Her technique and confidence flourished as she gained opportunities to perform leading roles. Yet juggling these with a very heavy corps load began to wear on her. Confusion, frustration and injuries mounted as one season of this juggling act turned into four. Yet she persevered, hoping her work would soon be recognized and rewarded.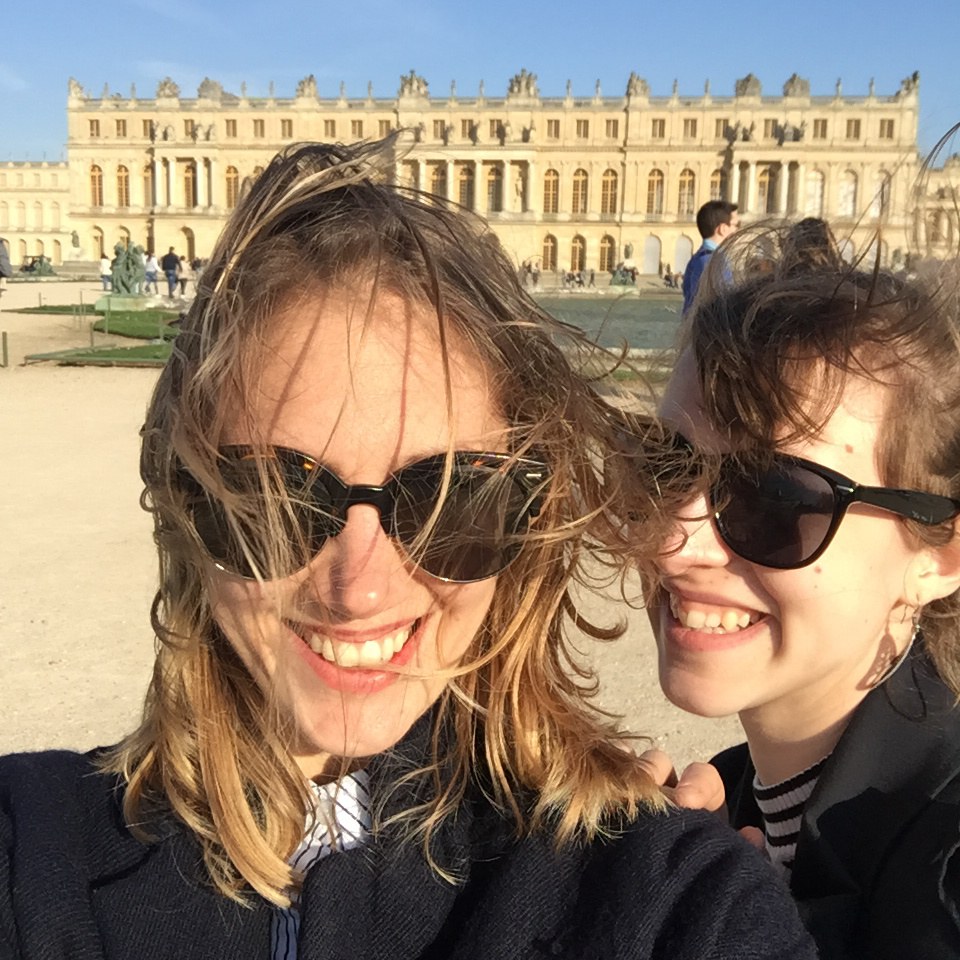 The author and Adomaitis outside Versailles. Photo by Jessika Anspach McEliece, Courtesy McEliece.
Keep reading...
Show less
Photo Courtesy Oscilloscope Laboratories
Hollywood portrayals of the dance world tend to be either campy love stories or dark, twisted melodramas. But a new French drama coming soon to American cinemas offers a more introspective (and authentic) perspective of one dancer's search for artistic fulfillment. Polina, co-directed by French choreographer Angelin Preljocaj and his wife Valerie Müller, tells the story of a talented Russian ballet student who turns down a contract with the Bolshoi Ballet to pursue a contemporary dance career. Starring Anastasia Shevtsova (a Vaganova Academy graduate who has performed with the Mariinsky Ballet), former Paris Opéra Ballet étoile Jérémie Bélengard and Academy Award-winning actress Juliette Binoche (a beautiful mover in her own right), the almost two-hour film has no shortage of dancing.
The movie, based on a graphic novel by Bastien Vivés, follows Polina's rigorous Russian training, which her working-class parents struggle to pay for. Her future at the the Bolshoi seems set, but when a French contemporary company comes to town, she's so inspired by the performance that she follows her boyfriend to France to audition for its choreographer/director (played by Binoche). She works obsessively to change her technique, but ultimately ends up in Antwerp, auditioning endlessly and tending bar. It takes a chance meeting with Karl, a choreographer and improvisation instructor, to help open her eyes to new possibilities.
Preljocaj and Müller direct Polina with a dancer's sensitivity. Many of the rehearsals were shot at his company's studio in Aix en Provence, and scenes from his ballet Snow White are featured throughout. Yes, there are subtitles, but don't let that deter you—Polina is relatable to any artist who's ever struggled to find his or her place in the dance world. The film opens August 25 in New York and September 1 in L.A., followed by a national roll-out. To find it at a theater near you, click here.
NYCB in "Rubies." Photo by Paul Kolnik, Courtesy NYCB.
"The whole thing was—I like jewels," the choreographer George Balanchine told an interviewer in the spring of 1967, when asked about his newest creation for New York City Ballet, a triptych called—what else?—Jewels. He had his photograph taken while gazing appreciatively at Van Cleef & Arpels designs, or surrounded by ballerinas wearing bejeweled headpieces and gem-toned costumes by Karinska. Balanchine had an instinct for promotion; the ballet was a huge success and is still regularly performed by NYCB and other companies around the world. At the Lincoln Center Festival this summer (July 20–23), 50 years after the first performance, three companies—the Paris Opéra Ballet, NYCB and the Bolshoi Ballet—will join together to perform it in a single night. The French will dance "Emeralds." On different nights, the Russians and the Americans will alternate in "Rubies" and "Diamonds."

This seems appropriate, as each of Jewels' sections alludes to a different style of ballet: French, American, Russian. Ballet was born in France. More importantly, France is where Romantic ballet, with its feather-light technique and delicate, wafting arms, was refined. (Think La Sylphide and Giselle.) The next chapter of its development took place in Russia, where ballet acquired its grandeur, thanks to the imagination of Marius Petipa and the splendor of the Imperial Theatres. After the Russian Revolution of 1917, this world disappeared. Balanchine, along with many others, left the country, bringing his ideas about ballet to Europe and later to America, or, more precisely, to New York City.
Keep reading...
Show less
As any bunhead can attest, sometimes there is nothing more exhilarating than pure ballet technique in all its glory. Victor Gsovsky's famous plotless pas de deux, Grand Pas Classique, is a celebration of just that. In this clip from a 1993 gala, former Paris Opera Ballet étoiles Élisabeth Platel and Nicholas Le Riche's performance of the piece is pristine classical perfection. The dancers appear the epitome of elegance in crisp white costumes against a blue backdrop. From the moment the two touch hands and Platel whips into a double soutenu en dedans, you know you're in for a treat.
Keep reading...
Show less
May. 19, 2017 02:44PM EST
Courtesy of Instagram
High-fashion crossing over into the world of ballet is quickly becoming more commonplace. Over the past several years, New York City Ballet has joined forces with major fashion houses from Valentino to Mary Katrantzou to Jason Wu as part of its fall fashion galas.
For the latest ballet-couture collab, Paris Opéra Ballet has commissioned French designer Olivier Rousteing of Balmain to dream up costumes for its upcoming performance of Renaissance, choreographed by POB sujet Sébastien Bertaud.
Keep reading...
Show less
May. 18, 2017 02:59PM EST
Olga Smirnova and Semyon Chudin in "Diamonds." Photo by E. Fetisova, Courtesy Bolshoi Ballet
In November, Lincoln Center announced that three of the world's biggest companies—New York City Ballet, Paris Opéra Ballet and the Bolshoi Ballet—would present a collaborative performance of George Balanchine's Jewels July 20–23 in honor of the ballet's 50th anniversary. Each company will take an act, with the Paris Opéra performing "Emeralds" and NYCB and the Bolshoi alternating performances of "Rubies" and "Diamonds." Yesterday, Lincoln Center finally announced what we've all been waiting for: the all-star cast list. (As well as rising stars–Alena Kovaleva and Jacopo Tissi, two young Bolshoi corps members, are slated to dance the leads in "Diamonds" for one performance.) Check out the list below this trailer!
Keep reading...
Show less
Views
Mar. 23, 2017 05:39PM EST
The dance world lost a legend this past week, when choreographer Trisha Brown passed away at age 80. A leader of postmodern dance, her work had dancers doing everything from walking on the walls of New York City's Whitney Museum to signaling to one another across Soho rooftops.
Trisha Brown, photo by Lois Greenfield, via Dance Magazine
Ballet dancers don't often get to try their hand at Brown's liquid movement, but in 2013, the Paris Opéra Ballet performed her 1979 Glacial Decoy—the first work she made for a proscenium stage. It was restaged by Lisa Kraus, a former member of Brown's company; and Carolyn Lucas, the co-associate artistic director of Trisha Brown Dance Company.
The fascinating rehearsal process was captured in Marie-Hélène Rebois' documentary, In the Steps of Trisha Brown. The excerpt above shows a portion of their performance.
For ballet dancers, Brown's more pedestrian choreography can be a challenge, and it's a far cry from tutus and pointe shoes. But the POB dancers tackle the movement—danced in silence, with projected slides behind them—with confidence. Dressed in sheer, flowing white gowns, they let the weight and impulse of each movement propel them, like a current running through their bodies. Brown's choreography brings out a whole new side of them.
For a glimpse of what rehearsals were like, check out the clip below:
For more news on all things ballet, don't miss a single issue.
Views
Mar. 01, 2017 05:27PM EST
During one of the final scenes of Reset, a documentary following Benjamin Millepied's 2015 creation of Clear, Loud, Bright, Forward while artistic director of Paris Opéra Ballet, a group of eight dancers walk proudly towards the front of the stage for a final tableau. They are young corps members, not company stars, but they gaze directly and confidently at the audience.  Millepied's message seems clear: Remember these faces.
Of course, we all know what happened a few months later—after trying to shake up POB's deeply ingrained hierarchy, Millepied resigned. However Reset, which will be available for streaming on Sundance Now March 2, offers an inside view of this fascinating time in POB's history. The film doesn't capture a lot of drama and infighting; instead, you'll see much of Millepied's creative process, as well lots of rehearsal and performance footage of the hungry young dancers he wants to cultivate. (Two—Léonore Baulac and Germain Louvet—have since become étoiles).
Millepied with Letizia Galloni. Photo Courtesy Sundance Now.
Millepied comes across as an enthusiastic, good-natured boss who is genuinely concerned for his dancers' welfare and artistic development. Still, there are subtle clues as to why he grew disillusioned so quickly. He frequently complains of a deeply ingrained culture of fear among the school students and corps de ballet, as well as POB's surprisingly inadequate medical care. Stagehand strikes loom constantly. And he reveals his dismay at being told that black dancers are a "distraction" onstage. "I have to shatter this racist idea," he says. (The film captures coryphée Letizia Galloni in her debut as Lise in La Fille mal gardée, and notes that she is the first mixed-race POB woman to perform a lead in a classical ballet.)
But what's most apparent, at least to me, is that Millepied would much rather be in the studio creating, and nurturing dancers, than dealing with necessary administrative duties and the company's ingrained institutional bureaucracy. (He often seems to be barely listening to his beleaguered assistant in meetings—his mind is on his ballet.) In fact, a friend notes early on that once he stops having fun, "he'll leave." Still, Millepied is so upbeat throughout the movie that you can't help feeling a little surprised, even knowing the outcome, that his tenure didn't work out.
Watch Reset, a film by Thierry Demaizière and Alban Teurlai, on Sundance Now starting Thursday, March 2.
For more news on all things ballet, don't miss a single issue.
News
Nov. 30, 2016 10:06AM EST
George Balanchine's Jewels, a glittering three-act, plotless ballet that many consider one of the choreographer's most revered masterpieces, turns 50 next year. In honor of its anniversary, Lincoln Center announced this morning that three of the world's most prestigious companies—New York City Ballet, Paris Opéra Ballet and the Bolshoi Ballet—will share the stage in a historic series of performances at the Lincoln Center Festival, July 20-23, 2017. An international press conference was held this morning on Facebook Live, with company directors Peter Martins, Aurélie Dupont and Makhar Vaziev answering questions from their respective offices.
NYCB in"Rubies" from Jewels. Photo by Paul Kolnik, Courtesy NYCB.
The collaboration makes complete sense: When Balanchine choreographed Jewels in 1967, each act not only represented a different gemstone, but a distinct era of ballet from the three countries that shaped his career. The first act, "Emeralds," set to music by Gabriel Fauré, recalls dreamy French Romanticism; "Rubies," with its jazzy Stravinsky score, represents fast-paced American wit and modernism; and "Diamonds," danced to Tchaikovsky, celebrates the grandeur of Russian Imperial ballet.
The Bolshoi Ballet's Olga Smirnova and Semyon Chudin in "Diamonds." Photo by E. Fetisova, Courtesy Bolshoi Ballet.
On opening night of the Lincoln Center Festival, the Paris Opéra Ballet will dance "Emeralds," NYCB will do "Rubies," and the Bolshoi will perform "Diamonds." (On subsequent performances, NYCB and Bolshoi will alternate between the second and third acts.) Casting will be announced at later date, but with a lineup like this, it's sure to be an unforgettable celebration.
For more news on all things ballet, don't miss a single issue.
"There's a whole aspect to the craft of choreography that involves directing and leading a group of people. And it's like dancing: You need to practice, to work on being a leader," says Crystal Pite. Photo by Julien Benhamou.
Photographed for Pointe by Julien Benhamou

Crystal Pite considers herself to be on the contemporary end of the dance spectrum, but she's playing in the major league of ballet companies this season. In September, the Canadian choreographer debuted The Seasons' Canon, a large-scale work for 54 dancers at the Paris Opéra Ballet; in March, she will follow up with her first work for The Royal Ballet.
For POB, The Seasons' Canon turned out to be a powerful collective experience at a time of transition. The French institution was left in turmoil by former director Benjamin Millepied's resignation announcement last February, but Pite channeled their strengths into a rare creation using a third of the company's impressive roster. In just four weeks—"a sprint" according to the choreographer—she took the dancers on a creative ride. "They're open, willing, generous, patient and delightfully hungry," she says.
Keep reading...
Show less
Photo Galleries
Aug. 01, 2016 06:27PM EST
Hannah O'Neill photographed by Nathan Sayers for Pointe.
This is Pointe's August/September 2016 Cover Story. You can subscribe to the magazine here, or click here to purchase this issue.
What a difference four years have made for Hannah O'Neill. In 2012, as a foreign dancer on a temporary corps contract with the Paris Opéra Ballet, a botched arabesque in La Bayadère's "Kingdom of the Shades" scene led her to believe her French career was over. Last December, however, she was back on the Opéra Bastille stage in the same ballet, as Gamzatti. Newly promoted to first soloist, she led the company opposite étoile Dorothée Gilbert, showcasing the pencil lines and robust technique that have made her a local favorite.
At just 23, the young New Zealander has quickly established herself as one of the faces of the "Millepied generation." Her technical strength and fresh stage presence, backed up by a solid dose of sangfroid, made her a perfect fit for outgoing director Benjamin Millepied's focus on new blood and repertoire in Paris. In the two short seasons he spent there, she climbed the ranks and impressed with her precocious fearlessness in classical full-lengths, from Swan Lake to Paquita.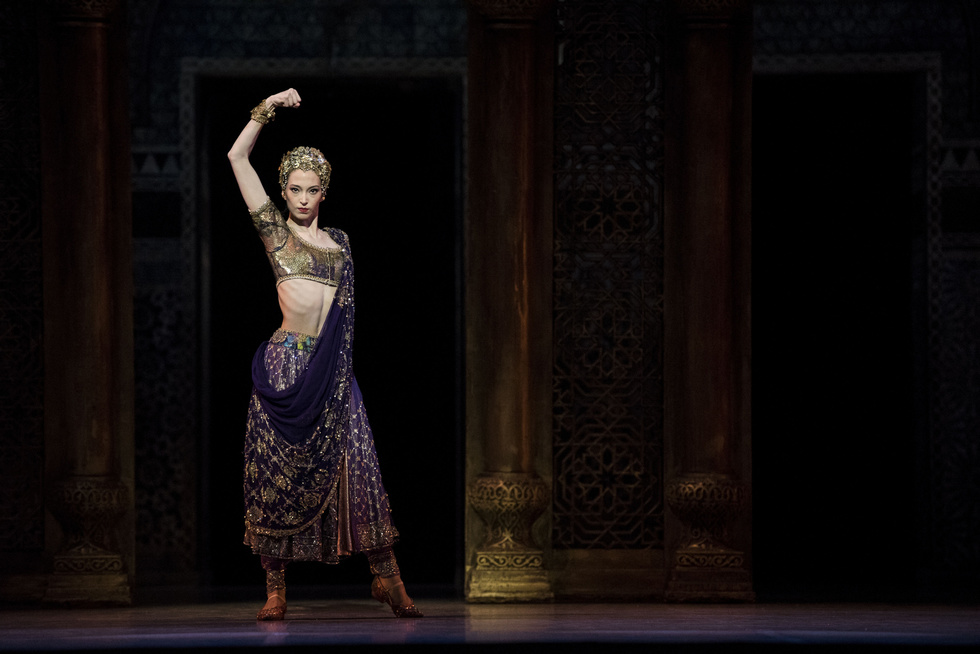 O'Neill as Gamzatti in "La Bayadère." Photo by Little Shao, Courtesy POB.
Keep reading...
Show less
Paris Opéra Ballet's Letizia Galloni. Photo by Anne Ray, Courtesy POB.
Every corps de ballet has a few bright standouts. Here are 10 young dancers on the rise.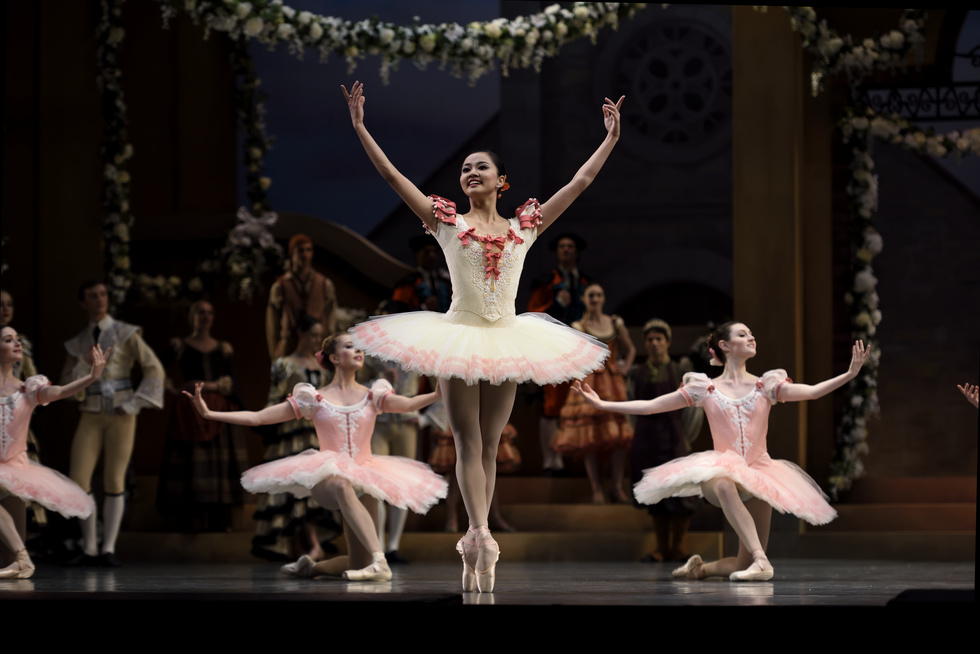 Norika Matsuyama in "Don Quixote." Photo by Erik Tomasson, Courtesy SFB.
Norika Matsuyama
San Francisco Ballet
Norika Matsuyama recently finished her second year in San Francisco Ballet's corps, but her repertoire already looks like a veteran soloist's: Cupid in Don Quixote, a solo Wili and Shade, Balanchine's Theme and Variations and Forsythe's Vertiginous Thrill of Exactitude. She capped off the 2016 season with her debut as Olga in John Cranko's Onegin, one of her dream roles.
For someone so accomplished, the 22-year-old is exceptionally humble. "I never expected I would get to do these roles," she says. "When I saw my name on the rehearsal schedule for Olga, I was so excited. I'm super-grateful."
Keep reading...
Show less
Views
Jul. 21, 2016 05:12PM EST
Sylvie Guillem in Raymonda. Photo via Pinterest.
Every year, a select few dancers join the Paris Opera Ballet. An even smaller percentage make world headlines like former étoile Sylvie Guillem, who joined the company in 1981 at age 16. Three years later, after winning gold at the Varna International Ballet Competition, then-director Rudolf Nureyev made her the youngest étoile in the company's history. Her promise was as undeniable as her decisions were bold. In 1989, Guillem left POB to join the Royal Ballet as a principal guest artist, a move that allowed her to freelance with companies around the world.
Although Guillem was young when she began performing soloist and principal roles, her maturity and self-awareness translated beautifully into her performances. In this clip from the television documentary Sylvie Guillem at Work, her precise footwork and elegant upper body mirror the grace and sophistication of Raymonda's Act III variation. I love how she dramatizes her movements by contrasting expansive port de bras with sharp arm gestures. Her piqués at 1:48 (besides being perfectly placed) are taken with just enough momentum to sustain her flowing balance before relinquishing it into a series of bourrées. After a demanding series of sissonnes and pirouettes, she completes the variation with a renewed sense of composure.
Sylvie Guillem commanded the stages of both the Palais Garnier and the Royal Opera House. Although she retired last December, she set a precedent for artistic freedom, leaving a lasting impact on the dance world. Happy #ThrowbackThursday!
For more news on all things ballet, don't miss a single issue.


Get Pointe Magazine in your inbox