Emma Love Suddarth and her husband, PNB soloist Price Suddarth. relax along the Seine river. Photo by Lindsay Thomas.
It's Monday, June 25. Armed with neck pillows, compression socks and loads of coffee, we are ready for our flight to Paris! Les Étés de la Danse, a French festival held at the beautiful La Seine Musicale theater, invited Pacific Northwest Ballet for its 2018 season. Half of the company will arrive the first week to participate in its Hommage à Jerome Robbins celebration with a handful of other companies. The rest will join the second week for a PNB-only residency.
Keep reading...
Show less
News
Oct. 30, 2018 01:13PM EST
Artists of Ballet West in Balanchine's Jewels. Photo by Beau Pearson, Courtesy Ballet West.
Wonder what's going on in ballet this week? In addition to the programs at Pacific Northwest Ballet, The Washington Ballet, Ballet West and City Ballet of San Diego listed below, this week also marks Balanchine: The City Center Years, a five-day extravaganza bringing together eight companies from around the world. You can read more about it here. Also coming up is Boston Ballet's black box show, BB@home: ChoreograpHER, which features six new works by women in the company. Peek inside the budding choreographers' processes here.
Keep reading...
Show less
Trending
Oct. 04, 2018 04:07PM EST
San Francisco Ballet in class during World Ballet Day 2016. Photo Courtesy SFB.
Here at Pointe, every day feels like World Ballet Day, though the official 2018 event took place on Tuesday. While WBD is a thrill for any bunhead, it can also be overwhelming. How are you supposed to sit in front of your computer all day when you have class and rehearsal and work and a life? We get it, and we're here to help.
To give you a chance to catch up, we've rounded up WBD videos from 26 companies. So grab some popcorn, a backlog of pointe shoes to sew, and settle in. If you start watching now, you might just be done in time for WBD 2019.
Keep reading...
Show less
News
Sep. 17, 2018 05:18PM EST
Just for fun
Aug. 27, 2018 12:00PM EST
Lauren Post unwinds by sewing pointe shoes in the tub. Photo via Instagram/@laurencpost
Let's face it. Dancers just do things differently. We can never walk down a grocery aisle—we have to tap. We can never simply pick something up we've dropped—without going into a penché. But it's not a bad thing. We love all the ways that dance bleeds into our daily lives.
Turns out the pros aren't ever really off-duty either. Here's how we caught them dancing through their downtime.
Keep reading...
Show less
Just for fun
Aug. 27, 2018 12:00PM EST
Lauren Post unwinds by sewing pointe shoes in the tub. Photo via Instagram/@laurencpost
Let's face it. Dancers just do things differently. We can never walk down a grocery aisle—we have to tap. We can never simply pick something up we've dropped—without going into a penché. But it's not a bad thing. We love all the ways that dance bleeds into our daily lives.
Turns out the pros aren't ever really off-duty either. Here's how we caught them dancing through their downtime.
Keep reading...
Show less
popular
Aug. 24, 2018 02:35PM EST
Patricia Delgado and Justin Peck in Vail, Colorado. Photo by Erin Baiano, Courtesy Patricia Delgado.
With the surplus of ballet festivals happening around the world these past few months, it's obvious that there's really no such thing as summer break for the pros. But between the red-eye flights and onstage performances, our favorite stars still found time to soak up the sun and enjoy some seriously stunning views (even if they were from rehearsal). From Verona, Italy to Vail, Colorado, click through to see the highlights from the 2018 summer tours.
PNB Goes To Paris
While on their first tour in Paris, Pacific Northwest Ballet's Elle Macy and company made sure to squeeze in some sightseeing—naturally visiting Paris Opéra Ballet's home theater, Palais Garnier, was top on the list.
Pacific Northwest Ballet School Professional Division students take Eva Stone's modern dance class. Photo by Lindsay Thomas, Courtesy PNB.
"Who here is terrified of choreographing?"
It was a question posed by Pacific Northwest Ballet School teacher Eva Stone five weeks ago, sitting on the floor among her class of female summer intensive students. "Almost all of them raised their hand, but I said, 'Don't worry, I got you,'" says Stone. "'I'm going to give you tools and skills and you're going to build on them.' It's amazing how their perspective changed in five weeks."
Stone's choreography class, introduced into the summer program last year, served as a pilot for a new initiative at PNB School beginning this September. New Voices: Choreography and Process for Young Women in Dance is a year-round class dedicated to educating and encouraging 14 to 16-year-old female students in the art of dancemaking. Made possible through funding from the Virginia B. Toulmin Foundation, the 38-week course was created to help address the lack of women choreographers working in major classical ballet companies.
PNB School is one of several academies offering choreographic opportunities to its students. Houston Ballet Academy and the Chautauqua Institution, for example, hold workshops during their summer intensives, while Central Pennsylvania Youth Ballet and Ballet Academy East recently joined forces to create a choreographic exchange program. And School of American Ballet offers numerous choreographic projects for its dancers, including one for women. What makes PNB's initiative unique is its year-long scope and structured focus on composition.
Keep reading...
Show less
popular
Jul. 30, 2018 05:30PM EST
Patricia Delgado in Pam Tanowitz's "Solo for Patricia 2017." Photo by Erin Baiano, Courtesy Vail Dance Festival.
Wonder what's going on in ballet this week? We've pulled together some highlights.
Vail Dance Fest Enters Its Second Week
With half a month devoted to creating new art in the midst of stunning nature, Vail Dance Festival seems a dancer's paradise. Last week marked American Ballet Theatre's festival debut. The second week of performances, starting July 30, brings even more amazing ballet, with dancers and choreographers presenting a slew of new collaborations and premieres. Get the scoop on each program below.
Alonzo King LINES Ballet Takes the Vail Stage
July 30-31, Alonzo King LINES Ballet presents two different programs. The first performance, is a free, family-friendly event held in the Avon Performance Pavilion. The second, held at the Gerald R. Ford Amphitheater, presents two works by King: Sand, a piece from 2016 set to jazz music, and Biophony, an exploration of the Earth's diverse ecosystems.
Keep reading...
Show less
Trending
Jul. 23, 2018 02:00PM EST
Boston Ballet principal Lia Cirio at age 15 in class at the Central Pennsylvania Youth Ballet summer intensive. Photo by Rosalie O'Connor, Courtesy Cirio.
It's hard to believe that summer intensive season is almost over! We hope you're learning, growing, having fun and making memories at your intensives this year.
Today, we're sharing seven dancers' favorite summer intensive memories.
Isabella Boylston, American Ballet Theatre
Photo Courtesy Boylston.
Summer Intensive: American Ballet Theatre
Age: 17
Perseverance
"I was 17 (although I looked about 14) and attended the ABT Summer Intensive. I was particularly excited to be there because the year before that I hadn't been accepted."
Outside the Studio...
"My mom, my best friend Lauren Post and I sublet a tiny one bedroom on the Upper West Side and had a blast exploring the city."
Dreams Come True
"That summer I was invited to join the ABT Studio Company—a dream come true!"
News
Jun. 22, 2018 09:00AM EST
Pacific Northwest Ballet company dancers in Benjamin Millepied's Appassionata. Photo by Angela Sterling, Courtesy PNB.
Pacific Northwest Ballet travels to Paris for the first time this summer, and artistic director Peter Boal couldn't be happier.

"I think we have a tremendous reputation, but people outside the greater Seattle area haven't seen this company," Boal says.
That will change after PNB's two-week stay with the French festival Les Étés de la Danse, which hosts a different international company every summer. A PNB residency had been in the works for several years when Les Étés de la Danse decided to produce a larger celebration of choreographer Jerome Robbins this summer, inspired by his centennial. New York City Ballet, Miami City Ballet, The Joffrey Ballet and Russia's Perm Opera Ballet Theatre will join PNB for that one-week tribute.
Keep reading...
Show less
Lindsi Dec and Karel Cruz in Alexei Ratmansky's "Don Quixote." Photo by Lindsay Thomas, Courtesy PNB.
On Sunday, June 10, Pacific Northwest Ballet principal Karel Cruz will take the stage with the company for the last time. A native of Cuba, Cruz danced with Ballet Nacional de Cuba and the Venezuelan companies Ballet Clasico de Cámara and Teatro Teresa Carreño before joining PNB in 2002. In 2009, Cruz was promoted to principal and married fellow PNB principal Lindsi Dec. In addition to their frequent onstage partnership, the couple is also raising a young son, Koan, and co-running Solu, a dancewear line (check out a very hectic day in their life here). Earlier this week we had the chance to chat with Cruz as he reflected on his 16-year career with PNB.
How did you choose the works that you'll dance at your retirement show this weekend?

Keep reading...
Show less
Courtesy of Belleza Athletica
Dancer designers seem to be a dime a dozen these days. With three already in Pacific Northwest Ballet's ranks (principals Elizabeth Murphy and duo Lindsi Dec and Karel Cruz), it might seem like an over- saturated market for another dancewear brand to be able to turn heads. Enter Angeli Mamon. With her new line, Belleza Athletica (pronounced "bay-yes-ah"), the corps member is carving out a niche in studio wear with leotards and skirts that match her confident personality.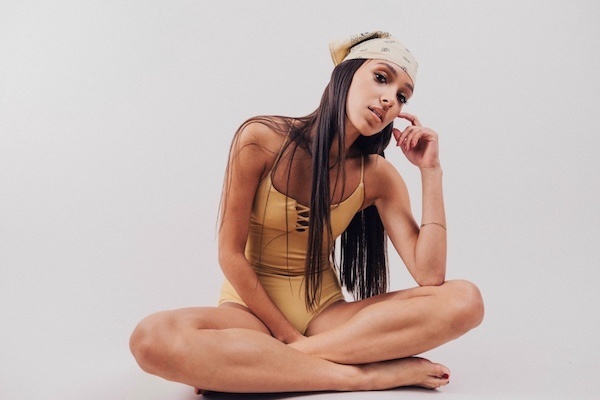 Mamon in Belleza Athletica.
Keep reading...
Show less
News
Jun. 04, 2018 05:09PM EST
Costume sketches for Alexei Ratmansky's new "Harlquinade" for ABT. Courtesy ABT.
Wonder what's going on in ballet this week? We've pulled together some highlights.

ABT's New Harlequinade is Finally Here
The long wait for Alexei Ratmansky's Harlequinade for American Ballet Theatre is finally over. June 4-9, catch ABT at the Metropolitan Opera House in this bold and colorful tribute to the Italian commedia dell'arte traditions, based on the archival notes of Marius Petipa. If this trailer by Ezra Hurwitz is any indication, this new story ballet is sure to delight (fingers crossed that those dogs make their way to the stage).
Keep reading...
Show less
News
May. 29, 2018 05:23PM EST
PNB in Justin Peck's "Year of the Rabbit." Photo by Angela Sterling, Courtesy PNB.
Wonder what's going on in ballet this week? We've pulled together some highlights.
Ballet Nacional de Cuba Continues U.S. Tour at the Kennedy Center
A few weeks ago we shared that the historic Ballet Nacional de Cuba is back in the U.S. after 40 years. The company has already made stops in Chicago and Tampa, and heads to The Kennedy Center May 29-June 2 as part of the Artes de Cuba festival with performances of Giselle and Don Quixote. The tour will conclude at the Saratoga Performing Arts Center June 6-8. Whether or not the company is heading to a city near you, you can catch a glimpse of Don Q in the below trailer.
Keep reading...
Show less
Probably what your face looked like when you saw your first ballet, let's be real. (Screenshot via YouTube)
It's safe to say that professional ballet dancers all have one thing in common: getting bit by the ballet bug at a very early age. Pacific Northwest Ballet corps member Elle Macy is no exception. Macy, who joined the company in 2012 as an apprentice, started dancing at age 5, and turned her childhood passion into a dream career, complete with perks ranging from traveling the world on tour with PNB, working with tons of amazing choreographers, and, most recently, introducing a group of wide-eyed kids to the amazing art form that is ballet.
Keep reading...
Show less
Emma Love Suddarth and Price Suddarth rehearse Alejandro Cerrudo's "Little mortal jump." Photo by Lindsay Thomas, Courtesy PNB.
Romantic couples within the dance world are fairly common; it's not surprising that a dancer might find a deeper connection with another who appreciates ballet's unique triumphs and trials (not to mention someone else who doesn't mind eating dinner at 11:00pm, with both feet submerged in a bucket of ice). But when it comes to dancing together? Some love it, some hate it. Being able to communicate frankly with your partner, as you could with your spouse, can either smooth out or derail a rehearsal. But, with that, also comes the fact that there is no one else you want to succeed more, and vice versa.
Keep reading...
Show less
News
Mar. 12, 2018 04:16PM EST
Boston Ballet's Misa Kuranaga and Nelson Madrigal in John Cranko's "Romeo and Juliet." Photo by Rosalie O'Connor, Courtesy Boston Ballet.
From celebrations of Jerome Robbins' centennial to exciting premieres to old classics, this week is jam packed with ballet. We rounded up highlights from eight companies to give you a sense of what's happening onstage this week.
The Washington Ballet
On March 14, The Washington Ballet will present a triptych of new works. Gemma Bond's premiere ties-in to Women's History Month, and she discusses the connection in this video. Also on the bill are creations by celebrated dancers Clifton Brown and Marcelo Gomes. For video teasers of their works, click here.
Keep reading...
Show less
Thinkstock.
Early in Carrie Imler's 22-year career with Pacific Northwest Ballet, she was excited to be cast in Balanchine's The Four Temperaments. But immediately following dress rehearsal, she was removed from her role in "Melancholic." "My artistic director at the time pulled me aside and said, 'We can't put you out there,' " she remembers. "My weight fluctuated my entire career. Just when I felt like I had figured it out, I would gain it back and have to start all over again." Despite becoming one of PNB's most celebrated principal dancers, Imler never shook the fear of what might happen when a leotard ballet was in the repertoire.
Ballet prides itself on high standards, and the classical ballet physique is not the least of those expectations. Fear of the "fat talk" still lurks in studios, but, as Imler points out, weight is a challenge that many dancers face, while others may struggle with the arches of their feet or turnout. If you are confronted about your weight, know that many talented dancers have been there. Having "the talk" doesn't mean you can't become a professional, but if you take a mindful approach to the conversation, it will show your maturity and ultimately your ability to navigate a career.
Has Something Changed?
Keep reading...
Show less
Postelwaite and Pantastico's powerful reunion in "Cendrillon." Photo by Angela Sterling, Courtesy PNB.
Lucien Postlewaite's Prince was anything but charming last February in Pacific Northwest Ballet's production of Cendrillon, Jean-Christophe Maillot's contemporary take on the Cinderella story. He strutted and preened, egged on by his friends. But once this prince met Cendrillon at the ball, his egotism gave way to lyrical grace, from the curve of his neck through his elegant extensions. For her part, Noelani Pantastico embodied the role of Cendrillon, taking us on her journey from a lonely, unwanted stepdaughter to a lovestruck young woman. Both dancers glided through the technically demanding choreography, infusing it with heartfelt emotion. This may be a fairy tale, but the romance felt real.
Keep reading...
Show less
New York City Ballet's famous growing tree. Photo by Paul Kolnik, Courtesy NYCB.
Literary Roots

E.T.A. Hoffmann, a German writer, penned the eerie and dark tale "Nutcracker and Mouse King" in 1816. About 30 years later, the French writer Alexandre Dumas took the Nutcracker story into his own hands, lightening things up and softening the character descriptions. Dumas even cheered up the name of the protagonist. "Marie Stahlbaum" (meaning "steel tree," representing the repressive family Marie found herself in, which led her imagination to run wild) became "Clara Silberhaus" (translated to "silver house," a magnificent home filled with shiny magic.)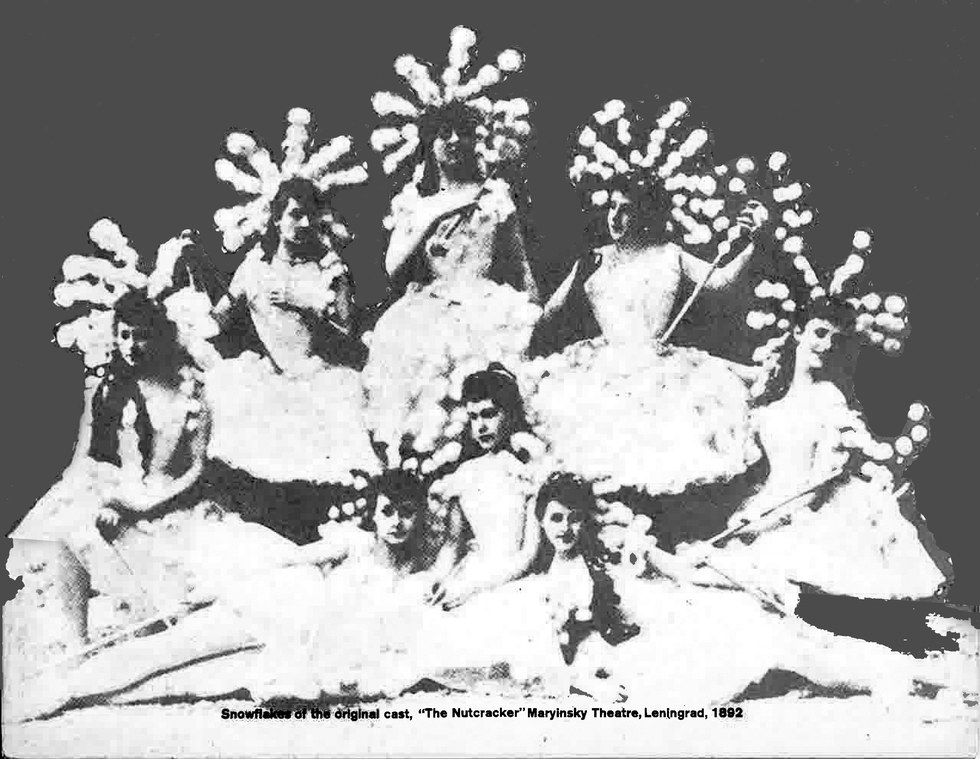 Snowflakes of the original cast, "The Nutcracker" at the Mariinsky Theatre, 1892. Photo by Walter E. Owen, Courtesy Dance Magazine Archives.
From Page to Stage
In 1892 St. Petersburg, choreographer Marius Petipa and composer Pyotr Ilyich Tchaikovsky pulled the story off the page and onto the stage of the Mariinsky Theatre. But Petipa fell ill while choreographing The Nutcracker and handed his duties over to his assistant, Lev Ivanov. Critics at the 1892 premiere were not pleased. Balletomanes felt the work to be uneven, and lamented the lack of a main ballerina in the first act. Many thought that the story was too light compared to historically based stories.
Out of Russia
Despite its initial reception, the ballet survived, partially due to the success of Tchaikovsky's score. Performances were scarce, though, as the Russian Revolution scattered its original dancers. The Nutcracker's first major exposure outside of Russia took place in London in 1934. Former Mariinsky ballet master Nikolas Sergeyev was tasked with staging Petipa's story ballets on the Vic-Wells Ballet (today The Royal Ballet) from the original notation. The notes were incomplete and difficult to read, yet Sergeyev persisted, and The Nutcracker made it to the stage.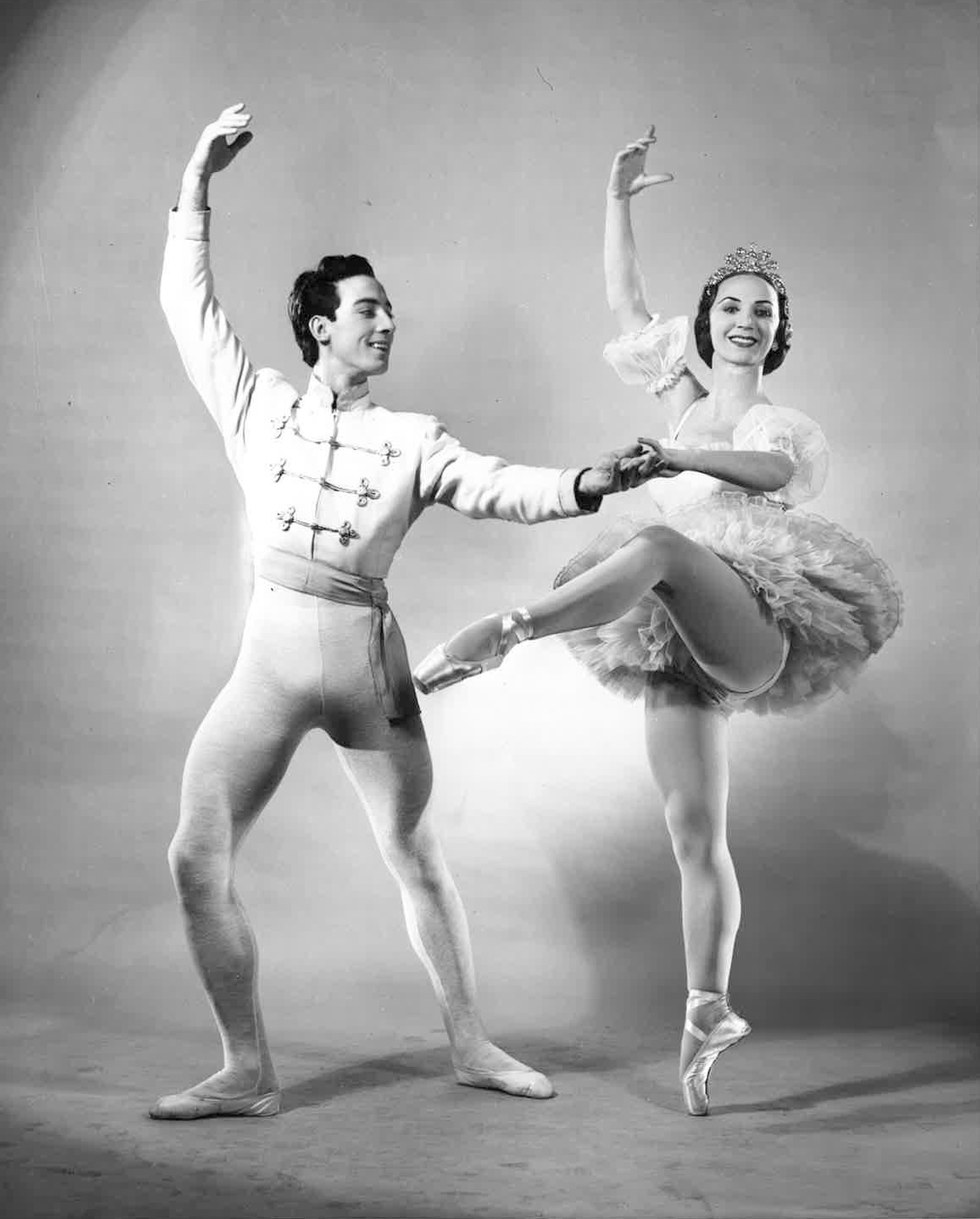 Dancers from ballet Russe de Monte Carlo in "The Nutcracker" pas de deux. Photo Courtesy Dance Magazine Archives.
Keep reading...
Show less
Generosa in Susan Stroman's TAKE FIVE…More or Less. Photo by Lindsay Thomas, Courtesy PNB.
Pacific Northwest Ballet soloist Angelia Generosa uses cross-training to tackle the company's varied repertoire.
Cross-training philosophy: Pacific Northwest Ballet soloist Angelica Generosa kicked up her workout regimen a few seasons ago when she was first dancing "Rubies," along with a lot of contemporary rep. "I realized that I couldn't afford to get hurt," she says. "I had to take time to take care of my muscles, so they could recuperate and feel good for whatever PNB asked me to do." Now in her seventh season, Generosa acknowledges that just stretching before class isn't enough. "Maintenance is really important. Know what you need before and after class."
At the gym: She starts any workout (or busy day at the studio) with a 10-minute elliptical or bike warm-up. Generosa developed tendonitis in her left knee a few years ago, so this prepares the joint for more strenuous activity. Then, she'll do 20 to 45 minutes of cardio on the treadmill or elliptical; upper-body work, like arm circles while holding 10-pound free weights; ab exercises; and stretching, especially her quads after running.
Keep reading...
Show less
December is here and the holiday season—better known to ballet dancers as Nutcracker season—is in full swing. To celebrate, we're throwing it back to Patricia Barker and Wade Walthall as Clara and the prince in Pacific Northwest Ballet's 1986 Nutcracker: The Motion Picture.
In this reimagining of the ballet by PNB founding artistic director Kent Stowell and famed writer and illustrator Maurice Sendak, young Clara (played by Vanessa Sharp) defeats the multi-headed mouse king all on her own with a well-aimed, enchanted pointe shoe. She then follows her Nutcracker inside the shell of the mouse king's armor and ventures into an icy cavern. There she is transformed into an older version of herself, played by Patricia Barker. Clara emerges from the cavern to find that her Nutcracker has transformed as well, from a toy caricature into a handsome, mustachioed prince.

Cautiously, Clara takes the prince's hand. That is when the real enchantment begins. At 2:20 Barker dives into a penché arabesque that is far more dazzling than any cinematic effect. Long-limbed and fresh-faced, Barker captures Clara's innocence even as an adult. She soars across the stage in Walthall's arms, her nightgown billowing in the cold night air. An endless swirl of movement, this pas de deux blurs the distinction between reality and fantasy for the audience. Although Stowell and Sendak's
Nutcracker
retired from PNB's repertory in 2014, this film ensures that their unique version of the classic can still be enjoyed year after year. Happy #ThrowbackThursday!
From left: Erin Arbuckle in rehearsal for a new work by Richard Isaac. Photo by Paul B. Goode, courtesy Arbuckle; running the 2015 NYC Marathon. Photo by MarathonFoto, courtesy Arbuckle.
When Erin Arbuckle takes ballet class wearing her New York City Marathon shirt, teachers often ask her, "You didn't actually run that, did you?" She did, twice, and she's running again this year on November 5.
Arbuckle, 28, a graduate of School of American Ballet and a freelance dancer who has performed with Ballet Next and Emery LeCrone Dance among others, is a rare ballerina who not only runs but has taken on the challenge of a marathon.
"If I can run 26 miles, I can handle a two-minute variation," she says.
Ballet dancers are taught to save their bodies for dance and avoid injury from other activities. While low-impact cross-training like swimming is encouraged, running is generally considered too high impact.
"I was told it would give me huge calves and thighs and damage my knees," Arbuckle says.
Her two foot surgeries were from dance injuries though, not running, and her body is holding up well despite what she was told to expect.
Marika Molnar, director of physical therapy at New York City Ballet, generally advises dancers to run only as a warm up. "Running for 5 to 10 minutes before ballet class to move the large muscles of the body is useful," she said. "Beyond that, you start to have risks."
Keep reading...
Show less
Trending
Nov. 01, 2017 04:42PM EST
Photo via Miami City Ballet on Instagram.
For dancers, every day is like Halloween. You don't have to wait until October to try on new personas and elaborate costumes. But that certainly didn't stop the ballet world from going full out yesterday. We rounded up some of our favorites across Instagram to help draw the *spooky* holiday spirit out for one more day.
Matthew Bourne's New Adventure's production of The Red Shoes is nearing its final performances at New York City Center this weekend. American Ballet Theatre's Marcelo Gomes is guest-starring in the production as Julian Craster, the composer boyfriend to protagonist Victoria Page. But for Halloween, Marcelo donned the infamous red shoes himself to dress as the leading ingenue.
Dance Theater of Harlem's Ingrid Silva (and Pointe's June/July cover star) dressed as a unicorn alongside her dog, Frida Kahlo.
Keep reading...
Show less
Violette Verdy coaches PNB principal Elizabeth Murphy in "Emeralds." Photo by Lindsay Thomas, courtesy PNB.
This year marks the 50th anniversary of George Balanchine's Jewels, and companies around the world are paying homage. While last summer's Lincoln Center Festival collaboration with New York City Ballet, Paris Opéra Ballet and Bolshoi Ballet was all glamour and excitement, Pacific Northwest Ballet is taking a reverential look back in advance of its opening performances next week.
In 2014, PNB artistic director Peter Boal invited four stars of Balanchine's original 1967 cast—Violette Verdy, Mimi Paul, Edward Villella and Jacques d'Amboise—to coach the company in their signature roles. And, thank heavens, they captured it all on film. This 20-minute promotional documentary offers priceless footage of them in rehearsals, interviews and lecture demonstrations, offering fascinating insights into Balanchine's creative process and original intentions.
Keep reading...
Show less
Boston Ballet's Dawn Atkins in Balanchine's "Episodes." Photo by Rosalie O'Connor, Courtesy Boston Ballet.
When Boston Ballet artist Dawn Atkins was a little girl, she set a goal: to be a principal dancer by age 21. More specifically, a principal at New York City Ballet. Atkins was a successful student, joining Boston Ballet School's trainee program in 2011. She moved up to Boston Ballet II the following year and was given a company contract in 2013. But it was after knee surgery in 2015 that Atkins completely changed her approach to dance goals. "I had to set small ones, like being able to plié on one leg," she remembers. "I learned that I had to be kind to myself and celebrate those little goals."
Goal setting can help you advance as a dancer and a person. But it's easy to overly focus on far-off accolades rather than on meaningful advancements that will take you to the next level. "One should aspire to have dreams, of course, but it is important to keep reality in perspective," advises Pittsburgh Ballet Theatre School co-director Dennis Marshall. Instead of tethering yourself to a dream that is ultimately out of your control, you can learn to set goals that will feed your dance career and your confidence.
Keep reading...
Show less
Former Pacific Northwest Ballet corps de ballet dancer Chelsea Adomaitis with Company dancers in Jerome Robbins' The Concert. Photo © Angela Sterling.
Reuniting with Chelsea Adomaitis in Paris was like a little taste of home. Old friends and former corps members of the Pacific Northwest Ballet, we had both moved to Europe last summer. Over brunch she' d share the story that brought her abroad.
As a little girl, Chelsea Adomaitis dreamed of dancing for the Paris Opéra Ballet, but as most do, she dismissed it as just that: a dream. Beginning her training in Boston with her mom, a former dancer, she later enrolled at the Harid Conservatory. It wasn't until she attended Pacific Northwest Ballet School's summer program, at age 16, that she discovered Balanchine, and it was love at first step. After two years in the school she was hired as an apprentice.
Her first few years in the company were full of growing pains. Her technique and confidence flourished as she gained opportunities to perform leading roles. Yet juggling these with a very heavy corps load began to wear on her. Confusion, frustration and injuries mounted as one season of this juggling act turned into four. Yet she persevered, hoping her work would soon be recognized and rewarded.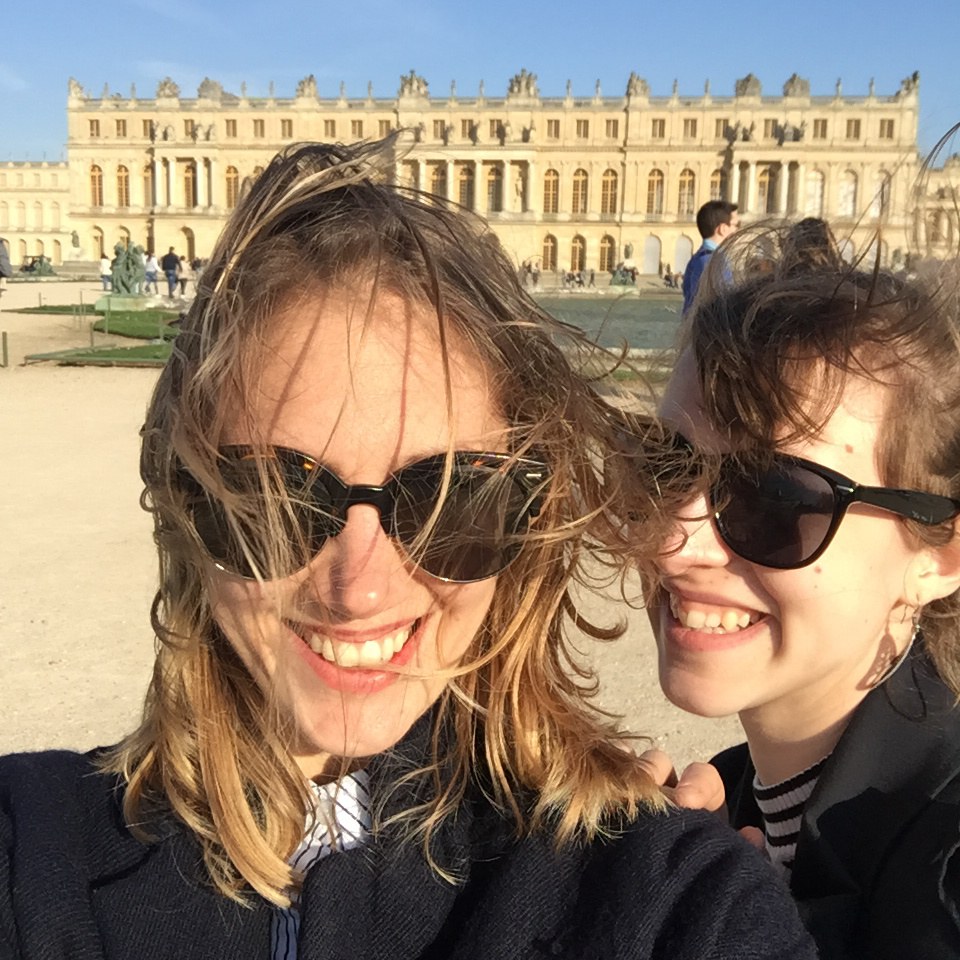 The author and Adomaitis outside Versailles. Photo by Jessika Anspach McEliece, Courtesy McEliece.
Keep reading...
Show less


Get Pointe Magazine in your inbox