News
Feb. 13, 2019 05:41PM EST
Nedvigin teaching company class. Photo by Charlie McCullers, Courtesy Atlanta Ballet.
Gennadi Nedvigin recalls a ballet class he took in 2016, shortly after becoming Atlanta Ballet's artistic director. The recently retired San Francisco Ballet star was wrapping up performance commitments, so while taking barre, he answered work emails on his phone, got sidetracked and kept repeating his ronds de jambe.
Now, fully retired and in his second season directing, the Russian-born, Bolshoi-trained Nedvigin says he is free from distraction and focused on one job. That is, reshaping the 88-year-old Atlanta Ballet into his vision of a world-class company that performs classical, neoclassical and contemporary works. He hopes to build an exclusive repertoire and add touring opportunities.
News
Apr. 30, 2018 05:12PM EST
Nevada Ballet Theatre in Balanchine's "Slaughter on Tenth Avenue." Photo by Virginia Trudeau, Courtesy NBT.
Wonder what's going on in ballet this week? We've pulled together some highlights.
New York City Ballet's Jerome Robbins Festival Opens with World Premiere by Justin Peck
This week marks the start of NYCB's Robbins 100 festival, running May 3-20, celebrating the centennial of choreographer Jerome Robbins. The company will dance 19 Robbins' ballets as well as a world premiere by resident choreographer Justin Peck inspired by Robbins and set to a score by Leonard Bernstein. The centennial of Bernstein, Robbins' longtime collaborator, will also be celebrated this year. This striking trailer offers glimpses of some of Robbins' most beloved ballets, including Fancy Free and The Cage.
News
Apr. 24, 2018 05:00PM EST
Amar Ramasar as Jigger Craigin in the Broadway revival of Rogers and Hammerstein's "Carousel." Photo by Julieta Cervantes, courtesy the production.
The Broadway revival of Richard Rogers and Oscar Hammerstein's Carousel opened last week, and while it stars luminaries from the worlds of musical theater (Joshua Henry, Jessie Mueller) and opera (soprano Renée Fleming), it also stars choreography by one of ballet's own heavy hitters: New York City Ballet soloist and resident choreographer Justin Peck, who shares top billing with the musical's director, Jack O'Brien.

News
Apr. 23, 2018 05:07PM EST
Tiler Peck in Balanchine's "Tchaikovsky Pas De Deux." Photo by Paul Kolnik, Courtesy New York City Ballet.
Wonder what's going on in ballet this week? We've pulled together some highlights.

NYCB Spring Season Opens
NYCB's 2018 Spring Season opens on April 24. The next six weeks are filled with all of what NYCB has to offer including classic works by George Balanchine and Jerome Robbins, world premieres by Justin Peck and Warren Carlyle (each paying tribute to Robbins), and the full-length Coppélia. April 24-28 is all Balanchine; audiences can see works including Agon, The Four Temperaments and Tchaikovsky Pas de Deux. April 28 also offers NYCB's 21st Century Choreographers program, which will appear again later in the month, and includes Peter Walkers' dance odyssey, Alexei Ratmansky's Pictures at an Exhibition and Justin Peck's Year of the Rabbit. Below, Tiler Peck discusses what Tchaikovsky Pas de Deux means to her—she'll be dancing the work April 25 with Joaquin De Luz.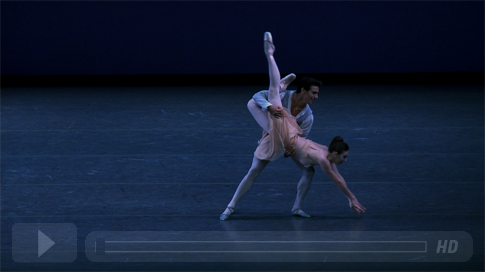 News
Apr. 17, 2018 01:00PM EST
Michelle Thompson Ulerich. Photo by Anne Marie Bloodgood, Courtesy Avant Chamber Ballet.
Founded in 2012, Dallas-based Avant Chamber Ballet (ACB) has made a name for itself by presenting works by Christopher Wheeldon, George Balanchine and other major choreographers. Yet its Women's Choreography Project, now in its fourth year, makes ACB a company to watch in Texas and beyond. The Project's capstone is the annual choreography contest; the winner receives a stipend and the chance to set a new work on ACB's outstanding 18-member troupe. Nurturing the careers of women dancemakers is a central part of the company's mission. "As an independent choreographer, I found it almost impossible to get a professional commission," says ACB founder and artistic director Katie Cooper. "One of the reasons I started ACB was to make my own opportunities for creating new works."

News
Apr. 16, 2018 05:00PM EST
YAGP 2018 New York Finals Week. Photo by VAM Productions, Courtesy YAGP.
Wonder what's going on in ballet this week? We've pulled together some highlights.
Youth America Grand Prix

After months of semi-finals, the final round of YAGP 2018 is finally here! This week, 1,800 finalists from 30 countries (chosen from the over 10,000 who auditioned) are gathered in New York. On April 18, the competition culminates in the Final Round at the Koch Theater at Lincoln Center, where the most promising participants will compete for scholarships and contracts with ballet schools and companies around the world. April 19 marks YAGP's Stars of Today Meet the Stars of Tomorrow gala, featuring finalists from the competition alongside international ballet stars including Dutch National Ballet principal Sasha Mukhamedov, American Ballet Theatre's Isabella Boylston and Daniil Simkin, and New York City Ballet principal Daniel Ulbricht, among others. YAGP is live-streaming the finals all week—you can check it out on their website. Also, keep an eye on Pointe's social media channels tomorrow, April 17, for an exclusive behind-the-scenes look at the competition.
Competing in YAGP this week? Here's a good luck message from ABT's Stella Abrera.
Feb. 07, 2017 10:37AM EST
Courtesy Strømgren.
Jo Strømgren may not be a household name for stateside balletomanes (yet), but his work has been performed by dozens of dance, theater and opera companies throughout Europe. He's currently the associate choreographer at Norwegian National Ballet and directs his own dance-theater troupe, Jo Strømgren Kompani. Pointe spoke with this major force in European dance about his premiere, The Letter, at Philadelphia's BalletX, which runs through February 19.
How would you characterize your work?
Dec. 01, 2016 04:03PM EST
From left: Ashley Wheater, Anastacia Holden, Christopher Wheeldon and Joan Sebastián Zamora rehearse The Nutcracker (photo by Todd Rosenberg, courtesy Joffrey Ballet)
It's a truth universally acknowledged that any ballet company worth its sugar plums must have a production of Nutcracker as part of its holiday season repertoire. And for nearly three decades, through its final performance at Chicago's Auditorium Theatre in December 2015, the Joffrey Ballet was well served by its uniquely Victorian-American setting of the classic. It was choreographed by founding artistic director Robert Joffrey shortly before his death, and featured major contributions from Gerald Arpino.

Now the Joffrey is about to get a brand-new $4 million version of the ballet, choreographed by Christopher Wheeldon. He has assembled a stellar team of collaborators, including set and costume designer Julian Crouch, author and illustrator Brian Selznick, puppeteer Basil Twist, lighting designer Natasha Katz and projection designer Benjamin Pearcy. And while the production will retain the Tchaikovsky score, and many of the ballet's classic elements, the story will be reimagined with a distinctly Chicago backdrop.
Apr. 07, 2016 01:05PM EST
ABT Celebrates Ratmansky
Alexei Ratmansky works through Firebird with ABT dancers (photo by Gene Schiavone, courtesy ABT)
American Ballet Theatre's Ratmansky Festival is the centerpiece of the company's spring season at Lincoln Center's Metropolitan Opera House. Since festivals and celebrations usually come later in a choreographer's career, it provides an unusual opportunity to see how ABT has adapted to and absorbed Alexei Ratmansky's approach since he became artist in residence seven years ago. "The last seven years of Alexei's creative process with us was an exploration of the company's depth," says ABT artistic director Kevin McKenzie. "I think it's always good to take another look at what is, in fact, still new to us."
The festival kicks off with two mixed bills: the three-part Shostakovich Trilogy, and a program featuring a world premiere to Leonard Bernstein's "Serenade (After Plato's Symposium)" as well as Seven Sonatas and Firebird. Later will come the American premiere of The Golden Cockerel, a two-act ballet that Ratmansky made for the Royal Danish Ballet in 2012. ABT will also bring back Ratmansky's staging of The Sleeping Beauty, which the company unveiled last year.
McKenzie notes that Golden Cockerel shows a different facet of Ratmansky's work. "It taps the humorous side of Alexei's vision while adhering to his interest in historic works," he says. Originally staged by Michel Fokine to a score by Nikolay Rimsky-Korsakov for Diaghilev's Ballets Russes, the ballet takes its inspiration from a folktale by Pushkin. In it, the tsar of a distant land is given a magical golden cockerel that warns him when his kingdom is in danger.
"I can't wait to embody my character and experiment with it," says soloist Skylar Brandt, who dances the title role on opening night, and has watched videos and read the story to prepare for the role. Brandt looks forward to working again with Ratmansky in the studio. "I have observed that dancers who trust Alexei excel in his movement," she says. "When he says, 'Good,' it's a big compliment." —Hanna Rubin
An American First
Sarasota Ballet artistic director Iain Webb approached Tony Dyson—owner of Sir Frederick Ashton's Enigma Variations—about obtaining choreographic rights without knowing the historic 1968 ballet had only ever been performed by The Royal Ballet and Birmingham Royal Ballet.
Fortunately, the request occurred during the May 2014 Sir Frederick Ashton Festival in Sarasota, at which Dyson watched Webb's dancers perform 14 Ashton works. "I think it gave him the trust to give the ballet to us," Webb says. "He knew we'd respect it." Webb was, in fact, a protégé of Ashton's, and Sarasota Ballet is noted as the preeminent American expositor of the choreographer's work.
Thus the April 8 premiere of Enigma, staged by British dance notator Patricia Tierney, will be the first time an American company performs the work, set to a score by Edward Elgar. —Carrie Seidman
Liam Scarlett Faces Frankenstein
Yuan Yuan Tan, Liam Scarlett and Carlo Di Lanno rehearse Scarlett's Fearful Symmetries
(photo by Erik Tomasson, courtesy SFB)
Royal Ballet artist in residence Liam Scarlett is noted for the psychological themes of his one-act ballets, like 2014's The Age of Anxiety. On May 4, he'll push those themes further with the premiere of Frankenstein—his first full-length work for The Royal Ballet's main stage. Frankenstein marks a first-time collaboration between Scarlett and composer Lowell Liebermann, and is co-produced with San Francisco Ballet, which will give the U.S. premiere in 2017. Pointe spoke with the choreographer about his process and why he thinks Mary Shelley's novel is "perfection in literature."
Why were you drawn to Frankenstein?
I first read Frankenstein as a child. Now, it's less a tale of gothic horror and more a story of love: innocent love, the lack of love for oneself, betrayed and jealous love, and the desperate need to be loved by another. Every great story ballet has love at its center.
How do you work in the studio?
I don't like to impose preconceived ideas on the talent in front of me. I prefer to mold the dancers and listen to what they have to say. I'm very fortunate to have both The Royal Ballet and SFB on board.
Can you talk about the characters?
Victor (Frankenstein) and Elizabeth (Victor's betrothed) provide a pivotal central couple. The Creature adds a third role into the love triangle, as he struggles to gain acceptance from Victor and eventually takes revenge on him. The story has sympathy for all three characters—incredible actors are key for this ballet.
Will the ballet hew closely to the format of the book?
Shelley wrote in a three-person narrative form and created a pyramid structure that sets up tension and suspense perfectly. There's been some editing to make it suitable for performance, but I've tried to stay true to the relationships between characters. —Nicole Loeffler-Gladstone
Carolina Ballet Tackles Macbeth
To commemorate 400 years since Shakespeare's death, Carolina Ballet will perform three ballets dedicated to the Bard, crowned by the April 14 premiere of artistic director Robert Weiss' Macbeth. The ballet will have costumes by David Heuvel and scenery designs by Jeff A.R. Jones, while J. Mark Scearce will compose the commissioned score.
Despite Macbeth's rarity in the classical canon, Weiss believes the story lends itself well to dance. "It's about the psychological interdependence between a husband and wife," he says, "which makes for great pas de deux and the heart of the ballet. And, of course, the witches are a great excuse for dancing." —NLG
Atlanta Ballet's Uncharted Territory
Atlanta Ballet has a diverse repertoire, but the company's May 20 premiere by choreographer Andrea Miller—founder of Brooklyn-based Gallim Dance—marks a signifcant departure. Miller is a graduate of The Juilliard School and a former member of Batsheva's Young Ensemble, which works in Gaga, Israeli choreographer Ohad Naharin's unpredictable movement language.
Miller's choreography is rife with physicality so extreme it looks reckless. It's hard to imagine her work transitioning into a ballet studio. Artistic director John McFall contacted Miller about creating a new work after seeing Gallim perform in Atlanta.
Miller has never choreographed on a classical ballet company and acknowledges her different approach. "I see dancers as individuals. We work together by talking and using imagery," she says. She's excited about dancers with such a different, and specific, background performing her work. "Figuring out how to communicate my values is the beauty of the process." —NLG
Dec. 04, 2015 10:47AM EST
This season, Kansas City Ballet will unveil its all-new Nutcracker, choreographed by artistic director Devon Carney.
Carney has assembled an impressive team, including set designer Alain Vaës, costume designer Holly Hynes (who was the director of costumes at New York City Ballet for 21 years) and lighting designer Trad A Burns. The show will run December 5–24 at the Kauffman Center.
Check out this great behind-the-scenes video produced by KCPT!
For more news on all things ballet, don't miss a single issue.