News
May. 14, 2018 05:00PM EST
Artists of Ballet West. Photo by Beau Pearson, Courtesy Ballet West.
Wonder what's going on in ballet this week? We've pulled together some highlights.
ABT Met Opera Season Opens with Giselle
This week American Ballet Theatre moves into the Metropolitan Opera House for their annual 8-week season. From Alexei Ratmansky's new Harlequinade to the world premiere of AFTERITE by Wayne McGregor, this season is packed. But week one opens with a classic: Giselle. Though a number of ABT's most celebrated dancers will have their turn in the lead roles this week, the May 18th performance will be danced by guest star Natalia Osipova in the title role opposite ABT principal David Hallberg as Albrecht.
News
Apr. 23, 2018 05:07PM EST
Tiler Peck in Balanchine's "Tchaikovsky Pas De Deux." Photo by Paul Kolnik, Courtesy New York City Ballet.
Wonder what's going on in ballet this week? We've pulled together some highlights.

NYCB Spring Season Opens
NYCB's 2018 Spring Season opens on April 24. The next six weeks are filled with all of what NYCB has to offer including classic works by George Balanchine and Jerome Robbins, world premieres by Justin Peck and Warren Carlyle (each paying tribute to Robbins), and the full-length Coppélia. April 24-28 is all Balanchine; audiences can see works including Agon, The Four Temperaments and Tchaikovsky Pas de Deux. April 28 also offers NYCB's 21st Century Choreographers program, which will appear again later in the month, and includes Peter Walkers' dance odyssey, Alexei Ratmansky's Pictures at an Exhibition and Justin Peck's Year of the Rabbit. Below, Tiler Peck discusses what Tchaikovsky Pas de Deux means to her—she'll be dancing the work April 25 with Joaquin De Luz.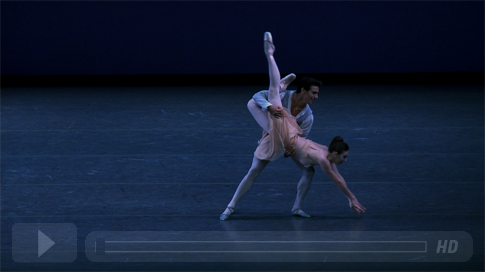 News
Mar. 12, 2018 04:16PM EST
Boston Ballet's Misa Kuranaga and Nelson Madrigal in John Cranko's "Romeo and Juliet." Photo by Rosalie O'Connor, Courtesy Boston Ballet.
From celebrations of Jerome Robbins' centennial to exciting premieres to old classics, this week is jam packed with ballet. We rounded up highlights from eight companies to give you a sense of what's happening onstage this week.
The Washington Ballet
On March 14, The Washington Ballet will present a triptych of new works. Gemma Bond's premiere ties-in to Women's History Month, and she discusses the connection in this video. Also on the bill are creations by celebrated dancers Clifton Brown and Marcelo Gomes. For video teasers of their works, click here.
News
Feb. 09, 2018 05:22PM EST
BalletMet's world premiere of Edwaard Liang's "Giselle" opens this weekend. Photo by Jennifer Zumda, Courtesy BalletMet.
This weekend features two romantic ballets right on time for Valentine's Day, a mixed repertory program by New York Theatre Ballet including a work by Gemma Bond and plenty of Olympic figure skating featuring our favorite former dancer, Nathan Chen.
Ballet West presents Sir Frederic Ashton's Cinderella, opening on February 9, 2018 and running through the 25 at the Capitol Theatre in Salt Lake City, UT. This timeless retelling of the classic fairytale promises lots of sparkly tutus and magical sets. We love this short video promo featuring real-life couple Beckanne Sisk and Chase O'Connell. Tickets can be purchased here.
A scene from Stephen Mill's "Light/The Holocaust & Humanity Project." Photo by Tony Spielberg, Courtesy Ballet Austin.
Ballet excels at defying gravity. Lightness, ethereality, wispiness, symmetry, lineal order, chivalry and blissful endings to well-worn tales bestow on ballet a reputation as an art form that embraces divine beauty and design. But themes of grief, trauma, death, war, annihilation, exploitation, abuse, oppression and genocide do not frequently skim the surface sur la pointe. Bearing weighty burdens has traditionally found a place in the realm of modern dance in works such as Martha Graham's Lamentation, or Paul Taylor's image of Armageddon in Last Look.
But beyond shimmering tutus and pristine arabesques, there are other reasons why heavy issues seldom appear on the ballet stage. Taking on a serious subject requires a serious treatment. A ballet about terrorism could easily trivialize the subject through melodrama or prettification. Classical vocabulary was born from noble demeanor in the royal courts; in the wrong hands, it can seem limited in registering the mood of a sordid subject or for expressing disturbing behavior. Add to that the industry's marketing directors and board members, tempted towards steering directors and choreographers away from challenging ballets for fear of poor ticket sales.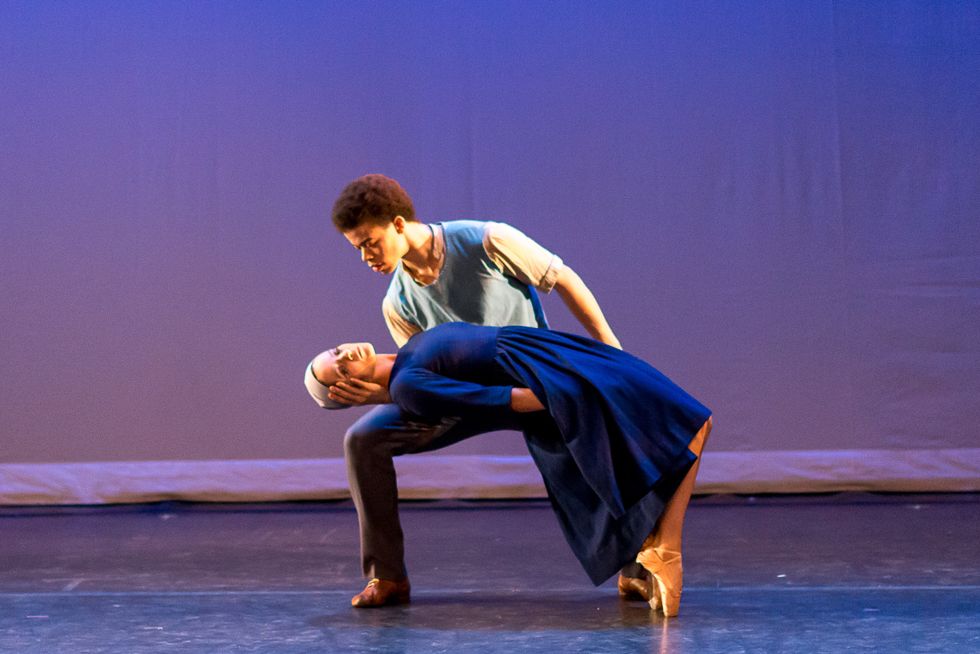 New York Theatre Ballet performs "Dark Elegies." Photo by Darial Sneed, Courtesy New York Theatre Ballet.
Mar. 21, 2017 05:10PM EST
March 20–21 marks Arts Advocacy Day, when cultural organizations and grassroots advocates meet with members of Congress in Washington, DC, to rally support for policies and public funding for the arts. And it's a particularly urgent time. In addition to advocating for arts education policies and charitable tax deductions, these groups will be fighting to continue funding for the National Endowment of the Arts, which has been marked for elimination in President Trump's recent budget proposal. While some consider the NEA a waste of taxpayer money, it's worth noting that it distributes arts grants to every Congressional district in the U.S. and makes up only 0.004 percent of the federal budget (less than $0.50 per person, per year).
New York Theatre Ballet's Amanda Treiber and Steven Melendez in Richard Alston's Such Longing. Photo by Rachel Neville, Courtesy NYTB
While Trump's budget proposal still faces a long road towards approval, the news has shaken many in the dance community, where budgets—especially among smaller, more regional organizations—are particularly fragile. In a curtain speech at a recent performance of New York Theatre Ballet, a company of 13 dancers, artistic director Diana Byer noted that, "dance has often been given short shrift in the overall funding picture, but we couldn't live without the state and federal funding support we do get." Larger and more financially stable organizations such as Lincoln Center have also issued statements, noting that the Endowment's influence is so strong that "every dollar the NEA contributes leads to nine additional dollars being donated from other sources."
So what can you do? Dance/USA, a national partner for Arts Advocacy Day, is urging the dance community to contact their Congressional leaders through this form letter, which you can easily personalize if you prefer. Once you fill in the fields, the site will automatically send it to your Senators and Representatives. Dance/USA also recommends making appointments with lawmakers to talk about how the arts have made a positive impact in your community, and to show them by inviting them to visit your organization. For more information on how to get involved, click here.
For more news on all things ballet, don't miss a single issue.
Nov. 29, 2001 07:00PM EST
Perhaps taking its cue from the Metropolitan Opera, whose recent movie theater simulcasts have sold out across the country, the New York Theatre Ballet is making its big-screen debut. Beginning August 13, movie-going audiences can get a behind-the-scenes look at some of the company's biggest productions. Watch dancers, choreographers and set and wardrobe designers work together to stage Cinderella, The Sleeping Beauty and The Nutcracker. Go to www.fathomevents.com for a list of participating theaters and show times. —AS
Nov. 29, 2001 07:00PM EST
While many dancers dream of leading roles with a great ballet company, for most, the climb to the top is a gradual one that begins in the corps de ballet. In May, Pointe magazine advisory board member and master teacher Nancy Bielski spoke with three dancers in the midst of their first year as corps members of American Ballet Theatre, New York City Ballet and New York Theatre Ballet. Despite the differences in size and repertoire of the three companies, and differences in their backgrounds, all three shared common experiences from their first year in the corps.

Nicola Curry, 20, is from Colorado. She studied at Canada's National Ballet School and joined American Ballet Theatre after a stint with the ABT Studio Company and seven months as an apprentice with the main company.

Marina Lazzaretto, 24, was born and trained in Calgary, Alberta. New York Theatre Ballet is her first ballet company job, but she danced for about a year on a cruise ship before coming to New York.

Rachel Piskin, 18, is from New York City. She is a graduate of the School of American Ballet, and apprenticed with NYCB for a season before signing her first contract.


Getting Started
Nancy: How did you get into the company?

Nicola: ABT's always been my dream, but I didn't audition. I [attended] an ABT summer program from the age of 12. I auditioned for the Studio Company the year before I was supposed to graduate from NBS and was offered a contract. I decided to finish school, but then came back. I was in Studio Company for a year, and then I was an apprentice at the Metropolitan Opera House season through December. I signed my corps contract in March.
Marina: The company posted an audition, and I went. Diana Byer, the director, asked me to come back the next day.
Rachel: You have to go through the School of American Ballet to get into NYCB. I performed in the workshop, and then Peter Martins picked me to apprentice after seeing the workshop. I was an apprentice for a little over a season.

Nancy: What was the best part, once you joined the company?

Nicola: The realization [that I would be] dancing with such incredible people. I went into company class the first day and Vladimir Malakhov was there and Angel [Corella] and Julie [Kent] and Irina [Dvorovenko] and Diana Vishneva and Carlos Acosta and Jose [Manuel Carreño] and Ethan [Stiefel], Gillian [Murphy]—I mean, everyone was there. I almost didn't want to take class. I just wanted to watch everyone.
Marina: Being onstage. Getting to perform is obviously what we all love the most about being dancers, so that was the best part to me.
Rachel: The most exciting for me was getting to perform every single day—not just once a year or once every two months. When you're a student, it's mostly about the classes, but in the company, you are taking the class just to warm yourself up. You have to keep your technique, but in the end, it's the performance that you're looking forward to.

Nancy: What was the hardest part?

Nicola: When I joined, there were a lot of taller girls who were injured, and so I immediately was thrown into first casts of pretty much all of the ballets. I was performing every act of every ballet in the Met season. I didn't really have time to think about what was hard.
Rachel: Definitely the hardest part was the rehearsals. I never really knew how many rehearsals [company members] had in a day before the performance. And learning how to pace yourself, so you have enough energy for the performance, which is the most important thing. You want to do well in rehearsals, to show them that you can do it, but you can't give your entire self in rehearsals, because then you'll have nothing left at the end of the day.
Marina: Also, there's a lot more pressure, and you really feel it when you're in a company. When you're a student, if it's not 100 percent perfect, it's not always a problem. But, when you're being paid to do it, you have to do it right.


Learning The Ropes
Nancy: How did you find fitting into the company?

Rachel: It's intimidating at first, but after a while I felt more comfortable and had the courage to go up front. In class, you just have to think about yourself—you can't think about who else is in class and what they can do, because there are going to be so many people that can do different things.
Marina: For me, the hardest part was that everyone already had established a bond between them, because in a small company [like NYTB], there's a lot of camaraderie. To be the new person thrown into that group of people was really hard. [I had to try] to be myself and be outgoing. It takes a few weeks, but then you find yourself in that group.

Nancy: Did you have a mentor or anyone to help you?

Nicola: I had known people from the Studio Company the year ahead of me, and they helped me. One took me through how to read the schedule, because ABT's schedule is difficult to understand. Also, the staff explains things like who you go to for your paycheck and who you go to about costumes or for pointe shoes.
Marina: One of the dancers who has been with the company for six years seemed really approachable, so I would go to her with questions about everyday things. She was really my mentor. Even with choreography, she was there for me.
Rachel: The people in the [NYCB] corps were pretty open and willing to help the new apprentices. [When you are new], you're in the same dressing room with them and they are who you work with every single day. Now, I'm helping the new apprentices this year. It feels good to know and help them, whereas last year I was totally confused. 

Nancy: How do other dancers affect your work? Did you learn from them?

Nicola: It's really fun to look around the studio; every single person has a specific quality that you can admire or learn from. I think you can potentially learn from anyone in the studio. I love watching how people use their upper bodies, because that's something that I struggled with myself. For example, I love watching Julie [Kent], because she's the epitome of classical ballet. Everything's just very calm and clean. There are [also other] girls in the corps, like Sarah Lane and Melissa Thomas, that I admire.
Marina: I was also inspired by certain people. I aspired to be like them. I tried to say, "Oh, I really like the way she did that. I'm going to try to do that next time." I think that is a really healthy way to grow and improve yourself.
Rachel: In company class there are a lot of people to learn from, especially the principals. When they take company class, I always watch how they work. Even before a performance—how they warm up or how get ready for the performance. I love watching Jenny Ringer. I feel that when you watch her, nothing else happens onstage. Like what you were saying about Julie, she's not about tricks. It's about her artistry and her technique and the way she puts everything together.

Nancy: I think it's interesting that the dancers you've mentioned are not "tricksters."

Nicola: Dancers like Makarova and Margot Fonteyn—you hear everything about them, but they weren't able to do triple fouettés.   
Rachel: Tricks are something that you don't work for. It's something you either have or don't have. The kind of dancers we're talking about develop themselves over time. It's not something they just have.
Nicola: It's true that tricks are exciting. But they make you feel amazed rather than inspired. "When ABT was in D.C. we were performing Romeo and Juliet, and I went out to watch the fourth act, and Julie [Kent] was performing. My emotions were totally whacked. It felt to me as if she was actually dead. It was such an incredibly moving experience. When you're performing, you want people to go away with that experience, as opposed to having counted how many pirouettes a dancer did. It's hard though, because when you're in the studio that's what you work on.


Being A Real Pro
Nancy: Was it hard to motivate yourself without your teacher pushing you?

Rachel: I always motivated myself. But, I guess, in the company I learned more how to [notice] if something was wrong during class and [figure out] how to fix it myself. I also have learned how to pay attention to how my body feels in certain positions and to be my own teacher rather than, as happens in school, depending on the teacher you had that day to fix your problems.
Marina: I've found that it is hard to motivate myself, but at the same time, there's always something driving you. At the end of the day, you're the one onstage, so you don't want to stick out or do something wrong. It's up to you to push yourself in rehearsals and performances.
Nancy: How is your company class different from the classes you were used to?

Rachel: They're a lot more crowded, and during the season, [class is sometimes only] an hour—from 10:30 to 11:30—and then we start rehearsal at 11:30 right away. I guess they think the extra half hour for rehearsal is important. I think that the rep really keeps you strong, because you're basically dancing all day. But if I'm not rehearsing or I'm not really busy, I try to take another class just to keep my technique up.
Marina: Company class is required at my company to encourage everyone to perform in the same style, because it's a small company—it really sticks out if you're different. Those classes were really an adjustment for me, because NYTB does a Cecchetti class, which I'd never studied before. It's really specific. It's more about the upper body, the arm positions and the way you turn your head, and it feels very different from my Russian training.

Nancy: Do you think you have enough rehearsal time?

Nicola: I wouldn't say that we always have adequate rehearsal time. At the Met, we'll rehearse all day and then you have a show at night, which is incredibly intense. When we're performing, our rehearsals are definitely different from what they are when we're in rehearsal periods, when we rehearse from 12 to 7. Depending on the piece that you're in, you may only have three rehearsals a day. So, it can be really heavy or really light.
Rachel: The company has to plan rehearsals weeks in advance if it's a new ballet, and no one knows it. If we just performed a ballet, then it will need only a few rehearsals. Sometimes there probably aren't enough rehearsals before a performance, but sometimes I feel really prepared. I think it just depends on the time and what ballet it is.

Nancy: How do you cope with not having enough rehearsal?

Nicola: You work on your own.
Marina: At NYTB, if you need time, they'll find you time to use a studio.
Rachel: I just try to think about everything before I go on, if I don't feel like I have enough rehearsals. I go through it in my mind, and I try to process it after class.


A New Perspective

Nancy: What is important to you now, and how is that different from when you were students hoping to get into a company?

Nicola: I know my perception of ABT has definitely changed now that I have the inside view of it. Definitely
the little-girl dream is still there, and hopefully sometime in the near future I will be a principal dancer. But you can't get too wrapped up in all that either. You can't get too ahead of yourself. Patience is everything, I think, because there's also the politics that go along with companies.
Marina: My mind has shifted gears a little bit. When I was in school, I was always working to get a job. Improving pirouettes, extension—to get into a company. And now my thinking is more about working in a way to preserve my body so I can have a long career.
Rachel: For me, now I think about how to develop myself so that every year I'll get better as a performer. As a student, I thought more about the classroom steps, but performing [requires] letting yourself go—being able to use the steps in the classroom without having to think about it so that you can work on the artistry.
Nancy: What do you do about the politics? Was it something that surprised you, or were you expecting it?

Nicola: There's not only politics between artistic directors and the company, but there's also politics within the company and with the dancers. I feel like I've definitely stepped on some dancers' toes by going in the first group or by standing in the front. On several occasions, I've had sneers. People apparently get upset with the way I take class.
Marina: I think you see it all the time. I think you see people who do it too much, but you also see people who haven't learned from it enough, because I think sometimes talented people really get overlooked because they don't use politics to their advantage. I think that is something you do need to learn—that you do need to be able to work with it a little bit.
Rachel: I think I expected it, just maybe because I came from a large school, which kind of had politics as well. So I guess I was used to it. But, because there's nothing I can do about, it I can't get myself worked up over it.

Nancy: What kind of advice would you have for people who are just starting out in a company?

Nicola: I think staying true to yourself is the biggest thing. And to just have fun and not get swept up in all the politics. When you're looking in the mirror and you're critical of yourself and how you're dancing, you have to constantly remember your love for it. There's fatigue, anxiety—so many different emotions. But it's the most rewarding experience, because you're doing what you love doing. And you're getting paid to do it, which is amazing!
Marina: You have to be grateful for that, too, because for everyone who's dancing who has a job, there are hundreds and hundreds of girls who want one. There are some things you need to adapt to, but you should never lose yourself. Everyone has that something special about them, and you should never lose that just to please people.
Moderated by Nancy Bielski