Trending
Jan. 10, 2019 03:51PM EST
Site Network
Dec. 10, 2018 09:01AM EST
Photo credits, clockwise from bottom left: Peter Mueller, Courtesy Cincinnati Ballet; Jayme Thornton; Jochen Viehoff, Courtesy Stephanie Troyak; Karolina Kuras, Courtesy National Ballet of Canada; Natasha Razina, Courtesy State Academic Mariinsky Theatre; Kim Kenney, Courtesy Atlanta Ballet; Jim Lafferty; Arian Molina Soca, Courtesy Pennsylvania Ballet; Altin Kaftira, Courtesy Dutch National Ballet; Scott Shaw, Courtesy Shamar Wayne Watt
What's next for the dance world? Our annual list of the dancers, choreographers and companies that are on the verge of skyrocketing has a pretty excellent track record of answering that question.
Here they are: the 25 up-and-coming artists we believe represent the future of our field.
Keep reading...
Show less
Trending
Nov. 20, 2018 11:18AM EST
New York City Ballet soloist Claire Kretzschmar as the Sugarplum Fairy in Balanchine's "The Nutcracker." Photo by Paul Kolnik, Courtesy NYCB.
What bunhead hasn't dreamed of dancing Clara in Nutcracker? But with so many young dancers aspiring to the role, casting disappointments are inevitable each year. Today, three professionals share their childhood Clara casting disappointments and what helped them move on and learn from the experience. We hope their stories will encourage you this Nutcracker season!
Keep reading...
Show less
Rosenfield in Dances Patrelle's Yorkville Nutcracker. Photo by Rosalie O'Connor, Courtesy Rosenfield.
Shoshana Ronsenfield's career has not followed a straight path. In a surprising move, the born-and-raised New Yorker left a burgeoning career at New York City Ballet in 2012 to study economics at Barnard College. Upon graduating, Rosenfield spent six months freelancing with companies including New Chamber Ballet and Tom Gold Dance before spending two years working in global management at Goldman Sachs (and dancing on the side).
Now Rosenfield is on to a new chapter: She's just completed a boot camp in computer coding, and is currently doing a coding teaching fellowship. But she's still dancing. This weekend, Rosenfield will appear in Tom Gold Dance's fall season at Florence Gould Hall. We caught up with Rosenfield to hear all about how she's balanced college and career and how she's learned that it is possible to do it all.
Keep reading...
Show less
Diana Adams and Irving Davies in "Invitation to the Dance," via YouTube.
Elegant, enigmatic and versatile, Diana Adams was a muse to the choreographic visionaries of her day. She originated roles in works by Agnes de Mille, Antony Tudor, George Balanchine and Gene Kelly, most famously the edgy pas de deux in Balanchine's Agon alongside the recently departed Arthur Mitchell. But outside the ballet world she may be better remembered for her role in Gene Kelly's 1956 film Invitation to the Dance. In a swanky, style-blending duet, Adams's polished pointework and long lines juxtapose British tap dancer and choreographer Irving Davies' suave, grounded style.
Diana Adams and Irving Davies - Invitation to Dance www.youtube.com
Keep reading...
Show less
News
Oct. 15, 2018 12:00PM EST
Joseph Gordon, pictured here in George Balanchine's Who Cares?, became New York City Ballet's newest principal this weekend. Photo by Paul Kolnik, Courtesy NYCB.
On October 13, the evening before the close of New York City Ballet's fall season and longtime principal Joaquin De Luz's retirement performance, Jonathan Stafford, the leader of the company's interim artistic team, promoted seven company dancers: six men and one woman. In addition to De Luz, NYCB lost three other principal men this fall. Chase Finlay, Zachary Catazaro and Amar Ramasar were fired last month in the midst of a scandal surrounding the sharing of sexually explicit communications. With principal Adrian Danchig-Waring out of commission while recovering from a broken foot, the company has been in need of male dancers to bolster its upper ranks.
Joseph Gordon has been promoted to principal, and Daniel Applebaum, Harrison Coll, Claire Kretzschmar, Aaron Sanz, Sebastian Villarini-Velez and Peter Walker have been promoted to soloist. All seven made a number of debuts throughout the year and shone in featured roles; we've rounded up some of their recent accomplishments below.
Keep reading...
Show less
News
Oct. 09, 2018 10:21AM EST
"Very rarely do I come offstage without a smile on my face," says Wellington, here in Jerome Robbins' Goldberg Variations. Photo by Paul Kolnik, Courtesy New York City Ballet.
Lydia Wellington practically grew up at New York City Ballet. Her mom, a children's book author and illustrator and ballet enthusiast, used to take her to shows up in the fifth ring when she was a toddler—"it was cheaper than babysitting," says Wellington. So at age 7 it was almost natural for her to enter the School of American Ballet, where she spent the next 11 years, eventually graduating into the company.
Keep reading...
Show less
News
Sep. 21, 2018 04:10PM EST
Members of NYCB in Gianna Reisen's Composer's Holiday at the 2017 Fall Fashion Gala. Photo by Paul Kolnik, Courtesy NYCB.
Last year, New York City Ballet wowed fans by hiring its youngest choreographer ever, the then-18-year-old Gianna Reisen, to make a ballet for its Fall Fashion Gala. For this year's gala, held September 27 at Lincoln Center's Koch Theater, Reisen will be back alongside NYCB first-timers Kyle Abraham and Matthew Neenan. All three will present world premieres. Reisen, a former student at the School of American Ballet, is now an apprentice at Dresden Semperoper Ballett. "Living, dancing and choreographing in Europe has given me a set of tools that I could never throw away," she says. Reisen will work with a cast of 18 dancers to a score by John Adams, and will incorporate set pieces onstage. "I plan to tell more of a story this time around," she says.
Keep reading...
Show less
News
Sep. 17, 2018 05:56PM EST
Ramasar and Catazaro, via Instagram
New York City Ballet fired principal dancers Amar Ramasar and Zachary Catazaro on Saturday. Both had initially been suspended until 2019 for engaging in "inappropriate communications," while principal Chase Finlay, who was the instigator of those communications, resigned. (Although, in a statement on Saturday, NYCB made it clear they had decided to terminate Finlay prior to his resignation.)
Keep reading...
Show less
News
Sep. 17, 2018 05:18PM EST
Trending
Sep. 14, 2018 11:52AM EST
Photo by Quinn Wharton for Pointe.
Over the past year, the #MeToo movement has helped spotlight sexual harassment, as well as verbal and emotional abuse, in the ballet industry. Most recently, a lawsuit filed by Alexandra Waterbury against New York City Ballet and principal dancer Chase Finlay, who has since resigned, revealed particularly chilling behavior. Earlier this week, we posted an article that struck a nerve with our audience. We've received some heated responses. We hear you, and we want to take this opportunity to give you a voice to address concerns and ask questions about recent claims of abuse in the ballet world.
Keep reading...
Show less
News
Sep. 12, 2018 03:27PM EST
via Upslpash
When news about the lawsuit against New York City Ballet and Chase Finlay emerged last week, plaintiff Alexandra Waterbury, a former School of American Ballet student, told The New York Times:
"Every time I see a little girl in a tutu or with her hair in a bun on her way to ballet class, all I can think is that she should run in the other direction," she said, "because no one will protect her, like no one protected me."
It was quite a statement, and it got us thinking. Of course, it's heartbreaking to imagine the experiences that Waterbury lists in the lawsuit, and it's easy to see why this would be her reaction.
But should aspiring ballet dancers really "run in the other direction"? Were her alleged experiences isolated incidences perpetuated by a tiny percentage of just one company—or are they indicative of major problems in today's ballet culture within and beyond NYCB's walls?We reached out to a variety of authorities in the field to hear their reactions to her statement.
Keep reading...
Show less
News
Sep. 07, 2018 10:14AM EST
Chase Finlay. Photo via Instagram.
Former School of American Ballet student Alexandra Waterbury, 19, is suing New York City Ballet and her ex-boyfriend, former principal dancer Chase Finlay.
Finlay resigned suddenly last week, and principals Amar Ramasar and Zachary Catazaro were put on unpaid leave for the remainder of 2018 because of "inappropriate communications" of a "personal nature."
Keep reading...
Show less
Kyle Froman for Pointe.
Doing the same show eight times a week isn't easy. But New York City Ballet soloist Brittany Pollack, currently playing the dance-heavy role of Louise in Carousel on Broadway, keeps her dance bag stocked with ways to get through. She always takes one chewable B-12 vitamin before the show and one during intermission for an added burst of energy. "They taste like Starbursts," she says. She also carries a banana and Luna bar for a pre-performance snack, and applies Love's Baby Soft body spray throughout the show to feel refreshed. "I've worn this since I was a little girl," she says. "My mom still wears it too."
Keep reading...
Show less
News
Aug. 31, 2018 12:38PM EST
Peter Frame performing Paul Taylor's solo in George Balanchine's "Episodes." Photo by Monroe Warshaw.
The dance community mourns another loss this week, as we learned former New York City Ballet principal Peter Frame passed away on August 30. Frame, who was 61, trained at the School of American Ballet and was a member of NYCB (his twin brother Paul danced with the company as well) from 1976 to 1990, earning the rank of principal in 1988.
Frame joined SAB faculty in 1993, where he is credited with developing a body strengthening program for the dancers as well as creating a weight training class for men. Additionally, Frame taught at Ballet Academy East, where in a 2017 blog post on their site, he shared one of his fondest memories—dancing in George Balanchine's Episodes, where he was cast in the solo originated by Paul Taylor, who also passed away earlier this week. "Omitted since Taylor performed it, I would reintroduce the solo to the stage," Frame said in the post. "This was one of the most exciting moments in my career." Frame performed the solo from 1986 to 1989, becoming the only person after Taylor himself to dance it until he restaged the piece for Miami City Ballet in 2017.
Described as a "kind and generous spirit" by NYCB principal Megan Fairchild in an Instagram tribute, Frame is being remembered on social media by members of NYCB and beyond. We're sharing some of these touching tributes below; feel free to add your own in the comments.
Keep reading...
Show less
Trending
Aug. 29, 2018 12:09PM EST
Chase Finlay as Apollo. Photo by Paul Kolnik, Courtesy NYCB.
New York City Ballet will be three male principals short this season. Due to "inappropriate communications," Amar Ramasar and Zachary Catazaro have been suspended without pay until 2019, and Chase Finlay has resigned, effective immediately, according to The New York Times. (Finlay's name has already disappeared from the company roster on nycballet.com.)
A statement from the NYCB board chairman said they received a letter from someone outside of the company "alleging inappropriate communications made via personal text and email by three members of the company" that were "personal in nature." It added that the board's efforts to reach Finlay to even discuss the allegations were unsuccessful, which leads us to believe that it must have been quite a serious offense.
Keep reading...
Show less
Villella in rehearsal with members of Dimensions Dance Theatre of Miami earlier this summer. Photo by Joe Gato, Courtesy DDTM.
This summer the legendary New York City Ballet dancer Edward Villella marked two full-circle moments. He returned to Miami for the first time since his controversial 2012 departure from Miami City Ballet, the company he founded, to coach members of Dimensions Dance Theatre of Miami. This new troupe was founded by former MCB principals and Villella protégés Jennifer Kronenberg and Carlos Guerra in 2016. Villella worked with DDTM dancers on George Balanchine's Tschaikovsky Pas de Deux and Tarantella, signature pieces during his performing career. While there, Villella announced that he would be coaching dancers at NYCB starting in September—his first time returning to the troupe where he defined major ballets like Prodigal Son and Rubies, which the company performs this fall.

We spoke with Villella about keeping Balanchine's legacy alive, his big news, and his post-Miami life back in New York, where he lives with his wife Linda.
Keep reading...
Show less
Just for fun
Aug. 24, 2018 12:50PM EST
Gillian Murphy spent some time in Canada this summer. Image via Instagram
@gillianemurphy
We'll admit it: As excited as we are for fall performance season to start, we are in deep, deep denial that the end of summer is in sight. And we're also experiencing some serious FOMO looking at the vacation photos flooding our Instagram feeds from some of our favorite dancers and choreographers. So where in the world do they go to unwind before gifting us with yet another season of incredible dance?
Keep reading...
Show less
Pacific Northwest Ballet School Professional Division students take Eva Stone's modern dance class. Photo by Lindsay Thomas, Courtesy PNB.
"Who here is terrified of choreographing?"
It was a question posed by Pacific Northwest Ballet School teacher Eva Stone five weeks ago, sitting on the floor among her class of female summer intensive students. "Almost all of them raised their hand, but I said, 'Don't worry, I got you,'" says Stone. "'I'm going to give you tools and skills and you're going to build on them.' It's amazing how their perspective changed in five weeks."
Stone's choreography class, introduced into the summer program last year, served as a pilot for a new initiative at PNB School beginning this September. New Voices: Choreography and Process for Young Women in Dance is a year-round class dedicated to educating and encouraging 14 to 16-year-old female students in the art of dancemaking. Made possible through funding from the Virginia B. Toulmin Foundation, the 38-week course was created to help address the lack of women choreographers working in major classical ballet companies.
PNB School is one of several academies offering choreographic opportunities to its students. Houston Ballet Academy and the Chautauqua Institution, for example, hold workshops during their summer intensives, while Central Pennsylvania Youth Ballet and Ballet Academy East recently joined forces to create a choreographic exchange program. And School of American Ballet offers numerous choreographic projects for its dancers, including one for women. What makes PNB's initiative unique is its year-long scope and structured focus on composition.
Keep reading...
Show less
News
Aug. 15, 2018 11:29AM EST
The company is searching for an artistic director who is "humane"—and who might not be a choreographer. Photo by Paul Kolnik
Keep reading...
Show less
News
Aug. 06, 2018 12:53PM EST
Aspen Santa Fe Ballet will revive "An Evening with Pianist Joyce Yang" this weekend in Aspen. Photo by Rose Eichenbaum, Courtesy of ASFB.
Wonder what's going on in ballet this week? We've pulled together some highlights.
Vail Dance Festival Races to the Finish Line
This Sunday, Vail Dance Festival wraps up an eventful few weeks jam-packed with premieres, collaborations and guests. The final week of the festival has us looking forward to appearances from American Ballet Theatre, Ballet Hispánico and more.
Vail's NOW: Premieres Includes New Michelle Dorrance Work for ABT
On August 6, Vail's NOW: Premieres program features new works commissioned for the festival. Choreographers include New York City Ballet star Tiler Peck (making her festival choreographic debut), Lauren Lovette, Justin Peck and Claudia Schreier, who is creating a ballet on dancers from Ballet Hispánico. Tap maverick Michelle Dorrance is also choreographing a piece on American Ballet Theatre, the second of Dorrance's three works on the company this year. Watch some of the same choreographers' premieres at the 2017 edition of NOW below.
Keep reading...
Show less
Trending
Aug. 03, 2018 02:21PM EST
NYCB's Unity Phelan and Miriam Miller accessorize with colored bobby pins while modeling for Côté Cour. Photo by Erin Baiano,
@erinbaiano
.
Bored with your daily ballet bun? We found the easiest way to amp up your studio look, courtesy of luxe leotard line Côté Cour. At a recent photo shoot for the brand's newest designs, we noticed that New York City Ballet dancers (and Côté Cour models) Miriam Miler and Unity Phelan added a touch of color to their slicked-back buns with their bobby pins.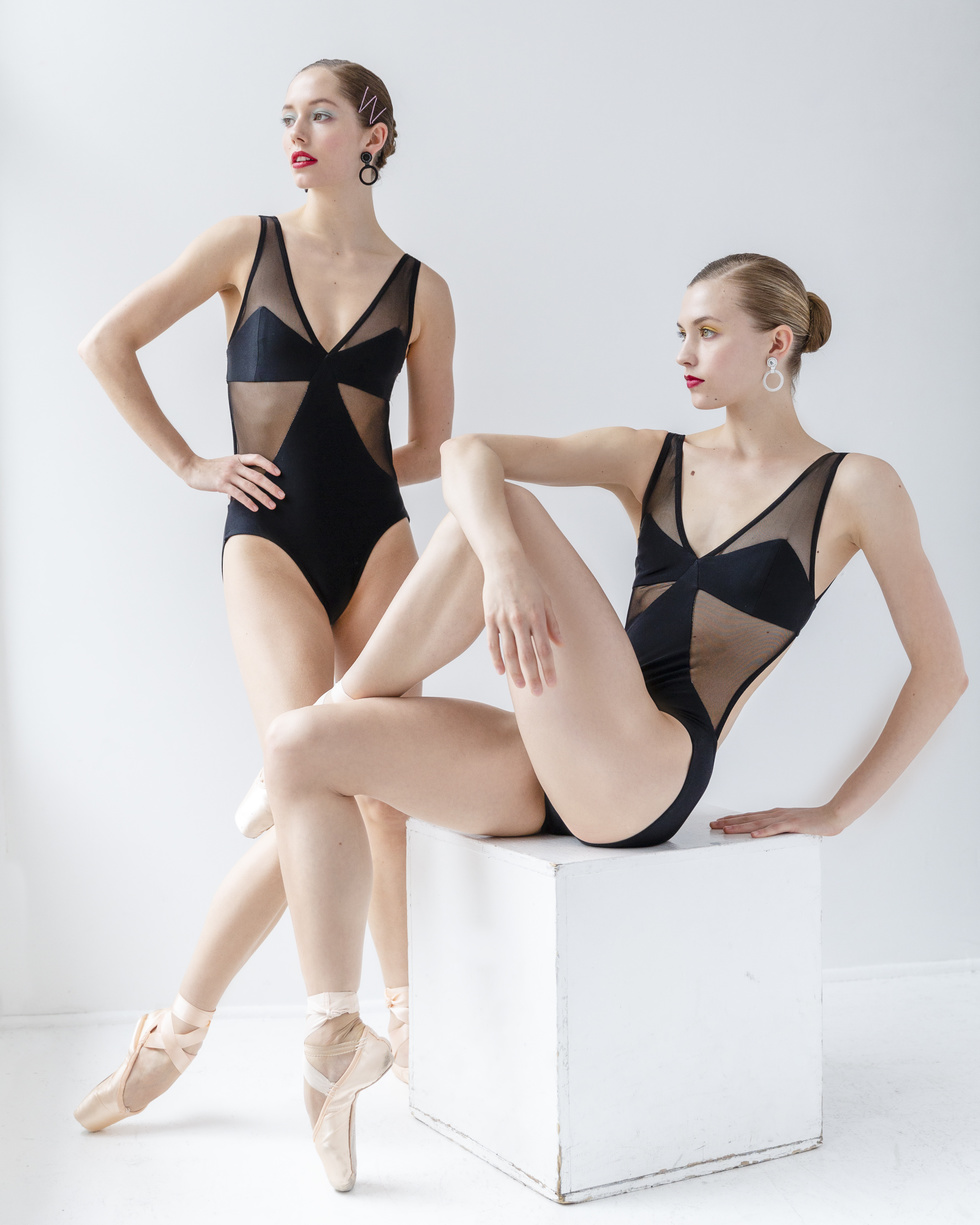 Photo by Erin Baiano, @erinbaiano; courtesy of Côté Cour, @cote_cour.
Keep reading...
Show less
Bouder in Lauren Lovette's "Red Spotted Purple." Photo by Bret Shuford, Courtesy Lake Tahoe Dance Festival.
Last week, Ashley Bouder joined an all-star cast of performers at the 5th annual Lake Tahoe Dance Festival. Co-directors Christin Hanna and Constantine Baecher curated a dramatic evening that included a world premiere by Marco Pelle, iconic masterworks by Lester Horton and Paul Taylor, contemporary favorites by Baecher and Robert Moses, and the California premiere of Red Spotted Purple—a solo for Bouder choreographed by her New York City Ballet colleague, Lauren Lovette.
Named after a butterfly, Red Spotted Purple was made for The Ashley Bouder Project's most recent season at the Joyce Theater's Ballet Festival. Lovette's playful and free-spirited solo seemed ripe for an outdoor performance, especially against Tahoe City's gorgeous landscape of pine trees and its blue lake. Featuring both a commissioned score by Stephanie Ann Boyd and a gorgeous dress designed by Michelle Smith of MILLY, the solo dance was in line with Bouder's mission to promote more diversity in ballet's creative process. I caught the performance in Tahoe City and chatted with the two women via email about the experience of making this dance.
How did this commission come about?
Ashley Bouder: I was brainstorming female choreographers that I'd want to create a solo for me. I thought, who better than a colleague that grew up watching me dance? There isn't a female choreographer out there that knows my dancing better, or my personality on and off stage. I think Lauren is brilliant, and after having seen her two pieces for NYCB, I felt that she could make something special with a clear point of view and message. I wanted the solo to open the [Joyce] program and I just knew she could make a statement piece to fit.
Keep reading...
Show less
popular
Jul. 30, 2018 05:30PM EST
Patricia Delgado in Pam Tanowitz's "Solo for Patricia 2017." Photo by Erin Baiano, Courtesy Vail Dance Festival.
Wonder what's going on in ballet this week? We've pulled together some highlights.
Vail Dance Fest Enters Its Second Week
With half a month devoted to creating new art in the midst of stunning nature, Vail Dance Festival seems a dancer's paradise. Last week marked American Ballet Theatre's festival debut. The second week of performances, starting July 30, brings even more amazing ballet, with dancers and choreographers presenting a slew of new collaborations and premieres. Get the scoop on each program below.
Alonzo King LINES Ballet Takes the Vail Stage
July 30-31, Alonzo King LINES Ballet presents two different programs. The first performance, is a free, family-friendly event held in the Avon Performance Pavilion. The second, held at the Gerald R. Ford Amphitheater, presents two works by King: Sand, a piece from 2016 set to jazz music, and Biophony, an exploration of the Earth's diverse ecosystems.
Keep reading...
Show less
News
Jul. 23, 2018 10:42AM EST
Catch Royal Winnipeg Ballet for free this week at Ballet in the Park. Photo by Daniel Crump, Courtesy RWB.
Wonder what's going on in ballet this week? We've pulled together some highlights.
American Ballet Theatre Makes Its Vail Debut

The Vail Dance Festival is best known for bringing together diverse performers to create outside-of-the-box collaborations. This summer, the festival's 30th anniversary, American Ballet Theatre gets added to that mix. July 28–29, 15 company members will dance the festival premieres of Alexei Ratmansky's Souvenir d'un lieu cher and Serenade after Plato's Symposium, as well as Jerome Robbins' Other Dances with New York City Ballet principal Tiler Peck. ABT will also collaborate with tap choreographer Michelle Dorrance. She's creating a trio of new works for ABT this year, coproduced by Vail, the second of which she'll present at the festival. "It always broadens a dancer's perspective to cross-pollinate with their peers," says ABT artistic director Kevin McKenzie. "It gives them an opportunity for independent thinking and self-evaluation." For Vail artistic director Damian Woetzel, incorporating the company into the festival reminds him of the magical sense of camaraderie that he felt as an NYCB principal when running into ABT dancers after their respective Lincoln Center performances. "Vail builds on that," says Woetzel. "We bring dancers together to create our own special community." —Chava Lansky
Keep reading...
Show less
Just for fun
Jul. 16, 2018 02:01PM EST
Boon, Lauren Lovette's furry friend. Photo via @laurenlovette on Instagram.
There's nothing more purrrrfect than some fabulous trinas and their feline friends. We're not kitten: these bonds are paw-sitively adorable! From hanging out backstage to working out together and more, these pairs will pas de chat their way straight into your heart.
Keep reading...
Show less
News
Jul. 16, 2018 12:34PM EST
Isabella Boylston and Calvin Royal III at Ballet Sun Valley in 2017. Photo by Steve Dondero, Courtesy Ballet Sun Valley.
Wonder what's going on in ballet this week? We've pulled together some highlights.
Isabella Boylston Curates Her Second Hometown Ballet Festival
American Ballet Theatre principal Isabella Boylston moonlights as artistic director of Ballet Sun Valley, which she founded last year. The second annual festival will run July 17–18 in Sun Valley, Idaho, Boylston's hometown. Boylston has created two programs composed of pas de deux and solo pieces from choreographers including George Balanchine, Jerome Robbins and William Forsythe, as well as Justin Peck's In Creases, the one work for a larger ensemble.
Keep reading...
Show less


Get Pointe Magazine in your inbox