News
Oct. 15, 2018 09:52PM EST
Joffrey Ballet's April Daly, Yoshihisa Arai and Amanda Assucena in Christopher Wheeldon's Swan Lake. Assucena will make her debut in the role of Odette/Odile this week. Photo by Cheryl Mann, Courtesy Joffrey.
Wonder what's going on in ballet this week? We've pulled together some highlights.
Keep reading...
Show less
Sailers, with Brett Sjoblom in Heather Britt's Claudette, is a true up-and-comer. Photo by Heather Thorne, Courtesy Nashville Ballet.
With the magical allure of a firefly against the night sky, Nashville Ballet's Imani Sailers displayed flashes of brilliance in Heather Britt's bendy, breezy contemporary pas de deux Claudette. It's fitting that this breakout moment for Sailers came during last season's Emergence series: Her performance proved why she is a true up-and-comer in the company.
Keep reading...
Show less
News
Sep. 17, 2018 05:18PM EST
Bucharest National Ballet's 2013 trailer for "La Sylphide,' via YouTube
Few things are more powerful for promoting ballet performances than captivating trailers—especially in today's visually-focused, digitally-connected world.
We've rounded up some eye-catching ads from seasons past and present that not only make us wish we could have seen the show, but also stand alone as short films.
Bucharest National Opera's La Sylphide
Magnifying the scarf which—spoiler alert—brings about the ballet's tragic conclusion, this 2013 Bucharest National Opera's trailer turns that fateful fabric into a beautiful, deadly web. Its windswept movements form a dance of its own.
Keep reading...
Show less
Just for fun
May. 22, 2018 03:42PM EST
Bucharest National Ballet's 2013 trailer for "La Sylphide,' via YouTube
Few things are more powerful for promoting ballet performances than captivating trailers—especially in today's visually-focused, digitally-connected world.
We've rounded up some eye-catching ads from seasons past and present that not only make us wish we could have seen the show, but also stand alone as short films.
Bucharest National Opera's La Sylphide
Magnifying the scarf which—spoiler alert—brings about the ballet's tragic conclusion, this 2013 Bucharest National Opera's trailer turns that fateful fabric into a beautiful, deadly web. Its windswept movements form a dance of its own.
Keep reading...
Show less
popular
May. 21, 2018 05:26PM EST
Boston Ballet in Bournonville's "La Sylphide." Photo by Angela Sterling, Courtesy Boston Ballet.

Wonder what's going on in ballet this week? We've pulled together some highlights.
Wayne McGregor Makes His ABT Choreographic Debut
Ever since Vaslav Nijinsky shocked Paris audiences in 1913 with his Rite of Spring for the Ballets Russes, dancemakers from Sir Kenneth MacMillan to Pina Bausch have tried their hands at choreographing to Igor Stravinsky's infamous score. This spring, Wayne McGregor will be added to that list. The Royal Ballet resident choreographer's first work for American Ballet Theatre, titled AFTERITE, will premiere at the Metropolitan Opera House in New York City on May 21. Known for his grounded and experimental movement style, McGregor's work will feature video designs by innovative filmmaker Ravi Deepres and sets and costumes by designer Vicki Mortimer, both longtime collaborators. Alessandra Ferri, who has collaborated with McGregor in the past, will join ABT as a guest artist.
Keep reading...
Show less
A scene from Stephen Mill's "Light/The Holocaust & Humanity Project." Photo by Tony Spielberg, Courtesy Ballet Austin.
Ballet excels at defying gravity. Lightness, ethereality, wispiness, symmetry, lineal order, chivalry and blissful endings to well-worn tales bestow on ballet a reputation as an art form that embraces divine beauty and design. But themes of grief, trauma, death, war, annihilation, exploitation, abuse, oppression and genocide do not frequently skim the surface sur la pointe. Bearing weighty burdens has traditionally found a place in the realm of modern dance in works such as Martha Graham's Lamentation, or Paul Taylor's image of Armageddon in Last Look.
But beyond shimmering tutus and pristine arabesques, there are other reasons why heavy issues seldom appear on the ballet stage. Taking on a serious subject requires a serious treatment. A ballet about terrorism could easily trivialize the subject through melodrama or prettification. Classical vocabulary was born from noble demeanor in the royal courts; in the wrong hands, it can seem limited in registering the mood of a sordid subject or for expressing disturbing behavior. Add to that the industry's marketing directors and board members, tempted towards steering directors and choreographers away from challenging ballets for fear of poor ticket sales.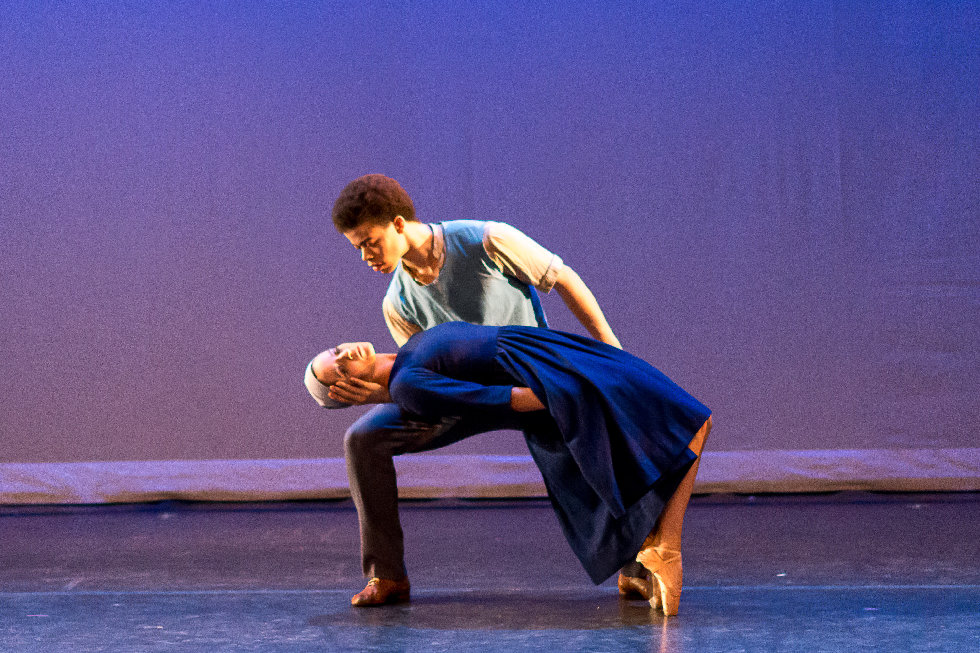 New York Theatre Ballet performs "Dark Elegies." Photo by Darial Sneed, Courtesy New York Theatre Ballet.
Keep reading...
Show less
popular
Oct. 24, 2017 10:34AM EST
Nashville Ballet's Mollie Sansone. Photo by David Bailey, Courtesy Nashville Ballet.
Choreographing murder is a—let's call it unique—area of expertise. But it comes in handy in the month of Halloween, when companies like Nashville Ballet give audiences a seasonal taste of the grisly and gothic.
For good reason, artistic director Paul Vasterling calls his October program "Ballet Noir": This year's Lizzie Borden is based on the story of the Massachusetts woman accused of an 1892 double homicide that made international headlines. Agnes de Mille famously choreographed a ballet version in 1948 called Fall River Legend. Though Borden was ultimately found not guilty of murdering her parents, de Mille and composer Morton Gould took artistic license, finding the defendant guilty as charged.
Keep reading...
Show less
Allison DeBona teaching class at her artÉmotion summer intensive at Ballet West. Photo by Joshua Whitehead, Courtesy Ballet West.


After Ballet West first soloist Allison DeBona appeared on The CW's "Breaking Pointe," studio directors nationwide started calling her up, inviting her to teach master classes. Soon DeBona was traveling every month out of the year, honing her passion for coaching the next generation of artists.
While jet setting may not be in your future, regular teaching gigs are a great way to boost your resumé—and your income. Whether you're looking for layoff-season work or want to branch into coaching and choreography, dipping your toe in the teaching world is a smart way to start.
Keep reading...
Show less
Show and Tell
Aug. 21, 2017 04:56PM EST
Dancers are famously resourceful and particular when it comes to the products that they keep around to get them through the day. And we all know where those items live: the dance bag. While most dance bags are filled with basics like leotards, pointe shoes, Therabands and granola bars, we rounded up some of the quirkier items that dancers carry with them to provide comfort, inspiration and organization.
These snippets come from longer stories on the contents of each ballerina's dance bag—click on each dancer's name for more.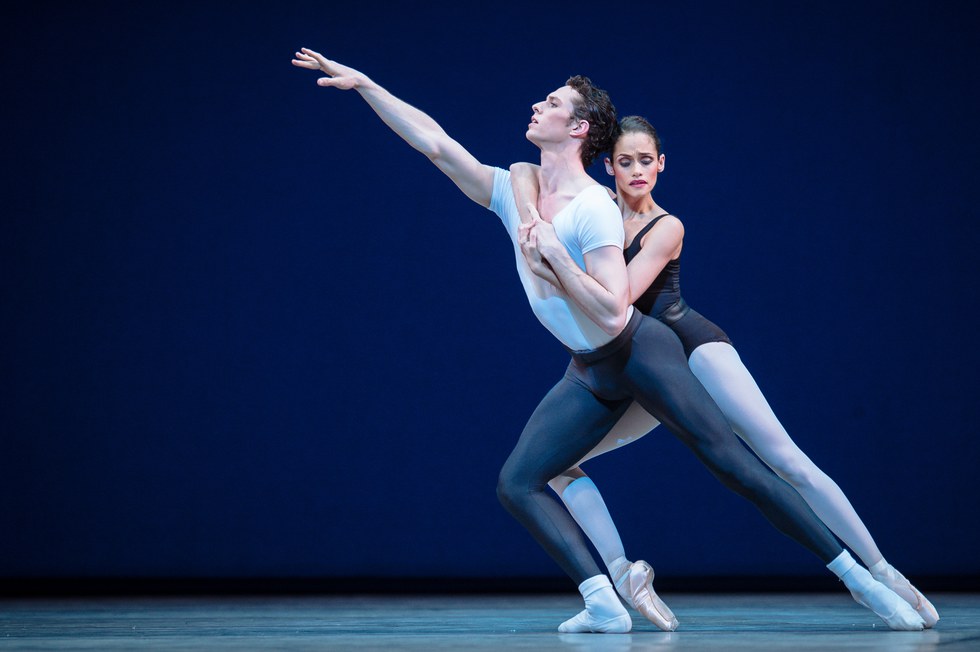 Howard with Christopher Gerty in Balanchine's "The Four Temperaments," Photo by Edwin Luk, Courtesy National Ballet of Canada
This National Ballet of Canada first soloist keeps a hand-carved wooden ballerina with her that her husband made in his high school woodworking class. After they married, Howard added her own little touch—a little rhinestone stuck onto the figurine's finger to mimic a ring. "They had to pick characters out of a book, and he chose the ballerina," she says. "It was so serendipitous! When I see this, I think about how that was years before we even met."
Keep reading...
Show less
ADrian Durham in CPYB's production of "The Legend of Sleepy Hollow." Photo by Rosalie O'Connor, Courtesy CPYB.
As a teenager, Adrian Durham studied at his local ballet school in Lake Charles, Louisiana. "I was one of three or four guys training there, and there were no male teachers," says Durham. "Most of my partnering experience came from rehearsals for performances." But after he began training with the male scholarship program at Central Pennsylvania Youth Ballet in 2014, he experienced a sea change. "It challenged me mentally, physically and emotionally, because it's such an intense program," he says. Now 20, he is preparing for a professional career with an integrated set of tools: ballet technique, physical strength and partnering skills.
Men's ballet technique classes have been available for decades, especially at summer intensives and urban ballet schools. Yet programs designed specifically for male dancers, often offering full scholarships, have been rarer—until now, that is. Training that allows boys to separately explore their skills, above and beyond a supplement of double tours en l'air and pirouettes à la seconde at the conclusion of a mixed class, can literally give young men a leg up as they aspire towards a dance career.
Keep reading...
Show less
News
Apr. 21, 2017 07:00AM EST
Jeremy McQueen's The Black Iris Project in "Madiba" Photo by Matthew Murphy
Misty Copeland's dancing and Justin Peck's choreography have graced stages around the world. Now, these two stars will test themselves as curators. This year, the John F. Kennedy Center for the Performing Arts, in Washington, DC, features their respective visions as part of the Ballet Across America program, April 17–23.
During the first half of the run, Copeland's picks take the stage, including Nashville Ballet, Complexions Contemporary Ballet and Jeremy McQueen's Black Iris Project. "I chose these companies because it's a chance to give them a level of exposure on the Kennedy Center stage that's typically reserved for larger companies," Copeland says. "They all perform at a high level of excellence and represent a diverse, inclusive cast of dancers." Peck's curation includes Joffrey Ballet, L.A. Dance Project and Abraham.In.Motion—a departure from typical ballet programming. "I tried to emphasize musical choreography," says Peck. Ballet Across America also includes talk-backs with the curators and artistic directors, and two world premiere Kennedy Center commissions: a piece by McQueen choreographed on American Ballet Theatre's Jacqueline Kennedy Onassis School students and a film by former Miami City Ballet dancer Ezra Hurwitz.
Keep reading...
Show less
Views
Jul. 20, 2016 05:16PM EST
Starting last week, dancers from around the world gathered in Bulgaria for the prestigious Varna International Ballet Competition. For the first time, two Nashville Ballet dancers, Alexandra Meister and Nicolas Scheuer, have been chosen to participate. Pointe spoke with Meister before she and her partner jetted off to the competition.
Nicholas Scheuer and Alexandra Meister. Photo by Anthony Matula, Courtesy Nashville Ballet.
What's it been like rehearsing?
We have most of the summer off from Nashville Ballet, so we've been juggling other side jobs and rehearsal. Typically we'll take class in the morning and come back in the evening to rehearse. We've been preparing the Sugar Plum pas for the first round. If we make it to the second round, Paul Vasterling has created a piece on us, and we'll also do the Black Swan pas de deux, which is a beast. And then for the third round, company dancer Christopher Stuart choreographed a piece for us, plus we'll be doing a Le Corsaire excerpt.
Is there anyone on the jury you're eager to meet?
Aurora Bosch. She's a Cuban judge who coached Ana Lobe, who was my ballet teacher growing up. Ana competed at Varna when she was my age, so that's a neat thing that we're going to share.
How does competing help you as a professional dancer?
It's definitely going to be a big leap forward for us artistically, and even stamina-wise because these are some big pas de deux to get through. As a professional, I don't think you should ever feel like there's a point where you're done growing. This is about improving myself, working on my partnering and learning something. Doing things like this re-inspire me.
Last night, Varna announced the 44 competitors—out of more than 100—that advanced to the second round. Unfortunately, Meister and Scheuer were eliminated, but you can watch the remaining performances live online through July 30.
For more news on all things ballet, don't miss a single issue.
News
Jul. 13, 2016 02:43PM EST
School of Nashville Ballet students. Photo by Karyn Photography, Courtesy Nashville Ballet.
When Nashville Ballet dancer Gerald Watson was growing up, dance classes were initially a way to keep him out of trouble. "But it turned into something much greater," he says. Now, he and fellow company dancers Jon Upleger and Judson Veach are spearheading Nashville Ballet's Young Men's Scholarship Program, which provides comprehensive training for boys between ages 6–18, of all experience levels. It also offers one full year tuition-free, with merit scholarships awarded throughout subsequent years.
But the program goes beyond financial aid. Students will be in all-boys classes that have a specific emphasis on male technique. "We want to focus on the athleticism as well as the art of ballet, while also introducing it in a way that won't deter boys from continuing," says Watson. Male teachers will also lead the classes, with Watson, Upleger and Veach making up the principal faculty. "It's important to have someone at the front of the room who you trust because they went through a similar journey," says Watson. He hopes the system will help dispel students' pre-conceived notions about being a male dancer and help them build confidence and camaraderie.
Nashville Ballet's Jon Upleger, Gerald Watson and Judson Veach. Photo by Chad Driver, Courtesy Nashville Ballet.
The year-round program, which runs from August 22–May 6, is divided into four age-appropriate levels with approximately 12 boys in each. Students are encouraged to register by July 29, but Nashville Ballet will be accepting applicants on a rolling basis for the first year. "We want to make dance accessible for all boys," says Watson, who says the program is not limited to local students. "When they walk into the studio, their finances, their background, how far they came—none of these things will set them apart."
For more news on all things ballet, don't miss a single issue.
Photo by Karyn Kipley for Pointe.
Nashville Ballet dancer Kayla Rowser is one organized woman—her teal Lug bag is full of compartments. "That's why I love it," says Rowser. "I need a pocket for every little thing so that I can easily get to the bottom of my bag during five-minute breaks." Her sturdy duffel houses everything from a day planner to trail mix to her favorite MAC lipstick. Rowser also keeps a Moleskine journal to jot down corrections she receives throughout the day. "It's a good way for me to check in with notes I've received from previous rehearsals and to see places where I can take more risks."
Rowser usually keeps a custom leotard by S-Curve Apparel & Design or Elevé Dancewear handy, too. "Both companies have been really wonderful about offering mesh that matches my skin tone," says Rowser, who also has her performance tights custom dyed. "I switched to tan tights two or three years ago," she says. "I remember seeing Houston Ballet's Lauren Anderson on the cover of Dance Magazine, and it was the first time I ever saw a dancer in tan tights." Anderson is still a source of inspiration for Rowser. "She wrote to me the first time I danced Sugar Plum to wish me good luck," she says, adding that she keeps a copy of that letter with her at all times.
Keep reading...
Show less
BalletX's Caili Quan found value in her early years of career building. Photo by Alexander Izilaev, Courtesy BalletX.
After two years as a trainee and then one as a second company member at Orlando Ballet, 22-year-old Aurélio Guimarães wasn't able to audition much due to an injury. When The Washington Ballet offered him another traineeship, Guimarães debated what to do. He would ultimately be embarking on a fourth year of doing professional work without a livable salary or title. "It was absolutely a hard decision," Guimarães reflects. "But I also had to consider the work that I would be doing." Knowing his traineeship would entail close work with the artistic director, he essentially took a demotion, with the hope that starting over in Washington would yield a paid contract at the end of the year.
In the past, it was common for a year or two of apprenticeship to lead directly to a corps contract. But today's ballet world involves more no- to low-paying rungs at the bottom of the ladder. Many companies now have three gatekeepers: trainee programs that are often the top level of the school and involve corps work with the company; second companies that work independently as well as more intimately with the main company; and apprenticeships, the most entry-level rank inside the professional hierarchy.
Keep reading...
Show less
Views
Oct. 21, 2015 09:05PM EST
Upleger as Dracula with Daniella Zlatarev and Julia Mitchell. Photo by David Bailey, Courtesy Nashville Ballet.
If anyone has blood lust, it's Dracula. In Paul Vasterling's version of the tale for Nashville Ballet, the title vampire, danced by Jon Upleger, also has pointed feet and a generous plié. For the first time since 2007, 

Dracula returns to Nashville Ballet 

Oct. 22-24

.
For
Pointe
's biweekly newsletter, we
spoke with Upleger about this macabre revival.
What did you do outside of the studio to prepare?
Paul Vasterling liked the gothic feel of Francis Ford Coppola's 
Bram Stoker's Dracula
, so 
I watched that movie. The thing I really like about that version, as opposed to the novel, is the big connection, love-story wise, between Dracula and Mina. He's powerful, and he takes advantage of others when it suits him. But with Mina, there's definitely a longing for something else, to want something good.
How would you describe the ballet in a nutshell?
This version is going for the heightened emotions. You've got good, which is Jonathan and Mina. And on the other side is Dracula, who's inherently evil. But there are also moments when even the good slips into the bad. Paul worked with the idea that everybody is evil, and they're trying to be good for society. It gives more layers to the ballet. 
Is there anything special about Dracula's costume?
I love getting to work with a cape. We jokingly call it cape-ography. I'm trying to not just lug the thing around but to get it to move well with me, so it fulfills and sustains my steps. When I turn, it floats after me and makes the motion that much bigger. And it has quite a bit of weight to it, which really changes the timing of my movement.
For even more interviews, tips, audition info and giveaways, sign up for our FREE e-newsletter.
Young in Nashville's Nutcracker. Photo by Karyn Kipley, Courtesy Nashville Ballet.
Kristin Young's family is a legacy at Indiana University. While they weren't dancers, both her mother and her sister had attended IU, and she grew up near Indianapolis making regular pilgrimages to Bloomington for sports events. So when the rejection to IU's highly competitive ballet program came, it was a huge blow. "I always thought that I would either go to IU or straight into the professional ballet world," says Young, who is now an apprentice with Nashville Ballet. Luckily, she was careful to apply to several universities. When she was accepted to the University of Oklahoma, she began imagining a different path.

Attending college before a professional ballet career has become a legitimate option for dancers. But because there aren't as many ballet-focused dance programs, serious bunheads tend to only consider a few. If you've got your sights set on just one or two schools, the competition can be as fierce as any company audition. But getting rejected from your preferred college doesn't have to be the end of the world. By researching all the options available to you, and planning your audition process strategically, you can improve your chances of getting into a good second- or third-choice school. Plan B may even end up being the best thing that ever happened to you.
Keep reading...
Show less
This is your 14th season with the company. What advice would you give to your younger self?
Pace yourself. You'll miss a lot of knowledge if you're focused on obtaining status. Be as present as possible. When you're just seeking the next thing, you're not in the moment.

When you're performing roles like Odette/Odile in Swan Lake, how deeply do you get into character?
I really feel the character. I would hiss at my partner.

Do you create characters in nonnarrative dances?
The narrative is your personality. That's why a lot of choreographers like older dancers, because we have more to say.

What skill would you most like to have?
I would love to be a great orator—I love hearing inspiring speeches.

You meditate regularly. What initiated that?
Pain management. I've dealt with chronic tendonitis since 2005. I used to have nightmares about chopping the hurting part off. Meditation has helped me feel whole and reconnect with my body. It helps me visualize pain differently.

What's your guilty pleasure?
I religiously watch "Fashion Police" on the E! channel. I have an infatuation—obsession?— with fashion.

If your life were a ballet, which character would be your soul mate?
Siegfried. Is that too obvious?
San Francisco Ballet principal Maria Kochetkova in "Esmeralda." Photo by Erik Tomasson, courtesy SFB.
Interviews by Christopher Blank, Rosie Gaynor and Nancy Wozny
A firestorm of controversy over recent reviews that singled out dancers' bodies for criticism has raised the question of whether body type still matters in today's ballet world. Does ballet's identity rest on presenting a certain image of the ballerina? Pointe asked leading dancers and artistic directors what impact issues like height and weight have on their casting.
Keep reading...
Show less
Nov. 29, 2001 07:00PM EST
Audiences at Nashville Ballet's new production of The Nutcracker may notice several unexpected guests at Clara's Christmas party this year. Among those in attendance: the turn-of-the-century chancellor of Vanderbilt University and Lucille La Verne, a Nashville native best known for having been the voice of the Wicked Queen in Disney's animated version of Snow White and the Seven Dwarfs. Andrew Jackson even makes a first-act cameo: When the Nutcracker battles the Mouse King, Jackson and the Tennessee Volunteer Army join him on the front lines.
Such striking alterations to the venerable holiday classic are part of Nashville Ballet's ambitious effort to revitalize The Nutcracker—by regionalizing it. Around the country, at least six other companies have taken a similar approach. Their stakeholders contend that regionalizing The Nutcracker—the main source of annual revenue for most companies—invigorates the ballet's traditional audience while enticing newcomers with a production steeped in the familiar.

A Civic Connection
In Charleston Ballet Theatre's Nutcracker, for example, the second act transports Clara not to the Kingdom of the Sweets, but to the Magnolia Plantation, the oldest public gardens in the country.
"From a marketing standpoint, and an artistic standpoint, you have to give your audience members some reason to keep coming back each year—not just for the tradition of going to The Nutcracker the same day that you decorate your Christmas tree, but something that will make your audience excited," says Jill Eathorne Bahr, the company's resident choreographer.
Of course, tweaking tradition can be a gamble. But it has paid off, according to Bahr. Twenty-one years after Charleston's regionally themed Nutcracker debuted, it continues to inspire dancers and audiences, while boosting civic pride.
"When a company decides to produce a new Nutcracker, they're giving something solid back to the community—not just a one-shot repertory piece, but something that represents the community. It's a win-win situation for the balletomanes of the world and the forefathers of the city," says Bahr.

History and Fantasy
Six years after the première of Pittsburgh Ballet Theatre's regionally themed Nutcracker, Terrence Orr vividly recalls the trepidation he felt following in the footsteps of George Balanchine's beloved version.
"I was scared to death—are you kidding?" says the company's artistic director. "But when I arrived here in 1997, they had been doing the same Nutcracker for a long time. I wanted to do something new—something that utilizes the city's rich history. And I do feel like this is still a warm and traditional Nutcracker."
In Orr's production, the proscenium features a replica of the Kaufmann's department store clock, a legendary downtown landmark and meeting place for shoppers. The backdrop of the snow scene is a view from atop Mount Washington looking down on the city's three rivers. The setting of the second act is modeled after a well-known amusement park.
"I think it's wonderful when I have people come three years in a row and say, 'I saw that you added this,'" says Orr. "And I have added a lot of details. Or they will say that this version is shorter than the other one—but it's not by any means. It's just more interesting to them."
It's especially gratifying to Orr when "audience members tell me they want to come back again the next year and bring their neighbors—and not just children between the age of 4 and 8."

Clara on the Midway
Nashville Ballet Artistic Director Paul Vasterling hopes that reaction to his revamped version will be equally enthusiastic. The Nutcracker accounts for 65 percent of the company's income, which puts a lot of pressure on Vasterling's new production.        
"I danced in Nashville's original production in 1989, so the way it was conceived kind of lives with me," he notes. "It was important to me to maintain that heritage—a magical holiday story from a child's point of view, the Sugar Plum Fairy, the toys, the snow scene—while overlaying it with Nashville history."   
"It's scary to do something fresh, and you walk a fine line when you change anything that is tradition," he says. "I would still be worried now, had it not turned out the way it has, which is really grand, really lush and really beautiful, along the lines of the old production."
In the early stages of planning his Nutcracker, Vasterling spent hours at the public library digging through its local archives. When he came across records and sepia-toned photos of Nashville's Centennial Exposition of 1897, he realized that he'd hit on a time and place to ground the ballet.
Descriptions of the Vanity Fair, a midway complete with performers from around the world, read to Vasterling like the ideal setting for The Nutcracker's second act.
Vasterling is quick to point out that the local details he's embedded in the production are not meant to serve as a history lesson. Rather, they're intended as touchstones for loyal Nutcracker-goers and new audiences alike.
"Those of us who are in ballet breathe it and live it, but to most people in Nashville, ballet is quite foreign," he says. "The Nutcracker is the portal to most people's experience with ballet, so you want to make people feel comfortable coming in and seeing it."

A former newspaper reporter, Nicole Peradotto is a longtime arts writer who lives in upstate New York.
Nov. 29, 2001 07:00PM EST
Nashville Ballet is adding a new element to their second company this fall: a pre-professional training division for advanced dancers looking to hone their skills. The new program is designed as an entry level into the performing division of Nashville Ballet 2. The cost is $1000 a year for in-depth training, performance opportunities and mentoring from faculty. Students also have the option to simultaneously pursue a college degree with one of the area schools—a great choice for dancers who want to go to school while keeping up their training and preparing to enter a professional company.
Dancers interested in auditioning for this program should send a resume, DVD and the $35 fee to:
Sharyn Mahoney, Director of Artistic Operations
3630 Redmon Street
Nashville, TN 37209
For additional info, call 615-297-2966, ext 18 or email smahoney@nashvilleballet.com


Nov. 29, 2001 07:00PM EST
Rowser, rehearsing 
Swan Lake
 with Jon Upleger.
Photo by Karyn Kipley Photography, Courtesy Nashville Ballet.
From now until mid-October, Nashville Ballet's Kayla Rowser will be putting the final touches on her role of a lifetime. This month, she'll dance her first Odette/Odile in the company's 
Swan Lake 
(

Oct. 17-19

). In our bi-weekly newsletter, Pointe spoke with Rowser for about what it means to her, both as an artist and as an African American woman.
You're sharing the role with fellow NB dancer Sadie Bo Harris. Has she given you any advice?
So much of the choreography is with your arms up and your back bent in half, so she's helped me figure out where I can breathe to get through it. I've also been thinking about getting through all those fouettés in Act III. She told me, "Your body will let you do it. You just have to tell your mind you can." So much of it is your head.

What's unique about your interpretation?
That's something I'm still shaping. It's such a romantic story, and I really want the pain and agony of Odette giving into falling in love to come across. And then with my third act, I'm not only working on tricking Siegfried, but I want the audience to think, "Is that the same girl?" 

You're one of a handful of African American women who've been cast as Odette/Odile. What does that mean to you?
When Paul Vasterling told me I'd be doing this role, I was absolutely ecstatic. It was more than just, Oh, I get to do this big role. It was, There have not been many before me who have done this. I consider myself a dancer and an artist first, but I have to embrace that I am kind of rarity when it comes to ballerinas. And to know that I'm at a place where I'm just me--there's no exception in terms of roles they see me in--is really comforting. 
What do you want the audience to walk away with?
I hope everyone leaves feeling like they went on a journey with me. That's all I could ask for--that what I bring to the stage is something people can relate to. I'm going to leave it all out there.

Were there any dancers in particular you looked up to growing up?
Lauren Anderson. She was on the cover of Dance Magazine in the 90s wearing brown tights, and I remember thinking that was the first time I'd seen somebody who looks like me doing ballet. She was really a trailblazer, and seeing her on the cover of a magazine made me think that I could do this.
For even more interviews, tips, audition info and giveaways, sign up for our FREE e-newsletter.


Get Pointe Magazine in your inbox