News
May. 29, 2018 05:23PM EST
PNB in Justin Peck's "Year of the Rabbit." Photo by Angela Sterling, Courtesy PNB.
Wonder what's going on in ballet this week? We've pulled together some highlights.
Ballet Nacional de Cuba Continues U.S. Tour at the Kennedy Center
A few weeks ago we shared that the historic Ballet Nacional de Cuba is back in the U.S. after 40 years. The company has already made stops in Chicago and Tampa, and heads to The Kennedy Center May 29-June 2 as part of the Artes de Cuba festival with performances of Giselle and Don Quixote. The tour will conclude at the Saratoga Performing Arts Center June 6-8. Whether or not the company is heading to a city near you, you can catch a glimpse of Don Q in the below trailer.
Keep reading...
Show less
News
Feb. 06, 2018 10:32AM EST
Pittsburgh Ballet Theatre: New Works choreographers (from left): Cooper Verona, William Moore, Amanda Cochrane, Yoshiaki Nakano and Julia Erickson. Photo by Duane Rieder, Courtesy PBT.
This spring, Milwaukee Ballet and Pittsburgh Ballet Theatre are each putting on programs composed entirely of choreography by company dancers. February 8 marks the premiere of Milwaukee Ballet's MXE Milwaukee Mixed, featuring pieces by Garrett Glassman, Timothy O'Donnell, Isaac Sharratt, Nicole Teague-Howell and Petr Zahradnícˇek. On March 16, Pittsburgh Ballet Theatre: New Works opens with ballets by Amanda Cochrane, Julia Erickson, Yoshiaki Nakano, Jessica McCann, William Moore, JoAnna Schmidt and Cooper Verona.
Keep reading...
Show less
popular
Nov. 17, 2017 04:51PM EST
Pittsburgh Ballet Theatre's 'The Nutcracker.' Photo by Rich Sofranko
Catching a performance of The Nutcracker has long been a holiday tradition for many families. And now, more and more companies are adding sensory-friendly elements to specific shows in an effort to make the classic ballet inclusive to children and adults with special needs.
While the accommodations vary depending on the company, many are presenting shorter versions of the ballet with more relaxed theater rules. Additionally, lower sound and stage light levels during the performance, as well as trained staff on hand, make The Nutcracker more accessible for those on the autism spectrum and others with special needs.
Pittsburgh Ballet Theatre's performance will take place on Tuesday, December 26th, and they are one of the pioneer companies in presenting sensory-friendly performances of The Nutcracker (their first production was in 2013). PBT has also offered sensory-friendly versions of Jorden Morris' Peter Pan and Lew Christensen's Beauty and the Beast in the past.
See our list of sensory-friendly performances, and check out each site for all of the details regarding their offerings.
Keep reading...
Show less
Alana Griffith in "La Sylphide." Photo by Mark Frohna, Courtesy Milwaukee Ballet/
Rising lazily from an armchair, shrugging her shoulders and limply snapping her arms side to side, Alana Griffith imbued the title role in Septime Webre's ALICE (in wonderland) with the unmistakable boredom and longing of youth. Throughout the performance, her ability to bring personal depth to both the character and to Webre's challenging choreography revealed a special dancer coming into her own as an artist.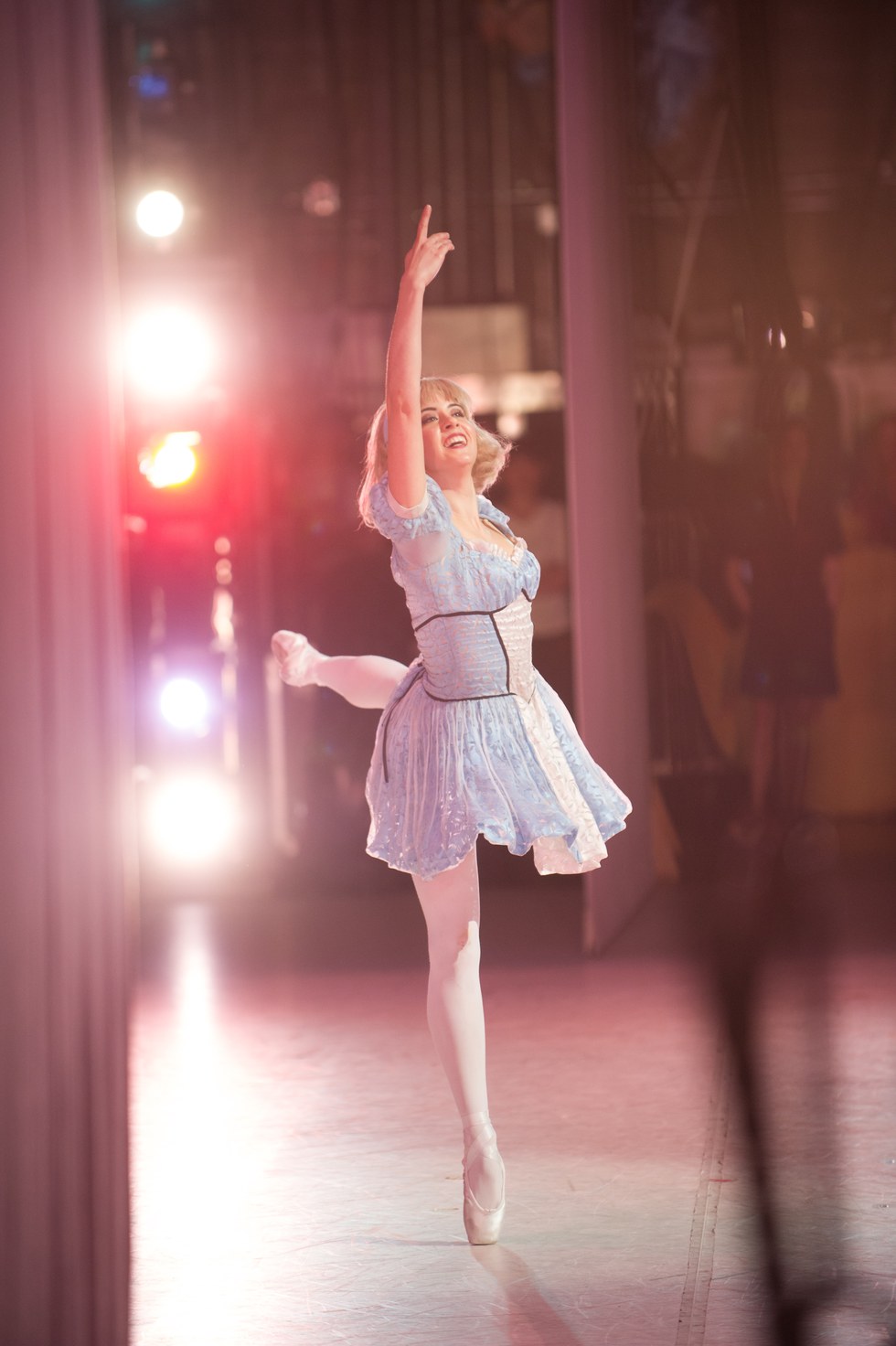 Alana Griffith in "ALICE (in wonderland)". Photo by Mark Frohna, Courtesy Milwaukee Ballet.
Keep reading...
Show less
Andersen in Balanchine's "Valse-Fantaisie." Photo by Daniel Azoulay, Courtesy Miami City Ballet.
Alaina Andersen, as told to Suzannah Friscia
I got my corps contract on my 18th birthday. It was such a relief. I had convinced myself that I would be okay not dancing, but inside I just wanted to get a contract with Miami City Ballet.
I'd trained at Milwaukee Ballet School pretty much my whole life, and in 2014 I went to the MCB summer program and loved it. They invited me to stay for the year, and right when I got there, they offered me an apprenticeship. I spent the next two years as an apprentice. My second year I got to tour with the company and did Swan Lake, The Nutcracker and Bourrée Fantasque.
Keep reading...
Show less
Rebecca Rhodes (center) in Balanchine's "Theme and Variations" Photo by Erik Tomasson, Courtesy of San Francisco Ballet
Being in the corps can be pretty unforgiving. You dance in nearly every performance, it sometimes feels like you're only onstage to add to the scenery, and you're expected to fit in—while still vying for soloist roles. It's enough to make even the most determined dancer lose steam. Pointe spoke with three corps de ballet dancers about how they use a combination of self-discipline and creativity to keep themselves motivated.
Shine in Class
After a few years, morning class can feel like a chore—especially during heavy rehearsal periods when your body just wants to rest. But rather than viewing it as a drag, try reframing class as a chance to show your best, hardest-working self. For San Francisco Ballet corps member Rebecca Rhodes, class is a time to push harder, not slack off. "It's a great time to be noticed," she says, especially for dancers hoping to be cast in featured roles. "I make sure to do every combination two or three times, and I try not to pick and choose what's comfortable," she says.
Keep reading...
Show less
Nov. 23, 2016 02:34PM EST
Tulsa Ballet's Jennifer Grace. Photo Courtesy Tulsa Ballet.
Six pros reveal their most creative tricks for making it through everyone's favorite holiday marathon.
Alana Griffith: Artist, Milwaukee Ballet
Griffith in rehearsal for Milwaukee Ballet's "Waltz of the Flowers." Photo by Timothy O'Donnell, Courtesy Milwaukee Ballet.
Favorite role: Clara

"Clara was my first soloist role and the first role I did where my character danced through the entire ballet. I liked playing with different ways of making her sweet and lovable or bratty and funny. Switching from Clara to the corps to divertissements makes the rehearsal process exciting and challenging."
Keep reading...
Show less
Feb. 17, 2016 01:26PM EST
O'Donnell as Dorian Gray. Photo by Nathaniel Davauer, Courtesy Milwaukee Ballet.
Milwaukee Ballet artistic director Michael Pink's imaginative versions of narratives-turned-ballets have garnered him a second title: master storyteller. His latest adaptation, based on Oscar Wilde's The Picture of Dorian Gray, is the haunting story of a man who stays young as a portrait of himself grows old. The ballet runs through Feb. 21. For Pointe's bi-weekly newsletter, we spoke with company artist and choreographer-in-residence Timothy O'Donnell about playing Dorian.
How did you prepare?
I read Oscar Wilde's novel, and it was like a book club at work for a while. Michael was very clear that he wanted this to be a reflection of the original novel and not someone else's take on that, so I stayed away from all the Hollywood adaptations.
How do you get into character before the show?
I have to start out in a pretty good mood. Dorian goes through everything so deeply. There's romance but also tragedy. After the ballet, I feel completely spun out. It's like waking up from a terrible dream because I've been through so many heightened emotions.
The ballet features an actor who plays Lord Henry and serves as a narrator. What's it like adding him to the mix?
It's been fascinating. He's 100 percent incorporated into the show, which led to some of the most complicated scenes, like the rejection pas de deux with Sibyl Vane. Dorian decides he doesn't love her anymore. The interaction among the three of us was so difficult to put together since Lord Henry is talking while we're dancing. It took hours and hours and hours to create a four-minute pas de deux.
Since this is a new production, do you find it daunting or inspiring?
This is the best for me. My favorite thing to do is to be part of something that's fresh and still has room to evolve. There's always the normal fear of am I going to do my steps well, but I'm super-confident in this production.
Nov. 29, 2001 07:00PM EST
For much of dance history, male dancers were basically the forklifts of ballet, there to lift the women, and do little else. But it takes much more than a sturdy set of biceps to hack it in 2013. Today's men are given some of the most exciting choreography in the repertoire. Dancemakers are taking full advantage of that male strength, having the men perform mind-boggling turns and gravity-defying leaps. Check out Milwaukee Ballet's new video about this evolution of the male ballet dancer, which they filmed to promote the company's upcoming performances of Swan Lake, May 16–19.