News
Mar. 11, 2019 03:59PM EST
Wendy Whelan teaching at Jacob's Pillow's Ballet Program. Photo by Christopher Duggan, Courtesy Jacob's Pillow.
Last month The School at Jacob's Pillow announced a major change to its historic summer ballet program, which boasts alumni at companies including American Ballet Theatre, Pennsylvania Ballet and Dutch National Ballet. This summer, rather than focusing on coaching dancers in the traditional, story-driven classical repertoire, the intensive makes the shift to contemporary ballet. Directed by former Cedar Lake Contemporary Ballet director Alexandra Damiani and BalletX co-founder Matthew Neenan, the Contemporary Ballet Program will work to engage students in the development of new work and the ever-adapting repertoire (including pointe work) it requires.
Former New York City Ballet prima and longtime Jacob's Pillow participant Wendy Whelan played a large role in the decision making process. We touched base with Whelan to hear about what went into this decision, and whether she thinks that this focus on contemporary training represents a growing trend in the ballet world.
News
Sep. 21, 2018 04:10PM EST
Members of NYCB in Gianna Reisen's Composer's Holiday at the 2017 Fall Fashion Gala. Photo by Paul Kolnik, Courtesy NYCB.
Last year, New York City Ballet wowed fans by hiring its youngest choreographer ever, the then-18-year-old Gianna Reisen, to make a ballet for its Fall Fashion Gala. For this year's gala, held September 27 at Lincoln Center's Koch Theater, Reisen will be back alongside NYCB first-timers Kyle Abraham and Matthew Neenan. All three will present world premieres. Reisen, a former student at the School of American Ballet, is now an apprentice at Dresden Semperoper Ballett. "Living, dancing and choreographing in Europe has given me a set of tools that I could never throw away," she says. Reisen will work with a cast of 18 dancers to a score by John Adams, and will incorporate set pieces onstage. "I plan to tell more of a story this time around," she says.
News
Jul. 09, 2018 01:35PM EST
BalletX launches its summer season on July 11. Photo by Gabriel Biencyzcki, Courtesy of BalletX.
Wonder what's going on in ballet this week? We've pulled together some highlights.
Three World Premieres at BalletX Philadelphia Summer Series
Fresh off the heels of its Joyce Ballet Festival performances in New York, BalletX is launching its Summer Series with a trio of world premieres on July 11. The program, which runs through July 22 at The Wilma Theater in Philadelphia, features ballets by Penny Saunders, choreographer in residence for Grand Rapids Ballet; Andrew McNicol, BalletX's 2018 choreographic fellow; and Matthew Neenan, BalletX co-founder and company choreographer. Pennsylvania Ballet principal pianist Martha Koeneman will perform Mendelssohn's Songs without Words live for Neenan's work, which shows dancers attempting to solve a mysterious puzzle onstage. McNicol is inspired by Mozart's Requiem and his appreciation of the speed and athleticism of American dance. Saunders' piece will be accompanied by an original composition by Rosie Langabeer, a Philadelphia composer originally from New Zealand. Listen to the pair discuss the collaboration in the video below.
News
Jun. 25, 2018 03:43PM EST
Jane Cracovaner and Elijah Laurant with MOVETHECOMPANY, which will perform at the Joyce Ballet Festival this week. Photo Craig Foster, Courtesy Joyce Theater.
Wonder what's going on in ballet this week? We've pulled together some highlights.

The Joyce Ballet Festival Is Back
New York City's Joyce Theater kicks off its five-company Ballet Festival June 26-July 7. Showcasing a variety of styles including neoclassical and contemporary dance, the festival prides itself on featuring smaller companies. Below, check out the three companies opening this week. (Feeling festive? Enter our giveaway to win tickets to the Ashley Bouder Project at the Joyce on July 5.)
News
Jun. 23, 2018 01:43PM EST
USA IBC senior gold medalist winners Yungting Qiu and Sicong Wu in Zhang Disha's Sad Birds. Photo by Richard FInkelstein, Courtesy USA IBC.
It's been an exciting two weeks here in Jackson, Mississippi, as 119 dancers from 19 countries have competed for medals, monetary awards, scholarships and company contracts at the USA International Ballet Competition. But the IBC has offered more than prizes—dancers have also been networking and taking master classes, including a fascinating lecture demonstration series with choreographer Alexei Ratmansky that included learning Petipa's original choreography from Stepanov notations.
This week, 32 finalists performed two classical variations and one contemporary piece over the course of three nights. Meanwhile, semi-finalists worked intensely with choreographer Matthew Neenan on an original work, which they performed at last night's Blue Cross & Blue Shield of Mississippi Awards Gala. Audiences also had one last chance to see select finalists perform, before the jury (led by chairman John Meehan) joined them onstage to present the medals.
So without further ado, here are the USA IBC winners!
popular
Nov. 08, 2017 02:50PM EST
Mayara Pineiro rehearsing with Helen Pickett for the world premiere of Tilt.Photo by Arian Molina Soca, Courtesy Pennsylvania Ballet.
As I watched Helen Pickett rehearse her new work Tilt for Pennsylvania Ballet last week, there was no doubt in my mind that she's a natural leader. Hovering closely around young corps dancer Jack Thomas during a run through, she pushed him to carve more space through the air with his upper body. "Use those hands, do not stop," she said emphatically during a particularly tiring section, at once firm and encouraging. "It should feel like you're eating a meal rather than grazing." Yet earlier, Pickett had admitted to me that when she was first approached by a major company to create a ballet 12 years ago, she questioned her ability to lead. Despite growing up in a feminist household, being surrounded by strong female role models throughout her dancing and acting career, and learning the craft of choreography from William Forsythe at Ballet Frankfurt, she says, "I still gave more credence to male voices than female voices."
Her realization is one component of a bigger issue in the dance world: that for all of the droves of women and girls who flock to ballet classes and pursue performance careers, the majority of leadership positions—be it directing, curating or choreographing—are held by men. To help illuminate the topic in advance of Pickett's world premiere November 9–12 , last week Pennsylvania Ballet partnered with Philadelphia's FringeArts to present "Challenges, Chances, Changes: Gender Equity in Concert Dance," a round table discussion among six women leaders in the industry. Joining Pickett was Dance Theatre of Harlem artistic director Virginia Johnson; BalletX executive and artistic director Christine Cox; Big Dance Theater choreographer and co-director Annie-B Parson; Philadelphia Dance Projects executive director Terry Fox; and choreographer Francesca Harper, artistic director of the Francesca Harper Project.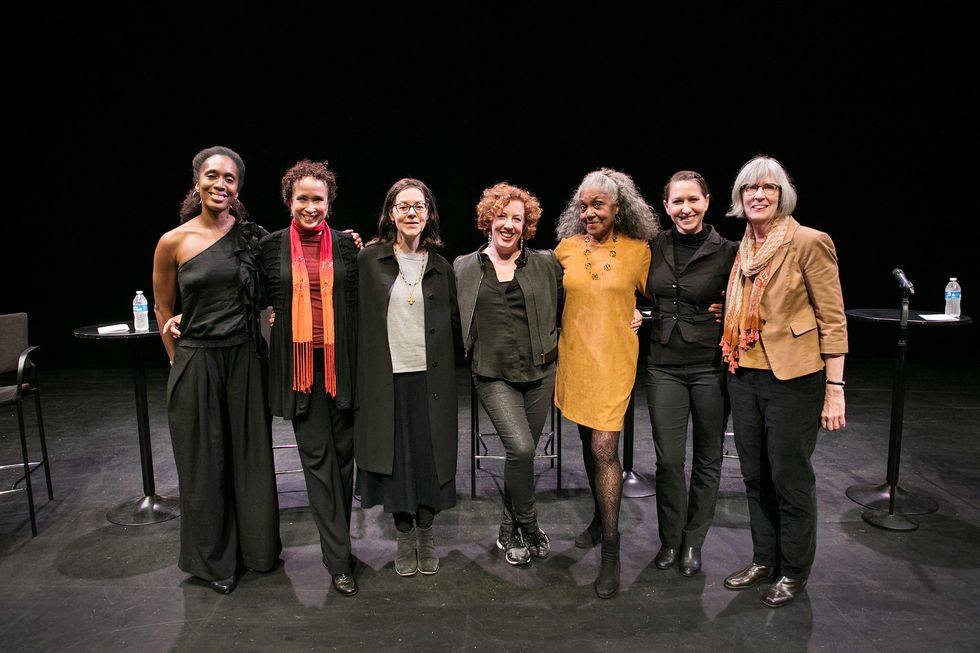 From left: Francesca Harper, Virginia Johnson, Annie-B Parson, Helen Pickett, Brenda Dixon-Gottschild, Christine Cox and Terry Fox. Photo by Chris Kendig, Courtesy Pennsylvania Ballet.
Jun. 06, 2016 11:16AM EST
Photo by Philip Koenig, Courtesy Kansas City Ballet.
The Kansas City Dance Festival, which mixes Kansas City Ballet members with performers from other companies, has significantly increased its programming since its 2013 debut. Now the festival is presenting its biggest season yet, bringing fresh choreography to Kansas City and new opportunities to the participating dancers.

This year features KCDF's first world premiere, choreographed by Garrett Smith. The lineup also includes ballets by Matthew Neenan and Vincente Nebrada. Festival dancers hail from KCB, Pennsylvania Ballet and Richmond Ballet, among other companies. The eclectic program gives KC audiences a chance to see new dancers and choreography, mixed with their hometown favorites.
Apr. 01, 2016 05:56PM EST
Jillian Vanstone and Dylan Tedaldi in Alice's Adventures in Wonderland. Photo by Bruce Zinger, Courtesy National Ballet of Canada.
In the Prologue to Christopher Wheeldon's recent ballet The Winter's Tale, two boys, princely playmates who one day will become kings, are joined onstage by two women veiled in black. They stand, one beside each child, mysterious, disquieting. They hint at the power that women in the ballet will have over men's imaginations as objects of fierce passions or idealized love. In a brief, evocative tableau, the choreographer foreshadows the darker themes of Shakespeare's play, the ballet's source, and their joyful resolution, distilling in a brief passage the story's emotional arc.
Choreographing story ballets that will appeal to contemporary audiences presents unique challenges even for experienced dancemakers. A too-literal approach or too-traditional staging can seem quaint or flat. And what makes a suitable narrative for those coming of age in a digital era, where there are no strictures on what can be searched, seen and shared? How can a story ballet hold audiences' attention? If mere distraction becomes the goal, how can a ballet achieve the resonance that will give it continued life?