Wendy Whelan teaching at Jacob's Pillow's Ballet Program. Photo by Christopher Duggan, Courtesy Jacob's Pillow.
Last month The School at Jacob's Pillow announced a major change to its historic summer ballet program, which boasts alumni at companies including American Ballet Theatre, Pennsylvania Ballet and Dutch National Ballet. This summer, rather than focusing on coaching dancers in the traditional, story-driven classical repertoire, the intensive makes the shift to contemporary ballet. Directed by former Cedar Lake Contemporary Ballet director Alexandra Damiani and BalletX co-founder Matthew Neenan, the Contemporary Ballet Program will work to engage students in the development of new work and the ever-adapting repertoire (including pointe work) it requires.
Former New York City Ballet prima and longtime Jacob's Pillow participant Wendy Whelan played a large role in the decision making process. We touched base with Whelan to hear about what went into this decision, and whether she thinks that this focus on contemporary training represents a growing trend in the ballet world.
Keep reading...
Show less
News
Sep. 21, 2018 04:10PM EST
Members of NYCB in Gianna Reisen's Composer's Holiday at the 2017 Fall Fashion Gala. Photo by Paul Kolnik, Courtesy NYCB.
Last year, New York City Ballet wowed fans by hiring its youngest choreographer ever, the then-18-year-old Gianna Reisen, to make a ballet for its Fall Fashion Gala. For this year's gala, held September 27 at Lincoln Center's Koch Theater, Reisen will be back alongside NYCB first-timers Kyle Abraham and Matthew Neenan. All three will present world premieres. Reisen, a former student at the School of American Ballet, is now an apprentice at Dresden Semperoper Ballett. "Living, dancing and choreographing in Europe has given me a set of tools that I could never throw away," she says. Reisen will work with a cast of 18 dancers to a score by John Adams, and will incorporate set pieces onstage. "I plan to tell more of a story this time around," she says.
Keep reading...
Show less
News
Jul. 09, 2018 01:35PM EST
BalletX launches its summer season on July 11. Photo by Gabriel Biencyzcki, Courtesy of BalletX.
Wonder what's going on in ballet this week? We've pulled together some highlights.
Three World Premieres at BalletX Philadelphia Summer Series
Fresh off the heels of its Joyce Ballet Festival performances in New York, BalletX is launching its Summer Series with a trio of world premieres on July 11. The program, which runs through July 22 at The Wilma Theater in Philadelphia, features ballets by Penny Saunders, choreographer in residence for Grand Rapids Ballet; Andrew McNicol, BalletX's 2018 choreographic fellow; and Matthew Neenan, BalletX co-founder and company choreographer. Pennsylvania Ballet principal pianist Martha Koeneman will perform Mendelssohn's Songs without Words live for Neenan's work, which shows dancers attempting to solve a mysterious puzzle onstage. McNicol is inspired by Mozart's Requiem and his appreciation of the speed and athleticism of American dance. Saunders' piece will be accompanied by an original composition by Rosie Langabeer, a Philadelphia composer originally from New Zealand. Listen to the pair discuss the collaboration in the video below.
Keep reading...
Show less
News
Jun. 25, 2018 03:43PM EST
Jane Cracovaner and Elijah Laurant with MOVETHECOMPANY, which will perform at the Joyce Ballet Festival this week. Photo Craig Foster, Courtesy Joyce Theater.
Wonder what's going on in ballet this week? We've pulled together some highlights.

The Joyce Ballet Festival Is Back
New York City's Joyce Theater kicks off its five-company Ballet Festival June 26-July 7. Showcasing a variety of styles including neoclassical and contemporary dance, the festival prides itself on featuring smaller companies. Below, check out the three companies opening this week. (Feeling festive? Enter our giveaway to win tickets to the Ashley Bouder Project at the Joyce on July 5.)
Keep reading...
Show less
USA IBC senior gold medalist winners Yungting Qiu and Sicong Wu in Zhang Disha's Sad Birds. Photo by Richard FInkelstein, Courtesy USA IBC.
It's been an exciting two weeks here in Jackson, Mississippi, as 119 dancers from 19 countries have competed for medals, monetary awards, scholarships and company contracts at the USA International Ballet Competition. But the IBC has offered more than prizes—dancers have also been networking and taking master classes, including a fascinating lecture demonstration series with choreographer Alexei Ratmansky that included learning Petipa's original choreography from Stepanov notations.
This week, 32 finalists performed two classical variations and one contemporary piece over the course of three nights. Meanwhile, semi-finalists worked intensely with choreographer Matthew Neenan on an original work, which they performed at last night's Blue Cross & Blue Shield of Mississippi Awards Gala. Audiences also had one last chance to see select finalists perform, before the jury (led by chairman John Meehan) joined them onstage to present the medals.
So without further ado, here are the USA IBC winners!
Keep reading...
Show less
popular
Nov. 08, 2017 02:50PM EST
Mayara Pineiro rehearsing with Helen Pickett for the world premiere of Tilt.Photo by Arian Molina Soca, Courtesy Pennsylvania Ballet.
As I watched Helen Pickett rehearse her new work Tilt for Pennsylvania Ballet last week, there was no doubt in my mind that she's a natural leader. Hovering closely around young corps dancer Jack Thomas during a run through, she pushed him to carve more space through the air with his upper body. "Use those hands, do not stop," she said emphatically during a particularly tiring section, at once firm and encouraging. "It should feel like you're eating a meal rather than grazing." Yet earlier, Pickett had admitted to me that when she was first approached by a major company to create a ballet 12 years ago, she questioned her ability to lead. Despite growing up in a feminist household, being surrounded by strong female role models throughout her dancing and acting career, and learning the craft of choreography from William Forsythe at Ballet Frankfurt, she says, "I still gave more credence to male voices than female voices."
Her realization is one component of a bigger issue in the dance world: that for all of the droves of women and girls who flock to ballet classes and pursue performance careers, the majority of leadership positions—be it directing, curating or choreographing—are held by men. To help illuminate the topic in advance of Pickett's world premiere November 9–12 , last week Pennsylvania Ballet partnered with Philadelphia's FringeArts to present "Challenges, Chances, Changes: Gender Equity in Concert Dance," a round table discussion among six women leaders in the industry. Joining Pickett was Dance Theatre of Harlem artistic director Virginia Johnson; BalletX executive and artistic director Christine Cox; Big Dance Theater choreographer and co-director Annie-B Parson; Philadelphia Dance Projects executive director Terry Fox; and choreographer Francesca Harper, artistic director of the Francesca Harper Project.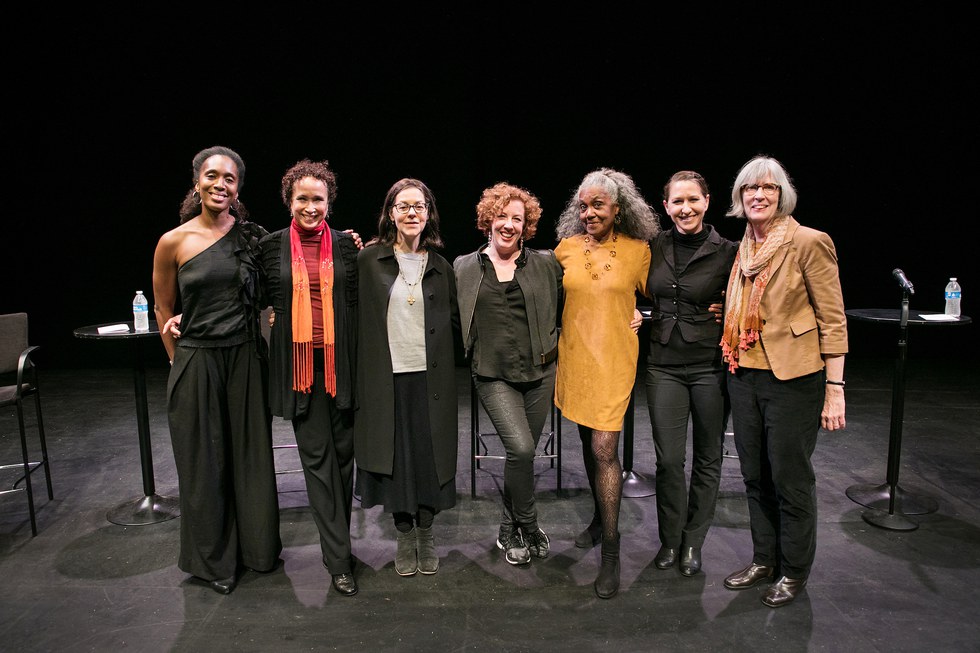 From left: Francesca Harper, Virginia Johnson, Annie-B Parson, Helen Pickett, Brenda Dixon-Gottschild, Christine Cox and Terry Fox. Photo by Chris Kendig, Courtesy Pennsylvania Ballet.
Keep reading...
Show less
News
Jun. 06, 2016 11:16AM EST
Photo by Philip Koenig, Courtesy Kansas City Ballet.
The Kansas City Dance Festival, which mixes Kansas City Ballet members with performers from other companies, has significantly increased its programming since its 2013 debut. Now the festival is presenting its biggest season yet, bringing fresh choreography to Kansas City and new opportunities to the participating dancers.

This year features KCDF's first world premiere, choreographed by Garrett Smith. The lineup also includes ballets by Matthew Neenan and Vincente Nebrada. Festival dancers hail from KCB, Pennsylvania Ballet and Richmond Ballet, among other companies. The eclectic program gives KC audiences a chance to see new dancers and choreography, mixed with their hometown favorites.
Keep reading...
Show less
Featured Article
Apr. 01, 2016 05:56PM EST
Jillian Vanstone and Dylan Tedaldi in Alice's Adventures in Wonderland. Photo by Bruce Zinger, Courtesy National Ballet of Canada.
In the Prologue to Christopher Wheeldon's recent ballet The Winter's Tale, two boys, princely playmates who one day will become kings, are joined onstage by two women veiled in black. They stand, one beside each child, mysterious, disquieting. They hint at the power that women in the ballet will have over men's imaginations as objects of fierce passions or idealized love. In a brief, evocative tableau, the choreographer foreshadows the darker themes of Shakespeare's play, the ballet's source, and their joyful resolution, distilling in a brief passage the story's emotional arc.
Choreographing story ballets that will appeal to contemporary audiences presents unique challenges even for experienced dancemakers. A too-literal approach or too-traditional staging can seem quaint or flat. And what makes a suitable narrative for those coming of age in a digital era, where there are no strictures on what can be searched, seen and shared? How can a story ballet hold audiences' attention? If mere distraction becomes the goal, how can a ballet achieve the resonance that will give it continued life?
Keep reading...
Show less
McRae in Sir Frederick Ashton's "Rhapsody." Photo by Tristram Kenton, Courtesy ROH.
Steven McRae

The Royal Ballet's Steven McRae danced with a power and speed most people would need figure skates to achieve at Covent Garden in February, but the amplitude of his chaînés, barrel turns and rivoltades was just the icing on the cake during his finely calibrated performance in Sir Frederick Ashton's Rhapsody. Dancing the lead role originally made for Mikhail Baryshnikov, the 28-year-old Aussie also excelled in the small gestures and precise positional details for which Ashton's work is known. McRae says the music, Rachmaninoff's Rhapsody on a Theme of Paganini, is the key to balancing athleticism and artistry in the piece. "It's easy to get caught up in the technical demands of the choreography," he says. "However, when you really listen to the music, something magical starts to happen." The same can be said for the moment when this dynamic and versatile principal takes the stage. —Michael Northrop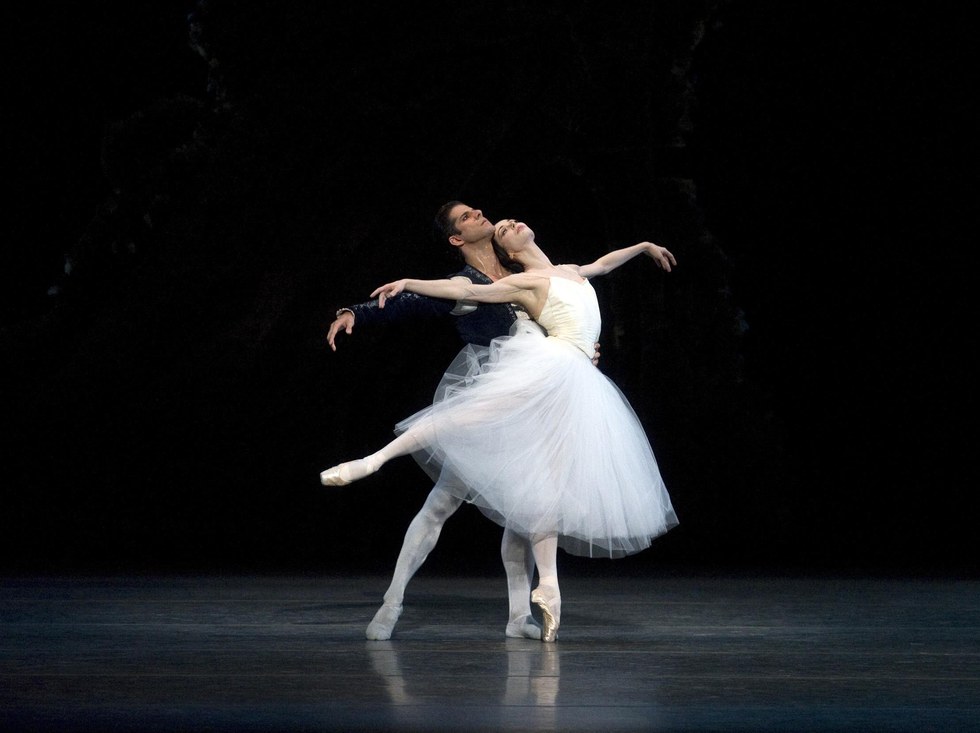 Gomes and Vishneva in "Giselle." Photo by Gene Schiavone, Courtesy ABT.
Diana Vishneva & Marcelo Gomes
One of the biggest thrills of Diana Vishneva and Marcelo Gomes' longtime partnership at American Ballet Theatre is its ability to transcend to greater heights each season. It was ever apparent in their performance of Giselle last June. While they've performed the roles together in years past, familiarity and experience have allowed them to bring deeper richness to their characters. Vishneva's Giselle was shy and vulnerable, coming out of her shell gradually in response to Albrecht's affections until she almost seemed to burst with joy. Meanwhile, Gomes—a cocksure but lovable Albrecht—grew more and more smitten with his conquest. Once his ruse was discovered, you sensed not only Giselle's disbelief but her painfully public humiliation, making her breakdown all the more understandable and heartbreaking. In Act II, Vishneva was otherworldly in her lightness, accentuated further through Gomes' reverential, seamless partnering. Together they drew the audience into their story and held them, spellbound. —Amy Brandt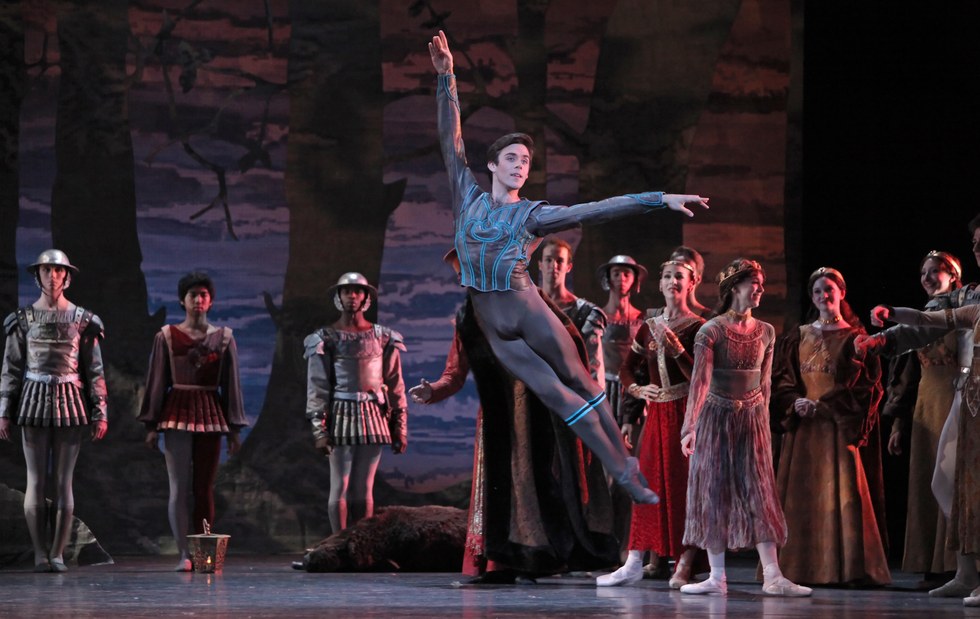 Walsh in "Swan Lake." Photo by Amitava Sarkar, Courtesy Houston Ballet.
Connor Walsh
When Houston Ballet's Connor Walsh first danced Siegfried in the premiere of Stanton Welch's fast-paced, dreamy version of Swan Lake in 2006, he was technically impressive, holding his own with the elegant Barbara Bears. But watching him reprise the role some eight years later, it became clear just how much he has grown. It's as if his edges have become sharper—not just technically but in all aspects of his artistry; he's developed a distinctly refined performance polish. There's ample heart behind his princely swagger now. Walsh's noble command of the stage, solid virtuosity and well-tempered bravado all add up to one convincing prince. His involvement in the ballet's original creation process, along with added years of experience, certainly helped deepen his interpretation. The HB principal is moving into his own, and his performance in Swan Lake provided the evidence. —Nancy Wozny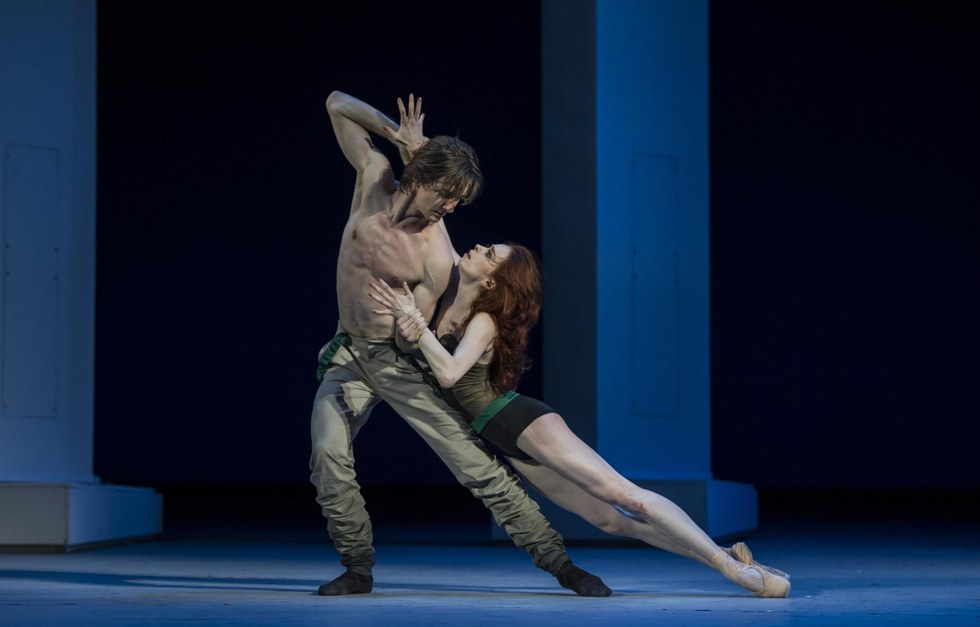 Lantratov and Krysanova in "Taming of the Shrew." Photo by Alice Blangero, Courtesy Bolshoi.
Bolshoi Ballet
It was a gamble on all sides: a new, full-length Taming of the Shrew by a foreign choreographer at the Bolshoi Ballet, just over a year after the acid attack on Sergei Filin. Les Ballets de Monte-Carlo's Jean-Christophe Maillot, who was creating his first ballet for an outside company in two decades, proved undaunted, and the result was a team effort that showed the Bolshoi's young generation in a new light. Each of the 10 soloist roles was choreographed with and for the first cast, from Vladislav Lantratov to Olga Smirnova, Vyacheslav Lopatin and Anna Tikhomirova, channeling their offstage personalities to show a new facet of their talent; their bold classical technique was in evidence throughout yet colored by the spontaneous, naturalistic approach Maillot favors. It was the Bolshoi as the world loves it, with a modern edge—and the Shrew herself, principal Ekaterina Krysanova, led the pack with a nuanced, career-defining performance, her power matched by a new abandon. —Laura Cappelle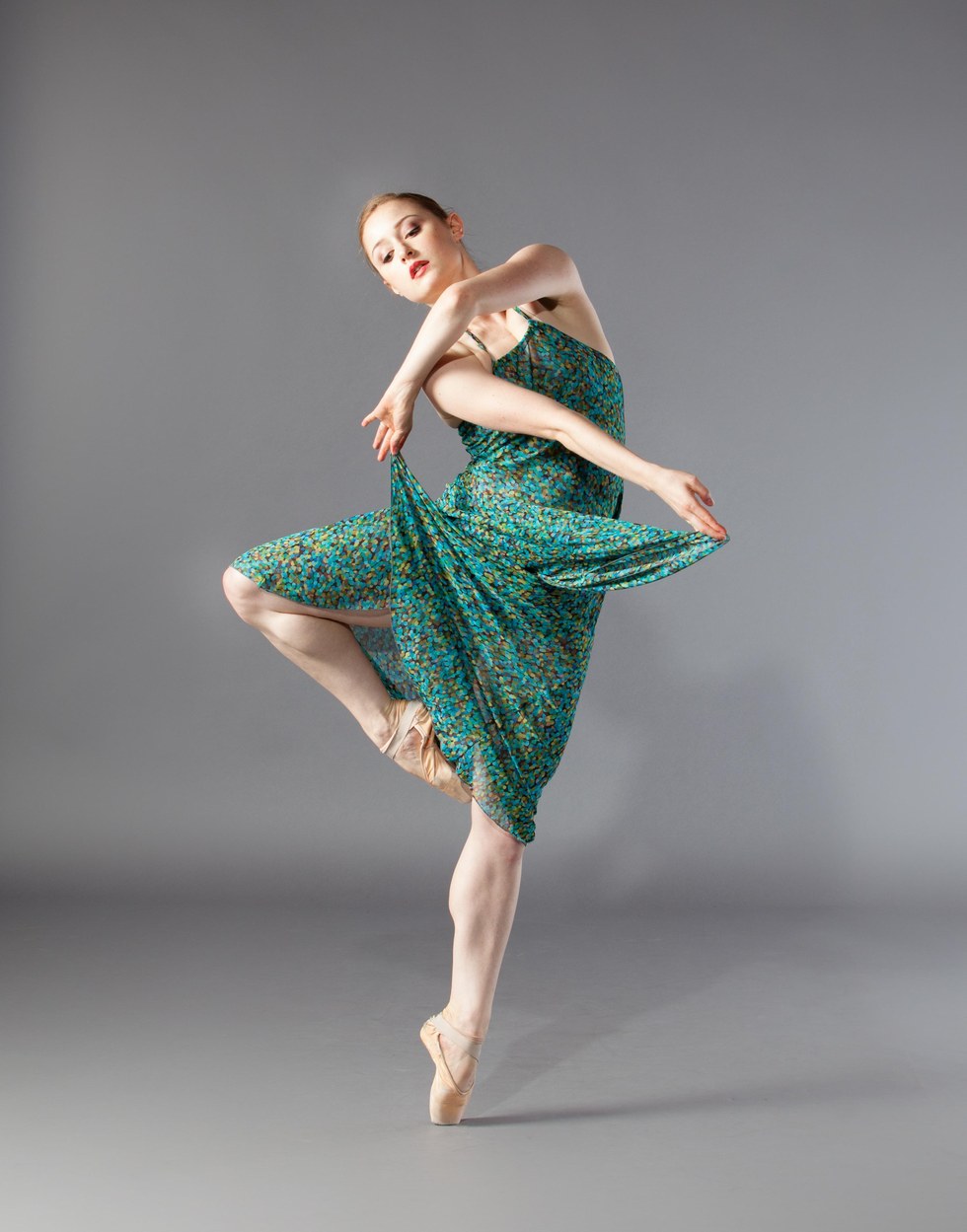 Photo by Alexander Izilaev, Courtesy BalletX.
Chloe Felesina
In the BalletX premiere Sunset, o639 Hours, Chloe Felesina danced front and center, with an abandon, fire and precision that made her riveting. The dreamlike adventure tale, choreographed for 10 dancers by BalletX co-founder Matthew Neenan, was based on the true story of Captain Edwin Musick's ill-fated Honolulu-to-Auckland flight in 1938. As the famous pilot's wife, and in her other roles in the ballet, Felesina's depth of feeling was matched by a robust agility. She shone in scenes portraying the couple's romance, the island life of New Zealand and her solitary bereavement.
Even though her medium height and fine features make her look delicate, she's a powerhouse: at the front of the pack in floor-rolling unisons and sparkling in Neenan's inventive partnering. A full-time company member since 2012, Felesina relishes deciphering each choreographer's intent and seeking more ways to communicate strongly with her audience. In Sunset, o639 Hours, her approach worked: You couldn't take your eyes off her. —Lisa Kraus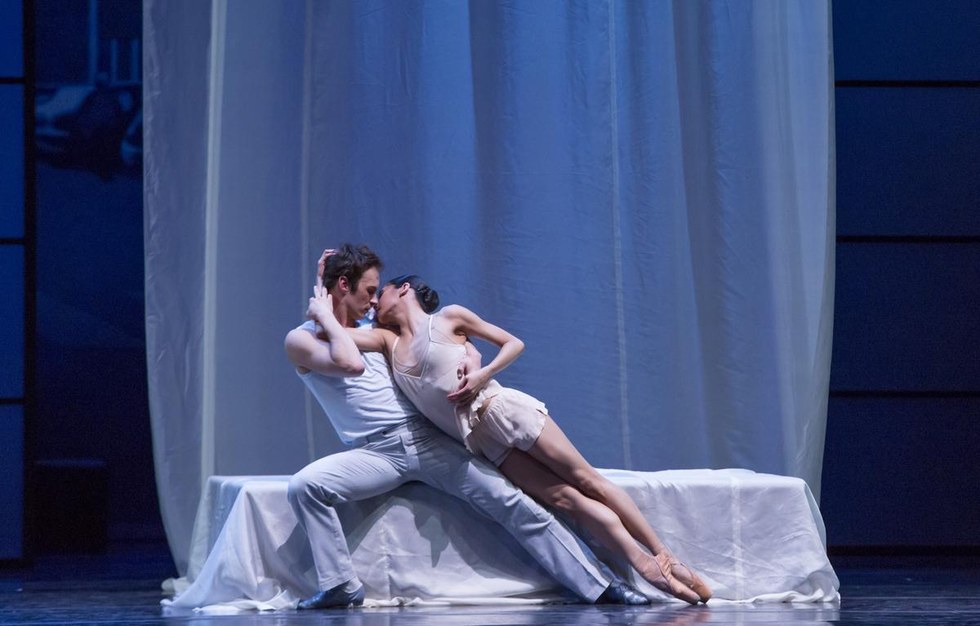 Rocas with Rory Hohenstein in "Romeo & Juliet." Photo by Cheryl Mann, Courtesy Joffrey.
Christine Rocas
A couple of years back, Joffrey Ballet dancer Christine Rocas confessed: "I'm always scared to do modern things…I try to be spontaneous, but I know I look funny at first."
Rocas, 28, definitely didn't look "funny" in her opening night performance of Polish choreographer Krzysztof Pastor's Romeo & Juliet in Chicago this past April. And Pastor's take on the story was supremely contemporary—not at all like the Kenneth MacMillan or John Cranko versions for which Rocas' lyrical, weightlessly lovely style would have been a perfect fit. In fact, as Juliet, Rocas seized hold of Pastor's starkly modern, sweepingly cinematic reinvention, which used 20th-century Italian history as a backdrop. Masterful in her embrace of the ballet's mix of difficult classical and contemporary technique, she revealed a powerful, highly individualistic, surprisingly dramatic talent.
Her performance had genuine star quality, with pristinely beautiful dancing and fiercely honest acting in evidence from the moment, early on, when she simply walked around the perimeter of the stage, quietly fixing her gaze on Romeo. The palpable quickening in Rocas' face and body was a far cry from simple pubescent awakening. This was the dawning of a young woman with a mind of her own. —Hedy Weiss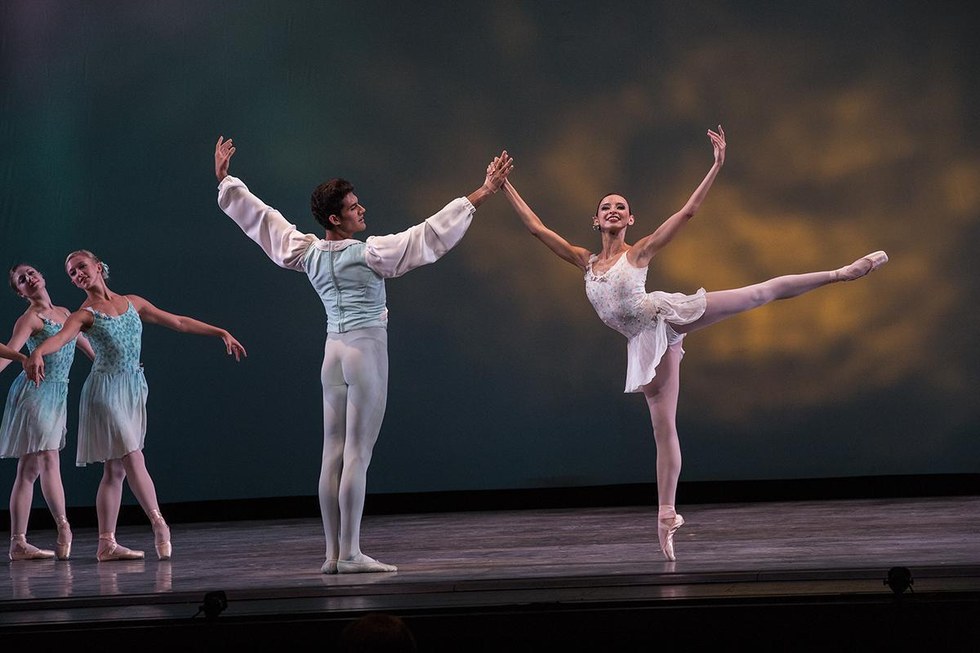 Arja with Renan Cerdeiro in "Ballo della Regina." Photo by Daniel Azoulay, Courtesy Miami City Ballet.
Nathalia Arja
As the recently promoted Miami City Ballet soloist Nathalia Arja can attest, some roles lift dancers to the heights of artistic privilege. While still a corps member last season, Arja—a 21-year-old MCB-school alumna with Rio de Janeiro roots—earned the opportunity to dance the lead in George Balanchine's exquisitely demanding Ballo della Regina. There she was, on opening night no less, fast and fastidious in virtuoso moves: restless changes in direction, riveting hops on pointe, clockwork articulations that teased time itself. "I learned to do what I didn't know I could," says Arja. No small amount of calibration, of course, came from being coached by Merrill Ashley, the New York City Ballet wonder who originated the role. Still, Arja brought strengths she's been honing since dancing the role of Sugar Plum at MCB as a teenager—the verve and knack for detail that also served Alexei Ratmansky when he fashioned a solo on her in Symphonic Dances in 2012. A culmination for many, Ballo figures for Arja as the promise of an ever more thrilling career. —Guillermo Perez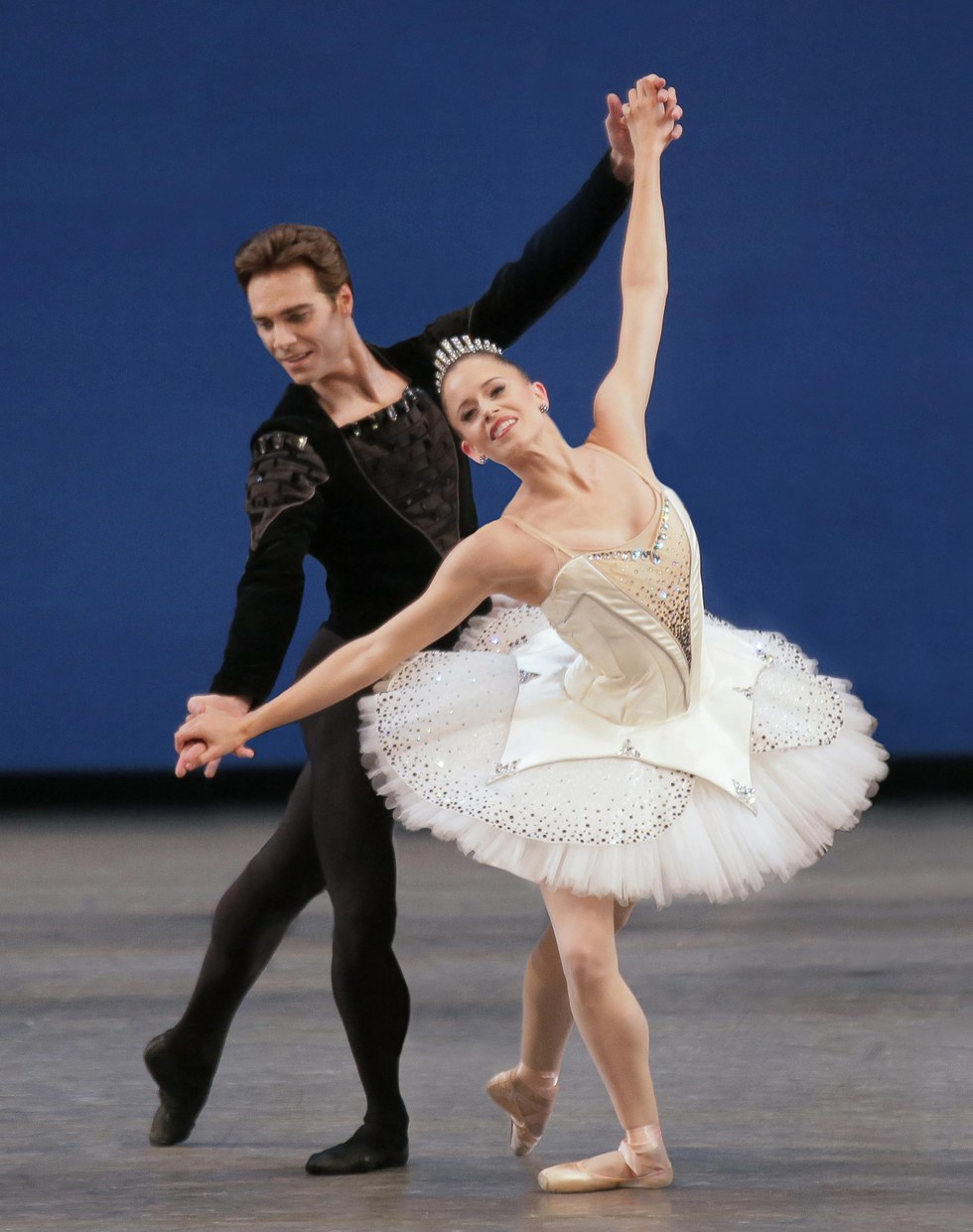 Isaacs with Gonzalo Garcia in "Symphony in C." Photo by Paul Kolnik, Courtesy NYCB.
Ashly Isaacs
In the third movement of Balanchine's Symphony in C, the leads repeatedly charge onto the stage in a series of grands jetés—irrepressibly buoyant, as if they're more at home in the air than on the ground. In a way, that's a fitting metaphor for New York City Ballet corps member Ashly Isaacs' 2014 season, which saw her star on the rise, achieving greater heights with each successive performance. Her debut as the ballerina in that movement of Symphony showed off not only her preternatural ballon, but also her easy command of the stage. In the wrong dancer's hands (and feet) the always-on-the-go choreography can feel bombastic, but Isaacs colored it sensitively, adding subtle shading to its softer moments. For some years this role has been danced brilliantly by Ashley Bouder; it was hard not to notice the similarities between the two. —Margaret Fuhrer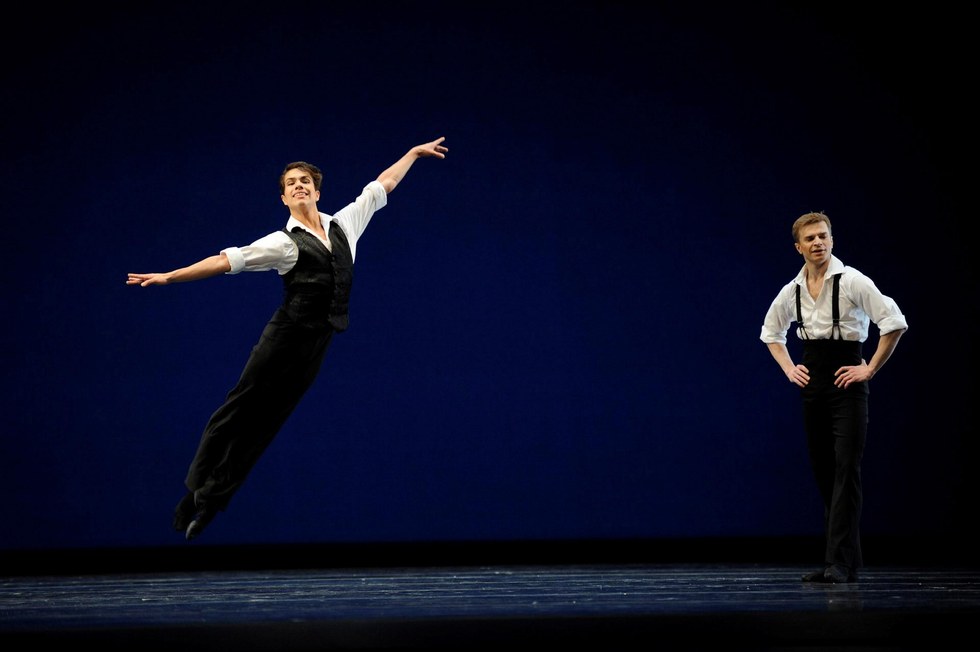 Hernandez with Gennadi Nedvigin in "Les Lutins." Photo by Erik Tomasson, Courtesy SFB.
Esteban Hernandez
Season galas showcase principal dancers at their best, but San Francisco Ballet's 2014 gala also introduced a rising star: Esteban Hernandez. Announced pre-curtain as a replacement for Joan Boada in Johan Kobborg's Les Lutins, the first-year corps member faced high expectations from a demanding audience, who rustled their programs looking for clues about this unfamiliar dancer. But in Lutins, an eight-minute battle of the sexes that requires insouciant charm, clear acting and blistering petit allégro—and falls flat if any one of those is missing—the Mexican-born Hernandez proved his mettle as a Royal Ballet–trained technician and a natural performer, with confidence well beyond his 19 years. Not only did he hold his own opposite Gennadi Nedvigin and soloist Dores André, in those thrilling eight minutes he won 3,500 hearts and became a name to remember. —Claudia Bauer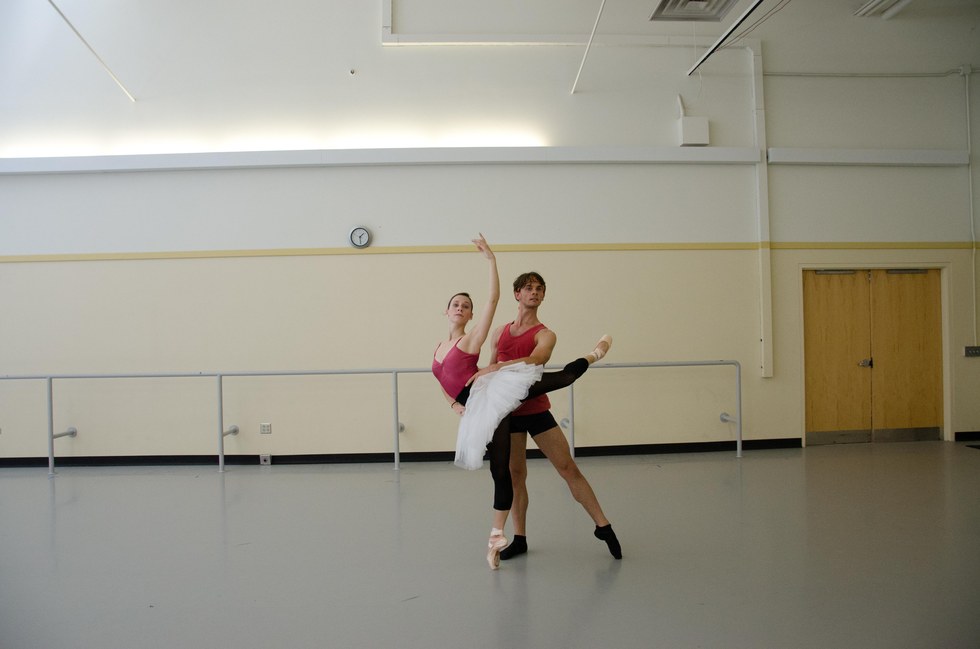 Thurlow and Sbrizzi rehearsing "Don Quixote." Photo by Aimee DiAndrea, Courtesy PBT.
Gabrielle Thurlow & Luca Sbrizzi
When lead casting was announced for Pittsburgh Ballet Theatre's Don Quixote last season, there was a surprising pair included in the mix. While Gabrielle Thurlow and Luca Sbrizzi have long been regarded as cornerstones among PBT's ranks, their star power was relatively untested: Thurlow was a longtime corps member and Sbrizzi, a soloist, had been away from the stage nearly nine months following a career-threatening back injury. But they more than delivered. Thurlow entered the first act as an energetic Kitri, all spry jumps and energetic pas de chevals, while Sbrizzi played an earnest Basilio, his admiration for Kitri present in every carefully finished movement. Later, during their brightly executed grand pas de deux, Thurlow brought playful sharpness, breezy turns and balances that said, "I could stay here all day." Sbrizzi's refined technique and bounding jumps lent his Basilio the elegance of a man in love. Following the performance, Thurlow was promoted to soloist and Sbrizzi cemented his place as a leading man after an uncertain season away from the stage. —Kathleen McGuire


Get Pointe Magazine in your inbox