Nashville Ballet's Kayla Rowser and Nicolas Scheuer in Swan Lake. Karyn Photography, Courtesy Nashville Ballet.
Pre-professional ballet students know this to be true: Training comes first; everything else fits when—or if—it can. Are the sacrifices pre-professional ballet dancers make to pursue a highly competitive career worth it? Four professionals weigh in.
News
Apr. 24, 2019 10:20AM EST
We love it when our favorite dancers are tapped to star in other artists' projects. When Boston-based violinist and songwriter Josh Knowles started mulling over video ideas for his new single "Same," the first released song of his upcoming album this fall, he thought that two dancers silhouetted against a backlight could get the song's vulnerability across. And so he asked two of his favorites, Boston Ballet principals Lia Cirio and Paul Craig, to star in the video and commissioned former company principal Yury Yanowsky to choreograph it.
Cirio in English National Ballet's "Manon." Photo by Laurent Liotardo, courtesy English National Ballet.
Jeffrey Cirio's meteoric rise is what dreams are made of. A Pennsylvania native, he joined Boston Ballet in 2009 and quickly rose up the ranks to principal dancer by 2012. While he felt Boston was "home," he left to join American Ballet Theatre as a soloist in 2015, where he was promoted to principal after only one year. Now, after a four-month stint as a guest artist with English National Ballet last season, this all-American boy has joined the company as a full-time lead principal. It's hard to believe he's only 27.
Just a day after his performance as Prince Siegfried in Swan Lake with Alina Cojocaru last month, Cirio sat down with Pointe to give an update on his new life living and working in London.
Trending
Dec. 26, 2018 08:00AM EST
San Francisco Ballet principal Frances Chung with her dressing room pal, Iggy. Photo by Erik Tomasson, Courtesy SFB.
A dancer's dressing room is often her "home away from home." We went backstage with Boston Ballet principal Lia Cirio, San Francisco Ballet principal Frances Chung and Richmond Ballet dancer Cody Beaton to see how they personalize their space and get performance-ready.

News
Oct. 26, 2018 04:51PM EST
Boston Ballet in Jorma Elo's "Bach Cello Suites" for BB@home. Photo by Sabi Varga, courtesy of Boston Ballet.
This year, Boston Ballet's annual choreographic workshop is all about empowering women. Taking place in Boston Ballet's black box theater November 1-2, BB@home: ChoreograpHER will feature six works by women of various ranks in the company.
"Given the reality that the majority of produced choreographers have been male, I am excited this BB@home program encourages our talented female dancers who have an interest in choreography by giving them a platform to gain experience as choreographers," said artistic director Mikko Nissinen in a statement.
Summer Intensive Survival
Jul. 23, 2018 02:00PM EST
Boston Ballet principal Lia Cirio at age 15 in class at the Central Pennsylvania Youth Ballet summer intensive. Photo by Rosalie O'Connor, Courtesy Cirio.
It's hard to believe that summer intensive season is almost over! We hope you're learning, growing, having fun and making memories at your intensives this year.
Today, we're sharing seven dancers' favorite summer intensive memories.
Isabella Boylston, American Ballet Theatre
Summer Intensive: American Ballet Theatre
Age: 17
Perseverance
"I was 17 (although I looked about 14) and attended the ABT Summer Intensive. I was particularly excited to be there because the year before that I hadn't been accepted."
Outside the Studio...
"My mom, my best friend Lauren Post and I sublet a tiny one bedroom on the Upper West Side and had a blast exploring the city."
Dreams Come True
"That summer I was invited to join the ABT Studio Company—a dream come true!"
Photo Courtesy Cirio
A dancer's dressing room is often her "home away from home." In our August/September issue, we went backstage with three ballerinas, including Boston Ballet principal Lia Cirio. Below, she shows us how she personalizes her space and walks us through her pre-performance routine.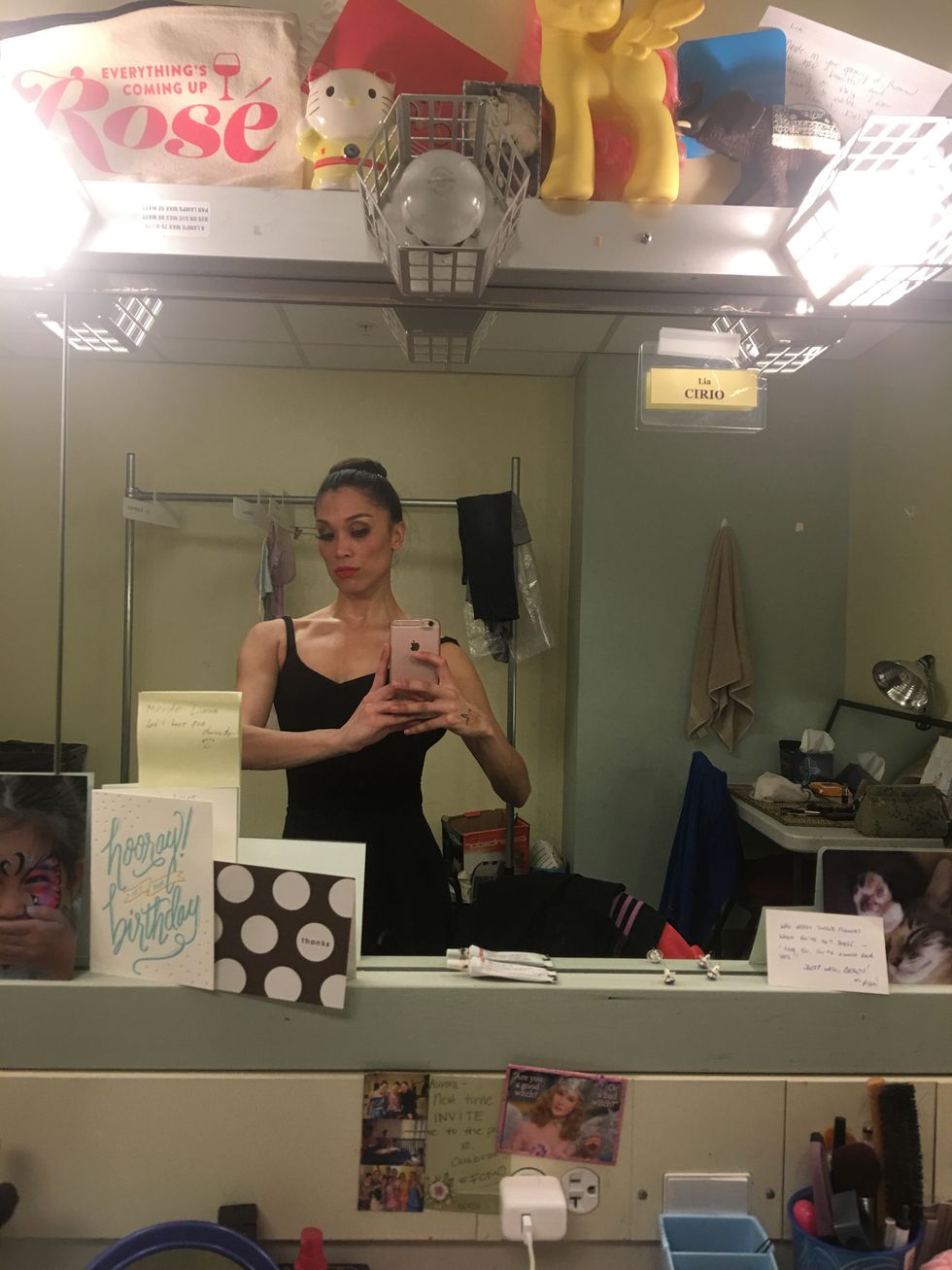 Cirio snaps a selfie at her dressing room spot.
The setup: Boston Ballet principal Lia Cirio shares her dressing room with fellow dancers Misa Kuranaga and Kathleen Breen Combes. "We all personalize our spaces," she says. "It's about making it comfortable." Cirio keeps her spot as organized as possible. "But after a full-length, it's a disaster area! Makeup, hairpins, curls everywhere—it's a mess."

Jun. 02, 2015 05:02PM EST
Cirio in Petr Zuska's D.M.J. 1953-1977. Photo by Rosalie O'Connor, Courtesy Boston Ballet.
Just like her crystalline technique, Lia Cirio's workout is extremely fine-tuned. Consistency is key to staying on top of her game, and her cross-training regimen includes specific daily exercises for total-body stamina and strength.
Shoulder strengtheners: Cirio's arm workout involves morning Thera-Band exercises, followed by a routine with 4-pound weights in the PT room after class. "I used to have weak rotator cuffs, but these exercises have really strengthened my shoulders and made my swan arms much easier," she says.
Dancers have a love-hate relationship with Nutcracker. For many, it was the first ballet they saw; for even more, it was the first they ever performed. But, despite the nostalgia, December's relentless marathon of shows takes a toll. If Nutcracker music is starting to make you a little loopy, you're not alone!
Nov. 29, 2001 07:00PM EST
We tend to think of professional dancers as tuning into an all-ballet channel. Not so, according to these five, who read, movie-binge, ace Final Fantasy, design headbands, tweet, go to college, raise cats and more. Their offstage adventures are as varied as the talents that make them so compelling onstage.
Connor Walsh
Company: Houston Ballet
Rank: Principal since 2007
Age: 23
Dance Stats: Known for his long-limbed line, technical polish and princely good looks, Walsh made a smashing debut as Des Grieux in Kenneth MacMillan's Manon.
European Soccer Fan: As a kid, Walsh may have given up soccer to dance, but don't ever expect him to give up his devotion to England's Chelsea Football Club. "OK, I have several jerseys, but I really do take them off after the game," admits Walsh, who never misses his team in action thanks to the miracle of DVR.
Music Lover: A devoted indie music follower, Walsh can be found at Houston's best dives for local live music on his nights off. "Houston buzzes with great bands," Walsh says. "Plus, I'm single, so it's great to get out." He swears by Bob Boilen's picks on NPR's All Songs Considered, which he uses to keep his iPod fully loaded.
Restaurant Hound: If it's new, Walsh has to try it. "Restaurants are in my blood; my father and brother are in the biz," he says. "Houston has the best Tex-Mex food anywhere. I never run out of places to try." That said, after the show Walsh heads to Little Bigs—he loves their mini-burgers.
Heather Ogden
Company: The National Ballet of Canada
Rank: Principal since 2005
Age: 28
Dance Stats: Ogden, a die-hard lover of the classics and dramatic contemporary roles, found the best of both worlds in this season's The Sleeping Beauty and a new work by Aszure Barton.
Kitchen Queen: On her nights off you can find Ogden concocting new recipes for Guillaume Côté, her fiancé (and her very first partner in Romeo and Juliet). "Cooking relaxes me," she says. "I'm no expert chef, but I do like to experiment, especially with fish."
Freshly Loaded iPod: Ogden likes to change it up music-wise. She just added some Kings of Leon and Adele, along with some warm-up favorites by Rachmaninoff and Mahler.
Wedding Planner: This is a temporary job, but with a summer wedding planned, much of Ogden's off time is spent arranging her big day. "So far I've tackled the guest list, menu, photographer, florist and DJ," she says. "I'm still shopping for my dress, though."
Lost Fan: Ogden never misses an episode of ABC's mythic epic, Lost. "I really get into the characters," she says. "It's a such a huge mystery."
Tricia Albertson
Company: Miami City Ballet
Age: 30
Rank: Principal since 2006
Dance Stats: With her long limbs, unconventional elegance and a body made for Balanchine, Albertson made a big impact during recent performances of Allegro Brillante and Symphony in Three Movements.
Exotic Locales: Albertson is a travel connoisseur. "I avoid tourist traps at all costs. If the guidebooks say this is the place to be, I go in the opposite direction," she says. She prefers offbeat places like Thailand and Prague. Last summer she enjoyed a peaceful week meditating at the Tassajara Zen Mountain Center in California. She says, "Three hours of tai chi a day really slowed me down."
Feline Power: With nine cats, it's no longer a hobby. "I am truly a crazy cat lady. They seem to migrate to me, and the nine are just my and my boyfriend Adam Bierman's indoor ones," she says. "When I'm not dancing, I spend a lot of time cleaning up after my cats."
College On The Side: Albertson takes classes online at Miami Dade Community College. This semester, it's oceanography and a math class. "I still don't know my major yet, but soon," she says. "I have homework all the time, but it's worth it. It keeps me open to other possibilities."
Daniil Simkin
Company: American Ballet Theatre
Rank: Soloist since 2008
Age: 22
Dance Stats: After a summer of gala globe-trotting, Simkin applied his high leaps and classical aplomb to new ABT works by Aszure Barton and Benjamin Millepied this fall season.
Gadget Geek: Name the device and chances are Simkin has it. "I was born into a techie family," he says. "If I wasn't dancing, I was behind a computer and have always been drawn to gadgets. Oh, and I am a PC—a Sony Ultra-Portable to be exact."
Gamer: Nintendo Wii, Playstation 3, he's not particular. "I play anything and everything. For a while, I was addicted to World of Warcraft," he admits, "but thankfully, I stopped." Simkin would like it to be known that he's not the only gamer at ABT. "Lots of the men play," he dishes.
Deep Reader: Simkin never travels without a book and prefers nonfiction. "Anything on science, the economy, psychology or spirituality will do," he says. He just finished Eckhart Tolle's The Power of Now.
Connector: Simkin tweets and stays in touch with his over 4,000 Facebook friends by updating his page often. "It's great to connect to people, but you shouldn't open yourself completely. A little distance is good here," Simkin advises. He has his own website where he blogs—www.daniilsimkin.com—and he tweets at twitter.com/daniil.
Lia Cirio
Company: Boston Ballet
Rank: First soloist since 2007
Age: 23
Dance Stats: The unpredictable dynamics of Jorma Elo's choreography, which she performed this season, fit Cirio's athletic strengths. "Being off-center feels natural to me," she says.
Movie Buff: If it's funny, Cirio wants to be watching it—usually with her brother Jeffrey Cirio, who is also her roommate and a Boston Ballet dancer. Classic chick flicks like You've Got Mail, or the more recent The Proposal, top her list.
Vampire Lit: Cirio has read every one of the books in Stephenie Meyer's Twilight series, which chronicle the life of Bella Swan and her beloved teen vampire, Edward Cullen. "Sorry to say," says Cirio, "the movie did not live up to the book."
Artisan: After looking at the steep price tag of a headband, Cirio thought, "I could make these," and now she does. Cirio's whimsical headbands feature fun buttons, colorful fabrics and delicate ribbons. She sells her vintage-feel handiwork on etsy.com, a crafter's website.
Shoehound: If you check out Cirio's closet you will find a sea of shoes. "Dresses and shoes are my weaknesses," she says. "I love to shop."


Nancy Wozny writes about the arts and health from Houston.