News
Oct. 12, 2018 04:52PM EST
From left: ABT principals Devon Teuscher, Christine Shevchenko and Gillian Murphy isn Praedicere. Photo by Marty Sohl, Courtesy ABT.
Last spring American Ballet Theatre artistic director Kevin McKenzie announced the company's Women's Movement, a multi-year initiative to support the creation of new work by female choreographers. ABT's fall season, running October 17–28 at Lincoln Center's David H. Koch Theater, sets the project in full swing. The opening gala features a world premiere by tap extraordinaire Michelle Dorrance. A co-commission with the Vail Dance Festival, this work marks ABT's third collaboration with Dorrance this year: She created Praedicere, a pièce d'occasion for ABT's spring gala, as well as a work on company dancers at Vail last summer. The gala performance also includes past and present works by two female choreographers: Twyla Tharp's 1986 In The Upper Room and Lauren Lovette's 2017 Le Jeune, which will be danced by the ABT Studio Company.
Keep reading...
Show less
Bouder in Lauren Lovette's "Red Spotted Purple." Photo by Bret Shuford, Courtesy Lake Tahoe Dance Festival.
Last week, Ashley Bouder joined an all-star cast of performers at the 5th annual Lake Tahoe Dance Festival. Co-directors Christin Hanna and Constantine Baecher curated a dramatic evening that included a world premiere by Marco Pelle, iconic masterworks by Lester Horton and Paul Taylor, contemporary favorites by Baecher and Robert Moses, and the California premiere of Red Spotted Purple—a solo for Bouder choreographed by her New York City Ballet colleague, Lauren Lovette.
Named after a butterfly, Red Spotted Purple was made for The Ashley Bouder Project's most recent season at the Joyce Theater's Ballet Festival. Lovette's playful and free-spirited solo seemed ripe for an outdoor performance, especially against Tahoe City's gorgeous landscape of pine trees and its blue lake. Featuring both a commissioned score by Stephanie Ann Boyd and a gorgeous dress designed by Michelle Smith of MILLY, the solo dance was in line with Bouder's mission to promote more diversity in ballet's creative process. I caught the performance in Tahoe City and chatted with the two women via email about the experience of making this dance.
How did this commission come about?
Ashley Bouder: I was brainstorming female choreographers that I'd want to create a solo for me. I thought, who better than a colleague that grew up watching me dance? There isn't a female choreographer out there that knows my dancing better, or my personality on and off stage. I think Lauren is brilliant, and after having seen her two pieces for NYCB, I felt that she could make something special with a clear point of view and message. I wanted the solo to open the [Joyce] program and I just knew she could make a statement piece to fit.
Keep reading...
Show less
Just for fun
Jul. 16, 2018 02:01PM EST
Boon, Lauren Lovette's furry friend. Photo via @laurenlovette on Instagram.
There's nothing more purrrrfect than some fabulous trinas and their feline friends. We're not kitten: these bonds are paw-sitively adorable! From hanging out backstage to working out together and more, these pairs will pas de chat their way straight into your heart.
Keep reading...
Show less
News
Jul. 16, 2018 12:34PM EST
Isabella Boylston and Calvin Royal III at Ballet Sun Valley in 2017. Photo by Steve Dondero, Courtesy Ballet Sun Valley.
Wonder what's going on in ballet this week? We've pulled together some highlights.
Isabella Boylston Curates Her Second Hometown Ballet Festival
American Ballet Theatre principal Isabella Boylston moonlights as artistic director of Ballet Sun Valley, which she founded last year. The second annual festival will run July 17–18 in Sun Valley, Idaho, Boylston's hometown. Boylston has created two programs composed of pas de deux and solo pieces from choreographers including George Balanchine, Jerome Robbins and William Forsythe, as well as Justin Peck's In Creases, the one work for a larger ensemble.
Keep reading...
Show less
News
Jul. 02, 2018 04:39PM EST
Barak Ballet will perform E/SPACE at Joyce Ballet Festival this weekend. Photo David Friedman, Courtesy of Joyce Theater.
Wonder what's going on in ballet this week? We've pulled together some highlights.
ABT Wraps Up Its Met Season with Whipped Cream
American Ballet Theatre's eight-week summer season at the Metropolitan Opera House, will wrap up this Saturday. From July 2-7, the company will perform Alexei Ratmansky's Whipped Cream. This candy-coated surrealist ballet features wacky, intricate sets and costumes from Mark Ryden and tells the story of a boy in a Viennese pastry shop who overindulges and falls into a state of wild intoxication that takes him on a journey reminiscent of Act II of The Nutcracker. For a behind-the-scenes look, check out these backstage photos from the 2017 premiere. During the run, Arron Scott will make his debut as The Boy, and Gabe Stone Shayer will make his New York debut in the same role. Thomas Forster and Calvin Royal III will perform as Prince Coffee for the first time in New York.
Keep reading...
Show less
Karin von Aroldingen and Mikhail Baryshnikov in "Prodigal Son." Photo by Costas, Courtesy Dance Magazine Archives.
"My whole mission in life is to keep Balanchine's work alive," says former New York City Ballet dancer Karin von Aroldingen in Frances Mason's I Remember Balanchine, a collection of interviews by George Balanchine's friends and colleagues. Her words feel especially potent now—and never more true. On Friday, January 5, news came to light that the German-born dancer, teacher, NYCB ballet master and longtime stager for the Balanchine Trust had died at age 76.
Born in East Germany in 1941, von Aroldingen joined Frankfurt Ballet as a first soloist before George Balanchine invited her to join NYCB in 1962. Trained in the Russian method, she had to adjust her technique to fit NYCB's fast, streamlined style. "It took me years to unwind myself, to be good," she says in Mason's book. She eventually rose to principal dancer in 1972. Her dancing was strong, assertive and passionate. During her 22-year career at NYCB, Balanchine created 20 roles for her, including Kammermusik No. 2, Union Jack, Vienna Waltzes, Who Cares?, Robert Schumann's Davidsbündlertanze and her most well-known, Stravinsky Violin Concerto. (Who hasn't marveled at her elastic backbends in the 1972 "Dance in America" broadcast above?)
Keep reading...
Show less
NYCB Soloist Indiana Woodward in a costume fitting for Justin Peck's premiere. Photo via NYCB on Instagram.
Last night was New York City Ballet's annual Fall Fashion Gala at Lincoln Center's David H. Koch Theater. Billed as "Uniting the Worlds of Ballet and Fashion," the event paired choreographers with high fashion designers. Chaired by known fashion icon and NYCB board of directors vice-chairman Sarah Jessica Parker, the evening attracted big names in the worlds of dance and fashion. This year's gala featured four premieres choreographed by NYCB affiliates: company dancers Troy Schumacher, Lauren Lovette and Justin Peck and School of American Ballet Alumna and current Dresden Semperoper Ballett apprentice Gianna Reisen. Reisen, 18, is the youngest person to choreograph for NYCB to date.

Gain greater insight into the minds of the designers and choreographers in this NYCB produced video, screened at the Koch Theater last night before the start of the show, and check out some of the night's best moments (and outfits) from the red carpet to the stage.
Keep reading...
Show less
Gianna Reisen in rehearsal with NYCB corps de ballet dancer Ghaleb Kayali. Photo by Erin Baiano, Courtesy NYCB.
This Thursday marks New York City Ballet's annual Fall Gala. Spearheaded by actress and NYCB board member Sarah Jessica Parker, this glamorous event unites the worlds of ballet and fashion by partnering choreographers with top designers to collaborate on new works. This year, alongside premieres by NYCB company members/choreographers Lauren Lovette, Justin Peck and Troy Schumacher, 18-year old School of American Ballet alumna Gianna Reisen will present her first work for the stage at Lincoln Center's David H. Koch Theater.
NYCB Ballet Master in Chief Peter Martins noticed Reisen's work at SAB's Student Choreography Workshop and invited her to create a piece for The New York Choreographic Institute in 2016 before offering her the Fall Gala commission. This opportunity came as part of a whirlwind year for Reisen; after finishing her studies at SAB she was offered an apprenticeship at Dresden Semperoper Ballett late last spring. Reisen spent only three weeks getting settled in Germany before returning to NYC in late August to start rehearsals for the gala.
We caught up with Reisen to hear what it's been like to work alongside such high-caliber artists and to get the inside scoop on her premiere.
Keep reading...
Show less
Aug. 01, 2017 01:14PM EST
Damian Woetzel releases Lovette at Vail. Photo by Erin Baiano.
New York City Ballet principal Lauren Lovette is no stranger to Colorado's Vail Dance Festival—she's performed there each summer since 2011. This year, she returns not only as a dancer but as a choreographer. Lovette gained recognition for her September 2016 choreographic debut at NYCB, For Clara. On August 7, Vail audiences will see her latest major commission.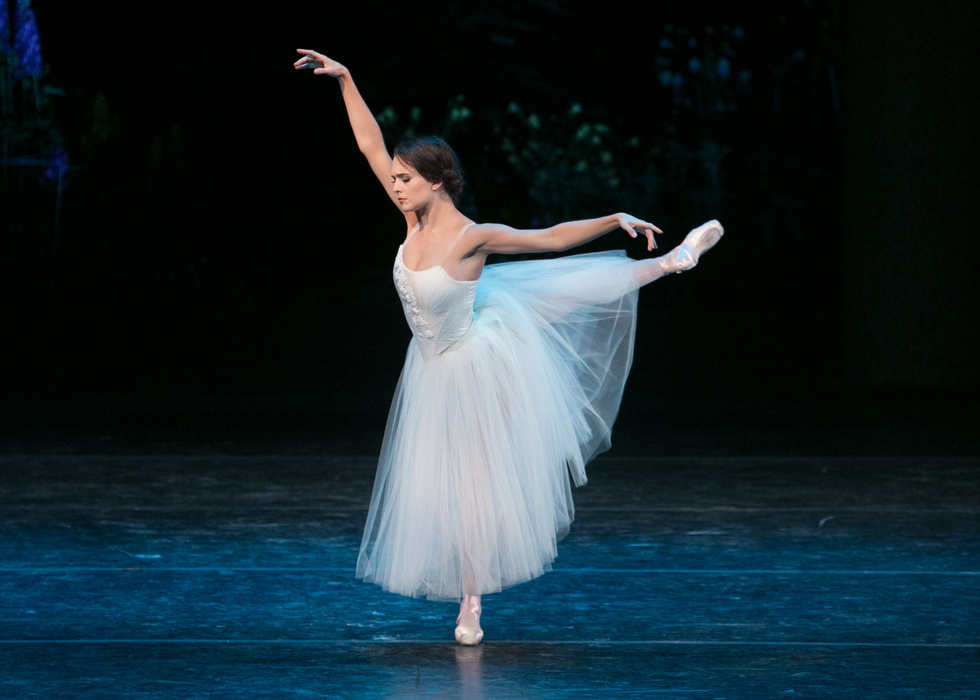 Lovette as Giselle at the 2016 Vail Dance FestivalPhoto by Erin Baiano
Keep reading...
Show less
popular
Jul. 31, 2017 06:40PM EST
Photo by Chava Lansky, Courtesy of the American Ballet Theatre Archive at the Library of Congress.
Who says dancers don't eat?
In 1979, the corps of American Ballet Theatre went on strike in a fight to increase their wages (starting corps members made a measly $235 a week). "We're underpaid and overworked" said soloist Rebecca Wright in a People magazine article from the time. Though the nearly two-month long labor dispute ultimately gave dancers a 40 percent wage increase and better benefits, the months without work left dancers tightening their belts even further to make ends meet. Their solution? A benefit performance and auction organized by Gelsey Kirkland starring Natalia Makarova and former NYCB dancer Edward Villella, stars who spoke out on behalf of the corps. The benefit brought in $10,000. One of the items auctioned off was Ballet Theatre Belly-Busters, a cookbook compiled by the dancers of their favorite recipes, complete with a hand-drawn cover.
We got our hands on one of these original copies, and were surprised to see what an eclectic mix of delicacies the book contained, from hometown favorites to ballet-themed baked goods.
Keep reading...
Show less
News
Feb. 17, 2017 05:15PM EST
Sara Mearns in Walpurgisnacht Ballet. Photo by Paul Kolnik, Courtesy NYCB.
When New York City Ballet went on a three-week tour to Paris last summer, we wished we could tag along. The company presented 20 ballets at the historic Théâtre du Châtelet, including 14 by Balanchine.
Thanks to PBS and their Great Performances series, you can now get a taste of what it was like to be in that audience. The network will air the closing night performance in a two-part broadcast on February 17 (that's tonight!) and February 24, hosted by artistic director Peter Martins.
The lineup features four Balanchine works, all set to the music of French composers—and the casting alone is enough to make you want to tune in.
Keep reading...
Show less