Kaitlyn Jenkins photographed by Nathan Sayers for Pointe.
For many dancers, it's a familiar story: A young girl dreams of becoming a ballerina. She's talented—very talented, in fact—but her body doesn't fit the ballet type. She's never quite thin enough; her legs are too bulky, her torso too short. She works hard, because she wants it desperately. But she can't change the realities of the ballet world. And it's not a friendly place for dancers who look like her.

This is the story of Bettina "Boo" Jordan, the unexpected heroine of ABC Family's "Bunheads," currently in the second half of its debut season. It's also the story of Kaitlyn Jenkins, the 20-year-old actress who plays Boo. Before being cast as Boo, Jenkins had quietly decided to table her dance dreams. But thanks to "Bunheads," she's now a professional dancer—not to mention an up-and-coming actress.

"Bunheads," created by Amy Sherman-Palladino, isn't universally beloved by ballet fans. When it hits its stride, however, it's a bewitchingly madcap confection. There's plenty of rapid-fire banter and a gaggle of quirky small-town characters, familiar to fans of Sherman-Palladino's "Gilmore Girls." There are fantastically nutty dance numbers—including a reimagining of The Nutcracker's battle scene as a Wall Street showdown, with shades of Kurt Jooss' The Green Table—choreographed by Los Angeles heavy-hitter Marguerite Derricks. There are also two big Broadway stars: Sutton Foster, who plays former Vegas showgirl Michelle Simms, and Kelly Bishop, as hard-nosed ballet studio owner Fanny Flowers.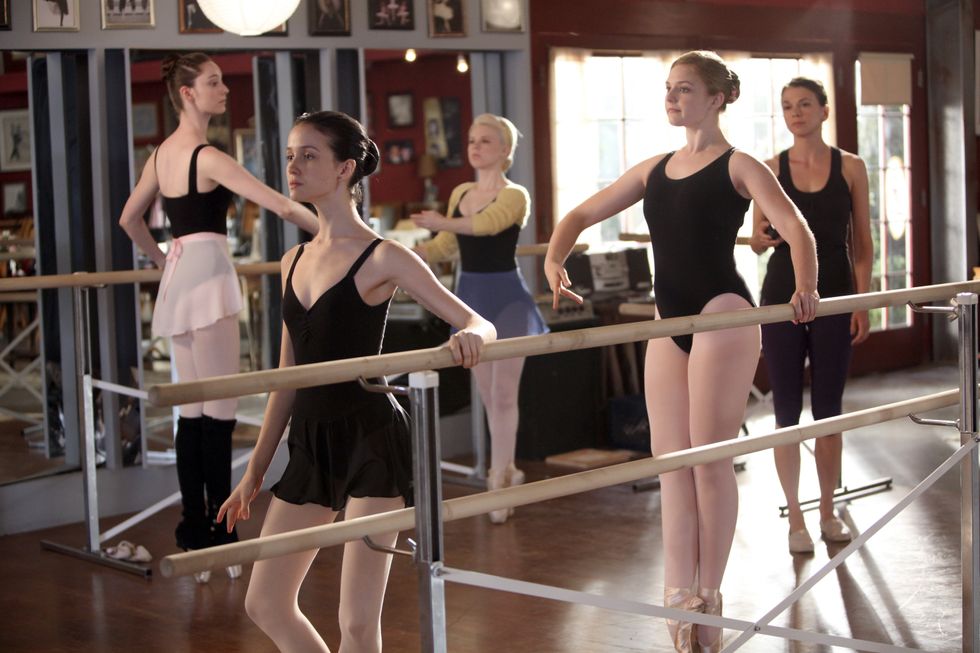 Jenkins with the other bunheads (Bailey Buntain, Julia Goldani Telles and Emma Dumont) and Sutton Foster, at right. Photo by Adam Lakey, Courtesy ABC Family.
Keep reading...
Show less