News
Dec. 06, 2018 02:14PM EST
Julia Roberts in "The Commuter," choreographed and directed by Justin Peck. Screenshot via The New York Times.
We already knew that Justin Peck is a crossover superstar. His accolades from this past year alone include a Tony Award for best choreography for Carousel, a performance on The Tonight Show with The National, and plans to choreograph Steven Spielberg's upcoming West Side Story remake. Today, he proves himself all over again with a series of short films for The New York Times Magazine titled "Let's Dance," featuring some of 2018's most lauded movie stars. You can see these videos here, including an augmented-reality experience available to those with newer iPhones or iPads.
Keep reading...
Show less
News
Oct. 24, 2018 03:36PM EST
Since news that Steven Spielberg was directing a remake of West Side Story was released last winter, we've been eagerly awaiting any and all updates. Last month, Justin Peck was brought on board as choreographer, joining famed playwright Tony Kushner, who's adapting the script. Peck seemed like the obvious choice; in addition to following in original West Side Story choreographer Jerome Robbins' sneaker-clad footsteps as resident choreographer of New York City Ballet, he recently took home a Tony Award for his work on Carousel.
Keep reading...
Show less
Justin Peck and Patricia Delgado in The National's "Dark Side of the Gym" video. Photo by Ezra Hurwitz, courtesy Peck.
Last November, New York City Ballet resident choreographer Justin Peck and former Miami City Ballet principal Patricia Delgado masterfully took classical ballet to an entirely new medium in a haunting music video for The National's song "Dark Side of the Gym."
In just five minutes, Peck (acting as both the video's choreographer and director) and Delgado—who are a couple in real life—told the story of a love that's not meant to last. (Ezra Hurwitz, a former MCB dancer, served as the film's producer and editor.) Using tight shots, the audience got to experience ballet through the smallest shift in facial expression, and it was magical—so magical that Peck has been nominated for a 2018 World Choreography Award. He and Delgado performed the piece on "The Tonight Show Starring Jimmy Fallon" last Monday, and tonight they're expanding on the video for a world premiere at New York City Center's Fall for Dance Festival.
Keep reading...
Show less
News
Oct. 01, 2018 04:55PM EST
Los Angeles Ballet's Tigran Sargsyan and Petra Conti. LAB opens their fall season this week with a mixed bill including two company premieres. Photo by Reed Hutchinson, Courtesy LAB.
Keep reading...
Show less
News
Oct. 01, 2018 12:10PM EST
Justin Peck will choreograph the movie remake of West Side Story. Photo by Cheryl Mann, Courtesy The Joffrey Ballet.
Justin Peck has been tapped to choreograph Steven Spielberg's upcoming Hollywood reboot of West Side Story. And we ask, Can you think of anyone better suited for that job than the dancemaker who's been following in many of Jerome Robbins' footsteps?

Let's review:
Choreograph for New York City Ballet: check.
Choreograph for Broadway: check.
Snag a Tony for Best Choreography: check.
Oh, and choreograph a film version of West Side Story: on it.
Keep reading...
Show less
popular
Aug. 24, 2018 02:35PM EST
Patricia Delgado and Justin Peck in Vail, Colorado. Photo by Erin Baiano, Courtesy Patricia Delgado.
With the surplus of ballet festivals happening around the world these past few months, it's obvious that there's really no such thing as summer break for the pros. But between the red-eye flights and onstage performances, our favorite stars still found time to soak up the sun and enjoy some seriously stunning views (even if they were from rehearsal). From Verona, Italy to Vail, Colorado, click through to see the highlights from the 2018 summer tours.
PNB Goes To Paris
While on their first tour in Paris, Pacific Northwest Ballet's Elle Macy and company made sure to squeeze in some sightseeing—naturally visiting Paris Opéra Ballet's home theater, Palais Garnier, was top on the list.
popular
Jul. 30, 2018 05:30PM EST
Patricia Delgado in Pam Tanowitz's "Solo for Patricia 2017." Photo by Erin Baiano, Courtesy Vail Dance Festival.
Wonder what's going on in ballet this week? We've pulled together some highlights.
Vail Dance Fest Enters Its Second Week
With half a month devoted to creating new art in the midst of stunning nature, Vail Dance Festival seems a dancer's paradise. Last week marked American Ballet Theatre's festival debut. The second week of performances, starting July 30, brings even more amazing ballet, with dancers and choreographers presenting a slew of new collaborations and premieres. Get the scoop on each program below.
Alonzo King LINES Ballet Takes the Vail Stage
July 30-31, Alonzo King LINES Ballet presents two different programs. The first performance, is a free, family-friendly event held in the Avon Performance Pavilion. The second, held at the Gerald R. Ford Amphitheater, presents two works by King: Sand, a piece from 2016 set to jazz music, and Biophony, an exploration of the Earth's diverse ecosystems.
Keep reading...
Show less
News
May. 29, 2018 05:23PM EST
PNB in Justin Peck's "Year of the Rabbit." Photo by Angela Sterling, Courtesy PNB.
Wonder what's going on in ballet this week? We've pulled together some highlights.
Ballet Nacional de Cuba Continues U.S. Tour at the Kennedy Center
A few weeks ago we shared that the historic Ballet Nacional de Cuba is back in the U.S. after 40 years. The company has already made stops in Chicago and Tampa, and heads to The Kennedy Center May 29-June 2 as part of the Artes de Cuba festival with performances of Giselle and Don Quixote. The tour will conclude at the Saratoga Performing Arts Center June 6-8. Whether or not the company is heading to a city near you, you can catch a glimpse of Don Q in the below trailer.
Keep reading...
Show less
Rachel Hutsell Photographed for Pointe by Jayme Thornton.
This is Pointe's June/July 2018 Cover Story. You can subscribe to the magazine here, or click here to purchase this issue.
"I'm very cautious by nature," Rachel Hutsell says over herbal tea at Lincoln Center between rehearsals. You wouldn't think so from the way she moves onstage or in the studio. In fact, one of the most noticeable characteristics of Hutsell's dancing is boldness, a result of the intelligence and intention with which she executes each step. (What she calls caution is closer to what most people see as preparedness.) She doesn't approximate—she moves simply and fully, with total confidence. That quality hasn't gone unnoticed.
Keep reading...
Show less
D'Amboise in the 1956 film "Carousel." Photo courtesy DM Archives.
Keep reading...
Show less
Amar Ramasar as Jigger Craigin in the Broadway revival of Rogers and Hammerstein's "Carousel." Photo by Julieta Cervantes, courtesy the production.
The Broadway revival of Richard Rogers and Oscar Hammerstein's Carousel opened last week, and while it stars luminaries from the worlds of musical theater (Joshua Henry, Jessie Mueller) and opera (soprano Renée Fleming), it also stars choreography by one of ballet's own heavy hitters: New York City Ballet soloist and resident choreographer Justin Peck, who shares top billing with the musical's director, Jack O'Brien.

Keep reading...
Show less
From left: Jennifer Stahl, Lonnie Weeks and Sasha De Sola in rehearsal for Trey McIntyre's new work. Photo by Christian Peacock for Pointe.
Photography by Christian Peacock

Summer is always a lively time at San Francisco Ballet, as the dancers return from vacation and launch into rehearsals for the upcoming season. But last July through September felt absolutely electric with creativity as the company created 12 world premieres for Unbound: A Festival of New Works, a cutting-edge program that will run April 20–May 6 at the War Memorial Opera House.
Artistic director Helgi Tomasson invited a wish list of international choreographers to participate: David Dawson, Alonzo King, Edwaard Liang, Annabelle Lopez Ochoa, Cathy Marston, Trey McIntyre, Justin Peck, Arthur Pita, Dwight Rhoden, Myles Thatcher, Stanton Welch and Christopher Wheeldon. Each got about 12 dancers, three weeks' studio time and, aside from a few general guidelines, total artistic freedom.
Keep reading...
Show less
News
Apr. 16, 2018 04:53PM EST
Kyle Abraham's "Untitled America" for Ailey. Photo by Paul Kolnik.
Ever since New York City Ballet's interim leadership team took over from Peter Martins, we've been curious whether they'd get a chance to try their hand at programming. (It was unclear how much Martins had done before he retired.)
As it turns out, Martins left room for Justin Peck, Rebecca Krohn, Craig Hall and Jonathan Stafford to select two of the company's six commissions for the 2018-19 season. Their choices—Kyle Abraham and Emma Portner—are surprising, and thrilling.
Neither choreographer has made work on a large ballet company before, though Abraham created a duet with Wendy Whelan for her "Restless Creature" series, among his other commissions for companies like Alvin Ailey American Dance Theater and work for his own company. And though Portner has been a favorite in commercial circles for a few years now, the concert commissions have just recently started rolling in: This fall she'll be collaborating with Lil Buck and Dev Hynesfor a full-length work for Hubbard Street Dance Chicago, and working with Anne Plamondon on a Fall for Dance North piece.
Patricia Delgado. Photo by Gio Alma, Courtesy Delgado.
Patricia Delgado surprised her many fans last March when she announced that she'd be leaving Miami City Ballet after nearly 20 years to move to New York to be closer to her boyfriend, New York City Ballet soloist and resident choreographer Justin Peck. Though she took a risk stepping into the unknown without a sense of where her career would take her, it's paid off: this year we've seen Delgado pop up everywhere from Christopher Wheeldon's concert production of Brigadoon at New York City Center to dancing alongside Peck in a music video for the indie rock band The National.
Keep reading...
Show less
Trending
Feb. 26, 2018 11:33AM EST
ABT principal Isabella Boylston, Jennifer Lawrence's dance double in "Red Sparrow," and Lawrence in a shot from the film. From left: Jayme Thornton for Dance Magazine; Murray Close, Courtesy 20th Century Fox.
As the star of the 20th Century Fox thriller Red Sparrow (opening March 2), actress Jennifer Lawrence plays Dominika Egorova, a former Bolshoi ballerina who becomes a dangerous and cunning spy. Though ballet is relegated only to the first 10 minutes of the film, Lawrence needed to dance six minutes of Firebird choreography by Justin Peck alongside dancer-cum-actor Sergei Polunin. In the fall of 2016, on Peck's recommendation, director Francis Lawrence invited American Ballet Theatre principal Isabella Boylston to be Lawrence's dance double and asked Kurt Froman, a former New York City Ballet dancer whose many credits include training Natalie Portman for the 2010 film Black Swan, to turn the notoriously clumsy Lawrence into a convincing ballerina in just four months.
Keep reading...
Show less
Mr. Jeremy FIsher, from Sir Frederick Ashton's "The Tales of Beatrix Potter."
Animal roles might not typically be what dancers dream of performing…but they're oh-so-fun to watch. You can't help falling under their spell (and perhaps aspiring to dance one someday). Here's a round-up of some of our favorite furry and feathered roles.
Bunny Hop
Run. Dance in a circle. Pretend to be a rabbit. It might sound like a creative movement combo, but don't let that fool you. The role of Peter Rabbit in Sir Frederick Ashton's The Tales of Beatrix Potter requires fierce technique—not to mention the ability to project personality while wearing an animal head and fur suit.
Four-Legged Interlude
Who do you turn to for halftime entertainment during a quartet of fairy variations? Dancing lizards, mice and a frog of course! This charming quintet of creatures light up the stage in David Bintley's Cinderella.
Keep reading...
Show less
News
Dec. 11, 2017 12:02PM EST
From left: Justin Peck, Rebecca Krohn, Jonathan Stafford and Craig Hall. Photo by Erin Baiano, Courtesy New York City Ballet.
The New York City Ballet Board of Directors announced on Saturday the interim team that has been appointed to run the artistic side of the company during ballet master in chief Peter Martins' leave of absence. Martins requested a temporary leave from both NYCB and the School of American Ballet last Thursday while the company undergoes an internal investigation into the sexual harassment accusations aimed at him.
The four-person group is made up of members of the company's current artistic staff, led by ballet master and former principal dancer Jonathan Stafford. Joining Stafford are NYCB resident choreographer and soloist Justin Peck and ballet masters Craig Hall and Rebecca Krohn, both former dancers with the company. While the members of this group haven't had much leadership experience, their close familiarity with the company (Krohn left the stage for her new role just two months ago) should help to ease the dancers' transition.

The team will be responsible for the day-to-day artistic needs of the company including scheduling, casting and conducting rehearsals. While there's no word yet on the length of their tenure, we'll continue to keep you updated as the story surrounding Martins unfolds.
The candied fig and pear variation. Courtesy Reid and Harriet Design.
Last May we covered the new swimwear line that costume designers Reid Bartelme and Harriet Jung, otherwise known as Reid & Harriet Design, created based on Justin Peck costumes. The duo, known for their work with top companies including New York City Ballet, American Ballet Theatre and Miami City Ballet, are just as skilled at creating whimsical yet streamlined costumes as they are at rethinking the role that design plays in dance. "Designers are often seen as filling a need verse creating art," says Bartelme, noting that he and Jung often feel that they're at the very bottom of the production totem pole. This fall, the twosome have taken matters into their own hands. As Resident Fellows at New York University's Center for Ballet and the Arts, Bartelme and Jung are taking a different approach to creating a ballet: starting with the designs.
Bartelme and Jung equate this to the early 20th century model used by Sergei Diaghilev's Ballets Russes, where the composer, choreographer and designer had equal importance, contributing to the gesamtkunstwerk, or "total work of art." Productions by the Ballets Russes featured designs by Pablo Picasso, Coco Chanel and Henri Matisse.
Last week Bartelme and Jung presented their work in an informal seminar at CBA. They chose to work with The Nutcracker—seasonally appropriate, yes, but also the country's most-performed ballet. In addition to the role of designer and director, Jung and Bartelme acted as dramaturges for their production, delving deep into the storied ballet's history from page to stage. Rather than look at the way that companies interpret The Nutcracker today, they looked to the original story by E.T.A. Hoffmann and the later interpretation by Alexandre Dumas for inspiration. The result? A Nutcracker unlike any we've ever seen.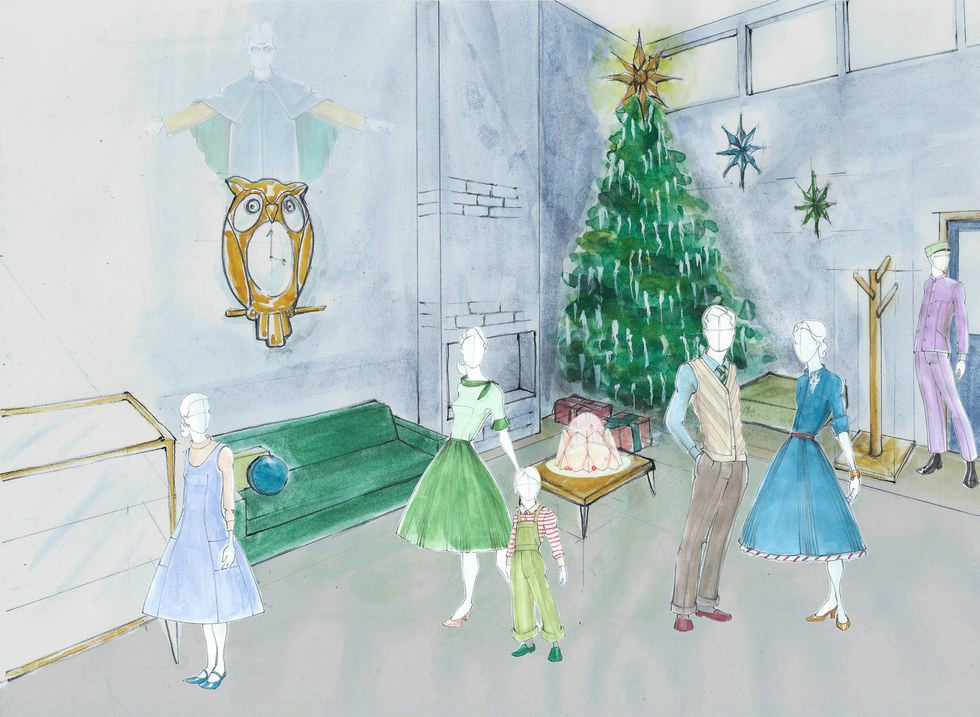 Courtesy Reid and Harriet Design.
Jung and Bartelme's Nutcracker is set in the 1950s. Why? It has a clear aesthetic as well as strong conservative conventions for Marie to rebel against in the second act. First off we see Marie's family at their Christmas gathering. Smaller than the conventional Nutcracker party scene, this intimate celebration aligns more closely to Hoffmann's tale. Marie is set downstage in a simple blue dress, which the designers compare to the blue dresses worn by Alice in Alice in Wonderland and Dorothy in The Wizard of Oz—two other young, storybook women who feel confined by their respective societies and so escape to magical lands.
Other details to note are the gilded owl clock on the wall, a detail included in Hoffmann's story, as well as the 1950s style cherry jello mold on the center of the table which will soon open up to expose a world within, Bartelme and Jung's replacement for the classic dollhouse.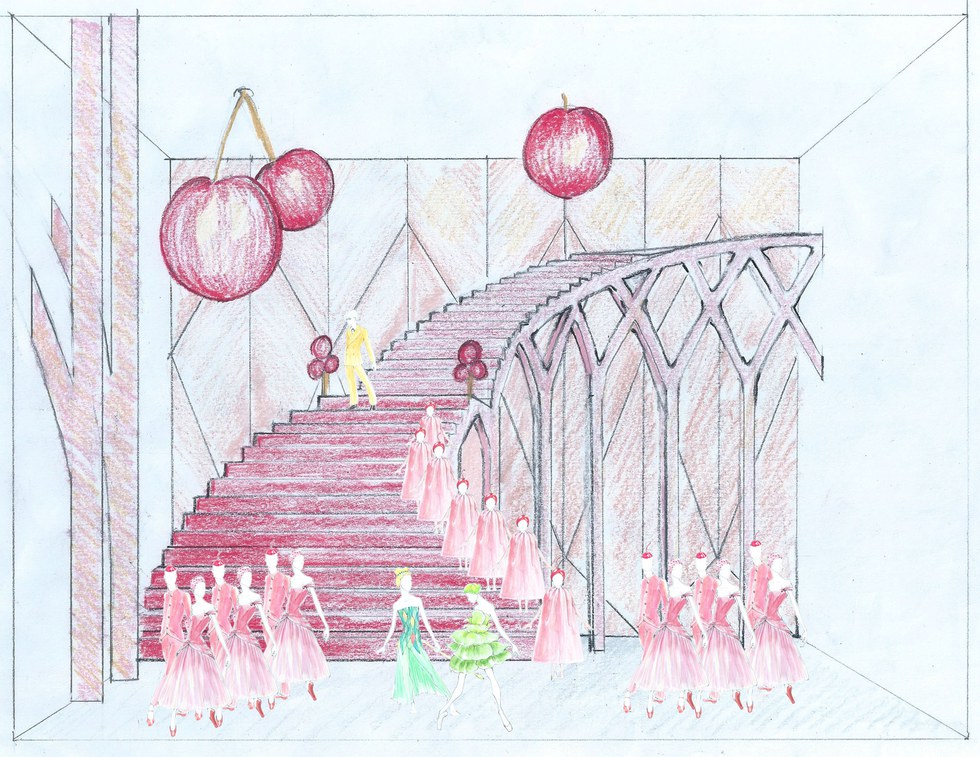 Courtesy Reid and Harriet Design.
Keep reading...
Show less
Nov. 09, 2017 11:09AM EST
Fabrice Calmels and Anais Bueno in Anabelle Lopez Ochoa's "Mammatus." Photo by Cheryl Mann, Courtesy Cal Performances.
The Joffrey Ballet and University of California—Berkeley's Cal Performances have joined forces on a five-year residency series that offers the public in-depth, behind-the-scenes access to the art of ballet. The first installment runs Nov. 13–19 with repertory classes taught by Joffrey dancers, a panel discussion and open rehearsals as well as performances in Zellerbach Hall November 17–19.
"There is so much interesting work happening, and we want to share it," says Joffrey artistic director Ashley Wheater, whose Bay Area ties go back to his days as a San Francisco Ballet principal dancer and ballet master. He has slated Justin Peck's In Creases, Annabelle Lopez Ochoa's Mammatus, the West Coast premiere of Alexander Ekman's Joy and Joffrey ballet master Nicolas Blanc's Encounter for this year's bill.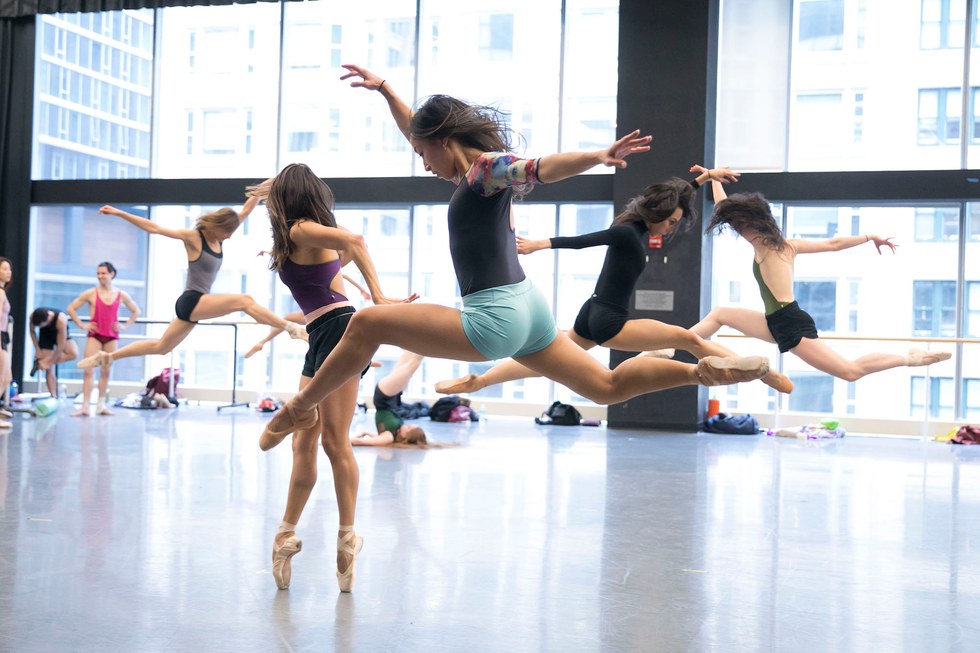 Joffrey Ballet dancers in rehearsal for Alexsander Eckman's "Joy." Photo by Todd Rosenberg, Courtesy Cal Performances.
Keep reading...
Show less
popular
Oct. 27, 2017 01:08PM EST
Actress Jennifer Garner just proved she might be ballet's biggest celeb fan yet with her new "Tutu Tuesday" posts on Instagram. Putting her "instastalking knowledge" to work as she calls it, Garner decided to highlight NYCB's Tiler Peck as her first "Tutu Tuesday" feature, sharing a clip of her and Amar Ramasar dancing in Justin Peck's The Times Are Racing.
You're definitely going to want to listen with the sound on for Garner's hilarious narration (and scroll over to see her amazing Photoshop skills at work in a pic of Swan Lake).
Oct. 27, 2017 12:43PM EST
By now, we've come to expect the usual celebrity set like Sarah Jessica Parker and Katie Holmes at big nights in ballet like the New York City Ballet and American Ballet Theatre galas. But actress Jennifer Garner just proved she might be ballet's biggest celeb fan yet with her new "Tutu Tuesday" posts on Instagram.
Putting her "instastalking knowledge" to work as she calls it, Garner decided to highlight NYCB's Tiler Peck as her first "Tutu Tuesday" feature, sharing a clip of her and Amar Ramasar dancing in Justin Peck's The Times Are Racing.
You're definitely going to want to listen with the sound on for Garner's hilarious narration (and scroll over to see her amazing Photoshop skills at work in a pic of Swan Lake).
NYCB Soloist Indiana Woodward in a costume fitting for Justin Peck's premiere. Photo via NYCB on Instagram.
Last night was New York City Ballet's annual Fall Fashion Gala at Lincoln Center's David H. Koch Theater. Billed as "Uniting the Worlds of Ballet and Fashion," the event paired choreographers with high fashion designers. Chaired by known fashion icon and NYCB board of directors vice-chairman Sarah Jessica Parker, the evening attracted big names in the worlds of dance and fashion. This year's gala featured four premieres choreographed by NYCB affiliates: company dancers Troy Schumacher, Lauren Lovette and Justin Peck and School of American Ballet Alumna and current Dresden Semperoper Ballett apprentice Gianna Reisen. Reisen, 18, is the youngest person to choreograph for NYCB to date.

Gain greater insight into the minds of the designers and choreographers in this NYCB produced video, screened at the Koch Theater last night before the start of the show, and check out some of the night's best moments (and outfits) from the red carpet to the stage.
Keep reading...
Show less
Gianna Reisen in rehearsal with NYCB corps de ballet dancer Ghaleb Kayali. Photo by Erin Baiano, Courtesy NYCB.
This Thursday marks New York City Ballet's annual Fall Gala. Spearheaded by actress and NYCB board member Sarah Jessica Parker, this glamorous event unites the worlds of ballet and fashion by partnering choreographers with top designers to collaborate on new works. This year, alongside premieres by NYCB company members/choreographers Lauren Lovette, Justin Peck and Troy Schumacher, 18-year old School of American Ballet alumna Gianna Reisen will present her first work for the stage at Lincoln Center's David H. Koch Theater.
NYCB Ballet Master in Chief Peter Martins noticed Reisen's work at SAB's Student Choreography Workshop and invited her to create a piece for The New York Choreographic Institute in 2016 before offering her the Fall Gala commission. This opportunity came as part of a whirlwind year for Reisen; after finishing her studies at SAB she was offered an apprenticeship at Dresden Semperoper Ballett late last spring. Reisen spent only three weeks getting settled in Germany before returning to NYC in late August to start rehearsals for the gala.
We caught up with Reisen to hear what it's been like to work alongside such high-caliber artists and to get the inside scoop on her premiere.
Keep reading...
Show less
Call Board
Aug. 15, 2017 11:04AM EST
Boylston working with choreographer Gemma Bond
With most of American Ballet Theatre's classical repertoire under her belt, principal Isabella Boylston is ready for a new challenge, specifically, launching Ballet Sun Valley, a dance festival with educational outreach in her hometown of Sun Valley, Idaho. "I'm in a place in my career where I can expend a little more creative energy on outside projects," she says. This year, her long-held dream will become reality, with performances on August 22 and 24, and free dance classes on August 23. "Sun Valley has a successful symphony, and a lot of people are interested in the arts," Boylston says. "When I was there three years ago, I realized the Sun Valley Pavilion would be the perfect venue for dance." Hilarie Neely, Boylston's first ballet teacher, put her in touch with a team of executive producers who have assisted with fundraising and technical logistics.
Once Boylston knew the festival was happening, she was faced with the task of creating dynamic programming. "All the dancers I'm inviting are close friends who I've danced with before, and choreographers I have relationships with," she says. Audiences can expect classical repertoire, plus ballets by Justin Peck, Alexei Ratmansky and Pontus Lidberg.
Keep reading...
Show less
popular
Jul. 25, 2017 06:23PM EST
Photo by Erik Tomasson, Courtesy SFB.
It may be the middle of summer, but San Francisco Ballet is already rehearsing for its spring season. There's a lot to prepare for—the company's Unbound: A Festival of New Works, which runs April 20–May 6, 2018, will feature 12 new ballets by 12 choreographers. And it's an impressive group of dancemakers: David Dawson, Alonzo King, Edwaard Liang, Annabelle Lopez Ochoa, Cathy Marston, Trey McIntyre, Justin Peck, Arthur Pita, Dwight Rhoden, Myles Thatcher, Stanton Welch and Christopher Wheeldon. That's a lot of choreography to pack in!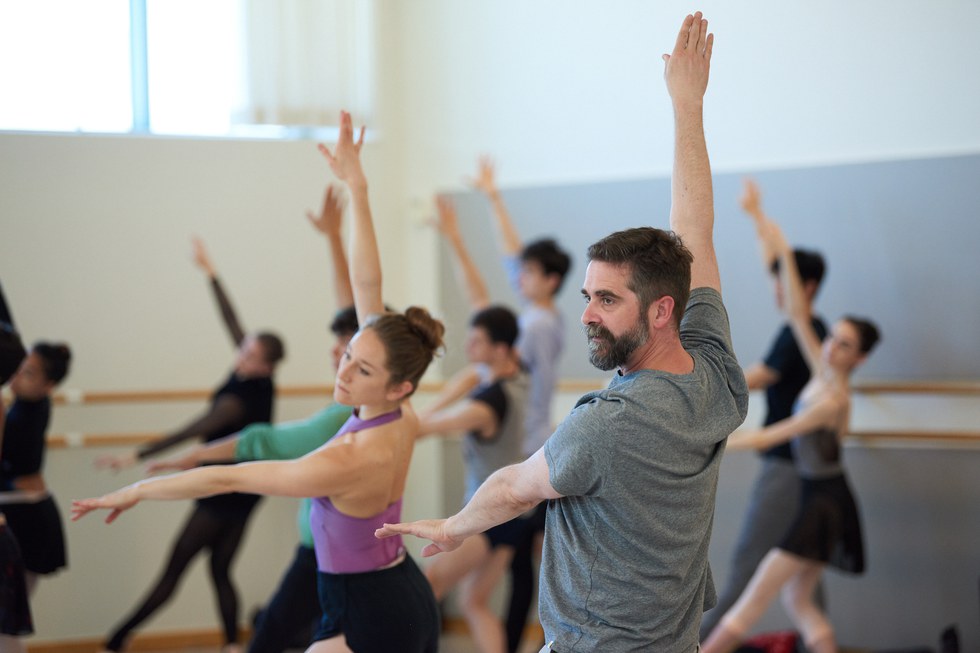 Stanton Welch in rehearsal with San Francisco Ballet. Photo by Erik Tomasson, Courtesy SFB.
Luckily, we don't have to wait until spring to get a sneak peek of some of these new works. SFB is kicking off Unbound: LIVE, a series of live-stream events that will take us inside rehearsals. The first one is Wednesday, July 26, at 5:30 pm Pacific Standard Time (8:30 EST). It will highlight rehearsals with Arthur Pita, Edwaard Liang and Stanton Welch. You can expect to see the dancers perform excerpts of their works in progress, as well as interviews with each choreographer.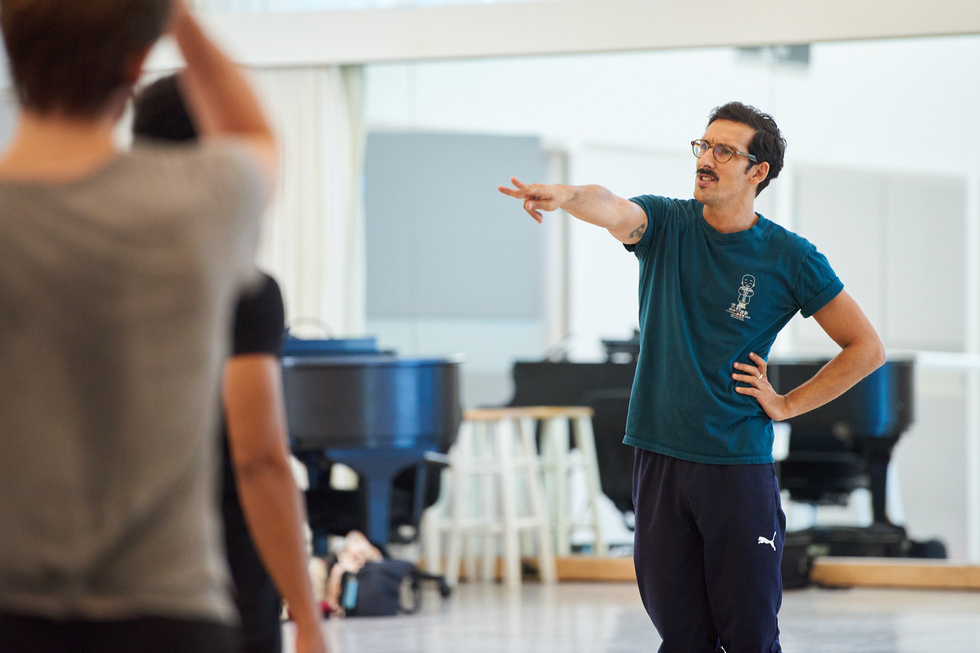 Artur Pita in rehearsal. Photo by Erik Tomasson, Courtesy SFB.
Visit SFB's website or its Facebook page tomorrow night to watch. And if you miss it, no worries—it'll be accessible on the company's site and YouTube channel for 60 days. The other live-stream events have yet to be announced, but we'll be sure to keep you posted!
NYCB in Scherzo Fantastique. Photo by Paul Kolnick, via reidandharriet.com
Have you ever walked out of a show wishing you could take the costumes home with you? Thanks to Reid & Harriet Design, the label behind many of New York City Ballet and American Ballet Theatre's most imaginative contemporary costumes, this dream is becoming a reality. Founders Reid Bartelme and Harriet Jung have designed a line of ready-to-wear swimwear from the watercolor-like striped fabric they created for Justin Peck's 2016 Scherzo Fantastique. This design duo is responsible for costuming 10 of Peck's ballets over the past few years, and was featured in the 2015 Peck documentary, Ballet 422.
Keep reading...
Show less
Views
Apr. 26, 2017 04:10PM EST
Crystal Pite working with members of the Paris Opéra Ballet. Photo by Julien Benhamou.
In February, I attended the Prix de Lausanne, where I moderated a series of panel discussions that were open to the competing students, their teachers and parents, and the public. One topic I was particularly excited about concerned women in leadership roles, and how the ballet world can better nurture leadership qualities in female dancers. My panelists included Korean National Ballet artistic director Sue Jin Kang, English National Ballet associate director Loipa Araújo and Gigi Hyatt, the deputy director of the Hamburg Ballet School.
There was just one problem—while there were plenty of audience members, none of the female students actually showed up. As I watched a few of them browse the pop-up ballet shop on their way out of the theater, I couldn't help but think "Don't you know this talk is for you?"
Keep reading...
Show less
News
Apr. 21, 2017 07:00AM EST
Jeremy McQueen's The Black Iris Project in "Madiba" Photo by Matthew Murphy
Misty Copeland's dancing and Justin Peck's choreography have graced stages around the world. Now, these two stars will test themselves as curators. This year, the John F. Kennedy Center for the Performing Arts, in Washington, DC, features their respective visions as part of the Ballet Across America program, April 17–23.
During the first half of the run, Copeland's picks take the stage, including Nashville Ballet, Complexions Contemporary Ballet and Jeremy McQueen's Black Iris Project. "I chose these companies because it's a chance to give them a level of exposure on the Kennedy Center stage that's typically reserved for larger companies," Copeland says. "They all perform at a high level of excellence and represent a diverse, inclusive cast of dancers." Peck's curation includes Joffrey Ballet, L.A. Dance Project and Abraham.In.Motion—a departure from typical ballet programming. "I tried to emphasize musical choreography," says Peck. Ballet Across America also includes talk-backs with the curators and artistic directors, and two world premiere Kennedy Center commissions: a piece by McQueen choreographed on American Ballet Theatre's Jacqueline Kennedy Onassis School students and a film by former Miami City Ballet dancer Ezra Hurwitz.
Keep reading...
Show less