Just for fun
Sep. 14, 2018 05:59PM EST
Yes, the "workshop" ballet was just as life-changing as I'd been told it would be.
I have a confession. Until today, I had never seen the seminal classic Center Stage.
Keep reading...
Show less
Photographed by Jayme Thornton for Pointe.
This is Pointe's April/May 2018 Cover Story. You can subscribe to the magazine here, or click here to purchase this issue.

If you are a dance lover in South Korea, EunWon Lee is a household name. The delicate ballerina and former principal at the Korean National Ballet danced every major classical role to critical acclaim, including Odette/Odile, Giselle, Kitri, Nikiya and Gamzatti. Then, at the peak of her career, Lee left it all behind.
In 2016, she moved to Washington, DC, to join The Washington Ballet. The company of 26 is unranked, making Lee simply a dancer—not a soloist, not a principal and not a star, like she was back home.
"I try to challenge myself, and always I had the urge to widen my experience and continue to improve," she says one blustery winter day after company class, still glowing from the exertion of honing, stretching and strengthening. "When I had a chance to work with Julie Kent, I didn't hesitate."
Keep reading...
Show less
Clifton Brown. Photo by Andrew Eccles, Courtesy Alvin Ailey American Dance Theater.
On March 14, The Washington Ballet will present a triptych of new works by Marcelo Gomes, Gemma Bond and Clifton Brown. "What I found really interesting with these three is that they're all still performers," says TWB artistic director Julie Kent. "They serve both as muse and as creator."
Though Gomes and Bond share the same American Ballet Theatre genesis as Kent, Brown is best known for his many years with Alvin Ailey American Dance Theater and choreographers Lar Lubovitch and Jessica Lang. Kent and Brown met many years ago while working on a duet by Lang. "I knew that he was interested in choreography," says Kent. "And one of my responsibilities as director is to develop young talent."
Keep reading...
Show less
Misty Copeland as Juliet with American Ballet Theatre. Photo by Gene Schiavone, Courtesy ABT.
Valentine's Day makes February the perfect month for ballet companies to perform Romeo and Juliet, Shakespeare's famous tale of star-crossed lovers. A few companies presented their versions earlier this month and many are on their way in the next few weeks. We rounded up eight companies including New York City Ballet, American Ballet Theatre, The Washington Ballet, Les Ballet des Monte Carlo, Orlando Ballet, Colorado Ballet, Carolina Ballet and Ballet BC to find out how they're using this classic ballet to celebrate the holiday of love.
New York City Ballet

A 12-performance run of Peter Martins' Romeo + Juliet comes in the middle of New York City Ballet's winter season, spanning from February 13-23 at the Koch Theater in New York City. This year's production marks the debuts of corps dancers Harrison Coll and Peter Walker as Romeo, and former Pointe cover star Indiana Woodward will be making her debut as Juliet. Below, hear Tiler Peck, who will dance Juliet alongside Zachary Catazarro, point out the tricky technical moments in this role and explain what makes it so special to her.
Keep reading...
Show less
Photo by Theo Kossenas, Courtesy The Washington Ballet
You made a deal with your mom to take ballet classes in exchange for a ride to tryouts for the football team. How did that work?
I thought that I would take ballet for a couple months, become a master and then leave that alone and concentrate on football. Ballet had other ideas, which perplexed me, and ultimately, I think, made me fall in love with it.
How is The Washington Ballet evolving under Julie Kent's leadership?
It's still early, but I think that the company is growing stronger classically. And we have Julie, Victor Barbee, Xiomara Reyes and Rinat Imaev—a great team of people who are giving their input and expertise, which is quite helpful.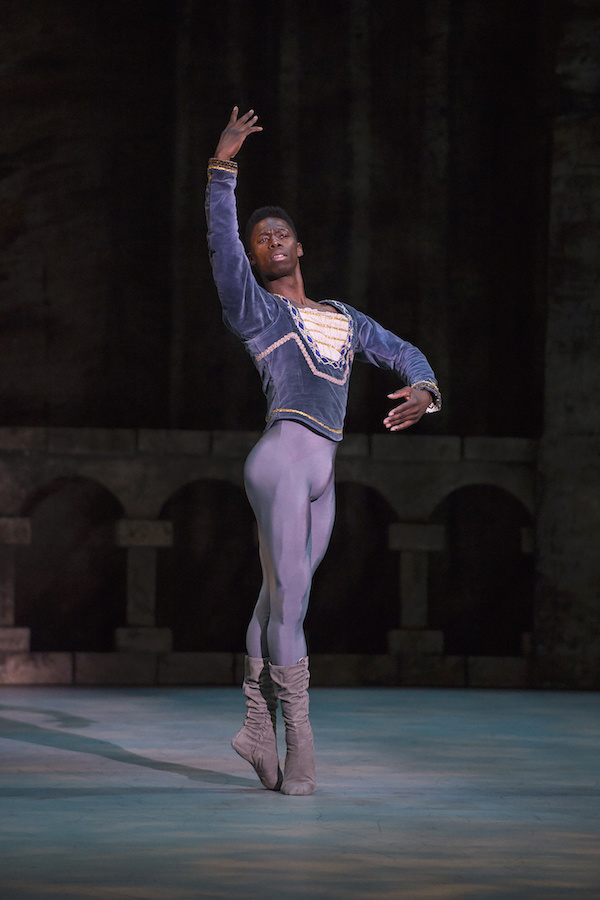 Mack in 'Swan Lake.' Photo by Theo Kossenas
Keep reading...
Show less
Photo by Jayme Thornton for Dance Magazine
For former American Ballet Theatre star Julie Kent, this has not only been her first year at The Washington Ballet, but her first year as an artistic director. How has it been going? We caught up with her during the company's run at the Jacob's Pillow Dance Festival last week, its first visit since 1980. "It's a big change," says Kent. "There have been some exciting, wonderful aspects of that change—feeling embraced and excited—and the community is really eager to see what the next chapter for The Washington Ballet is."
"[It's also] my first year in a creative environment with a different group of people than American Ballet Theatre," she continues. This move away from ABT, where Kent was a dancer for 29 years, appears to have been a bigger transition for her than assuming the directorship. Kent, who had been adamant on her retirement from the company that she did not want to leave New York City, surprised all by moving her whole family to Washington, D.C., an area where she had grown up but had not lived in since the age of 16. Her husband, former ABT dancer and associate artistic director Victor Barbee has also joined TWB as associate artistic director, supporting his wife in this new endeavor.
Keep reading...
Show less
popular
Jul. 31, 2017 06:40PM EST
Photo by Chava Lansky, Courtesy of the American Ballet Theatre Archive at the Library of Congress.
Who says dancers don't eat?
In 1979, the corps of American Ballet Theatre went on strike in a fight to increase their wages (starting corps members made a measly $235 a week). "We're underpaid and overworked" said soloist Rebecca Wright in a People magazine article from the time. Though the nearly two-month long labor dispute ultimately gave dancers a 40 percent wage increase and better benefits, the months without work left dancers tightening their belts even further to make ends meet. Their solution? A benefit performance and auction organized by Gelsey Kirkland starring Natalia Makarova and former NYCB dancer Edward Villella, stars who spoke out on behalf of the corps. The benefit brought in $10,000. One of the items auctioned off was Ballet Theatre Belly-Busters, a cookbook compiled by the dancers of their favorite recipes, complete with a hand-drawn cover.
We got our hands on one of these original copies, and were surprised to see what an eclectic mix of delicacies the book contained, from hometown favorites to ballet-themed baked goods.
Keep reading...
Show less
Ashley Tuttle at her ABT Audition
In the midst of American Ballet Theatre's annual eight-week long season at the Metropolitan Opera House, so much focus is on the company's rising stars. But it's always fun to look back at some of our ABT favorites from years past.
We love this full-length film of the third movement of Clark Tippet's 1987 Bruch Violin Concerto starring Ashley Tuttle and Ethan Stiefel. In case that's not enough, Julie Kent, Robert Hill, Paloma Herrera, Keith Roberts, Yan Chen and Angel Corella join the leads on stage in a flurry of jewel-colored tutus.
Keep reading...
Show less
Views
Mar. 08, 2017 03:06PM EST
It's International Women's Day! To celebrate, we combed our archives for career advice and wisdom from some of the women currently directing ballet companies. Let their words empower and inspire you, today and always.
Julie Kent working with students at ABT, photo by Rosalie O'Connor
"You don't become a ballerina in one show or one season or one week. It's a journey. You work towards the goal and the harder you work, the bar raises. And then over a period of time, you're able to look back to see where you came from."
–The Washington Ballet's Julie Kent on the importance of patience
Lourdes Lopez teaching at the MCB School, photo by Daniel Azoulay
"You have to embrace new technology. It's a no-brainer, but you have to figure out how to use it. People think of ballet as fragile. I completely disagree. I think it's actually very powerful in terms of a transformational art form. Look how long it's survived with all the issues and agendas—political, scientific, social and economic. I'm a believer that you can live-stream dance into a bar or restaurant or stadium or a parking lot. It's not going to diminish the art form.
-Miami City Ballet's Lourdes Lopez on the future of ballet
"The ideal is something you use as your compass, but it's not actually possible to attain...Polish your strengths so they're the center of attention, and know what can and can't be done to change your weaknesses."
–Dance Theatre of Harlem's Virginia Johnson on fighting perfectionism and gaining confidence
Virginia Johnson at DTH, photo by Quinn Wharton
"It's not just about being too big. I don't want rail-thin people, either. Trying to keep women like little girls is a power move, albeit sometimes not a conscious one. I don't want a company where everyone is the same height or has the same instep. I don't think that's very American."
–Ballet Memphis' Dorothy Gunther Pugh on body type in the ballet world
"I look for commitment and openness. You can keep learning through your entire career, and there are always new ways of looking at things...The spirit of a dancer and their versatility is more important to me than whether they have perfect legs and feet."
–National Ballet of Canada's Karen Kain on what she looks for in dancers
For more news on all things ballet, don't miss a single issue.
Views
Mar. 02, 2017 05:17PM EST
ent as Giselle, photo by Marty Sohl.
For those who have eagerly followed Julie Kent's illustrious career, all eyes turned to DC when she took the job as The Washington Ballet's new artistic director. This week, audiences are getting a taste of what the company looks like under her leadership, as the spring season begins.
Kent chose to kick off her inaugural season with a restaging of Giselle—a ballet she knows all too well. She danced the role countless times as one of American Ballet Theatre's star ballerinas, and her mastery is evident in this clip of herself and Vladimir Malakhov in performance.
In the Act I scene, Kent captures her character's playfulness, vulnerability and youthful innocence, bringing a sweet and delicate touch to the choreography. Watch the nuances in her facial expression when she lets Albrecht take a seat next to her at 2:20, smiling in anticipation and nervousness as he gets closer, before shyly springing away at the last second. The two barely touch, but the chemistry between them is revealed. As Albrecht, Malakhov gives away his regal background in subtle movements, like the way he carries himself as he walks across the stage.
Malakhov has also dabbled in both dancing and directing: He was a principal at ABT, and directed Staatsballett Berlin until 2014. As for Kent, she's already bringing her invaluable expertise to her new role. Check out this behind-the-scenes clip of rehearsal to glimpse what it was like in the studio as she coached TWB's dancers:
Julie Kent working with students at ABT. Photo by Rosalie O'Connor, Courtesy ABT.
When I was about 10, I auditioned for New York City Ballet, to be in their Harlequinade. I got to the final round and then wasn't selected. Of course I was disappointed, but my mother just said, "Julie, your time will come." And I think understanding that is a part of growing up.
As a young dancer, you're wondering what your life is going to be. Especially as you become a teenager, people are asking you "What are you going to do?" and you're asking yourself the same thing. The reality is, it's a beautiful unknown. It's an exquisite mystery. You have to embrace that and understand that you don't know—nobody knows—and as soon as a decision's made, whether it's an audition or an acceptance letter from a university or a job that you land, the work begins in a whole different way.
When I talked to young people at American Ballet Theatre's summer program when I was teaching, I liked to start conversations about the artist's pursuit. What I love so much about being a dancer is that every day, all of us start in first position, and we build on what we've accomplished the hour before, the week before, the year before, the performance before. We're in a constant pursuit of beauty, musicality, clarity, specificity, power, delicacy—you can fill in the blanks endlessly. And if you embrace the notion that it is an endless pursuit, you eliminate a lot of frustration. It's not that what you did the day before wasn't good enough. It's that you're building on it and you're always moving forward.
Keep reading...
Show less
News
Oct. 25, 2016 04:26PM EST
Photo by Stephen A'Court
Former American Ballet Theatre star Ethan Stiefel will choreograph a new work to complete The Washington Ballet's triple bill in late May. When we first heard about artistic director Julie Kent's 2017 programming, we wondered which choreographer would join the bill alongside Frederick Ashton's The Dream and Antony Tudor's Jardin aux Lilas.
The Washington Post reports that Stiefel's ballet will take inspiration from John F. Kennedy's investment in the U.S. space program and will feature a commissioned score by composer Adam Crystal. The ballet, with the working title Frontier, is set to coincide with the president's centennial.
Keep reading...
Show less
News
Jun. 16, 2016 03:00PM EST
Photo by Fabrizio Ferri, Courtesy TWB.
Just a year ago, Julie Kent and Xiomara Reyes took their final bows at American Ballet Theatre. Now, the two ABT stars will be working together even more closely. Kent, who was named artistic director of The Washington Ballet in March, announced today that she has appointed Reyes as head of The Washington School of Ballet, effective September 1. Reyes' husband, Rinat Imaev, a company teacher at ABT, will also join TWSB as senior faculty.
Outgoing school director Kee Juan Han announced his retirement in April, prompting a nationwide search. "I've always loved working with Julie at ABT, so I was very excited when she called and asked if we'd be interested in applying," Reyes told Pointe in a phone interview. She and Imaev have been directing IBStage, a summer program in Barcelona, for four years, and the Cuban-born dancer is no stranger to Washington audiences: Last year she danced the role of Katrina Van Tassel  in the world premiere of Septime Webre's Sleepy Hollow. Now, she's getting better acquainted with the school's workings. "Kee Juan has been amazing and very helpful in explaining everything that the position entails."
Reyes and Jared Nelson in TWB's production of Sleepy Hollow. Photo by Theo Kassenas, Courtesy TWB.
As for any major changes, Reyes says that she and Kent want to focus on deepening the school's relationship with TWB, "so that the school can nourish the company and so that the students can be inspired by the dancers." There are no immediate plans to instill ABT's National Training Curriculum. "It's the kind of decision Julie and I need to talk about, because it's a very big decision," says Reyes. She is, however, excited to share aspects of her Cuban training with students. "I'm very influenced by what I call its 'fearless approach,'" she says. "In Cuba, it was a wonderful way of making us work very hard and in friendly competition, but without putting people down. That's one of the things I really cherish and that I look forward to implementing—that security of confidence in a dancer that allows you to be fearless."
News
May. 24, 2016 06:29PM EST
(Brittany Stone, shot for our June/July 2013 cover, photo by Nathan Sayers)
Things are changing at The Washington Ballet! Former American Ballet Theatre star Julie Kent was appointed as the new artistic director in March, and she released a statement during the company's press conference today detailing her first season of programming—which coincides with the company's 40th anniversary. It's a fairly standard mix, though the arrangement suggests a dancer's sensitivity to what might be enjoyable and informative to rehearse and perform at the same time. The season also reflects the expertise she gained as an ABT principal, dancing the company's rich repertoire of classical choreography.
(Photo by Jesse Dittmar/The Washington Post)
The season opens in March, 2017 with Giselle, and then continues into a mixed bill of Jiří Kylián's Petite Mort, Justin Peck's In Creases (a company premiere) and William Forsythe's In the Middle, Somewhat Elevated. In late April, the TWB will dance George Balanchine's Allegro Brillante, Twyla Tharp's Nine Sinatra Songs and Alexei Ratmansky's Seven Sonatas (also a company premiere). In late May, the company will perform Antony Tudor's Jardin aux Lilas, Frederick Ashton's The Dream and a to-be-determined world premiere. We're very curious to find out who Kent chooses to complete such a dazzlingly subtle program, especially since most contemporary ballet choreographers deal in extremes.
New dancers include Boston Ballet's Brittany Stone, Cuban-trained Rolando Sarabia, ABT Studio Company member Adelaide Clauss, who will join as an apprentice, and Stephen Nakagawa, who was promoted from the TWB trainee program to Studio Company member.
Julie Kent bowing with her son after Romeo and Juliet. Photo Courtesy ABT.
Who was your biggest inspiration while growing up as a dancer?

My first experience in a professional environment was when I was a supernumerary in New York City Ballet's Coppélia. Patricia McBride was so kind and gentle with all the children. That made a big impact on me. Balanchine was still alive, and Mikhail Baryshnikov, Peter Martins and Suzanne Farrell were dancing. They were the most exciting, exotic and wonderful creatures.
You joined ABT when you were just 16. What was the most valuable thing you learned during those early years?
I learned to learn. I studied all the great ballerinas at ABT to identify what made each of them so wonderful, and to see if there was any of that I could develop in myself. I could never balance like Cynthia Gregory—I realized that was beyond my capability. But I tried to understand how she did it and how she used that command of her physicality to enthrall people.
Keep reading...
Show less
News
May. 13, 2015 08:26PM EST
American Ballet Theatre, in the midst of their 75th Anniversary celebration, opened their spring season at the Metropolitan Opera House this week. But fans unable to make it to New York City need not worry—on May 15, "American Ballet Theatre: A History," a documentary nine years in the making by Emmy-award winning filmmaker Ric Burns, premieres on PBS stations nationwide.
Burns chronicles ABT's beginnings as a fledgling troupe spearheaded by the indefatigable Lucia Chase (who, along with Oliver Smith, led the company for 40 years) and its development into a groundbreaking creative laboratory for some of the 20th century's greatest choreographers. Rare rehearsal footage, as well as interviews with Alicia Alonso, Lupe Serrano and the late Frederic Franklin, offer glimpses into this trailblazing era of American dance. The company raised its international profile as a post-war touring ambassador (its dancers often flying in cargo planes, wearing parachutes!), heralding the great dance boom of the 60s and 70s and attracting major Russian talent. The film briefly touches on ABT's years under Mikhail Baryshnikov's direction in the 1980s, and gives insights into Kevin McKenzie's soft-spoken leadership style. But it also offers an overview of the history of ballet itself, with commentary by esteemed dance scholar and Apollo's Angels author Jennifer Homans.
In between, Gillian Murphy, Misty Copeland, Hee Seo, Marcelo Gomes, Herman Cornejo and Julie Kent weigh in on their lives as professional dancers. Burns gives ample rehearsal footage of ABT's current roster of mega-stars, much of it in slow motion using Phantom Flex camera technology. The high-tech camerawork captures every glorious line of these exceptional artists, although at times the slow-motion scenes go on for too long.
In the sneak peek below, Kent talks about Natalia Makarova's inspiring words that have guided her throughout her career."American Ballet Theatre: A History" premieres May 15 at 9:00 pm on PBS's American Masters series (check local listings). The film will stream on the American Masters website on May 16, and is available on DVD on July 14 from PBS Distribution.
Views
Mar. 05, 2015 09:53PM EST
If you call yourself a "bunhead", you've seen the movie Center Stage. It's ballet's pop culture classic--and for some dancers outside of New York, it may be their first time seeing American Ballet Theatre principal Julie Kent. Since she appeared on the big screen as the famous Kathleen, Kent has become an icon of beauty, leaving us in a state of endless admiration.
Here, Kent performs the pas de trois from ABT's production of Le Corsaire with fellow principals Ethan Stiefel and Angel Corella. As each press lift and penché takes her from one man to the next, she performs with a calculated precision that leaves us breathless. The beginning of her variation is one of the best moments—she enters with sweeping port de bras, and begins each turn with ease. Kent is another great who will retire this year, but she has left a permanent beauty mark on the stage. Happy #ThrowbackThursday!
Nov. 29, 2001 07:00PM EST
Julie Kent appears at the costume fitting for the dress she wears on the cover after a rehearsal for Jorma Elo's new work for American Ballet Theatre. Her feet are killing her, so she slouches while she gets measured, but she's pretty easygoing about the whole thing, including being plied with questions. When conversation turns to her 2-year-old son, William Spencer, though, she perks up and insists on running downstairs to her locker to get photos of him.
"I'm a proud mom," she says, as she shows off images of William in a blow-up pool, somewhere at Chautauqua (where she taught during the summer) and in Massachusetts, where she has a house with husband Victor Barbee, ABT's associate artistic director.
At 37, Kent, the hugely popular principal at ABT, is having a big year, professionally and personally. In July, ABT celebrated her 20th anniversary with the company with a performance of Romeo and Juliet at the Metropolitan Opera House in New York City, followed by flowers, confetti, appearances by current and past partners, and, of course, audience adoration. In September, she celebrated her 10th wedding anniversary.
Kent may be the epitome of the classical dancer; blessed with an amazing facility, she has the technique and elegance that others crave. Yet, she's faced ups and downs in her career with the sometimes troubled ABT, and conquered the occasional nerve, earning an enthusiastic fan base. (Her roles in the ballet movies Dancers and Center Stage helped.) Now it's her status as a mom that's leading some to talk about a newfound maturity onstage.
"Since William has come along, her work has deepened," says ballet's famed senior statesman Frederic Franklin, former dancer with Ballet Russe de Monte Carlo, who first saw Kent at age 14, when he judged the Washington chapter of the National Society of Arts and Letters, which she won. "I have seen her do many roles. [Now] she tackles them with authority. She's grown up in her art."
This is an understandable progression, because, as Kent says, "Ballet is no longer the most important thing in my life. I don't love it any less. But, in a sense, not having that pressure on myself and that super sort of neurotic focus on my work has freed me in a way that allows me to be better."
Looking back, though, she has advanced carefully through her career, paying attention to her development every step of the way. The youngest of three children—and two half siblings—Kent would accompany her mother, a former semiprofessional dancer from New Zealand, to adult ballet classes. And when Kent was 7, she started taking lessons herself. "It was just a normal activity for my family," says Kent, whose sister also danced, before giving it up in high school.
Kent, however, continued and trained at the Academy of the Maryland Youth Ballet and School of American Ballet. When she was 16, she auditioned for ABT.
Baryshnikov, who was director at the time, offered her an apprentice position for the company's Nutcracker performances—on tour and at the Metropolitan Opera House. By March, she had a corps de ballet contract.
"When Baryshnikov offered me the contract, I cried," Kent says. "I didn't think I was ready at all. I had barely taken a jazz class at that time."
And though she describes herself at the time as "the one in back hoping the person I was understudying would never hurt herself," she also says that she was never given anything she couldn't handle. From her first roles as the nurse and the knitting lady in Sleeping Beauty, Kent slowly took on more solos, then Little Red Riding Hood, then the fairies.
When she was still in the corps, she danced her first principal role, Caroline in Antony Tudor's Lilac Garden. Then she did Frederick Ashton's Birthday Offering, with the other principal women of the company, after which she was promoted to soloist.
"It was a hard transition, when I first became soloist, because I didn't have any rep," Kent says, referring to her personal catalog of ballets. To make matters worse, Baryshnikov had just left, and the company entered a period of major financial difficulty.
The following year, however, Kent was given Giselle and Juliet, which she says made a big difference. Shortly after that, in 1992, Kevin McKenzie became artistic director, and in 1993, Kent won the Erik Bruhn Prize, danced Swan Lake and was promoted to principal—meaning more of the spotlight, and in time, stardom. ABT's money problems persisted a while longer.
"We had to work for two years in a row for 26 weeks, and it was really rough," Kent says. "To try and build on [a rep] when you only have one Swan Lake a year and 12 weeks off in the summer, trying to take huge leaps artistically and physically was a huge challenge."
Even before they married, Barbee was a bright light for her during the tough times, with his encouragement and support. "He always made me feel like the audience should be happy because I was dancing that night," Kent says. "He's given me so much as an artist, not only by example, but with his words. He has the capacity to always say exactly the right thing to inspire you or unlock something."
Early on, especially, they discussed all of her roles. He encouraged her not to act by demonstrating, but by delving into the motivations of the characters. They focused most on Manon.
"I think there is always something not quite right about a performance if you are faking it," says Barbee, who was a principal at ABT before becoming associate AD. "For Julie, because she's got the ability and the instinct for it, I just had to remind her to ask the right questions. Why does Manon do this? Where does she want to go? If it's Julie acting like Manon, it's not real." Slowly, he says, she stopped needing to ask so many questions and started to feel more comfortable with the ballet.
"Manon was difficult for me," Kent says, "because she makes these decisions that are hard to understand. Victor really helped me discover how to make her a person that I could fall in love with. I had to learn some skills about how to bring to life a character that isn't so close to my own personality."
By all accounts, the hard work paid off. Franklin recalls a performance of just the pas de deux from Manon that Kent performed with Robert Hill. "Other things were on the program, and it didn't mean a thing," he says. "That was it for me. It was time to go home after that. It must have been the fulfillment of what she was trying to do with the interpretation part [of her work]."
Though she has accomplished a lot in her 20 years onstage, Kent remains challenged by her work. She still gets nervous before ballets with 32 fouettés, and contemporary ballets, such as Elo's, force her to step outside of her comfort zone. "I think my tendency is to seek fluid movement,"
she says.
In addition to fluid, Kent is often described as composed, serene and poised. Sometimes appearances can be deceiving. She recalls back when she was in the corps de ballet, dancing the Kingdom of the Shades in La Bayadère, in which she was always front and center. "You can't hardly see anyone else onstage, so you feel like the only one out there," she says. "Part of me was so serene and looking like nothing could bother me, and literally every time I lifted my foot off the floor, I had this vision of myself running off the stage!"
Those experiences have made her the perfect mentor for younger dancers coming up through the ranks at ABT. She would even like to write a book about how to handle the ballet experience.
"Because she's been with ABT for a while, she passes on her wisdom," says principal Marcelo Gomes, who frequently partners Kent. "For me, it was how to take my dancing to the next level—maybe a certain habit I need to cut. That made such a big difference on my dancing. I would look into her eyes and remember, 'Oh, yeah, she told me not to do that!'"
Kent shows no sign of slowing down. In September, she guested in Swan Lake with Ballet de Monterrey in Mexico (now headed by former partner Hill). In January and March of 2007, she will appear with Malakhov and Friends in Berlin.
These days, trips to the poultry farm in Massachusetts with William rate up there with guesting spots abroad. In fact, it was William and Victor's appearance onstage at her 20th anniversary celebration that she says she will remember most from that night.
"If I had to sum up how I feel about my career at ABT," Kent says, "I have always felt that I had the support of everybody. I never felt like I had to overcome some huge obstacle. The dancers, my friends and partners have all given me something incredible. But, in a way, those 20 years have just led me to them. That's what I want to celebrate most in my life."
Nov. 29, 2001 07:00PM EST
Before—though not long before—they were immortalized as Cooper Nielson and Kathleen Donahue (Center Stage, we'll never stop loving you), Ethan Stiefel and Julie Kent starred in the 1998 PBS broadcast of American Ballet Theatre's Le Corsaire. Corsaire's choreography may be as cheesy as they come, but what does that matter when you have two of the  world's greatest dancers leading its cast? (The supporting players weren't too shabby, either—Angel Corella danced Ali the slave, and Vladimir Malakhov the slave trader Lankandem.) Here are Stiefel and Kent in the "bedroom" pas de deux, which includes one of ballet's most jaw-dropping lifts (at 3:23, for the record). Happy #ThrowbackThursday!
Nov. 29, 2001 07:00PM EST
Carla Körbes in "Diamonds" from George Balanchine's Jewels (photo by Angela Sterling)
For ballet fans around the world, there is a lot to be sad about in the 2014/2015 season. Wendy Whelan ended her career at New York City Ballet, while Carla Körbes will retire in June. At the end of the American Ballet Theatre season, Julie Kent, Paloma Herrera and Xiomara Reyes will all take their final bows with the company. It's enough to make any balletomane cry.
Recently, The Huffington Post and Ballet to the People featured each of the five ballerinas in a long article describing the changes they've witnessed throughout their careers, and what they each have planned for their next steps.
Each dancer made pointed comments about the future of artistry in the ballet world, noting that while dance is more accessible than it has ever been, the open floodgates of information can be overwhelming. Interestingly, many of them noted that social media has had the impact of encouraging people to be something rather than do something. They claim that it has influenced young people to seek celebrity or stardom over the less immediately rewarding aspects of a dance career—namely the loyalty of sticking with one company, and the daily grind and reinvention that comes from training regularly. "That," Herrera notes, "is where the humility is."