Wendy Whelan teaching at Jacob's Pillow's Ballet Program. Photo by Christopher Duggan, Courtesy Jacob's Pillow.
Last month The School at Jacob's Pillow announced a major change to its historic summer ballet program, which boasts alumni at companies including American Ballet Theatre, Pennsylvania Ballet and Dutch National Ballet. This summer, rather than focusing on coaching dancers in the traditional, story-driven classical repertoire, the intensive makes the shift to contemporary ballet. Directed by former Cedar Lake Contemporary Ballet director Alexandra Damiani and BalletX co-founder Matthew Neenan, the Contemporary Ballet Program will work to engage students in the development of new work and the ever-adapting repertoire (including pointe work) it requires.
Former New York City Ballet prima and longtime Jacob's Pillow participant Wendy Whelan played a large role in the decision making process. We touched base with Whelan to hear about what went into this decision, and whether she thinks that this focus on contemporary training represents a growing trend in the ballet world.
Keep reading...
Show less
News
Aug. 20, 2018 05:24PM EST
Trending
Aug. 17, 2018 09:21PM EST
Connor Walsh and Harper Watters after Houston Ballet's opening night performance. Photo via YouTube.

iHouston Ballet soloist Harper Watters and principal Chun Wae Chan, via YouTube
Houston Ballet has been taking Jacob's Pillow Dance Festival by storm this week, and soloist Harper Watters has been filling us in on how it's going. In yesterday's vlog he took us around the historic festival's scenic grounds and barn-like theater. Today, he and principal dancer Chun Wai Chan give us the inside scoop on HB's dress rehearsal (and take us into the wings to watch some beautiful dancing). Stay tuned for more from Watters later this week!
News
Aug. 13, 2018 08:30AM EST
Boston Ballet is bringing Jerome Robbins' Fancy Free to the Tanglewood Music Center in Lenox, MA. Photo by Gene Shiavone, Courtesy Boston Ballet.
Wonder what's going on in ballet this week? We've pulled together some highlights.
Houston Ballet Brings a World Premiere to Jacob's Pillow
August 15-18, for the first time in almost four decades, Houston Ballet is appearing at Jacob's Pillow, the famous summer dance festival in Becket, MA. Headlining the program is Just, a world premiere commissioned by the Pillow and choreographed by HB artistic director Stanton Welch, set to music by contemporary composer David Lang. Also from Welch are Clear, an abstract piece for seven men and seven women, and excerpts from Sons de L'ame, with music by Chopin. The company will also perform In Dreams, choreographed by former Pillow choreographic associate Trey McIntyre.
Keep reading...
Show less
News
Jun. 19, 2018 10:55AM EST
Ulrik Birkkjaer and Susanne Grinder in Bournonville's Napoli." Photo by Costin Radu, Courtesy Jacob's Pillow Dance.
On June 20, Royal Danish Ballet will open the Jacob's Pillow Dance Festival with a weeklong run in the historic Ted Shawn Theatre. The celebrated relationship between the Copenhagen-based company and the Pillow dates back to 1954, when leading RDB soloist Inge Sand stepped in to replace a dancer from another company at the last minute, resulting in her U.S. debut. Her popularity led to the company's inaugural U.S. performance at the festival the next summer. According to the Pillow's director of preservation, Norton Owen, this was also the first time that works by August Bournonville, the famed 19th-century Danish choreographer, were seen in this country. Following its success at Jacob's Pillow, RDB made its New York City debut at the Metropolitan Opera House in 1956, and in 1957 the King of Denmark knighted Jacob's Pillow founder Ted Shawn for his role in bringing Danish ballet to America. Over the next 20 years, soloists from RDB returned to the Berkshires frequently to great acclaim; their most recent visit was in 2007.
Keep reading...
Show less
News
Jun. 18, 2018 01:29PM EST
Sara Webb and Connor Walsh with Artists of Houston Ballet in "Swan Lake" choreographed by Stanton Welch. Photo by Amitava Sarkar, Courtesy Houston Ballet.
Wonder what's going on in ballet this week? We've pulled together some highlights.
The Australian Ballet's Triple Bill, Verve, Includes New Work by Company Dancer Alice Topp
Verve, a triple-bill program from The Australian Ballet running June 21-30 in Melbourne, will host revivals of works from resident choreographers Stephen Baynes and Tim Harbour, as well as a world premiere from company coryphée Alice Topp. Topp's Aurum is inspired by kintsugi, a Japanese art in which broken ceramics are mended using lacquer colored with silver or gold, so that the cracks are emphasized, instead of hidden. In Aurum, Topp applies that philosophy to the human ability to find beauty in vulnerability and imperfections. Completing the bill are Baynes's Constant Variants, which pairs neo-classical ballet with a Tchaikovsky score, and Harbour's Filigree and Shadow, a contemporary ballet featuring striking set and lighting design.
Keep reading...
Show less
Photo by Jayme Thornton for Dance Magazine
For former American Ballet Theatre star Julie Kent, this has not only been her first year at The Washington Ballet, but her first year as an artistic director. How has it been going? We caught up with her during the company's run at the Jacob's Pillow Dance Festival last week, its first visit since 1980. "It's a big change," says Kent. "There have been some exciting, wonderful aspects of that change—feeling embraced and excited—and the community is really eager to see what the next chapter for The Washington Ballet is."
"[It's also] my first year in a creative environment with a different group of people than American Ballet Theatre," she continues. This move away from ABT, where Kent was a dancer for 29 years, appears to have been a bigger transition for her than assuming the directorship. Kent, who had been adamant on her retirement from the company that she did not want to leave New York City, surprised all by moving her whole family to Washington, D.C., an area where she had grown up but had not lived in since the age of 16. Her husband, former ABT dancer and associate artistic director Victor Barbee has also joined TWB as associate artistic director, supporting his wife in this new endeavor.
Keep reading...
Show less
Courtesy Retribution Media
Marcelo Gomes' clean technique, skilled partnering and magnetic stage presence make him one of the world's most versatile and in-demand male dancers of his generation. This year saw the principal dancer celebrate his 20th anniversary with American Ballet Theatre, a company he joined at just 17 years old. Coinciding with this milestone was the release of the feature length documentary Anatomy of a Male Ballet Dancer, created by the two-man team David Barba and James Pellerito—who actually approached Gomes via Facebook. The documentary, which was seven years in the making, has been making the film-festival circuit this year, most recently August 6 at the Jacob's Pillow Dance Festival.
The film combines intimate interviews with backstage and rehearsal footage and archival video. It focuses on Gomes' skill and prowess as a partner and includes interviews with some of the world's top ballerinas including Diana Vishneva, Polina Semionova and Misty Copeland.
Keep reading...
Show less
popular
Aug. 16, 2017 04:54PM EST
Honji Wang and Sara Mearns. Photo by Brooke Trisolini, Courtesy of Jacob's Pillow Dance.
We all know that seeing world class dance is expensive. But for two weeks a year New York City Center offers $15 tickets to their Fall for Dance Festival. This magical unicorn of an experience features five unique programs and will run from October 2-14.
The program includes five world premieres commissioned specifically for the Festival, three of which feature some of our favorite ballet superstars.
Program One (Oct. 2-3) will showcase a new work by choreographer and New York City Ballet soloist Troy Schumacher on 14 dancers from Miami City Ballet. While rehearsals are still in progress, we do know that the piece will be a meditation on childhood set to Francis Poulenc's Concerto for Two Pianos in D Minor.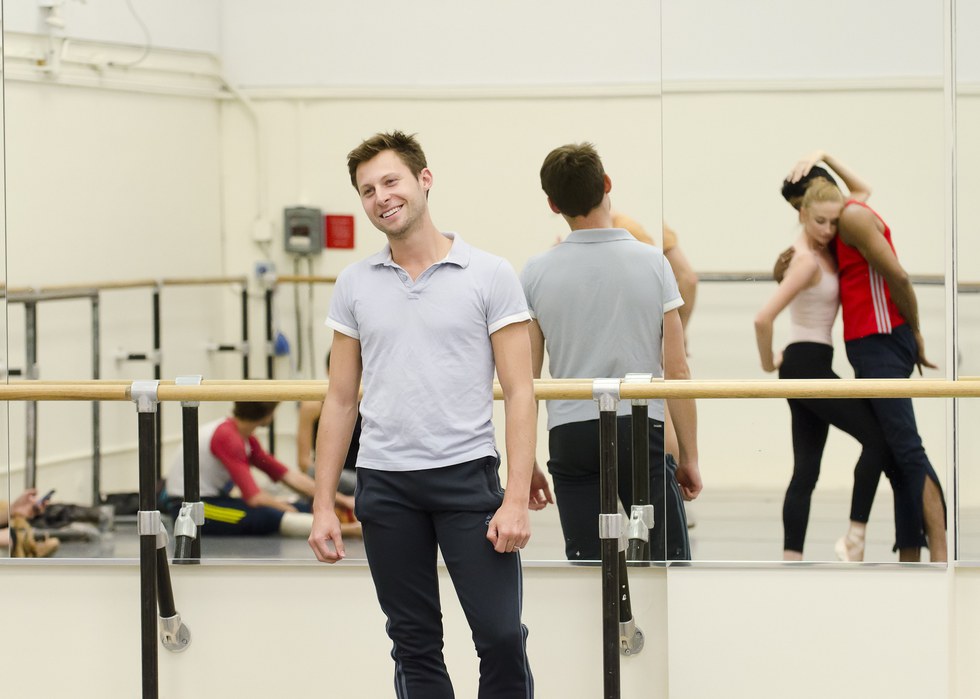 Troy Schumacher in rehearsalPhoto by Kyle Froman for Pointe
Keep reading...
Show less
Alicia Alonso in "Giselle." Photo by Frank Alvarez, Courtesy Dance Magazine Archives.
Over the years, many companies have premiered works or made their U.S. debut at the Jacob's Pillow Dance Festival, and some of the world's most famous ballet dancers have performed there. This week I will give some more insights from the Pillow's extensive archives into the dancers that have graced this world famous festival's stage. Click on the links below to watch video footage of their performances.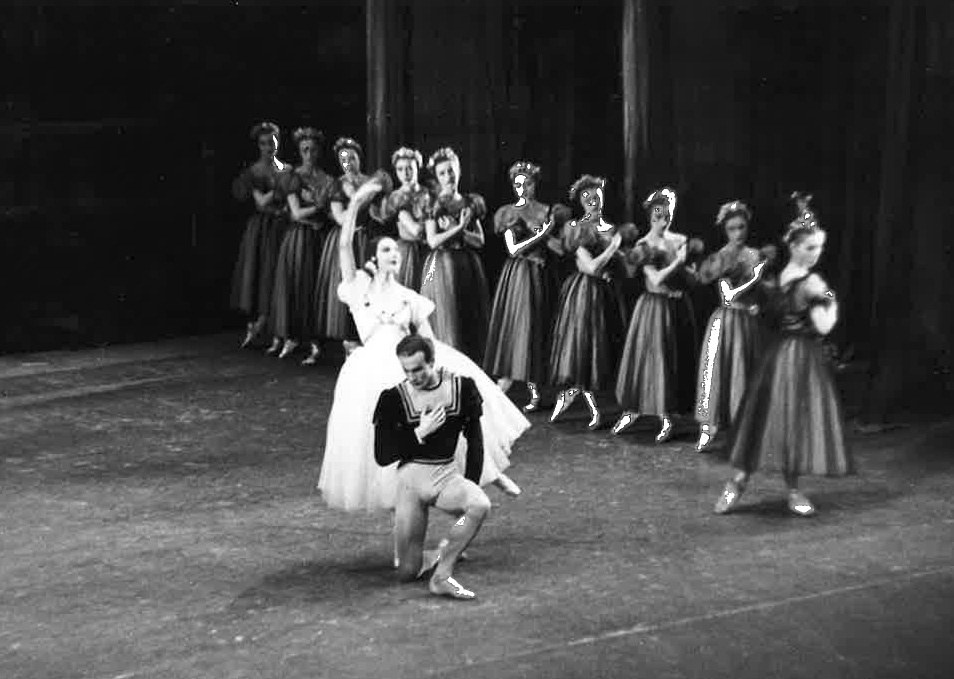 Alonso and Bruhn performing "Giselle" in 1955. Photo Courtesy Dance Magazine Archives.
Keep reading...
Show less
Photo by Christopher Duggan, Courtesy Collage Dance Collective.
When artistic director Kevin Thomas and executive director Marcellus D. Harper founded Collage Dance Collective in 2006 in New York City, they sought to push the boundaries of classical ballet and foster and promote the talents of artists of color. In 2007, the company relocated to Memphis during a period of the city's "artistic renaissance" and as part of a mission to extend classical ballet training to a wider and more diverse audience.
That same year also marked the company's first performances at Jacob's Pillow Dance Festival. This week, Collage Dance Collective returns to the Pillow, performing at the festival's Inside/Out stage on Thursday, August 10. (Thomas will also teach an open ballet class; click here for more info.)
Keep reading...
Show less
popular
Jul. 29, 2017 08:00AM EST
From left: Irina Baranova, Alicia Markova and Nora Kaye posed in one of Jacob's Pillow's original farm buildings. Photo by Hans Knopf, Courtesy Jacob's Pillow Dance Festival Archives.
This year, the Jacob's Pillow Dance Festival in Becket, Massachusetts, is celebrating its 85th season. Over the years, some of the world's greatest dancers of the 20th and 21st century have performed here. But without the help of two of Britain's biggest ballet stars during World War II, the festival might not have survived at all.
Founded by modern dance pioneer Ted Shawn, the "Pillow," as it's come to be known, had been home to his company of Men Dancers since the early 1930s. By 1940, due in part to the outbreak of World War II, his company had disbanded, leaving Shawn deeply in debt and eager to realize his assets.
In 1941, British ballet stars Alicia Markova and Anton Dolin leased the property, with the help of benefactor Reginald Wright. There they established The International Dance Festival, a school and summer residency for Ballet Theatre (now American Ballet Theatre). Many of the participating dancers, including Markova, had just left the Ballet Russes de Monte Carlo for Ballet Theatre, and the residency was a way of keeping them together. The dancers were not paid, so many survived on $10 a week in unemployment benefits, contributing $1.00 a day towards food and lodging.
Keep reading...
Show less
News
Dec. 14, 2016 03:29PM EST
The venerable Jacob's Pillow dance festival will celebrate its 85th birthday in 2017, making it the country's longest-running international dance festival. As usual, Jacob's Pillow gives equal weight to different dance styles (presenting everything from hip hop to Bharatnatyam over the course of the summer), and that ethos extends to its ballet programming. Classical and contemporary companies will visit throughout the summer, showcasing both traditional and innovative choreography. Additionally, this year's festival includes 11 companies led by female directors.
The opening gala on June 17 includes New York City Ballet principal Sara Mearns in collaboration with Company Wang Ramierz, a hip-hop duo. While it's hard to imagine what this might look like, Mearns has been diving into the unknown lately, so it's sure to include her signature level of commitment.
Miami City Ballet in George Balanchine's Serenade) (Photo by Andrea Mohin, via The New York Times
Miami City Ballet visits from June 21–25, dancing the type of work the company does best: George Balanchine's Allegro Brillante and Christopher Wheeldon's Polyphonia, along with other works to be announced. The Washington Ballet performs from August 23–27, returning to the Pillow for the first time since 1980. The company, under Julie Kent's new leadership, will dance Alexei Ratmansky's Seven Sonatas, among other works.
In between these two preeminent companies are several ballet-adjacent troupes. Portland's NW Dance Project brings its slippery contemporary moves and commitment to international choreographers to its Pillow premiere from June 28–July 2. New York's Ballet Hispanico will perform a Pillow-commissioned work, Línea Recta, by in-demand choreographer Annabelle Lopez Ochoa, along with other works during its July 26–30. Lastly, New York's Jessica Lang Dance will appear in its own Pillow-commissioned premiere by Lang, along with Thousand Yard Stare and the east coast premiere of Lyric Pieces. Lang has made serious headway into the classical ballet world, recently choreographing for American Ballet Theatre and Pacific Northwest Ballet which premiered her ballet Her Door to the Sky at the Pillow in 2016.
Pacific Northwest Ballet in Jessica Lang's Her Door to the Sky (photo by Hayim Heron)
For a full list of performances and dates, click here.
For more news on all things ballet, don't miss a single issue.
Wendy Whelan in the dressing room of Jacob's Pillow Ted Shawn Theater. Photo by Christopher Duggan, Courtesy Whelan.
Wendy Whelan is taking a busman's holiday from her day job, which, many would agree, is being the preeminent ballerina at New York City Ballet (and maybe everywhere else). In a master class at Jacob's Pillow, she's telling 22 pre-professionals they're "awesome" as she gives corrections and hard-won performance tips. Afterwards, she cheerfully poses arm-in-arm with each of the students, who capture mementos on their cells. Finally, she folds herself into a chair as they sprawl on the floor to ask questions.

Like her dancing, her responses are bracingly forthright and, when appropriate, poetic. How she came to the School of American Ballet from Louisville at 15. How she joined NYCB in 1984, right after the death of George Balanchine. How much she loved "the modernity, the economy, the attack" of his choreography. How her super-strong technique and angular physiognomy propelled her into the "tomboy" parts rather than the "girly-girl" roles she hankered after. And how the sleek, contemporary look that caused her (and her critics) grief was appealing not just to her bosses, Peter Martins and Jerome Robbins, but to the outside choreographers who came to NYCB to make new work. They offered the "huge gift," she says, of seeing more in her than she saw in herself.

She expounds on her favorite ballet (Liebeslieder Walzer), her biggest challenge (full-lengths), the choreographer she most regrets not having worked with (Jirí Kylián). When someone asks for a prescription for career success, she offers two words: "Try everything."
Keep reading...
Show less
Nov. 29, 2001 07:00PM EST
Looking at pictures from Jacob's Pillow, I always hear sounds of birds tweeting to the strains of Tchaikovsky. No, I'm not actually hallucinating; I'm just craving some great dance al fresco. Luckily, the dance festival's 2012 season kicks off next weekend—and it looks like it's going to be another great summer up in the Berkshires.
Some of the highlights we're most excited for are performances by Mophoses (June 27–July 1), Crystal Pite's Kidd Pivot (June 27–July 1), The Hong Kong Ballet (July 18–22), The Joffrey (August 22–26) and a free "Inside/Out" show with Gabrielle Lamb and Dancers (August 16). The Pillow's also offering free "Pillowtalks" with the incoming Miami City Ballet director Lourdes Lopez (June 29) and American Bolshoi star David Hallberg (August 3), both of which are sure to be fascinating. Check out the full schedule at jacobspillow.org.
Can't make it to Massachusetts? Explore the virtual Pillow, which is loaded with great clips of performances and talks, backstage highlights, and more.
Nov. 29, 2001 07:00PM EST
Andrew Bartee made a bold choice last year when he decided to leave Pacific Northwest Ballet to join Ballet BC, the dynamic Vancouver-based troupe. Now, he's preparing for their upcoming performances at Jacob's Pillow,
June 24-28
. 
Pointe
 spoke with Bartee about his new company life for our bi-weekly newsletter. 
How was your first season with Ballet BC?
Incredible. I was looking for a huge push--physically, mentally, collaboratively--and I've found that here. Obviously, it's a much smaller group than at PNB, but we all push each other. And I adore artistic director Emily Molnar. She's a wonderful coach and is in the studio all the time with us.
Coming from PNB, how has your experience with classical ballet informed your approach at Ballet BC?
It's been a great thing to have, but also a challenge. A lot of what we do is more grounded, so I'm learning a new way to work in the studio. My body feels different now: I take much wider second positions, I try to really feel the floor and I always take class in socks!
What will you be dancing at Jacob's Pillow?
Workwithinwork
 by William Forsythe is very balletic, but also incorporates all the new things I'm learning. Then we're doing Gustavo Ramírez Sansano's 
Consagración
, his Rite of Spring that deals with the idea of coming into yourself. The third piece is Cayetano Soto's 
Twenty Eight Thousand Waves
. It has a very quiet, spiritual beginning, but later I get to break free, be myself and use everything I have.
What advice would you offer dancers seeking a similar transition to more contemporary ballet work?
When I was still at PNB, I found some drop-in classes. I took a lot of Gaga and extra modern classes. It helped me in my work at PNB but was also a window to experiment. At drop-in classes, there's really no pressure. I was going there to learn, and it helped initiate my move.
For even more interviews, tips, audition info and giveaways, sign up for our FREE e-newsletter.
Photo by Michael Slobodian,
Courtesy Jacob's Pillow