Christopher Duggan for Pointe
While dancing excerpts of August Bournonville's Napoli this summer at the Massachusetts-based Jacob's Pillow Dance Festival, the artists of the Royal Danish Ballet were in perfect sync. The dancers exuded pure cheer, from their buoyant, clear footwork to the precise angle of their épaulement. This seemed fitting for a national company where most members train in the Danish style from age 7 and feed in from the school. Yet three of the principals onstage—Amy Watson, J'aime Crandall and Holly Jean Dorger—are in fact American.
Wendy Whelan teaching at Jacob's Pillow's Ballet Program. Photo by Christopher Duggan, Courtesy Jacob's Pillow.
Last month The School at Jacob's Pillow announced a major change to its historic summer ballet program, which boasts alumni at companies including American Ballet Theatre, Pennsylvania Ballet and Dutch National Ballet. This summer, rather than focusing on coaching dancers in the traditional, story-driven classical repertoire, the intensive makes the shift to contemporary ballet. Directed by former Cedar Lake Contemporary Ballet director Alexandra Damiani and BalletX co-founder Matthew Neenan, the Contemporary Ballet Program will work to engage students in the development of new work and the ever-adapting repertoire (including pointe work) it requires.
Former New York City Ballet prima and longtime Jacob's Pillow participant Wendy Whelan played a large role in the decision making process. We touched base with Whelan to hear about what went into this decision, and whether she thinks that this focus on contemporary training represents a growing trend in the ballet world.
News
Aug. 20, 2018 05:24PM EST
Trending
Aug. 17, 2018 09:21PM EST
Houston Ballet has been taking Jacob's Pillow Dance Festival by storm this week, and soloist Harper Watters has been filling us in on how it's going. In yesterday's vlog he took us around the historic festival's scenic grounds and barn-like theater. Today, he and principal dancer Chun Wai Chan give us the inside scoop on HB's dress rehearsal (and take us into the wings to watch some beautiful dancing). Stay tuned for more from Watters later this week!
News
Aug. 13, 2018 08:30AM EST
Boston Ballet is bringing Jerome Robbins' Fancy Free to the Tanglewood Music Center in Lenox, MA. Photo by Gene Shiavone, Courtesy Boston Ballet.
Wonder what's going on in ballet this week? We've pulled together some highlights.
Houston Ballet Brings a World Premiere to Jacob's Pillow
August 15-18, for the first time in almost four decades, Houston Ballet is appearing at Jacob's Pillow, the famous summer dance festival in Becket, MA. Headlining the program is Just, a world premiere commissioned by the Pillow and choreographed by HB artistic director Stanton Welch, set to music by contemporary composer David Lang. Also from Welch are Clear, an abstract piece for seven men and seven women, and excerpts from Sons de L'ame, with music by Chopin. The company will also perform In Dreams, choreographed by former Pillow choreographic associate Trey McIntyre.
News
Jun. 19, 2018 10:55AM EST
Ulrik Birkkjaer and Susanne Grinder in Bournonville's Napoli." Photo by Costin Radu, Courtesy Jacob's Pillow Dance.
On June 20, Royal Danish Ballet will open the Jacob's Pillow Dance Festival with a weeklong run in the historic Ted Shawn Theatre. The celebrated relationship between the Copenhagen-based company and the Pillow dates back to 1954, when leading RDB soloist Inge Sand stepped in to replace a dancer from another company at the last minute, resulting in her U.S. debut. Her popularity led to the company's inaugural U.S. performance at the festival the next summer. According to the Pillow's director of preservation, Norton Owen, this was also the first time that works by August Bournonville, the famed 19th-century Danish choreographer, were seen in this country. Following its success at Jacob's Pillow, RDB made its New York City debut at the Metropolitan Opera House in 1956, and in 1957 the King of Denmark knighted Jacob's Pillow founder Ted Shawn for his role in bringing Danish ballet to America. Over the next 20 years, soloists from RDB returned to the Berkshires frequently to great acclaim; their most recent visit was in 2007.
News
Jun. 18, 2018 01:29PM EST
Sara Webb and Connor Walsh with Artists of Houston Ballet in "Swan Lake" choreographed by Stanton Welch. Photo by Amitava Sarkar, Courtesy Houston Ballet.
Wonder what's going on in ballet this week? We've pulled together some highlights.
The Australian Ballet's Triple Bill, Verve, Includes New Work by Company Dancer Alice Topp
Verve, a triple-bill program from The Australian Ballet running June 21-30 in Melbourne, will host revivals of works from resident choreographers Stephen Baynes and Tim Harbour, as well as a world premiere from company coryphée Alice Topp. Topp's Aurum is inspired by kintsugi, a Japanese art in which broken ceramics are mended using lacquer colored with silver or gold, so that the cracks are emphasized, instead of hidden. In Aurum, Topp applies that philosophy to the human ability to find beauty in vulnerability and imperfections. Completing the bill are Baynes's Constant Variants, which pairs neo-classical ballet with a Tchaikovsky score, and Harbour's Filigree and Shadow, a contemporary ballet featuring striking set and lighting design.
Photo by Jayme Thornton for Dance Magazine
For former American Ballet Theatre star Julie Kent, this has not only been her first year at The Washington Ballet, but her first year as an artistic director. How has it been going? We caught up with her during the company's run at the Jacob's Pillow Dance Festival last week, its first visit since 1980. "It's a big change," says Kent. "There have been some exciting, wonderful aspects of that change—feeling embraced and excited—and the community is really eager to see what the next chapter for The Washington Ballet is."
"[It's also] my first year in a creative environment with a different group of people than American Ballet Theatre," she continues. This move away from ABT, where Kent was a dancer for 29 years, appears to have been a bigger transition for her than assuming the directorship. Kent, who had been adamant on her retirement from the company that she did not want to leave New York City, surprised all by moving her whole family to Washington, D.C., an area where she had grown up but had not lived in since the age of 16. Her husband, former ABT dancer and associate artistic director Victor Barbee has also joined TWB as associate artistic director, supporting his wife in this new endeavor.
Courtesy Retribution Media
Marcelo Gomes' clean technique, skilled partnering and magnetic stage presence make him one of the world's most versatile and in-demand male dancers of his generation. This year saw the principal dancer celebrate his 20th anniversary with American Ballet Theatre, a company he joined at just 17 years old. Coinciding with this milestone was the release of the feature length documentary Anatomy of a Male Ballet Dancer, created by the two-man team David Barba and James Pellerito—who actually approached Gomes via Facebook. The documentary, which was seven years in the making, has been making the film-festival circuit this year, most recently August 6 at the Jacob's Pillow Dance Festival.
The film combines intimate interviews with backstage and rehearsal footage and archival video. It focuses on Gomes' skill and prowess as a partner and includes interviews with some of the world's top ballerinas including Diana Vishneva, Polina Semionova and Misty Copeland.
popular
Aug. 16, 2017 04:54PM EST
Honji Wang and Sara Mearns. Photo by Brooke Trisolini, Courtesy of Jacob's Pillow Dance.
We all know that seeing world class dance is expensive. But for two weeks a year New York City Center offers $15 tickets to their Fall for Dance Festival. This magical unicorn of an experience features five unique programs and will run from October 2-14.
The program includes five world premieres commissioned specifically for the Festival, three of which feature some of our favorite ballet superstars.
Program One (Oct. 2-3) will showcase a new work by choreographer and New York City Ballet soloist Troy Schumacher on 14 dancers from Miami City Ballet. While rehearsals are still in progress, we do know that the piece will be a meditation on childhood set to Francis Poulenc's Concerto for Two Pianos in D Minor.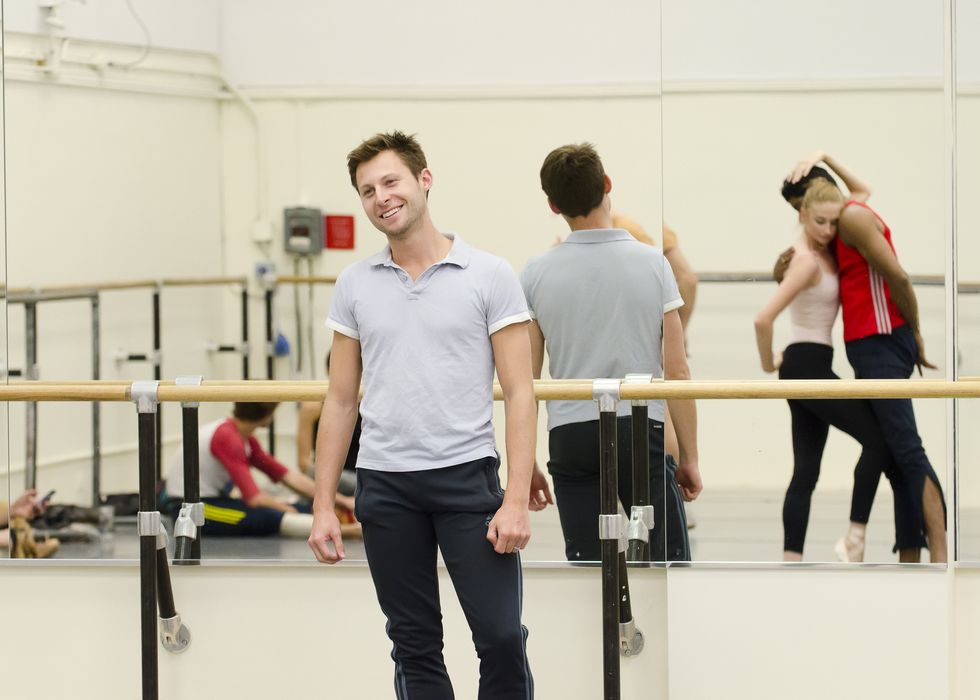 Troy Schumacher in rehearsalPhoto by Kyle Froman for Pointe