News
Feb. 05, 2019 05:18PM EST
News
Oct. 15, 2018 09:52PM EST
Joffrey Ballet's April Daly, Yoshihisa Arai and Amanda Assucena in Christopher Wheeldon's Swan Lake. Assucena will make her debut in the role of Odette/Odile this week. Photo by Cheryl Mann, Courtesy Joffrey.
Wonder what's going on in ballet this week? We've pulled together some highlights.
News
Jul. 09, 2018 01:35PM EST
BalletX launches its summer season on July 11. Photo by Gabriel Biencyzcki, Courtesy of BalletX.
Wonder what's going on in ballet this week? We've pulled together some highlights.
Three World Premieres at BalletX Philadelphia Summer Series
Fresh off the heels of its Joyce Ballet Festival performances in New York, BalletX is launching its Summer Series with a trio of world premieres on July 11. The program, which runs through July 22 at The Wilma Theater in Philadelphia, features ballets by Penny Saunders, choreographer in residence for Grand Rapids Ballet; Andrew McNicol, BalletX's 2018 choreographic fellow; and Matthew Neenan, BalletX co-founder and company choreographer. Pennsylvania Ballet principal pianist Martha Koeneman will perform Mendelssohn's Songs without Words live for Neenan's work, which shows dancers attempting to solve a mysterious puzzle onstage. McNicol is inspired by Mozart's Requiem and his appreciation of the speed and athleticism of American dance. Saunders' piece will be accompanied by an original composition by Rosie Langabeer, a Philadelphia composer originally from New Zealand. Listen to the pair discuss the collaboration in the video below.
News
Jun. 26, 2018 10:47AM EST
James Sofranko in Paul Taylor's Company B with San Francisco Ballet. Photo by Erik Tomasson, Courtesy SFB.
James Sofranko, longtime San Francisco Ballet soloist, will succeed Patricia Barker as Grand Rapids Ballet's new artistic director, effective July 1. Sofranko topped a list of 40 applicants from around the world to become only the fifth artistic director in GRB's 47-year history. The 38-year-old will continue his work with SFDanceworks, the Bay Area contemporary ballet company that he founded in 2014. Pointe spoke with Sofranko about his transition.
Had you been actively seeking an artistic directorship?
In a way. I had applied to two other places before to sort of test the waters. With my career at SFB nearing the end, I began thinking about it more and got excited about what I could potentially bring to a company such as Grand Rapids Ballet.
News
Jan. 05, 2018 01:41PM EST
Sofranko in William Forsythe's "Pas/Parts." Photo by Erik Tomasson, Courtesy Sofranko.
Today Grand Rapids Ballet announced that longtime San Francisco Ballet soloist James Sofranko will succeed Patricia Barker as its new artistic director, effective July 1, 2018.
The 38-year-old, now in his 18th season with SFB, topped a list of 40 applicants from around the world to become only the fifth artistic director in GRB's 46-year history.
Born in Marion, Indiana, Sofranko grew up in Cincinnati and trained at The Harid Conservatory and New York's Juilliard School. He joined SFB in 2000 and was promoted to soloist in 2007. From 2005­–2006 he performed the lead role of Eddie in the national tour of Twyla Tharp and Billy Joel's Broadway musical Movin' Out. He also has directing experience: In 2014 he founded his own contemporary ballet repertory company, SFDanceworks, which performs during the summer.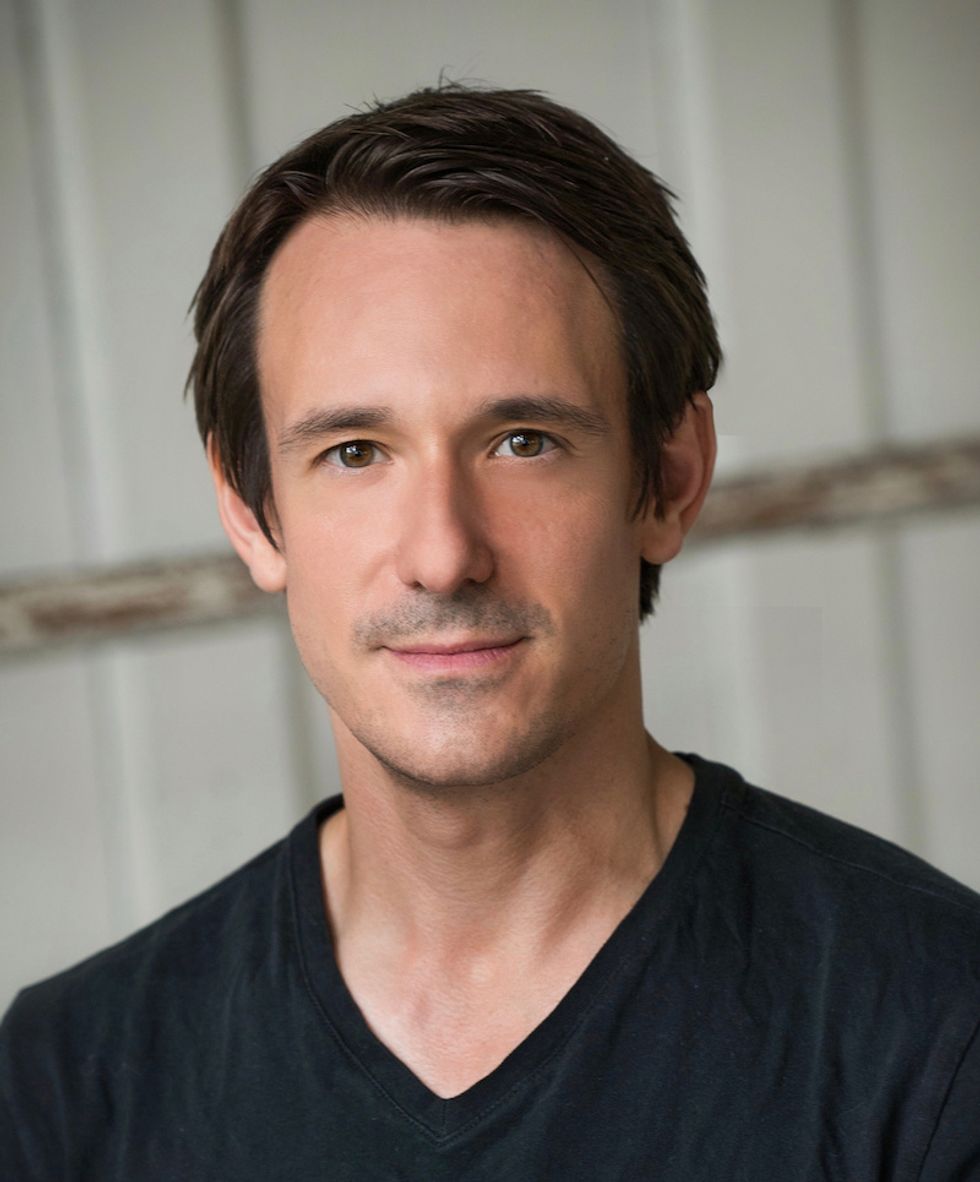 Photo by Andrew Weeks, Courtesy Sofranko.
December is here and the holiday season—better known to ballet dancers as Nutcracker season—is in full swing. To celebrate, we're throwing it back to Patricia Barker and Wade Walthall as Clara and the prince in Pacific Northwest Ballet's 1986 Nutcracker: The Motion Picture.
In this reimagining of the ballet by PNB founding artistic director Kent Stowell and famed writer and illustrator Maurice Sendak, young Clara (played by Vanessa Sharp) defeats the multi-headed mouse king all on her own with a well-aimed, enchanted pointe shoe. She then follows her Nutcracker inside the shell of the mouse king's armor and ventures into an icy cavern. There she is transformed into an older version of herself, played by Patricia Barker. Clara emerges from the cavern to find that her Nutcracker has transformed as well, from a toy caricature into a handsome, mustachioed prince.

Cautiously, Clara takes the prince's hand. That is when the real enchantment begins. At 2:20 Barker dives into a penché arabesque that is far more dazzling than any cinematic effect. Long-limbed and fresh-faced, Barker captures Clara's innocence even as an adult. She soars across the stage in Walthall's arms, her nightgown billowing in the cold night air. An endless swirl of movement, this pas de deux blurs the distinction between reality and fantasy for the audience. Although Stowell and Sendak's
Nutcracker
retired from PNB's repertory in 2014, this film ensures that their unique version of the classic can still be enjoyed year after year. Happy #ThrowbackThursday!
Smuin Ballet dancers Erica Felsch, Rex Wheeler, Mengjun Chen and Tessa Barbour in "White Christmas," choreographed by dancers Ben Needham-Wood and Michael Smuin. Photo by Keith Sutter, Courtesy Smuin Ballet.
Nutcracker-ed out? Or just can't get enough holiday ballets? These unique Nutcracker interpretations and non-Nutcracker productions will make your season bright.
The Hip Hop Nutcracker
Through December 30
Tchaikovsky's masterful Nutcracker score isn't just for classical ballet…
Hip Hop + a live DJ + an electric violinist unite in The Hip Hop Nutcracker, currently touring the U.S.
Familiar characters such Drosselmeyer, the Nutcracker, Mouse King and Marie (here called Maria-Clara) dance through an updated New York City storyline with choreography by Jennifer Weber, artistic director of the Brooklyn-based theatrical hip hop company Decadancetheatre.
Premiered in 2014, The Hip Hop Nutcracker is produced by New Jersey Performing Arts Center.
Paris Opéra Ballet's Letizia Galloni. Photo by Anne Ray, Courtesy POB.
Every corps de ballet has a few bright standouts. Here are 10 young dancers on the rise.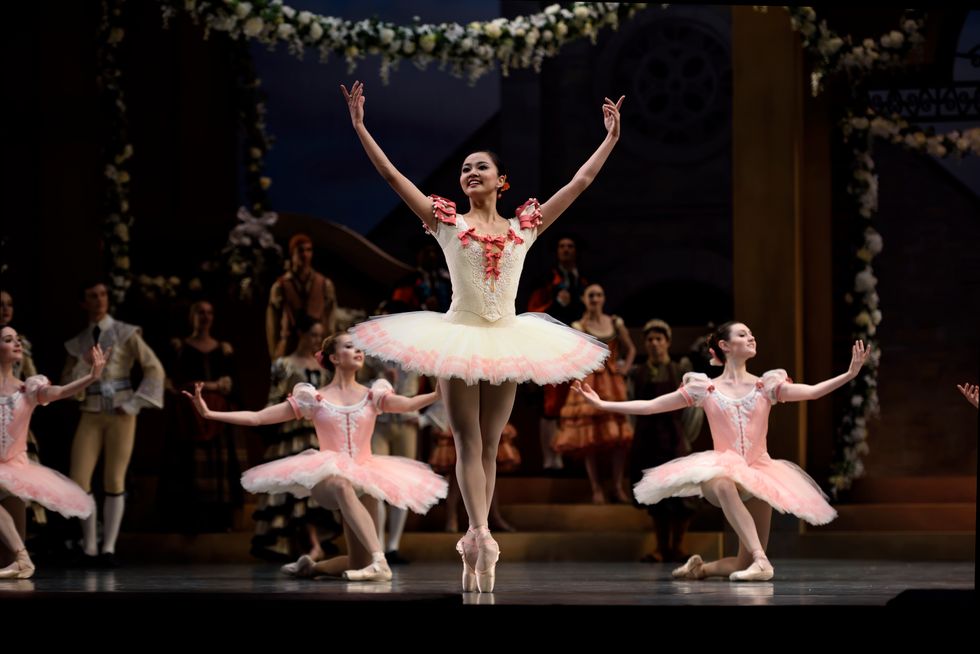 Norika Matsuyama in "Don Quixote." Photo by Erik Tomasson, Courtesy SFB.
Norika Matsuyama
San Francisco Ballet
Norika Matsuyama recently finished her second year in San Francisco Ballet's corps, but her repertoire already looks like a veteran soloist's: Cupid in Don Quixote, a solo Wili and Shade, Balanchine's Theme and Variations and Forsythe's Vertiginous Thrill of Exactitude. She capped off the 2016 season with her debut as Olga in John Cranko's Onegin, one of her dream roles.
For someone so accomplished, the 22-year-old is exceptionally humble. "I never expected I would get to do these roles," she says. "When I saw my name on the rehearsal schedule for Olga, I was so excited. I'm super-grateful."
Apr. 03, 2015 06:20PM EST
Patricia Barker in the studio with Grand rapids Ballet dancers. Michael Auer, Courtesy GRB.
Underneath Grand Rapids Ballet artistic director Patricia Barker's million-watt smile lies an unyielding determination to realize her artistic visions. So when friend Maurice Sendak, author of Where the Wild Things Are, unexpectedly died before he could introduce her to fellow author Chris Van Allsburg (The Polar Express and Jumanji), Barker took it upon herself to visit Van Allsburg's Massachusetts home to convince the Grand Rapids native to help design GRB's newNutcracker production. When Van Allsburg was reluctant to venture down that well-traveled road, Barker convinced him otherwise. The resulting 2014 premiere proved a seminal moment in the company's history.