Murphy (left) with Hee Seo. "Gamzatti has heard that Nikiya is a beautiful temple dancer, but when she lifts up her chin and first sees her face, it's like, 'Oh, no.' She's stunningly gorgeous." Photo by Gene Schiavone, Courtesy ABT.
By Gillian Murphy, as told to Amy Brandt.

Gamzatti was one of my first principal roles, when I was 19. Over the last 20 years I've had a chance to develop the character and find nuances. At first I saw her more as a villain and Nikiya as the good character. That's changed over time. I don't condone her actions, but she does what she believes is right. And Nikiya has a part to play in what happens. I've danced both roles and love each, but I feel like Gamzatti has more to dig into. She really has dimension.
Keep reading...
Show less
From left: ABT principals Isabella Boylston, James Whiteside, Gillian Murphy, Stella Abrera and Cory Stearns with Harvard Business School professor Anita Elberse. Photo Courtesy HBS.
Between long rehearsal days, performances and hectic touring schedules, it can be hard for professional dancers to plan for their post-performance careers while they're still onstage. This fall, that changes for five American Ballet Theatre principals. Stella Abrera, Isabella Boylston, Cory Stearns, James Whiteside and Gillian Murphy have been chosen as the first dancers to participate in Crossover Into Business at Harvard Business School, a semester-long program designed for professional athletes.
Last year, Crossover Into Business program director and HBS professor Anita Elberse was developing a case study on ABT, and reached out to the company executive director Kara Medoff Barnett, an alumna of HBS. "Anita mentioned the Crossover Program as an experience that has been transformative for professional athletes," says Barnett. "We looked at each other and had the same idea: How about inviting the ABT dancers to sit next to the NBA players?"
Keep reading...
Show less
Just for fun
Aug. 24, 2018 12:50PM EST
Gillian Murphy spent some time in Canada this summer. Image via Instagram
@gillianemurphy
We'll admit it: As excited as we are for fall performance season to start, we are in deep, deep denial that the end of summer is in sight. And we're also experiencing some serious FOMO looking at the vacation photos flooding our Instagram feeds from some of our favorite dancers and choreographers. So where in the world do they go to unwind before gifting us with yet another season of incredible dance?
Keep reading...
Show less
Last week American Ballet Theatre principal Gillian Murphy danced the iconic dual role of Odette/Odile as part of the company's spring season. In preparation for the performance she posted an adorable photo from her childhood on Instagram of her posing in costume as the Black Swan. Murphy also admits that as a young dancer she was determined to master the 32 fouettés, which Odile performs at the climax of the Black Swan pas de deux. Her performance in this clip from a 2005 performance, alongside former ABT principal Angel Corella as Siegfried, makes it obvious as to why this childhood dream role is now one of her signatures.
Keep reading...
Show less
via Instagram
The wait for Alexei Ratmansky's restaging of Petipa's Harlequinade is almost over! But if you can't wait until American Ballet Theatre officially debuts the ballet at the Metropolitan Opera House on June 6, we've got you covered. ABT brought the Harlequinade characters to life (and to the Alder Mansion in Yonkers, NY) in a short film by Ezra Hurwitz, and it's a guaranteed to make you laugh.
popular
May. 04, 2018 11:46AM EST
As dancers, we know why we love ballet—but for a new audience member, our beautiful, silent art form may seem like a mystery. Enter Celestial Bodies: How to Look at Ballet. Written by celebrated dance critic Laura Jacobs, this new book (available May 8 from Basic Books) offers insights on how burgeoning ballet fans can better understand and appreciate the choreographic language they're watching onstage. But it's also a compelling read for dancers and experienced dance lovers.
Keep reading...
Show less
Houston Ballet principal Connor Walsh getting early practice as a leading man. Photo courtesy Connor Walsh
It's that time of year again—recital season! And not so long ago, some of your favorite ballet dancers were having their own recital experiences: dancing, discovering, bowing, laughing, receiving after-show flowers, making memories, and, of course, having their pictures taken! For this week's #TBT, we gathered recital photos—and the stories behind them—from five of our favorite dancers.
Gillian Murphy, American Ballet Theatre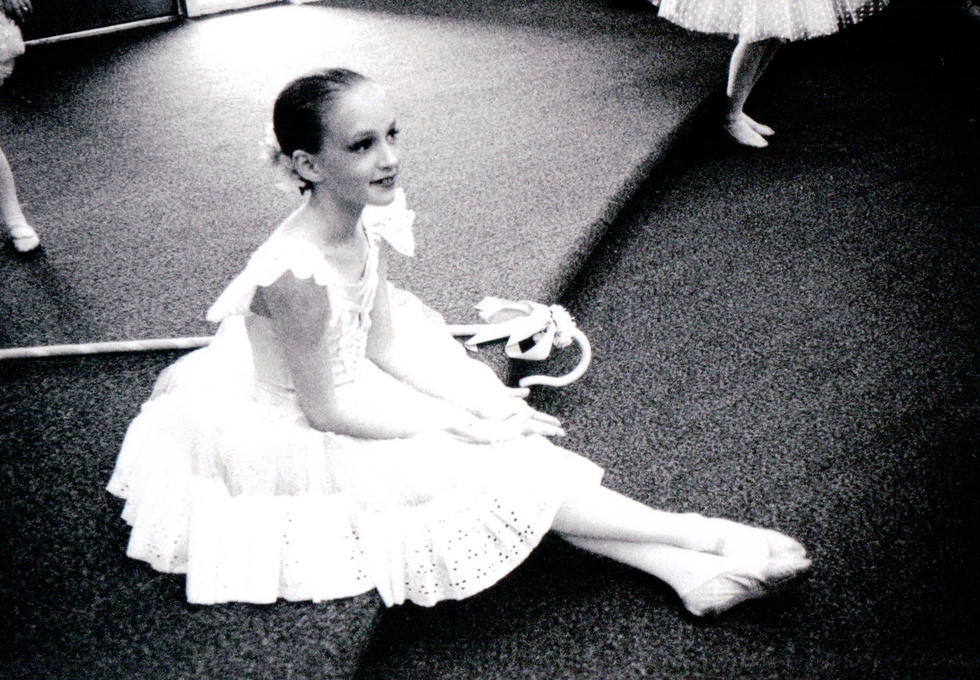 Murphy gets ready for her role as "Mary Had a Little Lamb." Photo courtesy Gillian Murphy.
"This photo was taken by my mom when I was 11, waiting in the dressing room (the band room of West Florence High School in South Carolina) before I went onstage as 'Mary' for a recital piece featuring 3-year-olds as little lambs.I had so much fun being the teacher's assistant in the baby ballet class each week, particularly because my little sister Tessa [pictured below] was one of the 3-year-olds. I remember feeling quite grown up at the time because I was dancing in the older kids' recital piece later in the program, but in this moment I was just looking forward to leading my little lambs onstage in their number."
Keep reading...
Show less
Photo via @abtofficial on Instagram.
Though according to our calendars today is the first day of spring, it feels like anything but. That's why we've been extra jealous watching American Ballet Theatre dancers' Instagram posts from their tour to Singapore. From swimming in rooftop pools to hiking with monkeys to jet-lag influenced shenanigans (oh, and dancing Swan Lake), their photos are making us believe that warm weather really is on its way. We rounded up some of our favorite shots from the first half of ABT's Asian tour; they'll spend this week in Hong Kong dancing Alexei Ratmansky's Whipped Cream. Keep the photos coming, ABT!
Rather than cling onto the railing in fear (like we would have), Isabella Boylston stepped gracefully into the highest pool in the world with a low arabesque.
Keep reading...
Show less
Photo Courtesy Cloud & Victory.
Dancewear brand Cloud & Victory is so much more than just clever t-shirts; founder Min is set on finding all kinds of ways to connect to the greater community. Earlier this fall she organized a master class led by American Ballet Theatre stars Gillian Murphy and Isabella Boylston, and now she's organizing a fundraiser to fight against child slavery called Pointes Against Child Slavery.
Signed pointe shoes donated by ballet dancers from some of the world's best companies will be sold online from November 8-19. The proceeds will be donated to two non-governmental organizations committed to fighting against child slavery, sexual abuse and exploitation for the empowerment and welfare of underprivileged children. The first is Destiny Rescue, a U.S.-based organization that since 2011 has rescued 2,000 children enslaved in Thailand, Cambodia, the Dominican Republic, the Philippines and India. The second organization is The Promiseland Project in Nepal. The Singapore-based Promiseland Project is working to build a school and orphanage in Dhamphus, Nepal to "shelter, raise and nurture the poor, needy and orphaned children of Nepal and equip them with an education and skill sets to make a better life for themselves." The earthquakes that devastated Nepal two years ago have set the project back, and they're looking for funds to finish construction.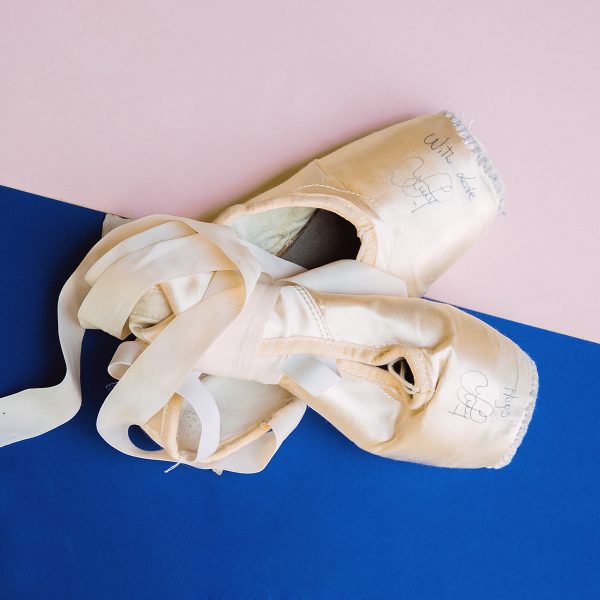 Pointe shoes worn by Marianela Núñez during the Royal Ballet's Fall/Winter season. Photo via Cloud & Victory.
Keep reading...
Show less
Gillian Murphy in the Cloud & Victory Ballerina Tee. Photo courtesy of Cloud & Victory.
Whether you've been lucky enough to watch American Ballet Theatre's Gillan Murphy dance Swan Lake's Odette/Odile in person or you're one of the 100,000+ who've watched her performance on YouTube, the magic happening on stage is obvious. Even off stage, it's easy to see why the role is such a perfect fit. Supremely graceful with her long limbs and quiet nature, Murphy certainly looks the part of Odette. Yet there's also an Odile-like spark in her eyes as she speaks, one that was even more noticeable while teaching a younger generation the famous black swan pas de deux during Cloud & Victory's master class in New York City last month.
After we learned how to master Odile's swan arms (the trick is to relax your elbows while still keeping resistance, according to Murphy), we caught up with Murphy for her take on the famous role.
Keep reading...
Show less
NYCB in Scherzo Fantastique. Photo by Paul Kolnick, via reidandharriet.com
Have you ever walked out of a show wishing you could take the costumes home with you? Thanks to Reid & Harriet Design, the label behind many of New York City Ballet and American Ballet Theatre's most imaginative contemporary costumes, this dream is becoming a reality. Founders Reid Bartelme and Harriet Jung have designed a line of ready-to-wear swimwear from the watercolor-like striped fabric they created for Justin Peck's 2016 Scherzo Fantastique. This design duo is responsible for costuming 10 of Peck's ballets over the past few years, and was featured in the 2015 Peck documentary, Ballet 422.
Keep reading...
Show less
News
Oct. 07, 2016 02:41PM EST
Sarah Lane as Aurora in ABT's Sleeping Beauty. Photo by Rosalie O'Connor, Courtesy ABT.
Lately, it seems like mentorship is having something of a moment: Many pro dancers are coming up with creative ways to give back to the dance community and act as a resource for young students striving to reach the top. Take Kathryn Morgan, who started her own blog and YouTube channel to pull back the curtain on the ballet world, and writes an advice column for Dance Spirit. Or David Hallberg, who's opened up about the challenges of being a young male ballet dancer, and worked to mentor boys at American Ballet Theatre's Jacqueline Kennedy Onassis School. Or New York City Ballet principal Megan Fairchild, who shares advice in her "Ask Megan!" podcast.
Keep reading...
Show less
News
Jul. 29, 2016 01:24PM EST
Tyson Ali Clark. Photo by Igor Burlak Photography, courtesy Boston Ballet.
Every year, the Princess Grace Foundation-USA recognizes a group of exceptional dancers and choreographers with scholarships, apprenticeships and fellowships—and gets us excited about emerging talent to watch. The 2016 Princess Grace Award winners, announced this week, are no exception.
Fifteen-year-old Tyson Ali Clark, a trainee at Boston Ballet School, is one of the dance recipients for 2016. A Massachusetts native, he started training with BBS in 2008 and has spent summers at the School of American Ballet and Houston Ballet Academy. He became a BBS trainee on full merit scholarship last year, and has performed with the main company and Boston Ballet II in works like The Nutcracker, Swan Lake and John Neumeier's Third Symphony of Gustav Mahler.
Keep reading...
Show less
American Ballet Theatre Principals James Whiteside and Gillian Murphy on the set. Photo courtesy of Jeopardy!
"Ballet for 400!"
On Tuesday, November 17, for the second time, contestants on Jeopardy! will take a stab at ballet trivia with the help of dancers from American Ballet Theatre—another event to celebrate the company's 75th anniversary season. Look out for principals Gillian Murphy and Cory Stearns and corps member Blaine Hoven, who will read clues and give demonstrations of ABT's repertoire. The first episode (which aired last May) featured James Whiteside, Craig Salstein, and Pointe cover girls Hee Seo, Sarah Lane and Misty Copeland.
Keep reading...
Show less
News
Aug. 26, 2015 08:23PM EST
Some of ballet's biggest stars have donated signed pointe shoes to raise money for victims of last April's horrific earthquake in Nepal. The 7.8 magnitude earthquake killed over 9,000 people and left hundreds of thousands homeless. And while the disaster is no longer headline news, survivors are still desperate for help. From August 29 through September 13, Pointes for Nepal, an online campaign organized by Cloud & Victory dancewear, will be selling signed pointe shoes of ballerinas Diana Vishneva, Gillian Murphy, Maria Kochetkova, Isabella Boylston, Joy Womack, Michaela DePrince and more. While prices are steep (between $120 and $450 a pair), all proceeds benefit World Vision International and The Little Bells Promiseland Project, two charities providing aid relief to earthquake victims.
This isn't the first time dancers have come together to support Nepal. In June, the DRI Foundation hosted Dance for Nepal, a sold-out benefit that included performances by former American Ballet Theatre dancers Maxim Beloserkovsky and Irina Dvorovenko, New York City Ballet principals Sterling Hyltin and Amar Ramasar, and dancers from Martha Graham Dance Company, Paul Taylor's American Modern Dance Company and more. The benefit raised $21,000 for the DRI Foundation Nepal Relief Fund.
Ballet mistress Irina Kolpakova rehearses Diana Vishneva and Marcelo Gomes. Photo by Kyle Froman for Pointe.
It's two weeks before the March world premiere of American Ballet Theatre's The Sleeping Beauty at the Segerstrom Center for the Arts in Costa Mesa, California, and principals Diana Vishneva and Marcelo Gomes are hard at work. As the couple begins Princess Aurora and Prince Désiré's Act III wedding pas de deux, they exude a rediscovered sense of classicism that seems strangely exotic. Instead of six o'clock penchées and indulgent développés, Vishneva luxuriates in a world of arabesques allongées, modest extensions, lowered passés and softened ports de bras. But rather than appear antiquated, these stylistic inflections further accentuate what is going on above the waist—the engaging relationship between Aurora and her prince.
ABT's new Sleeping Beauty, a labor of love spearheaded by artist in residence Alexei Ratmansky and co-produced by La Scala in Milan, stands to be the crowning glory of ABT's 75th-anniversary season. "Of all the great full-lengths, The Sleeping Beauty stands as a perfect symbol of classical ballet," says artistic director Kevin McKenzie. "I wanted a production that we could call our own, and Alexei delivered it. It's a perfect anniversary gift."
Gillian Murphy with her partner, James Whiteside. Photo by Kyle Froman for Pointe.
"I try to bring myself to every moment in the ballet, my own understanding about trusting that all is good in the world: going from Aurora's slightly shy but joyous nature in the beginning to expressing a more serene quality in the second act to awakening back into the world again to meet her soul mate." –Gillian Murphy
What makes this version especially distinct is Ratmansky's commitment to restoring Marius Petipa's original choreography, which premiered in St. Petersburg in 1890. A team of régisseurs at the Mariinsky Ballet, using the Stepanov dance notation system, codified The Sleeping Beauty on paper in 1905. The documents were later smuggled out of Russia during the 1917 Russian Revolution; they are now housed at the Sergeyev Collection at Harvard University. Ratmansky and his wife, Tatiana, both of whom learned to read Stepanov notation, referenced this score as well as photographs and other documents to painstakingly reconstruct Petipa's original intention.

"It's fascinating to explore what we can piece together about the historical style and Petipa's choreography," says ABT principal Gillian Murphy, who is also dancing Aurora. "It looks easier because there are lower legs and more demi-pointe, but it actually feels more difficult because you're constantly restraining yourself. It takes extra energy to sort of put the breaks on."
Murphy notes that, for her, Aurora is one of the hardest roles in the classical repertoire because of the stamina and technical clarity it demands. "Sometimes the simplicity and purity of ballet can be the most difficult thing to accomplish and to make exciting," she says.
For principal Paloma Herrera, who performed as Aurora in March (before her May 27 retirement), that is precisely why the rehearsal process is so integral. "You have the technique inside you so that you can be free onstage, especially in a ballet like this," she says. "It's a fairy tale—complete magic."
"Giselle experiences her emotions with such a quiet intensity that her death from heartbreak is truly plausible."
Photography by Joe Toreno.
When I was 19 years old and in the corps de ballet of American Ballet Theatre, a domino effect of casting changes left me with three days to learn and prepare my first dramatic leading role: Myrtha, the Queen of the Wilis. There was not enough time to feel overwhelmed, let alone to delve into the nuances of her character. Although diving right in and winging it on willpower is exhilarating, I have learned in the 15 years since that one of my favorite aspects of dancing is the research and emotional decision-making that go into developing a dramatic interpretation. I recently prepared for the role of Giselle in Ethan Stiefel and Johan Kobborg's new production for the Royal New Zealand Ballet. Although having advance notice gave me the time to feel nervous about tackling such an iconic role, it also allowed me the opportunity to develop my own interpretation through a mixture of research and instinct, which was further refined by coaching, rehearsal and performance.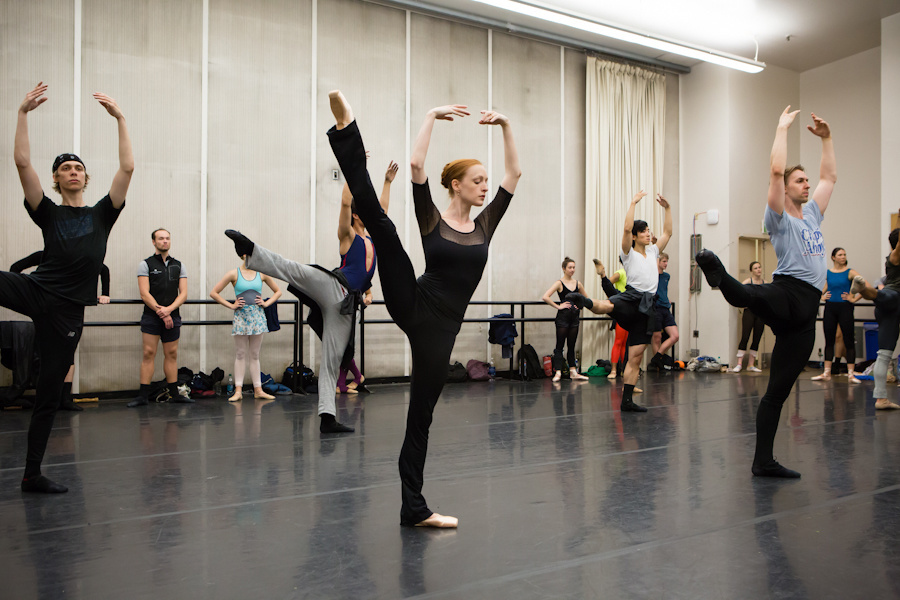 Murphy in RNZB company class at The Music Center.
Keep reading...
Show less
In a recent editorial in The New York Times, dance critic Alastair Macaulay wrote that "the lesson of history is that ballerinadom has been continually redefined." I believe it is time for a new definition, one that does not hold up Old World glamour or a dancer's nationality as criteria. The greatest female dancers today are bringing their own vitality and originality from all over the world to the universal language of ballet.

To be clear, every balletomane and professional dancer has his or her own concept of the ideal ballerina. For some, it's about clarity of form and the seamless execution of choreography. For others, it's about dramatic range or stylistic versatility. To some degree, these attributes are prerequisites. Yet the most fundamental characteristic of my ideal ballerina is someone whose depth of character and generosity of spirit makes her a leader not only in her performances but in class and in the rehearsal process.

Shakespeare scholar Harold Bloom once wrote that one of the most remarkable things about the character of Juliet is that she exudes both exceptional virtue and an exceptionally sparkling personality. To me, this rare balance is also the aim of a ballerina.

In real life these are difficult ideals to live up to, but I have many colleagues who are a daily inspiration. At American Ballet Theatre, I am continually struck by Stella Abrera's unwavering discipline, integrity and intelligence in both art and life. Her versatility as a dancer and actress is complemented by her graciousness onstage and to her colleagues. Similarly, New York City Ballet's Wendy Whelan is a goddess onstage, but down-to-earth in real life. Neither fit the outdated stereotype of the self-centered diva ballerina. They are compassionate, focused and sensitive people and artists who maintain both their sense of humor and their consummate professionalism day in and day out.

At the Royal New Zealand Ballet, where I am a principal guest artist, I am excited to watch a young dancer with extraordinary promise grow into a star. This emerging ballerina, Lucy Green, has the physical attributes to do great things with her art: a brilliant jump, coordination and musicality to spare. However, for me, it is her work ethic, her imagination and her sensitivity to others that really classify her as a ballerina in the making.

Ultimately, I most admire these dancers, as well as others, for how they encourage greatness in everyone around them. It may be a somewhat naïve and romantic notion, but I believe that a ballerina must nurture positive qualities and an openness of mind within herself so that she can share her inner life in a genuine way on the stage. In order to communicate the truth and the universality of human experience, the ballerina must gain perspective and dimension from both her own life experience and her intense respect and dedication to the craft of ballet. She must go beyond the steps and strive to bring humanity and humility purely and truly to every moment of expression. That, to me, is artistry that is meaningful both on and off the stage.

Gillian Murphy is a principal dancer at American Ballet Theatre.
Gillian Murphy is on the threshold of something big. A principal at American Ballet Theatre, she's already reached the top. But now she's about to be catapulted into the spotlight even more.
You may already know Murphy from her pointe shoe ads, as one of the odalisques in ABT's 1999 video of Le Corsaire or even as ABT superstar Ethan Stiefel's girlfriend. But come June, Murphy will display her range as Odette/Odile, when PBS presents Swan Lake, airing nationwide on June 20. And in the Metropolitan Opera House season in New York City this summer, she will open the run of the company première of Frederick Ashton's Sylvia and dance the female lead in Le Corsaire for the first time.
"I'm completely fulfilled and looking forward to the challenges that are coming my way," Murphy says. "A big part of me feels really comfortable expressing myself through movement, particularly classical ballet. I think with true passion you can do so much more than you think is possible."
At 26, Murphy gives off an air of confidence and thoughtfulness. Every decision has been carefully considered and it's obvious that she has reached this point in her career through strength and resolve—which may or may not create problems.
"I think sometimes there's a misconception that I'm not vulnerable or I'm some sort of robot," she says. "I think it's just that my family instilled in me this attitude that if you dream of something, you can make it possible, especially if you have the facility. If you have that, there is no need to hold back."
As evidence of that drive, Murphy refers to when she danced the complete "Black Swan" pas de deux from Swan Lake at age 11. By that time, she was living in Florence, SC, and had been dancing for eight years. "I was probably even more fearless [then]," Murphy says. "Now it seems really crazy and kind of amazing."
With 32 fouettés under her belt and her family's support, she began commuting three hours a day to Columbia City Ballet. At 14, Murphy decided to go to high school at North Carolina School of the Arts. There, she worked closely with former New York City Ballet ballerina Melissa Hayden.
"If she told you to do something, you could do it," Murphy says. "I don't think I heard her say, 'This is a
difficult step, but give it a shot.' Instead, it was, 'You're going to do this. No excuses.'
"She can be pretty hardcore. You know, there are a lot of horror stories out there about her, but for some reason the two of us connected. We got past the teacher-student thing. From the start, she's been really generous."
Hayden still remembers the first time she saw Murphy dance. She was cast in the school's production of The Nutcracker. "I kept watching the rehearsal as I passed the doorway, and I kept saying, 'That child is much too young!'" Hayden says. "I especially came to the performance to see her, and I was in ecstasy. I was so surprised by the maturity of everything she did."
With Hayden's guidance, Murphy entered the USA International Ballet Competition, where she made it to the finals, and the Prix de Lausanne, where she won a scholarship. Murphy decided to use the funds for one last year at NCSA and graduated from high school a year early.
A few months before graduation, Murphy caught the eye of ABT ballet mistress Georgina Parkinson during a rehearsal of Frederick Ashton's Les Patineurs. At Parkinson's urging, Murphy attended an open class to audition for ABT.
"I hadn't actually considered auditioning at ABT, because I had heard they were having financial difficulties," Murphy says. "I thought now was not the time, because they were falling apart. But as it turned out, I was blown away by the company."
They were obviously amazed by her too, because ABT Artistic Director Kevin McKenzie offered her a corps de ballet contract on the spot. "Already at that age, one could see the brain," says McKenzie. "It was clear she had amazing command of her technique and musicality. She had all the ingredients."
Murphy knew she had to turn him down and graduate first. Luckily, McKenzie understood, and she joined ABT the summer after she turned 17.
She got off to a slow start, but after about a year, she understudied a soloist part in Twyla Tharp's Elements and unexpectedly performed it—and did it well—on tour when another dancer got sick. She was promoted to soloist in 1999 and principal in 2002—six years after joining ABT. "I would acknowledge that there's luck involved," Murphy says, "but I think my sort of steady rise also came from being prepared for luck."
And according to those who work with her, preparation is an important part of her process. "She does her research," McKenzie says. "It's not just, 'what's my next step?' But 'why is that step there, and how did it come to be?' You see an evolution happening before your eyes. She's absorbing it all."
In fact, Murphy studies every role like a college student. For Pillar of Fire, she headed to the library to learn about the ballet's history and the work of Antony Tudor. The result, says Hayden, was breathtaking. "Seeing her do Pillar of Fire was the most touching experience," Hayden says. "I cried through the whole performance, she moved me so."
So when it was time to cast Sylvia, McKenzie had faith that Murphy could take on the multifaceted role. "If you were to look at the three acts out of context from each other, you might cast three different ballerinas," says McKenzie. "In the first act, she's this great Amazonian-type goddess. In the second act, she's an entrapped female. And in the third act, she's a Sleeping Beauty ballerina. So it's got a wide range. It's a role that fits her like a glove."
Because she gets so immersed in dancing, Murphy likes to separate work from her time off. "It's so important to at least attempt to become a complete individual outside the ballet bubble," Murphy says. "You can't become a complete artist if all you have to offer is your limited perspective of being a ballet dancer. Luckily, the man I've been with for the past seven years also has outside interests."
She took a cross-country motorcycle trip with Stiefel, and the two also like to get away to the house he built in Pennsylvania. As for ballet, Stiefel says he only gives advice when he's asked. "I'm there for her and for support or giving her my thoughts," he says, "but early on, I wanted her to find her way and know that she made her career and shaped it herself."
Working together, they say, has also been gratifying. "I feel really lucky to be partnered with Ethan, who I have not just feelings of friendship [for], but love," Murphy says. Stiefel says Swan Lake and La Fille mal gardée have been particularly memorable. "The 'White Swan' pas de deux takes me back to what I thought of her when I first saw her," he says. "The kind of sensations you feel, like on a first date. And then I have to look at La Fille mal gardée, because that's almost the essence of Gillian—very sweet and a little bit naïve—not in a bad way, but very good-natured."
Stiefel plans to continue dancing with ABT part-time when he takes the helm of Ballet Pacifica, after which he will move to California. As for what the future holds for Murphy, she's open. "I would hope to be dancing in Ethan's company, because he is going to do really great things," she says. "But I also see myself finishing my career at ABT. I am definitely still going to be dancing. I love what I do."
Nov. 29, 2001 07:00PM EST
Isabella Boylston recently joined a rather elite club at ABT—"The Princesses," fellow corps de ballet member Blaine Hoven's nickname for the nine current ABT dancers who have won Princess Grace Awards. "It  was such an honor just to win," says Boylston, "and then to realize that I'm a part of that group"—which includes Hoven, David Hallberg and Gillian Murphy (who also won the foundation's Statue Award this year)—"makes it even more special."


Boylston is especially grateful to receive this kind of recognition while still in the corps. "It's reassuring," she says. "I feel like I'm heading in the right direction."

A lush adagio dancer with a quietly magnetic stage presence, Boylston danced principal roles in both Clark Tippet's Some Assembly Required and Benjamin Millepied's new work, Everything Doesn't Happen at Once, during ABT's fall season at Avery Fisher Hall.

Other notable 2009 Princess Grace Award winners include Jeffrey Cirio of Boston Ballet, Joseph Walsh of Houston Ballet and Corey Scott-Gilbert of Alonzo King's LINES Ballet. —MF
Nov. 29, 2001 07:00PM EST
What makes a great ballet partnership? To most of us, it seems to be some mysterious combination of sweat and magic.
Earlier this week, The New Zealand Herald posed the question to Gillian Murphy, who's currently starring as Odette/Odile in the Royal New Zealand Ballet's tour of Swan Lake. She says commincation and diplomacy are essential: "A dance partnership is a lot like marriage." Murphy herself is currently engaged to RNZB's high-profile artistic director Ethan Stiefel. While he mentions instinct and strength as the keys to a successful partnership, Murphy lists musicality, coordination, chemistry, connection and spontaneity. "The dialogue has to be about your body, your energy, the character," she says. "Swan Lake is about the power of love. It is meaningless without that deep connection."
Check out what other stars—including Marcelo Gomes and Paloma Herrera—told Pointe about their must-haves in a partner.
An integral portion of Le Corsaire's first act is the Odalisque pas de trois—a dance by three slave girls whom the audience knows little about. Choreographed to a grandiose score, the Odalisque variations act as an interlude in the ballet's larger plot. Their precise and petite steps cater to the meekness and femininity of the role. This recording from 1999 showcases Gillian Murphy taking this character to a new level as a recently promoted soloist for the American Ballet Theatre. From her four-count introduction and that first glissade, Murphy is anything but a submissive slave girl. She counters this idea with powerful movement worthy of attention—and it's impossible to take your eyes off of her.
An international icon, Gillian Murphy has performed around the world as one of the most famous ballerinas of our time. We have all grown up watching her attain the ideal career through her brilliant artistry. As a turner, jumper and overall technician, she is the archetypal principal dancer, and has performed nearly every lead role within ABT's expansive repertoire. This #TBT foreshadows her future stardom as she performs the third Odalisque variation. Those successive triple turns will keep you at the edge of your seat, but her flawless control preceding each step keeps the audience at ease.